Back to News
SLVDR & The Common Thread Project Present
June 17, 2009
SLVDR & The Common Thread Project Present "Trash to Treasure"
SLVDR, a new socially conscious menswear line that strives to offer "attainable luxury," today announced that its philanthropic leg–the Common Thread Project–has teamed up with select retailers to run the first-ever "Trash to Treasure" program.
A major part of the SLVDR mission is to give back to the community. To achieve this, the Common Thread Project (CTP) was established under the SLVDR umbrella. The CTP works closely with likeminded brands and retailers to collect and distribute gently used action sports equipment to deserving youth in the US and around the world. Skateboarding, snowboarding and surfing all played a major role in the development of SLVDR, and the CTP provides similar opportunities for positive growth to kids who might not otherwise have the means to get involved with board sports.
For the Common Thread Project's inaugural "Trash to Treasure" program, SLVDR joined forces with retailers that have supported the brand from the start, and share its desire to lend a helping hand to deserving youth in their local communities. In4mation, Univ, Milo and Civil were each given 50 special-edition SLVDR t-shirts that they will trade with customers who bring in lightly worn sneakers, decks, trucks, sets of wheels, etc. Once all the t-shirts have been swapped out, the shops will donate the gear they collected to a local charitable organization they're affiliated with.
"The amazing thing about this project is how each of the shops already had a strong connection to the group they're donating to, and their genuine stoke to be involved," says SLVDR founder and owner Rob Myers.
"Trash to Treasure" is now in full swing, so gather up your gently used gear and stop by a participating shop to support the cause and get a special-edition SLVDR tee before they're gone. A special thanks goes out to Steve at Dimensions for donating the screen printing services that were key to making this project happen.
* In4mation | Aloha Army | 226 Lewers St. #L-206 | Honolulu, HI 96815 | 808-923-0888 | www.in4mants.com
- Donations to: YMCA Camp Erdman
* Univ | 1053 S. Coast Highway, Unit B | Encinitas, CA 92024 | 760-942-8647 | www.univ-shop.com
- Donations to: Stoked Mentoring Los Angeles
* Milo | 3119 E. 3300 S. | Salt Lake City, UT 84109 | 801-487-8600 | www.milosport.com
- Donations to: SLC Local Chill Program
* Civil | 88 Main Street | East Greenwich, RI 02818 | 401-886-5116 | www.wearecivil.com
- Donations to: East Greenwich Parks and Rec Department
Learn more at: www.slvdr.com.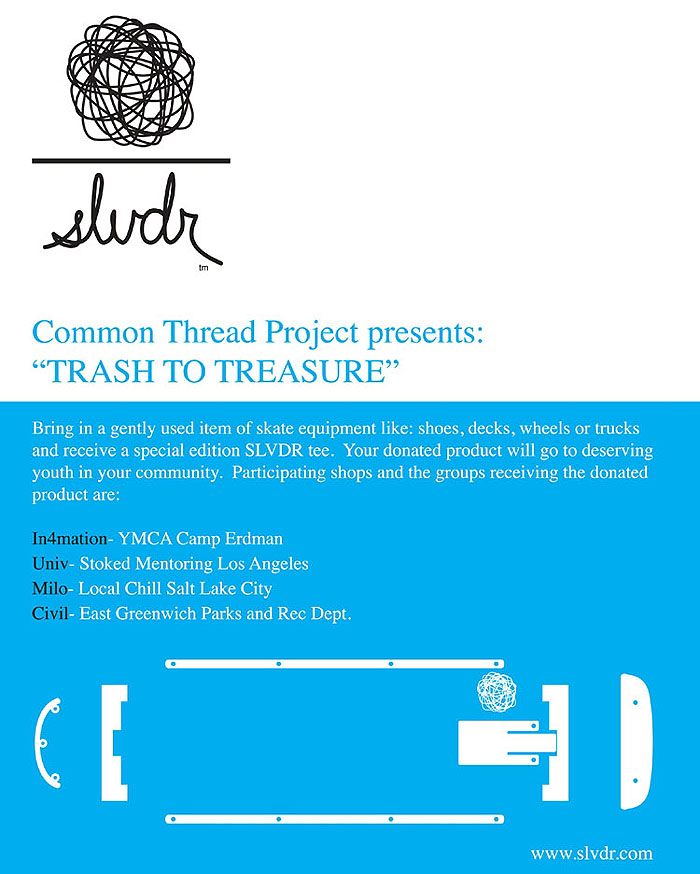 ---