Back to News
Bruce Brown Caps Sterling Career With Surfers' Hall of Fame Honor
June 24, 2009
Bruce Brown Caps Sterling Career With Surfers' Hall of Fame Honor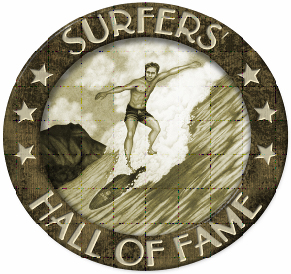 Bruce Brown, the Oscar-nominated filmmaker who captured the essence, adventure and art of surfing in the renowned The Endless Summer, is entering the Surfers' Hall of Fame. Brown joins Jeff Hakman, Joey Buran and Pat O'Connell as the 2009 inductees into the prestigious Hall of Fame, at 10 a.m. Friday, July 24 in front of Huntington Surf & Sport (corner of PCH and Main).
Born in 1937 in San Francisco, Brown's family moved to Long Beach where he began surfing at age 11 prior to the building of the infamous breakwall. He attended Wilson High School (class of 1955), where he was a gymnast, but really "majored in not going to school." As a surf-stoked youth, Brown went to the local Elks Club auditorium whenever surf filmmaker Bud Browne rolled into town to screen his latest surf movie.
A regular in the Huntington Pier-Seal Beach area in high school, Bruce enlisted in the Navy after graduation, went to submarine school and finished at the top of the class to ensure his pick of assignment, which was Hawaii. He split his spare time between surfing Ala Moana and shooting 8mm "shorts." After his discharge in 1957, Brown returned to California and was working in San Clemente as a lifeguard when Dale Velzy put up $5,000 for a film that would promote the Velzy surf team.
Armed with a brand new 16mm movie camera and a paid trip back to Hawaii, Brown delivered Slippery When Wet in 1958, his first feature-length surf film. Narrated by Brown, Slippery was easygoing, colorful and scored by jazz musician Bud Shank. He followed with Surf Crazy (1959), Barefoot Adventure (1960) and Surfing Hollow Days (1961), which included Phil Edwards' first rides at the Banzai Pipeline. Brown released Waterlogged in 1962 and delivered his groundbreaking film, The Endless Summer, two years later.
In 1963, Brown decided to follow Robert August and Mike Hynson around the world in search of a perfect wave. The $50,000 semi-documentary debuted the following summer and was shown in the same manner as his previous films, on the beach-city circuit, with Brown himself driving from auditorium to auditorium to do live-narration screenings. In 1966, Endless Summer was blown up to 35mm and placed into national distribution, playing to sold-out theaters in the United States and Hawaii. Endless Summer would forever change the public perception of surfers and surfing, and introduced the sport to the masses.
After The Endless Summer, Brown built new offices in Dana Point, California, and went to work on a film about his other passion -- dirt bikes. The resulting documentary, co-produced by his friend, the actor Steve McQueen, earned On Any Sunday (1970) an Academy Award nomination. He retired with his family to a remote ranch North of Santa Barbara in 1980 where he surfed, rode motorcycles and built a house.
Brown came out of retirement in 1992 to begin work on Endless Summer II with his son Dana. Unlike the original, the sequel was backed by a studio (New Line) and had a Hollywood budget ($3.5 million). Released in 1994, the reprise featured Robert "Wingnut" Weaver and Pat O'Connell retracing the steps of Mike Hynson and Robert August.
It showed the growth and evolution of surfing since the first film, which presented only classic longboarding. O'Connell rode a shortboard, which was developed in the time between the two movies, and there are scenes of windsurfing and bodyboarding. The film illustrated how far surfing had spread, with footage of surf sessions in France, South Africa, Costa Rica, Australia, Bali, Java and Alaska.
In 1999 Surfer magazine named Brown the sport's fifth most influential surfer of all time.

"Bruce Brown has created some of the best movies in our sport of surfing with Endless Summer and Endless Summer II," said Surfers' Hall of Fame and HSS founder Aaron Pai. "Bruce has been a major influence on surfing and the surfing culture. He is a "legend" and we are stoked that that we can thank him for his achievements and contributions to the surfing world!"

The Surfers' Hall of Fame inductees are selected by a committee of business owners, surfers and surf industry professionals based on contribution, dedication, integrity and revolution to the sport of surfing. The Surfers Hall of Fame induction ceremony is open to the public, free-of-charge. Further information is available at http://hsssurf.com/hall.
---