Back to News
Bo Bridges: Photographer & Entrepreneur
July 15, 2009
Bo Bridges – Photographer & Entrepreneur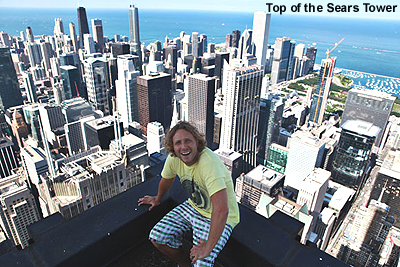 Whether he's flying at 14,000 feet, shooting the recently held Maloof Money Cup, or directing the Rehab campaign for the Hard Rock Hotel in Vegas, Bo Bridges has seen it all, captured the moment, and is looking to handle anything picturesque sent his way.
Bo Bridges' interest in photography began while attending a photography course his senior year of high school in Zurich, Switzerland. Bo's father was a pilot and his family often moved to various destinations across the globe, which in turn exposed Bo to different cultures and sports (namely action sports) that would ultimately influence and set the stage for his career to come.
Nowadays, Bo is shooting some the top athletes and events inside and outside of the action sports industry, and recently started a creative agency called Spit Studio. Read on and let Bo fill in the pages.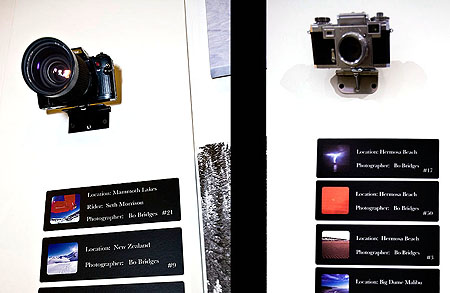 What got you into photography?
I spent my senior year of high school in Zurich, Switzerland. My ceramics instructor also taught photo courses there and wanted me to come over and try out his course. I reluctantly tried it out. Being a senior at the time, I just wanted to snowboard and graduate so I could travel down to Southern Europe and surf. It turned out to be one of the best choices I have ever made.
What cameras are hiding in your treasure chest?
I shoot Canon, Nikon, and Hasselblad cameras. I started shooting with a Ricoh and jumped into the Nikon world with the N90s and F5 bodies. I also shoot with the Canon EOS bodies for both still and video. I have a bunch of old cameras, from my very first, in the gallery. I hung them on the walls like spy cameras.
You earned a BA in photography from Miami University and managed to get your pilot's license in the meantime. Why did you opt to do both? Did you have an end goal in mind?
I went to college at Miami University and ended up getting a BFA in Photography and a minor in Marine Biology. My senior year of college I was getting my pilot's license so I could hopefully be a bush pilot. I just wanted to do something outdoors. I also got my EMT certification. After graduation I moved to Tampa, Florida, and had no idea what I would do to make a living. It all came together one day while I was flying; I started an aerial photography business.
What were the highlights or pitfalls (if any) of your aerial photography business?
The highlights of flying are that it's fun and exciting. The most difficult part about shooting from the sky is finding your location. There are no maps up there. I used to have to drive to my locations and take notes of the surroundings that I would try to find from the sky. I'd shoot mostly for real estate companies and houses that were too big to grasp from the land; that meant the half moon driveway, house, pool, tennis court, dock, yacht, et cetera.
Did you own or have plans to own a plane?
I thought about it but never did. I had some friends that had their own plans. I always wanted an Amphibian so I could land on both land and water.

Why leave the aerial photography business? Do you still fly for kicks?
I moved to Vail, Colorado, in 1995-96. I was making good money but wanted to shoot other things; I missed the mountains. I didn't think I would stay long, but one year ended up being five and a half years. I flew a bit the first year I was there, but it was pretty dangerous. I'd fly out of Leadville, Colorado, which is the highest runway in the country. The air gets thin up there and above 14,000 feet you need oxygen. The mountains create some crazy winds and the thermals would knock me all over the place with no real emergency landings except the side of slope or interstate. That said, I started shooting snowboarding and ski athletes around town.

What led you into action sports photography?
I grew up skating in Florida. I had a mini ramp in my yard and lived in the country on a small lake. We used to "Skurf" back before wakeboarding existed; I'd do anything on water. We'd sling each other as fast as we could on skim boards with jet skis into what is now more like a double up on wakeboards. This was back in 1987.
I also used to race BMX. My dad was a pilot so we moved often and I was thrown into different sports. But I would always go back to action sports since I could do them whenever I wanted. Mike McGill opened a big skate warehouse down the street from me in Oldsmar, and I used to go there every day after school. When we moved to Switzerland, I was in the 10th grade. Naturally I just started to snowboard and ski. To this day, I still do a bit of both; it depends who I am shooting with and how much hiking is involved. Four-edges is much easier with a 40 pound backpack in the backcountry.



When did your career in action sports photography begin to take off?
In 1997-98, I was shooting some 200 days a year, chasing the snow in both the Northern and Southern Hemispheres. I started shooting some of the Vans Triple Crown events, and right about that time the Gravity Games hired me to shoot their events in Rhode Island. I was also trying to pull credentials at Crested Butte for the Winter X Games. One thing led to another and I ended up getting Carey Harts first ever backflip sequence and shooting all the action sports events for both summer and winter. It was fitting coming from my background. To this day, I still love the diversification.
In the early stages of your career, was there ever a point where you felt out of your league (i.e. shooting with celeb's, icons, etc)?
I always loved the challenge. The bigger the production the better; I thrive on it. I don't think I ever felt like anything was out of my league. It's just a matter of being comfortable with yourself and staying focused on your subject and your client's needs. I'm always open to working with art directors and capturing what they are asking for. But at the same time, it's not always that easy, especially if you are shooting on location. Storyboards are flat; they don't involve weather and actual human beings.
In the past, I think clients hired me for both my photography and creativity. I'm also used to shooting under pressure with limited time. Athletes tend to have a short fuse when it comes to photo shoots, especially lifestyle. They'd rather be out riding or doing something else. I'm not a big fan of getting in front of a camera either. Over the years I've learned to get a few good shots as quickly as possible and move on. It makes it a lot easier on everyone, and it works well with celebrities too.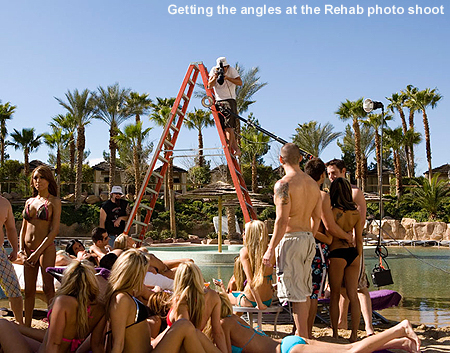 You've worked with major brands including: Oakley, Von Zipper, Pepsi, Ford, T-Mobile, Sobe, ESPN, EXPN, Rolling Stone, Maxim and more. Taking this into perspective, what's your most memorable photo shoot to date, and why?
For advertising, I'd say it would have to be the Hard Rock Rehab photo shoots. I got to produce, direct, and shoot all of them. They became pretty popular. We had a casting that took two days since so many people showed up at the Hard Rock and wanted to be on the billboards. In action sports, I'd say the Glacier Surfing project with Garrett Mcnamara and Kealii Mamala up in Cordova, Alaska. It was the stupidest, craziest, coolest thing I have ever seen or shot.
What percent of professional photographs are digitally enhanced? What's your take on enhanced photos?
Depends to what extent they are enhanced. These days, every photo that comes out of a camera is enhanced in some form with the processing from a raw to printable image. Everything in a fashion magazine is enhanced, airbrushed, color corrected and cleaned up. It all just depends. I like my backgrounds clean, so if I have to take out a telephone pole in the background, I'll do it. The competition is fierce and the only way to stay on top is to offer top notch photos. I don't think you need to go overboard, and I've seen a lot of bad retouches and color corrections. I just try to keep the edge and keep them clean.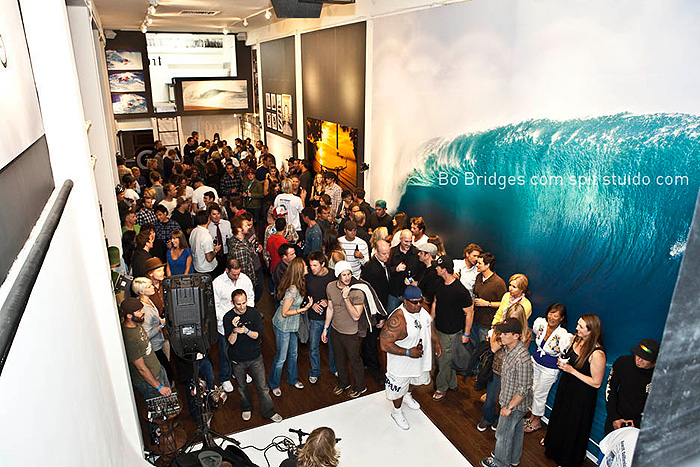 How are things going at your recently opened studio in Hermosa Beach, California?
It's going great! We've had some incredible events. In the past month, we hosted Primo Beer's Bruddah Tour with the Keith Malloy's One Track Mind, Brad Gerlach, and Latch Key Kid performed live in the studio bay. We held a fund raiser for Jesse Billauer and Life Rolls On sponsored by Miller, Coors, Vitamin Water, and Virgin Airlines. Ridley Scott's Production Team flooded the gallery to interview me as a creative professional for a Microsoft commercial. We held a private gallery reception and USC head coach Pete Carroll and a bunch of other athletes attended. BMX legend Simon Tabron played a live acoustic set and DJ Sleeper rocked the house. We are getting ready to launch a completely new website. Bobridges.com. Beyond my portfolio, it will offer fine art prints, a blog, gallery events and one of the largest image banks of action sport images ever created in one place. We will have a soft launch on July 17th and then build on it from there.
Is your showroom generating business? If so, in what form(s)?
I originally opened this gallery up with the idea that I could sell a few pieces of art a month to help cover some of the overhead. I needed a larger studio either way. This was more of an open portfolio for all to see. I also wanted a fun workspace. I travel all over the world shooting exciting athletes and places, and when I come home I want to keep the vibe going. Kicker helped us out and we put a state of the art sound system in. I recently added a huge HD video projector and a 12 foot screen that drops down from the ceiling for movie premiers and other showings. We have almost 3,000 square feet to play with. I use the studio bay on occasion but still prefer to shoot outside or on location. The studio bay resembles a giant 12 foot ramp. I had Jack Murphy and his crew come in and build a real ramp with coping that wraps around the top. Nobody has dropped in yet, but it's tempting
The foot traffic down here is amazing. You never know who is going to walk through the door. The space is so perfect for a private event. I have a DJ booth and a separate upstairs area for VIPs. We also have space outside in the back for food caterers, and theirs plenty of parking right across the street. The Beach House Hotel is only 500 feet away too, so my clients can stay right at the beach and walk over to the studio to shoot. The proximity to the beach, the cliffs of Palos Verdes, and being only 8 miles south of LAX is perfect for all kinds of photography and easy access.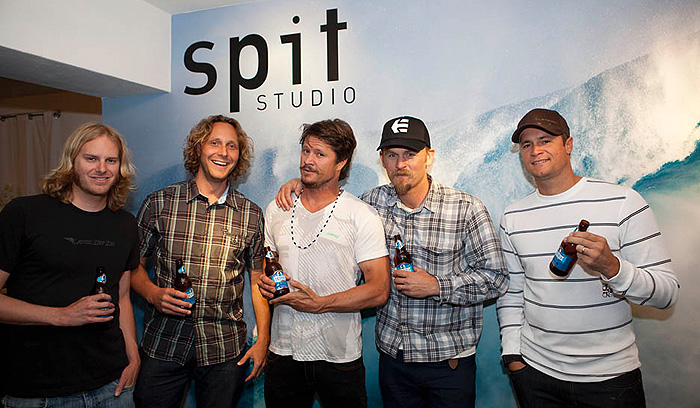 We also started a creative agency called Spit Studio. We offer a unique and proven ability to apply creative direction based on strategic branding programs. Dan Nikkel and his team heads up all the web design and development. Vestal, 686, Ed Hardy, Da-Nang, Stitches Jeans, and Arbor Snowboards are amongst a few of the websites under the umbrella. Ricardo Crespo is the Global Creative Director at Mattel/Hot wheels and comes from a solid background in the ad agency world having worked for McCann Worldwide for many years out of Toronto. Dave Buck began with Myspace and spent many years there before moving over to Buzznet, and then joining our team here. We recently welcomed Dawn Williams who spent many years with Vans, WMG and ALLI. Dawn will now oversee events and marketing.
What's next in the future of Bo Bridges' Photography?
I just want to stay healthy and keep shooting. My passion is always to be out shooting. I don't want to get too wrapped up in all the business and be stuck in front of a computer. I've been putting together the idea (and working with some past clients) of teaching a few select photo courses in the near future. I have a lot of clients and customers coming in the gallery and they want to take some courses. I will hand pick the locations and make it all about activities and shooting on location. I'm not one for sitting around; I want to be active and involved. I recently partnered with world renowned fine art printer Marco Fine Arts to offer limited and open edition prints which will be available soon at Bobridges.com. We have more than 13 years of action sports experience across the board, and we are going to be working day and night to get as many photos as possible up and available in our online image library.
The When Game: Starring You!
Once-in-a-lifetime photos occur when...
you are there to take the picture!
You know the moment was lost when...
the waves go flat.

You can't turn down a spur-of-the-moment gig when...
it involves something incredibly ridiculous like Glacier Tsunami Surfing.
Photographer life is tough when…
you are shooting a large group of girls in bikinis in a pool and your 2400 watt strobe falls in the water. Ouch! It's tough leaving your kids and wife often to travel. My boys know what I do and always want to come along.
Fave 5: If You Had to Choose?
Black & white (keep it classic) or color (vibrant is key)?
I miss the darkroom. I'd go back to B&W prints. I used to spend endless hours listening to music and printing images in the darkroom.

Film (keep it real) or digital (keep it convenient)?
I'm all digital now, unless the client request film.
Action sports or non action sports photography?
I'm all about the action.

On the set (glitz & glam), or out in the field (organic)?
The field!
Big wave surfing in Tahiti, or snowboarding helicopter-accessed mountains in New Zealand?
Tahiti! It's warmer.
Click the following link to learn more about Bo Bridges photography and Spit Studio: www.bobridges.com
---