Back to News
MIKE'S MASH-UP!!! - June Archives
June 30, 2009

Michael Akira West is the Owner and Creative Director of 686 Technical Apparel. The following are some of his experiences inside and out of the industry across the globe.
The 2009 Spring/Summer Collection
June 30, 2009
Heads up. The 2009 Spring/Summer Collection is currently at a stockist near you. Every season for the past 17 years, I put a story to the collection. Some are deeper than others, but all relate back to our historical hybrid nature of technical meets casual. This season, it centers around MATHEMATICS and all the reasons that the truth is in the #.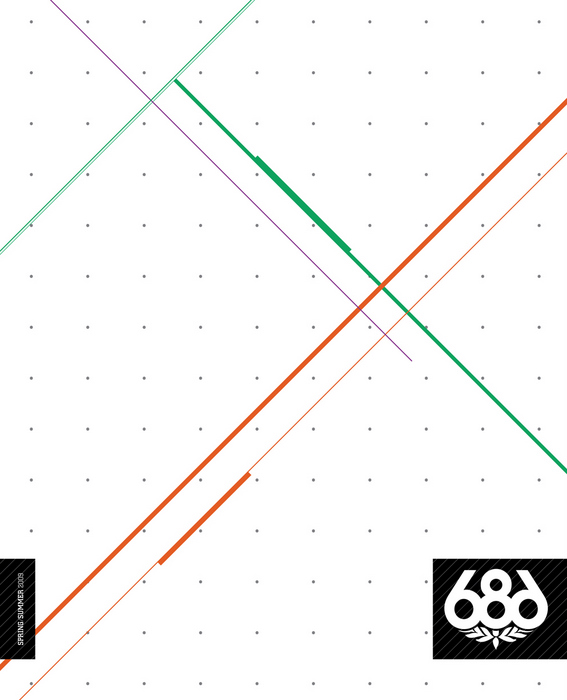 Neither here nor there, but somewhere just about…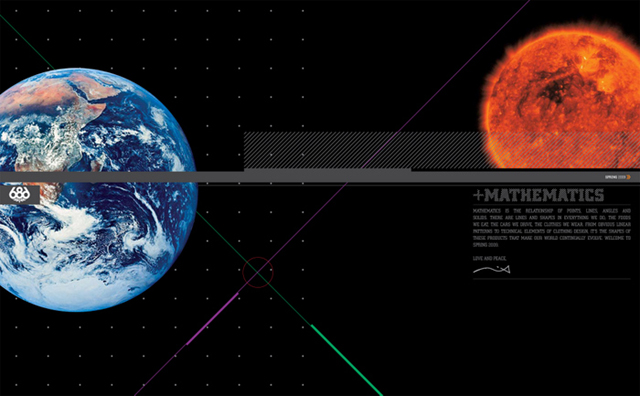 Three color stories tell it all. How high? NATURAL HIGH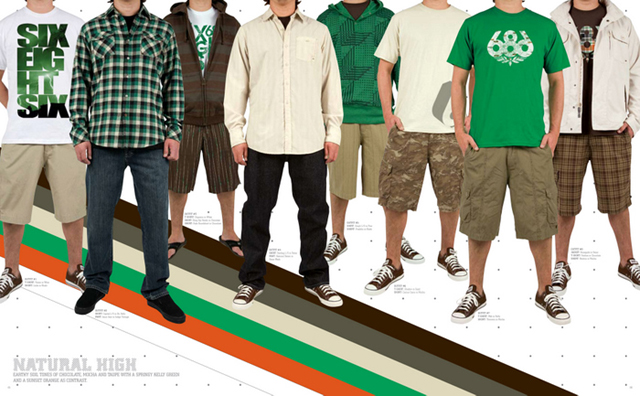 Watch out, UNDER CONSTRUCTION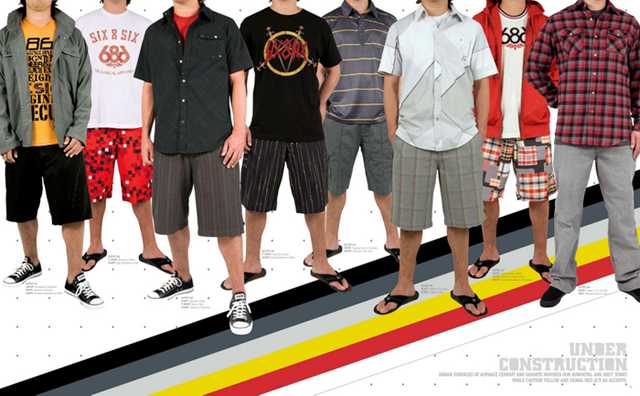 And the best for last, a BRIGHT IDEA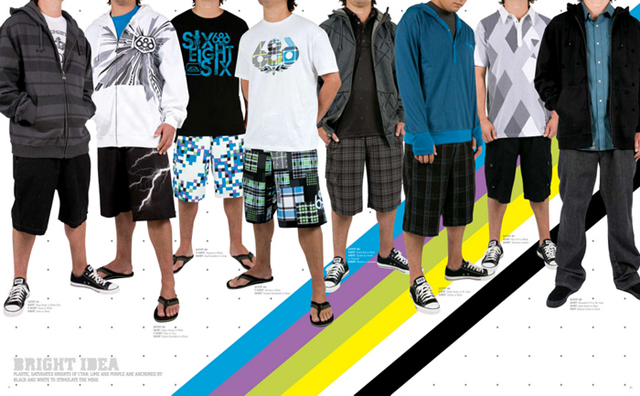 C.R.A.N.K. MOB!
June 29, 2009
This past Saturday, Crank Mob was happening. If you don't know what this is, allow me to explain it in simple words. Monthly Bike Party Ride + Anything Goes + Taking over the Streets (literally) + Come all, come ready + Pigs suck + Fast… really fast + Join the mob = Crank Mob!
It was my first time going on the ride and lucky enough it started in Venice at 10pm sharp. Brings back memories, except this time I'm on my fixie.
Pre mob, gett'n the goods ready with the Pake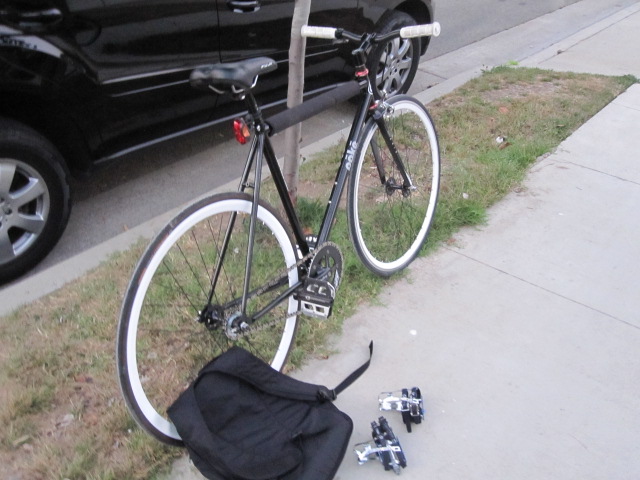 Is my buddy going for some sort of candy theme?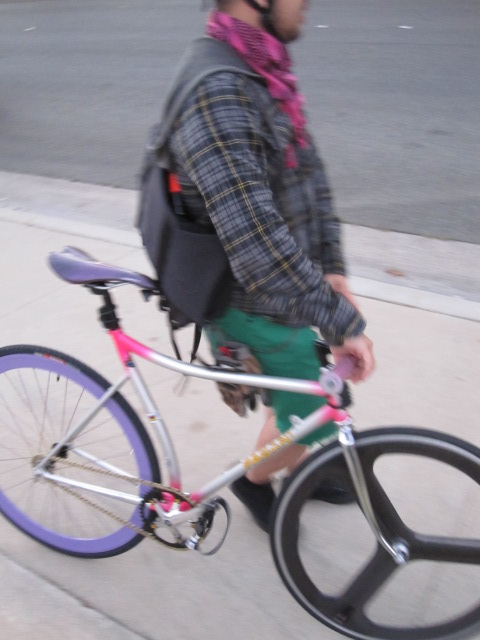 I want my wheel back!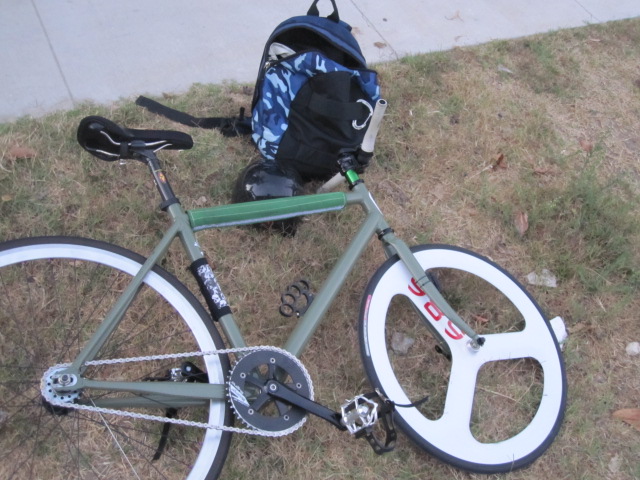 So check it, we rode from my pad to Venice and rolled up on about 1,000 riders all at the pavilion…damn son! Check out the shitty pict.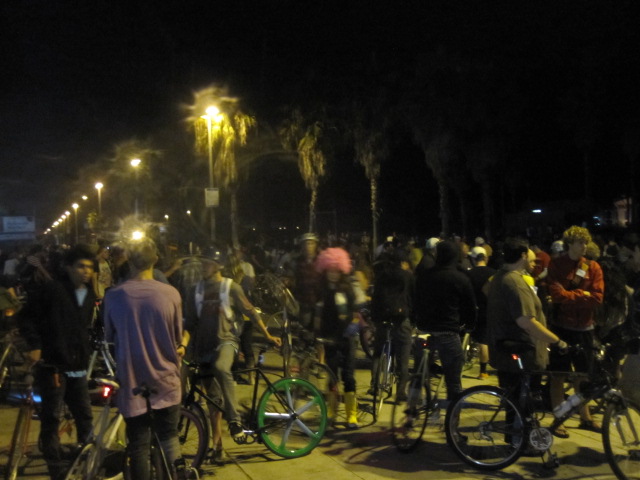 10pm, on your mark, get set…mob!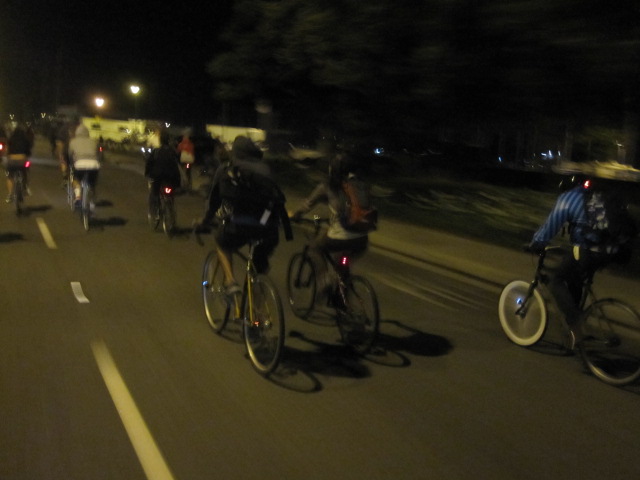 You think a group of 1,000 riders on the streets of Venice move slow but in a matter of 5 minutes, everyone was off.
I was still in awe of how crazy it was, I didn't have too many chances to whip out the camera so my buddy shot a few-you see me?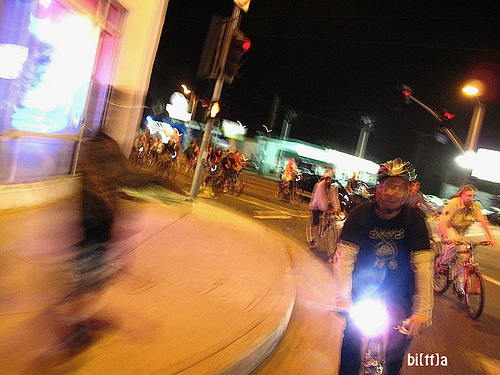 This dude was riding a custom bike double stacked.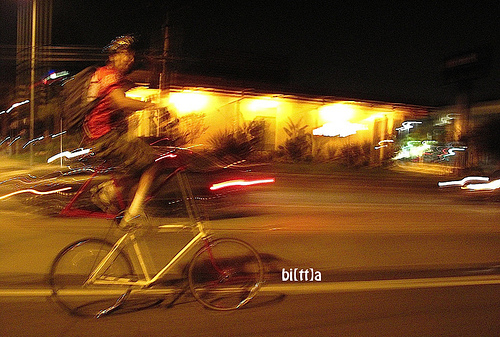 Along the way, people were honking, yelling, music blasting, helicopters chopp'n and of course the pigs are not too far behind. The first stop was Dockweiler Beach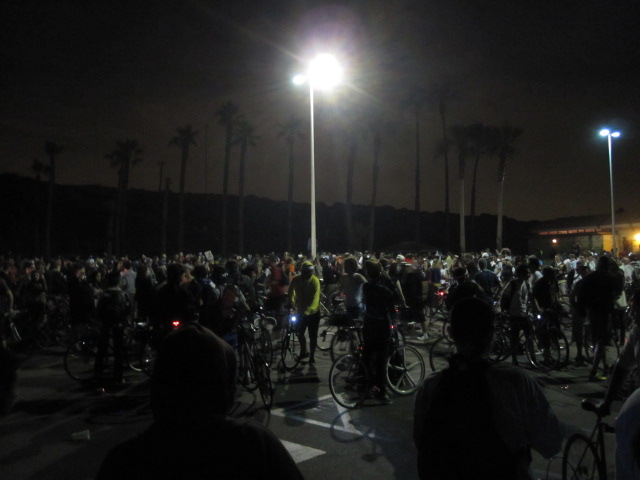 Check out the pigs ready to roll.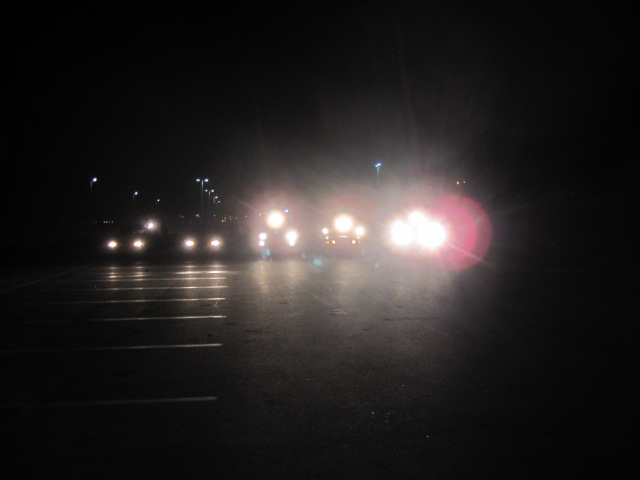 It was funny cuz what are you gonna do with a K worth of mobsters on wheels? People were riding and doing tricks in front of them. In all, it was an experience, a rush and a good ole time. Looking forward to next month. Huh? What you gonna do coppers?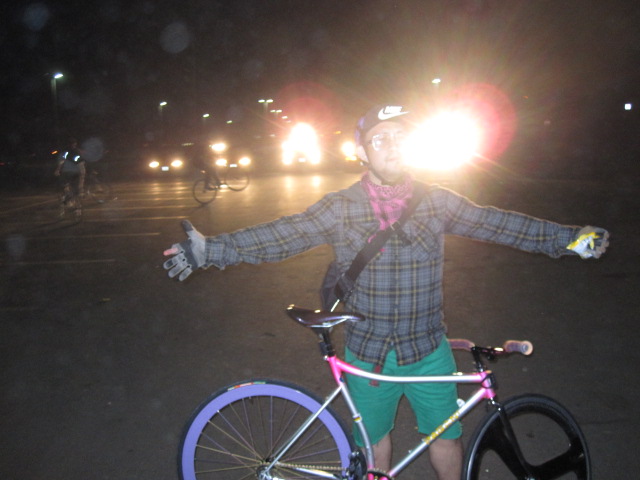 "I HEARD THAT…" Fridays
June 26, 2009
Damn, yesterday was a crazy day. So many things going on. I got some interesting emails. Again, just because there's a post does NOT mean it's true. Don't kill the messenger...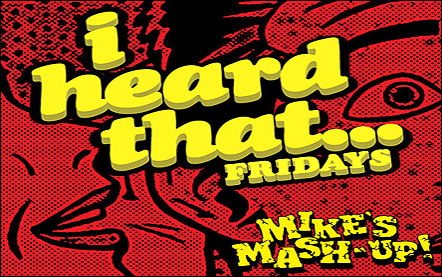 "I HEARD THAT Jacko was a really cool dude that was just misunderstood. Much Love, RIP."
"I HEARD THAT o-school skate legend CHRISTIAN HOSOI is now serving as a church pastor in the O.C."
"I HEARD THAT Phil Spector's mansion sits on one of the best skate hills in the San Gabriel Valley."
"I HEARD THAT two creative break offs from Sole Tech are the masterminds behind Creative Recreation."
"I HEARD THAT infamous skate movie icon Animal Chin has been spotted late night riding in the shadows of Long Beach Arena after the parking lot lights are turned off."
"I HEARD THAT the Shadow Conspiracy is bummed that the Snowboarding Skeleton Crew ripped off their style."
"I HEARD THAT CS3 and the new Canon 5D CR2 files don't like each other."
"I HEARD THAT the hangover is over rated."
"I HEARD THAT http://www.marclemoine.blogspot.com/ has dope photos."


"I HEARD THAT the US beat Spain!"
"I HEARD THAT The New Yorker is running a profile on Greg Lutzka."
"I HEARD THAT Lakai is releasing limited edition Where The Wild Things Are kicks to coincide with the launch of Spike Jonze's latest movie."
"I HEARD THAT MTV gave the "Frends Crew" tons of money to produce a reality show about their shenanigans. They went out and bought Segways for the entire crew and threw a party just because they could..."
RULES:
1) Email [email protected] with what you've heard (Please try to send me stuff that's somewhat true vs. completely talking shit)
2) The topics are completely open (we'll see how this goes for now...)
3) Please don't send any attachments or picts, as it will be deleted.
4) Just because you send an email doesn't mean it will get posted.
5) As much as I want to reply to your email, tell you if it's true or not, and also talk about how your day was, sorry, it isn't happening.


I'll be there right Quik
June 23, 2009
I think I posted something along the lines that "I'm not so into Orange County," last month. It has nothing really to do with the people or the area, I think it's more that I love LA and being as far away as possible from what people expect you to be. Nonetheless, the so called "board sports" or "action sports" (I hate those terms) industry is mainly in OC. When you think of the word "surf," one company always comes to mind, Quiksilver. Yeah, you may have heard all the crazy things they've been going through, but at the end of the day, they are 100% legit on what they do. Not only are they the grandfather of surf, but they have led the way in bringing the "industry" into mainstream culture by supporting the people, retailers, artists and riders along the way (Shit, Natas even works here!). Nowadays, when most people think about themselves and how they gotta "get," - staying true to your roots goes a long way in my world.
Front and center to the campus (I tried to pry the boards off, but they wouldn't come off!)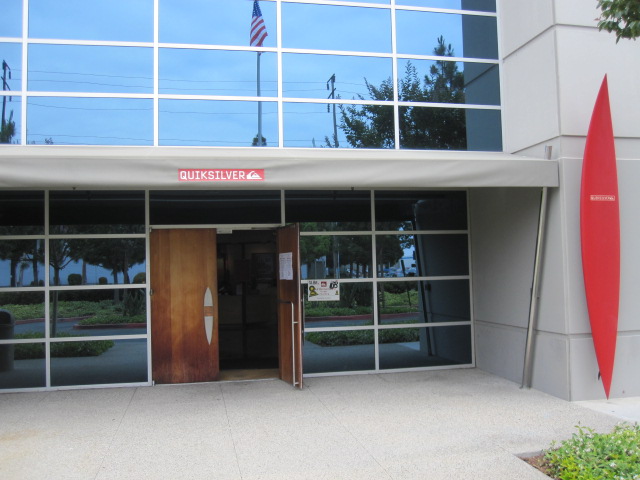 I had lunch with Dave aka Rosey. Lately, he has his hands full, leading not only all of the winter categories, but Young Men's as well.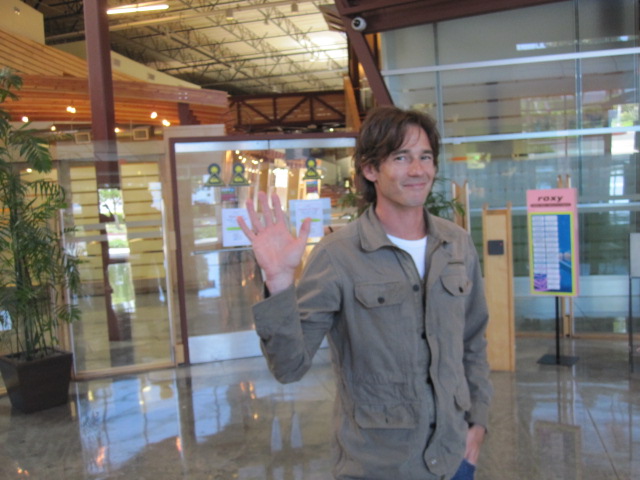 After all these years, I've never been to the office, so he gave me a quick tour. The place is absolutely gi-normous. How about the waiting area? I think I'm back in Bali.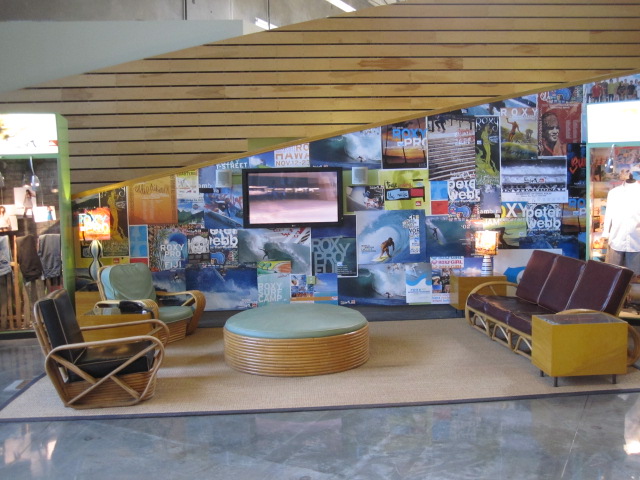 Yeah right, I have one of those fish tanks at my office (do you think my baby turtles will fit?)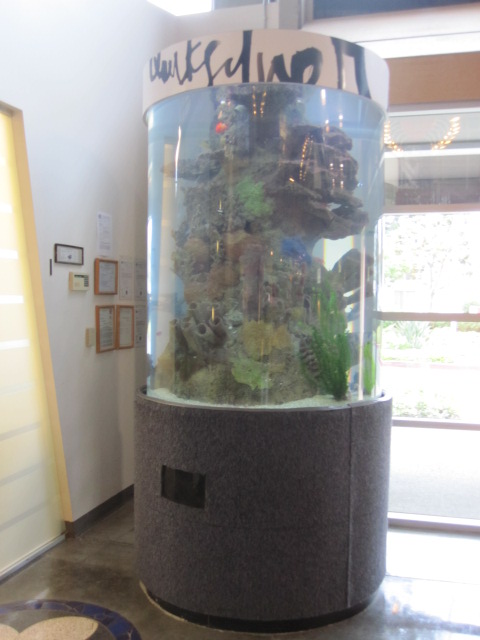 McKnight's office at the top corner. Bob is a huge SC alum and funny enough we both spoke at Tom Knapp's Entrepreneurs class. I think he has a few years on me, but it's all good in da hood (BTW, I tried to find a ladder to gank those boards, but no go)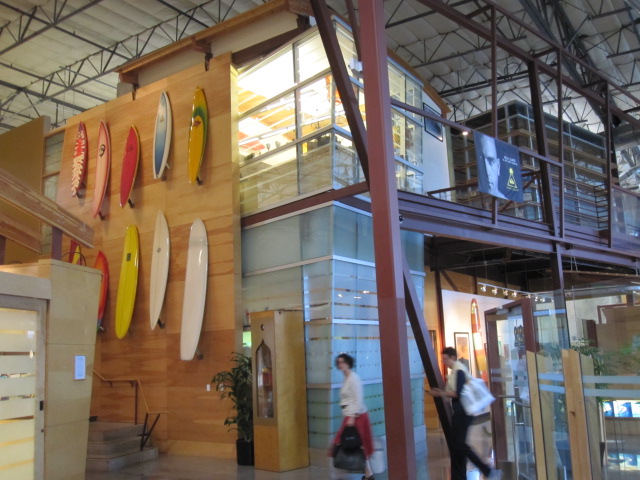 They have their sales meetings and runaway shows at the office. Roxy just finished theirs. Damnit, I missed the girls!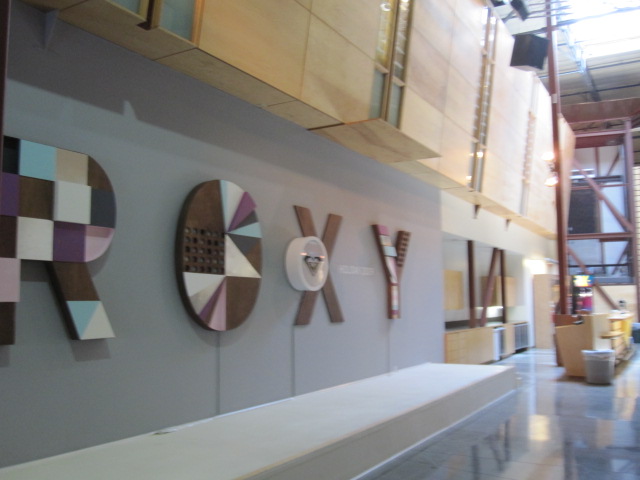 Over 10 years ago, Quik purchased Mervin (Lib, Gnu, Bent Metal) from Pete and Mike. However they still run the ops in Washington. Here's a brief history of what they've done. Hmmm, I wonder if I could pry these off with my keys?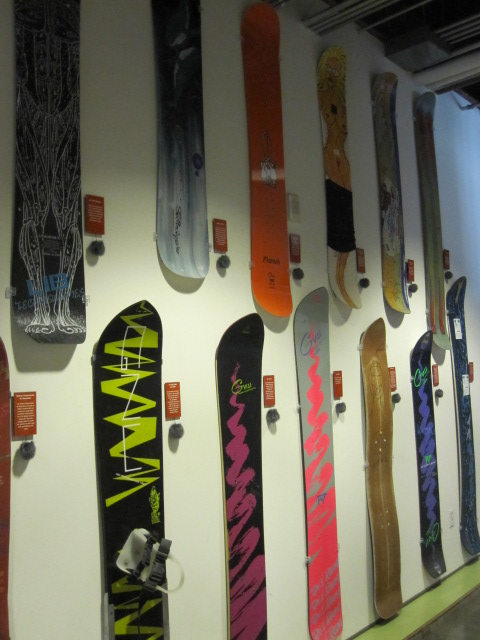 Before Damian Sanders was doing back flips in his pink Koflach's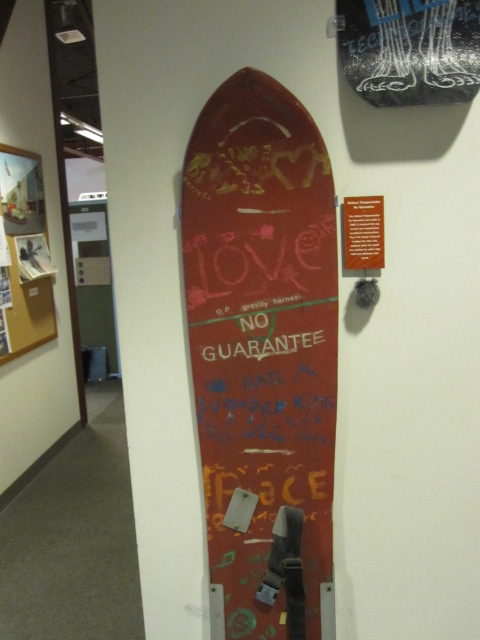 I knew I would see boobies somewhere. Support the Keep-a-Breast Org.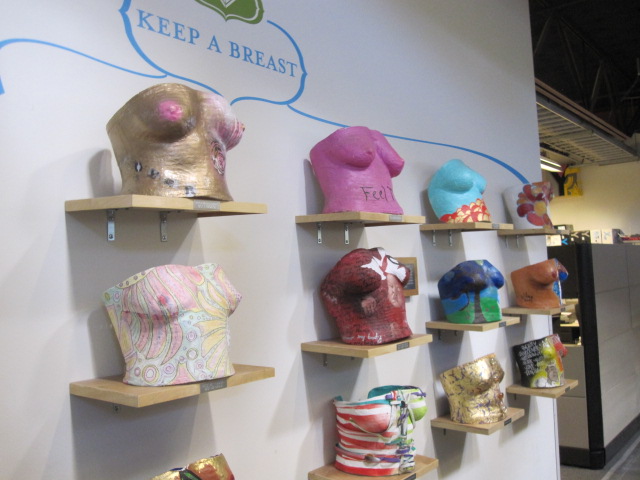 They even have a sample and pattern room for precise handling and ops.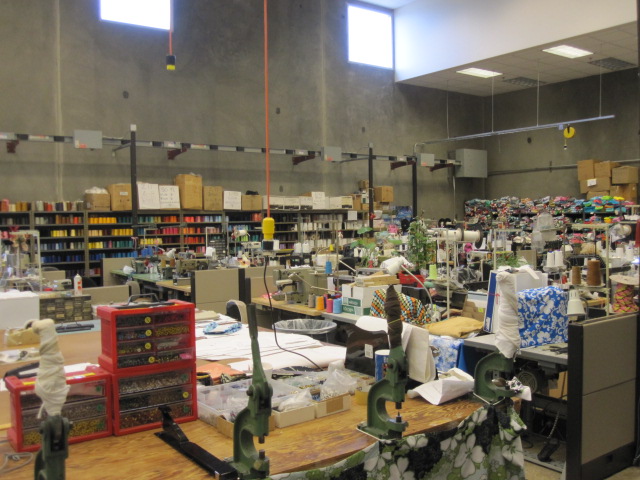 In all, Dave and I rapped about how things are quik-ly changing (no pun intended) and what big and small co's can do to continually support specialty retail and the industry we grew up in. If you think about it, we're all in the same boat-trying to do our best and have a little fun along the way.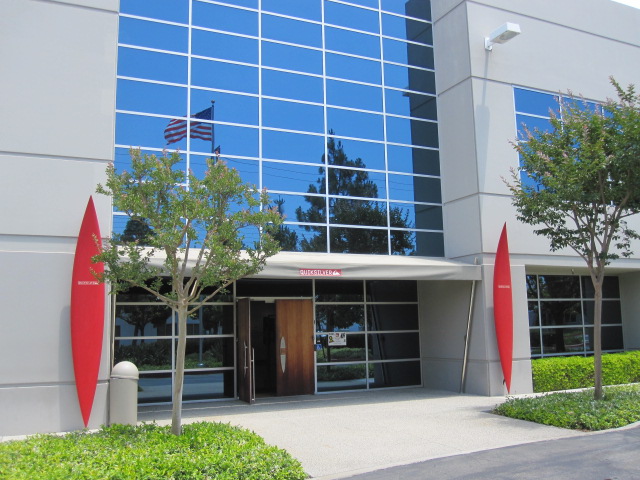 Spring Cleaning
June 22, 2009
Around this time, I like to clean things out of my office to get ready for the upcoming Fall. Typically when I do this, I run across a bunch of neat things. The question is DO I or DON'T I get rid of it. I guess you decide.
The first rounds are my mag collection. I used to subscribe to a grip of pubs, however over the years; it's dwindled down. More than ever I get random mags sent to my doorstep (whomever puts me on the comp list, thanks!) Here's a few of my favorites in no particular order.
WALLPAPER is a mag from Europe that showcases insane design work that's namely architectural.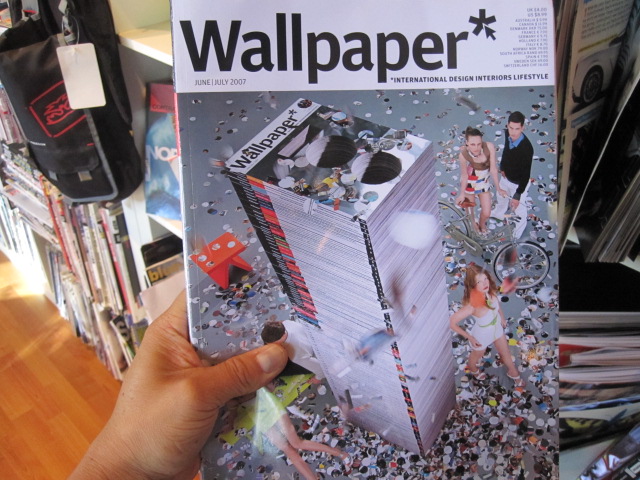 On the other spectrum of design, DWELL showcases the modern love of design focusing on sustainability and simplicity. BTW, I'm heading to DWELL LA this weekend, yeah!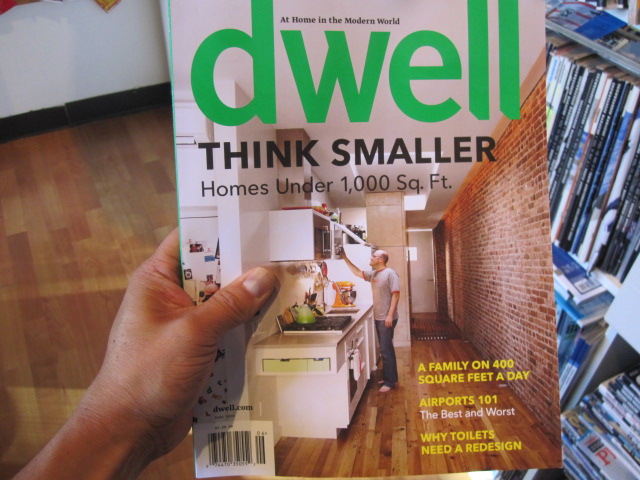 ID is a must have for anyone that's fascinated with Industrial Design. It goes beyond the typical aesthetics and more into function, story and control.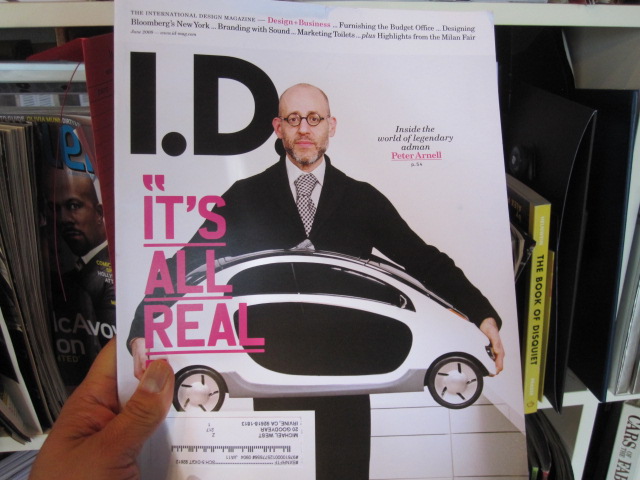 Juxtapoz is the youth's answer for the so-called art mag. Simple, informative, and core. Hailing from the same folks at Thrasher mag doesn't hurt as well.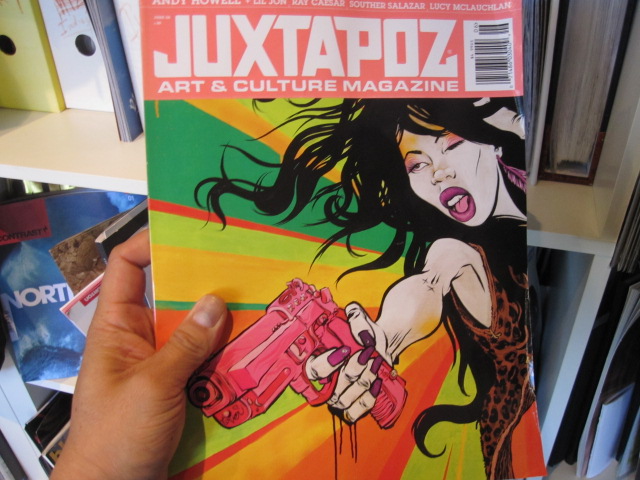 Arkitip is a totally different experience as they recreate why art is special and limited to those that appreciate it.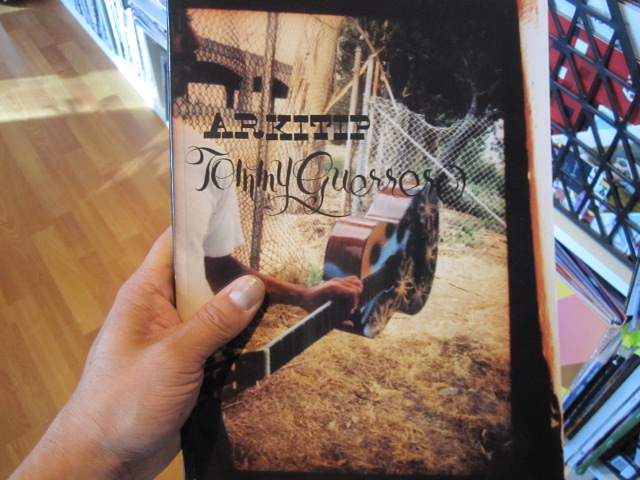 Outside is not your typical outdoor-go camping-I wear Teva's mag. It goes beyond the norm and brings a hybrid taste of being outside.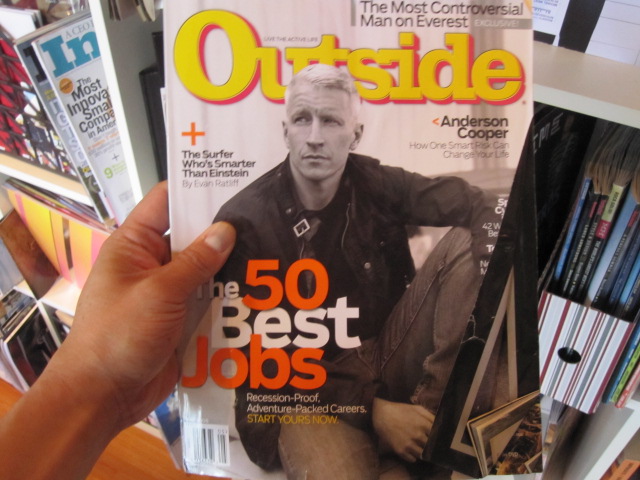 Vapors just re-launched their mag. David and posse have done a great job in captivating and morphing the streetwear landscape into something much more than a mag. Shawn Mortensen RIP




Streetwear Today is based in Europe and contrary to the name, it showcases much more. I like the intimate interview format and product reviews.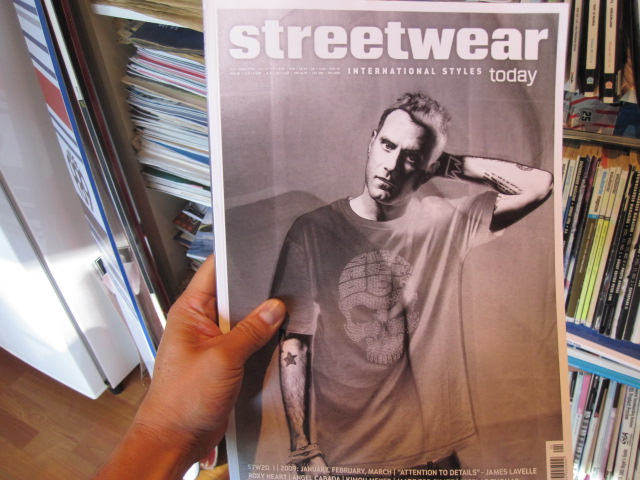 Complex - Despite what people say about Ecko, they've done their part to give to keep the game interesting.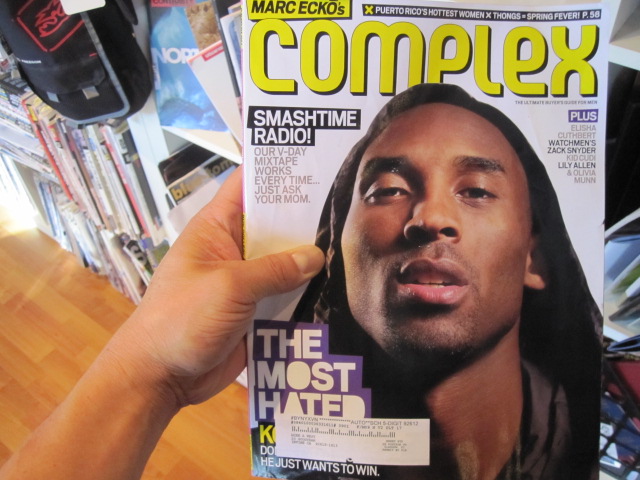 Antenna - Japanese inspired modern day items from toothpaste to forks to ties, but somehow they make it look exciting.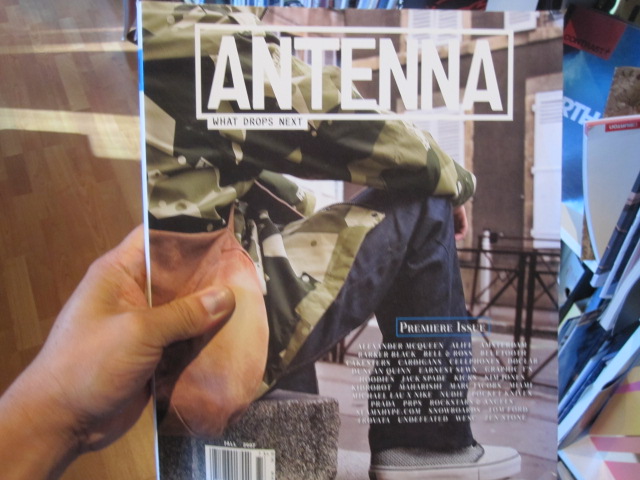 Inc - There's so many biz type of mags, after a while, it gets boring. Inc keeps me entertained as I can relate to the small biz mentality.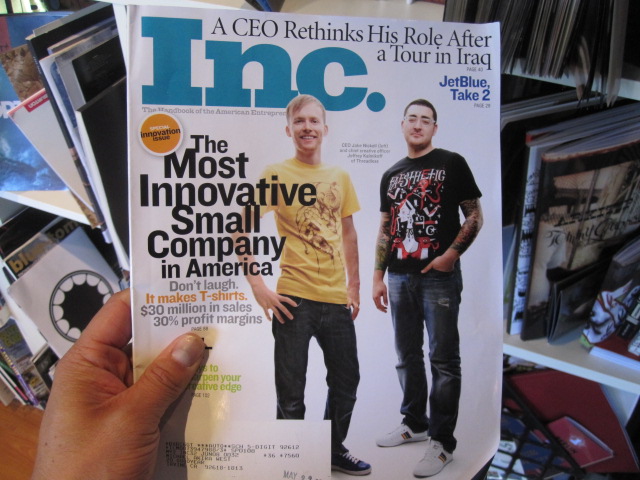 The T-dub show
June 20, 2009
This blog mash-up is still new to me, so new that I either forget my camera, forget to take pictures and still feel a little weird actually documenting these things. One example is the annual Transworld Skate Awards in Hollywood. It actually happened last week, but I had a brain fart and forgot to post it, sorry. If you've ever been to T-Dubs award shin dig, I'll explain it in simple words.
Hollywood hipster + Hollywood wannabe + Booze and then some + Boobies + Dress as you are + Roosevelt after-hours = SKATE AWARDS
Dirtbag shredfest + Tradeshow hell + Dress to impress + Booze + Cheetahs + Blackjack shuffle + Hard Rock after-hours = SNOW AWARDS
Either way, it's all good.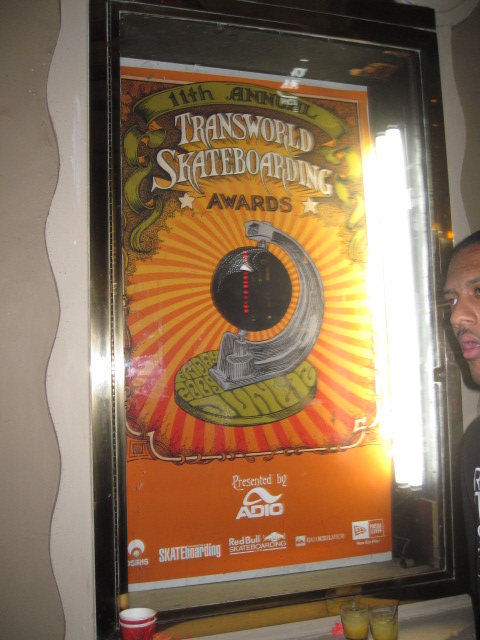 Braden and Courtney from New Era are always pulling out the red carpet, I mean Gold Club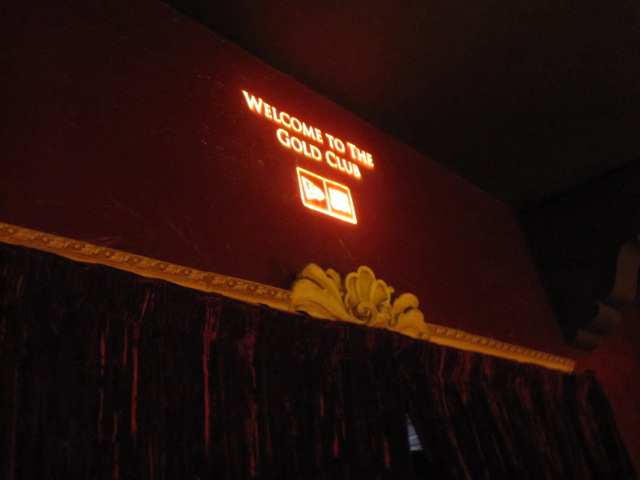 Pre-party Tall Can style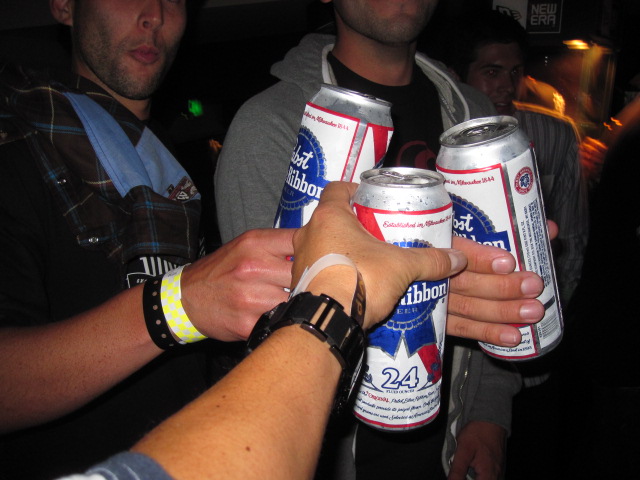 Reduce-Reuse-Refills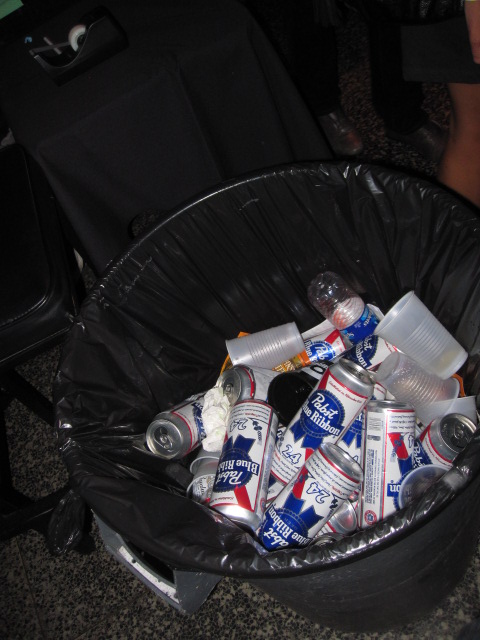 Jeremy and Justin from Podium -Lights, Camera, what?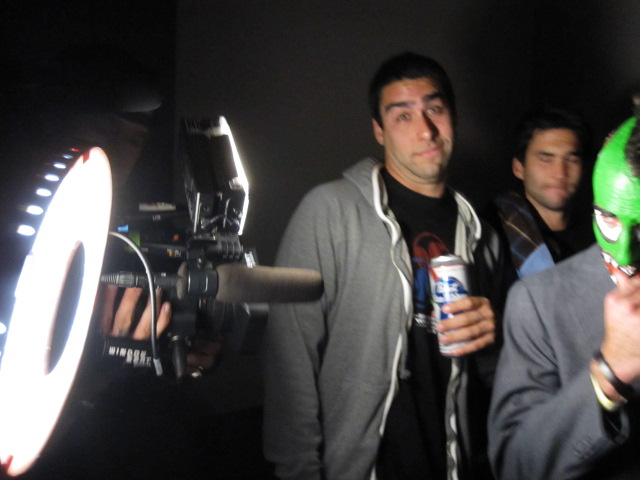 Green dude from Grenade and Tricksy blow'n a something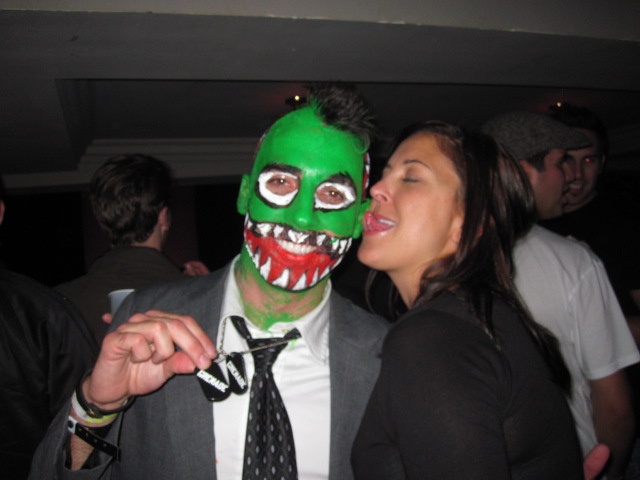 One of the main reasons I come to the gig (besides getting in trouble) is to check out the Legends award. From all the past heroes I looked up to such as Gonz, Natas and Lance; this year went to Hosoi. Words cannot describe what "holmes" has done through his lifetime. He's come from hell and back a few times. Now a born again, he preaches the words of truth and living life to the fullest. I was stoked to see it happen tonight. Sorry for the crappy pict, but Christ, in the middle is being greeted by some of his peers.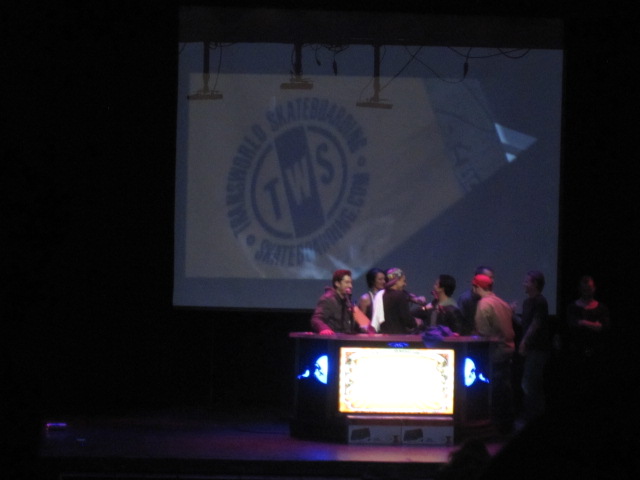 New Era even made a custom 59fifty for holmes. Congrats and god bless!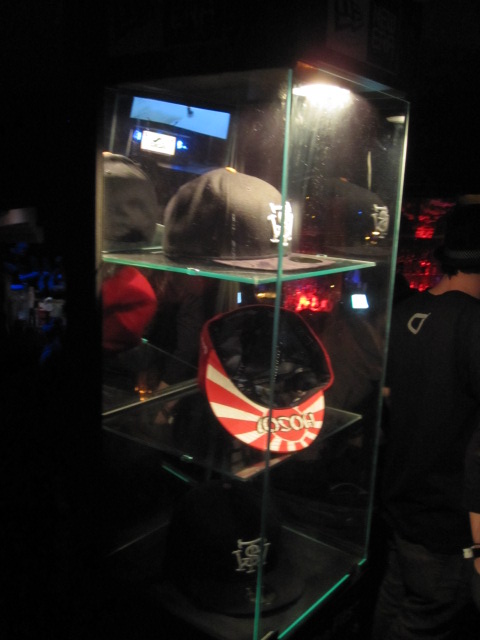 Once Christian got his award, I was outta there. I actually wanted to go home, but somehow got "hand held" to the Roosevelt. For those that don't know the history of the Roosevelt hotel, google it.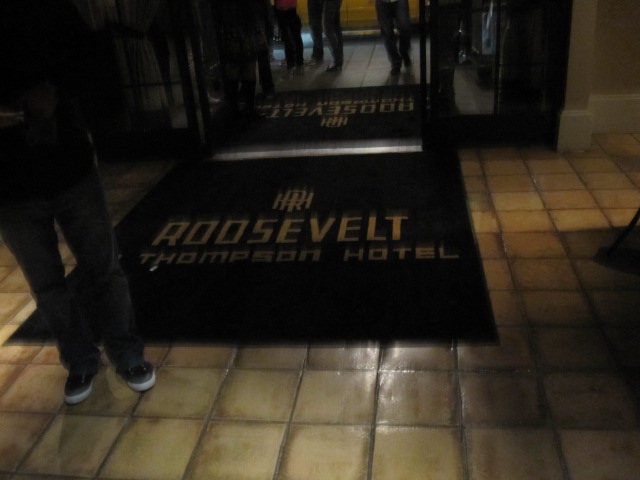 If you go there, stop by the Tropicana bar, you'll see just about anyone and everyone.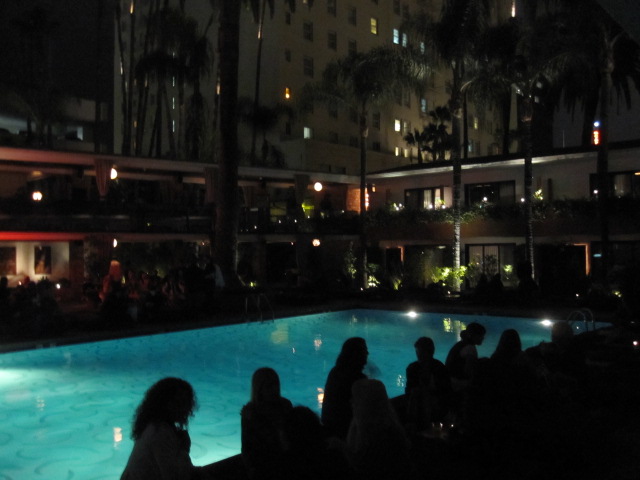 Like they say in Hollywood, you never know what can happen next…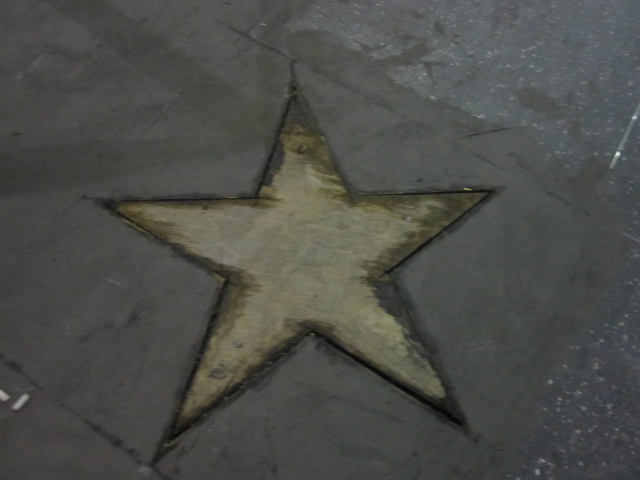 It never rains in Seattle?
June 19, 2009
It's June gloom in LA - light drizzle, dark clouds and a bunch of cranky ass drivers. I headed up North for some meetings in Seattle and Vancouver. I didn't bother checking the forecast, as it's always raining. The minute I stepped off the plane, I didn't know where the hell I was: Blue skies, mid 80's, people walking in shorts and hanging outside on the patios. Damn, what a difference June makes! Anyways, on my way out, I stopped by some friends to say wus up. First stop are the heads at C3, you know the makers of Coal headwear, Capita snowboards and Union bindings. Low key on the outside.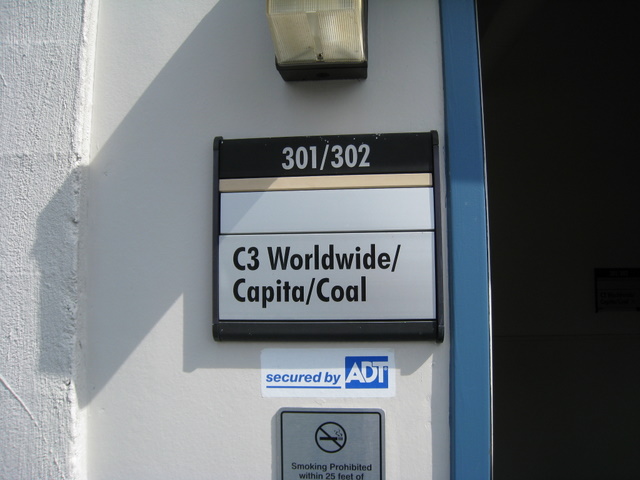 A few steps away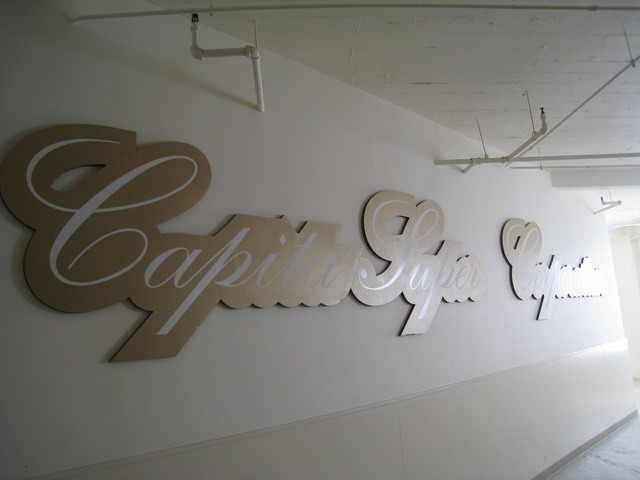 And




Here's a look at the new Capita Super Corp's line up, dropping in Sept 09.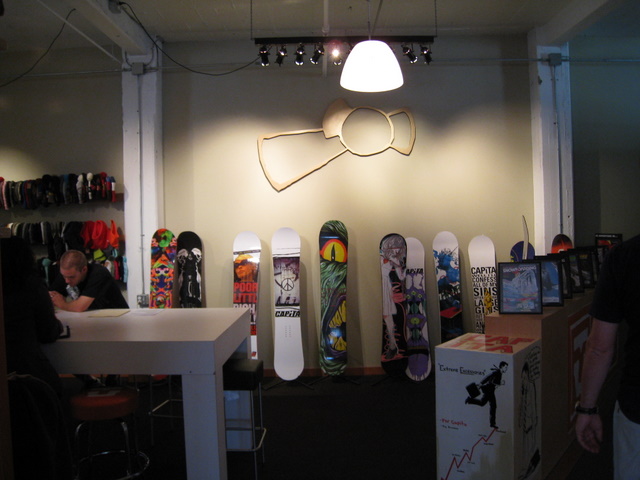 Human Five graphics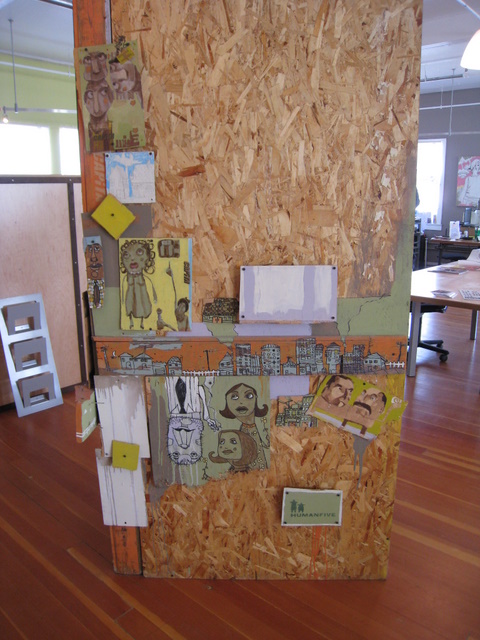 The main man behind Capita is Blue. If you don't know much about Blue, you betta check yourself. Ex pro shred, creative genius, graphical mastermind and hardcore industry veteran. Every time I see Blue I tell him how stoked I am on his themes and graphics. They do a lot and absolutely DEVOUR EVERYTHING!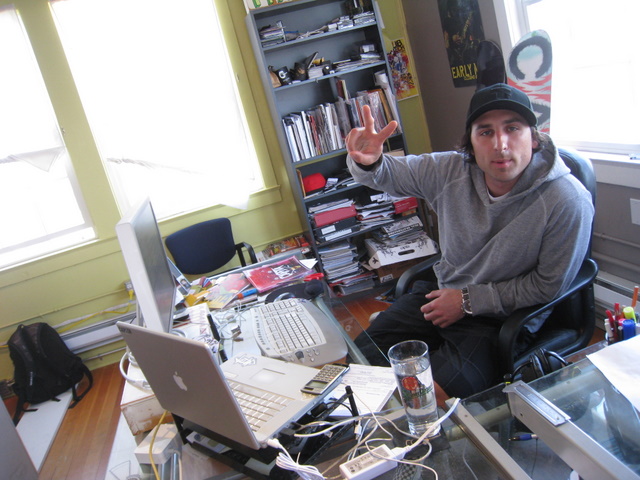 Across the way is George. GK's been around for quite some time. I met him during the Northwave glory days while he was running the team. Now he's in charge of Union with Martino in Italy. FYI, the binding biz is a science. No bullshit, it's probably the most difficult biz to be in (that is to do it right.) Not only does it cost a grip to start, but the testing, engineering, tools, etc is insane. Outside of that, you have to make it look sick. Well, Union has done just that within a few F'n years! They have a unique aesthetic to it; strong, light and responsive as hell. It doesn't hurt when you also have a sick ass team.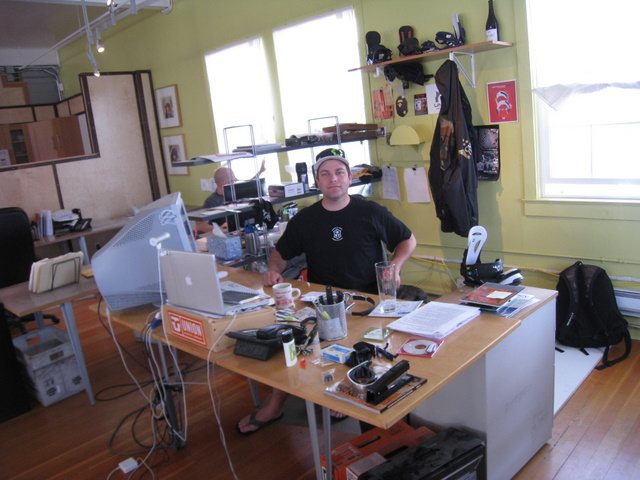 Down the custom made hall on the other side of the building is Coal. I guess you're special when you have your "own side" of the building. Holding it down big time is Brad. Of course they have a great support crew; but it's Brads fault when you see, touch and feel Coal's clean aesthetic product line. Most people think, "How hard is it to make a knit beanie or hat? I just tell the factory to cut and paste this and make it look like that." Well if you're that guy, you're not Coal. Everything is thought out well before anything goes to paper, let alone come in as a sample. From custom premium yarns to colors to fits to who's going to wear it, how they're going to wear it, how it looks in the catalog, shop floor and how it matches my kit, they do it all. So next time you buy a Coal product, you'll know it went through Brad's hands many times over. I don't know if Brads stretching or doing a new funky Yoga move. Anyways, what up B.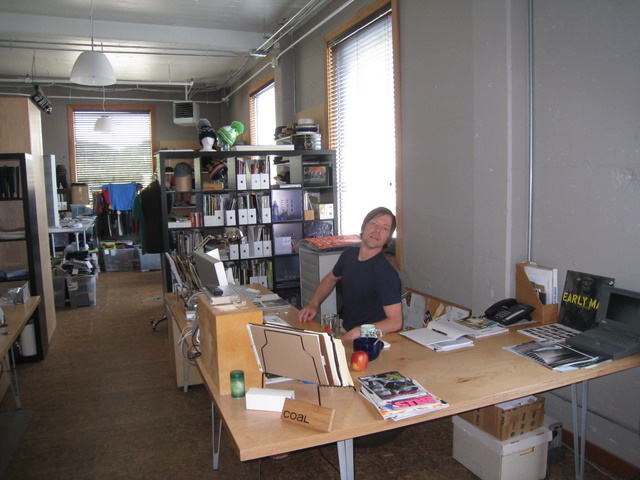 I had to take a pict of his archive laptop. He says it still runs!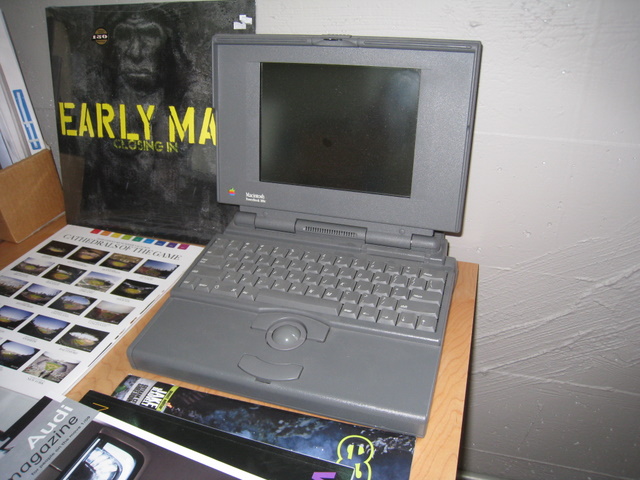 Fall/Winter 09-10 Coal line up in the house.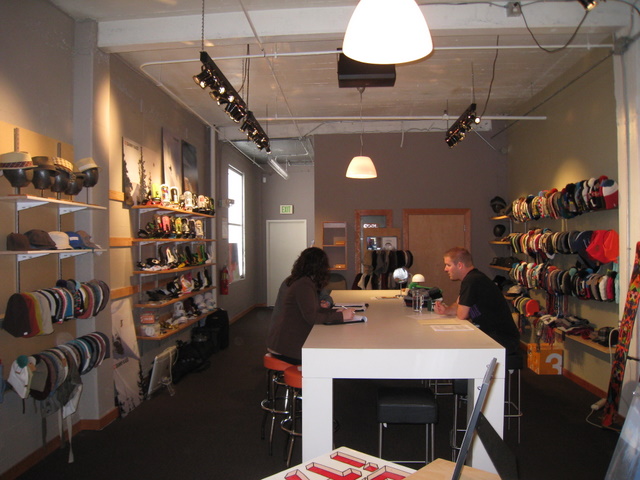 Johan is the Sales Kingpin that wrangles the brands and makes shit happen. Today, he looks kinda busy, so I didn't want to bother him too much. Uh, what the hell…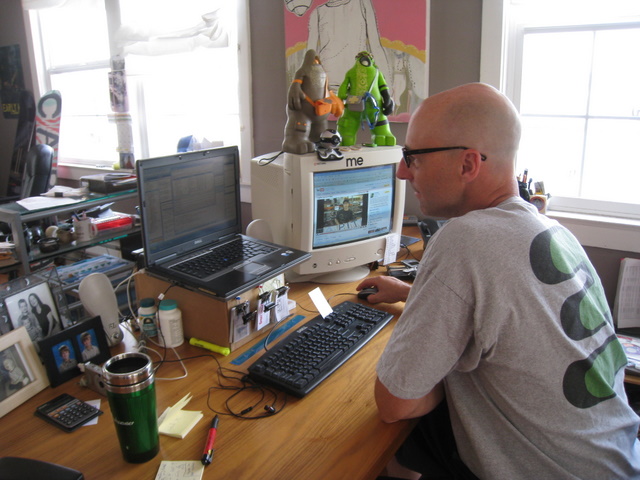 The so-called Head Coach of all the brands under the C3 umbrella is a dude named Bob. Actually people call him GUMBY. For the longest time, I didn't know why until he told me over a few glasses of grappa. Let's just say it involves his old days as a freestyle planker. Gumby has a few sides to him. Very serious and very hilariously serious. No really, Gumby's not only connected with just about everything in every industry, but is also a pretty smart cookie. Smart in the way he knows how this industry works, who works best in it and what it takes to make it work. Sounds simple enough, but I can tell you it's NOT! I wonder what mood Gumby's in today?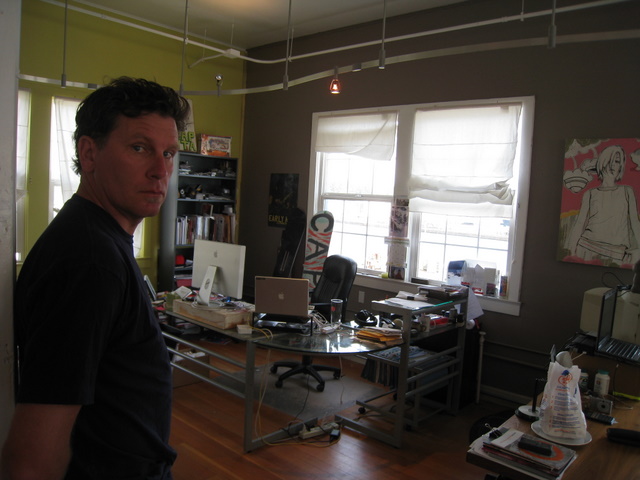 On my way to the airport, I stopped by and said wus up to Nin and Krista. If you've read my Japan post, you've already met Nin. If you haven't, Nin runs a grip of things. Skate hardgoods company, Manik, Street/Fashion boutique, Goods with a bunch of other heads and son of the seventh men's apparel line, Maiden Noir, as well as Design agency, WKND. Interestingly enough, WKND has a café in the front.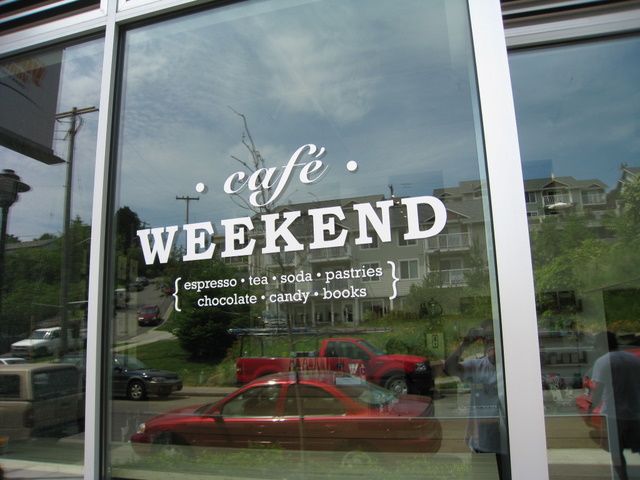 I think I'll get a small cafe latte




In the back, this is where the magic happens. Print media from the bottom to the top.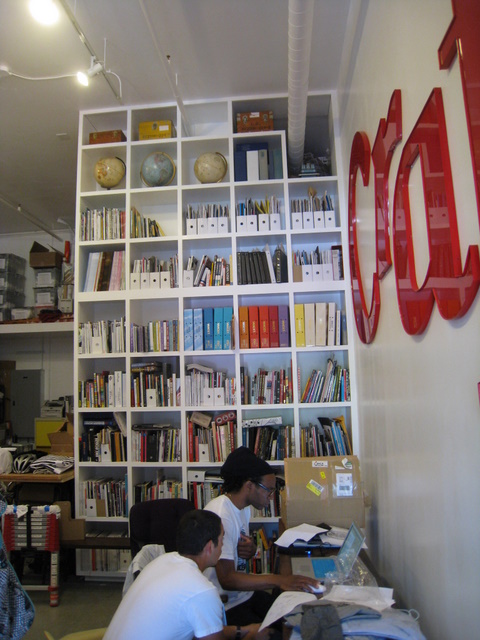 Hello Krista and Nin.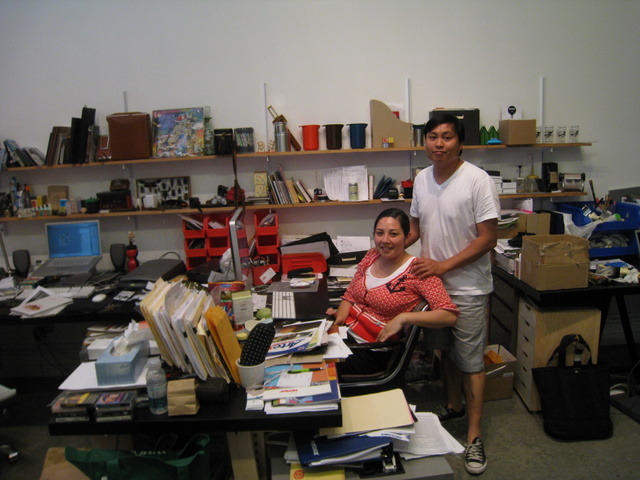 Krista got this at an auction, I think it fits the space well.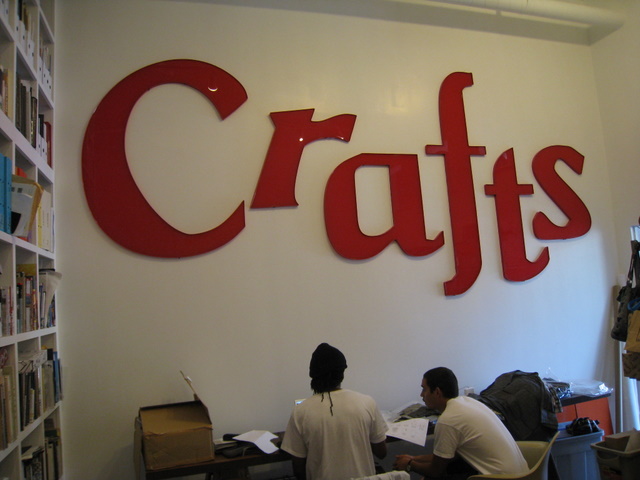 Nin was showing me Maiden's new online store - clean and user friendly.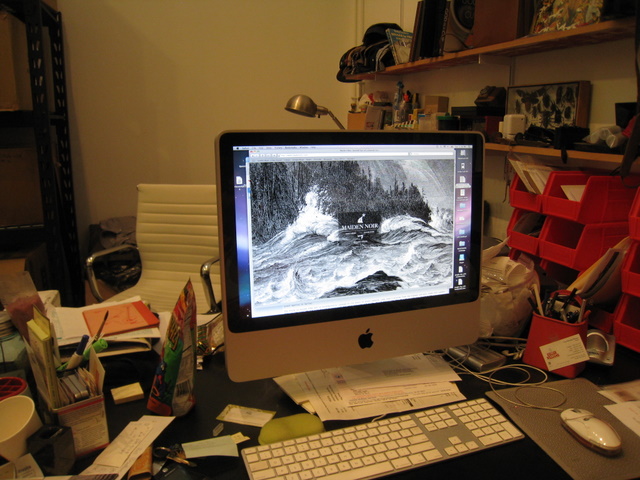 I was checking out a Japanese mag and saw a layout with Chioki (designer for Maiden). Chioki in print and Chioki live.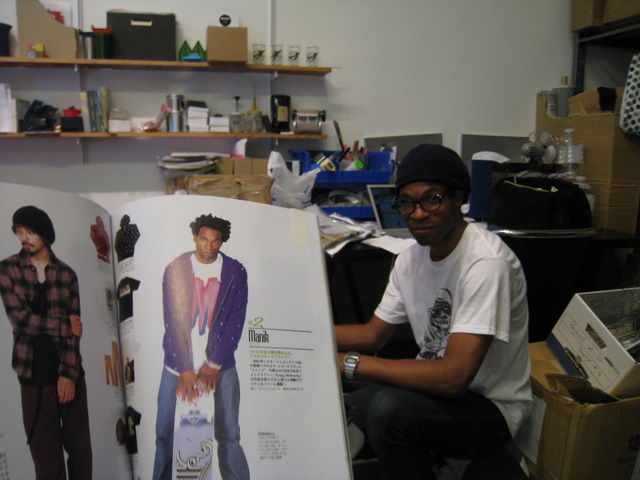 A few minutes down the way, I stuck my head into GOODS. Check how Paul (one of the partners) is not lov'n the quick pict- Got yah!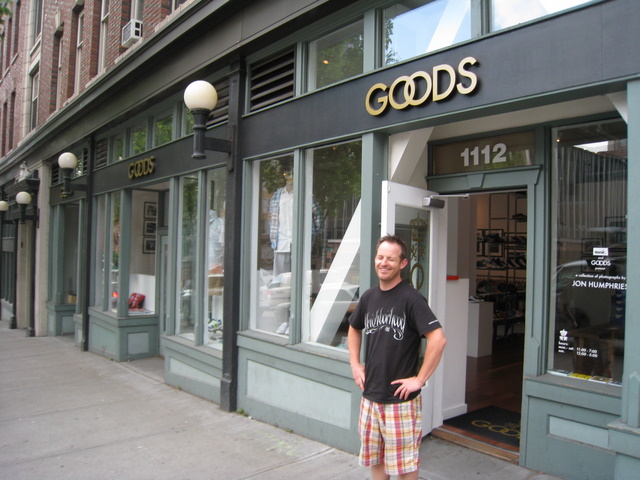 Clean and classic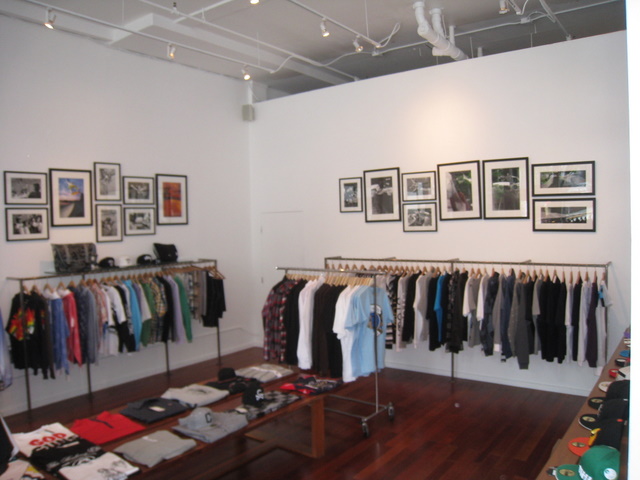 The S-N-E-A-K-E-R wall of fame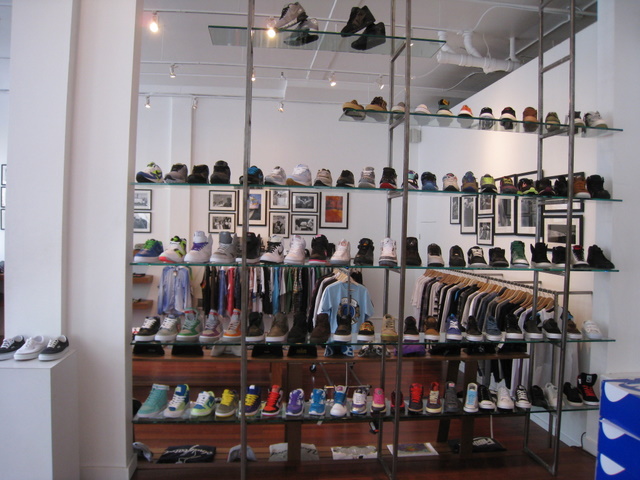 "I HEARD THAT…" Fridays
June 12, 2009
Here we go again. Its "I HEARD THAT…" Fridays. I got some mixed emails, some probably legit and some definitely not. We'll see how long this lasts. One change, I'm not going to include names, so it's totally anonymous.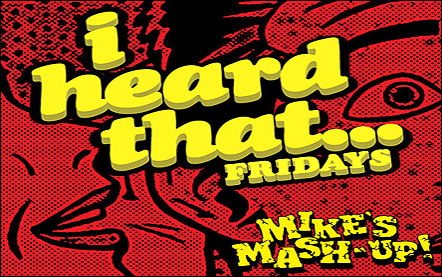 "I HEARD THAT Nicole Richie is starting a snowboarding brand"
"I HEARD THAT POW Gloves is making Golf gloves this year!... a little birdie told me… SWEET SWEET!"
"I HEARD THAT the iphone is going to be $100 by the end of the summer"
"I HEARD That the owner of a company that sells expensive ass hats that look like Ed Hardy knock-offs, is actually a cheap ass."
"I HEARD THAT ASR is only 40% sold for September "
"I HEARD THAT 686 means the first time you got laid in June 1986!"
"I HEARD THAT the skatepark at the new TransWorld offices is crazy! "
"I HEARD THAT Jereme Rogers retired to grow mushrooms full-time"
"I HEARD THAT old school s.g.v. and former Bones Brigade skater LANCE MOUNTAIN has a signature skate shoe out that is colored Cal Trans orange. (inside? and out!)"
"I HEARD THAT June 21 is Go Skateboarding Day"
"I HEARD THAT Sherman Poppen's Snurfer is going to be put in the Smithsonian"
RULES:
1) Email [email protected] with what you've heard (Please try to send me stuff that's somewhat true vs. completely talking shit)
2) The topics are completely open (we'll see how this goes for now...)
3) Please don't send any attachments or picts, as it will be deleted.
4) Just because you send an email doesn't mean it will get posted.
5) As much as I want to reply to your email, tell you if it's true or not, and also talk about how your day was, sorry, it isn't happening.


The Brain-trust
June 11, 2009
On my past posts, I've leaked a few things on our upcoming KR3W x 686 Collection, dropping in August at very select dealers. The collection showcases KR3W's history as the premier skate apparel brand, as well as their influence in street fashion. Of course, we twist shit up with 686's technical story. The end result is something pretty unique. Today, I stopped by the KR3W and SUPRA headquarters to catch up with a few things. On the outside, the building is very non descript, the way they like it.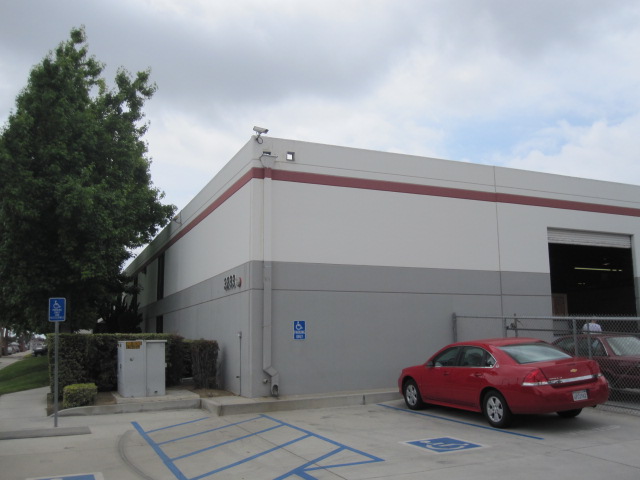 Inside, it's a different story. Here's some past and present images. This is the KR3W ad campaign a few years ago. Dixon, Greco, Muska, TK and the rest of the team doing their thang.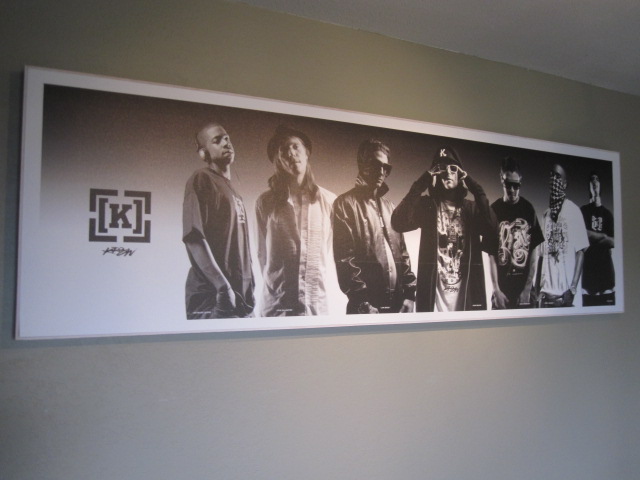 Up and over for Greco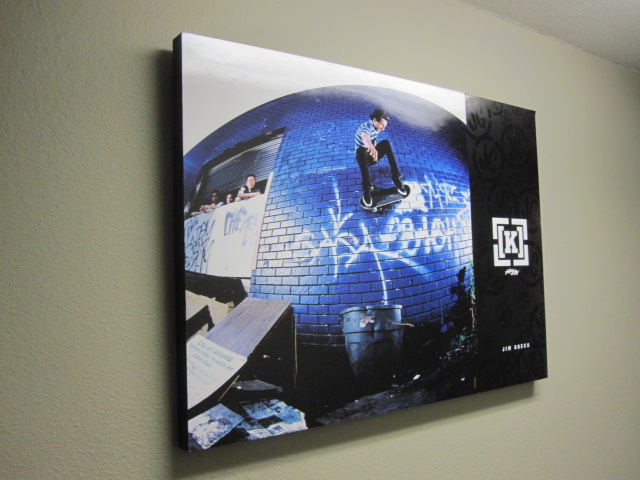 Muska doin' it and doin' it loud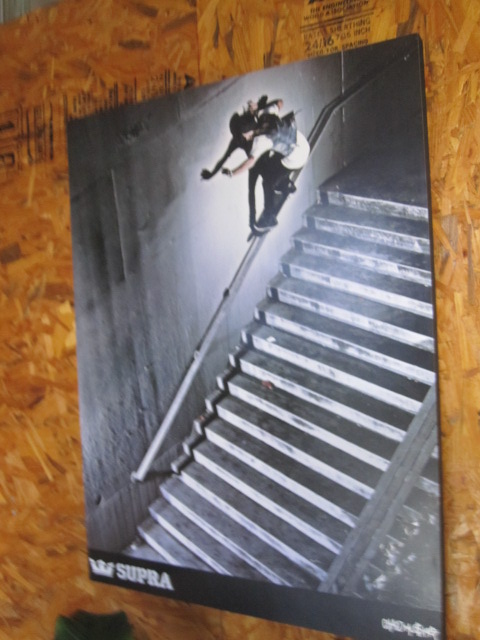 The goldmine of goods (I wonder if any of those boxes have the limited SUPRA colorways?)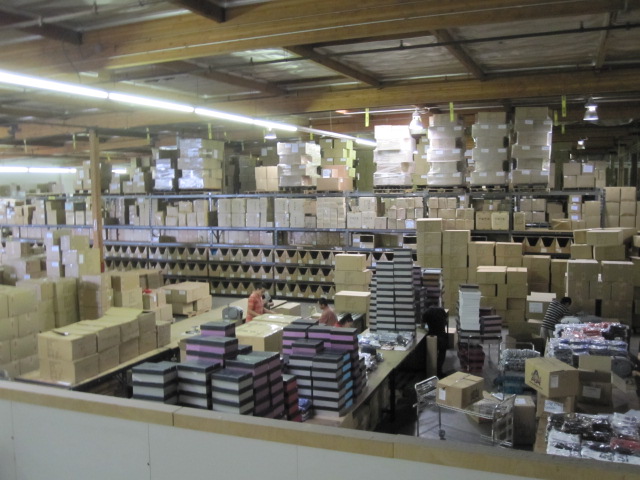 BTW, the Skytops GBR's just dropped. Check out Muska and Angels Factory 413 on Fairfax.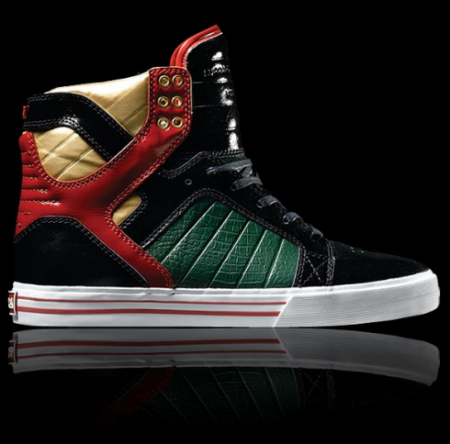 Getting back to biz, I had a sit down with the Creative braintrust behind SUPRA and KR3W. Can't show too much, as there's some top secret shit going on. Camera's aren't allowed in this area, hence Ashley look'n at me and say'n what the F. Let's just say that all of us talked about "some things." I wonder what's on the wall behind Angel?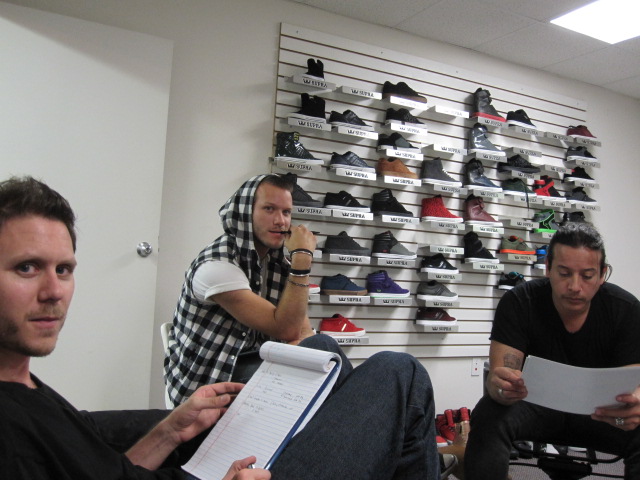 Ben (with the glasses) is the Creative Director for both brands. He holds it down big time. Reserved, but full of mad talent. I guess you're gonna have to wait to see what's next… (hint, it starts on Monday, Aug 3rd)





Street made of Dreams
June 10, 2009
In LA, locals go out during midweek and avoid anything related to the kooky weekend mix. The only problem heading out during the week is that you gotta work the next day! Rob was premiering his Street Dreams movie at the world famous Mann's Chinese Theatre in the heart of Hollywood. When I was growing up, the only movies that were skate influenced were Thrashin' and Gleaming the Cube. The big difference with Street Dreams is that it's actually written, directed, funded and produced by skaters. Big ups to Rob, Nino, Sal and Jason's Berkela Films.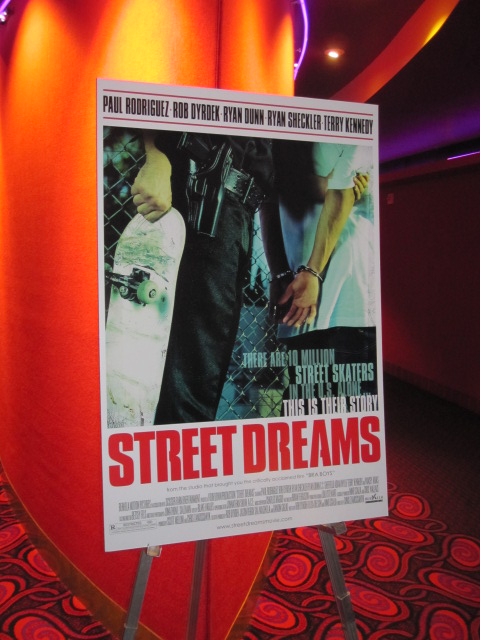 Check the kids lining up on the blvd.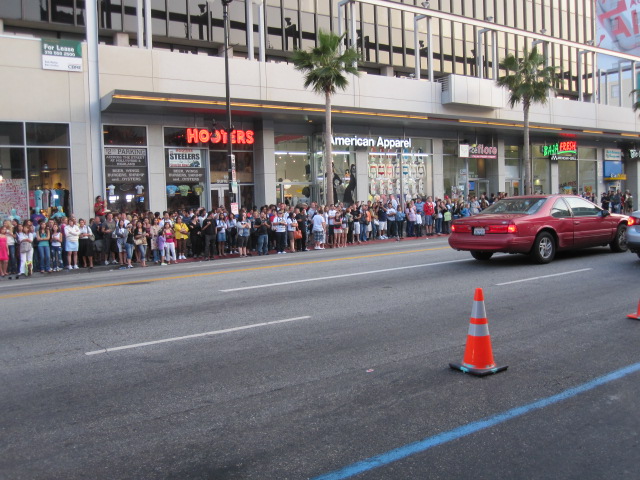 Security was tight, even Mr. Incredible couldn't get in.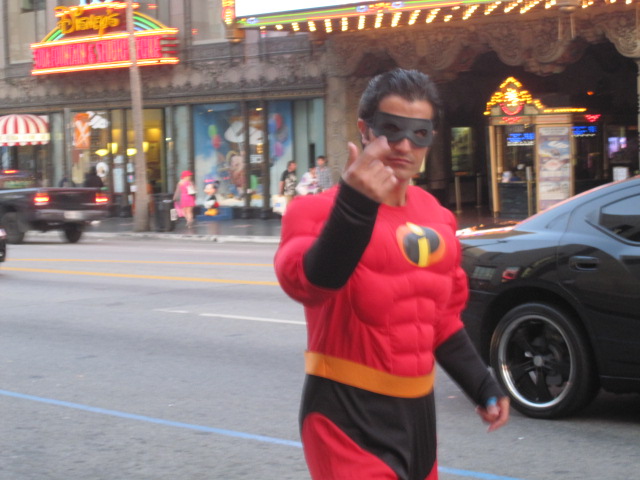 I got a drink while Chad didn't want any part of it.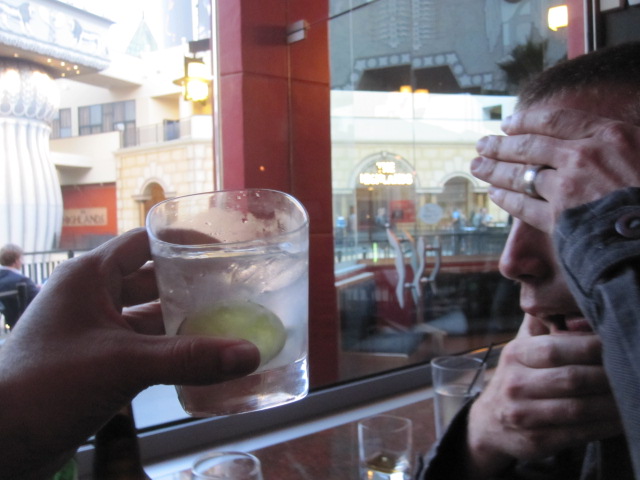 We bolted across this area, red carpet madness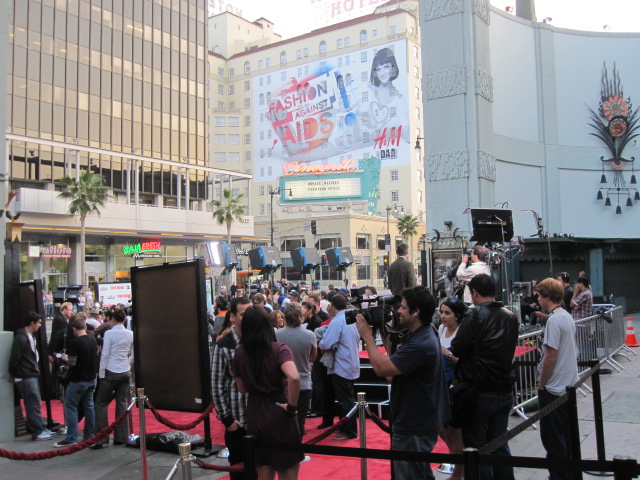 Party in the back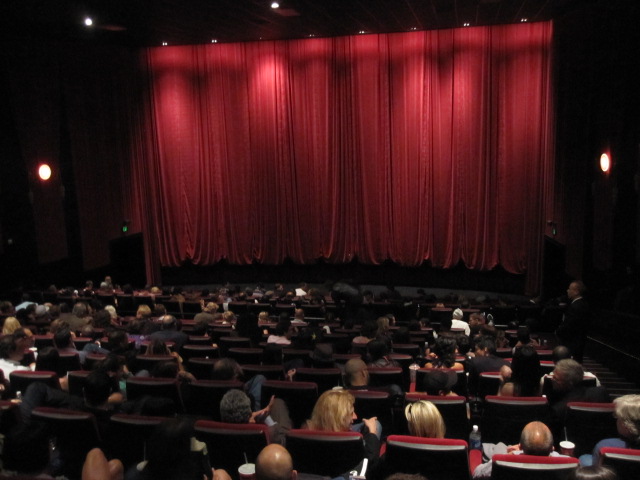 Neck breakers in the front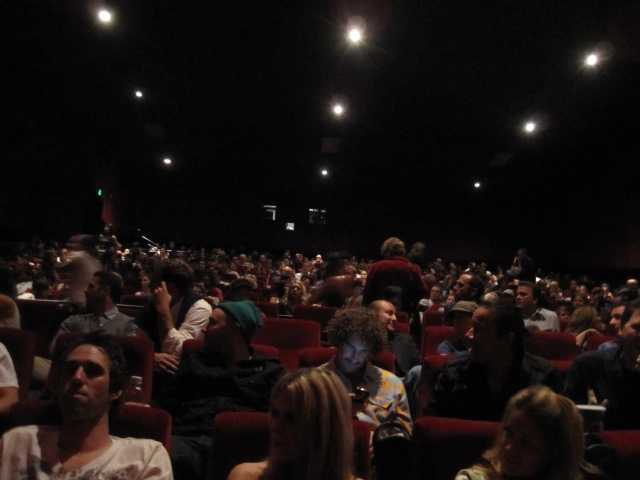 Before the show, Rob and company gave an intro on all the hard work that went into making the film. Shout-outs ranged from Mike Shinoda and Pharrell donating their talents to Rob basically funding the whole thing himself. In all, there's much to be applauded when the skate industry can rally together, avoid being exploited by Hollywood and control their own destiny, all the while having fun at it.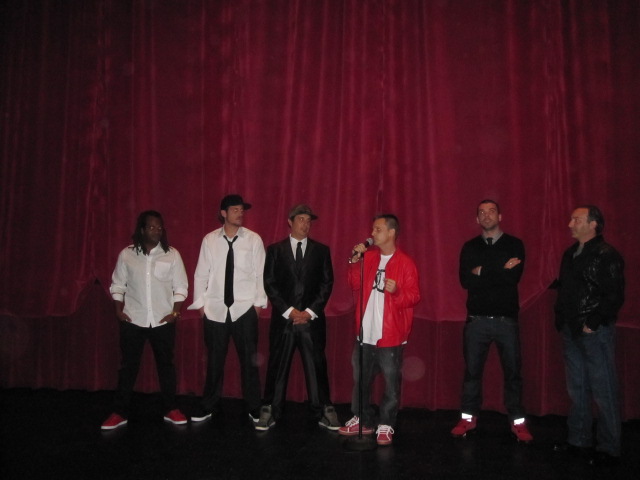 One more thing, who the hell rocks this shit?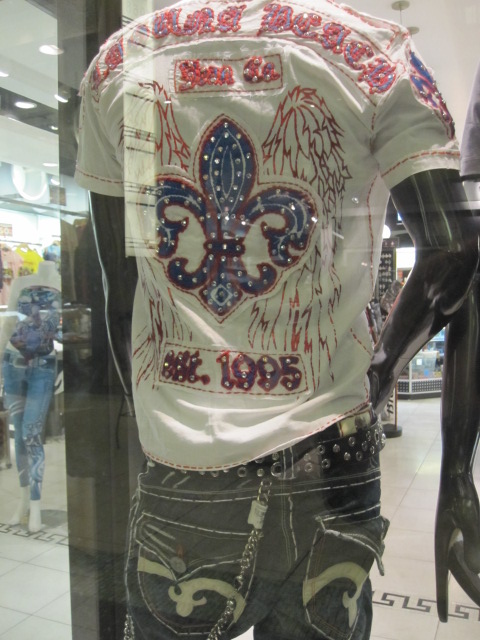 "Deep Thoughts"
June 9, 2009
The 686 faction team was in town to shoot the upcoming ad campaign, dropping in a few months. Louie Vito, Pat McCarthy, Marco Feichtner, Forest Bailey, Conny Bleicher and Nick Visconti all made it down. Ring leader Gary taking charge.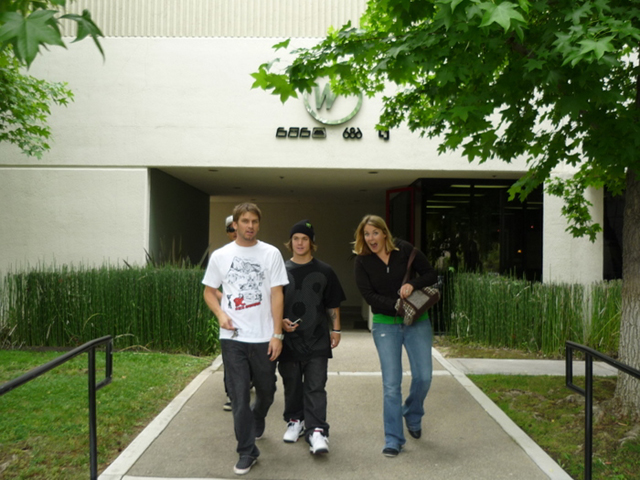 We're flipping things up and making the ads come alive via video. You remember the old SNL skits with Jack Handey called "Deep Thoughts?" It's gonna be hella funny as we're putting a 686 twist to it. I'll give you a little sneak peek behind the scenes. Pat getting set up.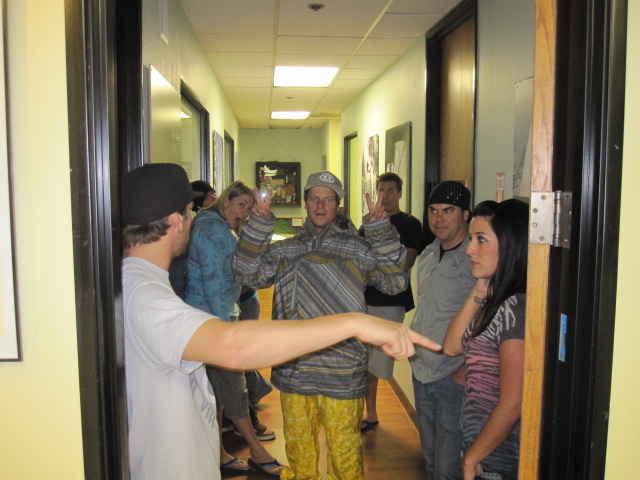 Gary getting set up (while JZ, in the background, is making the most outta his enchilada, easy on the sour cream, son)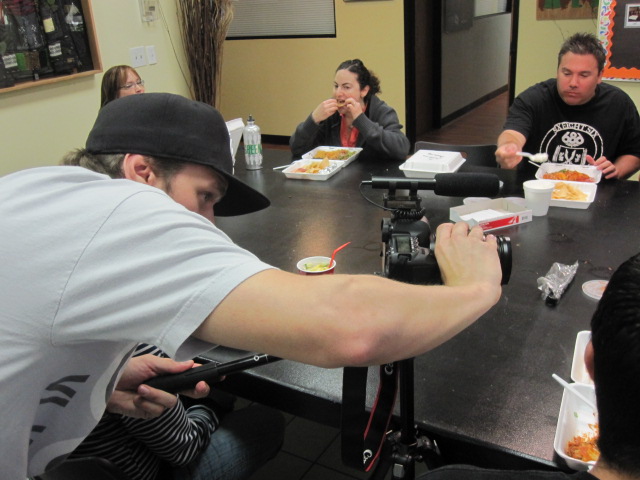 You're not suppose to look at the camera, Jenn!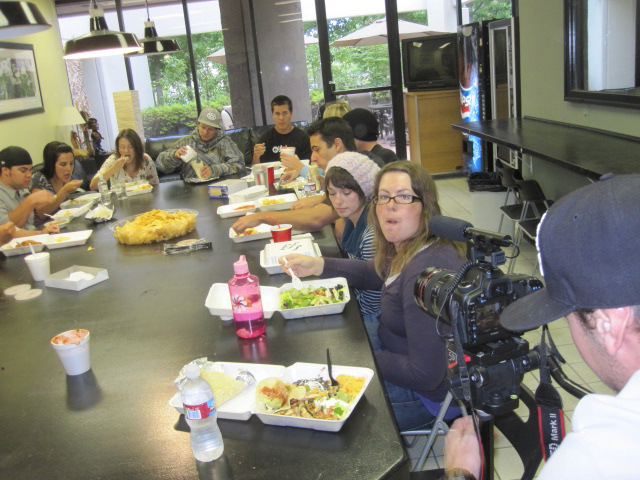 Damn Pat, what's that sound?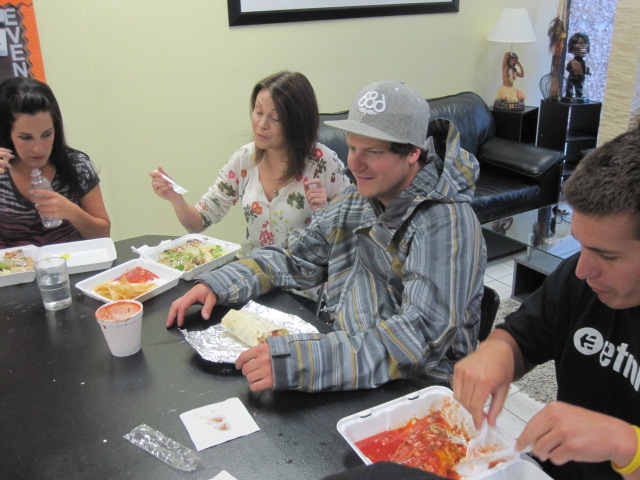 All the while, Danger Zone Nick doing his thing in KC's office, don't ask, as I don't know…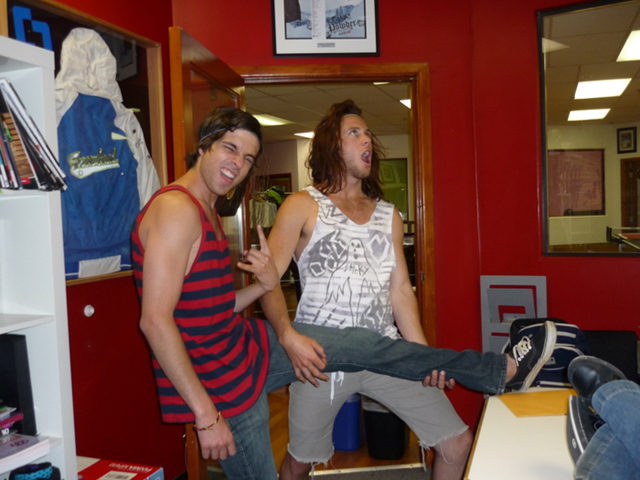 Over in our studio, Louie, showing how he rocks his kit, the upcoming Mannual Antic Jacket and Mannual Motion Pant, dropping in Aug.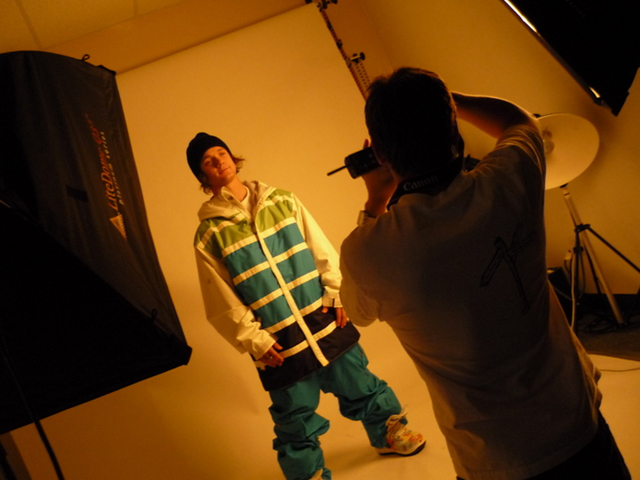 Then on location for some "professional" words of wisdom. Set ups a bitch.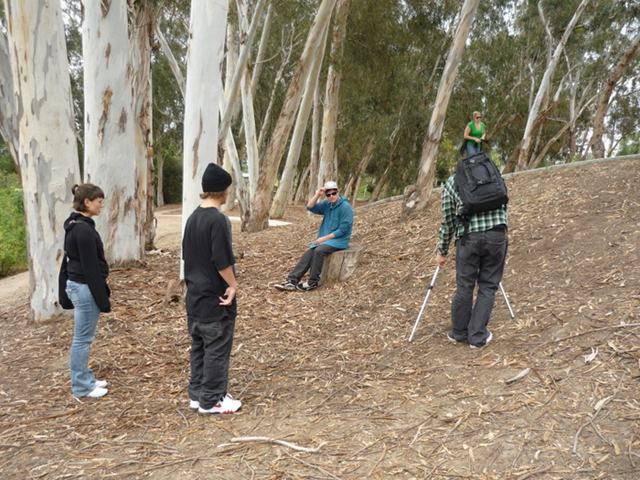 Practice makes Perfect, LV!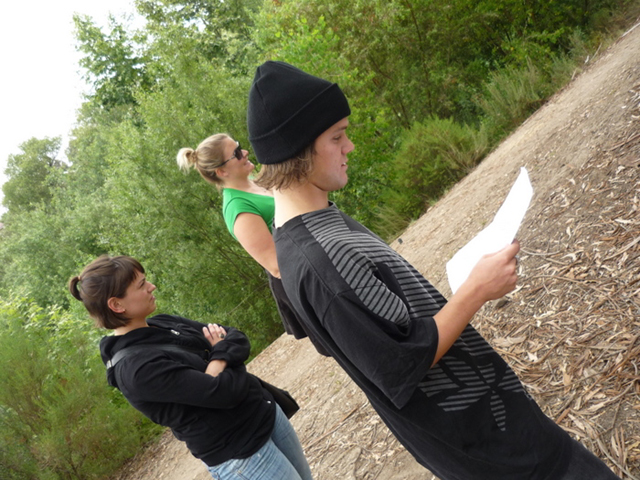 Lastly, LV heads back to the 686 Design Labs for something "important" in the works.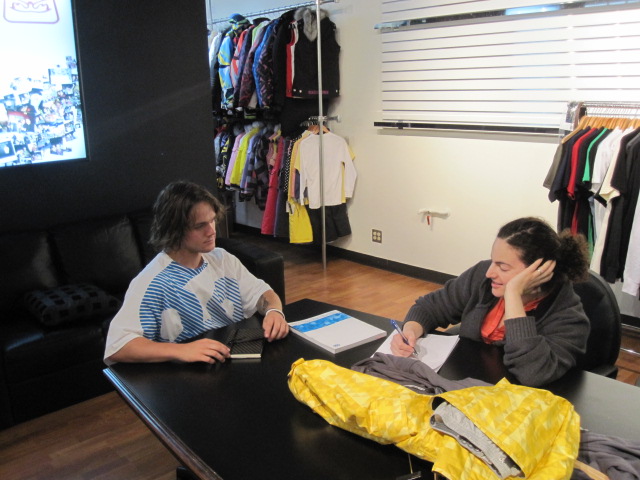 Now, take a break and show me what you got.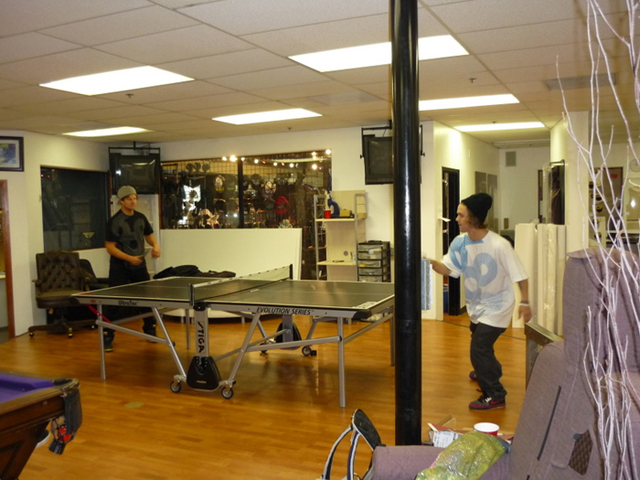 H to the O
June 8, 2009
Stopped by my man Hideo's pad to see how he's doing after his fifth session of Chemo. Last month, I did a post on his benefit at the Mayan theatre in LA. Heads back in the day rolled up to give DJ HIDEO support for all his work in the hip-hop community. Hideo has stage 4 colon cancer and it's already spread to his liver. The goal is for the chemo to help slow down the spreading so they can try and operate. Despite all of this, Hideo's always happy and very grateful for everything and anything. Big ups to his brother, Tony Jr, for being by his side since day one.
Hows it fella's, today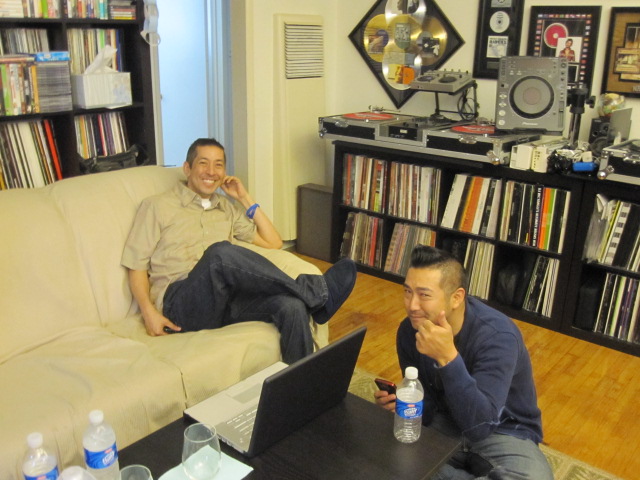 Hows it fella's, back in the day.




Reyes and Raul Gamboa's contribution to Hideo.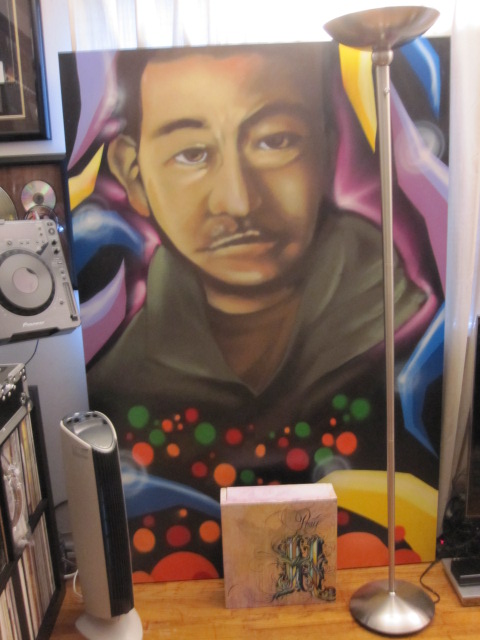 What do you know, 686 gear in the closet.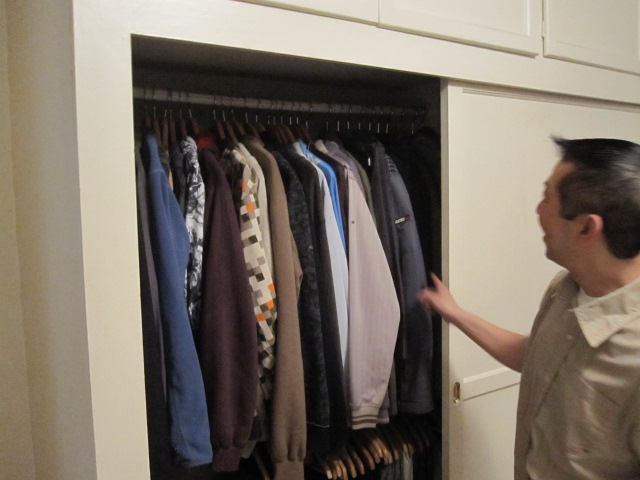 The tools of the trade.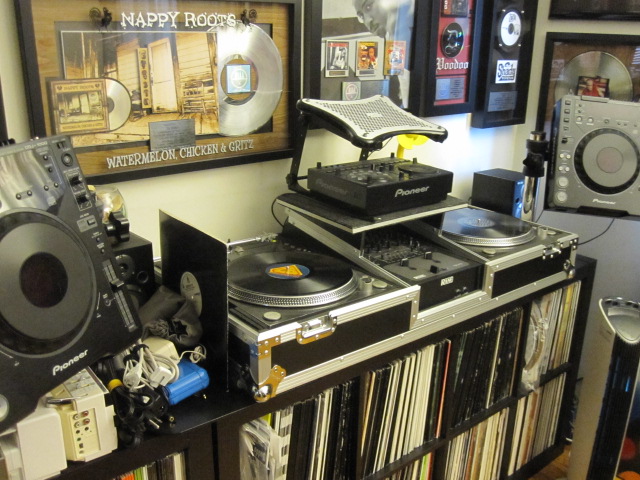 Hova love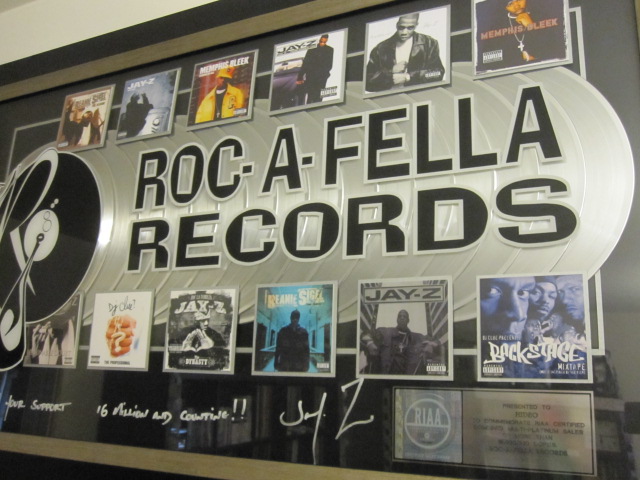 Mos Def love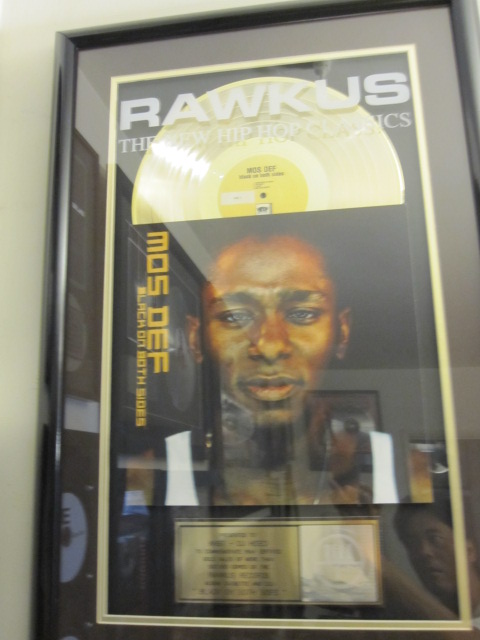 Def Jam love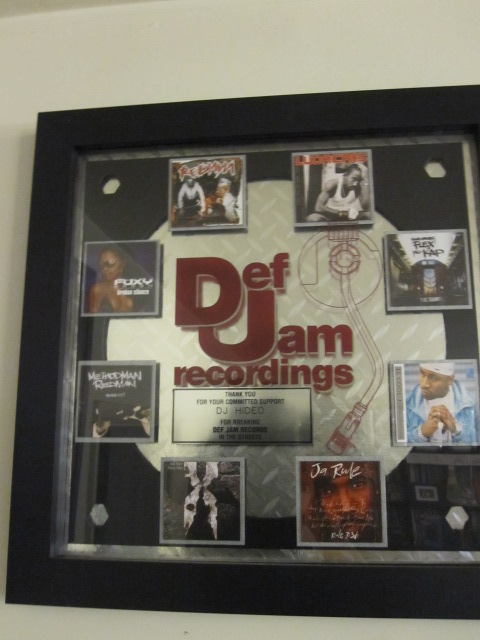 Mary J. love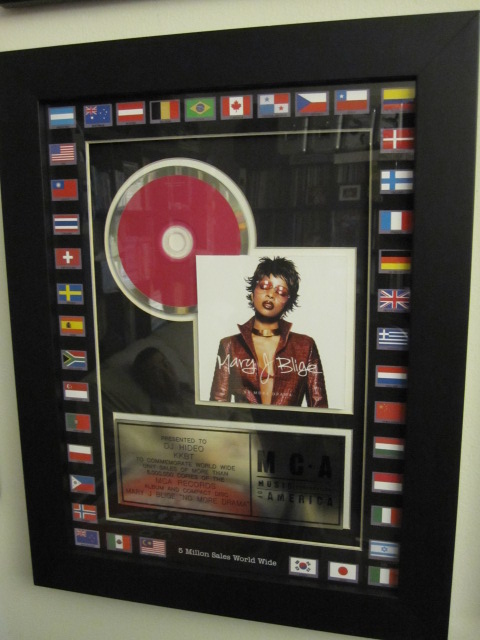 West Coast love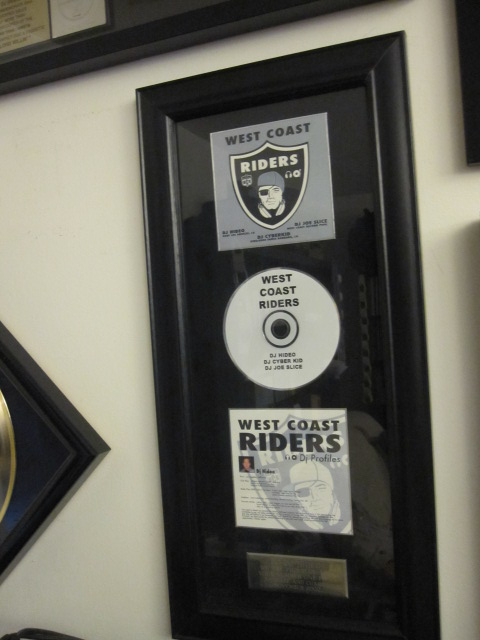 "I HEARD THAT…" Fridays
June 5, 2009
Just because I've been doing what I do for a long time, people assume I "hear" all the things going on, in and out of this so called industry. Not only DON'T I hear all the gossip and rumors, but I really don't give a shit (that is unless it has to do with tech gadgets, sneakers or good places to eat). However, I decided to create an open forum; every Friday, for anyone to send me what they've "heard of." Hence, "I HEARD THAT..." Fridays
A few rules:
1) Email me at [email protected] with what you've heard, a first name only and where you're from (Please try to send me stuff that's somewhat true vs. completely talking shit)
2) The topics are completely open (we'll see how this goes for now...)
3) One quote per name, per posting.
4) Please don't send any attachments or picts, as it will be deleted.
5) Just because you send an email doesn't mean it will get posted.
6) As much as I want to reply to your email, tell you if it's true or not, and also talk about how your day was, sorry, it isn't happening.
Here's some around the way.
"I HEARD THAT the new ipod has front video integration so you can use skype on it. That would be insane"
Rick from Dayton
" I HEARD THAT Trevor Andrew and Santogold are engaged."
Todd from Encinitas
" I HEARD THAT Brixton is crushing it."
Kristin from Dana Point
"I HEARD THAT the parking lot at the Patagonia offices is made of recycled bottles."
Pete from Silverlake
" I HEARD THAT Cristiano Ronaldo moved to Real Madrid so he could skate in Spain, not because they offered him $131 million."
Chicho from Barcelona
" I HEARD THAT Nick didn't necessarily leave DC by his own free will."
Joe from O-side
" I HEARD THAT Fridays are going to make rumors fun again"
Chad from Marina Del Rey
" I HEARD THAT Novocain doesn't always take the pain away-I'm getting drilled now. Wish me luck."
Josh from Long Beach


Culver City
June 5, 2009
Venice, Downtown, Silverlake, Los Feliz, and San Pedro are the usual art suspects in LA. However, Culver City has been coming up for years. This past week, they had their annual art walk.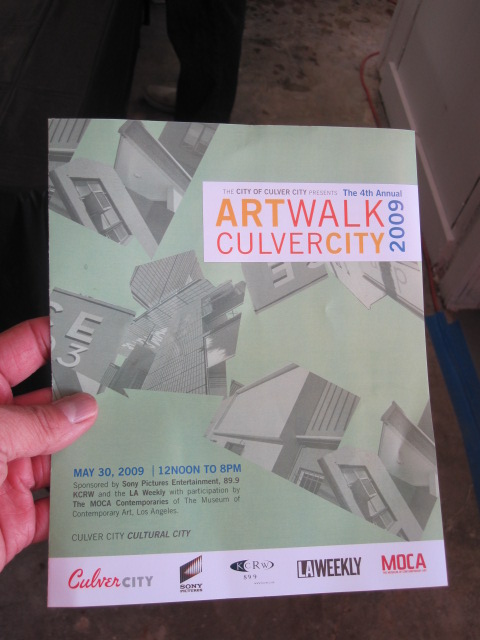 Coop showing at Corey Helford's Gallery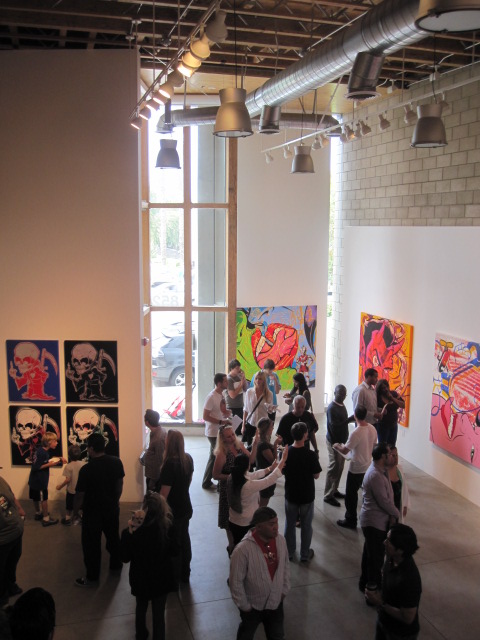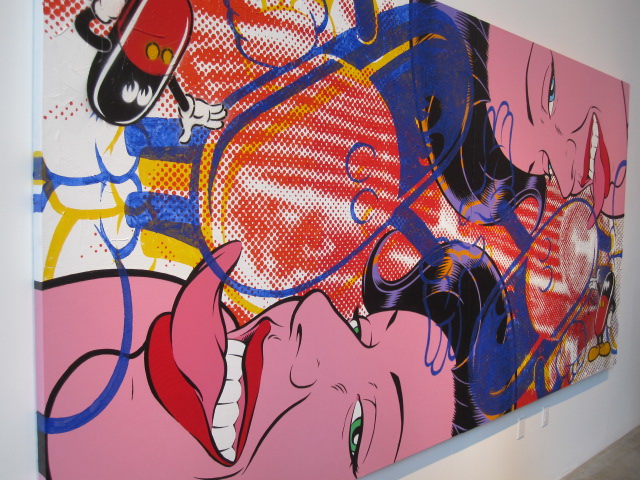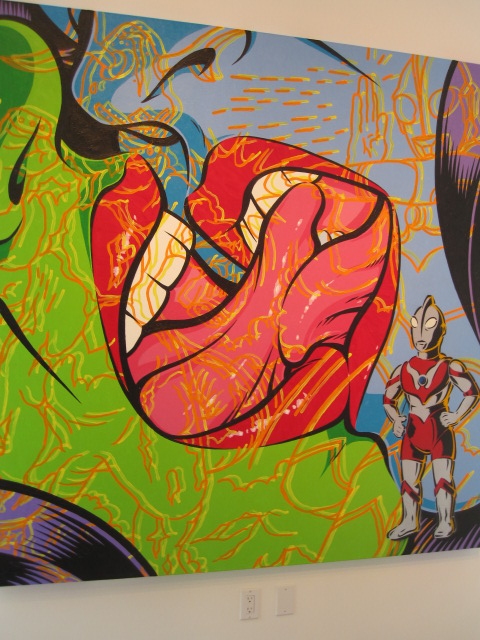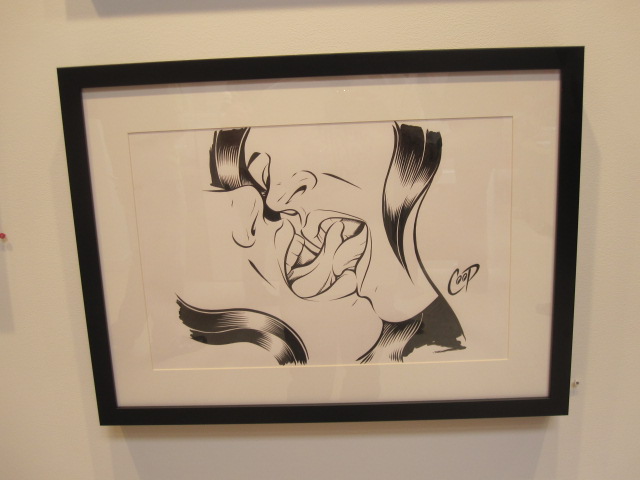 Conor and Chloe at Kinsey's joint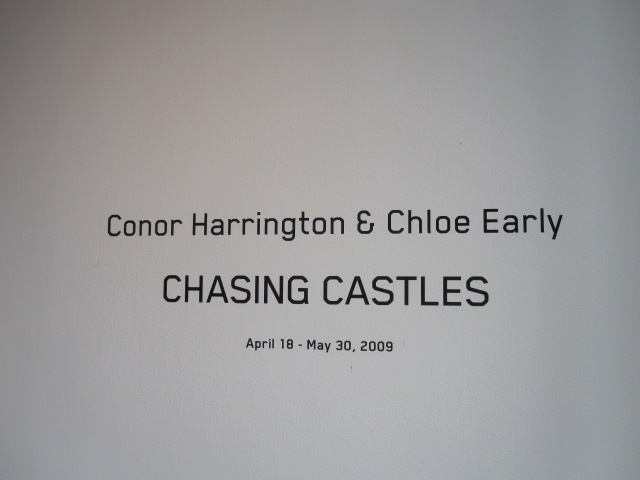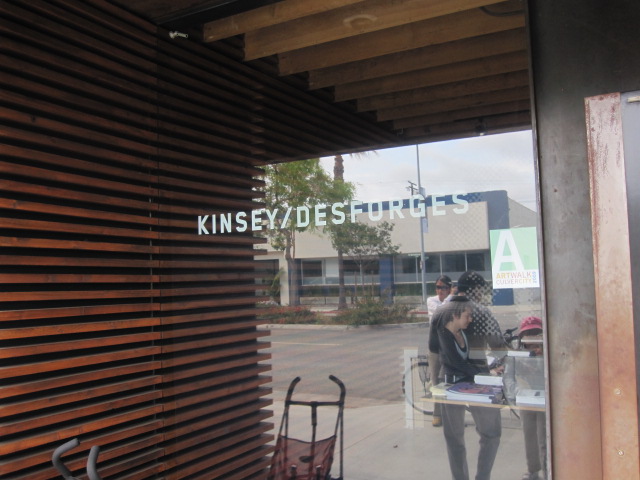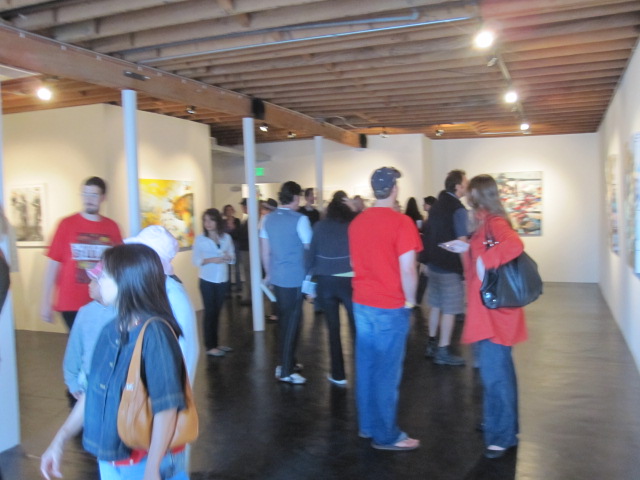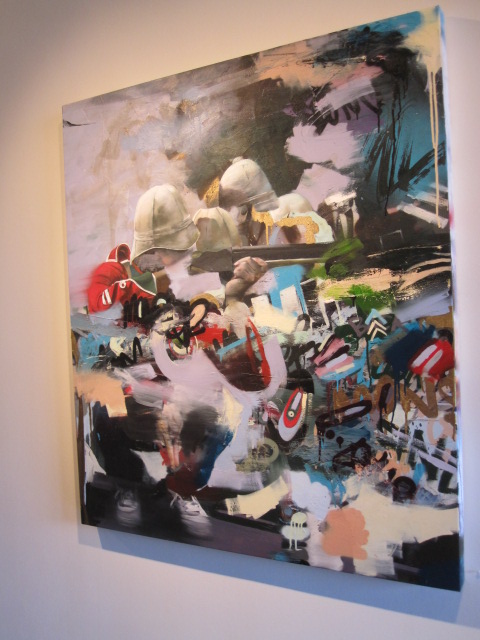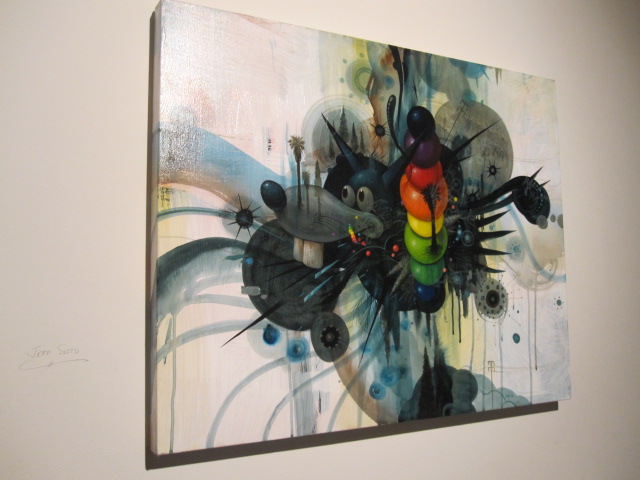 About five years ago, 686 showcased the ACC project with live presentation from Andy Howell, James Marshall, Yogi Proctor, KozynDan and Jim Houser at Kinsey Visual. If you're in the area, stop by and say hello to Dave.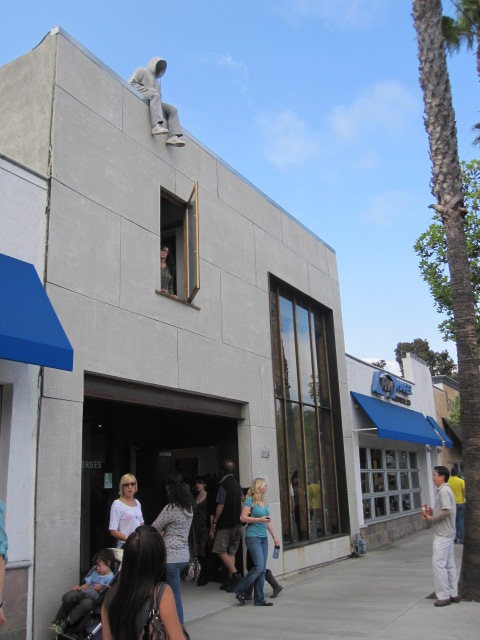 Some other looks around the way.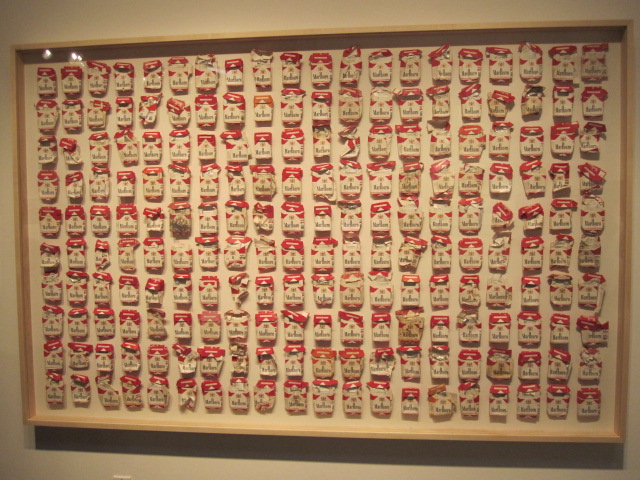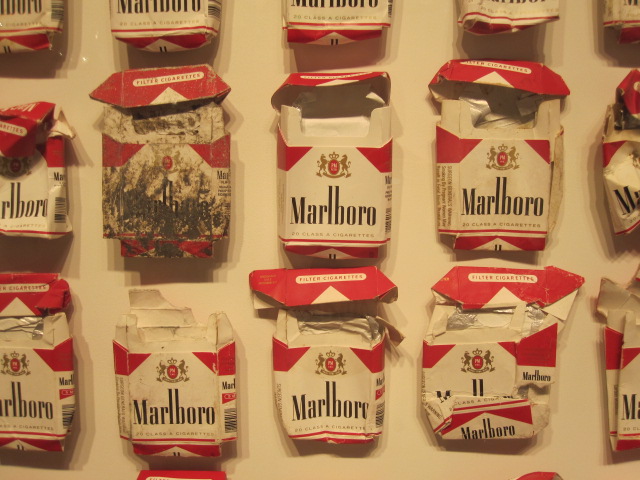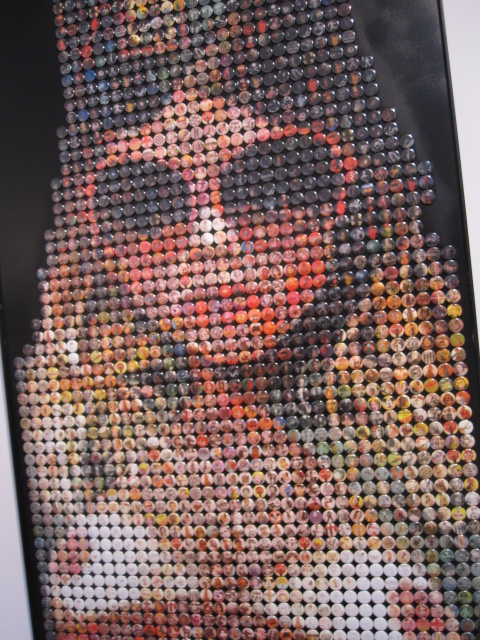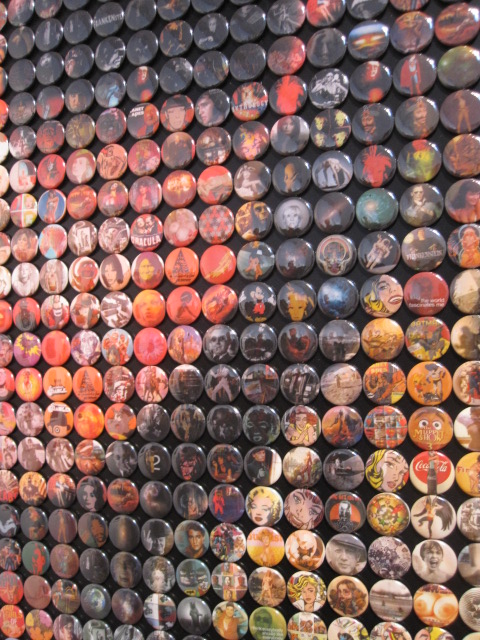 On the way home, I stopped by Royal T, America's first "Maid Café"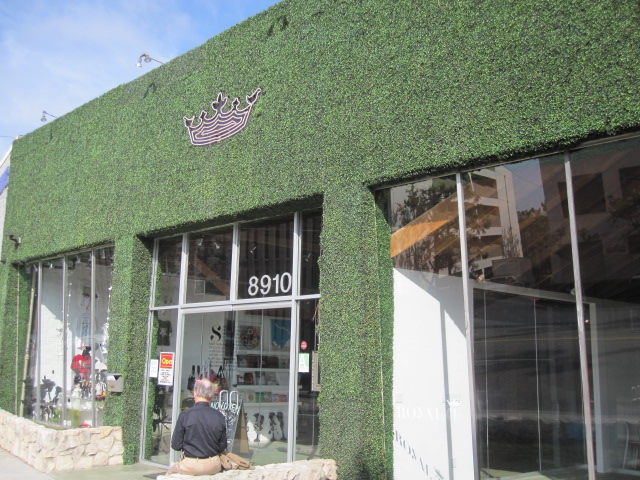 The Japanese are into these things, and it seems like Culver City is as well.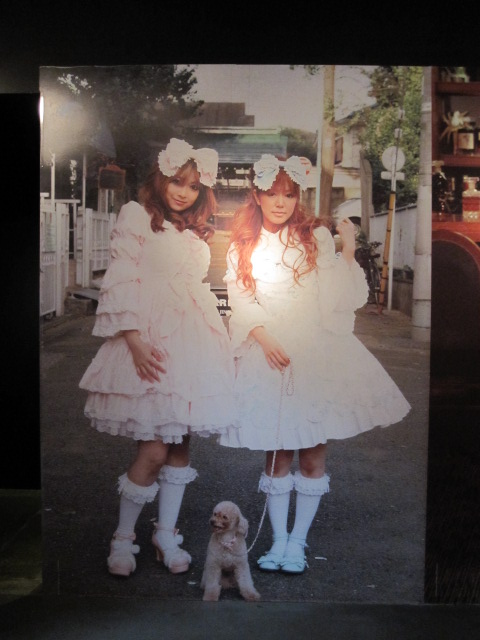 Cute?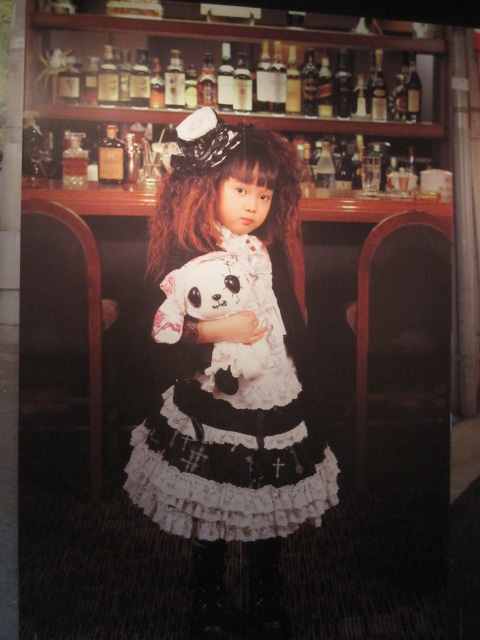 Kaws was finishing his "I can't feel my face."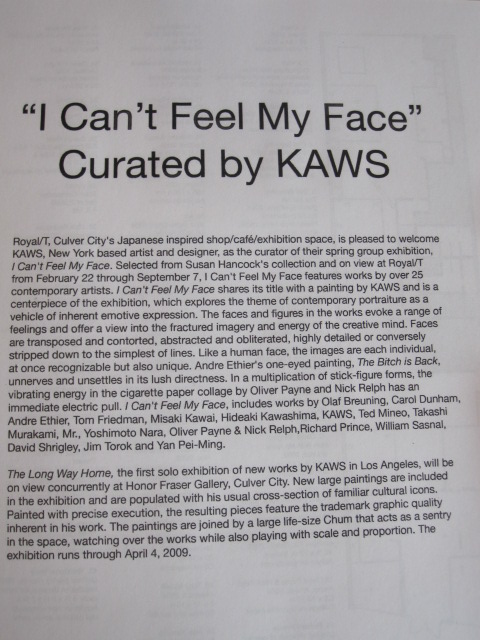 Mine's in the mail!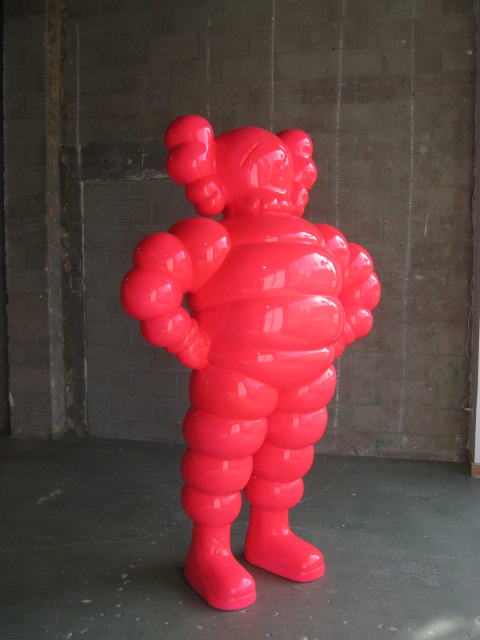 Bob, Sponge Bob.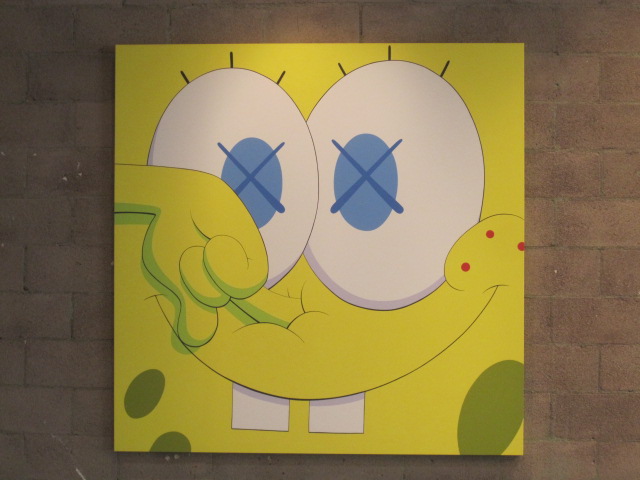 Hey there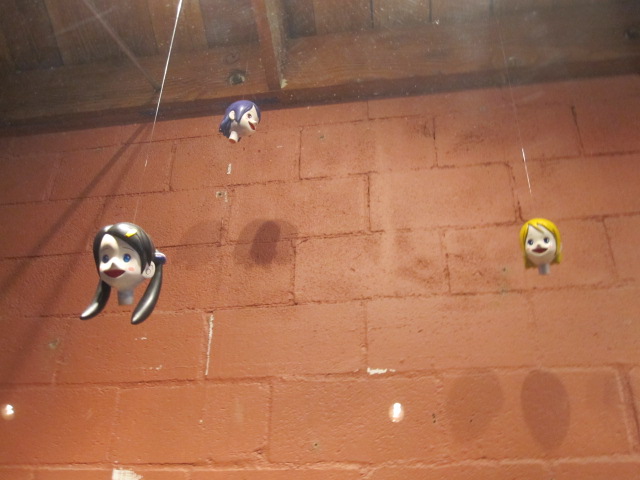 It never rains in LA?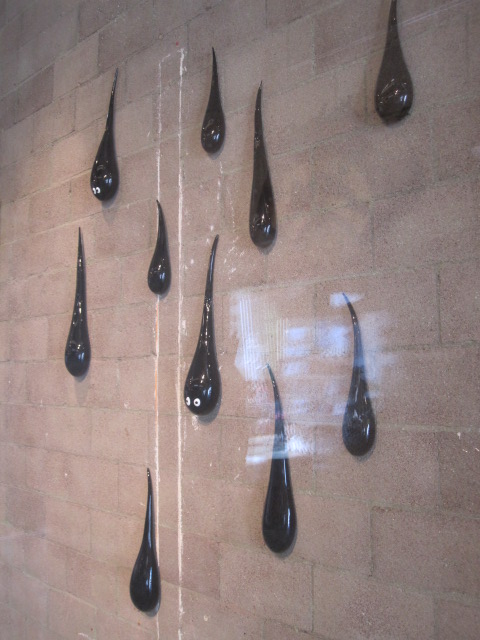 Star Kaws





What's on my bookshelf…la parte dos
June 4, 2009
I tend to forget I spent a great deal of my life going to school. From undergrad to grad, but in the end, the DIY methodology was really where it came together. I really don't read that many "biz" type of books, with the exception of a few. My friend gave me Rob Walker's Buying In, and I must say, it's been quite interesting.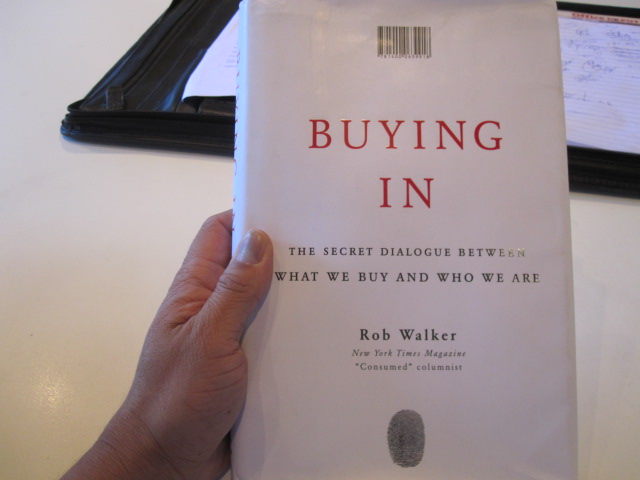 Not only does it discuss how the DIY method transcends boundaries, but showcases how technology has created avenues for infinite personal connections, all the while how people are embracing brands they feel a part of. This changing cultural landscape has gained the attention of artists, creatives and entrepreneurs alike. Case and point, Mr. Chuck Taylor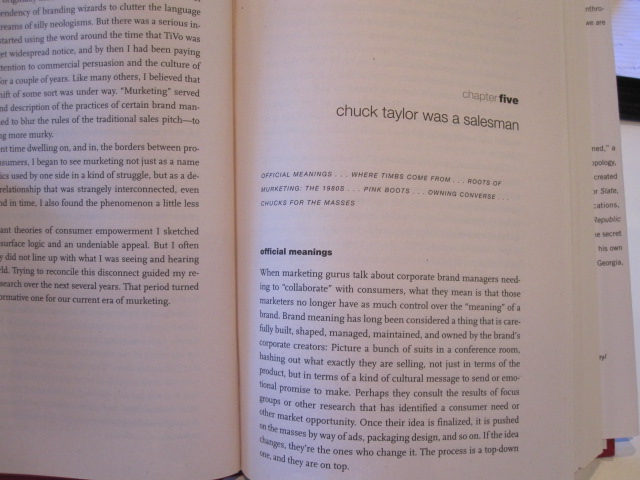 How about Untitled, by the crew at Streetwear Today.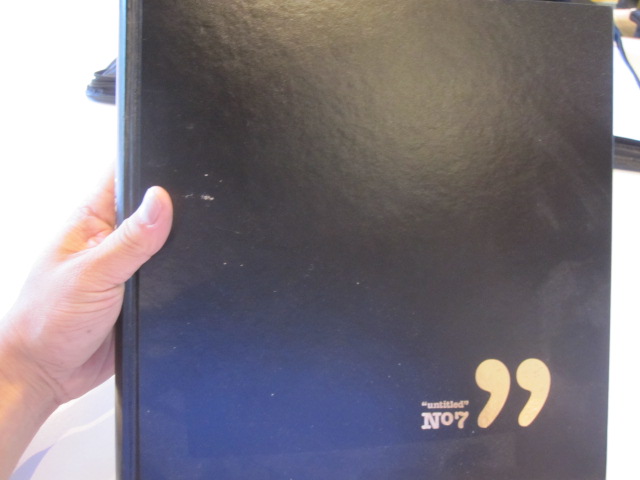 Michael Lau doing his thang.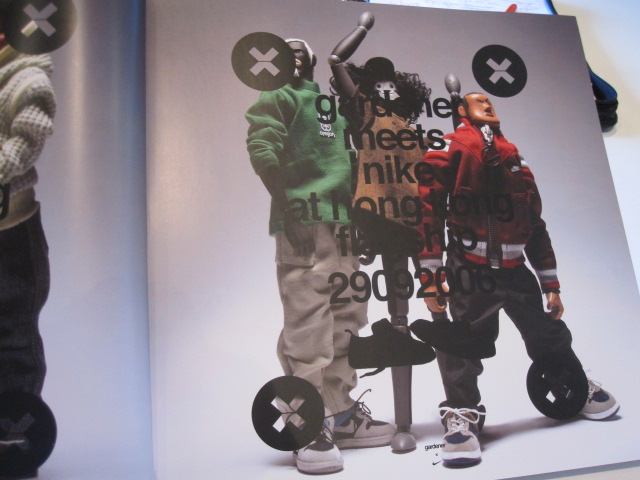 Past 686 ACC artist and the original Sex Pistols creative, Jamie Reid, has probably been one of the most knocked off artists of all time. Japan's Hysteric Glamour doing their interpretation.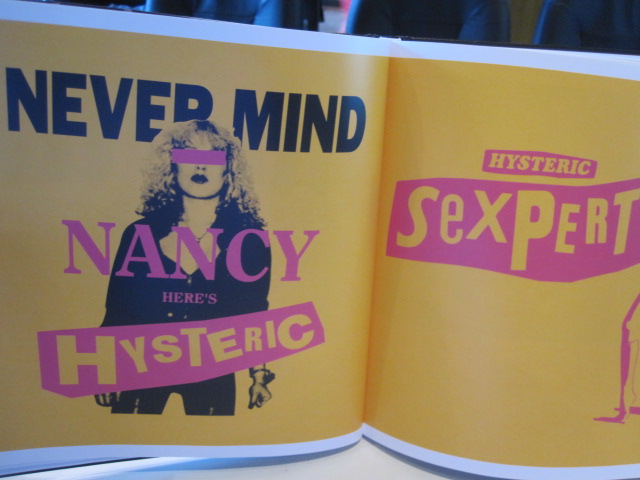 H to the G




You've already seen my past posts on what Hypebeast has done. It all started with Kevin Ma.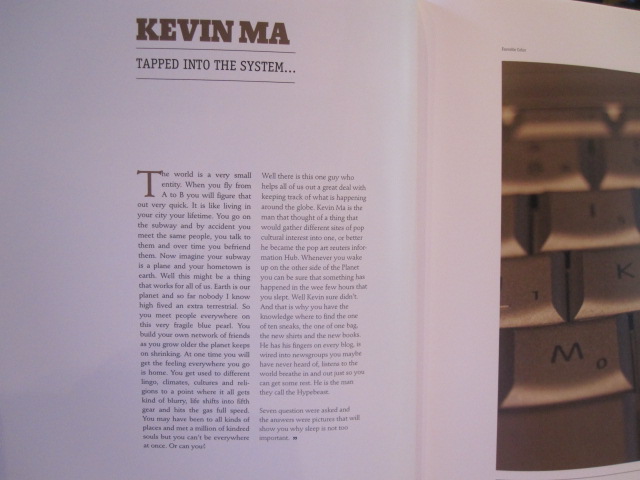 Back in the day when I was riding for Rocco, I got introduced to Eric and Slick's joint, Fuct. They were way beyond their time.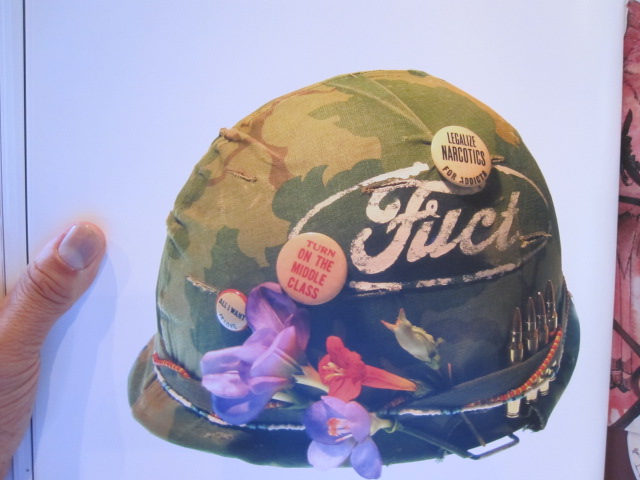 Son of the Seventh - Maiden's Nin and Sudo mak'n it happen.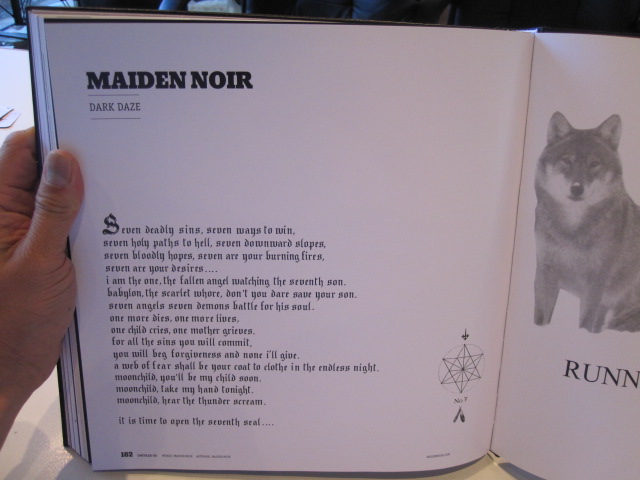 I see you watching me…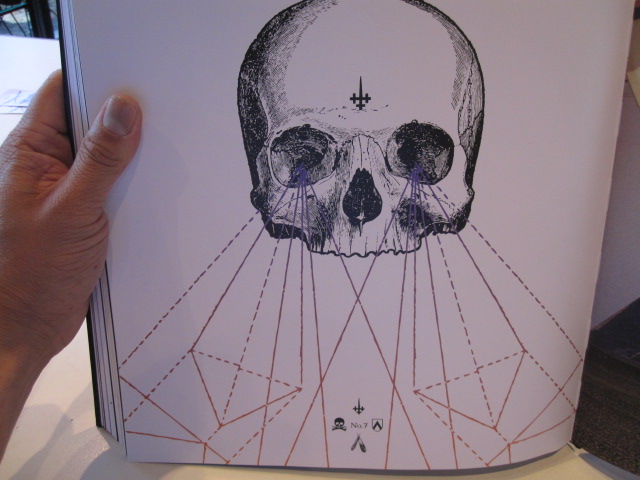 I'm a fan of clean lines. Not to mention, clean lines that are done right. Here, Guido Argentini showing you what I mean.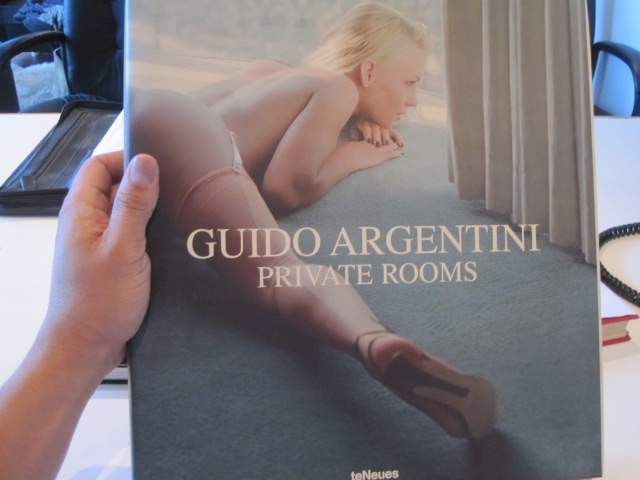 Follow the red carpet road.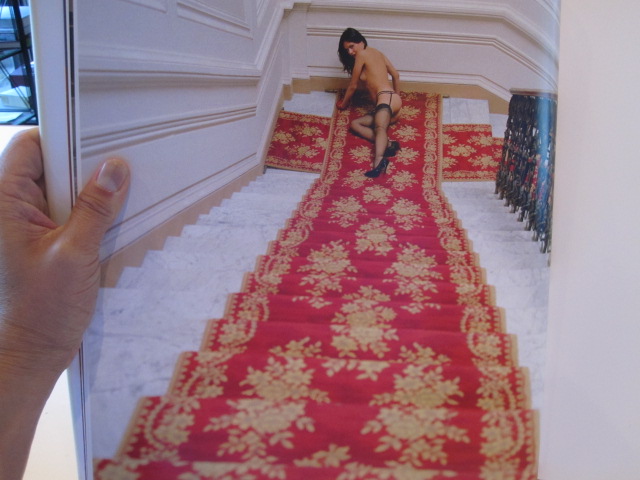 Did I tell you RED is my favorite color?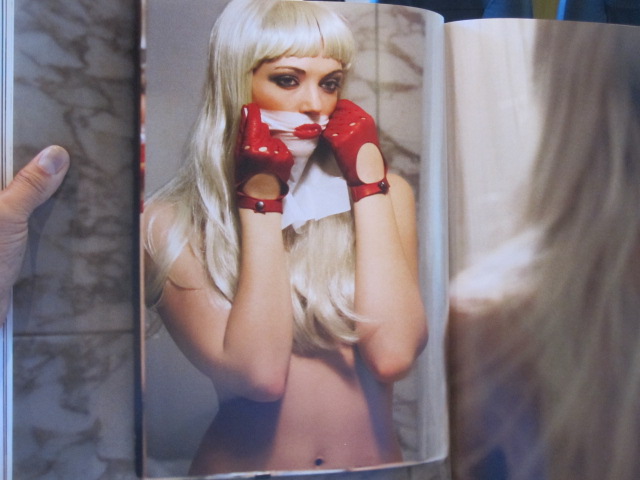 I got the keys.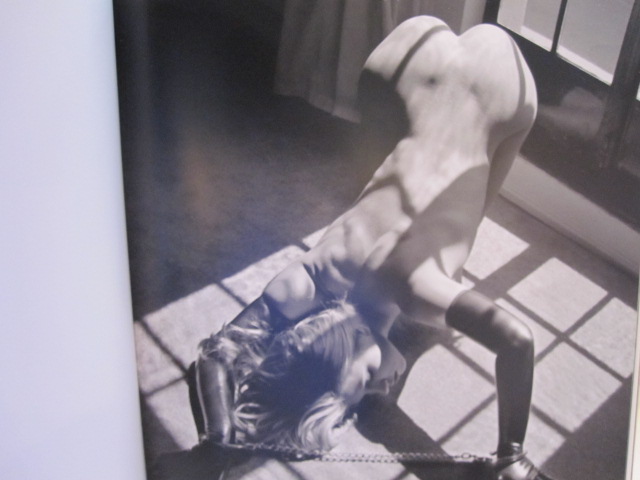 So nice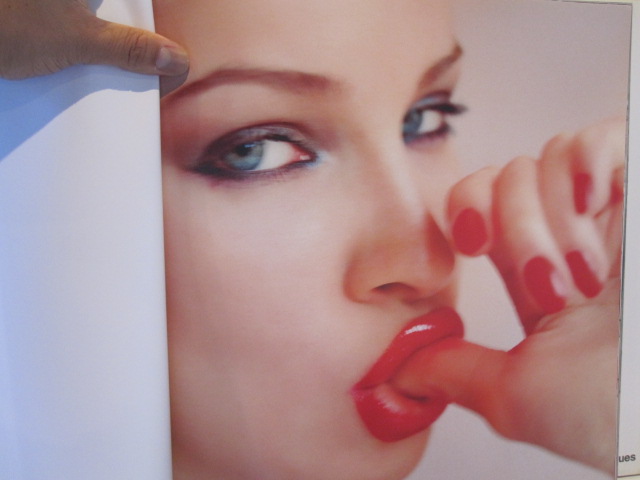 We actually did a jacket that was inspired from this picture. To this day, we still get asked to do a re-issue.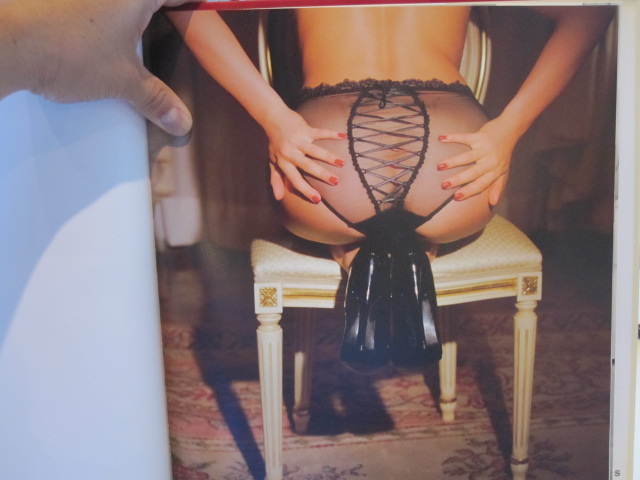 Shepard sent me his Supply And Demand book last month. If you haven't seen it, you must.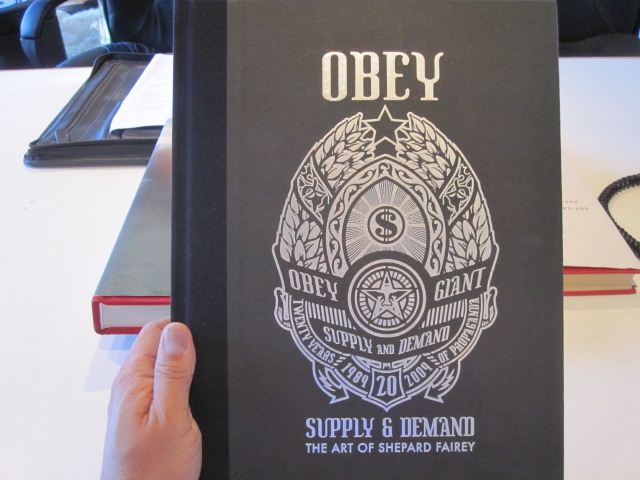 One of my personal favorites from his recent works.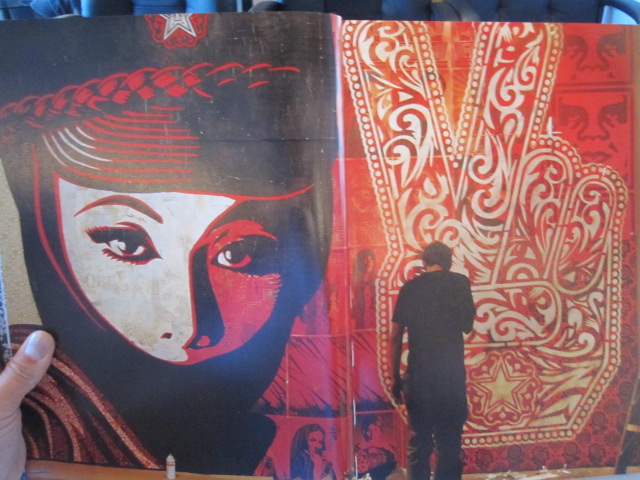 Did you know that before OBEY, there was GIANT?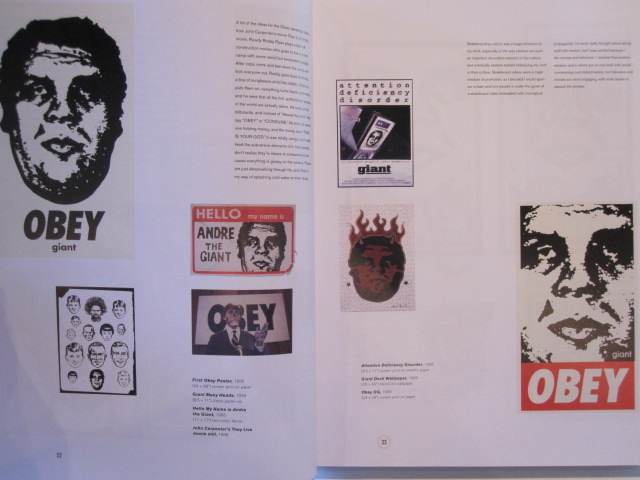 Around the world in 20 years




The one that didn't get away.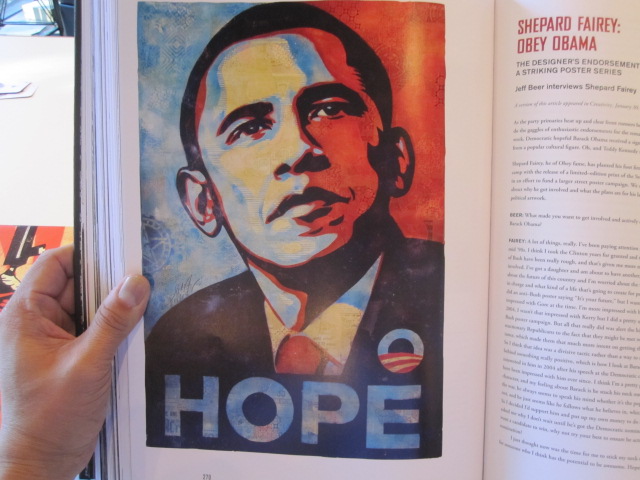 Public Enemy is one of my top 5 groups of all time. I actually have this piece at the office.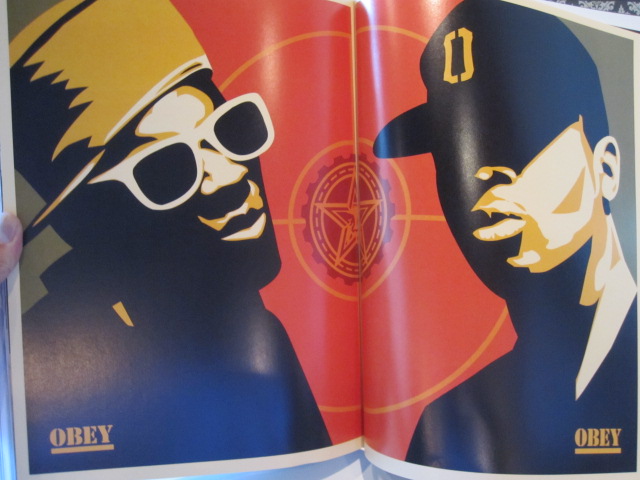 With every original, comes thousands of followers.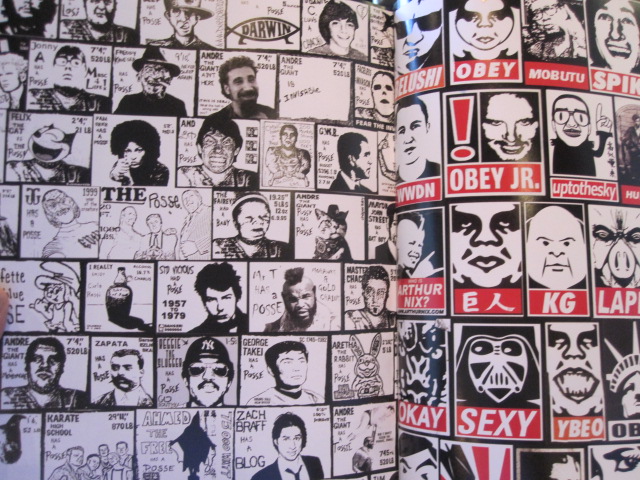 1 of 1. Shepard's customized 686 jacket.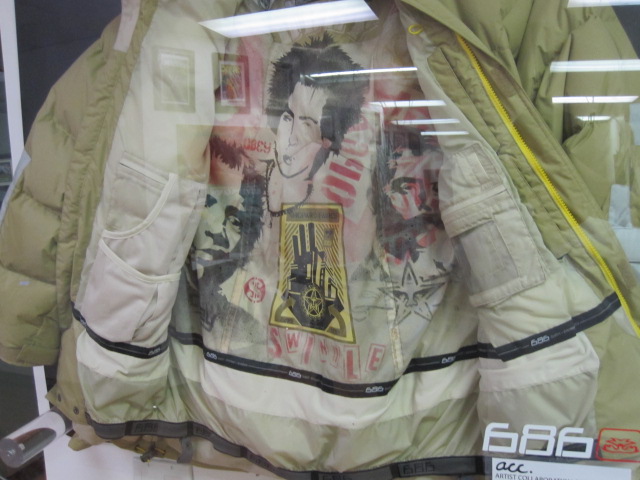 What's on my bookshelf…la parte uno
June 3, 2009
No matter what people say about print media, it's always going to have a place on my bookshelf. Over the years, I've managed to collect a wide array of coffee style books that reflect the multiple things I'm into. Here's a few looks.
Thrasher's Skate and Destroy is a quick reflection of my history in skateboarding. The cover of Jay Adams tells it all.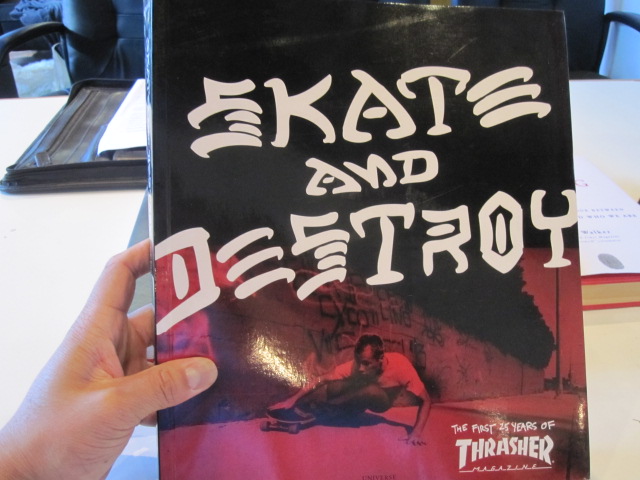 Only a skater knows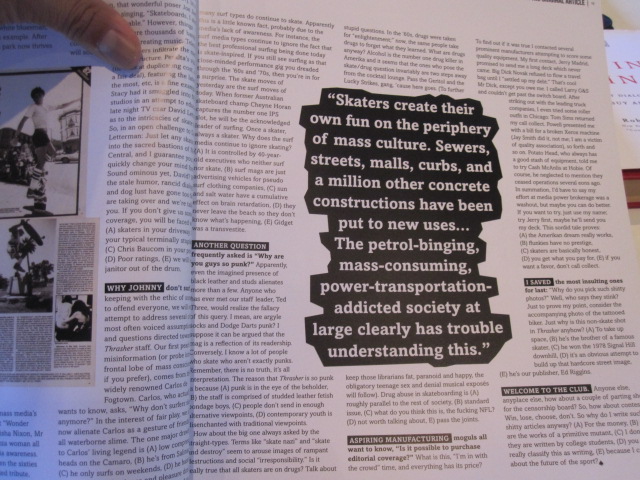 I don't know if it's growing up in So Cal, but every time I travel outside the country, it becomes more evident how slang doesn't necessarily transfer in a different language. This page is pretty funny.




On my last post, I forgot to mention another skater that influenced me while growing up. Lester Kasai was in his prime in the 80's. I remember him and his cousin owned Sadlands in Anaheim and although he was into vert, he went huge every time he dropped in.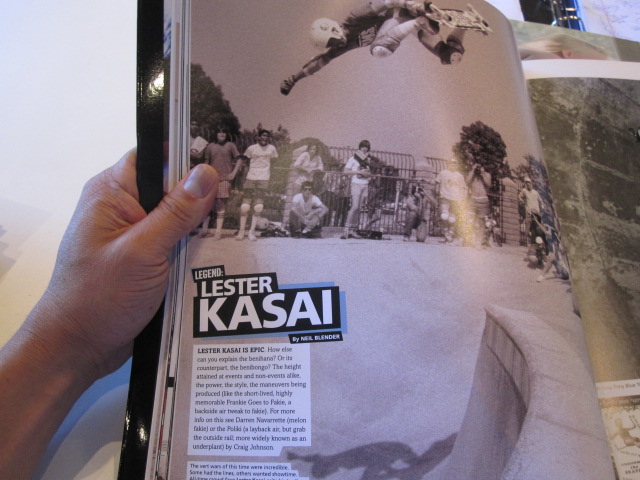 Man, his style was out of control. Lester showing what's up at Del Mar. (check out the Mess-V13 and Natas doing his thing)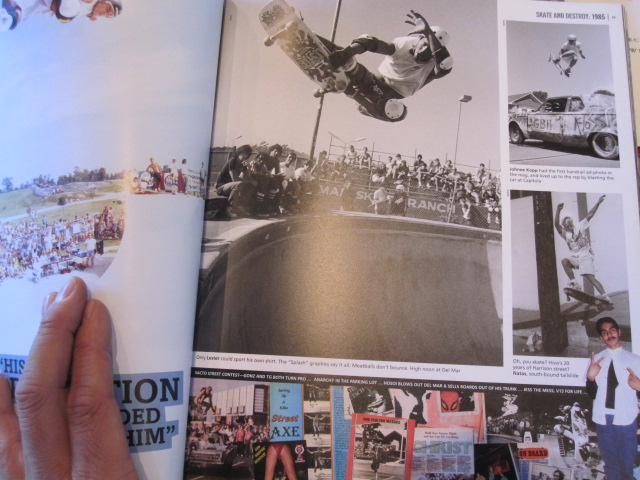 1986 was a very important year to me. Not only did the name 686 originate in this year (June, 1986), but it was also the time I got to know the Gonz. If you ask any skater from the past 20+ years who they look up to, 10 out of 10 will say the Gonz. If you look up the true definition of STYLE in the dictionary, GONZ will show up.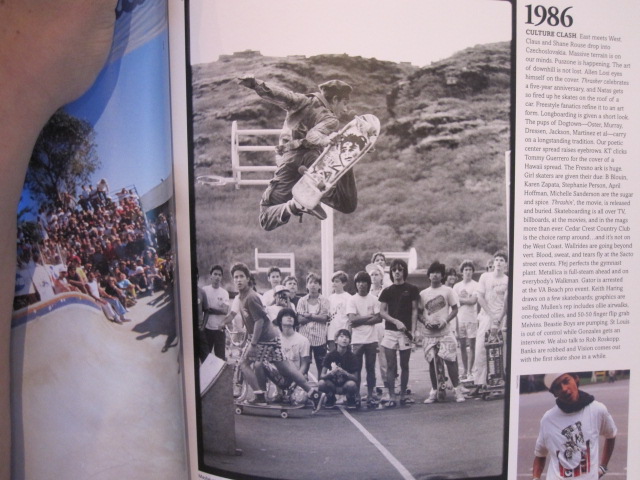 If you don't know about this sequence, you SUCK. No matter how tech skating becomes, this sequence will go down in history as the shot heard across the globe. Embarcadero gap circa forever.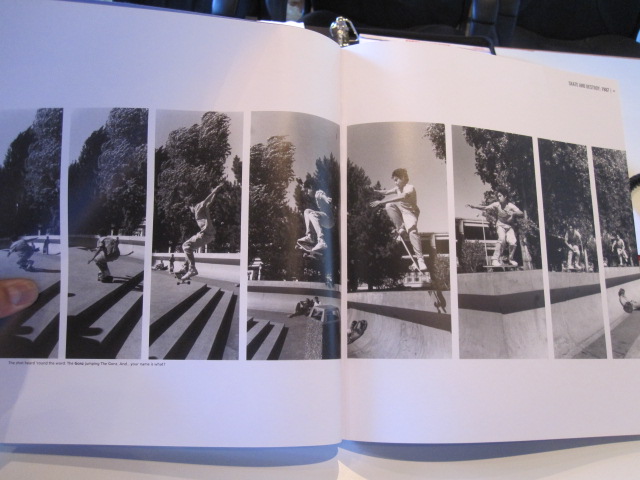 You better get the F out of the way when Jessie Martinez rolls your way. So damn good.




Chris Miller is a legend in his own realm. Although much different in personality than the others, he ruled it. His career spans close to 30 years in the industry, as a skater and as an owner/operator of Rhythm, Planet Earth and Adio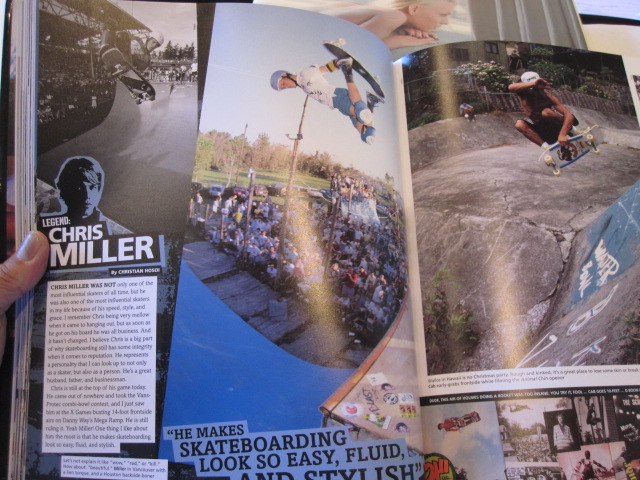 Just a few months ago, I met Shawn Mortensen through Shepard at Christian's Iconoclast show. I've seen his photos for well over a decade, but was stoked to finally meet him. Unfortunately, he passed away soon after the show, way too soon for someone so talented. I bought his latest book, Out of Mind, at the show.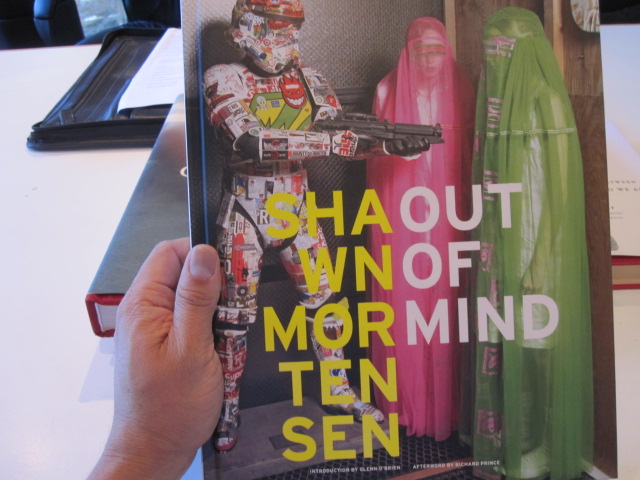 If you don't know, now you know, baby baaaby.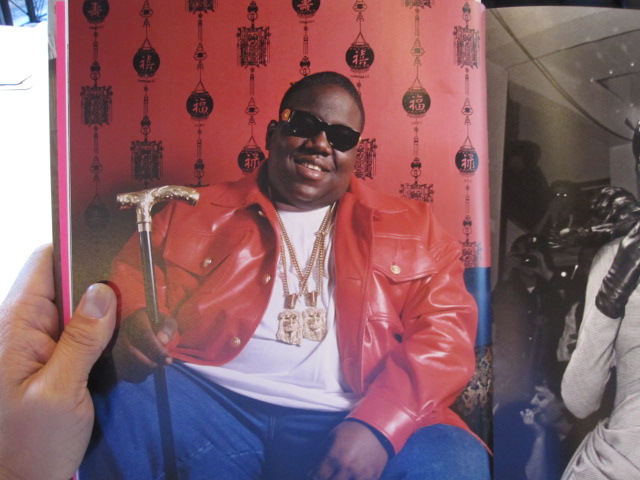 Boo-Yaa Tribe, Carson represent.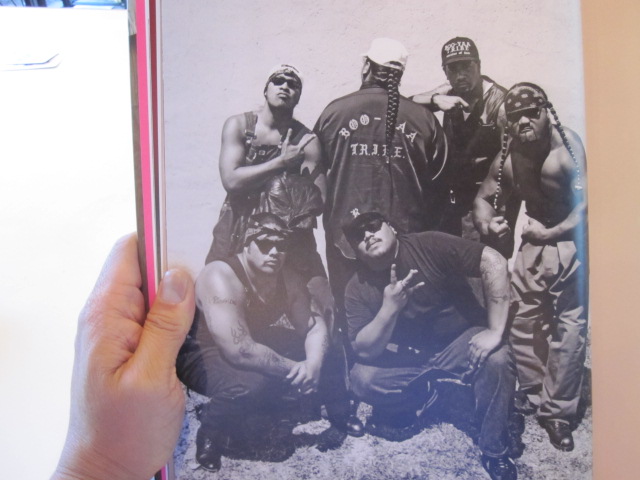 Roll'n down the street, smok'n endo, sipp'n on gin and juice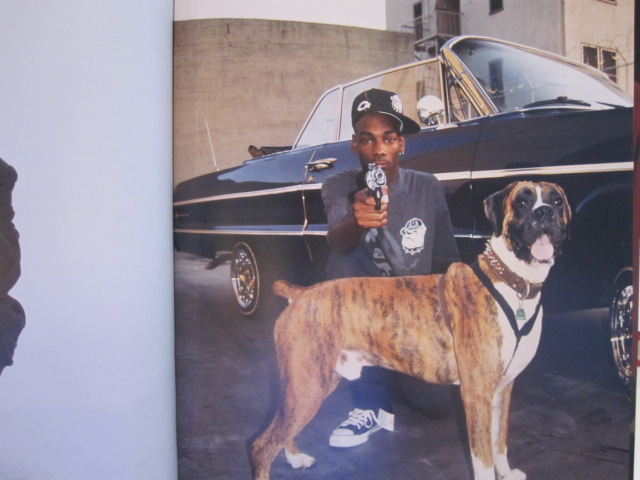 The Dr. is in the house.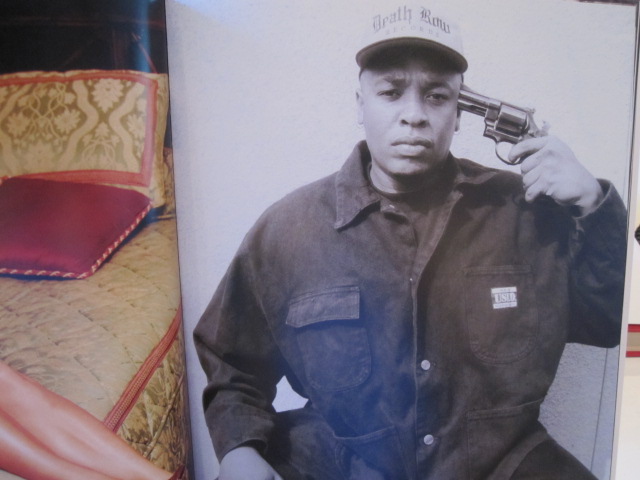 Back in my skate days, I met Jason with Ed Templeton at Huntington High sessions. He was always claiming "101," but little did he know what lay ahead of him.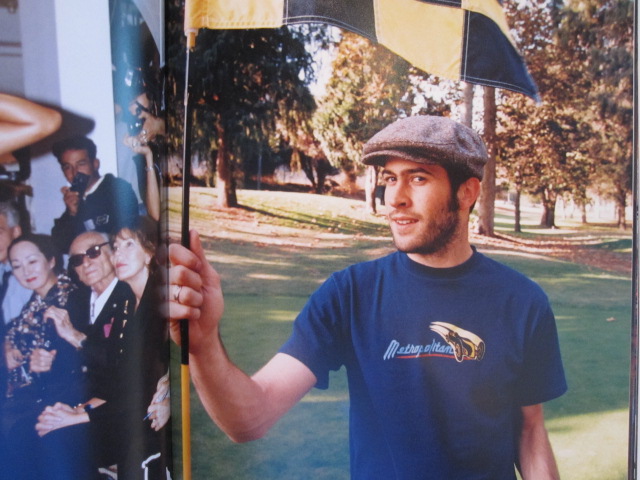 So true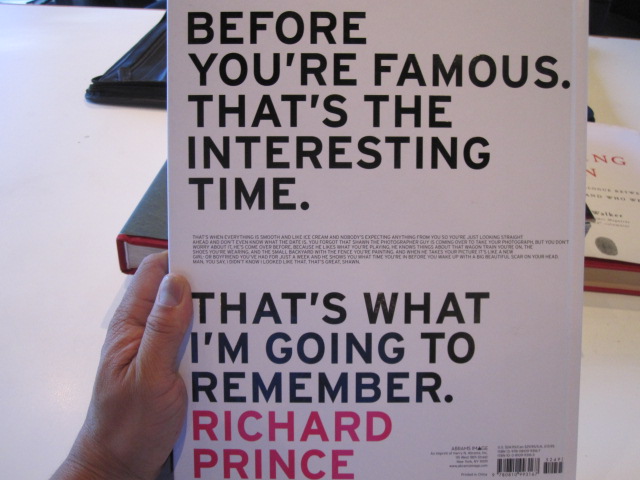 "I shall proceed...and continue"
June 2, 2009
One of the best things I'm able to do is meet other creative and passionate people. It doesn't matter what they do or where they're from, all that matters is they live and love what the hell their doing.

Case in point is the crew from In4mation.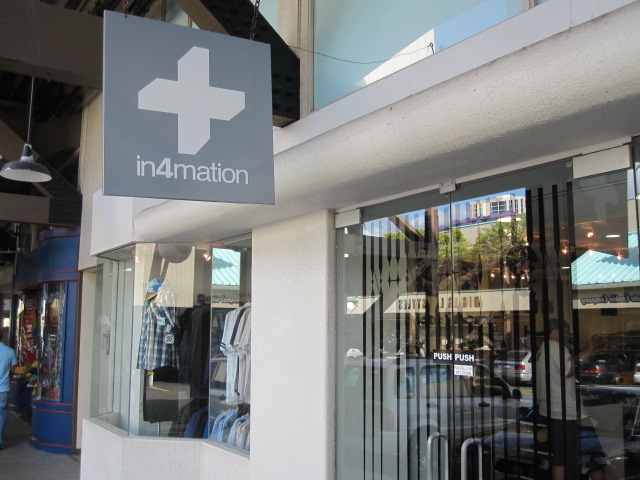 The In4mants consist of a grip of brudas and sistas in Oahu and NYC, but run mainly by Jun, Todd, Ryan and Rhandy. Interestingly enough, we go back when I didn't even know what the F was going on. Todd and Ryan were working for a Japanese company in Hawaii that was, let's just say, doing some "interesting" things. However, that's another story... soon after working for the man and not agreeing to their biz practices, they left and started In4mation with Jun (Highly respected Hawaiian pro surfer, family man, fellow Hypebeast contributor, jack of all trades) and Rhandy (local boy, designer extraordinaire, NYC hustler). Check out an early collage surfboard.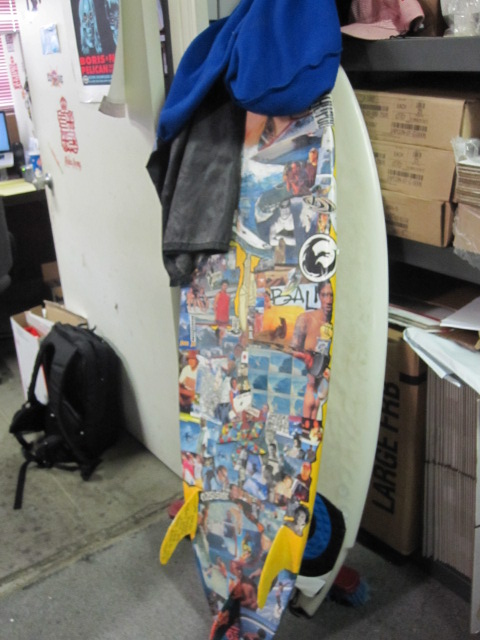 Now check out Jun in the early days.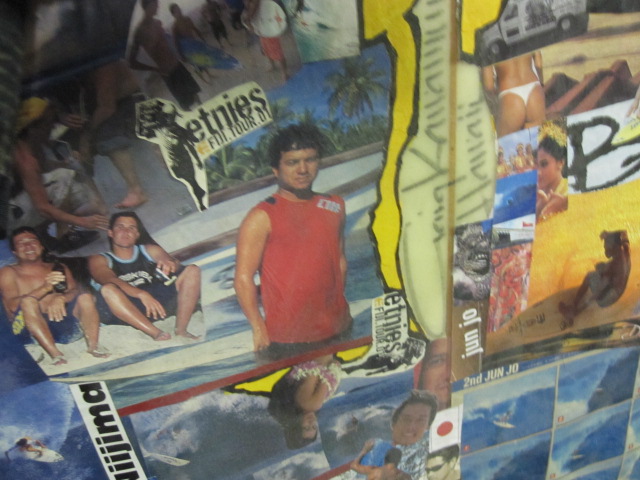 Howz it Jun…today


A brief look at the war room and his clean desk.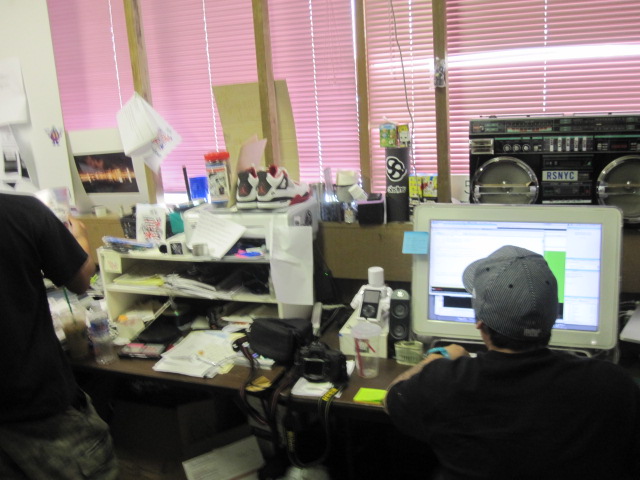 I was giving shit to Todd about his recent interview in TW, while he was giving shit to me about being in the blog world. Todd looks so serious in the TW pict.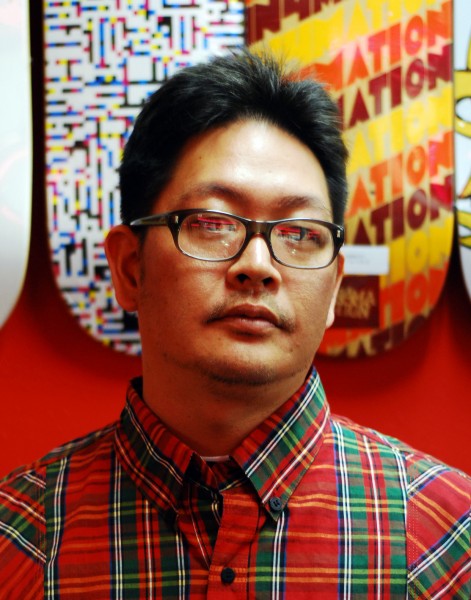 Now that's a little more like it.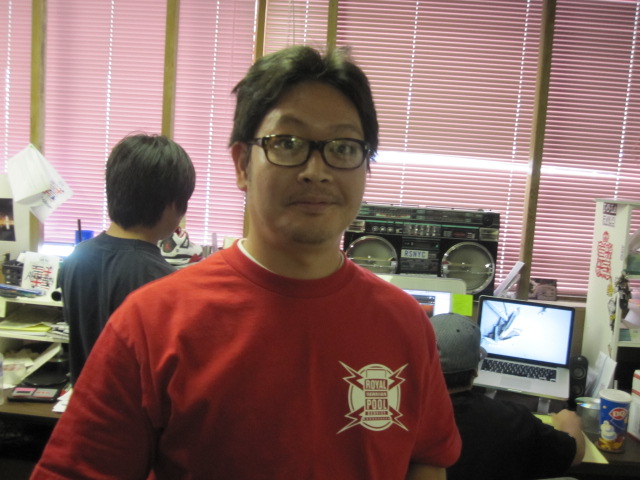 The In4mants run a bunch of things. First is their retail store, In4mation (street and skate based), Aloha Army (surf and local based) and of course their flagship apparel brand, In4mation. They just opened a skate only shop upstairs at the Ward Warehouse. Check it.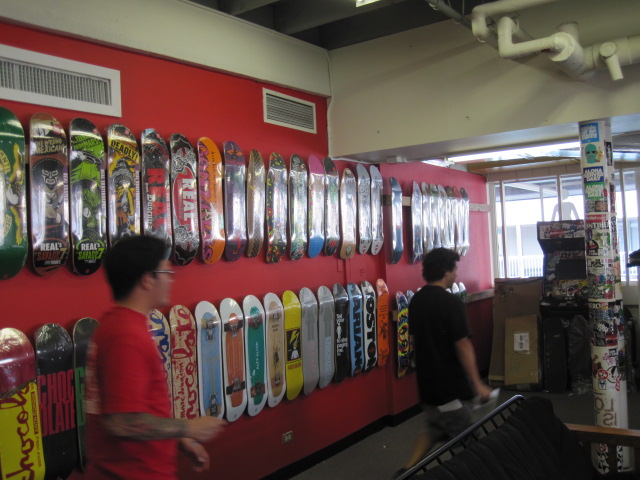 Something mandatory at every shop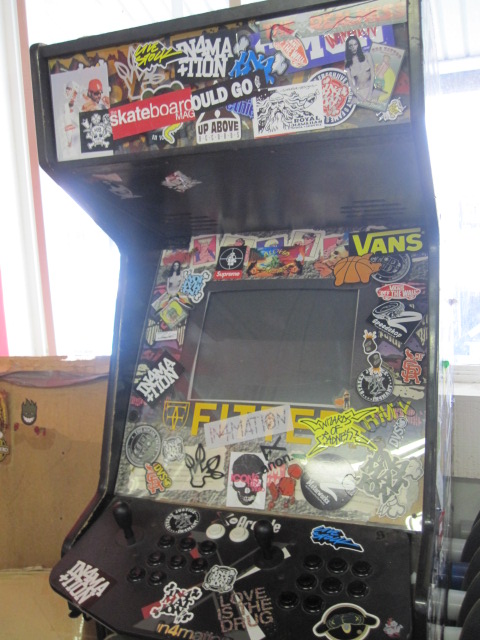 Jun's also part of Vertra, which is a new high end sunscreen company. I tried the face stick while in Bali and it's the shit. Thanks for the supply!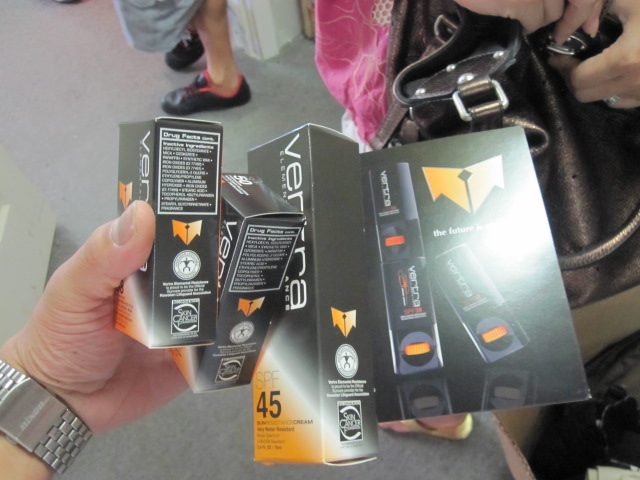 While at the office, I got handed a local mag called Contrast, run by friends of the In4mants. I like the thick matte paper, and of course the dope cover shot.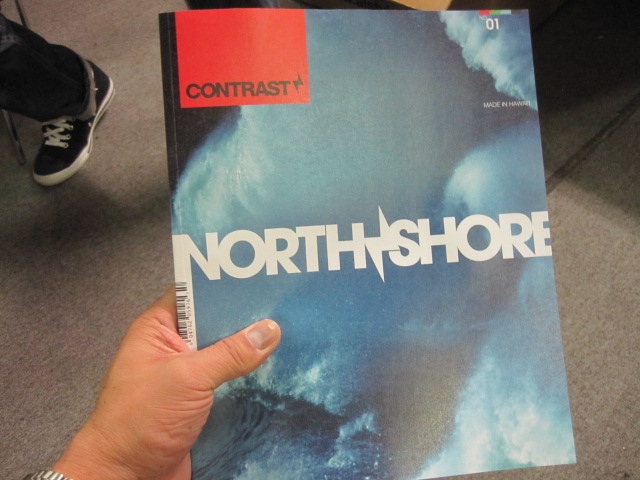 Inside front spread, Aloha Army represent.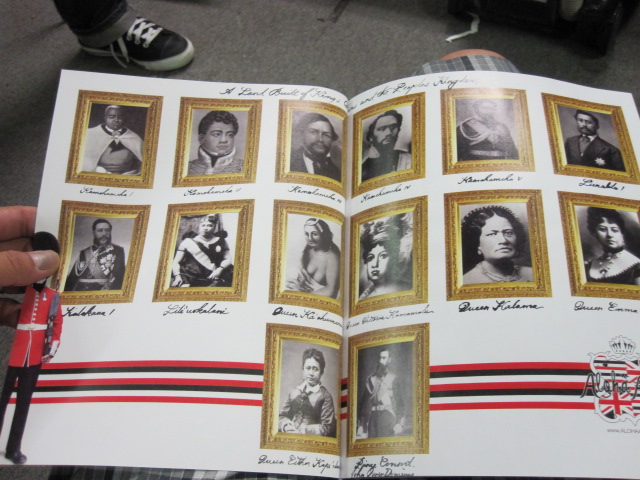 686 faction member and all around incredible person, James Marshall, aka Dalek, is coming to the islands in August.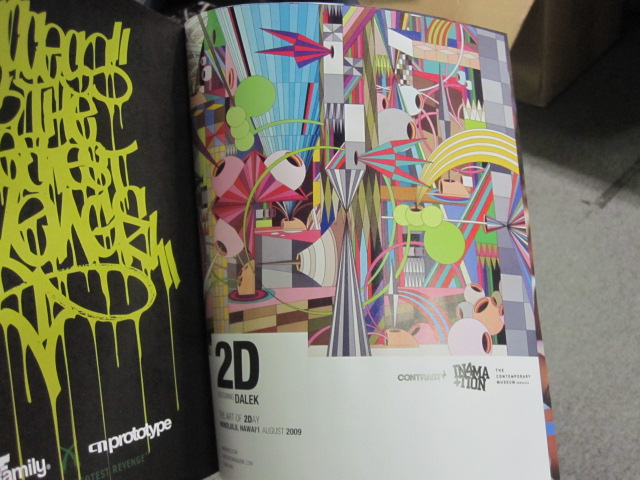 Almost forgot why I was here, the wedding. Can't get any better than this one. Perfect weather, dope crew, good eats like this cake…yuuuuuuuuuum!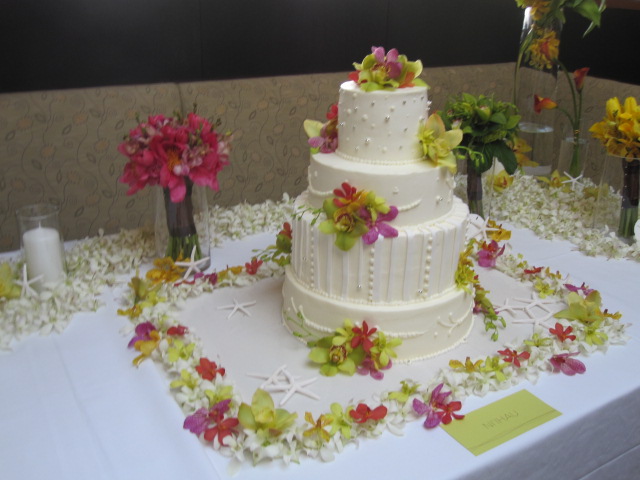 It's sooo nice out here, Hollywood folks like Cameron Diaz come out. Damn, stop following me Cam, will you?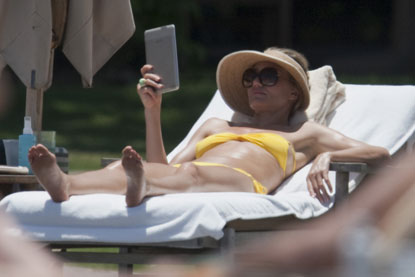 You ever seen the movie Coming to America? This is what happens to me every time I walk in Hawaii.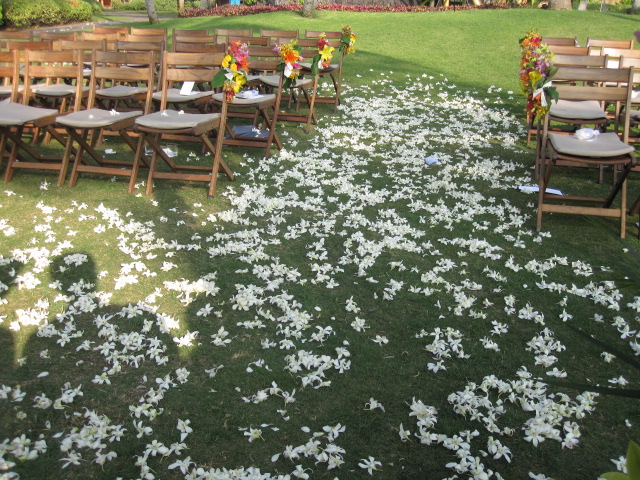 OR only happens at Doug and Sally's wedding, congrats!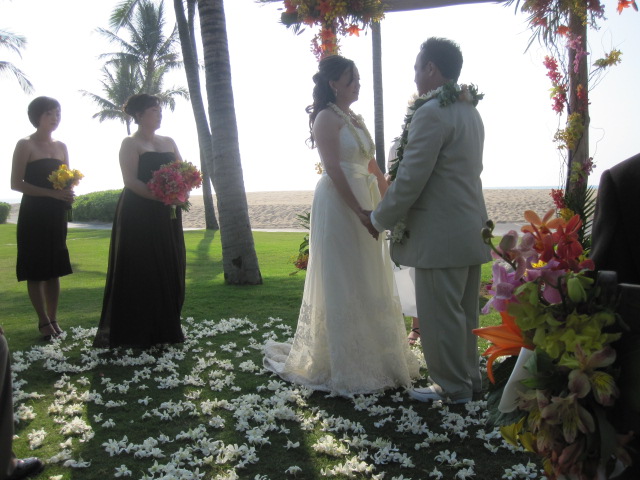 Mash-Up Archives:
Most Recent Mash
May '09
April '09
March '09
January/February '09
---