Back to News
INTL: Billabong Damn Am Brings New Energy
July 23, 2009
Billabong Damn Am, presented by Push.ca and fueled by Monster Energy and SBC Skateboard Magazine Brings New Energy, More Sponsors and Better Skating in 2009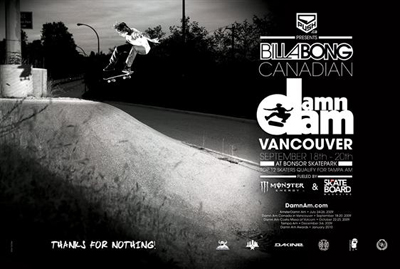 After the success of last year's inaugural Canadian Damn Am event, this year will find the event back in Vancouver, Sept. 18-20th, 2009 at Bonsor Skatepark. The weekend event will feature a Friday afternoon Bowl Jam, with the street contest going down all day Saturday, and Sunday being used as a rain day. "Our entire crew is looking forward to coming back to Vancouver for the 2nd Annual CDN Damn Am," says Brian Schaefer from Spotlight Productions. "Vancouver has some of the best skaters in the world and our event will contribute to more as we get some of these skaters to Tampa Am in December."
"The contest is guaranteed to be better than last year as the strong vibe and great skating will keep rolling into this one for September" Schaefer continues. In addition, look for Coors Light and Monster Energy After Parties all weekend long. The Billabong Canadian Damn is also supported by Independent, Toy Machine, and Momentum.
Registration of the event will be done through advance registration only. The event will take 80 skaters for the street contest, with 20 skaters competing in the bowl jam. All registration must be done by industry team managers only. Please submit all registrations to Rob Meronek at [email protected].
The Damn Am skate series is the leading global amateur skate series with events in Minneapolis, Costa Mesa, Amsterdam and Canada, with all events leading to the Tampa Am in December 2009, which is the most recognized amateur skate event in the world.
"Billabong is proud to be able to sponsor the Canadian Damn Am contest once again in these tough economic times. It's a nice feeling to be able to keep an event that is so widely known alive in an area that has always had a strong skateboard scene" says Rodney Johnson, Skate Team Manager at Billabong-USA.
---