Back to News
B$Z: Loop'd and X Games Strike Big Deal
July 27, 2009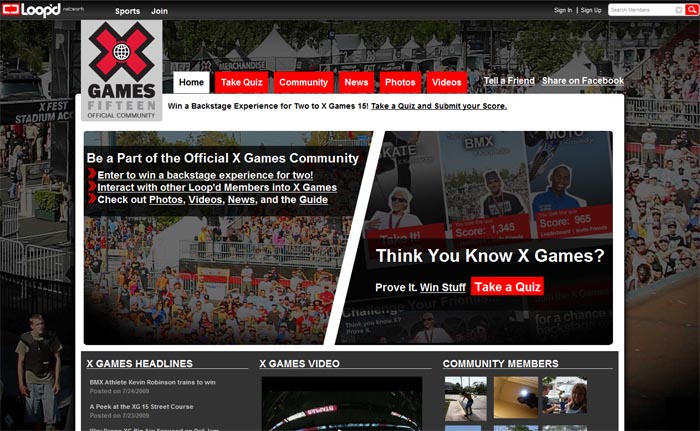 Loop'd and X Games Strike Big Deal
Loop'd Network, the largest action sports sponsorship and social networking site struck a deal with ESPN to host the official X Games online community rumored to be a multi-year deal. This is another significant milestone for Loop'd in its growth trajectory which is pointed steeply north.
With more than 500,000 members in the Loop'd community, who actively participate in the sports, the X Games community on Loop'd will grow, grow, grow with active participants who are the true "core" of these sports and this industry. The X Games community on Loop'd has real estate carved out on the X Games home page – icing on the cake. Results are to be determined but with two powerhouse online communities, bottom dollar bets on big success are low risk.
The launch kicked off with PR work and viral activation by both companies' external social media channels. To create engagement Loop'd developed an online viral quiz app to generate engagement in the X Games community, which has already seen get significant traction on walls throughout Facebook. Community members who provide correct answers have a chance to win a special back stage experience as well as special prizes from Monster Energy and Oakley revolving around X Games athletes Ryan Sheckler, James Stewart, Jamie Bestwick and Ken Block. The quiz runs through the beginning of X Games 15.
Post X Games 15 in Los Angeles, the X Games online community on Loop'd will turn in to a content resource and promotional vehicle for anything X Games related before promotion for X Games winter events fires up in the fall.
When asked if money exchanged hands in the deal, Scott Tilton President and CEO of Loop'd declined to comment, but said it was a very collaborative effort. And when asked about their future plans with the X Games community, Tilton said: "Our initial priority is to make sure this partnership produces value and interesting content for action sports athletes and fans."
Loop'd will be onsite at X Games in the village area doing live web casts with X Games athletes, creating photo and autograph opportunities for fans, and giving all in attendance a chance to stand on the winner's podium for a commemorative picture with their very own X Games gold medal.
Visit the X Games official online community on Loop'd here:
http://xgames.loopd.com
---