Back to News
INTL: Action Sports Network "Gives a Dam"
July 27, 2009
Action sports network "Gives a Dam"
Action sports network Actionprofiles.com steps up to the plate to help provide aid for South Africa.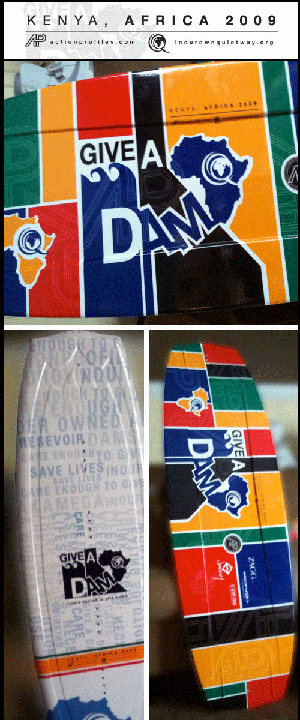 ActionProfiles.com, an action sports network, has partnered with InOurOwnQuietWay.org in an effort to raise money and awareness to the drought problem in Kenya, Africa. The new "Give a Dam" campaign is not only promoting clean water sources, but is hoping to bring new forms of revenue to South Africa, via action sports, such as skateboarding, wakeboarding, and surfing. Companies contributing to the campaign effort include, ZAGG™, Wakeology, Rockwell Timekeepers, Marine Products, Edge Motorsports, and Revolution Mfg.
AP team members Shawn Vierra and Kye Tanner will be in Kenya from July 28th – August 10th shooting a new action sports documentary and working in the field providing much needed aid to rural communities. "These types of opportunities to give back are few and far between," explains AP Co-Owner Jesse DenHerder, "We're honored to leverage AP's creative strengths towards such a worthy cause." Quiet Way has already filled two 40-foot containers with humanitarian, educational and medical supplies to benefit children in Kenya, a shipment worth over 1 million dollars. AP has also created a limited edition line of "Africa themed" T-shirts, wakeboards and longboards, that will be sold to raise money for the "Give a Dam" project, with the first run being offered as gifts to the VP of Kenya.
---