Back to News
Echo::Factory Creates Mini Social Networking Site for Kali Protectives
August 4, 2009
Echo::Factory Creates Mini Social Networking Site for Kali Protectives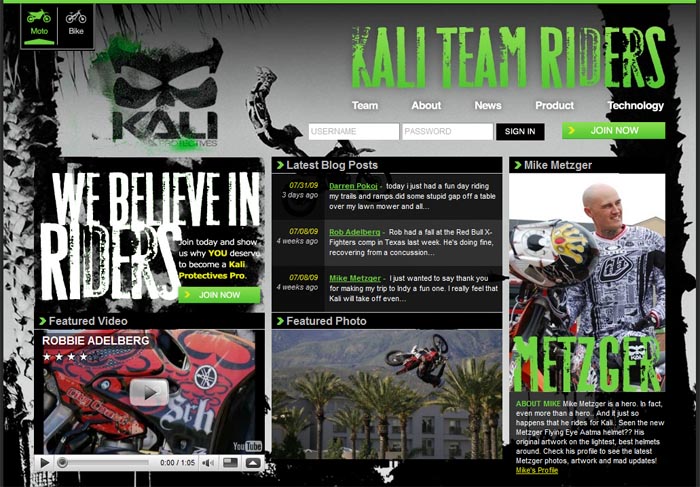 Kali Protectives sought out Echo::Factory to create and build a rider component to the Kali Protectives website. Kali wanted two things - a site that would let them showcase the latest exploits of their pro riders, and a site that would let aspiring amateurs create profiles to connect with each other as well as showcase their ability to Kali for a chance at sponsorship by the company. In short, they wanted Echo::Factory to build a small-scale social networking site for Kali's customers.
Today, you can see the results at kaliriders.com. Riders can log on to the company's website, create a profile, upload photos, bring in videos from YouTube, Myspace or Vimeo, link to their profiles on other social networking sites and post their latest race results and contest wins. It's a full-featured site. What you won't see when you're cruising through is the administrative backend that lets Kali easily update, administer and modify the site.
For Echo::Factory the impressive accomplishment is creating a robust website within a limited budget for this up-and-coming company. Take a look at any of the big action-sports brands' websites. You likely won't find anything like Kali's rider site, and you certainly won't find anything like this that was done on such a tight budget. Kali spent a good chunk of change to have the site built, but Echo::Factory was able to work with Kali to keep it far outside the six-figure budgets many agencies would charge for this type of custom development.
VISIT:
Kali Protectives

Kali Rider's social networking site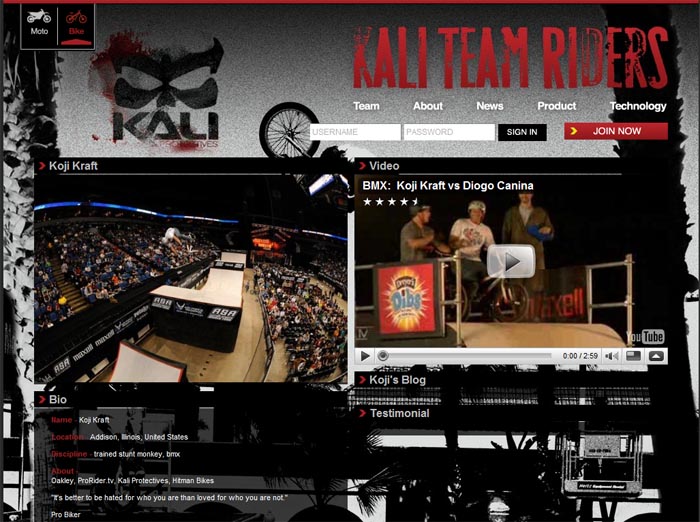 ---