Back to News
INTL: Laureus Extreme Sports Legend Attends Launch of Indigo Youth Movement in Durban
August 10, 2009
Laureus Extreme Sports Legend Attends Launch of Indigo Youth Movement in Durban
Laureus World Sports Academy member and US skateboard legend Tony Hawk attended the official launch of the twelfth Laureus Sport for Good Foundation Trust South Africa project partnership with Indigo Youth Movement in Isithumba, KwaZulu-Natal, South Africa. The new project is a development of a program that started eight years ago to help young people in rural communities develop life skills and confidence through skateboarding.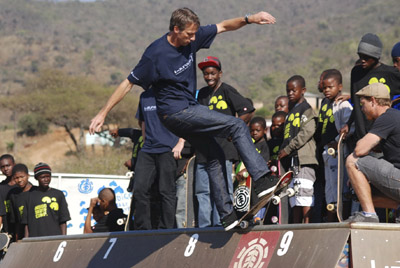 Hawk was mesmerized at his arrival at the Indigo Youth Movement on the outskirts of Durban when he found himself in a Zulu village whose center piece is a skateboard ramp, having only days before presenting surfing world champion Kelly Slater with the Laureus World Action Sportsperson of the Year Award in Los Angeles.
During his 20-year competitive career, Hawk defied gravity with his outlandish tricks and became a role model to millions of young people around the world. He was however, amazed to see a skateboard park in the middle of a Zulu village. Speaking to young skateboarders and project management Hawk said "I can't believe what I am seeing here in this community. It is one of the most amazing skateboard sites I have ever been to. The experience of seeing these young people from disadvantaged backgrounds is something that will stay with me forever".
The program created eight years ago by Dallas Oberholzer provides rural communities with opportunities to learn English and Math as well as to interact with more advantaged young people from the city. Oberholzer said "The partnership with the Laureus Foundation SA empowers us to impact more lives beyond our founding pilot project in the Valley of 1 0000 Hills, which focused primarily on the acceptance of cultural diversity. Having a legend like Tony Hawk land on site is further acknowledgement that we have created an alluring play place. With this momentum we are strengthened in our commitment to creating an awesome learning platform for all to enjoy. As all skateboarders are connected, Tony Hawk has already impacted our lives; his accomplishments give wings to our dreams".
Hawk was accompanied by Laureus Friend & Ambassador Deshun Deysel, fellow US skateboarder Shaun Patrick Gregoire and Laureus Foundation Trustees as they witnessed activities that included music and skateboarding performed by the project participants.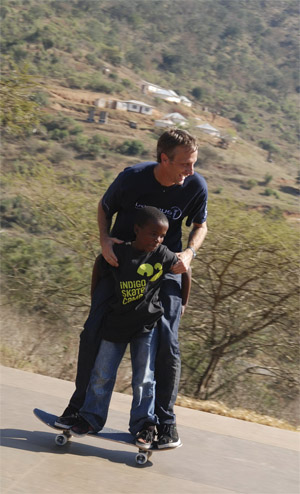 In a special message sent to the project managers Chairman of the Laureus Foundation SA, and rugby union legend, Morné du Plessis said: "On behalf of the Laureus Foundation SA and the Board of Trustees we are delighted to be able to officially announce this new partnership with Indigo Youth Movement. This program we are supporting is a new and exciting project that typifies the work of providing opportunities to make a difference to young people's lives in communities like these. I am overjoyed that one of the great legends of skateboarding and one of our Laureus Academy members Tony Hawk has travelled to Durban. I would also like to thank Laureus Friend & Ambassador Deshun Deysel and Trustees Iain Banner and Ntambi Ravele for supporting the launch of this partnership.
"We are committed through our partners in South Africa and globally to further developing programs such as Indigo Youth Movement that can bring fun, enjoyment and life skills to young people and this project using skateboarding is a fantastic example of how all sports can be used to make a massive difference."
Later in the day the party travelled to Gateway in the centre of Durban where the skateboard star participated in a series of interaction and skateboard activities and was coaxed into an exhibition by the Indigo participants and skateboard fans who had turned up to see him.
The mission of the Laureus Sport for Good Foundation is to utilize the power of sport to address social challenges through a global program of sports related community development initiatives, using sport as a tool for social change. The Foundation supports almost 70 projects worldwide and since its inception Laureus has raised $28 million for projects which have helped to improve the lives of one million young people.
Tony Hawk is one of the members of the Laureus World Sports Academy, a unique association of 46 of the greatest living sporting legends. The Academy members volunteer their time to act as global ambassadors for the Laureus Sport for Good Foundation by using their influence to highlight the plight of disadvantaged children and supporting humanitarian projects around the world.
---