BACK TO NEWS
EVENT: Newport Beach Charity Event to Benefit Surfrider Foundation
Newport Beach Charity Event to Benefit Surfrider Foundation
The Newport Beach chapter of the Surfrider Foundation will be the beneficiary for 2009 charity event on Sunday, August 16th.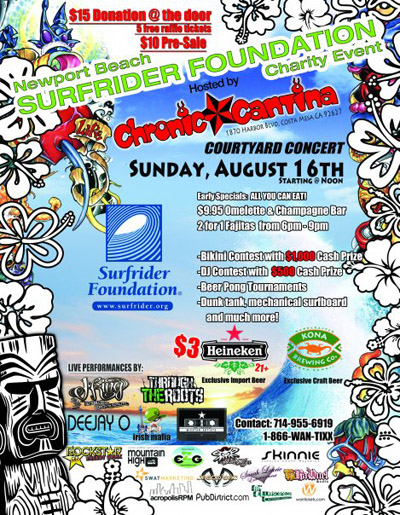 Raquel Media and Chronic Cantina will be hosting an upcoming charity event to benefit the Newport Beach Chapter of the Surfrider Foundation. The annual charity event will take place on Sunday, August 16th in the courtyard of Chronic Cantina in Triangle Square in Costa Mesa, CA. Events for the day will include live performance by J King featuring DJ Souless and Brodii Split and Through the Roots, a bikini contest with $1,000 cash prize, DJ contest with $500 cash prize, raffles, special guests and other fun summer events and activities. This event will be 21+ and food and beverage specials will be available at Chronic Cantina all day. Presale tickets will be available for $10 and tickets will also be available at the door for $15.
"In 2008, we raised almost $8,000 in funds; we consider this event tremendously successful. The 2000 people in attendance coupled with the great press coverage; provided amazing visibility for the Newport Beach Chapter of Surfrider Foundation. We collected an impressive amount of signatures for our Save Trestles campaign", said a representative of the Surfrider Foundation. Raquel Media is looking forward to raising funds once again for this great cause and putting on a fun summer event in Orange County.
The Surfrider Foundation is a non-profit grassroots organization dedicated to the protection and enjoyment of our world's oceans, waves and beaches. Founded in 1984 by a handful of visionary surfers in Malibu, California, the Surfrider Foundation now maintains over 50,000 members and 90 chapters worldwide, including Newport Beach. (www.surfrider.org)
For tickets or more information on sponsorships, please contact Raquel Figlo (raquelfiglo@gmail.com)
---