Back to News
Laurence Applebaum on Salomon Sports & His Time at the Company
August 15, 2009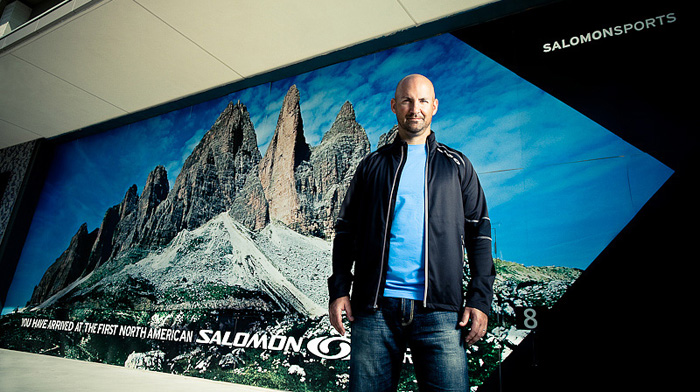 Laurence Applebaum on Salomon Sports & His Time at the Company
Salomon Canada Experiences Growth Through Recession
There is no shortage of companies suffering from the effects of the economic crisis; ski companies, apparel lines and footwear companies are all feeling the sting as outdoor enthusiasts tighten the purse strings. Salomon however, one of skiing's longest-running companies, managed to grow both in 2008 and through the first half of 2009, despite the industry taking a hit overall.
Laurence Applebaum, Vice President of Salomon Canada, has been instrumental in the "Mountain Sports" company's success. From a successful ongoing rebrand of the company in 2006, to the recent restructuring to weather the economic storm, Applebaum has elevated Salomon to the peak of the industry. With a team of product and marketing professionals based out of Toronto and an accomplished sales team across the country, Applebaum sees hope in the years ahead, recession or not. He believes people are connected to the mountain sports brand through the passion of the outdoors - something that a recession cannot change.
Salomon Canada had a remarkable year in 2008, a surprising fact considering the current economy. Can you share some of the company's achievements?
Salomon Canada is coming off a record year. We've increased sales and profits, and in 2008, we had double-digit growth and experienced significant profit growth. We've made major jumps in market share, specifically in the XC [ski] market and continued to make strides in the alpine market.
When you say double-digit growth, do you mean overall or in a specific category?
Ten percent overall in Salomon business and more than 20 percent in our softgoods business. We're really starting to see some profound developments in softgoods.
What does "softgoods" entail for Salomon?
When we talk softgoods, it's footwear, apparel and our snowboard brand Bonfire.
How are your competitors faring?
This is one of our most challenging times, not only economically but in the ski industry in general. We've seen really significant downturns in the competition; major restructures, major ownership changes, and at a key time. At this time, I think that's why people are relying on us. Being part of a winter sports company with our sister company Atomic, they can depend on us to build the product, deliver the product, service the product. So, I think there are some people taking some major pain and I think you're going to see a quelling of the herd in this market. If we stand here a year from today, the competitive landscape is going to be completely different.
It seems that way.
Yeah, I think there will be a need for some of the niche brands but in terms of market leadership, our feeling is that if you are not #1 or #2 in a category, you'll get caught in the pressure in the middle of the market. A big sense of internal pride at Salomon right now is that we actually stand for something. We're not trying to be everything to everybody. We're not trying to be a race brand anymore. We're really focusing on all-mountain and freeskiing and that's where our energy and resources are going.
What do you think are the biggest factors in the strengthening of the brand? How long have you been focusing on that?
I think we turned a corner back in 2006 when we started to focus building the brand as the Mountain Sports Company. This brand platform allowed us to focus on everything Salomon is connected to – mountain sports people and mountain sports product. That resonated with our consumer and our customers. Whether you're living in Toronto or Banff or Whistler or Montreal there are people that are drawn to the lifestyle of the mountains.
Which partners has Salomon worked with to achieve this strengthening?
Our trade partners, our customers, our event partners and our resort partners make up this incredible link with our consumers. Specifically at the resort level, Whistler Blackcomb, Sunshine Village, Mont Tremblant and also Snow Valley as far as a teaching institution. From the event side, I talk about "The 5 Peaks" from a trail running perspective and on the media side, we are very close with Origin Design + Communications, The Ride Guide, SBC Media amongst others. It's one of things I am personally most proud of—the people we choose to work with also choose to work with us and we have mutually beneficial relationships with people.
Where does Salomon's strong connection with their customers come from?
When you are going out in the world, doing what you love, skiing or riding on a mountain, going trail running and you see our brand, there's that connecting moment. That's kind of been my personal draw to this business, that the work we do brings other people such enjoyment in their lives. That translates into the brand connection.
Is that a big part of Salomon's corporate culture?
I think we often get tagged as a pretty corporate brand within our industry but you should see when we're having a sales meeting, or testing product. There are people that absolutely rip on the mountain and some serious athletes at Salomon. That being said, we're in this to be profitable and to make our partners profitable and we're not ashamed of saying that.
In a time like now, in our economy, do you believe Salomon's heritage and roots will benefit the brand and the sport?
I think we'll look back at this time and it will be a time that defines lots of companies. It will define their long term existence. We're not immune to change. We've gone through some restructure here. We're going to come out of it even more solid and stronger than going in. We refocus our resources and it makes us stronger for the immediate and long-term future.
The sports we are involved in are great sports for these times. Cross Country skiing, trail running. That's what people do. They're going to run and spend time outdoors. I think that's what works well with Salomon—it's come back to our core again. Our consumers are skiers to their roots. They are going to ski regardless of any economic factors. However, they will make smart decisions on where to go or make adjustments to their product decisions based on the current economy.
In what areas has your business seen the biggest growth?
All across the country we're seeing huge growth in soft goods. Footwear is seeing dramatic growth. We're bringing the Salomon spirit to footwear. It's progressive, on the edge and technical. We like to stay ahead of the pack with our styling, our technology, materials and our innovation and I am glad that we have the time and the resources to think that way. It's an exciting category for us now and it's perfect for our retail initiatives and the launch of our first brand store in North America. We've got two partner stores in Whistler/Blackcomb and Mont Tremblant but this is our first Salomon store.


Tell us more about the new store and why you decided to open one here and now?
We wanted to give a platform for our entire footwear and apparel lineup. Everyday people discover one of our shoes or a jacket in a retail store and then find out we have an entire collection, but they've struggled finding it. With our new store, the entire collection will be showcased in one place, something that has been difficult to do in the past. We've had our challenges. Styling; too European. Sizing; too European. But our amazing development team has realized the strength of Canada, I mean, we're the number one country for Nordic apparel now for Salomon. Active people in cold weather are connecting with our brand is just one example of that strength.
Salomon has over 70 stores globally now but on a variety of retail platforms, whether they're partner stores or distributor-based Salomon stores. We felt the Salomon brand was not able to break through in terms of soft goods the way we felt it could. Having our first brand store would be an amazing brand driver. The progression is something we are really excited about. We started as a ski binding company and grew to a hard goods/soft goods, winter/summer, male/female brand that really has a connection with people.
How did you get started in the outdoor sports industry?
I've been with Amer Sports now for 15 years. I started as a tech rep with Wilson in the tennis division. I loved the sport and through my years playing and as an instructor, I then was able to transition into the business side of sport. I have been able to experience a lot of different roles in the company; from sales to product management and marketing and finally into general management. I then had a great opportunity to move to Europe which led to overseeing the Wilson Racket and Team Sports Division for EMEA (Europe, Middle East, Africa). Then as Amer Sports acquired more sports brands, I had a chance to take on more responsibility and oversaw Northern and Eastern Europe for the entire Amer Sports portfolio which included Wilson, Atomic, Suunto and Precor. One of the most exciting things was to help Salomon integrate into the Amer Sports family. Over my career, I have been fortunate to work in well over 40 countries around the world and be a real part of growing something commercially; while at the same time receiving and amazing cultural education. After many years working abroad, I had the chance to return back to my native Canada and oversee the Salomon business for Amer Sports.
What keeps you in this industry and with Salomon?
I had a traditional business school education and the jobs I saw that were available were "real" jobs. I am lucky to have a job that focuses on other people's fun. I love the fact that skiing and tennis and trail running and golf are full of passionate people because I love to do them too. What's most exciting now is developing the team. Right now in Salomon Canada we have an outstanding team, both in the office and in the field. The chance to work with people and help them and to encourage sport is incredibly satisfying.
They seem to be doing a great job, with all the successes you're enjoying.
That's probably the area we're not good at—telling people about our success. We've had 30 years of growth in this country and not all our partners know that we're succeeding and growing. We know that 2009 is going to be a challenge and that we look at this tough time as an opportunity. We are going to be an even bigger part of their businesses. We've already made some major decisions to keep Salomon growing. It's exciting to have partners that want to be a part of the story with this gear that they love.
---