Back to News
Mike's Mash-Up: July Archives
July 31, 2009


Michael Akira West is the Owner and Creative Director of 686 Technical Apparel. The following are some of his experiences inside and out of the industry across the globe.


FX
July 31, 2009
Being born and raised in LA, you tend to forget that the entire TV, commercial and movie industry is in your back yard. I mean, lots of my friends work in Hollywood doing things from directing, producing, writing, acting, lighting, grip work - you name it. Besides directing and dp, I always was a fan of the post, more specifically Special Effects, aka FX. This week, I had the chance to go to Method Studios in Santa Monica. Parking's a bitch, but I guess it's this way.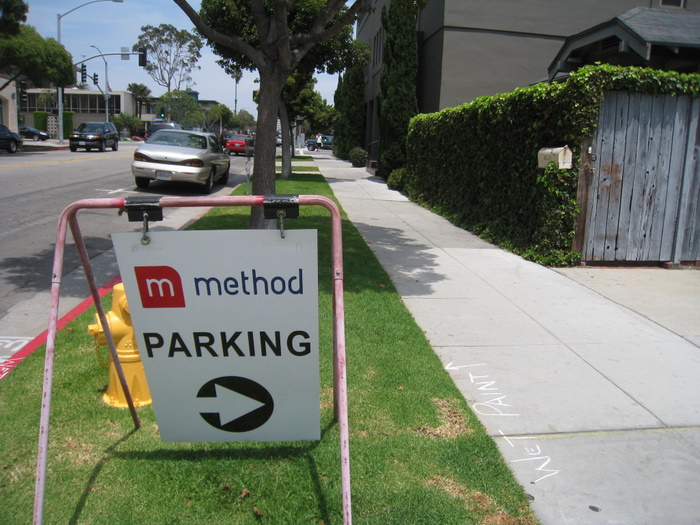 I like how their office outside is non-descript.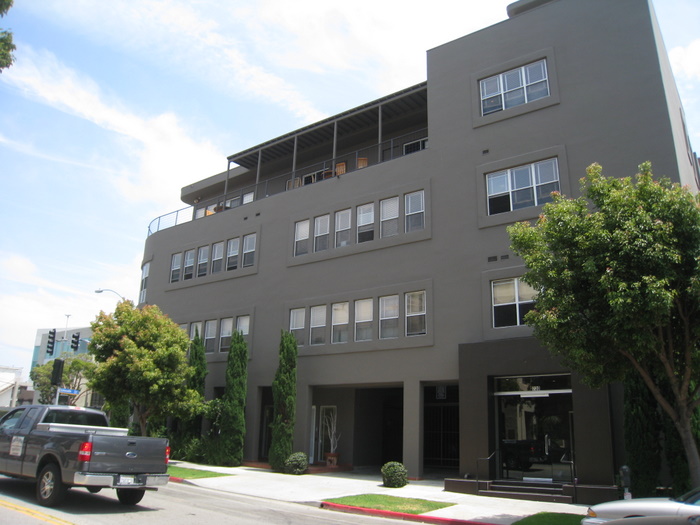 Inside, it's casual and very comfortable. Kinda like a big apartment complex but a lot more plush.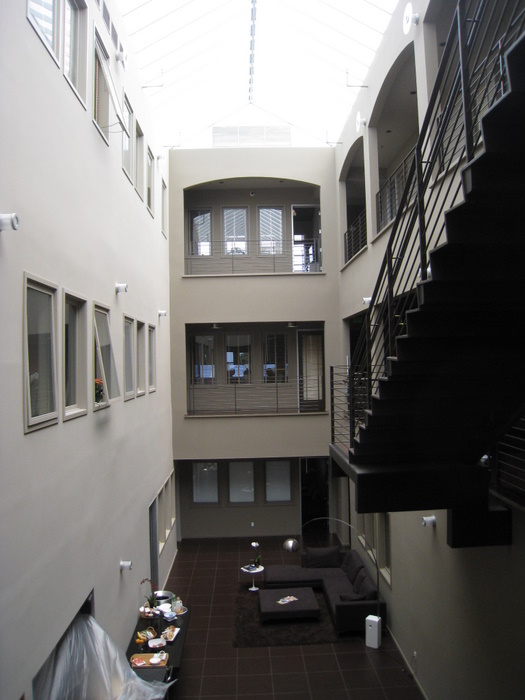 Got lots of inspiring photos of past and present work.
Big Boi in the house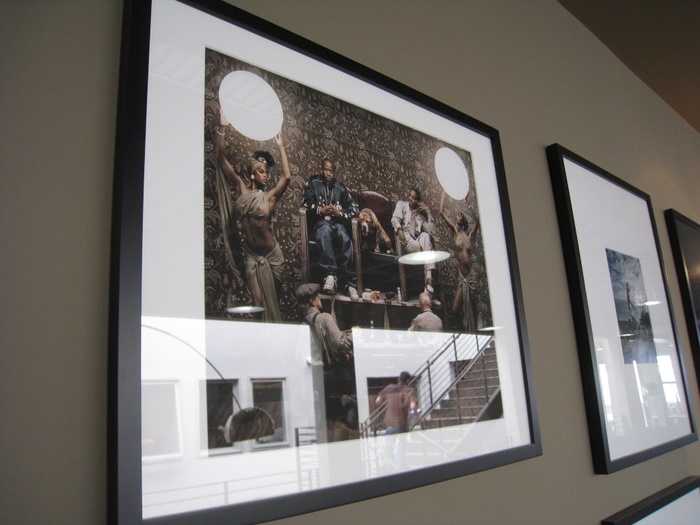 I stopped by Method to see my friend Janelle. She just came from another studio called Digital Domain, which is now owned by Michael Bay. Her dude, Steve, still works there and just got an Oscar for his work on a little thing called Benjamin Button. She recently defected over to Method where she feels, let's say, a little more at home. Hey there J.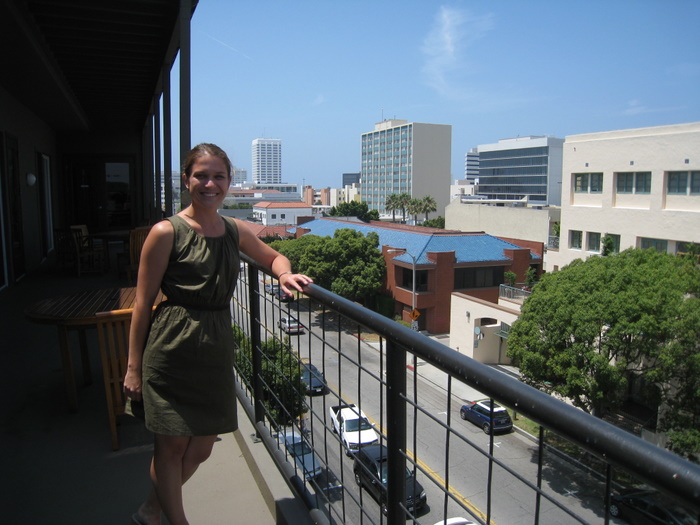 J's done a grip of things like music videos from Linkin Park to the upcoming Nightmare on Elm Street, to this Burger King Tiny Hands Commercial. There's a lot of top secret stuff going on here, so I only can show you so much.
If you've never been to a Post-Production or an FX house, the offices are very lofty and light, but very dark at the same time. Check out some dudes here working on who knows what, with multi-million dollar machines. (I mean multi, multi)
Around the corner is the "vault." You can assume millions of dollars in billings and thousands of hours of labor are associated with some of these drives. (Don't tell anyone, I put Sam Raimi's new one in my bag.)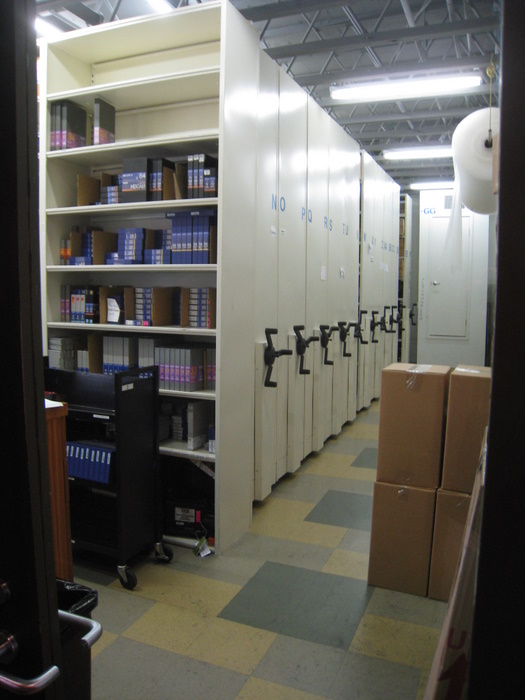 For lunch, we hooked up with Method's lead creative director, Gil.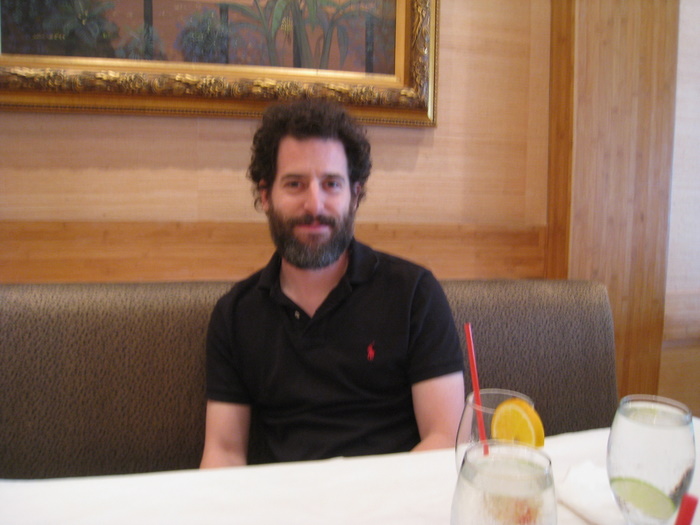 When I was talking to Janelle a few months ago on stuff we're working on for 686, it was a coincidence that the examples I was referring to were actually done by Gil (direct, post, etc). One example here. Talking to Gil about the stuff he's done was inspiring in itself. You can clearly tell by the way he talks that he's been through the gamut. I'm sure you've heard that the difference between a good director and a great director is someone who knows how to write, operate the camera and understands the post work. Well, Gil is a good example of this in his field. In all, we had a great chat about some "potential" things to come. I guess you'll have to wait and see.
The Reigning Champs
July 30, 2009
When I come to the office, I try to have an order of the things I do. Since my responsibilities are split between Creative/Design and General Management, it helps when shit is somewhat organized. If the technology is out there, I try and use it cuz I gotta max my time. It gets a little distracting when you have to switch gears on a dime, but I actually feed off the chaos. One of the things I enjoy is to rap out with other heads to see what's going on. Interestingly enough, Eddie and KB (Undefeated) were around the hood, so they popped in to say what up. (What the hell is that on my desk?)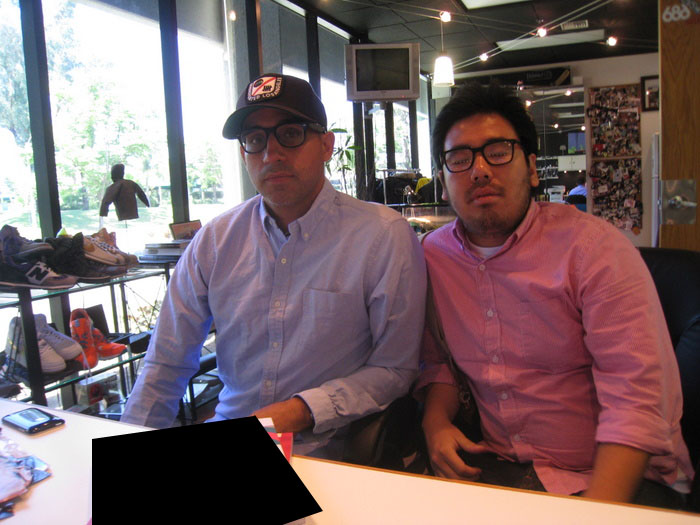 I'll give you a little intro; if you don't already know, you deserve to be told. Eddie (and James) run the Undefeated, Union, Stussy and Supreme stores in LA. They also own Undefeated apparel and accessories, which are sold worldwide. They've been in the game for over 20 years and are master craftsman's in their own right. Of the many great things they put out, I like how they give back and bring their own sense of "fun" to the mix. An example is this past weekend's Pepsi/Unftd/Union Slam Dunk Classic. Picture a few of your local homies like Sal Barbier, and Johan, doing smooth moves on a 7 ft. high rim. Good friends, good vibes and good times.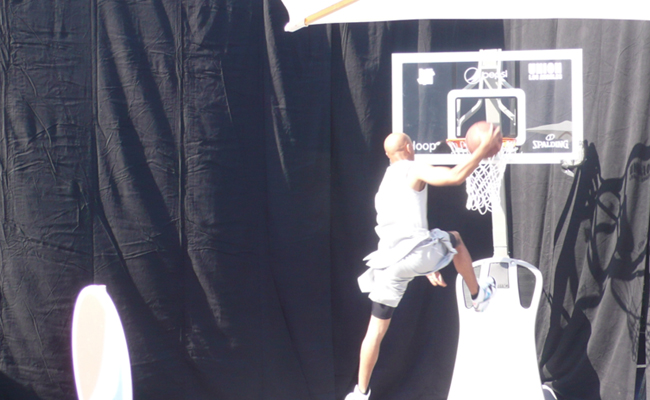 Having Mos Def do his thing doesn't hurt either.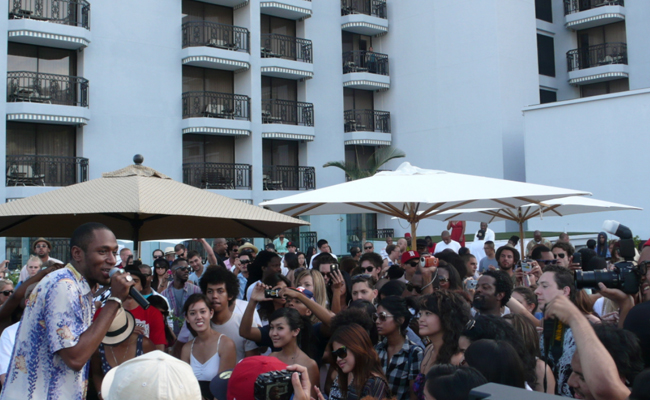 X-mas All Over Again
July 28, 2009
When I was a kid, I don't know what it was, but anytime I got something in the mail, it felt like X-mas all over again. It almost felt like I would imagine something and it magically appeared at my doorstep (although back in the day, imagining was actually calling a # and waiting for weeks to get something) Well today, I'm still a kid at heart and if I get something in the mail, it gets me excited. A few packages arrived at my desk. First up, a "box" from the good folks at Podium. BD and I've been meaning to ride sometime and I think this gives us more of reason to do it ASAP.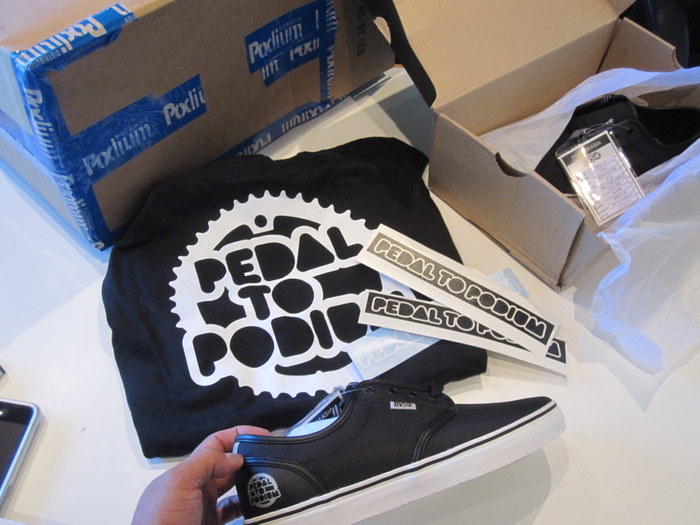 The Rico's in Leather Mesh. These are def my style - clean and classic with a DVS twist. Thanks BD, next rounds on me.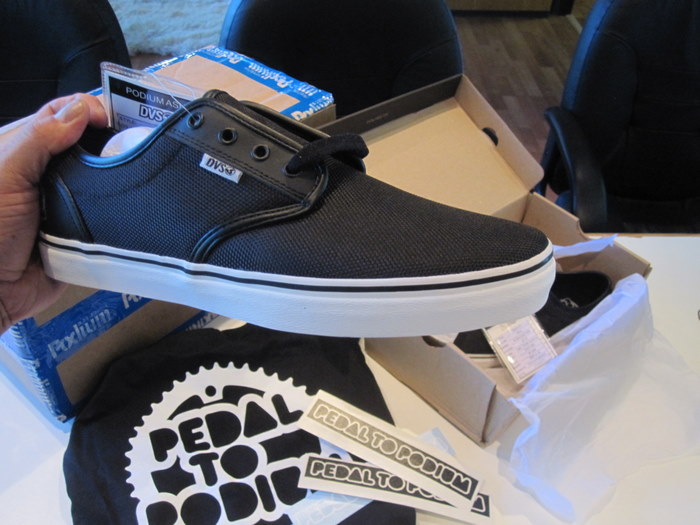 I just defected and got the new iPhone. I know, I couldn't wait any longer and had BIG expectations. So far, it's lived up to them all. INCASE sent me a little care package. I think I got some choices here…thanks Sam!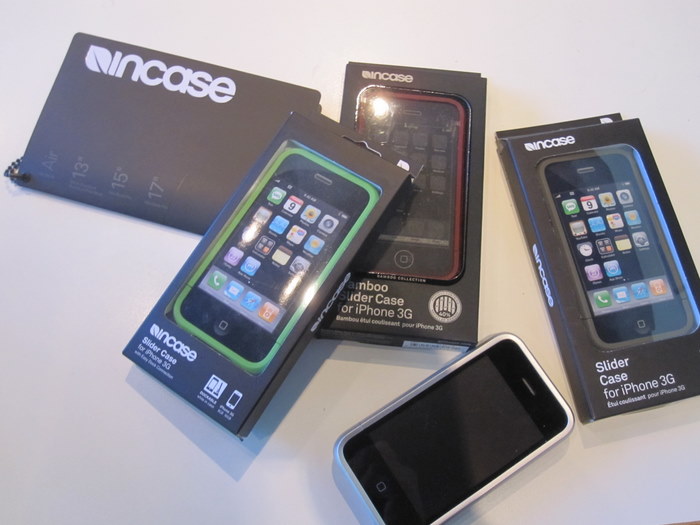 When it comes to timepieces, I'm also pretty particular. However these retro throwbacks from Freestyle bring some fun in the mix. Big ups Jeff.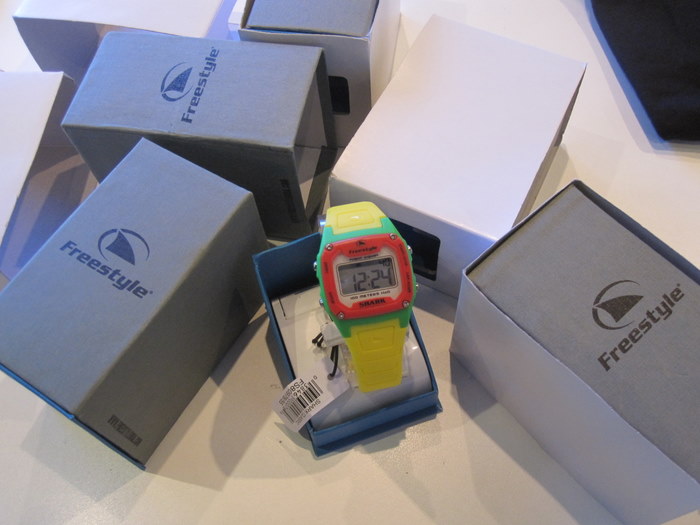 Yes, We're (US) OPEN!
July 26, 2009
Besides all the tradeshows that went on this past week, I wanted to roll by a few places. Unfortunately I had to pick. Let me think; a bunch of peeps dressed up like Sailormoon OR a bunch of ladies dressed up in a whole lot of nothing…. I guess Comic- Con has to wait till next time, so I checked out the US OPEN of Surfing in HB. From far away, it doesn't look that crowded.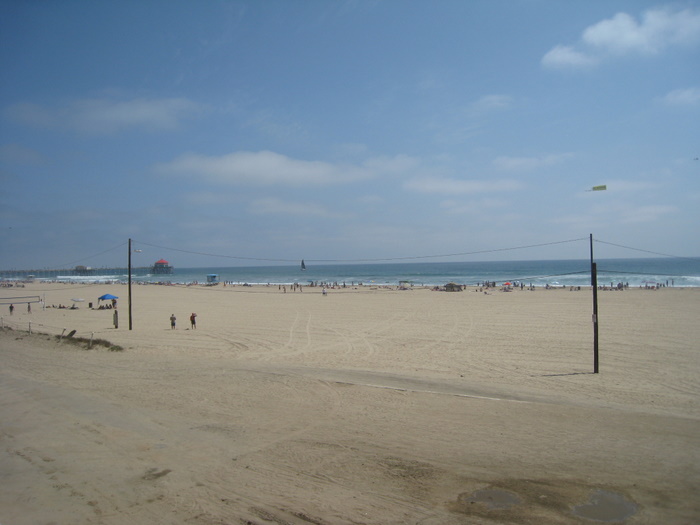 Oh snap, I spoke too soon.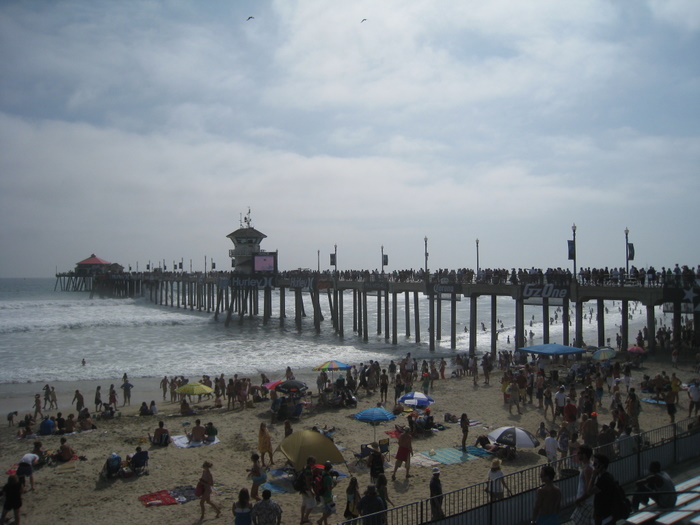 Shit was bananas. I mean, there were actually too many people all over the place. The cornerstone of OC.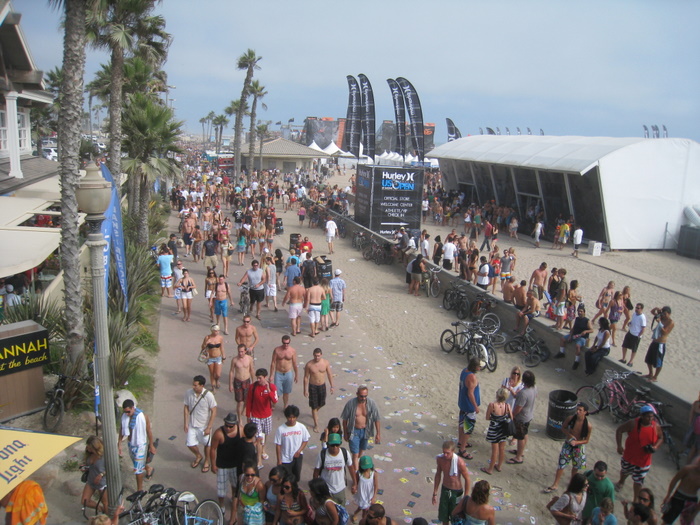 What more can you ask for except "STOP?"
If I'm going to check some place out, I'm not into sitting in some VIP roped off area with heads I already see. I want to be in the mix, touch and feel what's really happening. Hey Red Bull, can you give me a ride?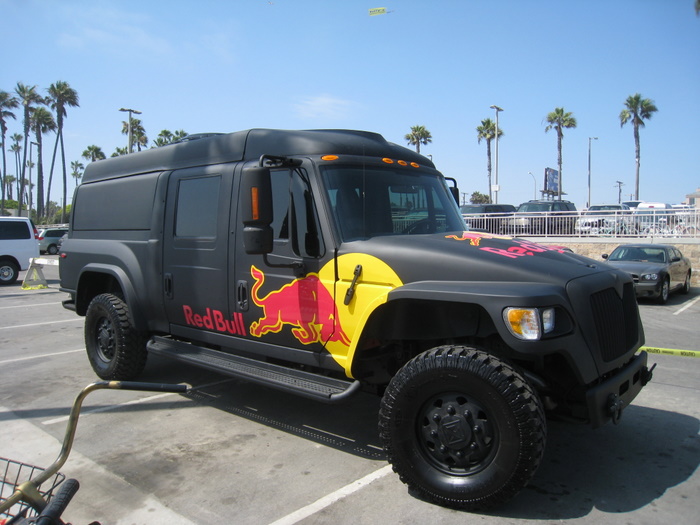 Ok, ok, I'll take a rain check. Did you know it was the OPEN's 50th anniversary at the pier? Happy Anniversary!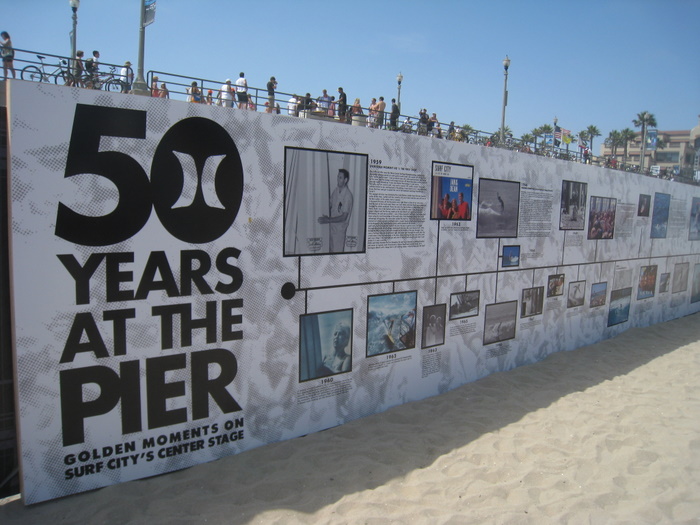 It was tent city in the main area-you name it, they had it.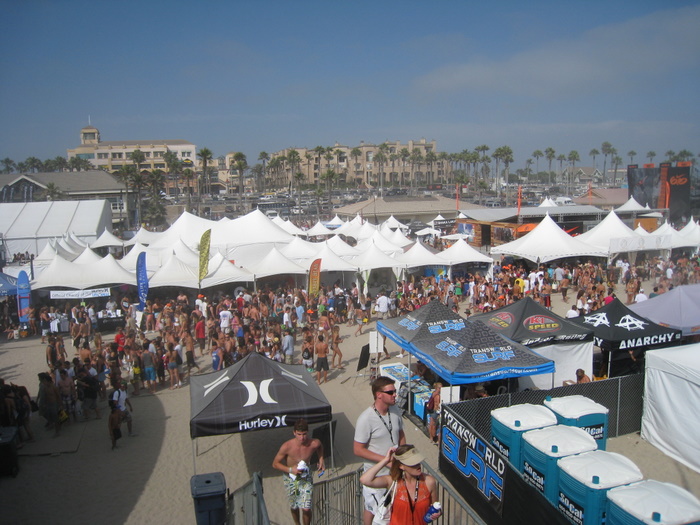 How about spraying some logo I have no idea what it is on my body? Yeah, I don't get it either.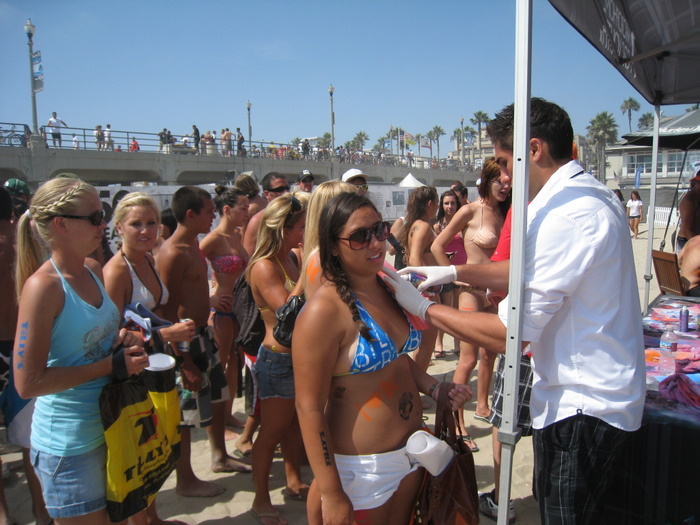 Or, checking how long you can hold yourself up on a bar? Well, ok this ones a little different.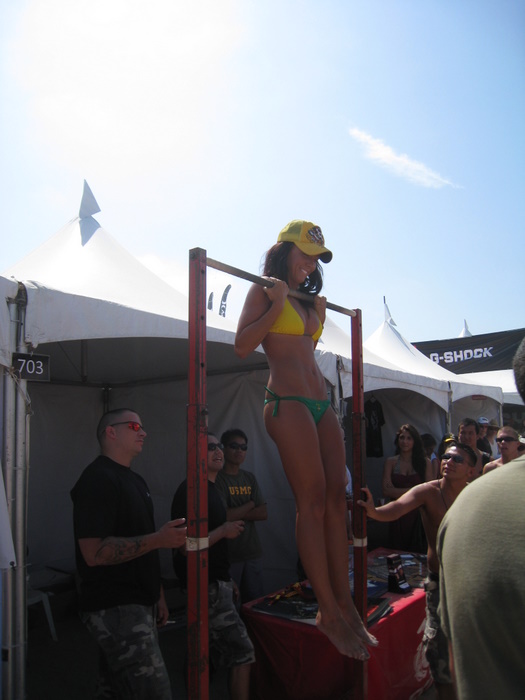 G-shock anyone?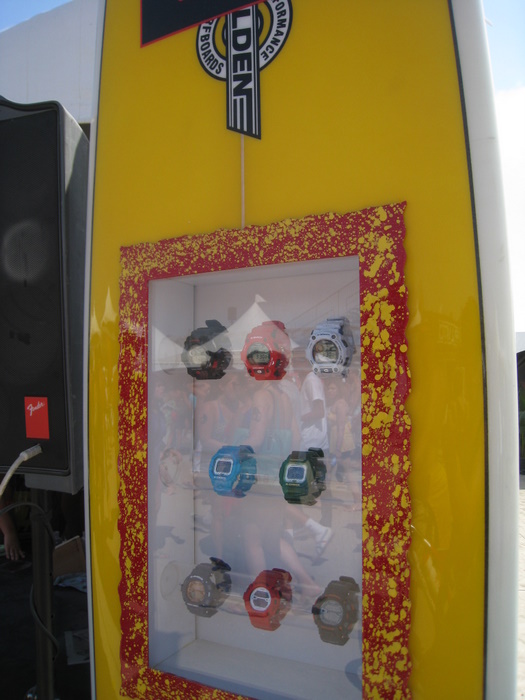 What about learning how to shape your own board?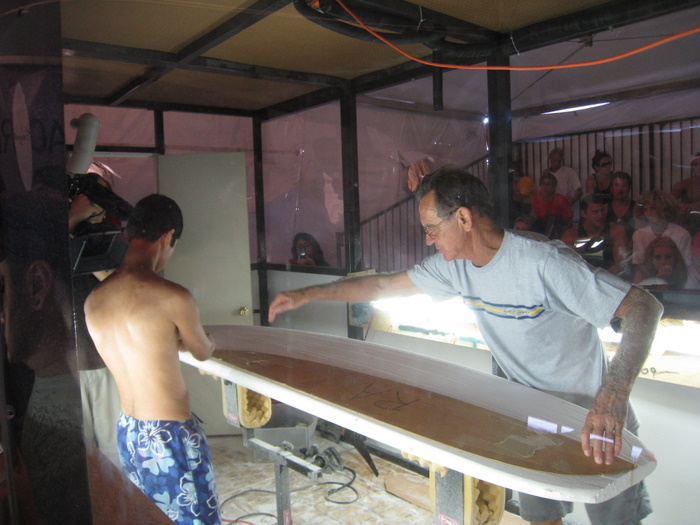 It was close to 90 degrees. Cobb from New Era showing how its done with the super soaker.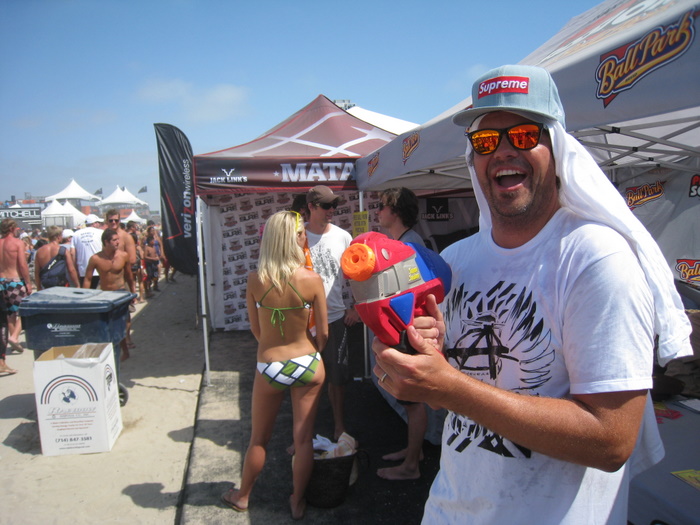 Sorenson bringing his troops to the battlefield.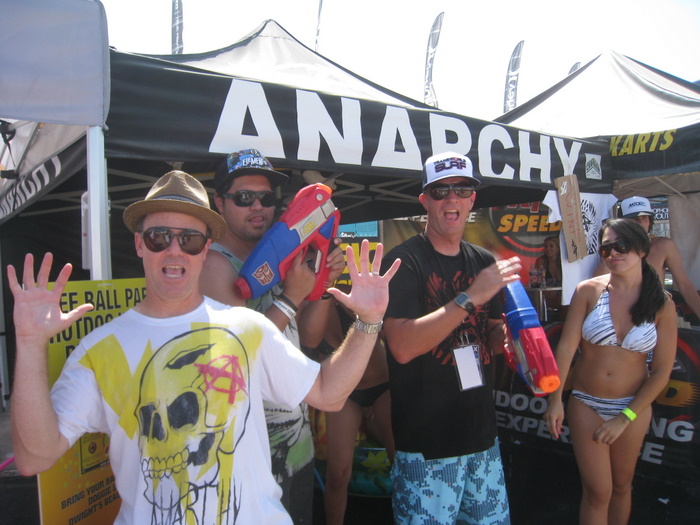 The Nike camp pretty much owned Huntington Beach and from what I can see, did an incredible job at it. "I heard that" (hey, isn't that shit done already?!) it was the Open's most successful turnout to date. Hurley was the presenting sponsor with 6.0 and Converse at their sides.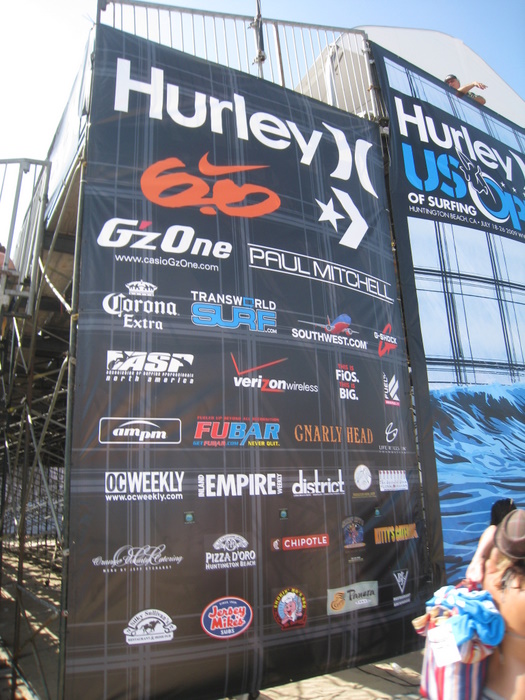 686, I mean 6.0, here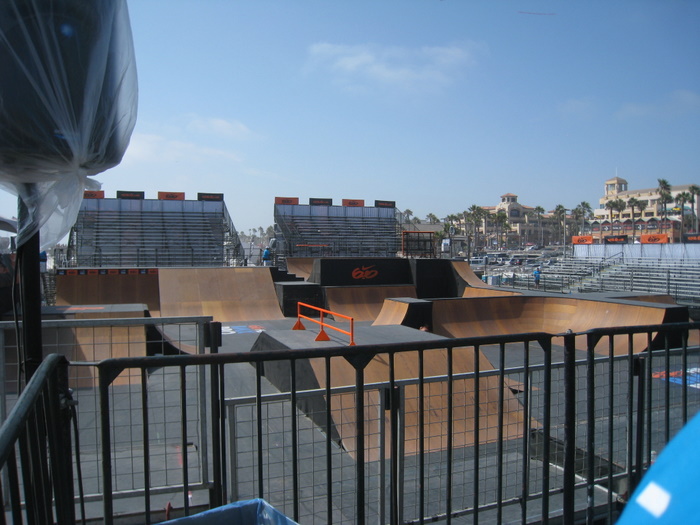 and there.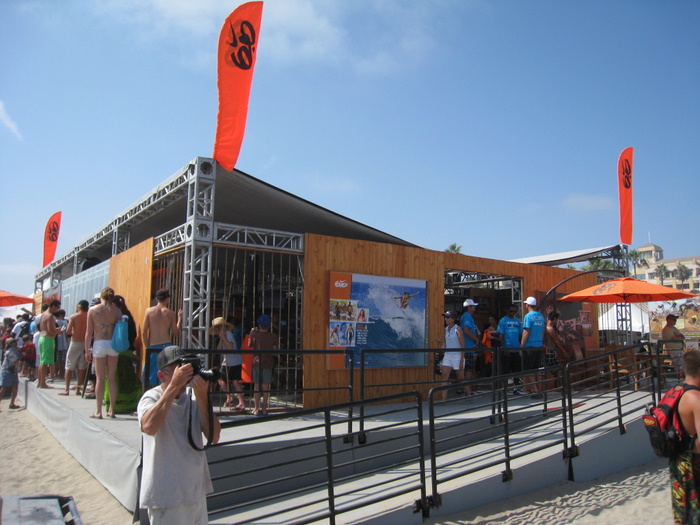 After being in the mix, you almost forget there's a world class contest going on. Looks pretty comfy.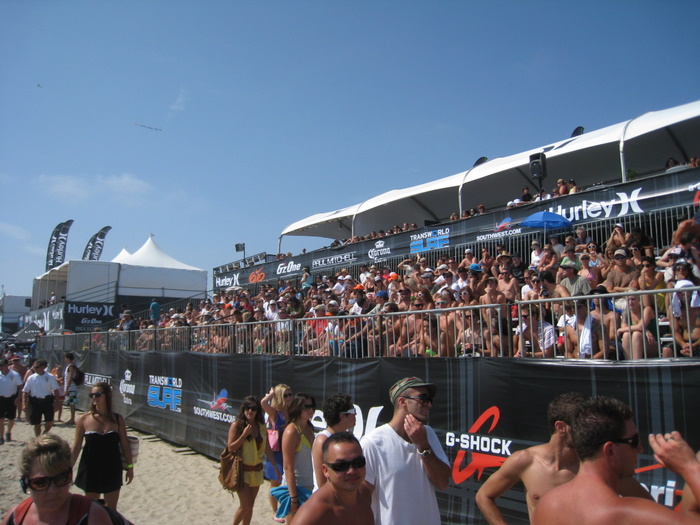 The line-up was huge.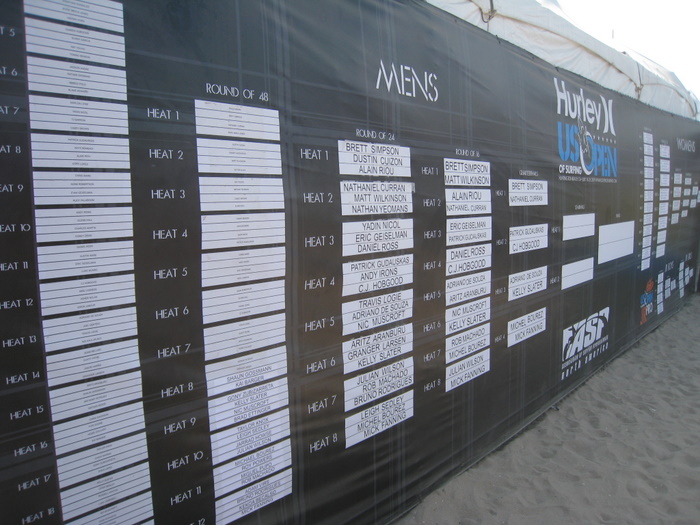 I wonder who won? Hint, hint-B to the S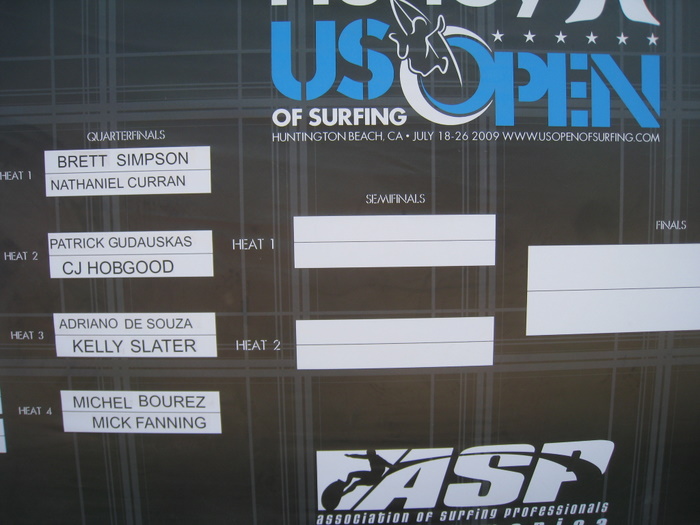 My girl wasn't diggin the muggy temps, so we headed to "that" area to give props to some heads.
Head #1, Braden (New Era), head #2, Charlie (Mr. TW Surf ) and some ugly-ass head #3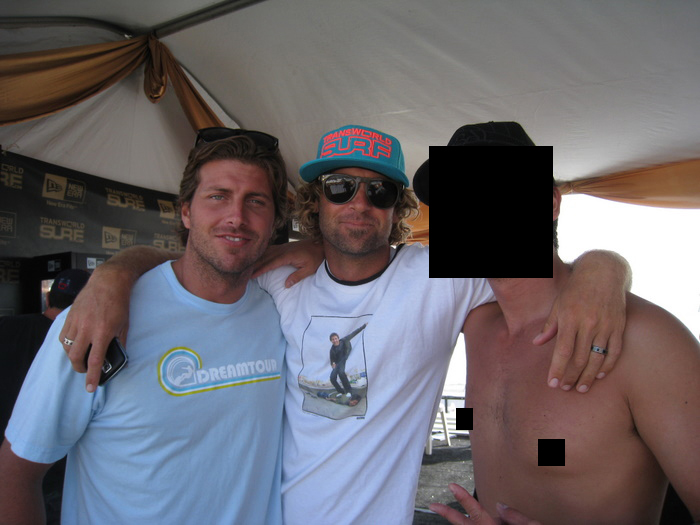 It was nice to see T-dub and New Era come together to do a special suite on the beach. All around great gal and hustle maestro, Courtney, holding it down. Thanks for the hat!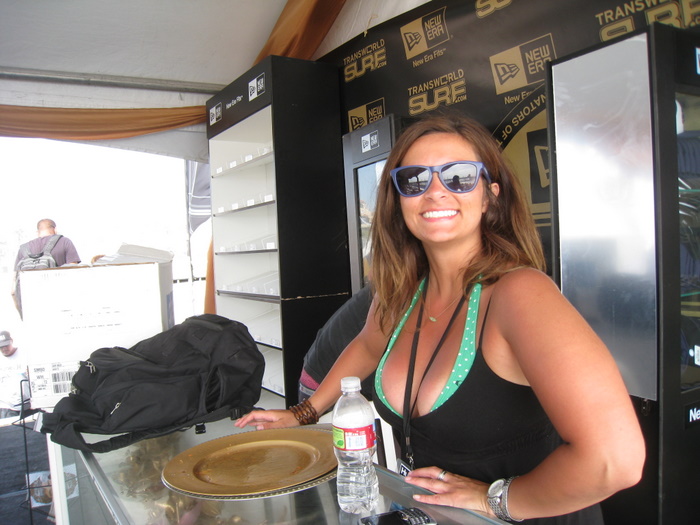 My body was telling me to eat something or else…so Duke's came calling. What a coincidence- Miff (Modern Amusement), Nat (Action Freight) and Trace doin' it like they do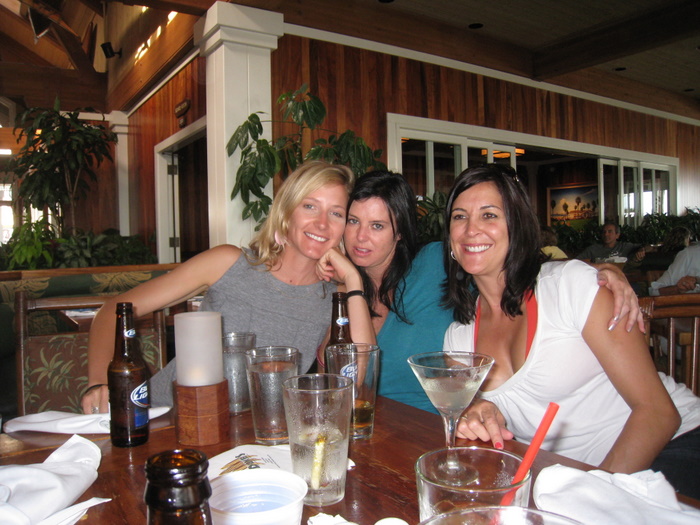 I guess the WESC posse thought it was too bright outside.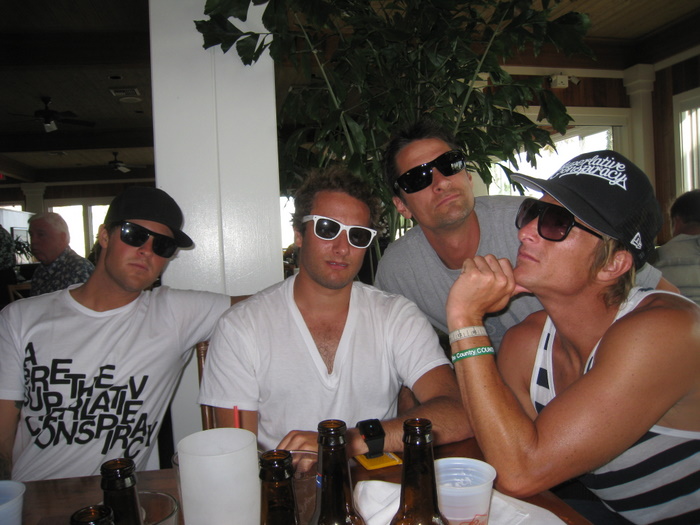 Bond (Spin Imaging) was up to something.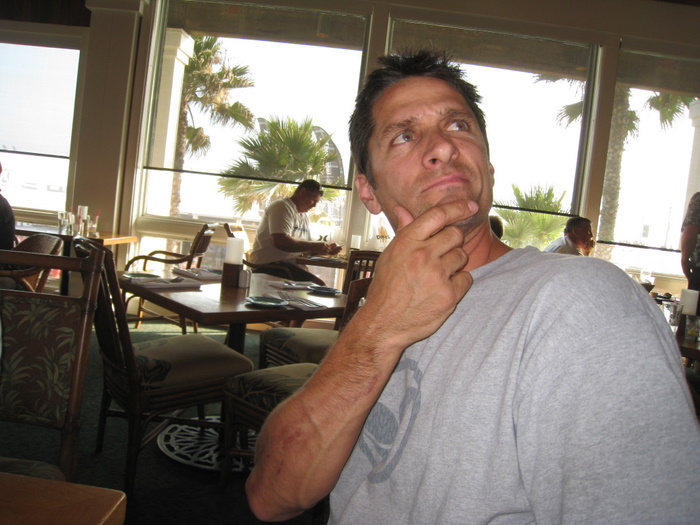 Speaking of which, have you seen Bond's whip? Can you say Matte B?
And Carbon F (more than meets the eye, call Bond to see what I mean)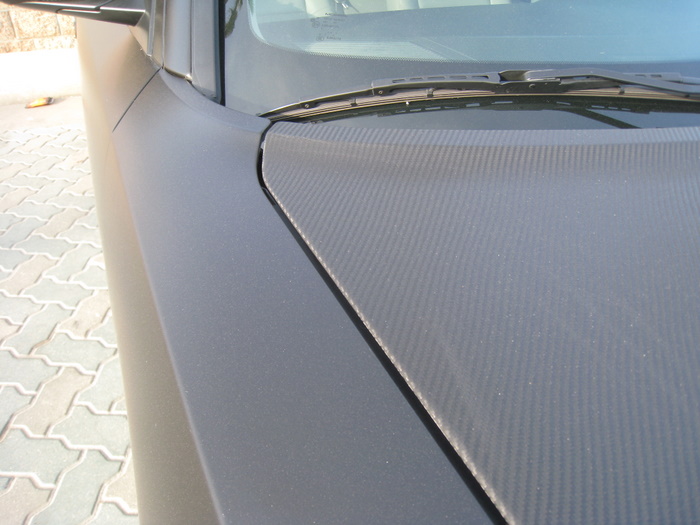 I think it's about time to head back to LA - when you get pulled over by the Police for disorderly conduct, get handed a spendy ticket for public drinking and especially, when Eric starts doing this…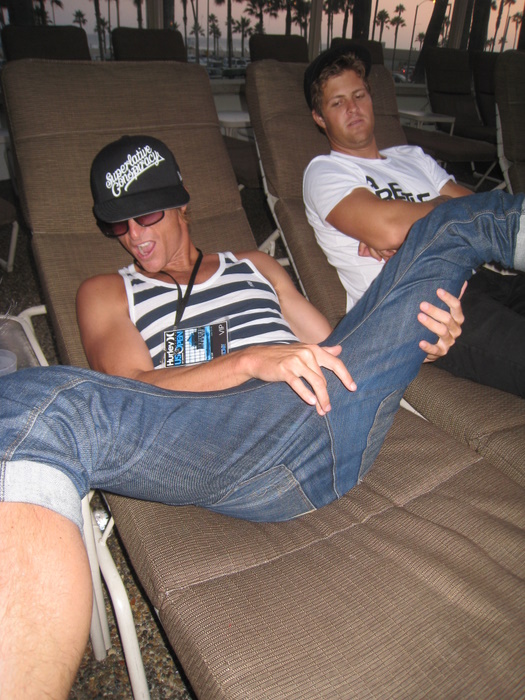 The Show
July 25, 2009
Yes, I'm late on this post and yes, you've probably already heard a few things about the Agenda show. But you haven't heard it from me, so here we go. These days, I don't think anyone's that jazzed to exhibit or attend another tradeshow. I mean, it seems like whatever's been done has been done before. Also, who wants to spend more time and $ they don't have to show stuff that's late for the buy/sell cycle? Well, I think it's all changed this last week for Aaron and Seth's Agenda show in Huntington Beach. Damn, what a few tweaks can do. Check it out for yourself.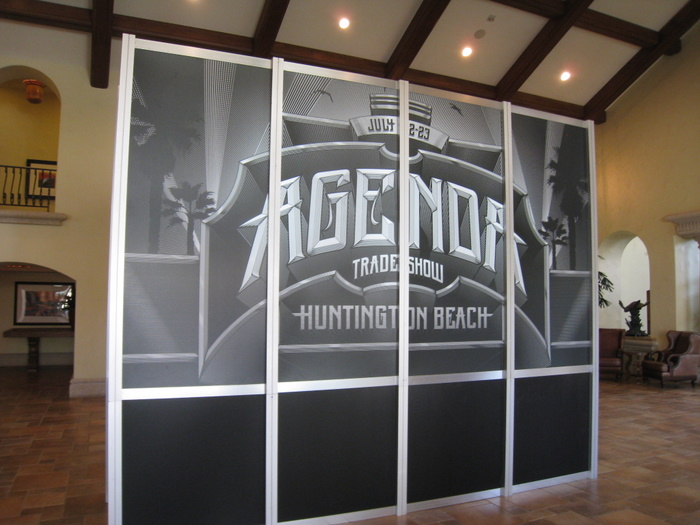 Location, location, location. You pick - an old concourse in San Diego or a posh hotel yards from the beach.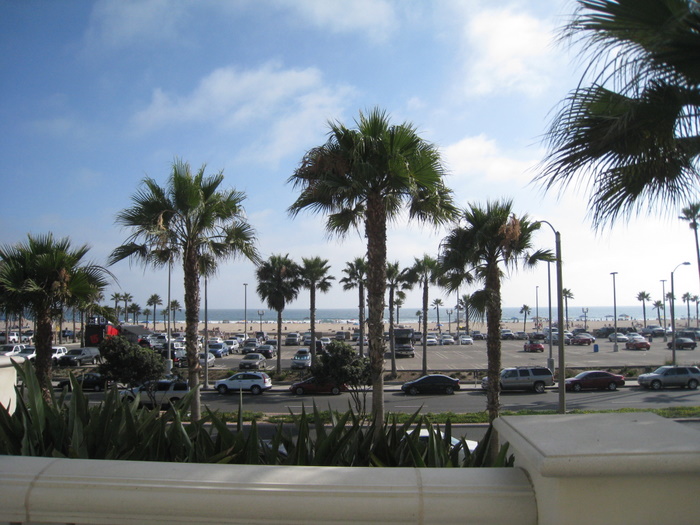 A nice, easy to get around map of great brands in the house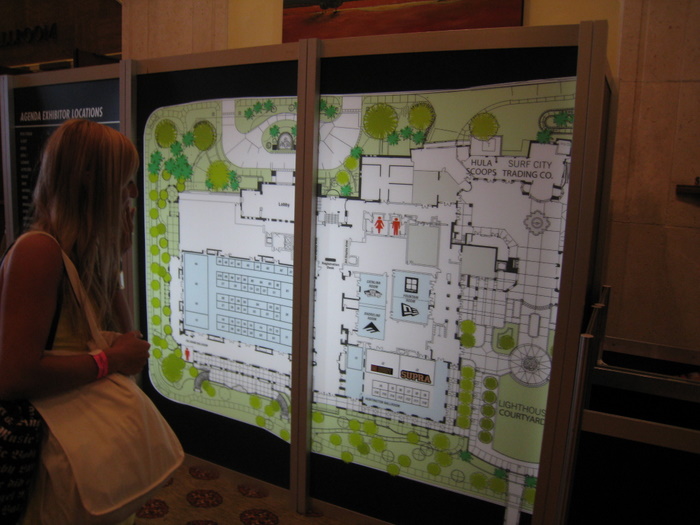 Live art installations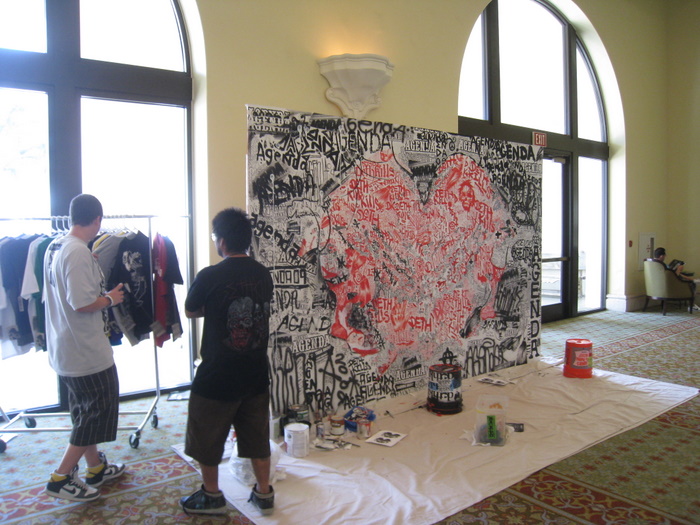 DJ's poppn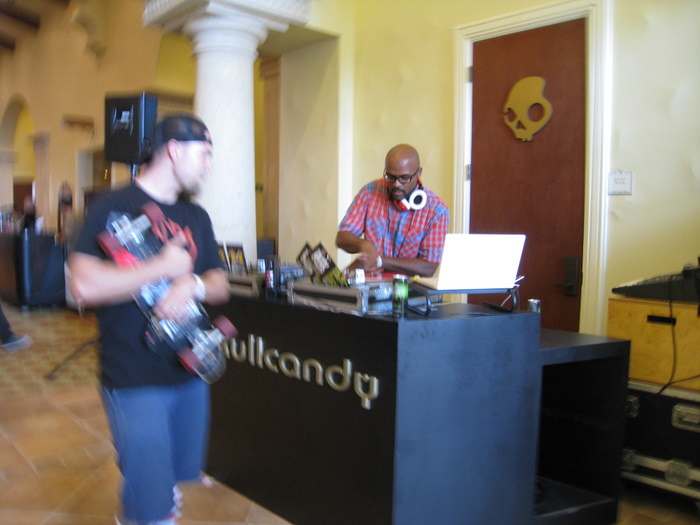 Oh, watch out, the sticker police in affect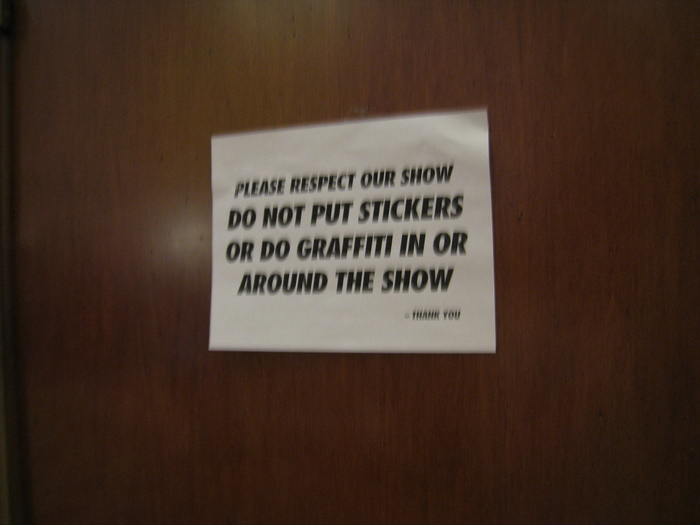 There were a grip of exhibitors from Street to Surf and Skate, but all were picked just right for the occasion. The slow shutter makes Derek from Vestal look a little creepy.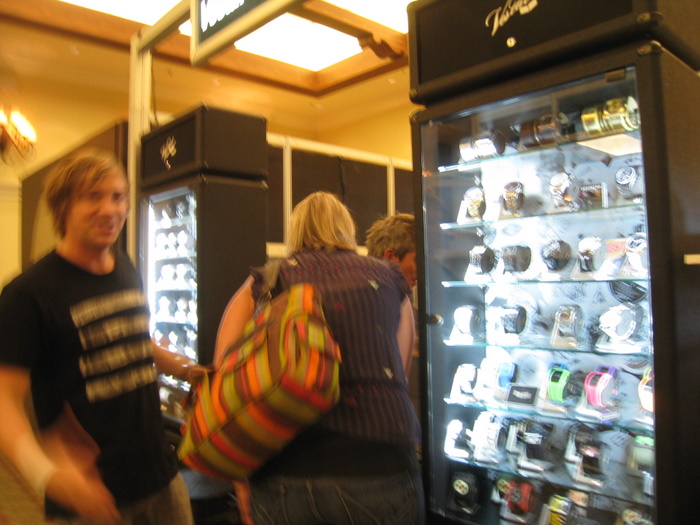 Well, what a surprise, Marty hard at work.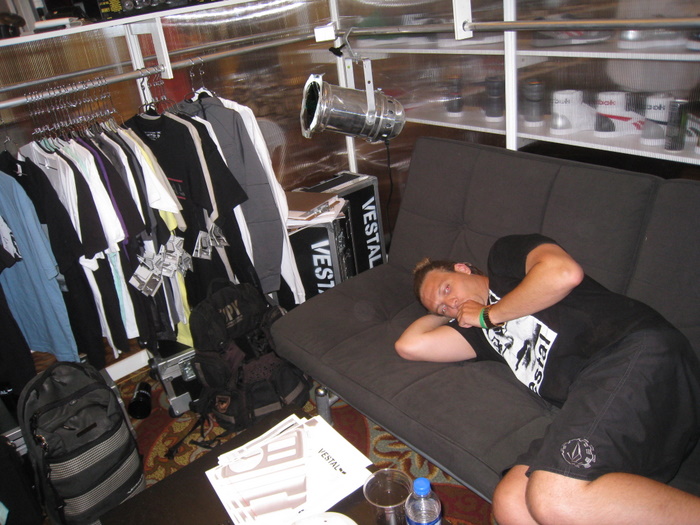 The Nike camp had the largest presence with Hurley, 6.0 and Converse taking a stand.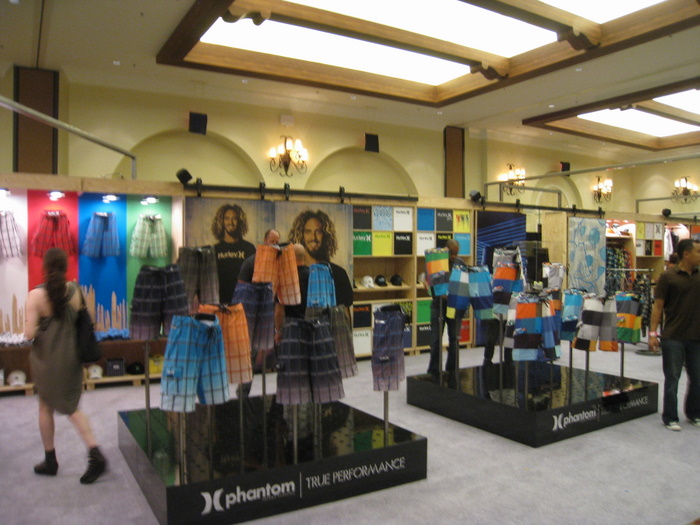 Steve holding it down at Circa, while Sam from Graphite Design was talking shop about something or another.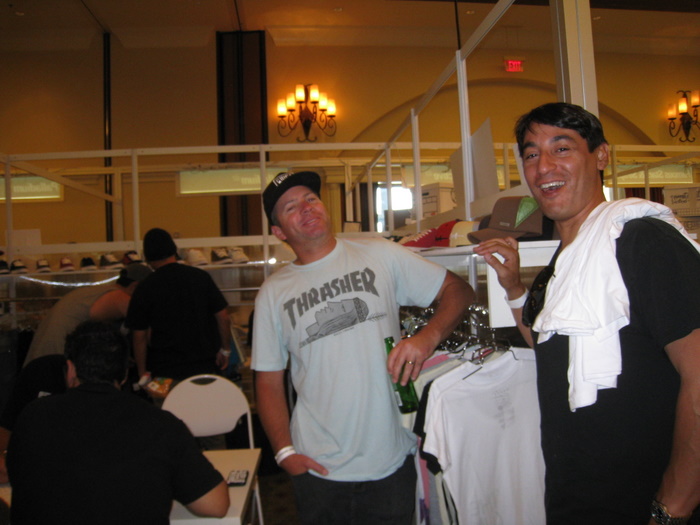 All around good guy, Sean B, made his way from LA just to say Hi!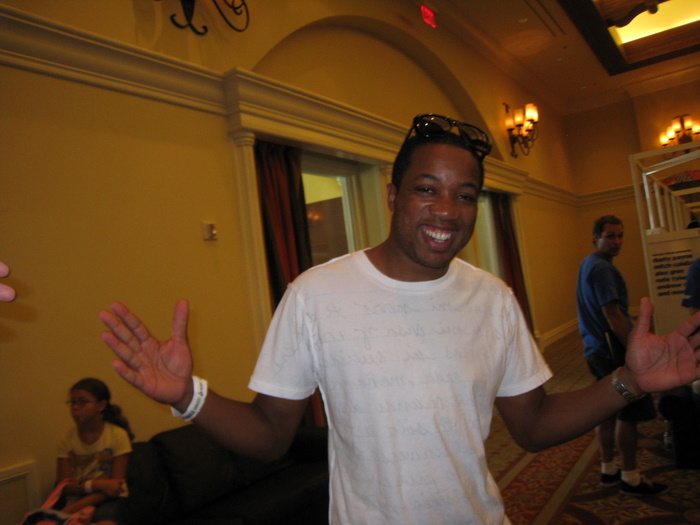 Per's always upbeat, I think he has good reason to as JSLV was bumpn'- thumbs up bra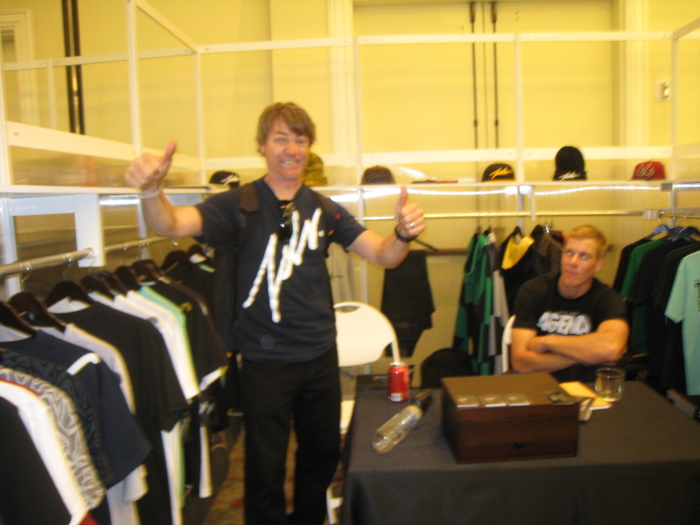 Online kingpin and proud papa, Lee Crane, says what's up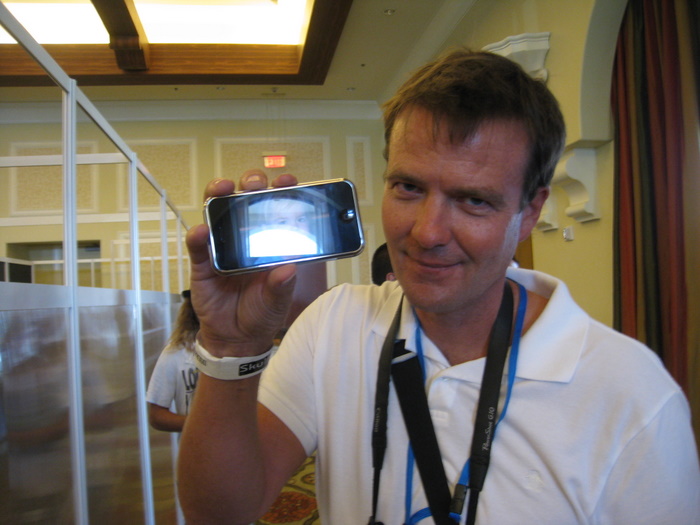 So does his little one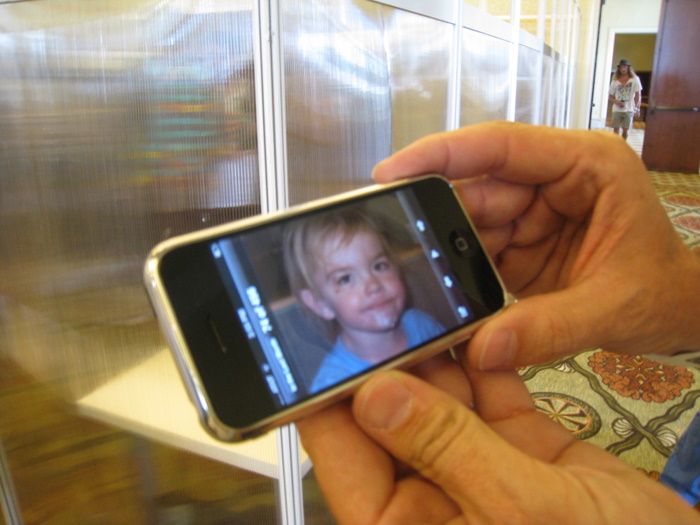 Obey and Krew/Supra had their own area next door. Here, Chris and brother T throwing some good vibes all around.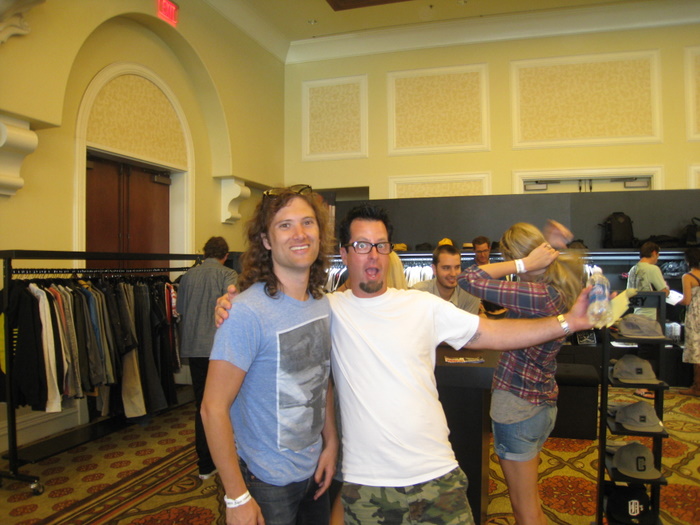 What do you know, Chris and Brooke from Sabre have some good reasons to be smiling.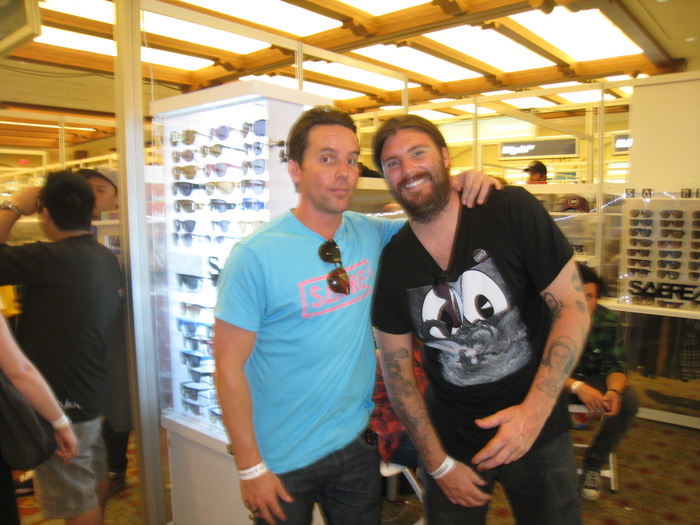 I guess so does Brad from WGSN, how does it feel to be on the other side of the camera this time?!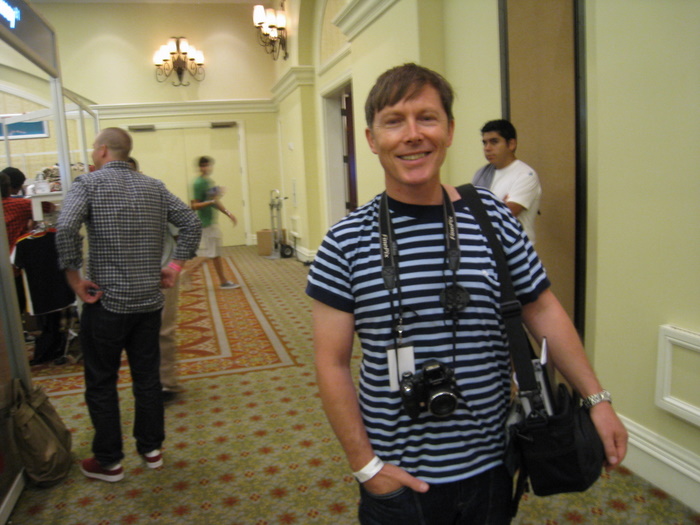 Looks very familiar…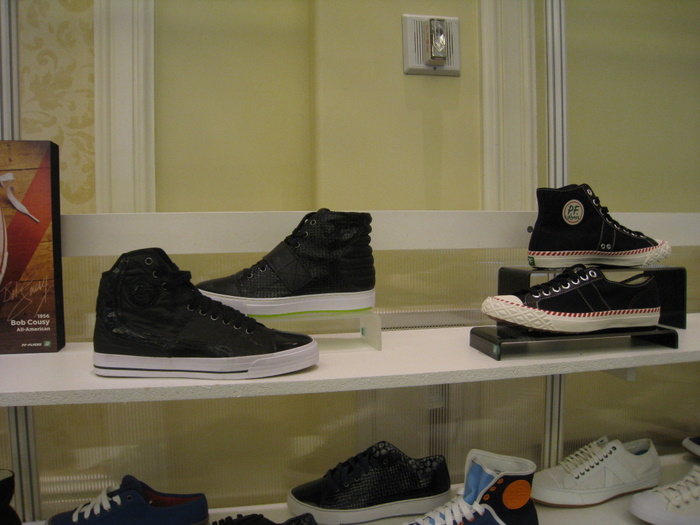 We opted to not do a booth this time around, but had an installation up front. NB on one side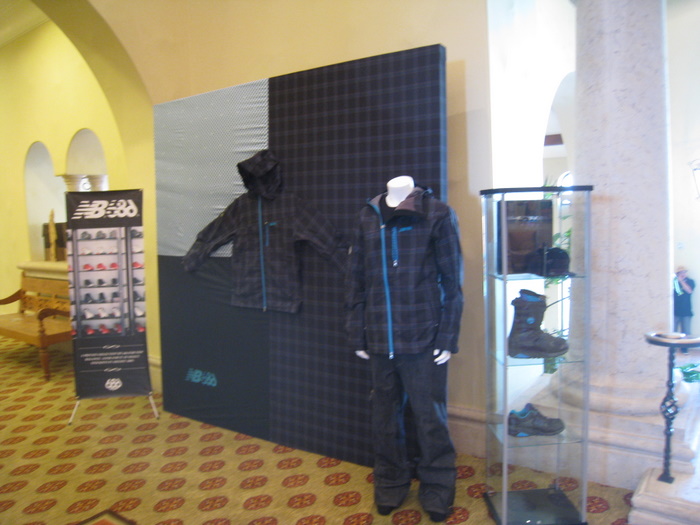 And Levi's on the other.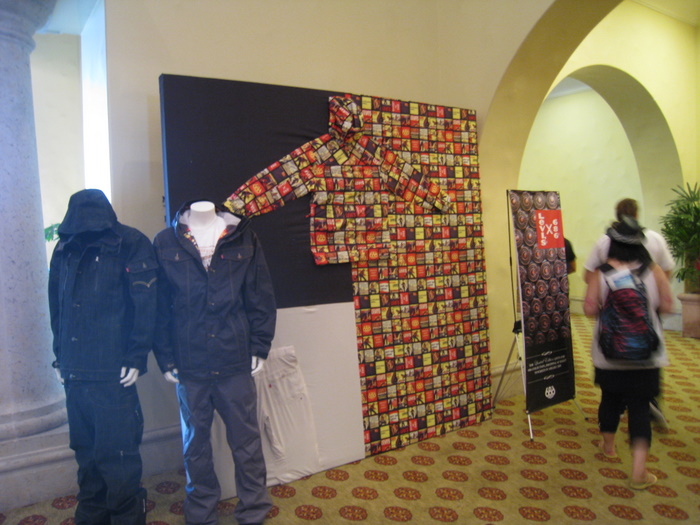 In all, kudos to Aaron/Seth and the entire crew at Agenda. Its refreshing when manufacturers, retailers and the industry in general rally together to show a little stoke! Looking forward to the next one.


"I HEARD THAT...Fridays"
July 24, 2009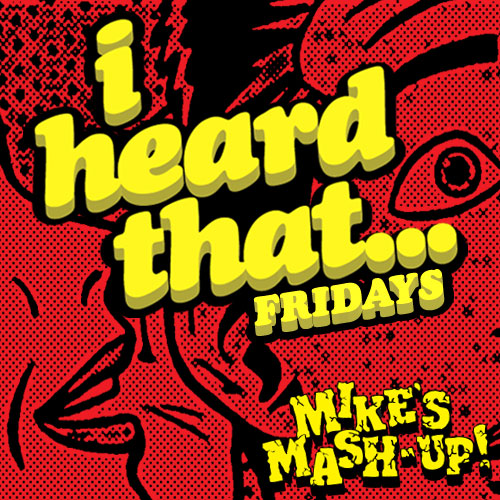 YEAH, this is the LAST I.H.T.F! It was good while it lasted…well, not really, but here's what you emailed me this week…
"I HEARD THAT…Agenda was an awesome SHOW."
*** Damn son, what do you know, I heard the SAME thing.
"I HEARD THAT…Hurley paid an arm, a leg and a left nut for the US Open"
*** What you got against the right?
"I HEARD THAT…that Mike from the Mash-Up is one crazy guy"
*** I don't think you heard that.
"I HEARD THAT…the X-Games is moving to the East…finally!"
*** Right coast, what!
"I HEARD THAT... back in the day... Dewey Weber was the first to stock and sell urethane skate wheels in SoCal's South Bay area."
*** Hermosa represent!
"I HEARD THAT…don't stop this post, it's dope"
*** What did you say, I can't hear you…
"I HEARD THAT…back in the day is for old people that have no business here"
*** Back in the day, back in the day, back in the day.
"I HEARD THAT…rocker tech is a hoax"
*** Try it in pow.
"I HEARD THAT…a certain company is getting with a certain company for certain reasons"
*** Certainly!


2-1/2 YEARS FROM NOW?!
July 21, 2009
One of the main reasons I went to the ROC was because we're already deep into designing next-next year's line. I'm not talking about the Fall/Winter 10/11 line, I'm talking about the 11/12 line , as in 2011/2012. We have an excellent track record from our back end operations, most particularly production and shipping. Since we're already in midst of shipping the 09/10 line and even starting to show the 10/11 line, 11/12 is already in full effect. I know what you're saying, how the F do you know what's gonna be hitting 2-1/2 years from now?! Well, actually we really don't know. I mean, we have good ideas and have deep history, but to us, it really doesn't matter. We just do our own shit and are true to what we believe works for us. Of the many sitdowns I had with factories, suppliers and a few other heads in TPE; I always like to check in with my friend at JB. What up J! (with my main man G)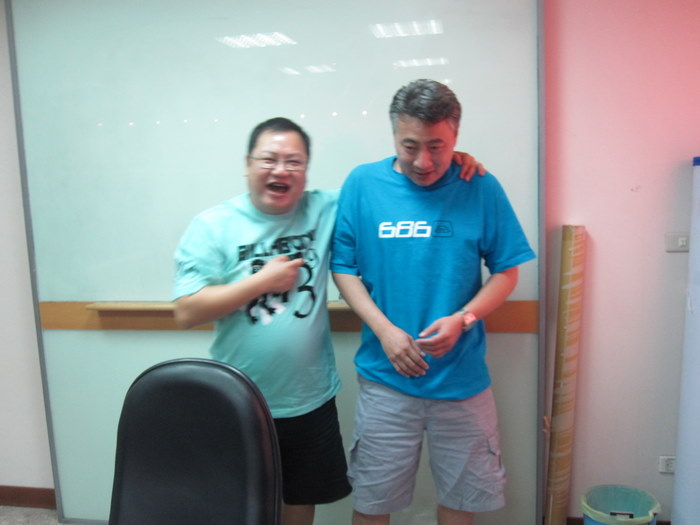 Some of the thousands of nylons and polys that they develop themselves.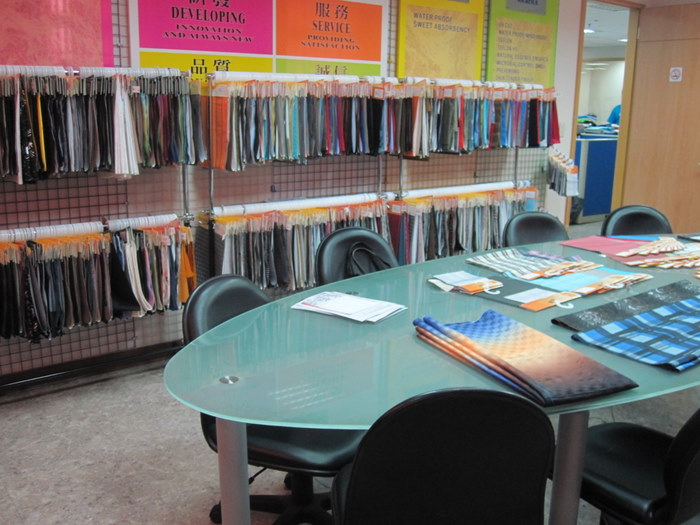 Of course he has lots to choose from, but we like to make our fabrications from scratch. I'm not talking about cutting and pasting, I'm referring to doing shit that's very different. We've been working on some new technologies that will hopefully be a game changer. I won't get too ahead of myself, but let's just say we'll see… For now, I'll leave a little note for my man Clive at the office.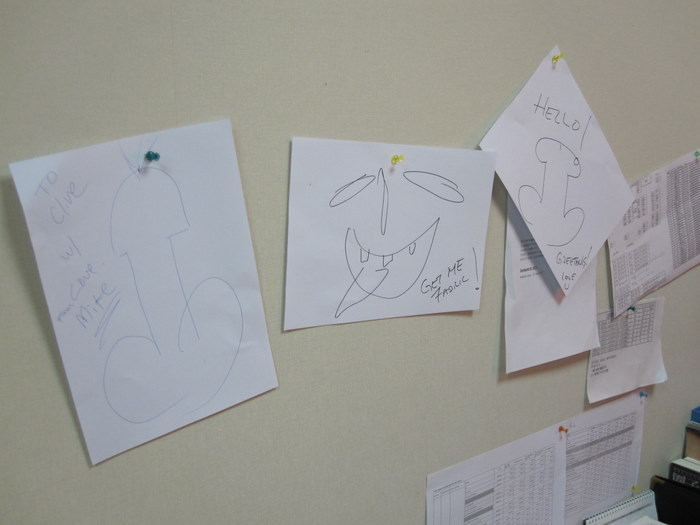 Time is tight and I gotta head to the next meeting. Fortunately, I brought my hack saw with me…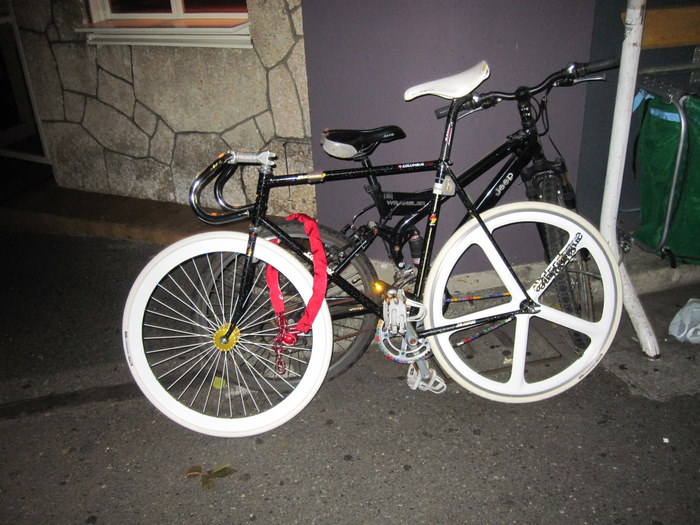 Back at the main office, they had seriously a few dozen vendors waiting for me to go over some other crazy ideas I have. I'll spare you the details, but it ranged from misc trims to other fabrications and packaging. One example here.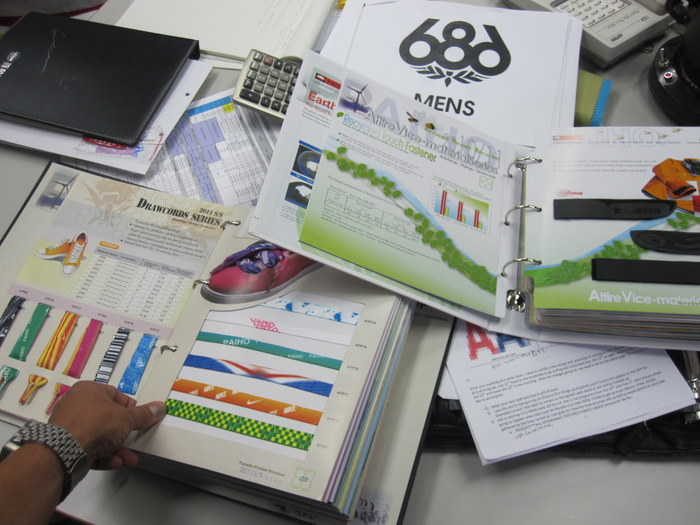 Everytime I come to the office, they say, "F'n Mike." I think it's because I'm only there for a short period of time and I like to do things fast and then bail. Shit's already crazy enough at the office, so I think I just make it a tad bit uneasy. Sorry guys, maybe next time I'll stay a few more hours just for you! For now, let me help you with those swatch cards I asked you for. (All the while as they yell and tell me I'm doing it wrong)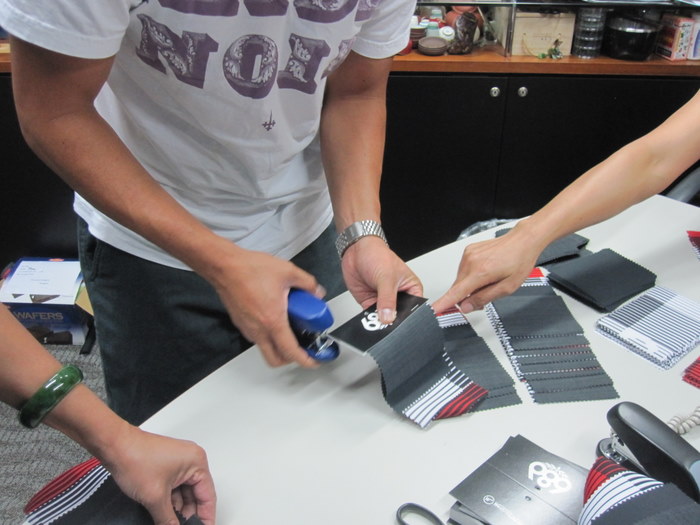 It's truly a team effort at the office. Simple things like putting together swatch cards are done by everyone, from the rookie to the boss (A few snacks like seaweed crackers also help out).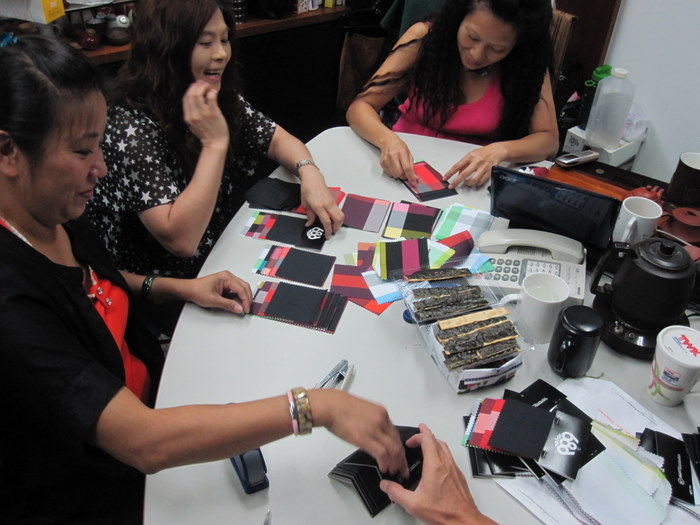 It was lunch time and as much as I want to skip it and take care of other things, they insisted on going out. I was thinking Chicken.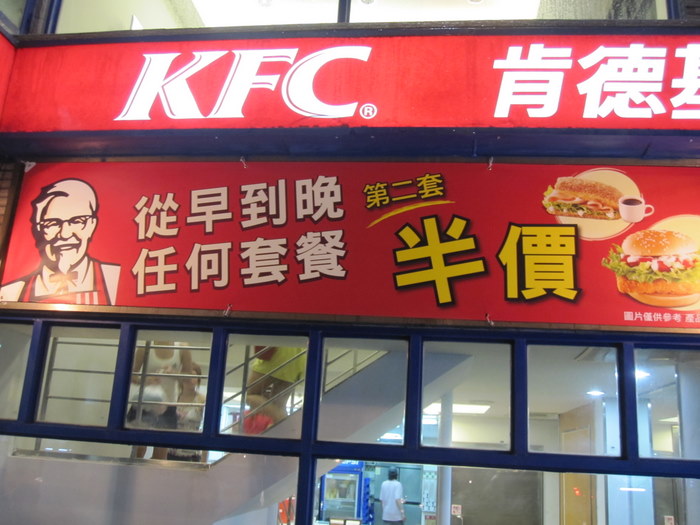 No, it's not this chicken, it's something different.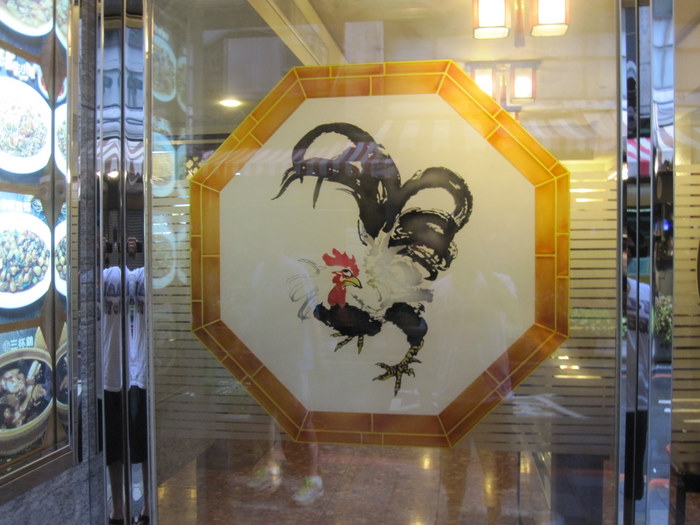 How about some Chicken heads? (ever seen Black Chicken heads before?)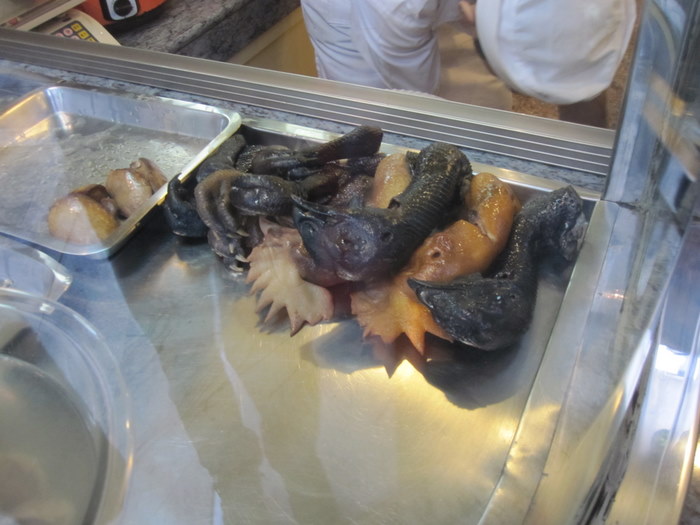 I love chicken, but somehow I wasn't feeling it today.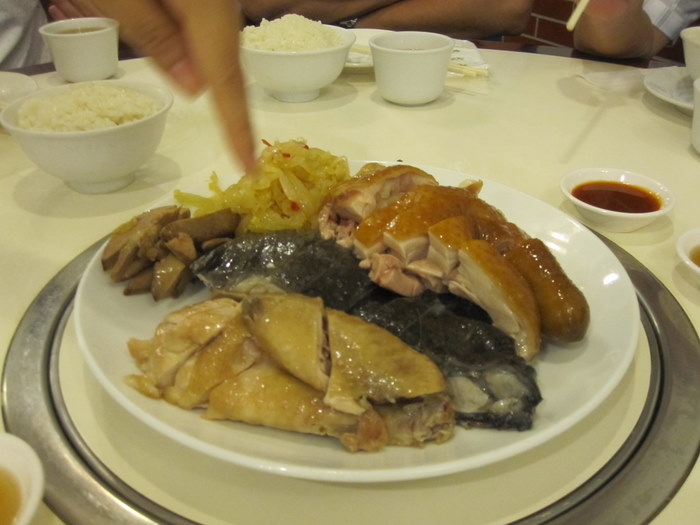 Or this.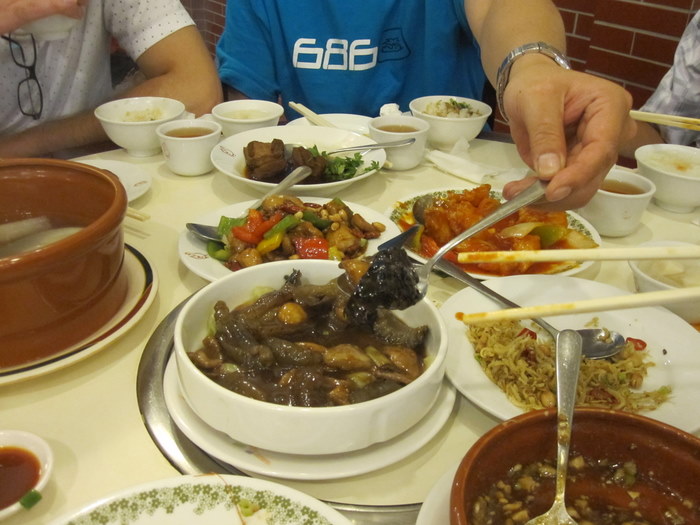 Damn Olivia, you like that, huh?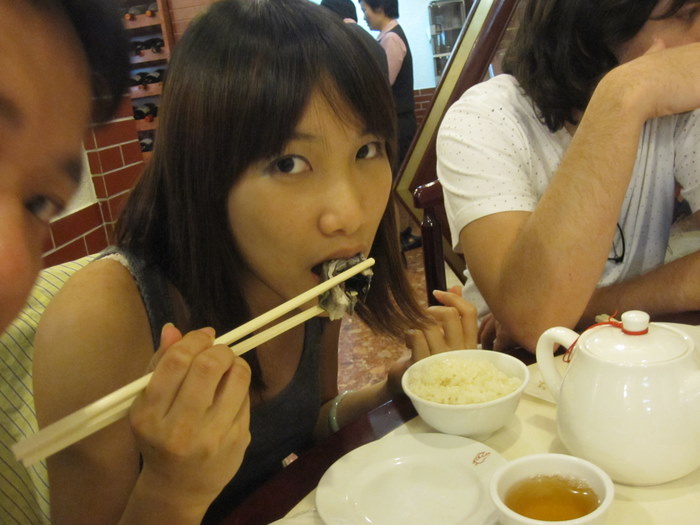 Now this is more like it!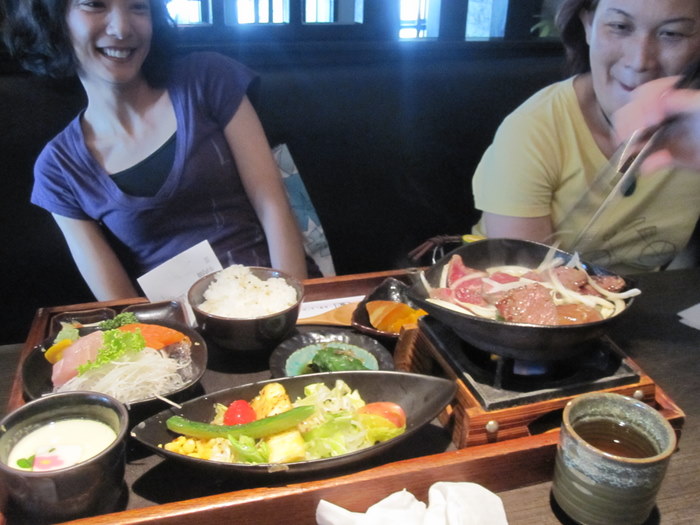 I think they were getting sick of me. But before I leave - surprise, surprise, its Gordon's B-day! Chalk one down for the old guy! BTW, you're showing a lot of grays, I mean whites there, son.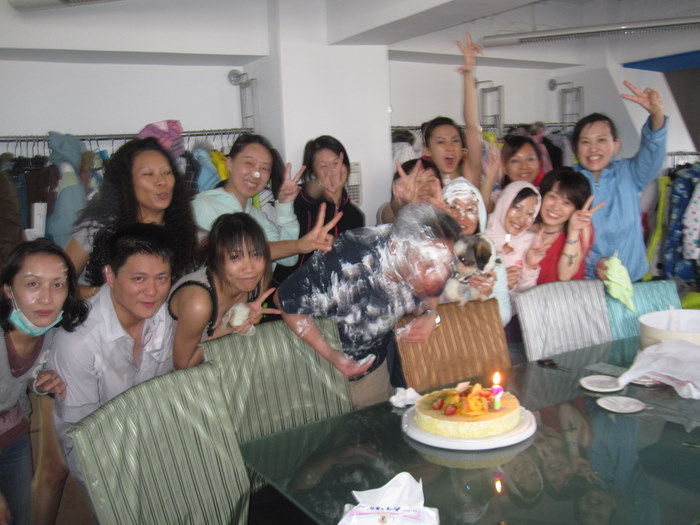 The R.O.C.
July 20, 2009
After a short few days in Japan, I had some important meetings in Taiwan- AKA - the little island that could – AKA - night market- AKA - the "hot" one - AKA the R.O.C. Nowadays, I come to Taiwan more than ever for work. My typical routine for as long as I can remember was to fly into Taipei, go straight to the office, work all day and into the night, have dinner, crash, then bail. I don't think I ever got out of the city. However this time around it was a different. The office was closed Sunday so I headed to the southern part of the island, called Kenting. Someone told me there's surf there. I didn't believe them, so I had to see for myself. After a speed train and a long taxi ride, it felt I was somewhere else than Taiwan. Could it be true?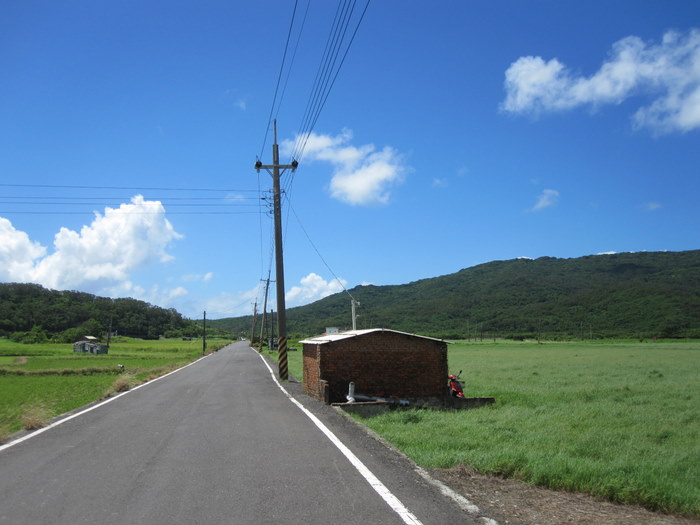 Yes, its TRUE!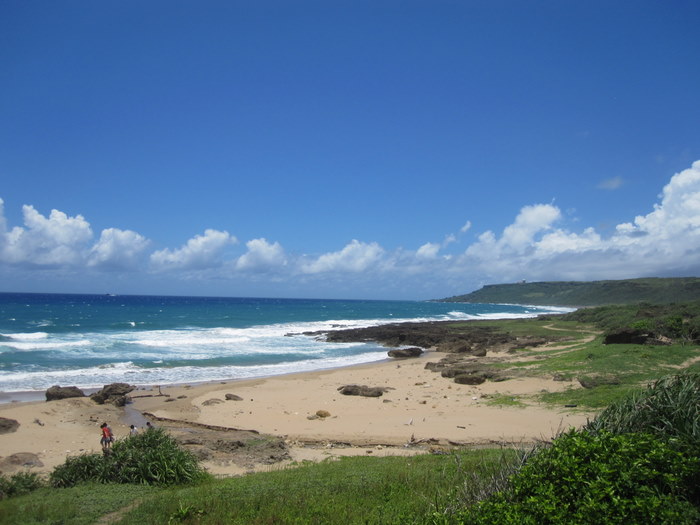 There are waves in Taiwan! I hooked up with a dude named Sammy. Sammy's originally from Texas, but somehow came here 11 years ago and never left. He runs a surf shop called Fudog and he also started Taiwan and China's first surf mag called Oceans. He showed me around the southern part of the island. I was lucky as a typhoon just rolled in so we got some waves (It gets blown out towards the afternoon, so timing is everything). Meredith and Olivia from the Taiwan office chauffeured me around, big ups bruda and sistas!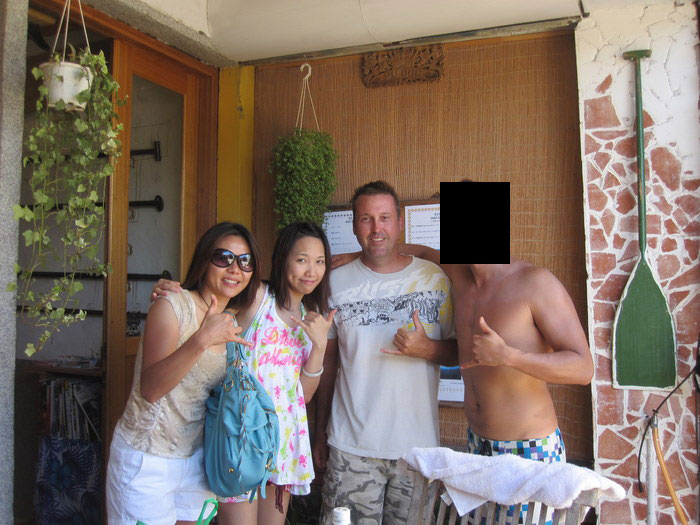 In typical MW style and less than 24 hrs into it, we left Kenting before we got settled. That night in Taipei city, I hooked up with Jahan-What up J!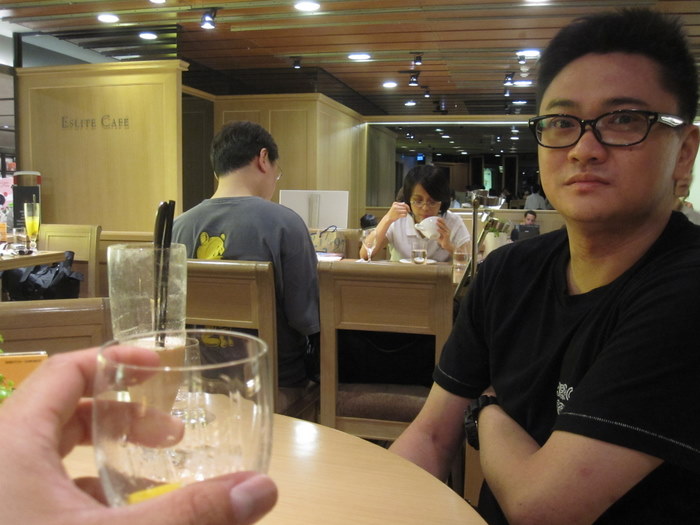 Couldn't ignore Jahan's Clot Levi's joint.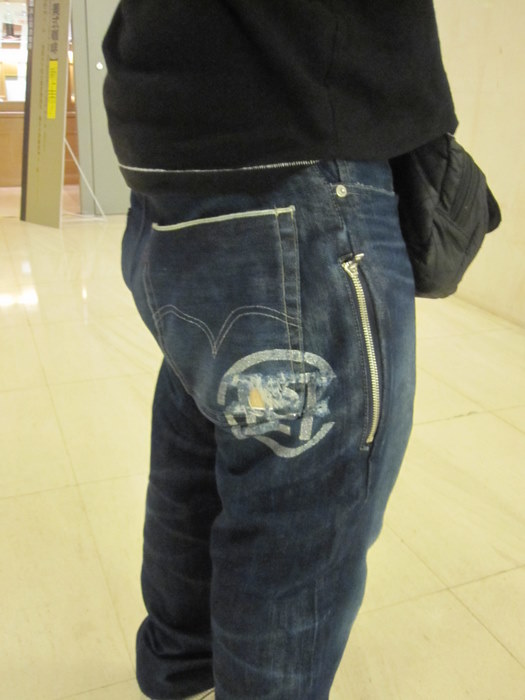 Jahan's one talented MoFo. Artist-Sculpter-Animator Extraordinaire. Check it.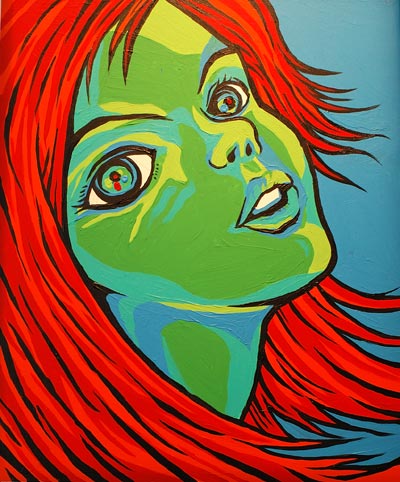 I've actually seen his work out and about for a while but never met up. Besides doing his own gig for a long time, he's also worked with the likes of Devilock, Vans, Nike, Adidas, and Leftfoot. Speaking of Leftfoot, he's also a partner at the premier sneaker boutique (check out the stealth exterior)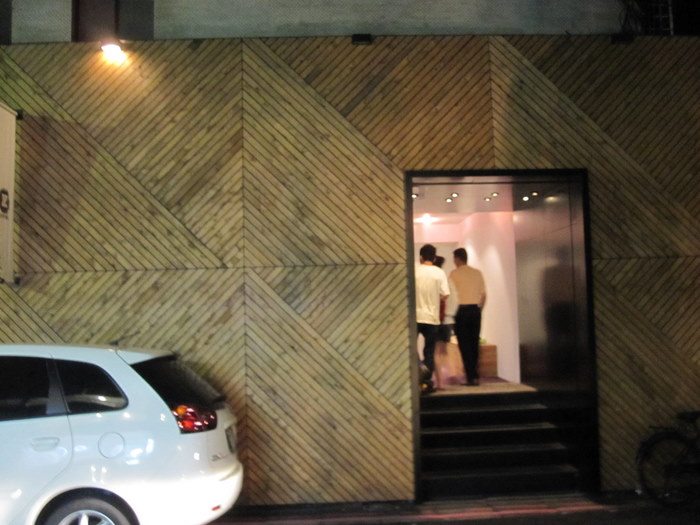 Downstairs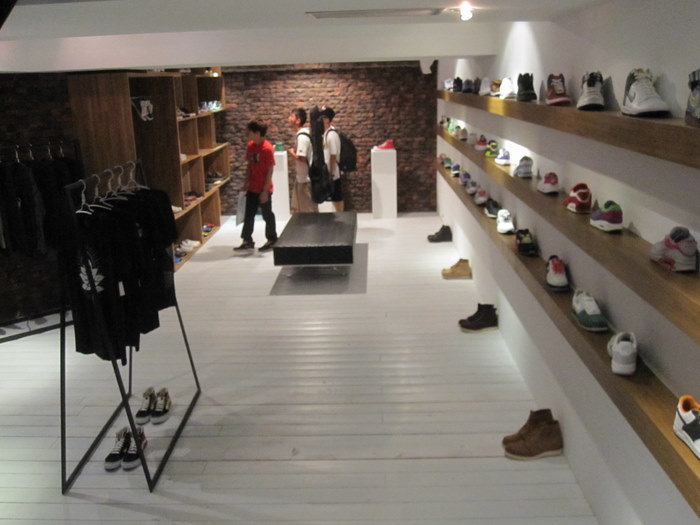 Upstairs. I like the organized racks.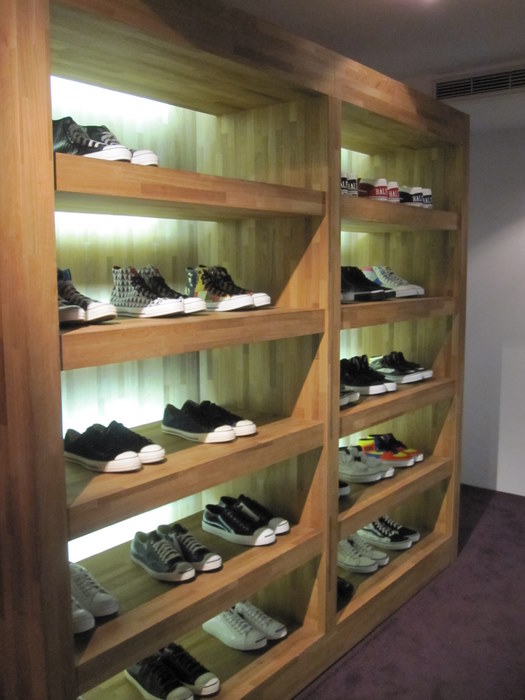 I was starving, so J took me to get some local Taiwanese beef noodles, yum!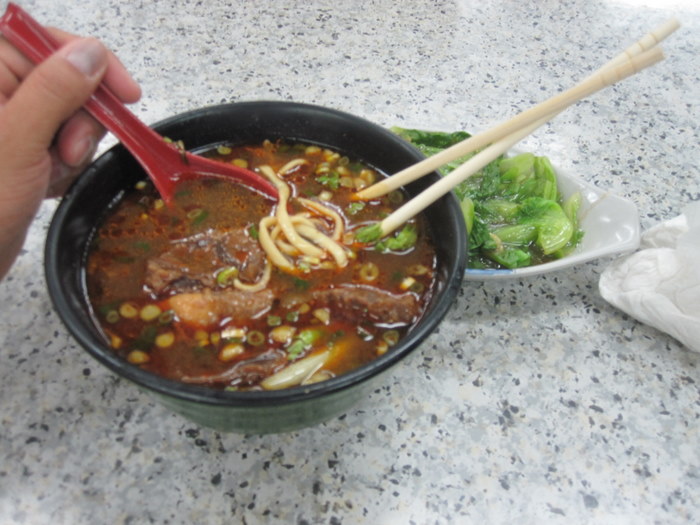 Later on, fellow Hypebeast contributor and tastemaker, Brandon, met up with us. What up B!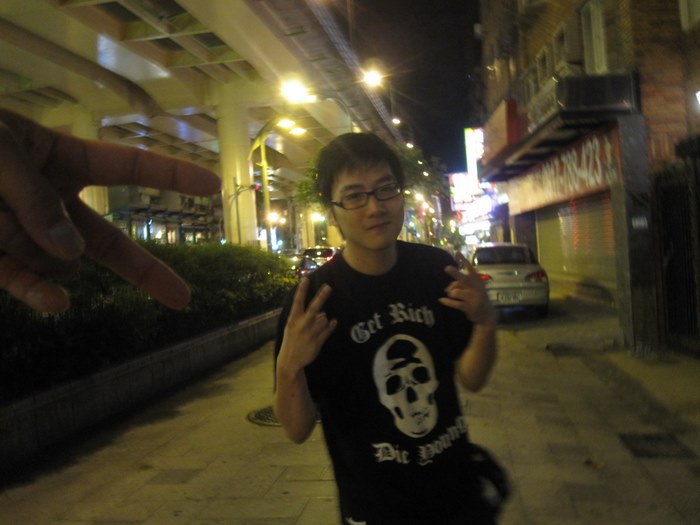 Brandon's been around for a while: Saint Louis, Toronto, NYC, Hong Kong; he's done it. Not only that, but he runs Greedy Genius and Grey One Arsenal with his partners.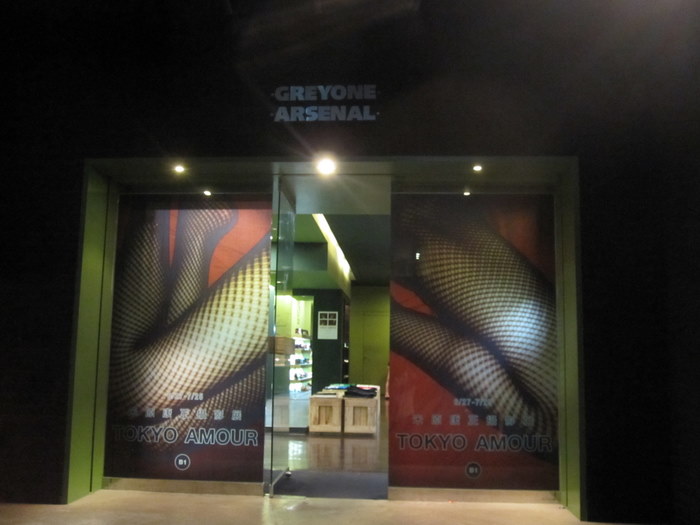 Yone was in town for his photo exhibit at Grey One.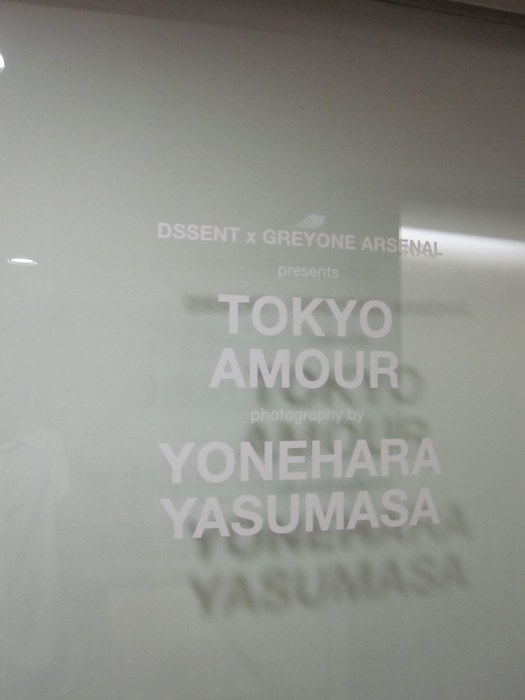 If you haven't seen Yone's work, you're def missing out. Check it.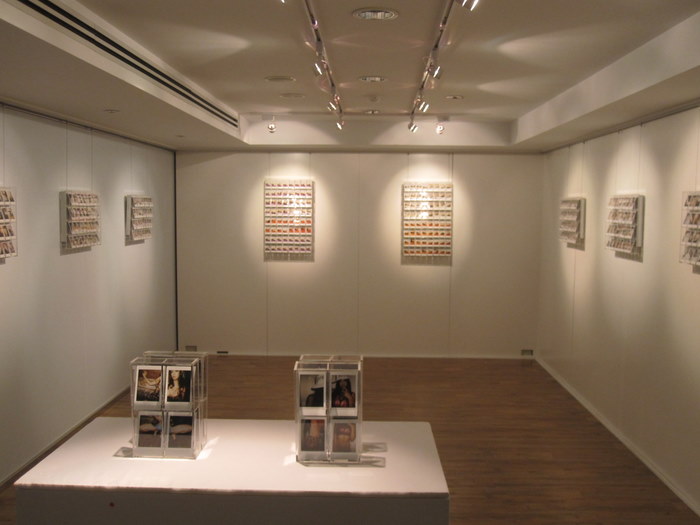 Look closer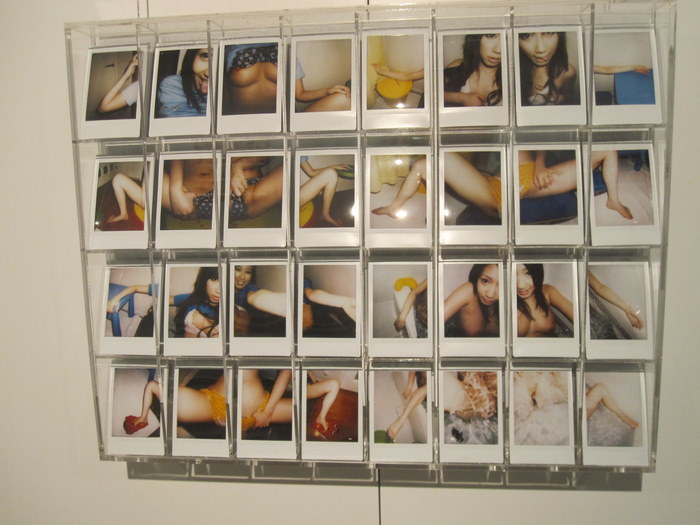 How about this one?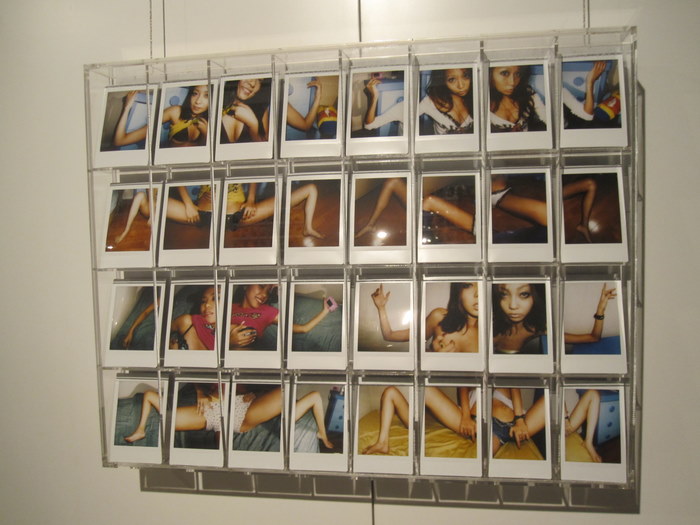 Or that one?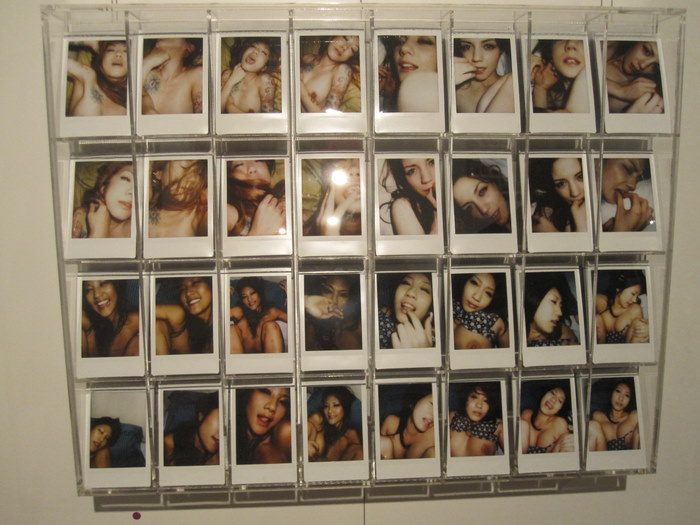 I like this.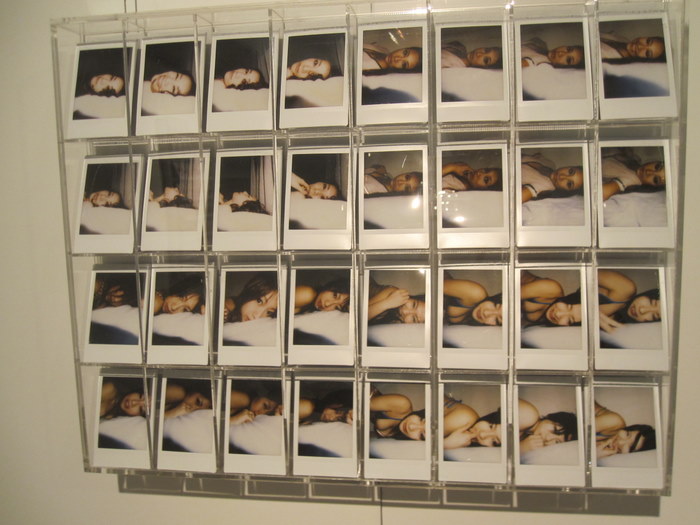 And this.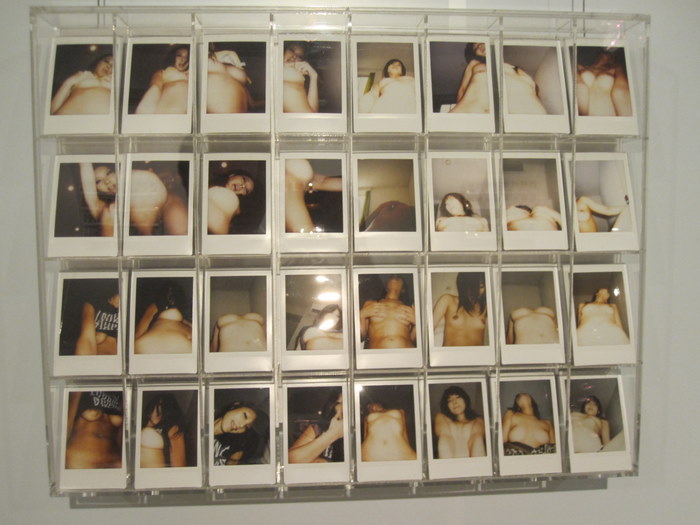 Since this side of Taipei was a new experience for me, the crew showed me around some key stockists.
Phantac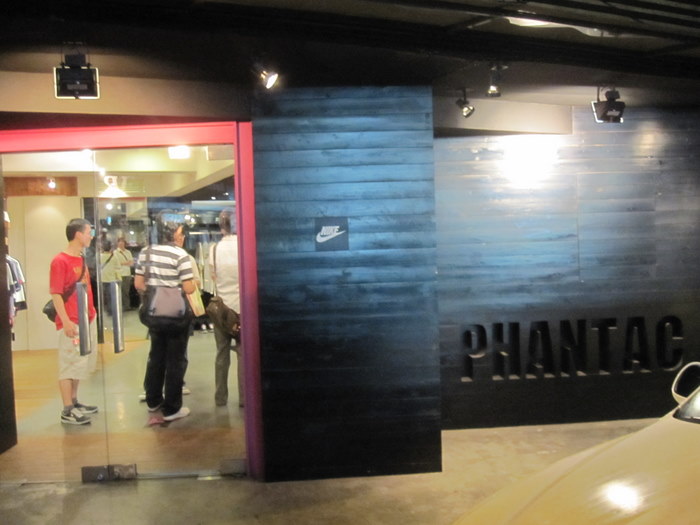 Sol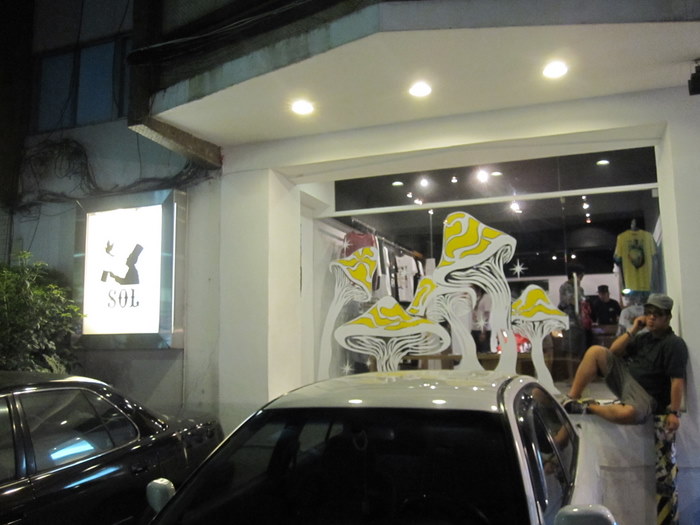 Sense Organ




Machi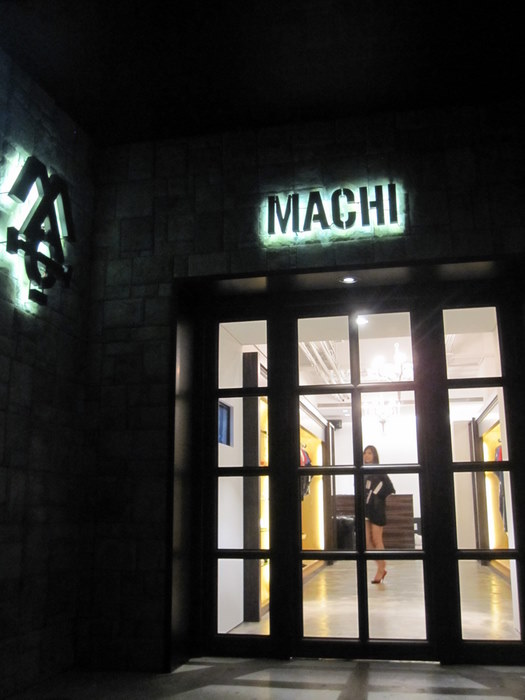 Could this be?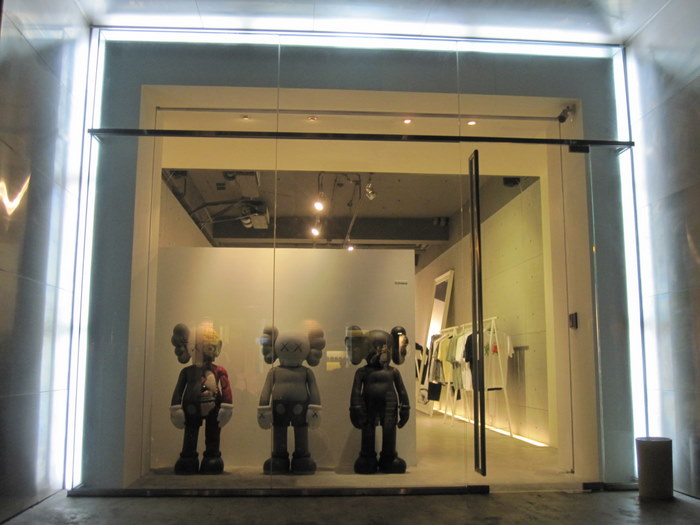 Undercover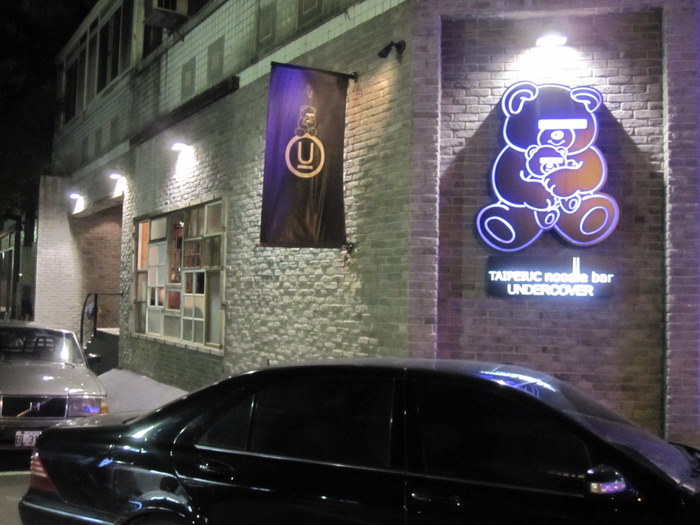 Porter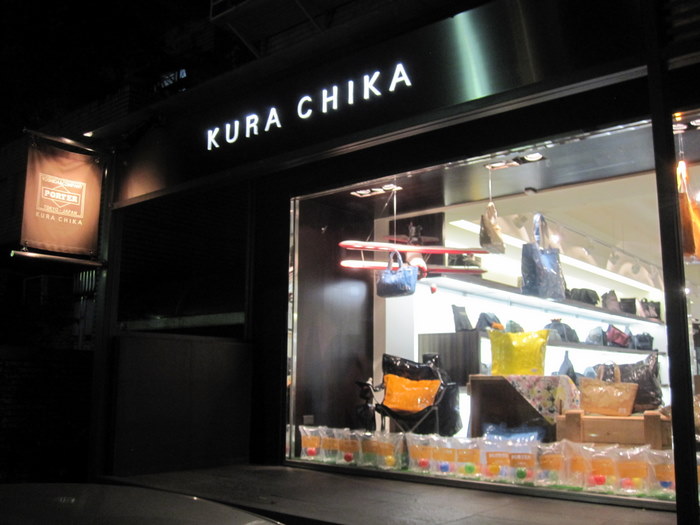 A Originals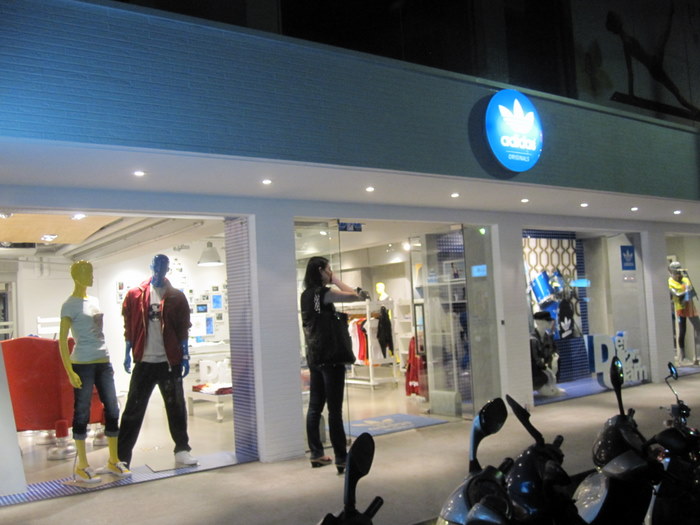 NSW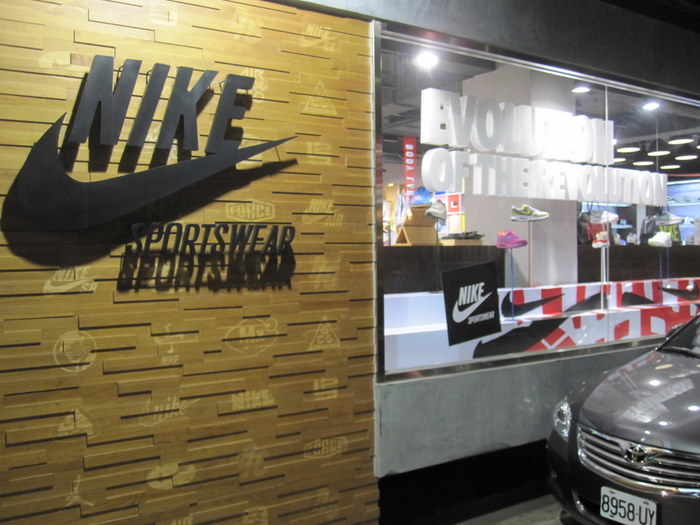 If you ever go to NSW, check out the details of the woodwork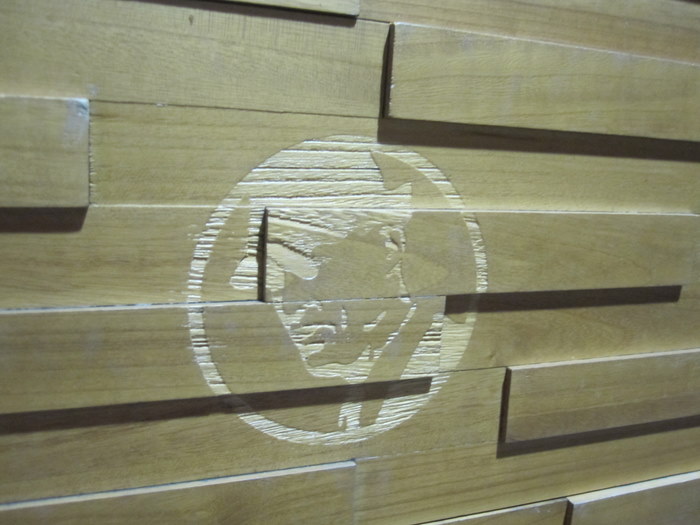 What the F? Wrong street.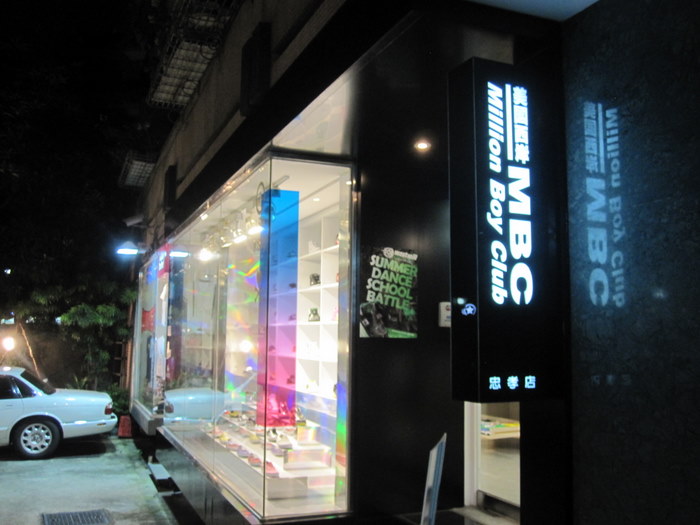 Paradise (BTW, the toy show was in town, so shit was going off)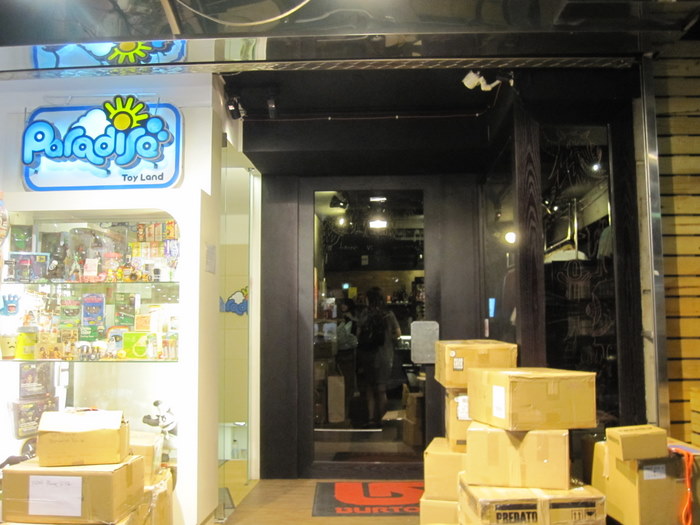 Gundam and…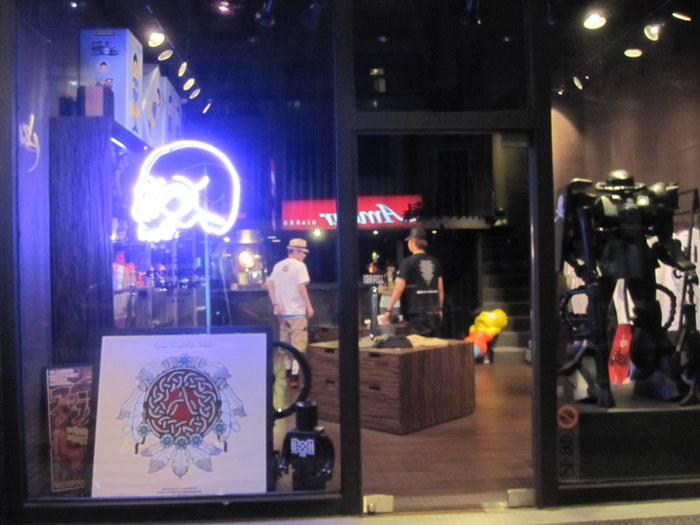 Yeah, this is definitely what my office looks like.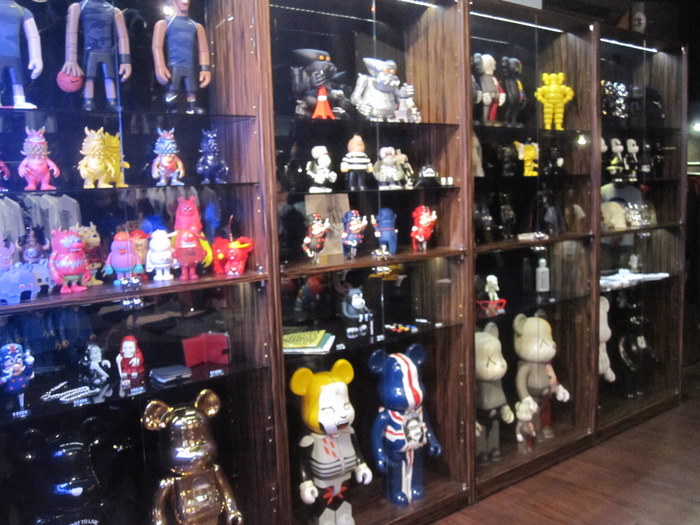 Just like back in LA, homies doin' their thing in front of the shop.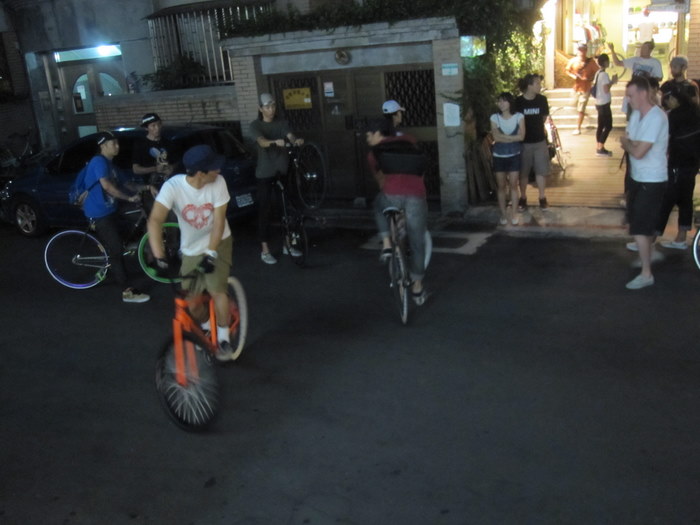 From the best street boutiques to premiere lounges to the it-clubs to the who's who in TV/Film; Brandon, Jahan and their posse run it. Thanks fellas for showing me around. Next time, I'm there Wed/Fri/Sat and we're gonna do shit right!


Meet and Greet
July 19, 2009
Now that you have a better idea of some of the "unique" things Japan has to offer, I gotta get back to biz. Most of our distribution throughout the world is done strictly through our own team, meaning we go direct and have our entire infrastructure catered to each country we work in. In Japan, we have an exclusive distributor who handles it entirely by themselves. I've been working with them since Day One - I mean that literally. If it wasn't for them, I wouldn't be here today. When people asked how I started my biz, I tell them two things made the difference - TIMING AND PEOPLE. I guess I had both of them when I met these guys a hell of a long time ago. Believe it or not, of all the years we've been in Japan, this season will be our very BEST to date. What stokes me out more is that they are succeeding in the toughest times in history (economic/retail/seasonal challenges), and it's mostly because of the steady, slow effort from both our sides. Congrats fellas, now let's dork out for a picture!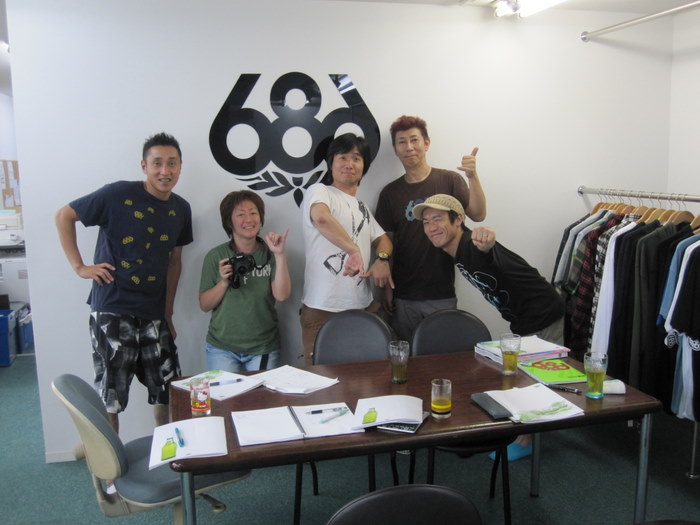 Did I tell you that the Japanese are super anal retentive when it comes to quality? Not only are our products checked at the factory level many times over, but these guys hire a third party to check each and every piece, front to back, side to side, inside and out AND then check it again by themselves. After that's all done, they either jump my ass or give me a high five. Can you tell what they did from this pict?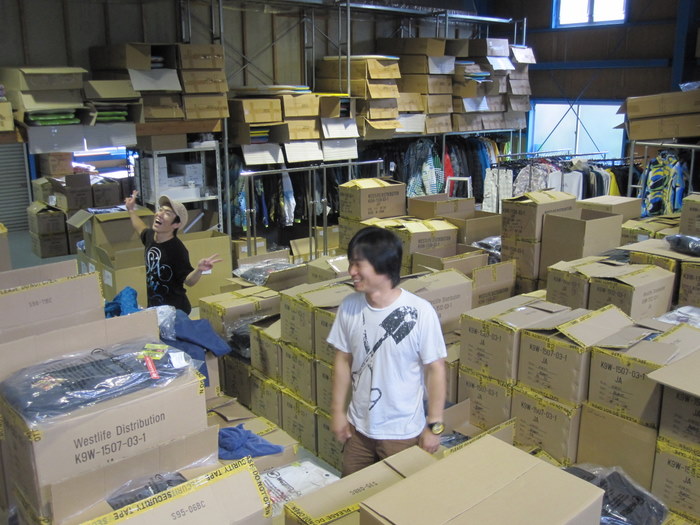 Yes, they also hold on to some old stuff I designed a few decades ago. Circa, before streetwear had a term.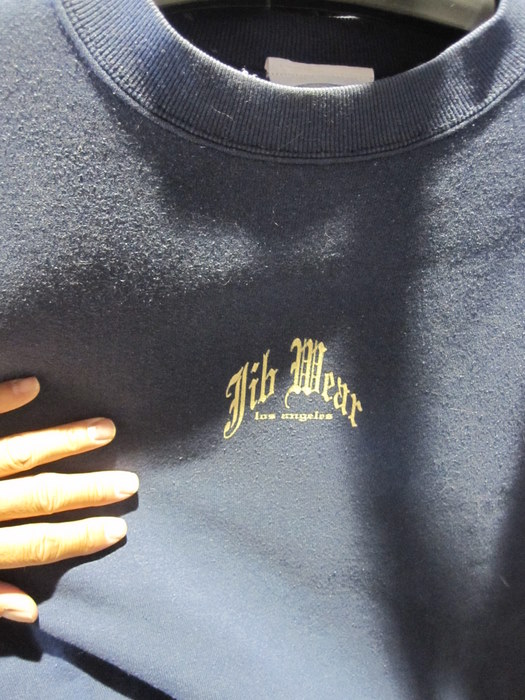 I gave props to the team and was off to check out some shops. Besides saying what's up to 686 stockists, I make an effort to see what else Japan has to offer. I had little to no time, but here's a few in no particular order or liking. Hysterics represent.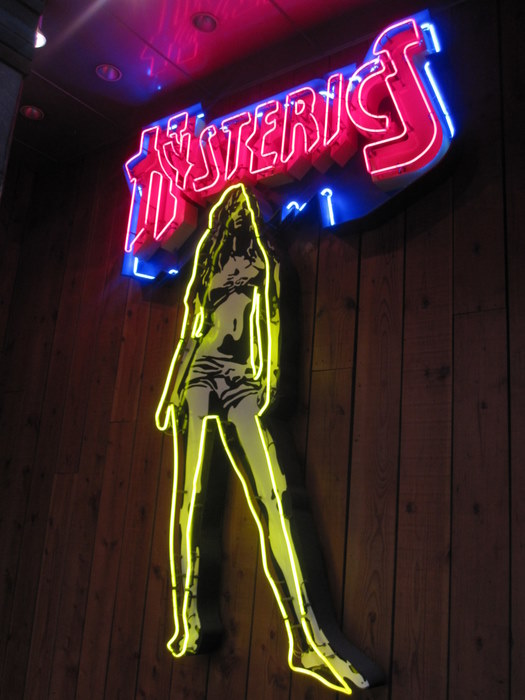 68 what?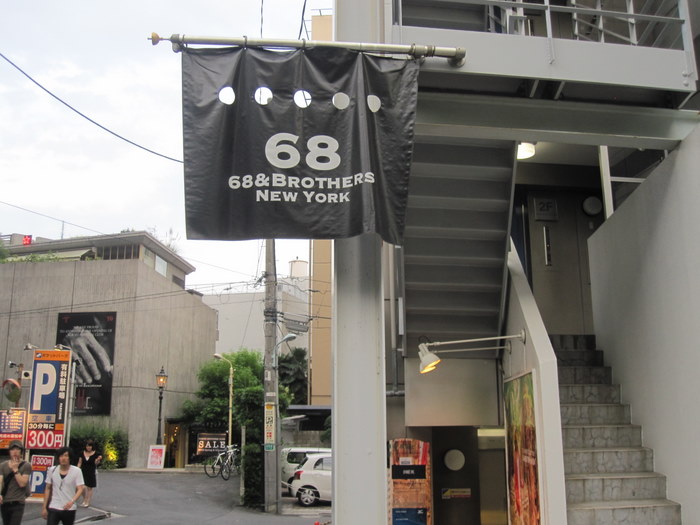 Two things the Japanese are really into, T-shirts and Graphics. Why not combine the two?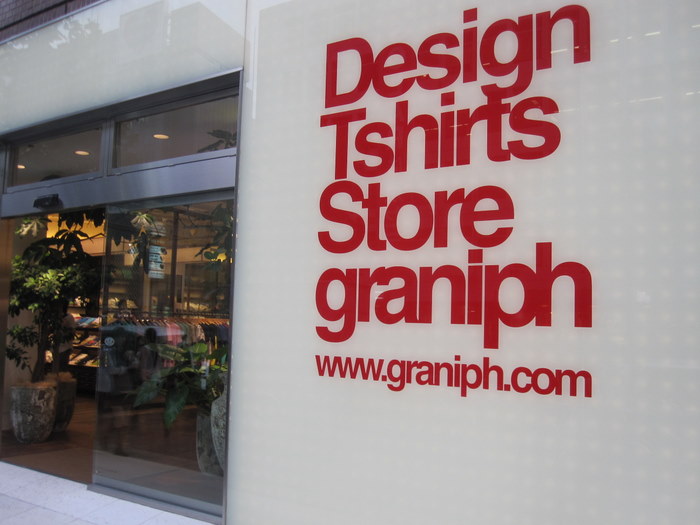 The Japanese version of Levi's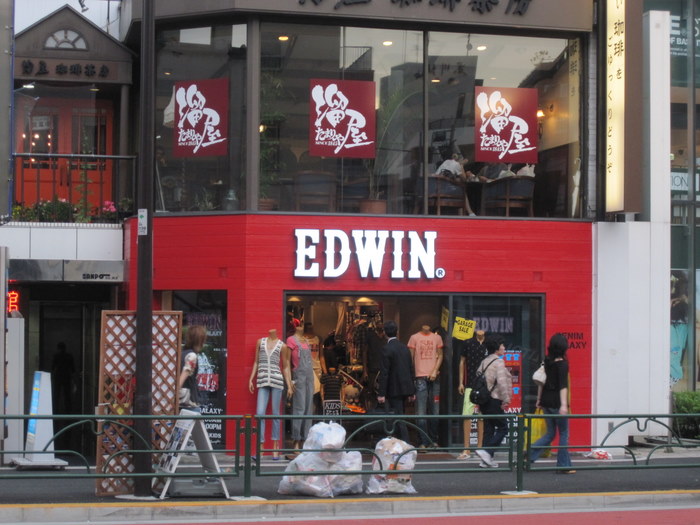 The real version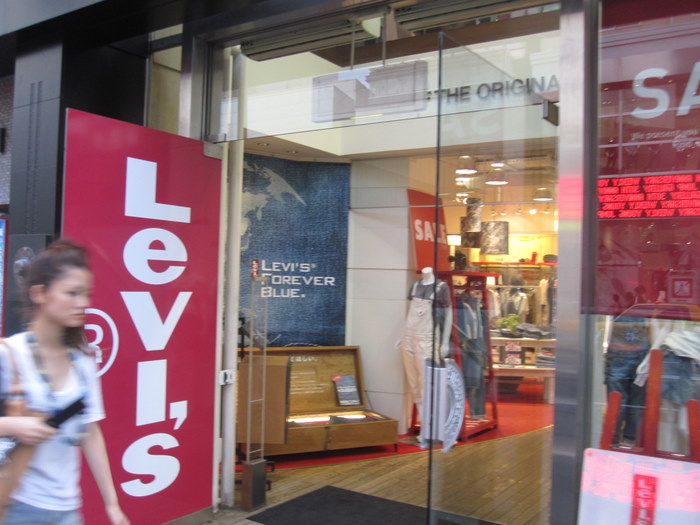 This is H&M's first hurrah in Japan. I think they made a little statement.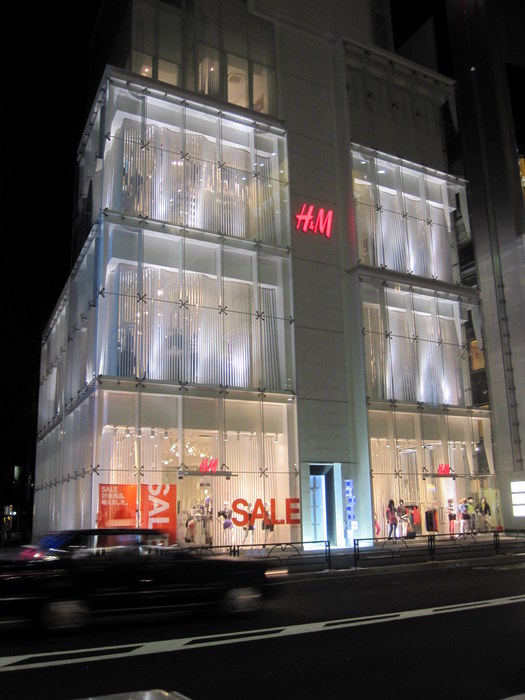 Just a little..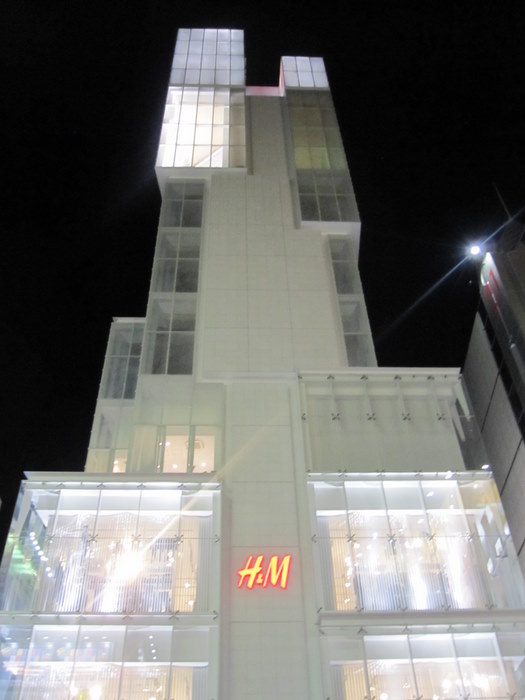 You can't ignore what Forever 21's has done to mainstream girls across the globe. The first store in Harajuku is so busy; it requires a full time staff dedicated to show the crowds which way is in or out.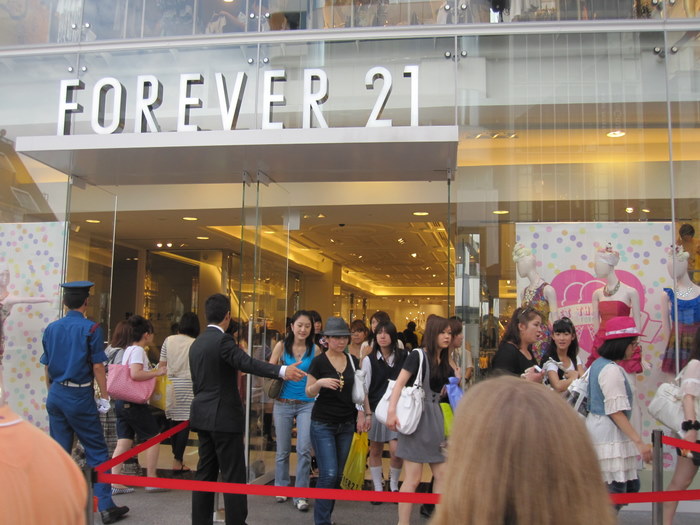 Speaking of which, it's crowded everywhere you go.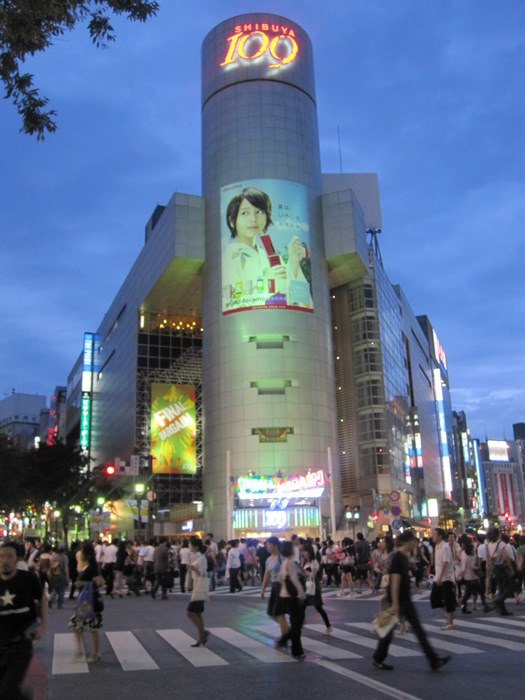 And go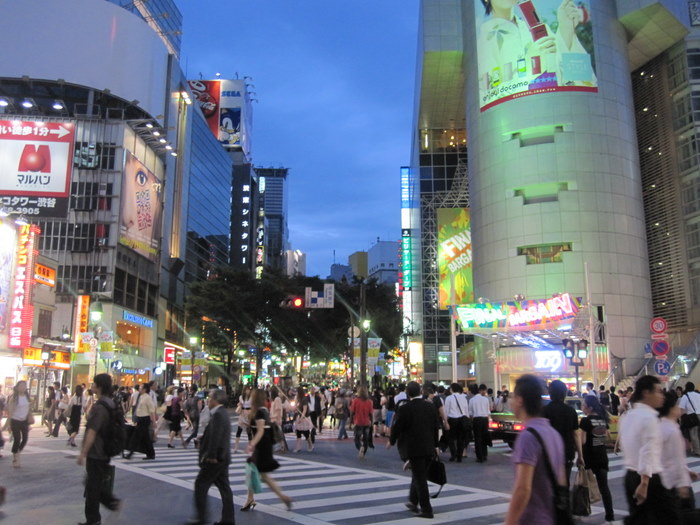 And go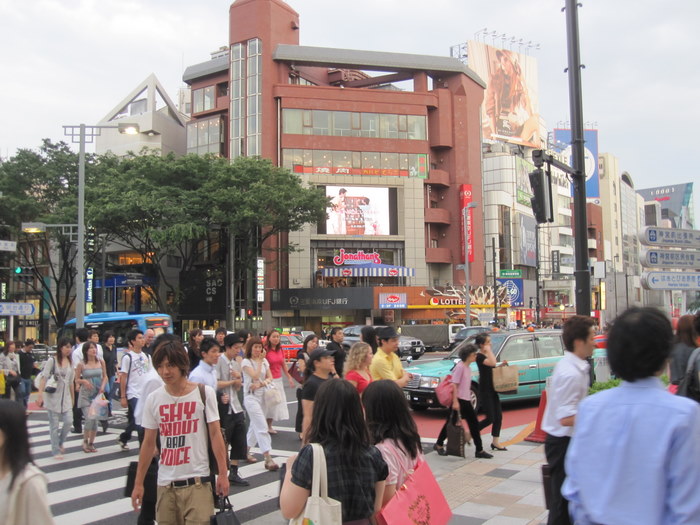 And go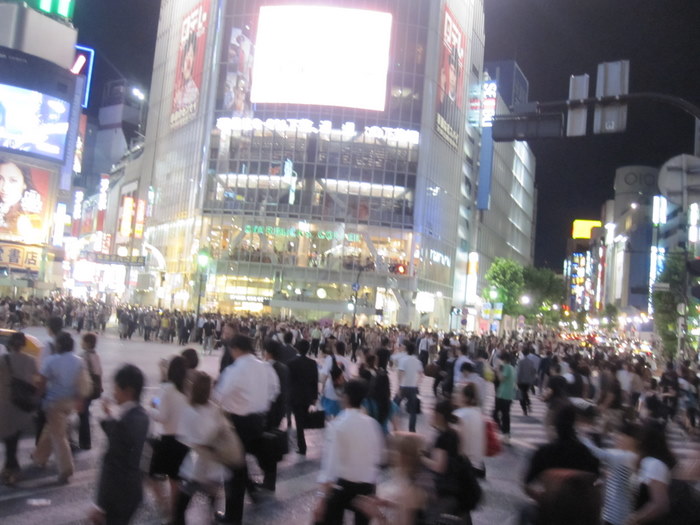 You literally have to spend a solid week just to check out all the best stockists in Japan. Since there was no time, I'll be back soon. For now, I'm taking the train to meet up with some friends. If you've never been on a train in Japan, it's a must. Try to avoid rush hour where you literally get "squeezed." Hmm, looks pretty mellow now.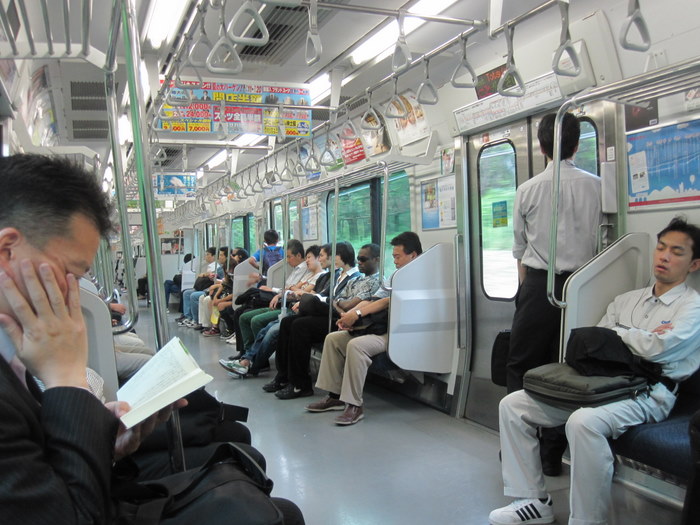 When riding the train, no one, and I mean no one, talks to each other. It can be packed to the rim and you can hear a pin drop. Checking your phone, listening to music, and reading the paper are all typical things to do while waiting for the next stop. Oh yeah, sleeping also helps (just make sure you don't bobble your head on the person next to you)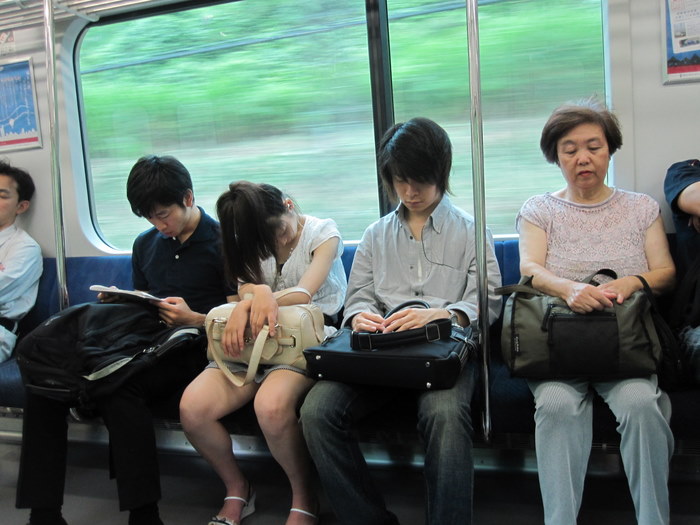 Got off in Aoyama to meet up with Spanky (7-Union) for a quick drink.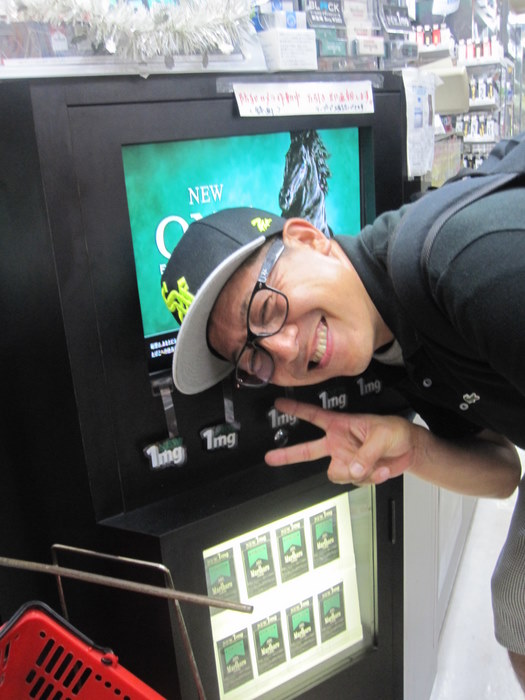 Check out his kicks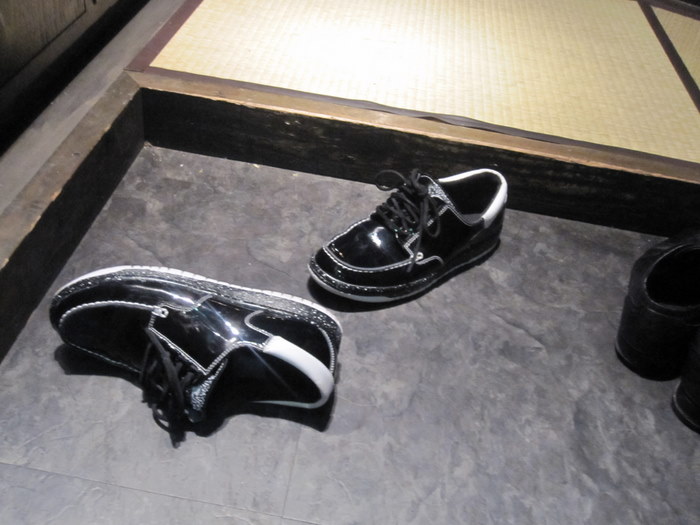 Only in Japan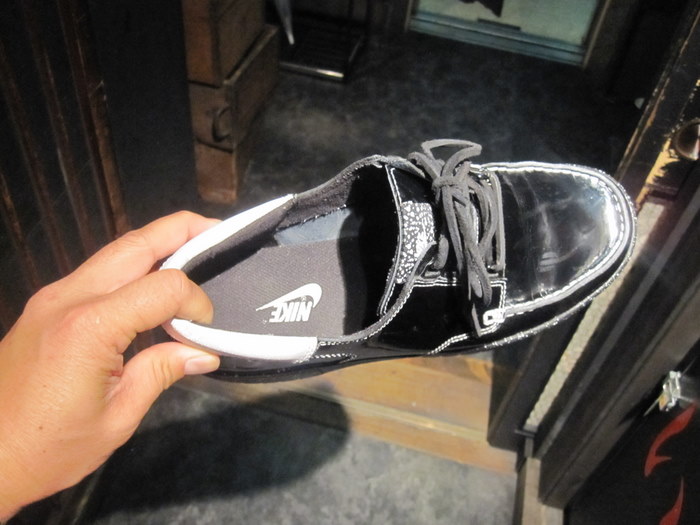 Speaking of kicks, I also met up with some other friends, Yumiko and Yusuke. Yumiko (right) used to work for 686, now she's taking care of models at the Miss Universe company. I wonder if her typical work day is similar to ours? Probably not.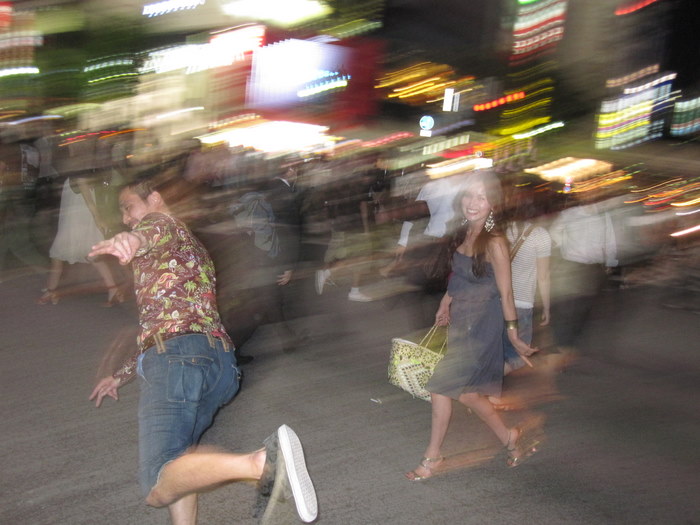 They took me to a gig Madfoot (check out the MF's red plaid release) was throwing. I actually ran into Ohno. (Sorry I didn't take a pict). Ohno used to run a magazine called FINE. It's probably the most popular mag for kids under 25 that involves anything from Fashion-Skate-Surf-Snow Culture. Today, Ohno's the main man behind FLJ (Filth x Libertine x Justice). Check it out.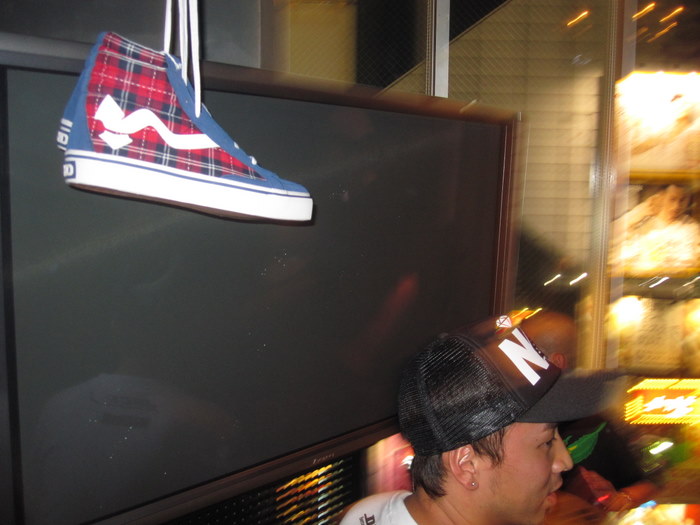 Madfoot had some sort of Power Ranger meets ABDC show going on.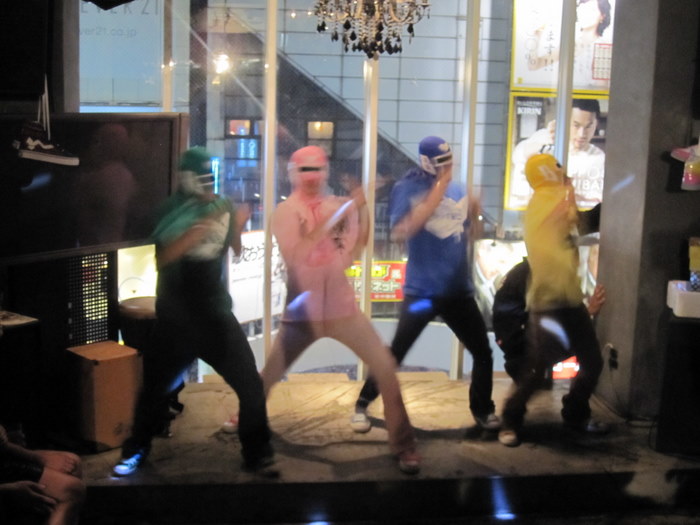 My long lost brother from another mother. Again, only in Japan.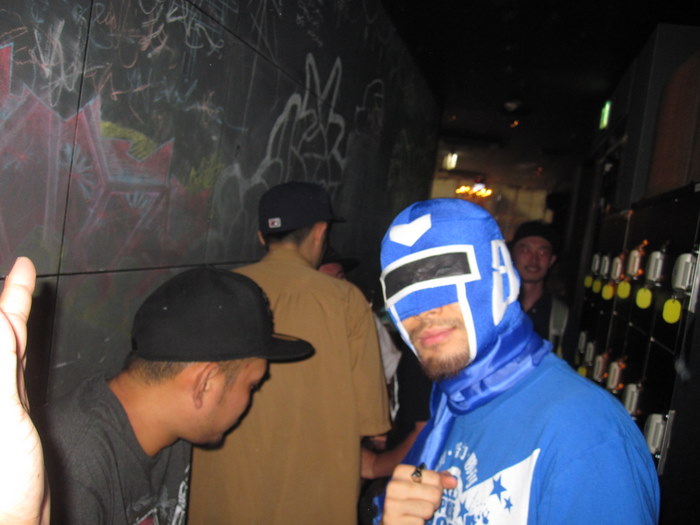 A few drinks later and no sleep, I think it's about time to head to my next destination. PEACE OUT.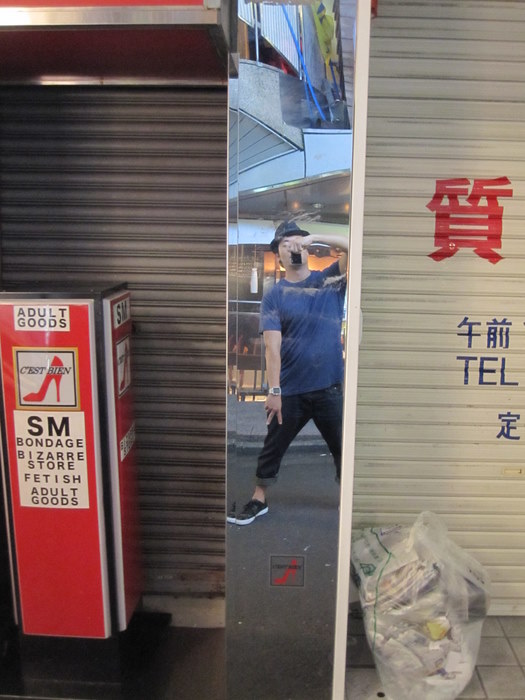 Business or Pleasure?
July 18, 2009
Whenever I get asked this question, I get a little confused. Do they mean is this a work trip where I do work-related stuff or is this a personal trip that involves personal things that I only like? Sounds simple enough, but I've been struggling over this so-called "simple" question for a hell of a long time. I guess it's because I'm always "ON" 24-7. When I started doing my own thing some 17 years ago, I wanted to enjoy whatever I did. At the same time, if I had the opportunity to involve others (ie: employees, suppliers, riders), I wanted to share the experiences so both "business" and "pleasure" could co-exist together. To many, it's a bad idea. To myself and my close group of family and friends; we get it.
One example is when I travel. Yes, it seems like this year, I've been traveling more than ever. Over the weekend, I headed up to Asia for some (more) quick meetings. First stop, the land of the rising sun - Welcome.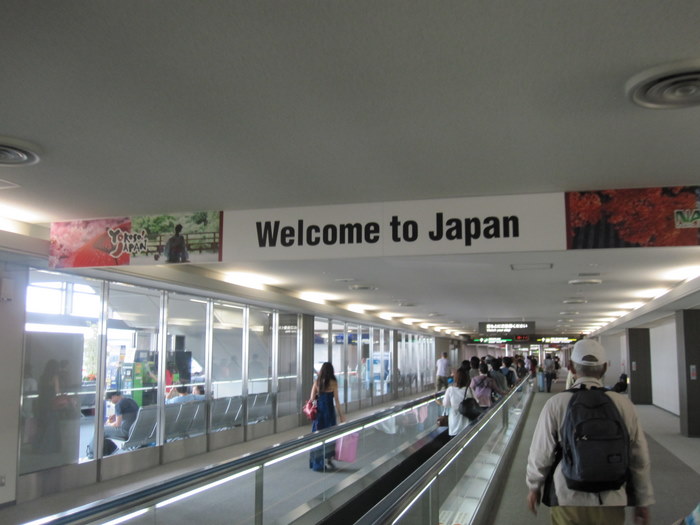 I think I've been to Japan probably over 50 times. Each time I go there, its always a NEW experience. I don't know what it is, but I think it's related to the fact that Japan keeps things fresh. They are not afraid of change (at least most of the younger generation), they are definitely unique in their own ways and they take pride in producing quality products and services. Here's some examples.
Bicycles are just as important to the Japanese culture as anything else. Have you seen something like this in the states? How about a 4-story bike parking structure.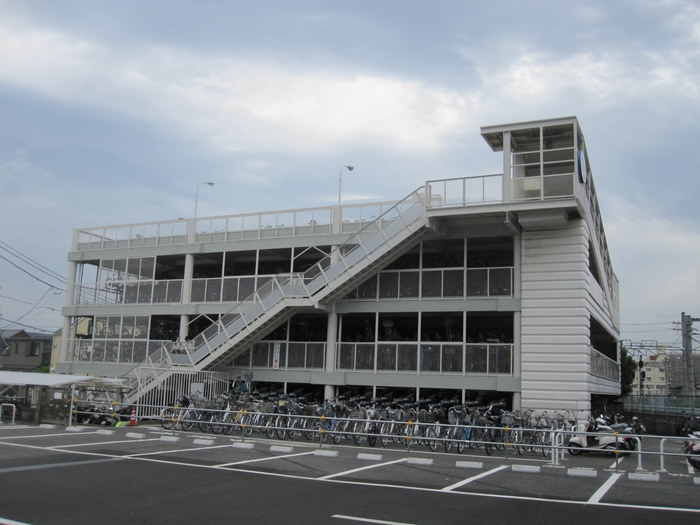 You gotta love the sign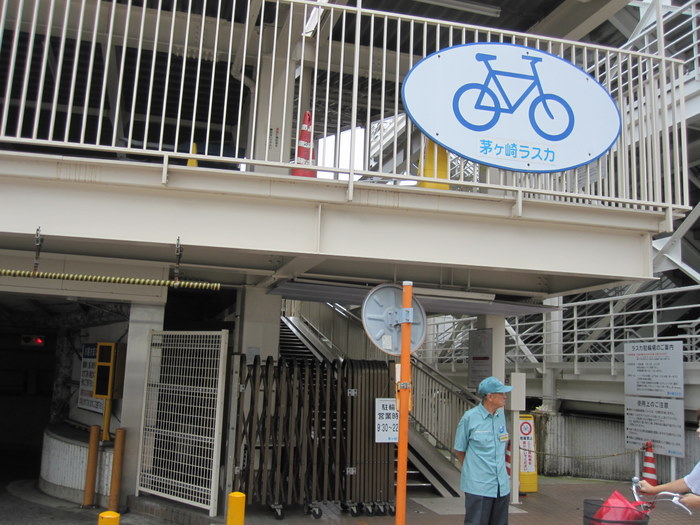 How convenient, a port where you can walk up, while the bike rolls up in its own slot.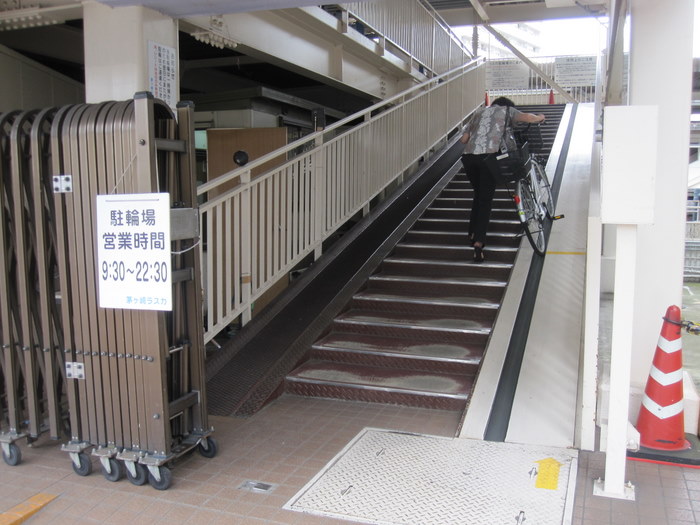 Vending machines are also a huge part of the culture. Drinks, booze, toys, electronics, clothing, videos and even some kinky shit like school girl underwear; they got it all. Something about the machines draw you in, the colors, the selection, hot or cold; they just look great.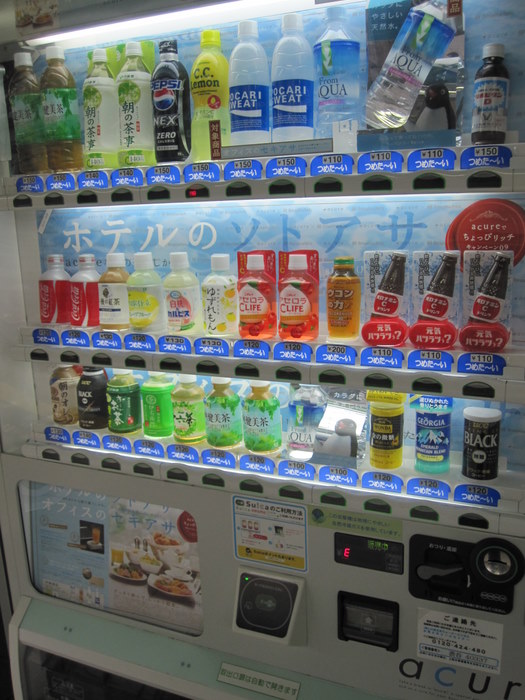 Hmm, what should I get? How about some Sweat?




Or what about some Cow-piss, I mean Calpis?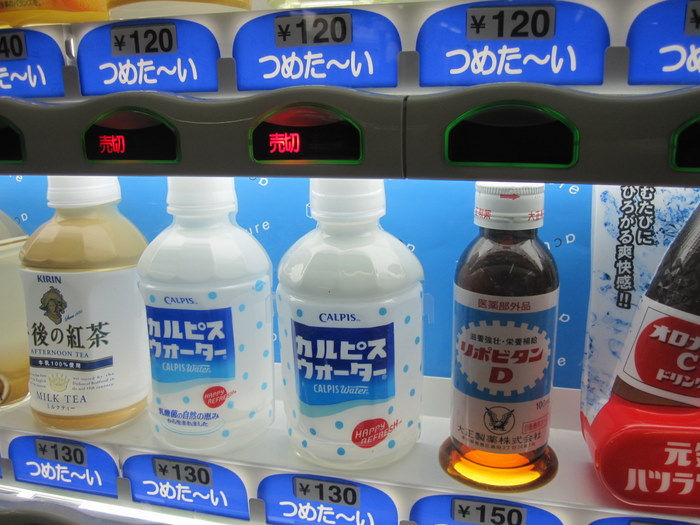 I guess certain things only work in Japan. After your finished drinking, you can easily toss it in a nicely organized recycling bin.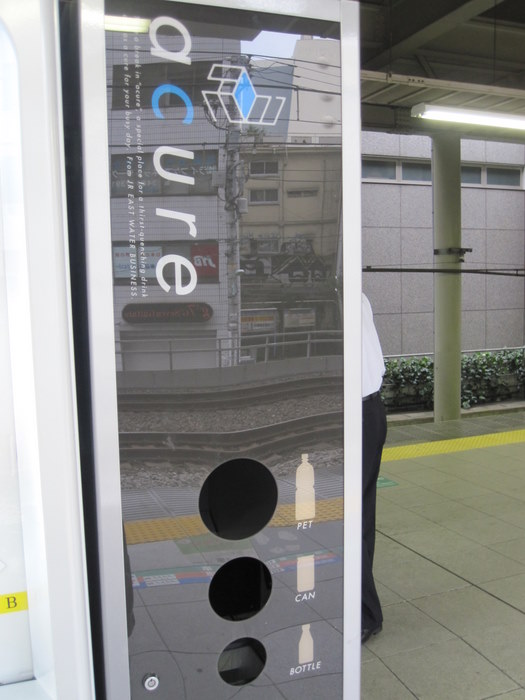 When it comes to any process in Japan, the people love to put some sort of order to it. Interestingly enough, they listen to it. When was the last time you saw a mechanical construction worker controlling the flow of traffic?




Gambling is big business in Japan. (Yes, the mafia has something to do with this) Pachinko is the main part of this gambling mecca. If you've never played before, it's more fun than it looks. Basically, you pay to get a set of mini balls (kinda like a bunch of quarters) and then attempt to make it into slots. It's a combo of a slot and pinball machine, but much better. Along the way, you have a chance to win not only prizes, but $ as well!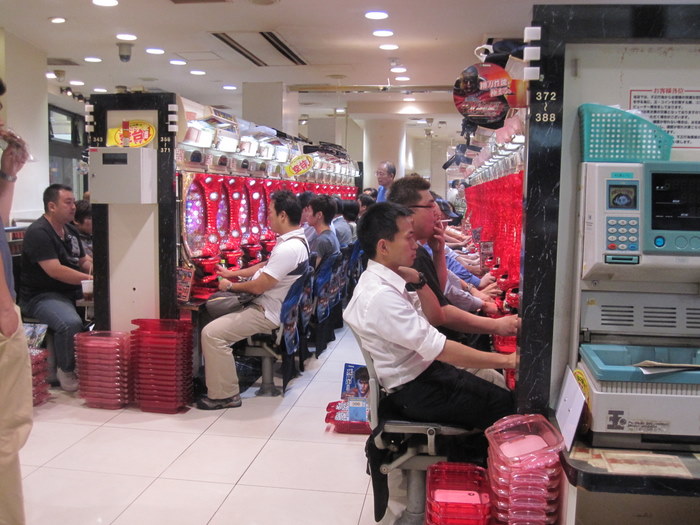 Wow, the lights are mesmerizing!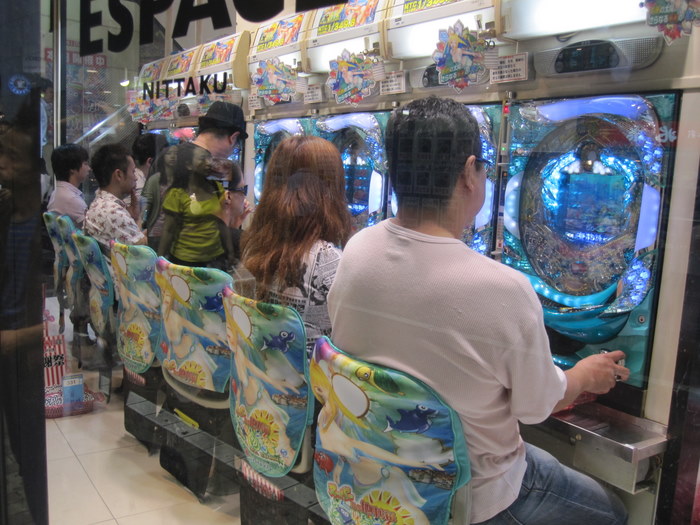 True street fashion originated in Japan. I think you can find every trend that's been and will be seen all over the world. Harajuku is probably the most famous destination. Hey girls, you late for a party?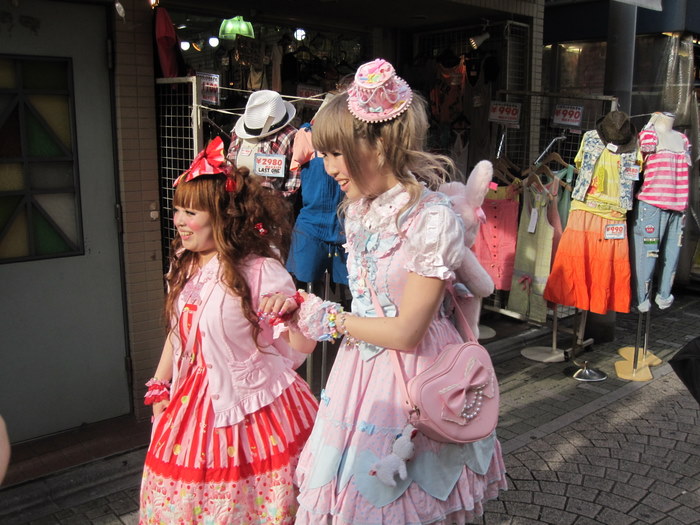 I think I'll get my girl one..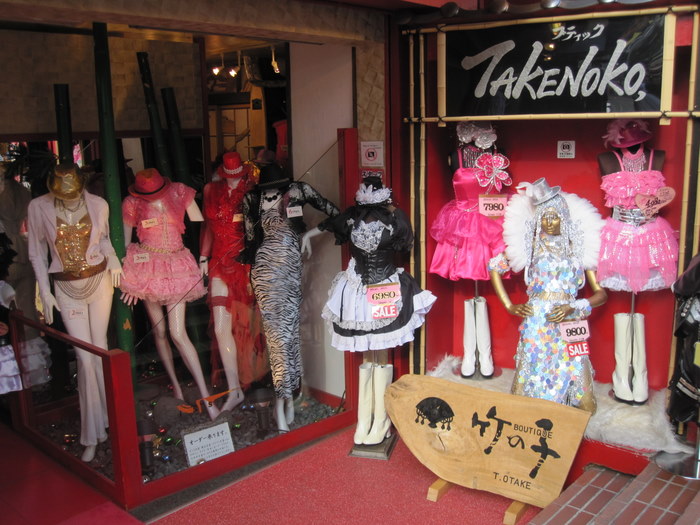 What should I get for myself? Maybe I'll pass this time.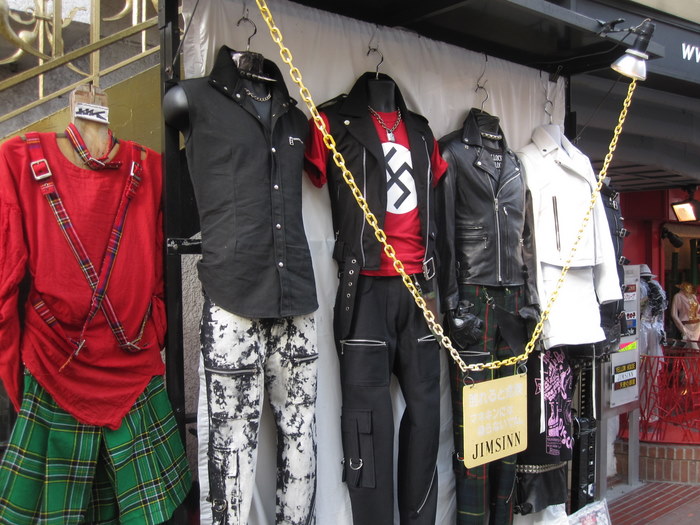 Food is probably the most important thing to me while in Japan. Whenever I go to a different country, I always eat what the locals eat. Although some are more difficult than others; I'm not the guy that needs to have my Micky D's. Here's another example of how the locals make desert look so damn good! Crepes anyone?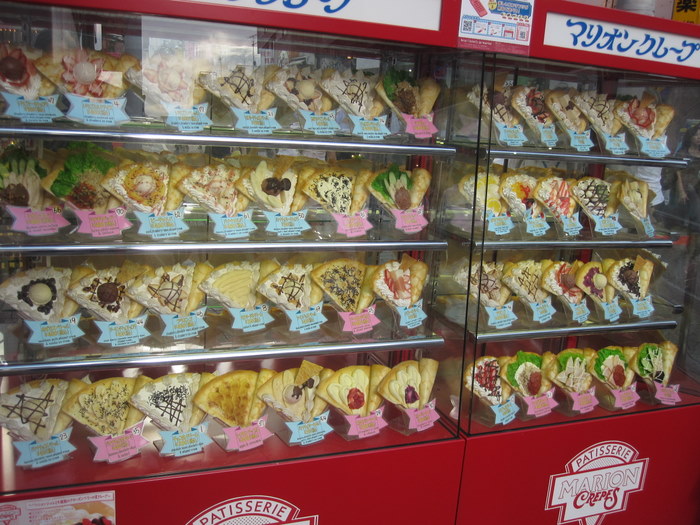 I love Karage or Japanese fried chicken. I usually never eat this much mayo, but Japanese mayo, with Karage works perfect together.




Yakitori or grilled food is also my favorite, anyone got a light?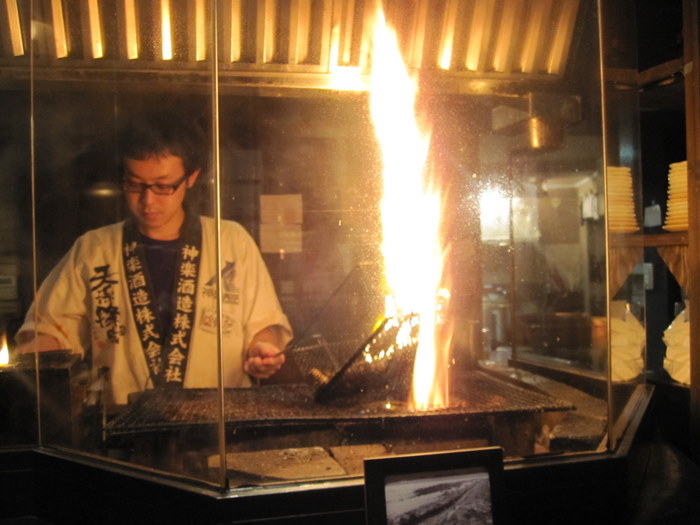 This time around, I tried something different. My friends took me to an Okinawan Izakaya (Japanese for tapas or small dishes) joint. Okinawa is a southern island of Japan. It's part of Japan, but Okinawa is really different as the language and appearance is also unique (kinda like the Hawaii of Japan). The food was great - lots of veggies like this type of seaweed that has tiny liquid filled tentacles on the end.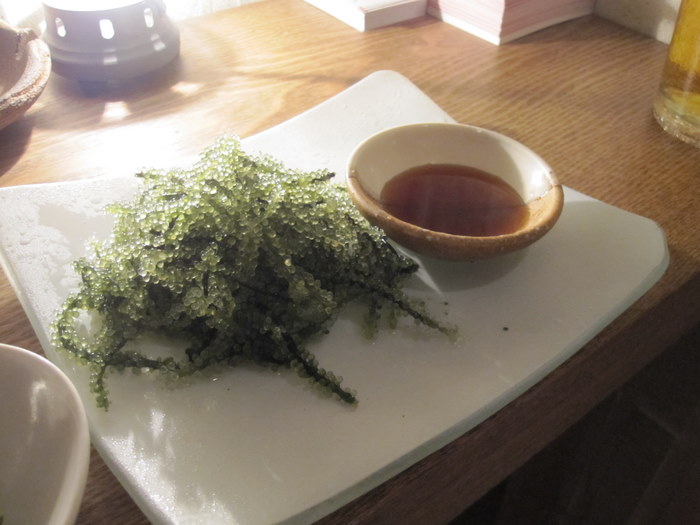 There's nothing better than a cold cup of Hakaison Sake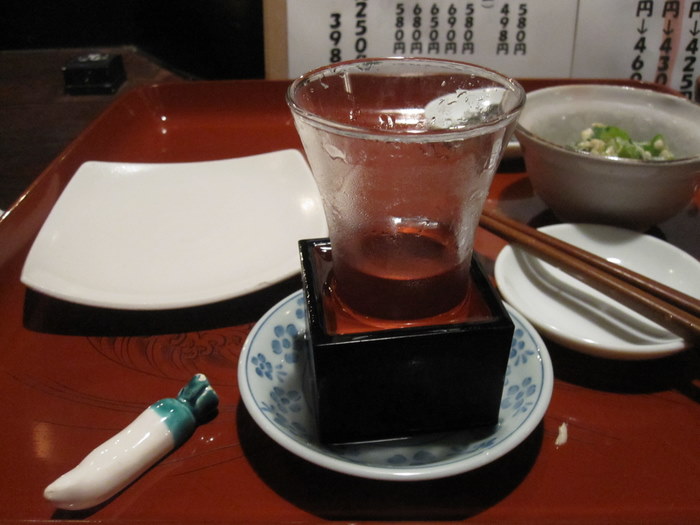 Or a glass of Sapporo beer!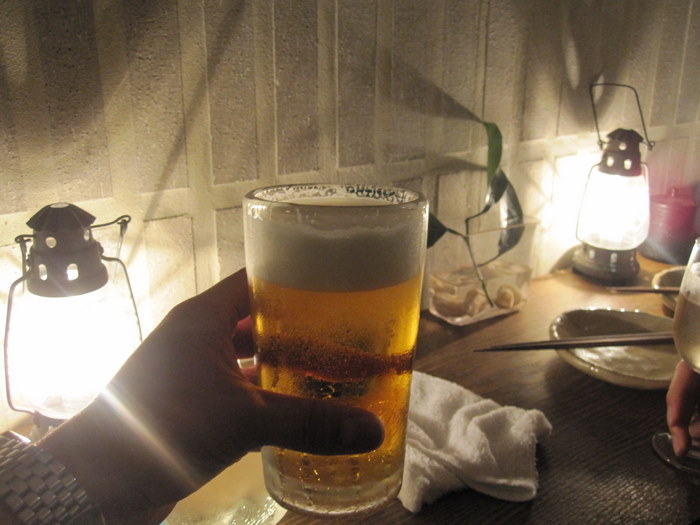 "I HEARD THAT…Fridays"
July 17, 2009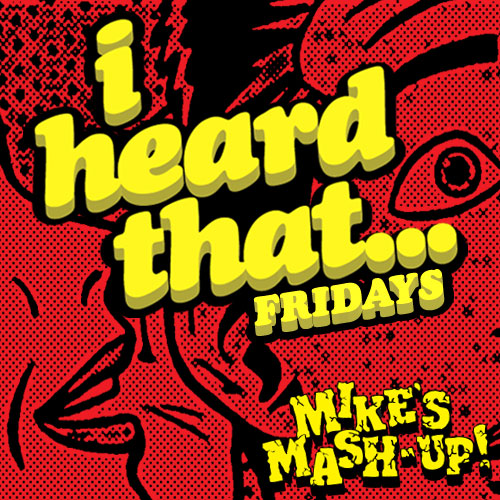 *** Next week will be the last I.H.T.F. Why? Let's just say it's getting a little silly. The other reason, well, I'll tell you next week. Until then, here's some more silliness.
"I HEARD THAT... Chris Cole threw it down at the money cup."
*** C to the C tearing shit up!
"I HEARD THAT... Alex Perelson's 900 was sick!"
*** Kid's on fire, no joke.
"I HEARD THAT... many in the infomercial industry desired to have "Pitchman" Billy Mays entombed in a casket constructed of slabs of Mighty Putty. The casket was to be sealed with Leak Ender 2000 and then prettied up with a faux wood finish."
*** Does it come with a 30-day money back guarantee?
"I HEARD THAT... Group Y's meetings are actually worth the $"
*** Fo sho son, Liz and Mark makin it happen.
"I HEARD THAT... Black Box is now making short boardies for skaters who do under-water photography."
*** If it's gonna happen, Frank knows how to do it the right way.
"I HEARD THAT... Tony Hawk was recently featured in a MSN small biz vid on the topic of branding."
*** I just read the twaat, I mean tweet.
"I HEARD THAT... O.C. style master Shawn "Mr. Cranium" Stussy has been spotted thrashin' and scrapin' a few curbs and ledges at the Balboa Pavilion on warm summer nights."
*** Thrashin' - that movie is so radical!
"I HEARD THAT... the waves in cabo are gonna be waist to chest all weekend."
*** East cape!
"I HEARD THAT... the lizard king sold his soul to the devil."
*** Highland Park eh.
"I HEARD THAT... Chanelle's mini ramp is all buttoned up and ready to skate again"
*** On my way over.
"I HEARD THAT... the Deathkills exhibit at Agenda is gonna be dope."
*** I'll be there.
"I HEARD THAT... the new Globe viral skate vid united by fate is finally up."
*** One more down, a few dozen to go.
"I HEARD THAT... Lamar Odom might not be back, wtf candyman?"
*** Will be an interesting season for sure.
RULES:
1) Email [email protected] with what you've heard (Please try to send me stuff that's somewhat true vs. completely talking shit)
2) NO, I'm not the one that hearing this-Don't kill the messenger.
3) Please don't send any attachments or picts, as it will be deleted.
4) Just because you send an email doesn't mean it will get posted.


The Godfather
July 16, 2009
Levi's has been called a lot of things, from the Godfather of denim to the inventor of the blue jean to classic purveyors of vintage styling. Either way, Levi's is OG and they're on fire. Last year, 686 and Levi's started an exclusive partnership in technical outerwear. It was an honor to be a part of this, especially on a long term global basis. Outside Fenom, Levi's doesn't come close to doing things like this. Nonetheless, the first season went off as we hit key stockists around the world. We're quickly approaching our second season which drops in September. Last year, we produced 68 special boxes showcasing the very first Selvedge Waterproof/Breathable 3-Layer 514 pant. Before I start leaking out what's coming for this next season, check out these special boxes I was talking about. The box was designed to be in the form of an actual BOOK, wrapped in Genuine Levi's Selvedge Raw denim.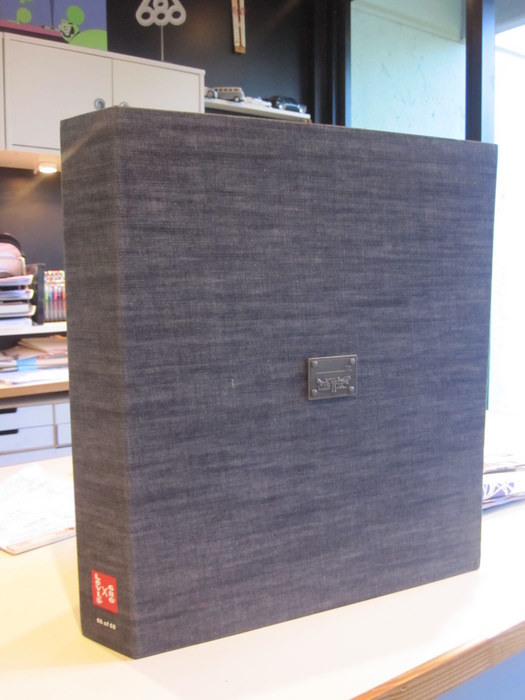 Each box was numbered #1 to #68, I kept #68 of #68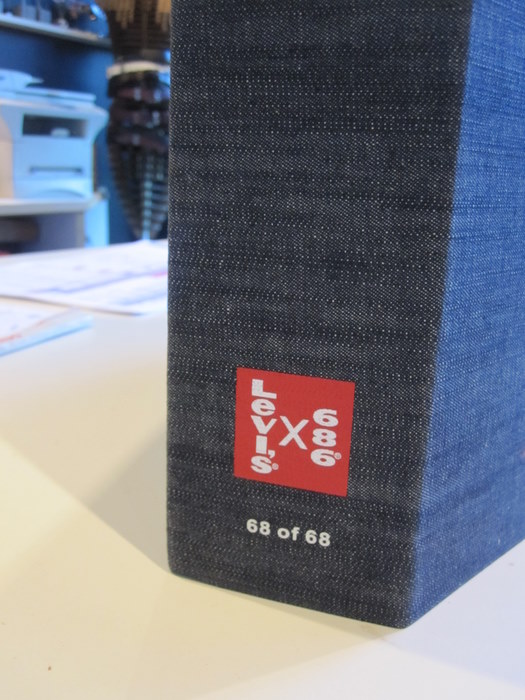 The metal trim of the pant matched the trim on the book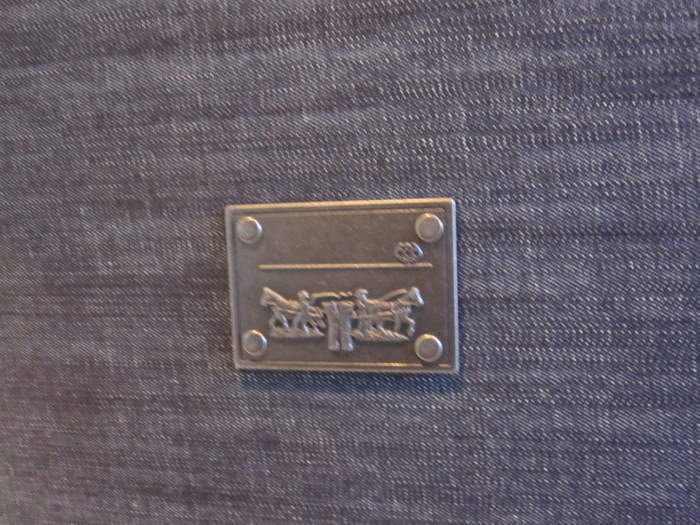 Open Sesame! The Denim book opens up to the 514 Waterproof/Breathable 3-Layer Raw denim.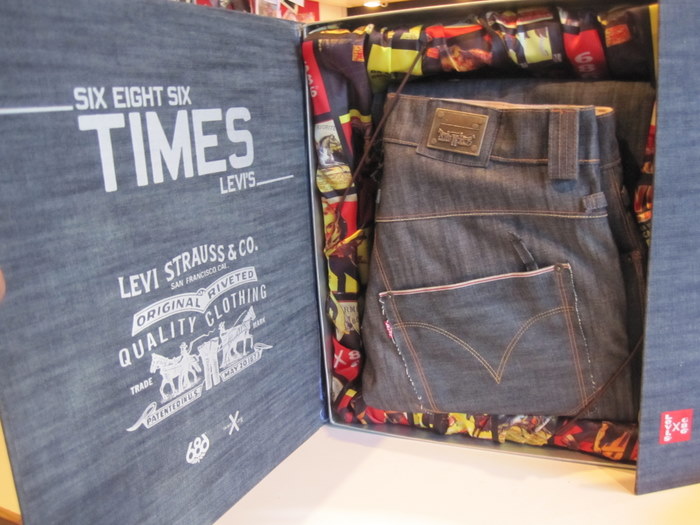 The Trademarked Levi's Arcuate and Red Tab mixed with 686's trademarked Icon stitch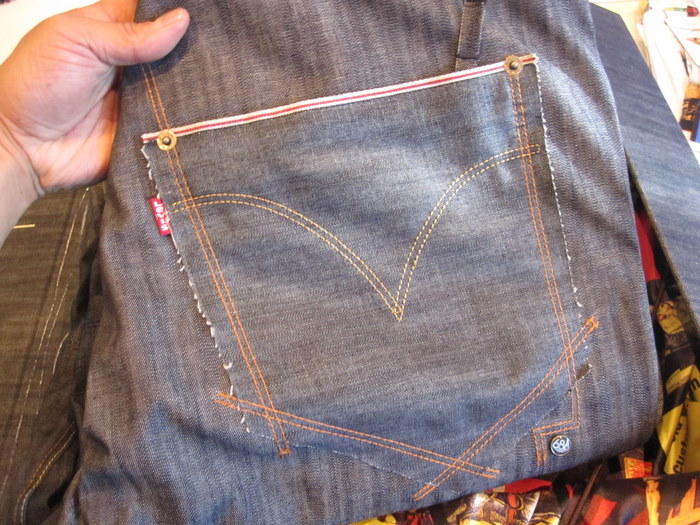 Inside you can see the 3-Layer process of the actual denim, lamination and micro mesh liner (there's actually a lot more technical jargon that goes into making this pant; I'll save you the details, but it was intense, expensive and proprietary). Stay tuned in the future, as I'll be giving a few away.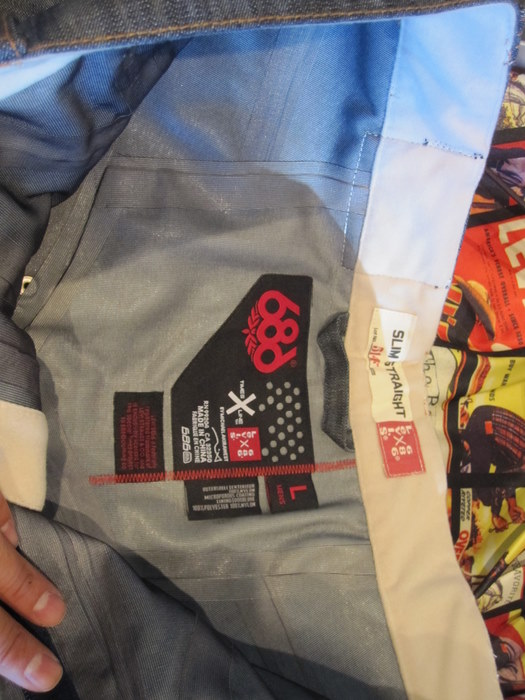 Dwell on Design
July 15, 2009
If you don't already know, I'm fascinated by all things that involve thoughts in Design. From concept to testing to material selection to final product; its something I'm really into. A few of my favorites are ID, Furniture and Sustainable Modern Architecture. Dwell mag recently had a show in LA and of course I had to check it out.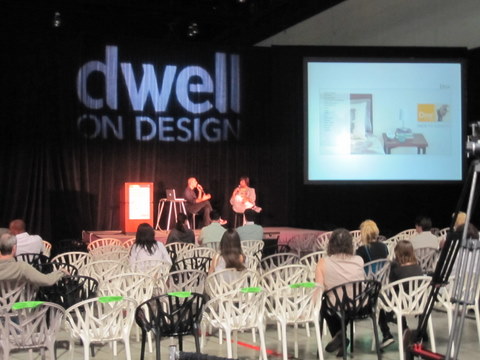 Kohler is the standard when it comes to kitchen/bath accessories. I call it the "jewelry" of the house, cuz you don't want to skimp on things that make or break what you do. They were introducing a new shower head design that tilts, rotates and swivels. Damn, they make it look good.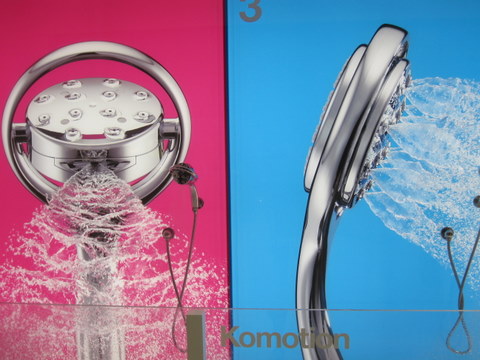 Kohler was also pushing their Honed White collection. What is "Honed?" Well, it's an off-white, matte color originating from a honed stone.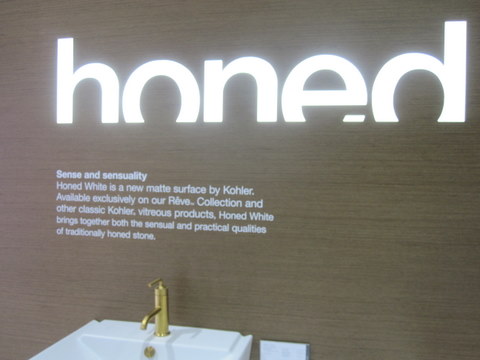 Looks pretty good when they match it up to their matte bronze faucet, doesn't it?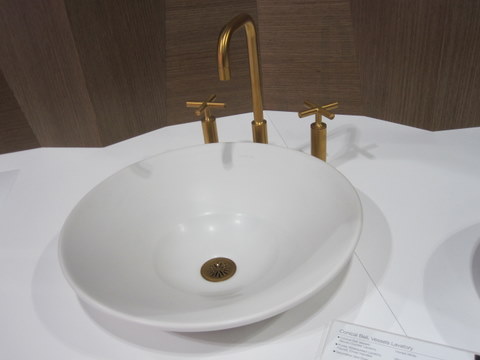 Any guesses?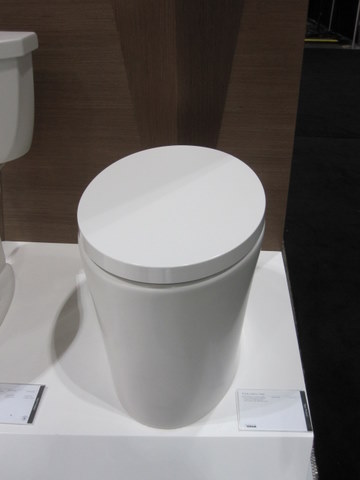 Yes, this is where you take care of biz




Dwell does a great job educating people on how everyone can enjoy simple sustainability. They had this one area showing some ideas - water bottles to cleaners in an instant.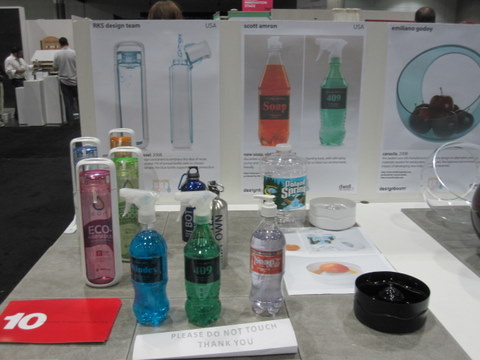 The best thing about modern design is keeping things simple. Check out the Stackable Single Cabinet - Closed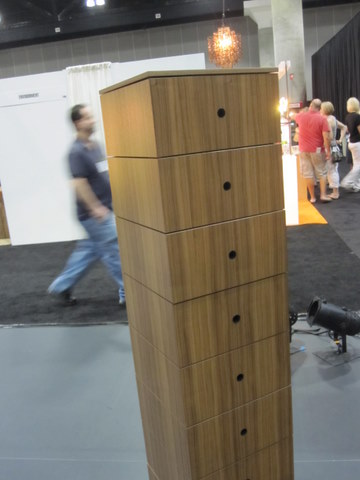 Open (what a trip, huh?)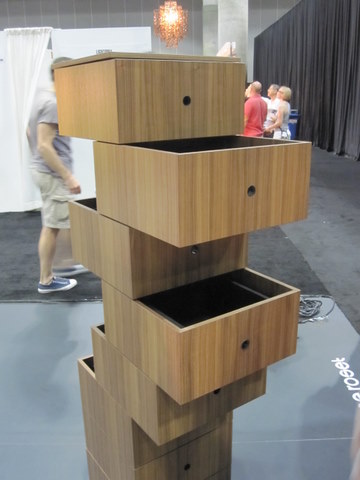 Bottega Montana makes furniture and longboards out of all things wood. Two Italian dudes run it and they just did a joint with Tretorn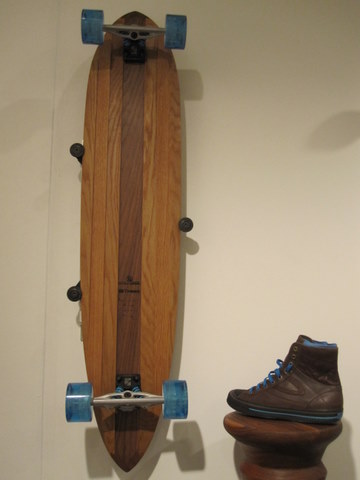 More sustainable methods of creating things that seem to get thrown away…the paper lamp.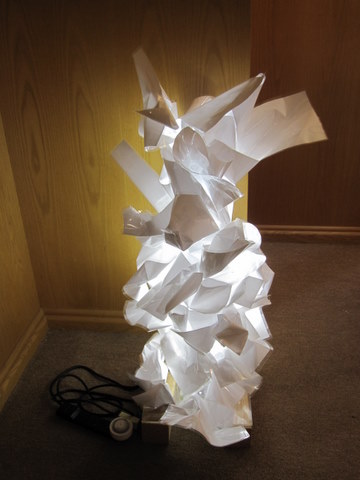 I think I'll put this next to my i-pod and box of eggs at my pad.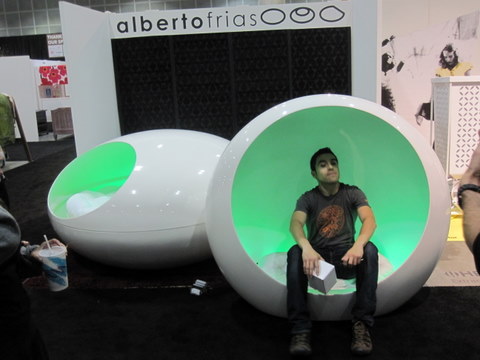 There goes the Neighborhood
June 15, 2009
Lately, there seems to be a few interesting things going on in the county they call Orange. I got word that our good friend and current 686 Faction member, James Marshall (aka Dalek) was going to be in town. Why? Well, Nike and company has decided to put together the first action sports retail experience consisting of all of their brands (Hurley, 6.0, SB, Converse) of all places; smack dab in Laguna Beach. (Yeah, I know I'm about a week late on this post) When you first think about it, I didn't get it, as everyone's brand is quite unique. However when you walk inside, it's actually a pretty cool experience as all the brands work well with each other. Party in front view.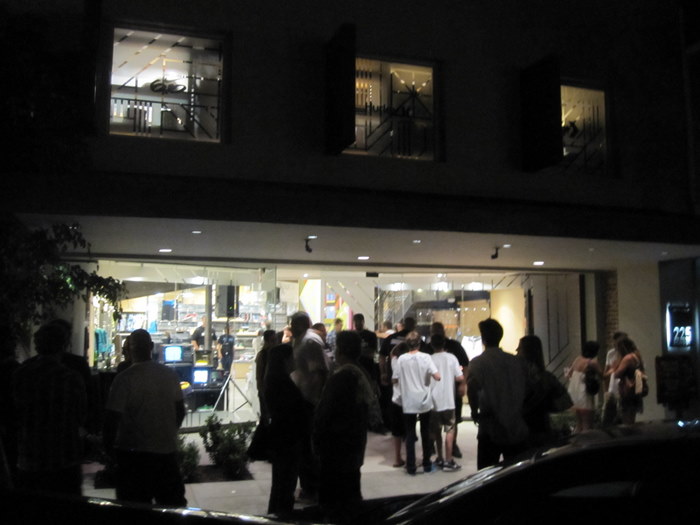 I arrived late and missed a grip of people and other crazy things going on. The Nike posse was nice enough to let me in for a minute. The first thing you can't ignore is the HUGE Dalek piece in the center. I think its over 20' tall. Check out the video of how he did it in less than 4 minutes.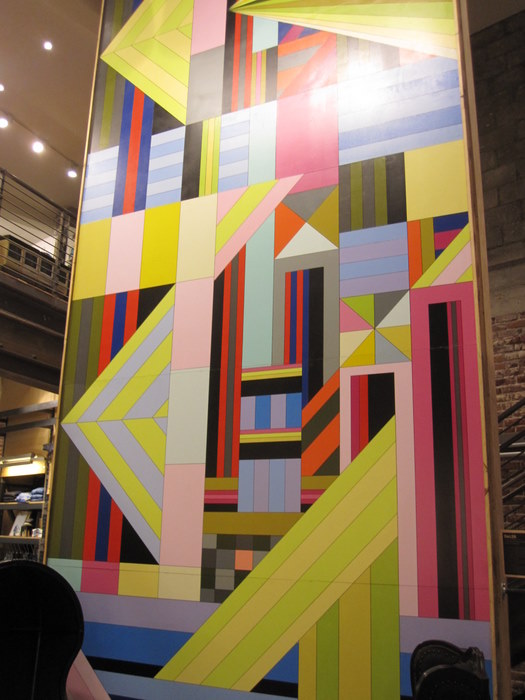 The store was open and airy with lots of eye candy going on. How about 6.0's rainbow colored push?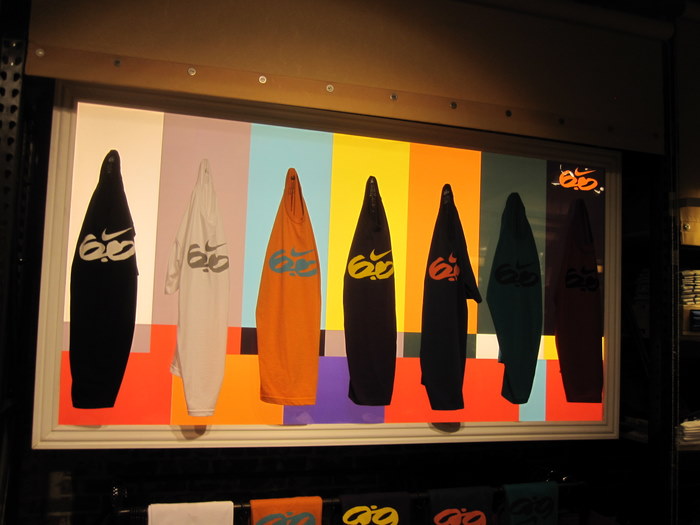 Can you see 6.0's new logo? I won't get that much into it on this post, but it looks awfully familiar to our 686 federally registered trademark logo I made 7 years ago. Hmm, drop the 6, part of the 8, add a swoosh, then presto, you have…686, I mean 6.0





Hurley's Puerto Rico 4-way stretch boardshorts representing the flavors.




How about some Chuck Taylor love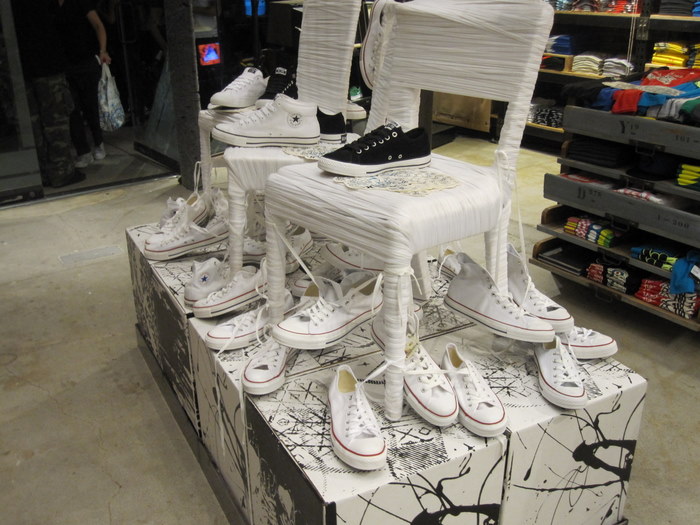 Upstairs, SB was in the house, as well as a Nike ID studio and customization area where you can actually sublimate your own boardie. Damn, how cool.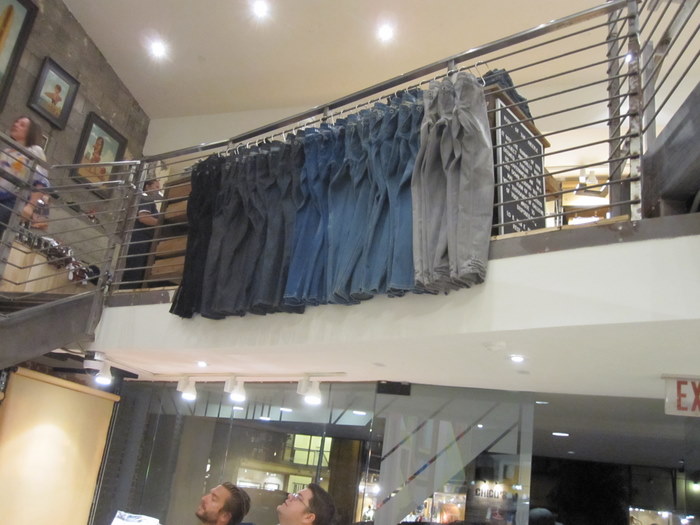 Overall, the store was really put together well. It showed a story of what each brand does and more importantly how it clearly communicates to each other in a creative and easy manner. All this was put together by my friend Dennis, whom I introduced to you on my last post at Nike. D had a great crew to work with and also brought along former Nike partner, and Tannery/Concepts head, Jon. Cheers fellas for a job well done.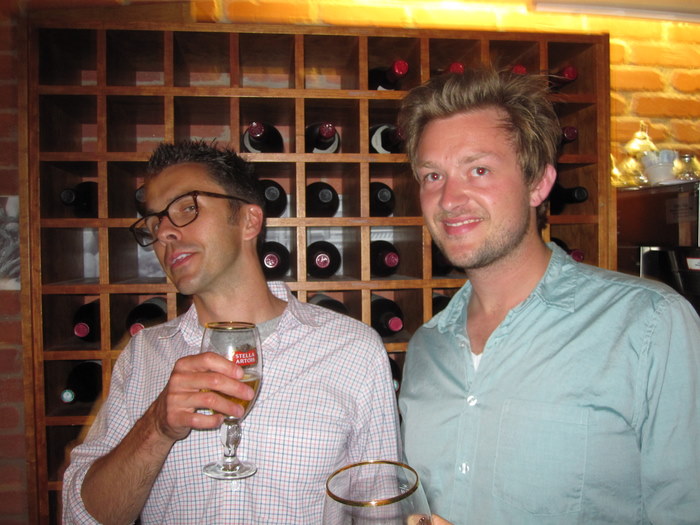 In Bank We Trust
July 13, 2009
I have this habit; whenever I go out, I tend not to stay at places for an extended period of time. Meaning I pop my head in, check things out, say what's up, and then I make my exit, typically before it's really time to leave (yeah, I'm that guy). Last week, I had a dinner meeting with our bankers. We've been planning this for a minute, so I didn't want to do my typical exit, stage right move. The cool thing is that it was an overall good time. Say what's up to Doug ,Wes and Kevin. Doug's my right hand man when it comes to #'s and Ops (we met at school eons ago when he was "helping" me in stats class). Wes and Kevin are our so-called bank guys. They are actually the top dogs and not your typical face-only dudes. Yeah, I know, why the hell would I post something like this? Well, cuz being independent for 17 years requires the team work of a lot of different people, including these guys. Sometimes it's not only what's on fire at the next limited drop or who has the best kicks, it's also making sure that you're a good business partner. I can't tell which bank Wes and Kevin are from, but let's just say that it's one of the best standing ones out there, not to mention they probably work with the brands you already love.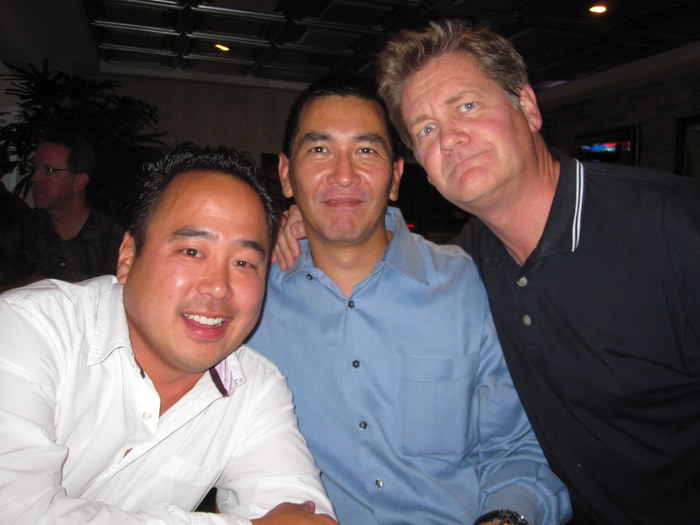 Since I just got the new iphone, I was screwing around with some apps. You know your bankers are down with you when they try the IPEE DRUNK app. Kevin showing how it's done.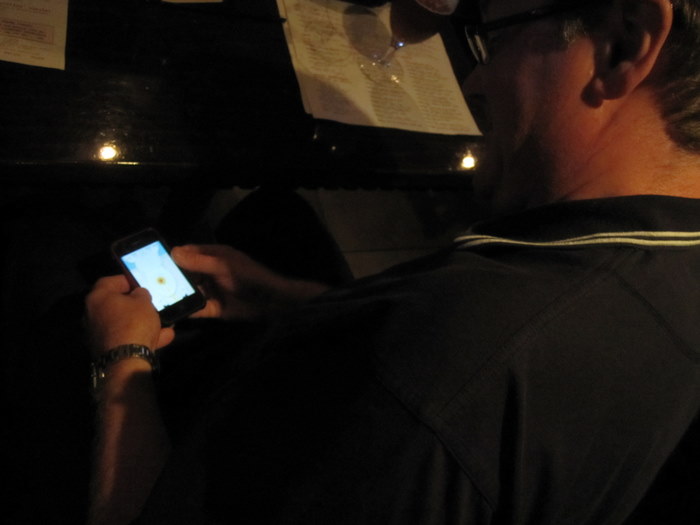 View from the top (nice slippers huh)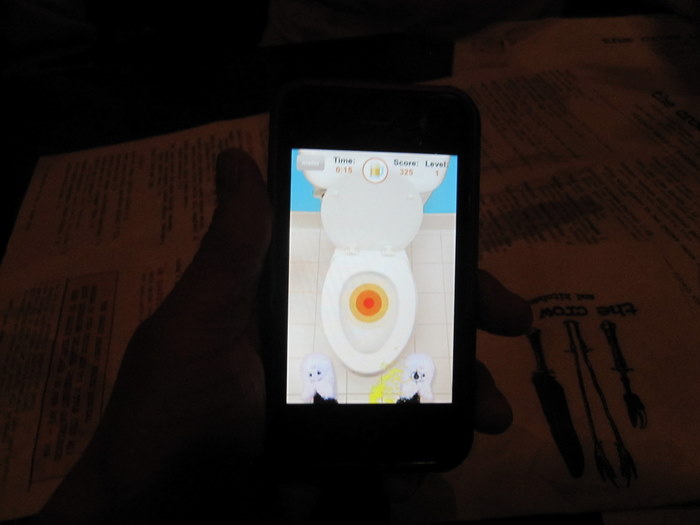 "I HEARD THAT...Fridays"
July 10, 2009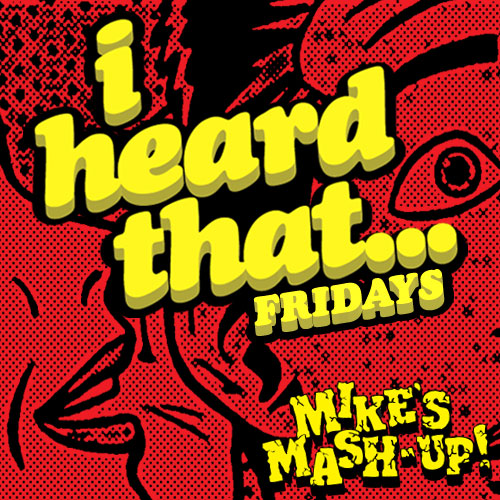 I'd like to clarify a few things:
1) No, I'm NOT the one that's "hearing" all the statements, silly. You send them, I post them (well, some), I comment on them *** Got it? Good!
2) No, I'm usually the last one to hear things and most of the time simply don't give a shit, but I guess some of you do!
3) Try spell checking your email before you send it, OOOOOOOOOOOOK? Thkkkkkkkkkkkkkks!
Great…now back to our regular programming.
"I HEARD THAT… Lutzka's 10-year contract with K-Swiss was worth "real man money."
*** These days, I guess the definition of cool is $ in your pocket!
"I HEARD THAT… SNOWBOARD magazine is going all-digital to keep up with the online trends.
*** Time will only tell...
"I HEARD THAT South Bay-based Podium Distribution has quietly been releasing "extremely limited edition" headwear created by significant designers to local core skate shops."
*** Do you mean Extremely or Exxxtremely?
"I HEARD THAT… Yo Beat's Billy Mays shirt is outselling Neff's MJ tribute shirt 10 to 1.
*** I'll buy that for a dollar!
"I HEARD THAT former film star/actor "Stevey" Baldwin is now producing faith-based skate videos and skate/bmx exhibitions."
*** Save me now!
"I HEARD THAT… Windell's campers and coaches are shredding way harder than High Cascade this summer.
*** You mean way or waaaaaaaay?
"I HEARD THAT… a well-known wakeboard company is making a foray into snowboards in 2010.
*** Good luck!
"I HEARD THAT… Justin Timberlake and Jessica Biel are breaking up. How sad.
*** I got my tissues out now.
"I HEARD THAT skate legend Jay "Alabamy" Haizlip is the senior pastor of the same church Pastor Christian Hosoi serves at in the O.C."
*** Man, I gotta go to church more often.
RULES:
1) Email [email protected] with what you've heard (Please try to send me stuff that's somewhat true vs. completely talking shit)
2) The topics are completely open (we'll see how this goes for now...)
3) Please don't send any attachments or picts, as it will be deleted.
4) Just because you send an email doesn't mean it will get posted.
5) Please don't be offended if and when I respond to your email just cuz it's not what you want to hear. BTW, have a good day.

Right Coast Love-Stop 3
July 9, 2009
Yeah, I'm back in Boston. It's just for a few hours to meet with the crew at NB, so I had to jam on it.
This is Sharon. She's one of our main contacts with our NB686 Development process. Before making the move to NB; she was at Spyder making things happen. Today, I don't quite know what she's doing, laughing or something else?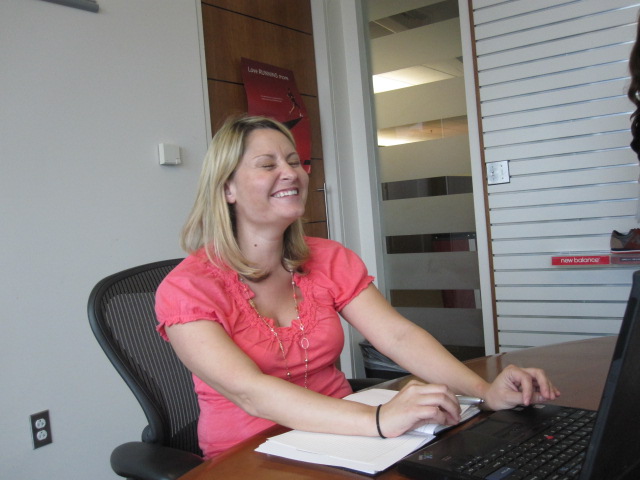 Every time I come to the offices, I see lots of "goodies" laying around. And since I'm a sample size 9 (hint, hint) it's always convenient when it comes to one-off's. Wow, what a coincidence!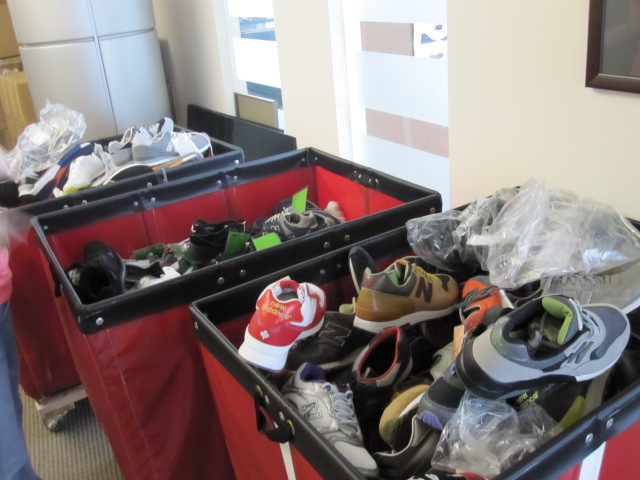 1 of 1's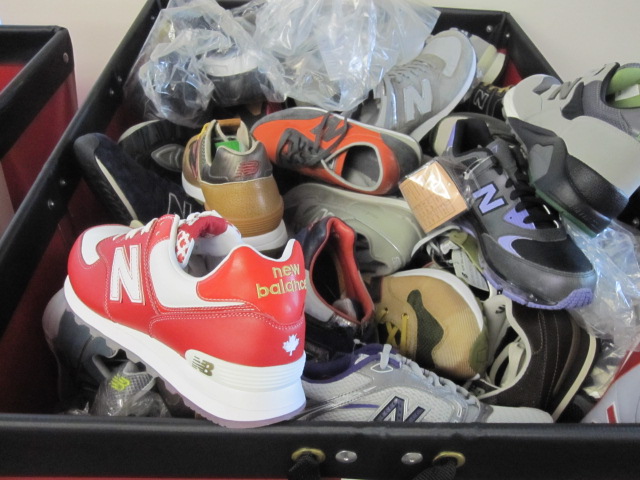 Meet Ken. You may have seen Ken's set-up last time I was here. This time, Mr. Mustache winner was in town.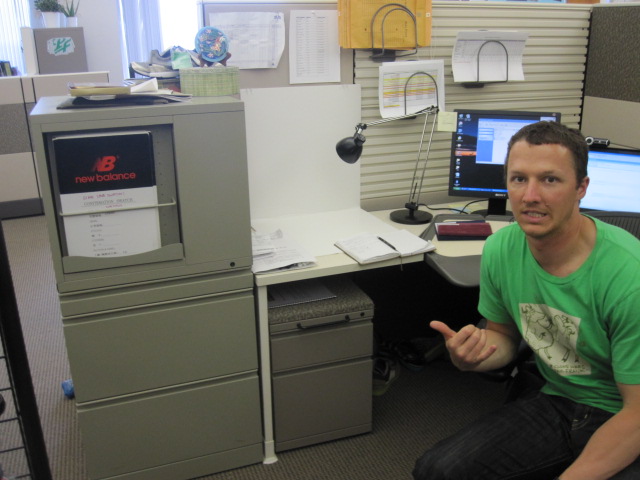 Ken's wall-o-samples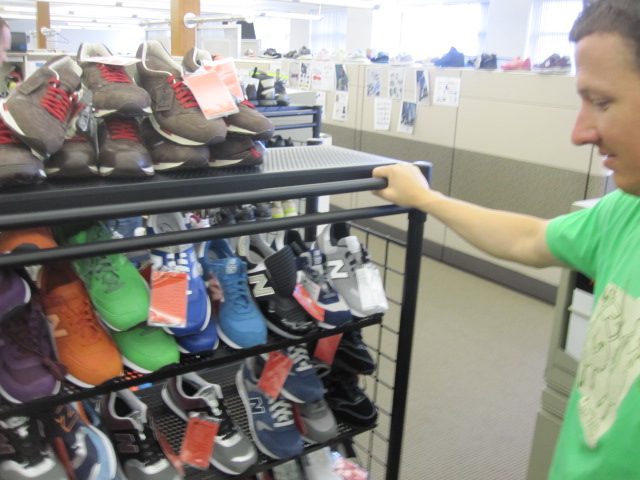 KS's own creation of the 580. Is there a color theme going on here?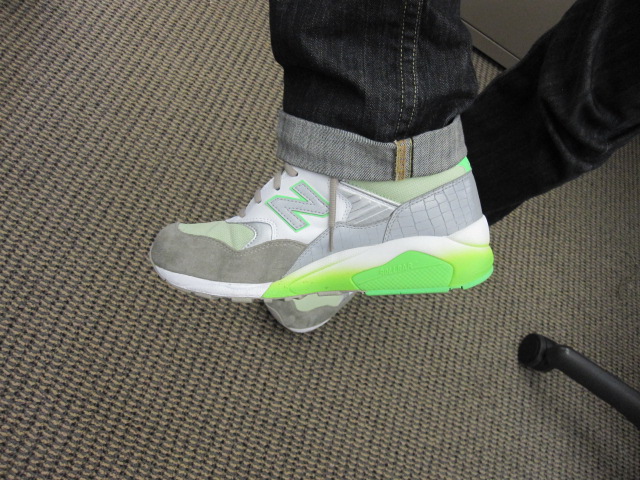 Down the way, I ran into Michel (Yes, he's French Canadian). Essentially if Ken or Sharon drop the ball; it's Michel's fault. Nah, just play'n. But thanks for keeping it together Michel! (there's definitely something green going on here…)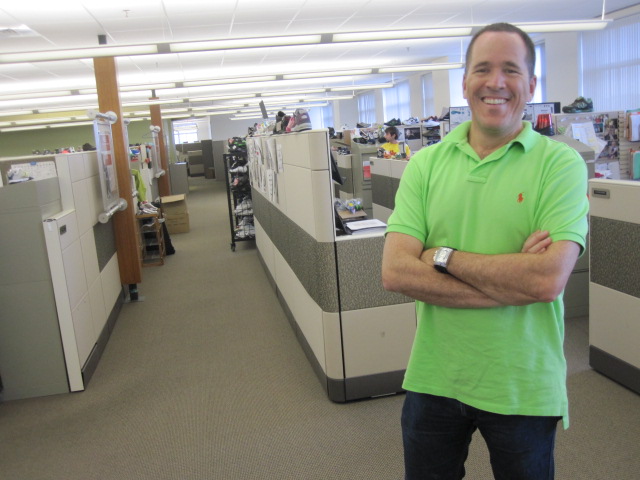 Right Coast Love-Stop 2
July 8, 2009
When I travel, no matter how short or long of a trip, I like to hit up various stockists to see what's going on. The list is huge, but here's a few mentions.
Starting with NSW, a few steps from DDC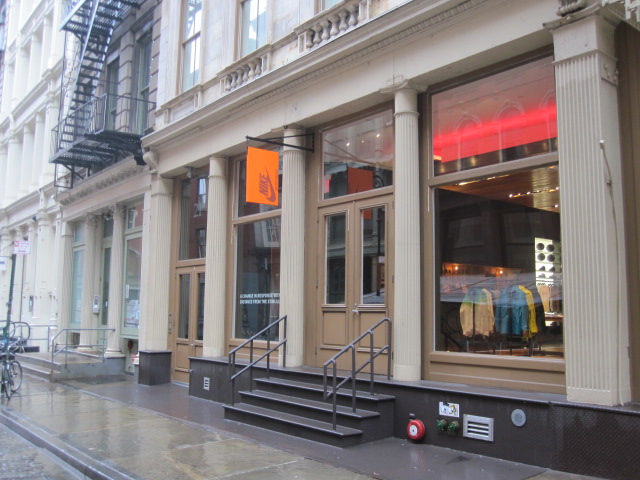 An NYC establishment for years: YRB on Broadway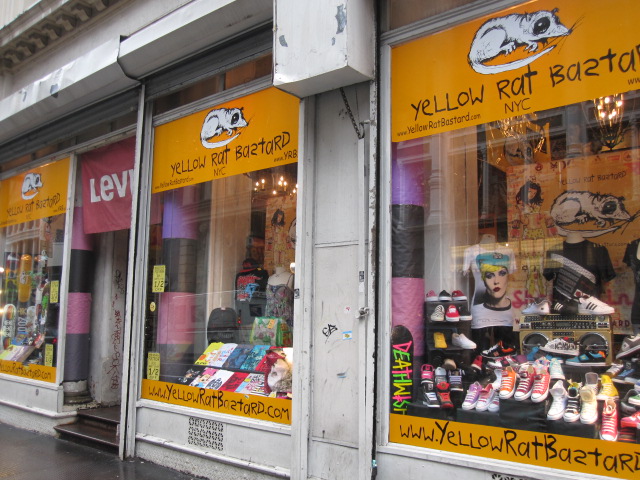 The UK's answer to H&M, Gap and Uniqlo…TOPSHOP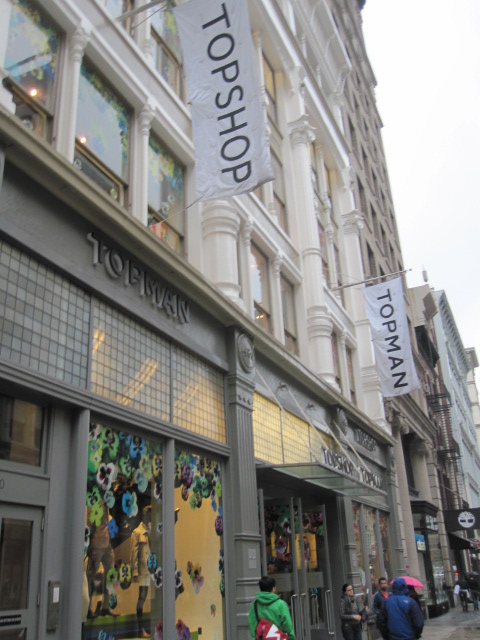 Mr. Michael K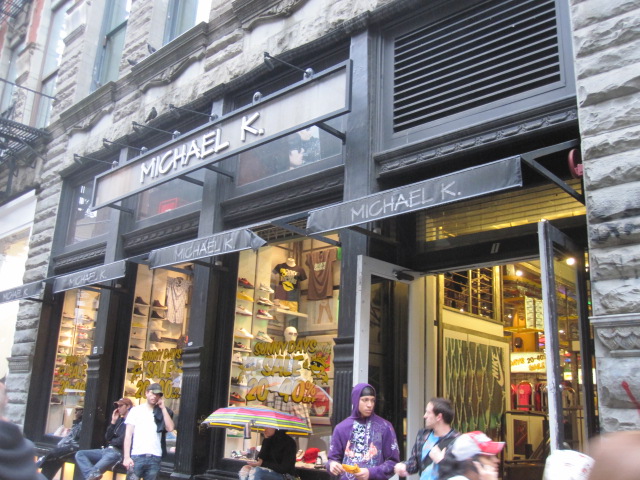 Past 686 ACC artist, KozynDan doing a huge launch for Puma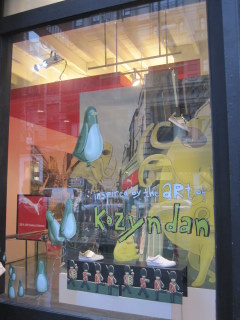 A must-see when you're in the city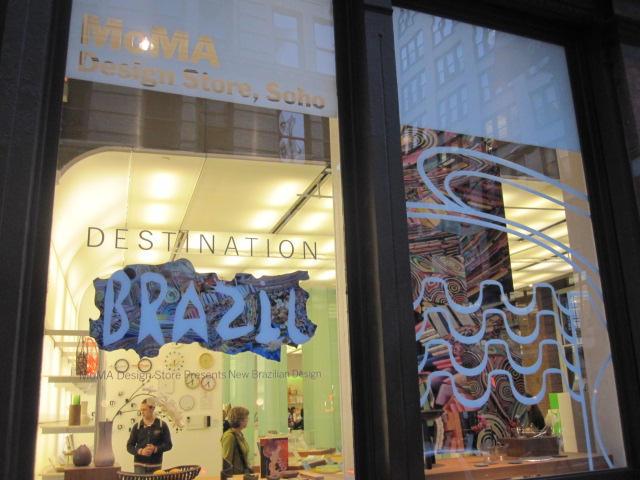 UNI-to the-QLO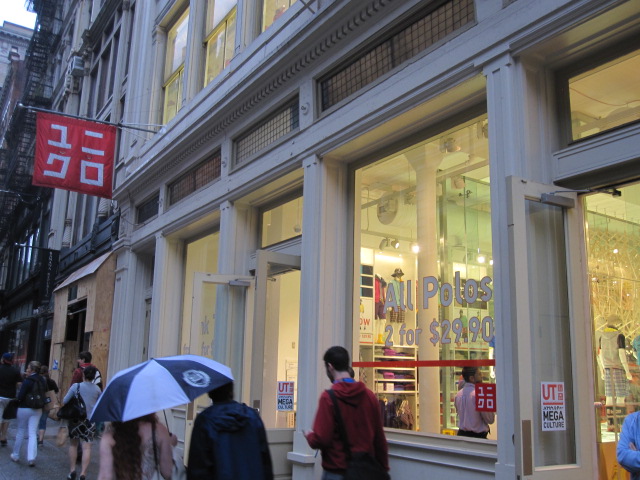 Thumb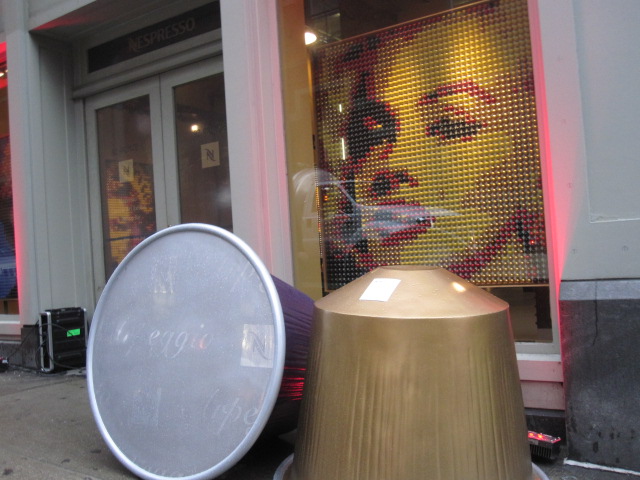 Needles




D & D has the best Mushroom slices…for real.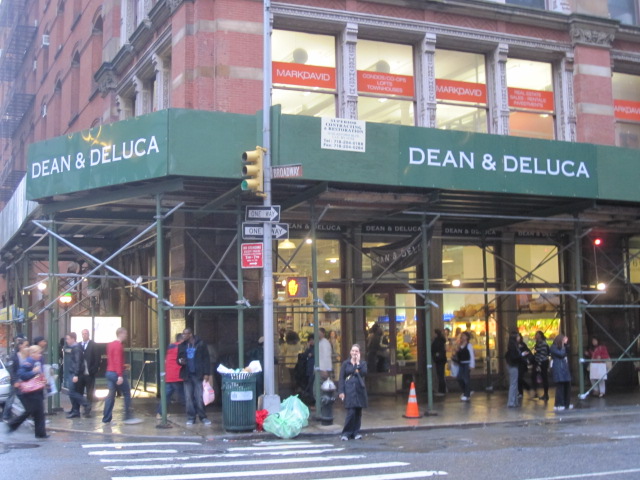 Prince and Lafayette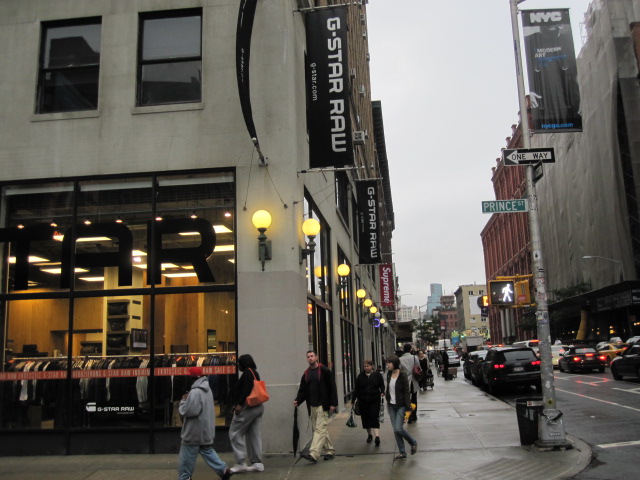 Since before you were cool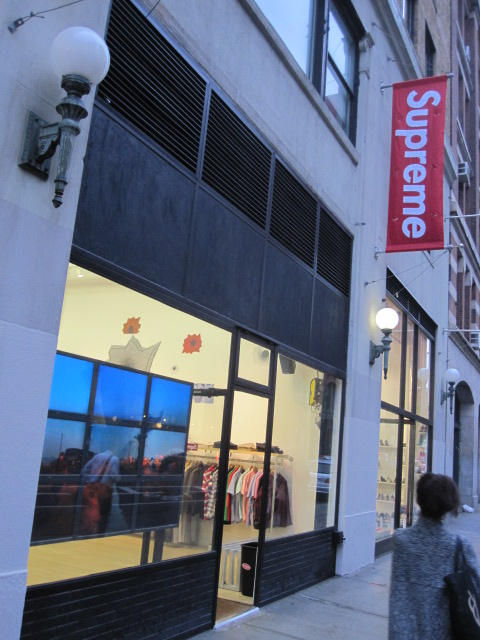 Activist Central




Looks awfully familiar!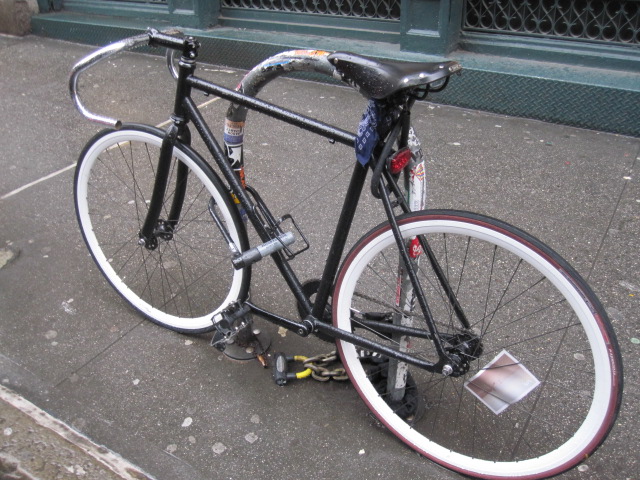 Stop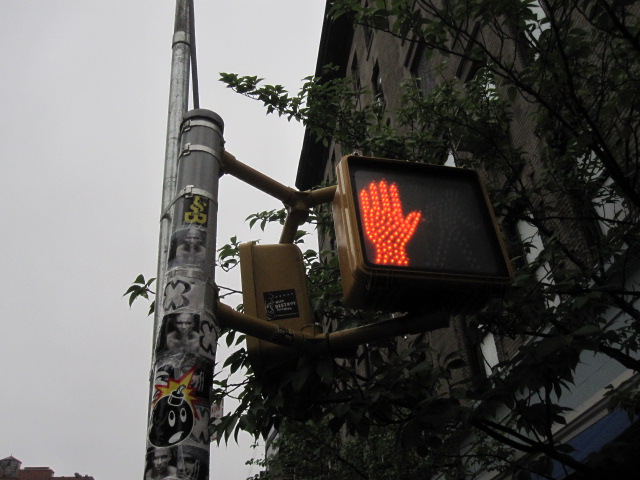 Go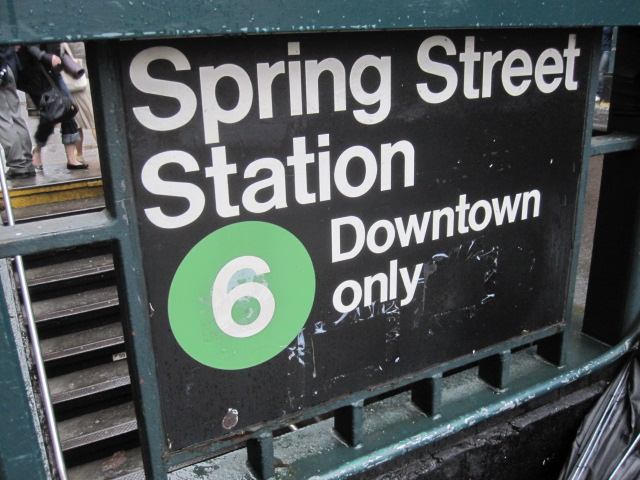 Before




After




It was getting late, so I headed back to my room down the way. I couldn't remember which room it was, but remember it had #'s on it. Oh, here it is.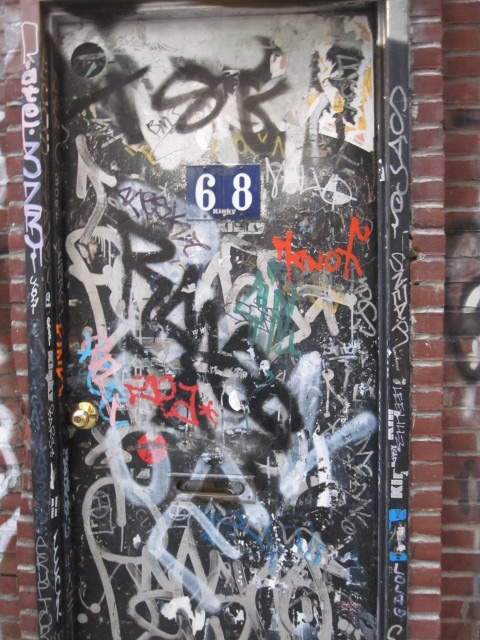 Adios amigos, Right Coast style.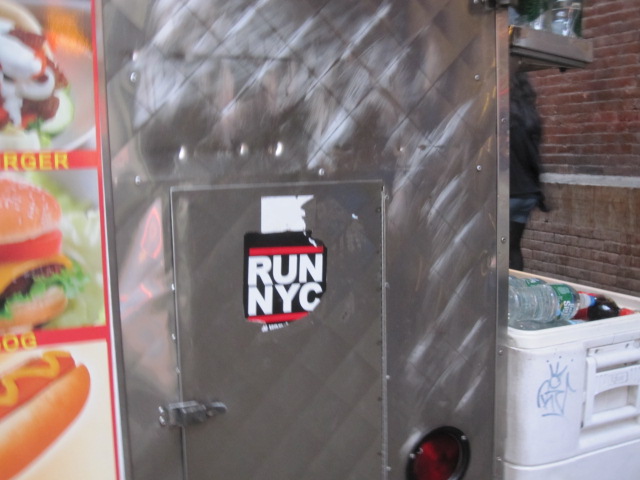 Right Coast Love-Stop 1
July 7, 2009
Typically during the July 4th weekend, I'm in Europe for Bread and Butter. This year BBB went back to their Berlin roots. (I must say, Barcelona, was a great place to have the show - the people, the food and the overall vibe.) However Berlin steps it up, hosting it at the airport, of all places. Unfortunately, I couldn't make it this year, so you'll have to wait for some crazy Euro posts next time. As a substitute, between the Ironman, BBQ's and hang'n out Cali style, I did a quick trip to the Right Coast for some more meetings.
Checked out DDC on Mercer Street to say wus up.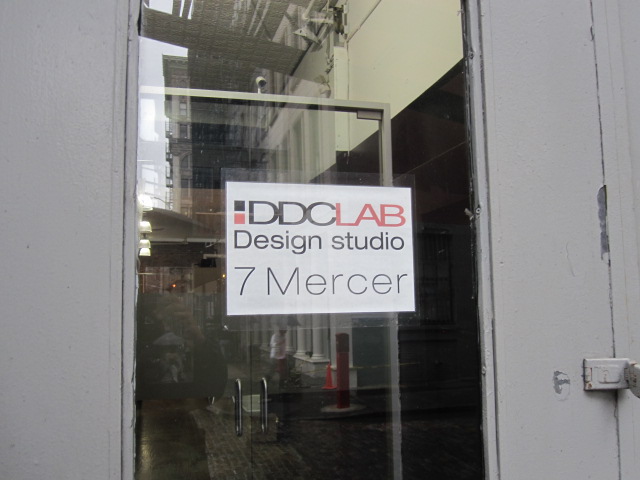 DDC is a multi functional company operated by Roberto and Savania. They just stepped out and I was in a rush, so you're gonna have to say hello to them on the screen.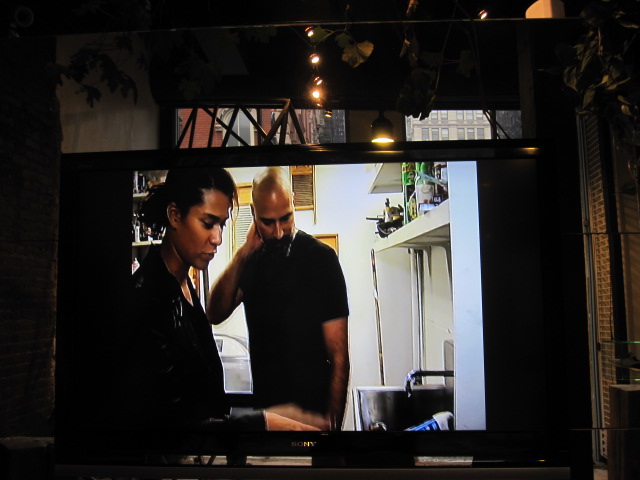 DDC is involved in lots of things, from developing new fabric technologies to designing their tech-meets high fashion apparel line, to searching for better sustainable methods of design, to running their own retail locations on the Right and Left Coast; they have their hands in a few cookie jars. Oh yeah, they are also the Creative Directors for New Balance Lifestyle. Roberto and Savania's right hand man is a dude named JO-EL. How's it.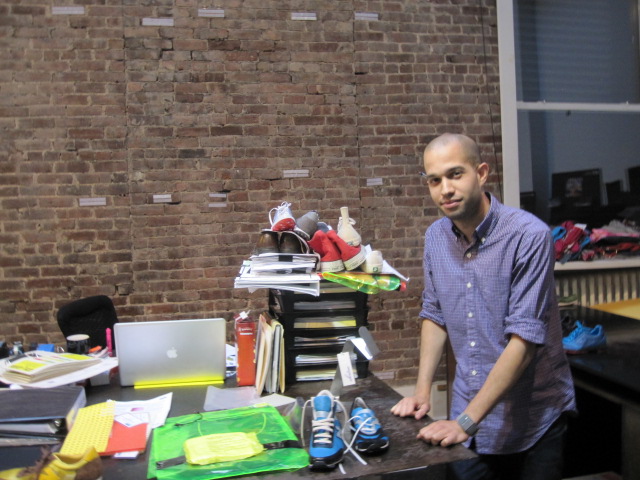 A quick pict down the design lab hallway…can't show you too much here.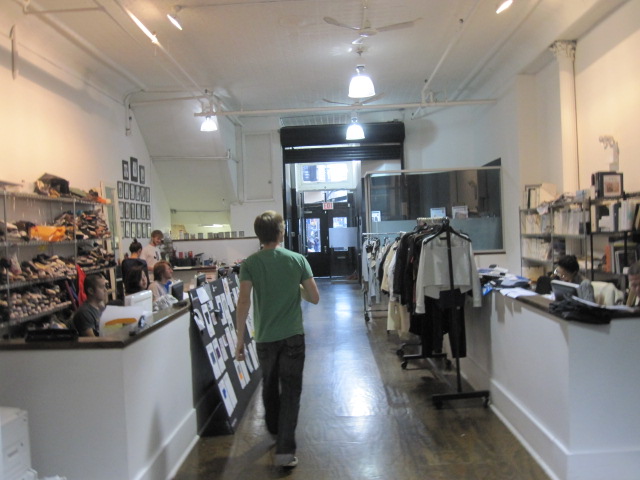 Next door to the Lab is the new retail store. I like the open and airy floor plan.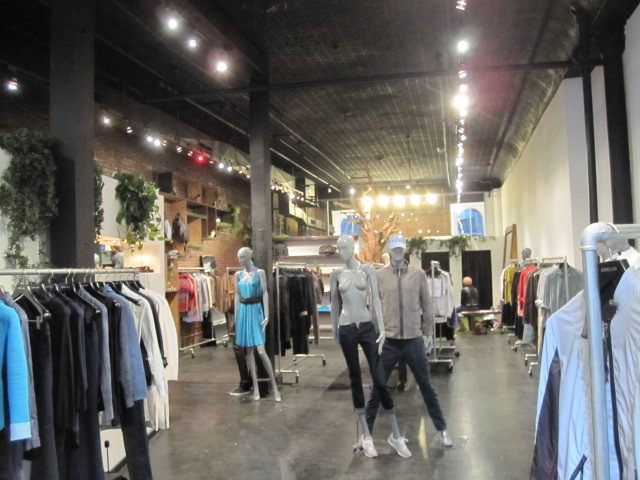 It's conveniently located next to NSW and interestingly enough all the interior is made from 95% recycled materials. Check the limited NB line up on the reclaimed wooden shelving.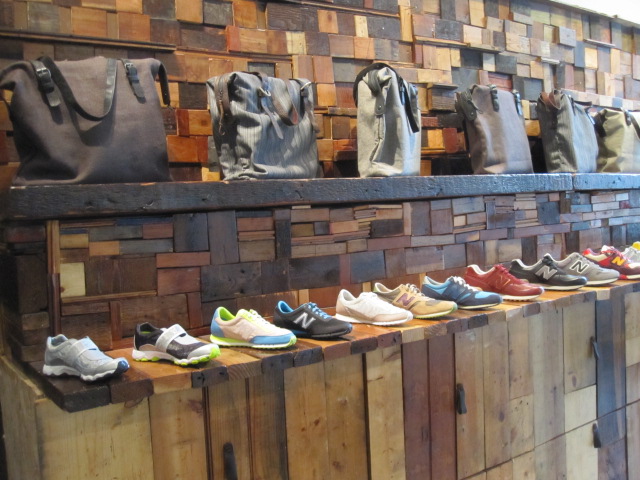 An example of the Ingeo recycling process by plants, not oil.




The very expensive 3M Reflective 420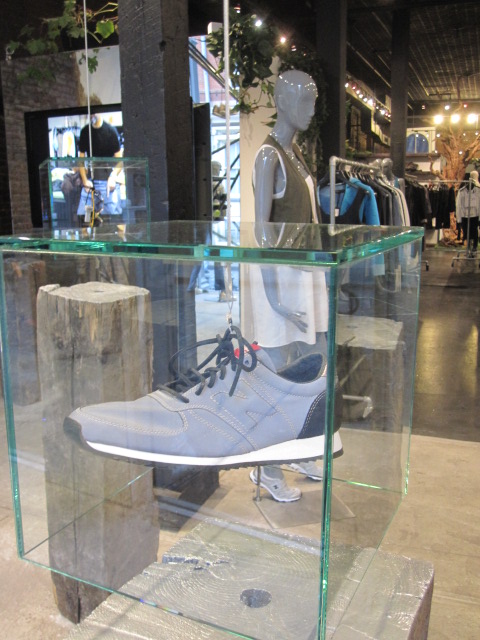 Hmm, possibly something to come in the future?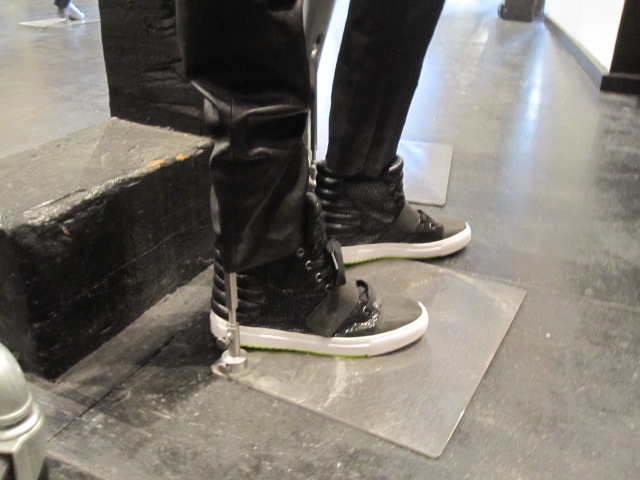 Coincidentally Jeremy was in town from the Left Coast. I actually don't know his official title, but he handles all of NB/PF's sales on the Left Coast and now overseas special projects throughout the states. Jeremy and I go all the way back to when he was slang'n goods at Val Surf and doing the rep thang for several brands such as WESC, 2k by Gingham, Never Summer and Scotch & Soda. From all his years being in the biz, he still looks like he just graduated high school (did I mention he also has 3 kids??!). Yeah, yeah, don't look at the camera.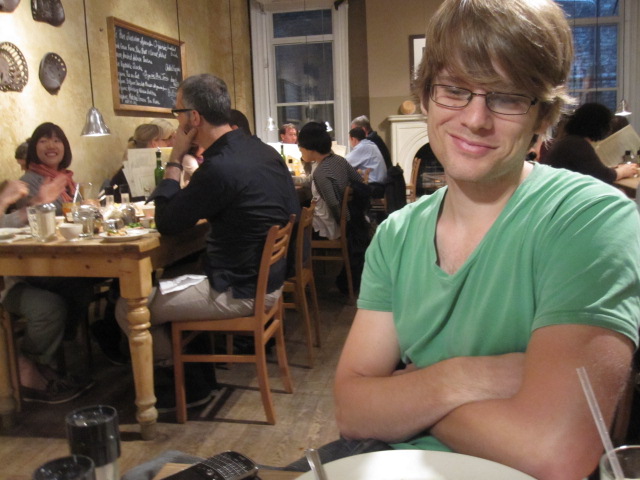 He was doing some pre-lines with Saks and a few others. Quick long distance pict of the New Spring 10 NB collection. Sorry, no close ups yet, as it hasn't even showed at BBB or Project.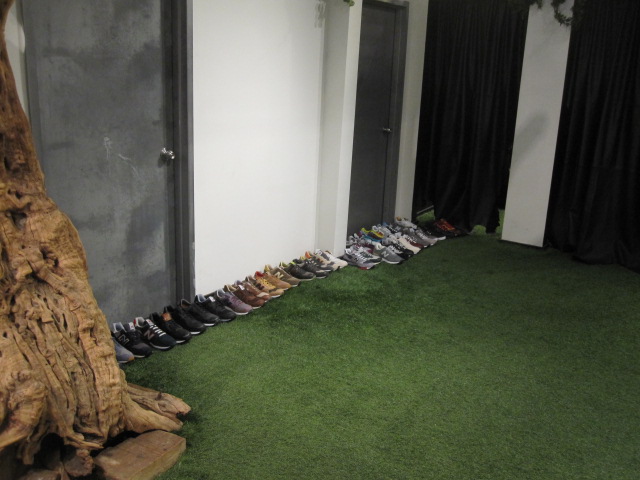 And don't forget the New Spring 10 PF collection.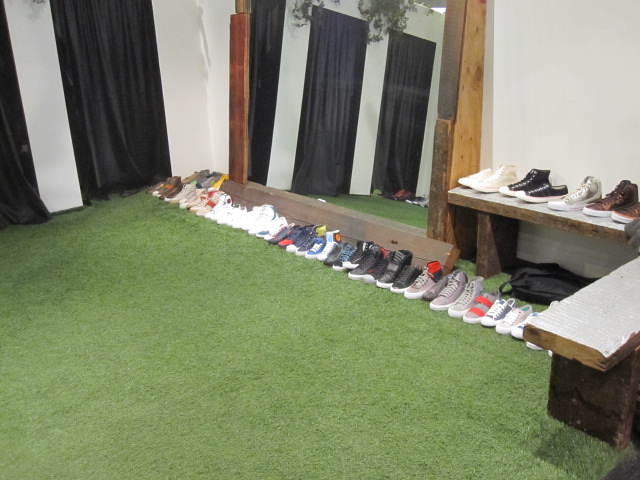 Spring Cleaning Again
July 6, 2009
In midst of everything else going on, I'm trying to finish Spring Cleaning my office. It's actually not even Spring anymore, so I gotta get it in gear. Damn Mike, hurry this shit up, will you.
I get sent lots of goodies. Some I like and some that tend to sit around. In all, I appreciate the love. This final round of Spring Cleaning are hats-you decide which ones I should keep. Here's a few.
Neighborhood and Supreme Black on Black




What?! SupremeLA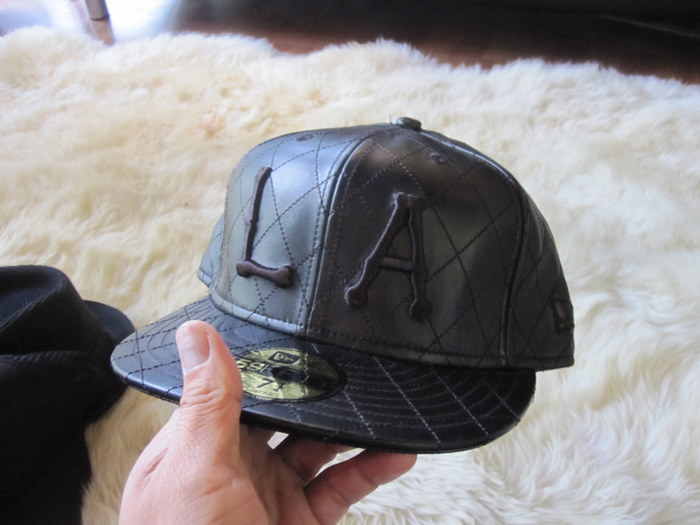 Ain't gonna feel like you-King Stampede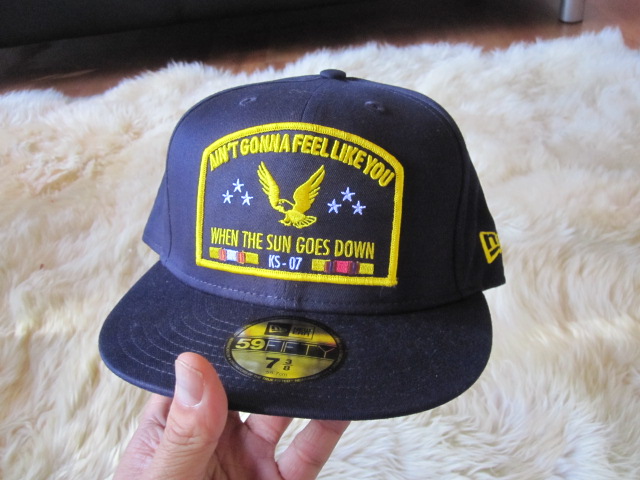 Goods in the house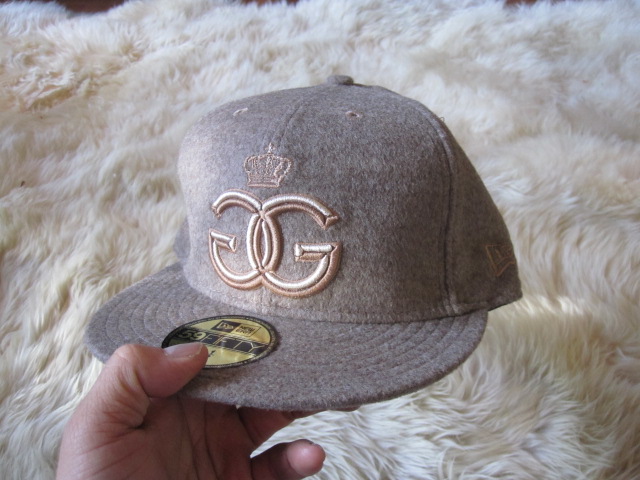 World Baseball Classic -Japan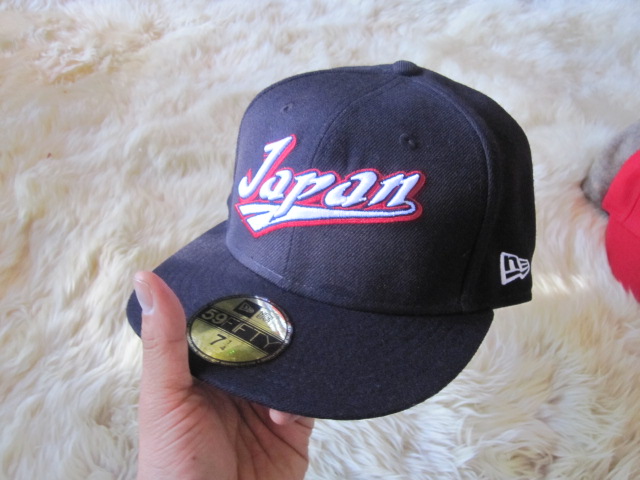 Acapulco to the G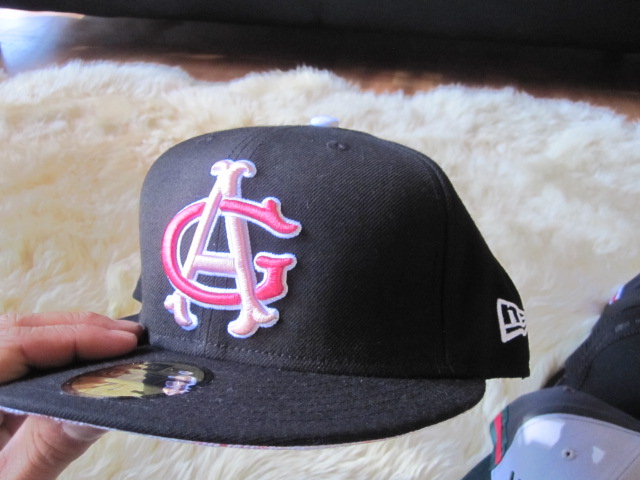 Franks www.frank151.com LA Looters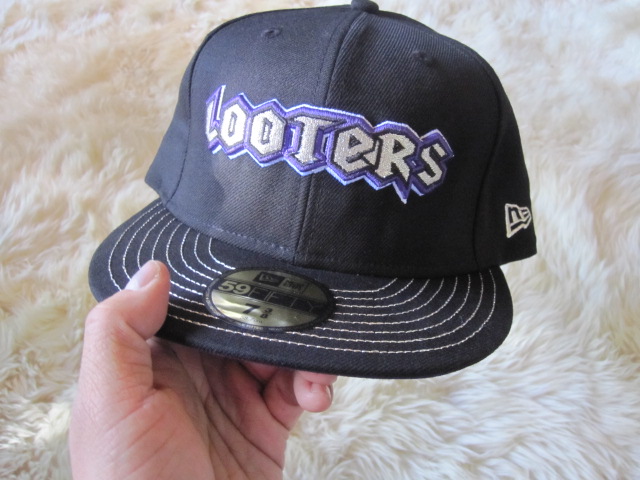 Chalk one down-Undefeated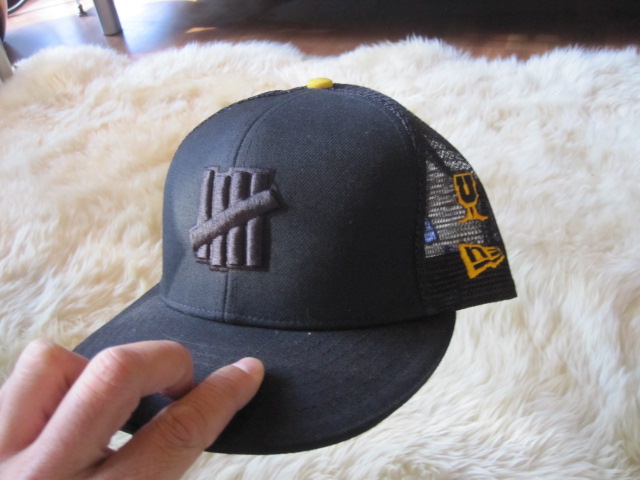 Around the bay-HUF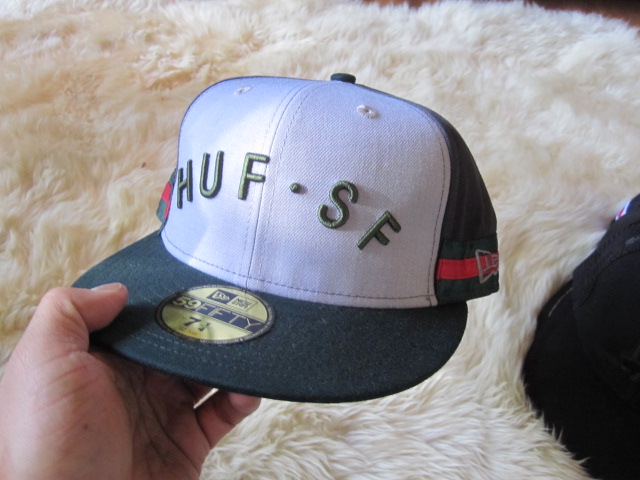 6 to the 8 to the 6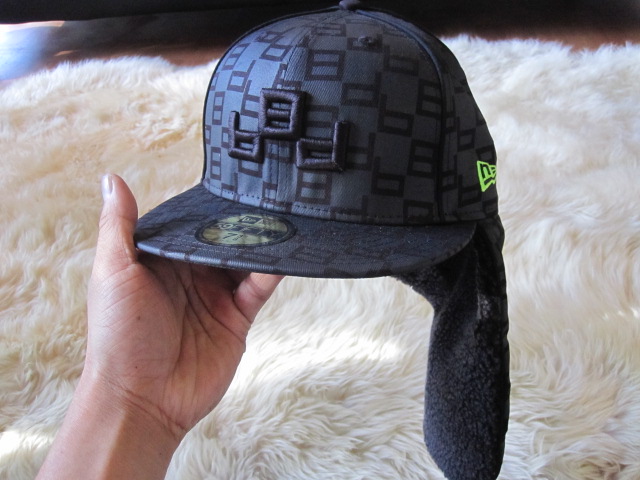 Nigo what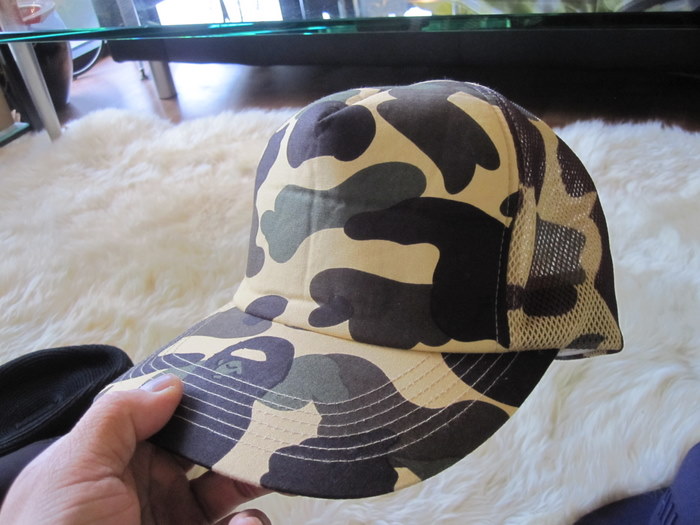 V13-Dogtown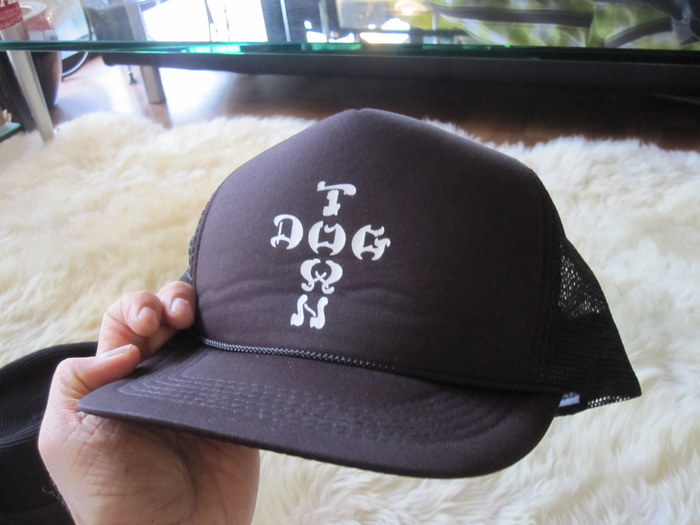 Precisely COAL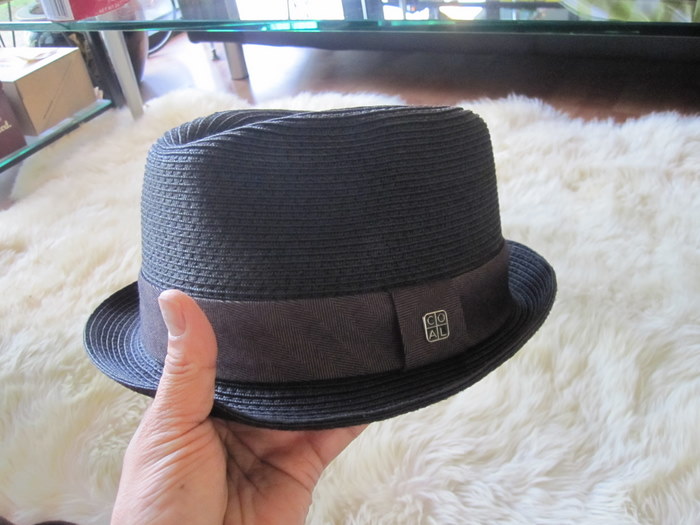 Brixton Brotherly Love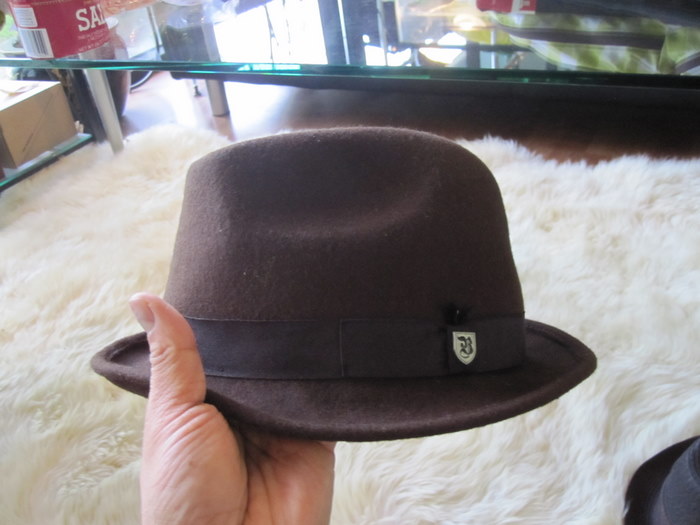 "I HEARD THAT…" Fridays
July 3, 2009
Just about of month into I-H-T-F's and it's been quite interesting. From random whatever's to blatant plugs to legit posts to smack talkn hits, I guess you'll find it here, that is until I get bored of it… Actually, I'm getting bored, so I'm gonna start sayn wus up***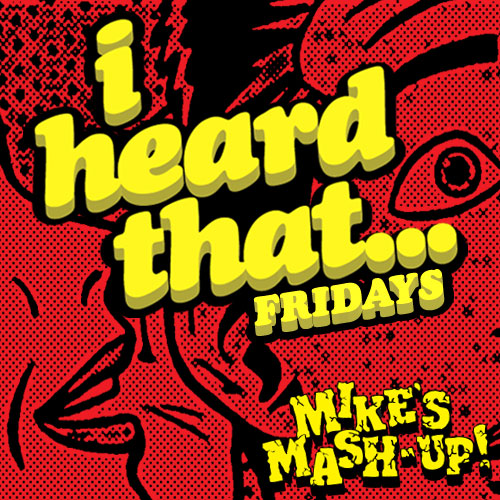 "I HEARD THAT…its not about the flavor of the month, its rather the flavor of what I tell you"
***Uh, ok
"I HEARD THAT…todays opening of the Nike-Hurley-6.0-SB-Converse retail joint actually made sense."
***Actually, you may be on to something.
"I HEARD THAT…Valhalla's site is finally up."
***What the plug?
"I HEARD THAT…Freestyle skiing is an action sport too."
***Do you really want me to respond to this?!?!?!
"I HEARD THAT… a Hispanic skater named Enrique (The Keek) and his "famous" neighbor were two of the first ramp aerial specialists in SoCal. (not forgetting to give credit to Alva, of course...)"
***TA in the house
"I HEARD THAT… yet another highly under-publicized Hispanic shredder named Mad "Mex" Monkey was rippin' up the scene concurrent to the SoCal aerialists."
***Odalay vato
"I HEARD THAT… Dude---like your stuff. I'm older, so cannot relate to all, but still enjoy the vibe. One thing I do not enjoy is the "pigs" reference. Typical teen twang. Imagine hanging out at night without the cops patrolling the streets. Will start to check you every Friday."
***Pigs, pigs, pigs, pigs, pigs
"I HEARD THAT…if you actually do your work and keep your head straight, you'll actually go somewhere"
***So true-and btw, I'm screwed
"I HEARD THAT…Agenda is buying ASR and taking over the Pool format"
***I'm down
RULES:
1) Email [email protected] with what you've heard (Please try to send me stuff that's somewhat true vs. completely talking shit)
2) The topics are completely open (we'll see how this goes for now...)
3) Please don't send any attachments or picts, as it will be deleted.
4) Just because you send an email doesn't mean it will get posted.
5) As much as I want to reply to your email, tell you if it's true or not, and also talk about how your day was, sorry, it isn't happening.


IRONMAN!
July 2, 2009
IRONMAN! No, it's not the movie or even the world famous race in Hawaii. I'm talking about the Ironman in Hermosa Beach this Saturday, July 4th. For those not familiar with the South Bay tradition, it's a triathlon race that consists of 3 things.
1) Run 1 mile
2) Paddle on your surfboard for 1 mile
3) Drink a 6 pack as fast as possible
The IRONMAN has been around for close to 30 years and draws people of all ages – with no backing and essentially illegal– it's just 1000 people who want to celebrate, have fun and kick off the long weekend. Before you say, "that's stupid" or that's for "beach trash" idiots, check it out and if you in the area, stop by and do it. See you there!!!!
On your mark, get set, go
-RUN-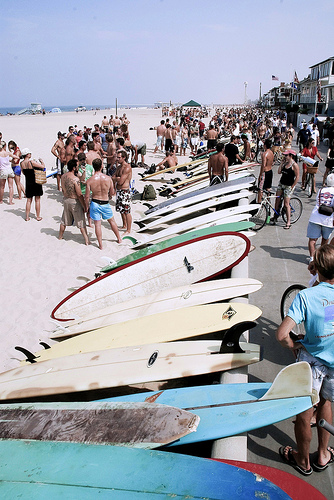 -PADDLE-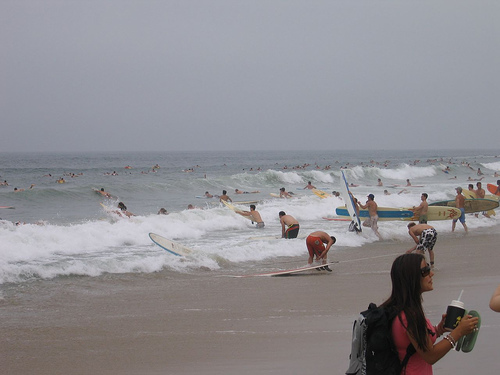 -DRINK-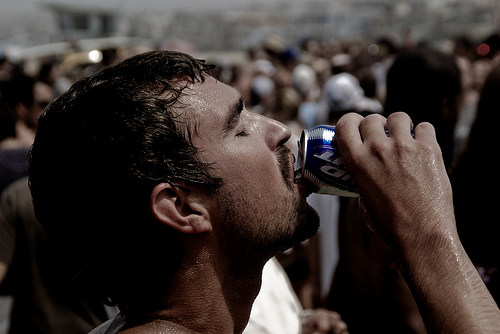 All the while, try to hold it down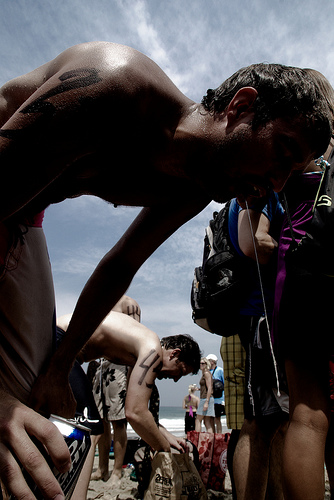 Mosh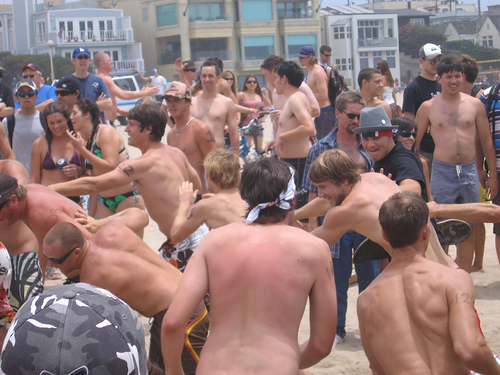 Happy 4th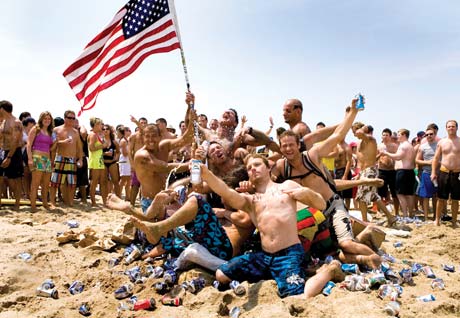 The Posture Foundation
July 1, 2009





I got a nice little present from the good folks at PF Japan today (thanks Michel and Jen!) The Center Hi originally debuted back in 1953. The re-issue takes a turn with a new patent face.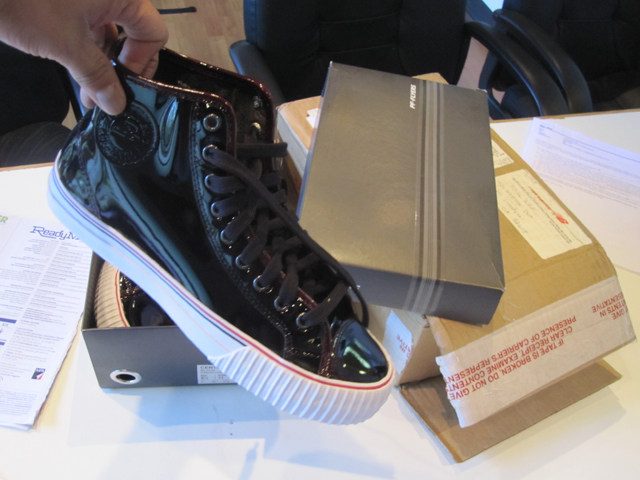 The devil's in the detail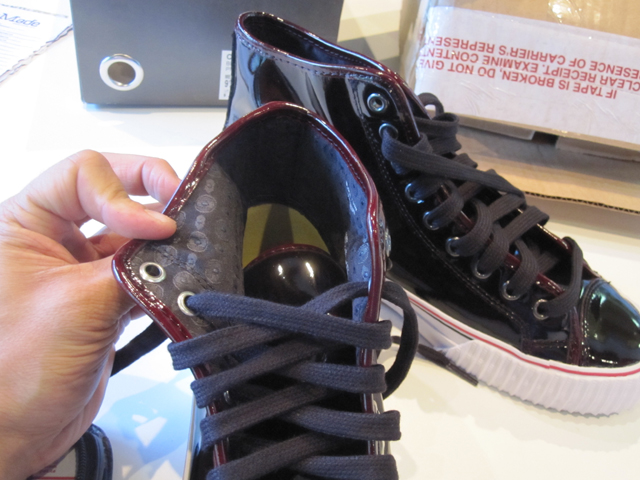 The original sole pattern and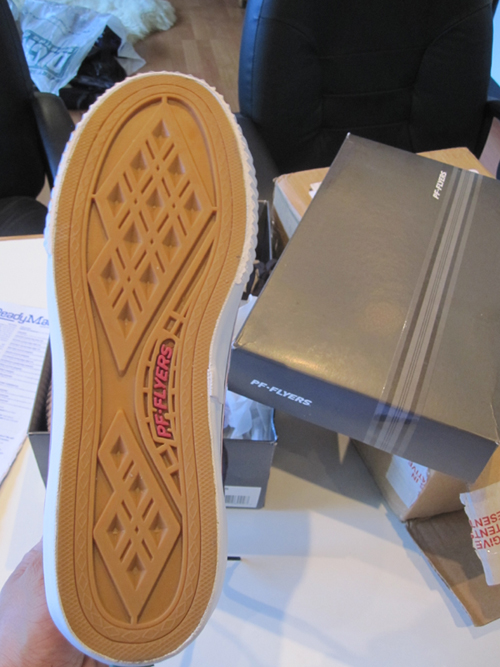 the original posture foundation insole technology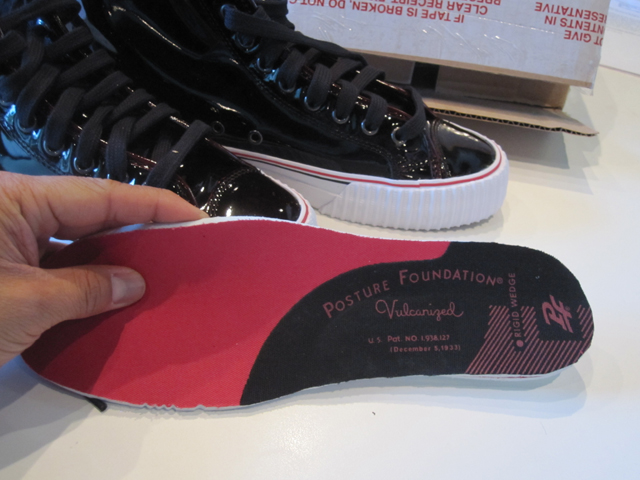 "Issue No. 0051"
July 1, 2009

Last week I got a heads up to attend Arkitip's latest release featuring fellow alumni Shepard Fairey. The cool thing was that it was located at the new spot on Cahuenga called Space15twenty. Some call it LA's answer to OC's the Lab, but I call it something long overdue.

Open Air-Casual-Conveniently located-Great stockists. Where is this? Oh, down there.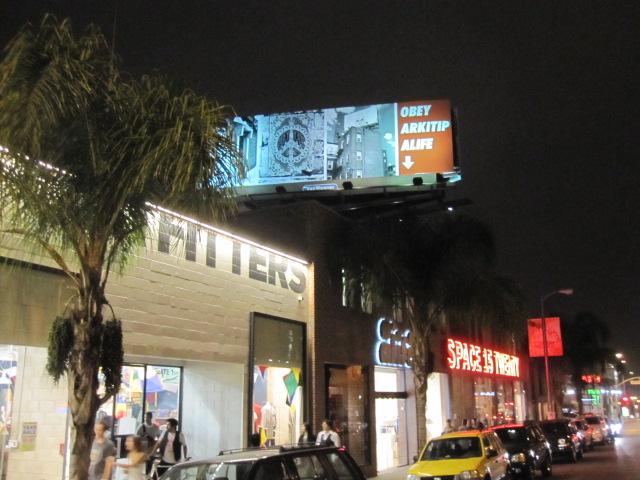 ALIFE presents: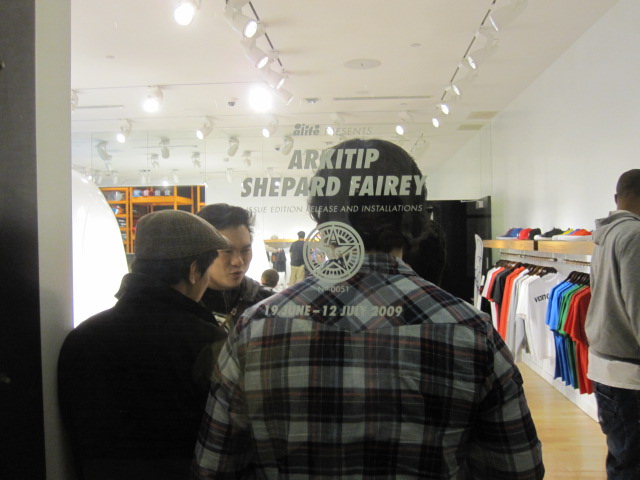 Saw this at the show…hmmm, looks awfully familiar. I wonder if this reminds me of something to come? We'll see...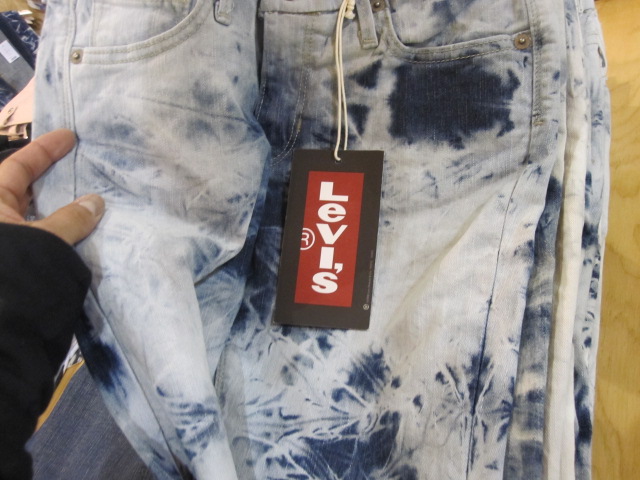 Man, I gotta take a piss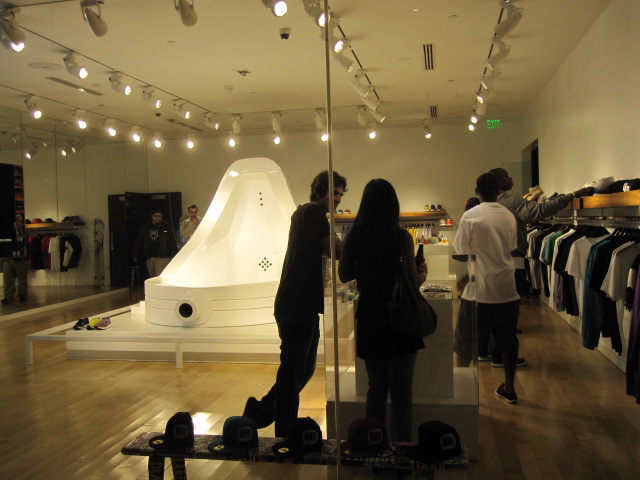 Party people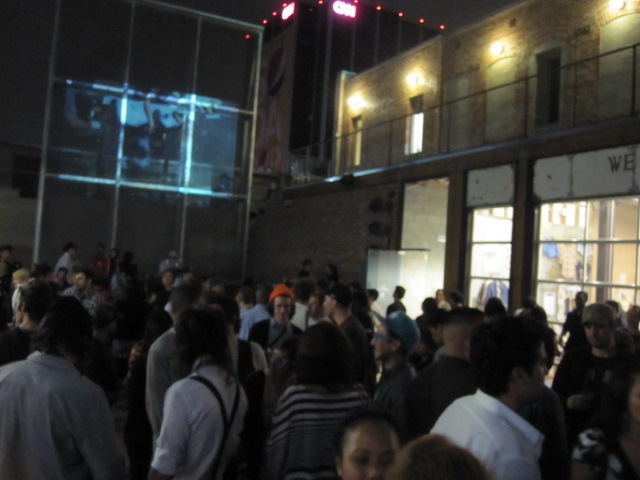 Believe the hype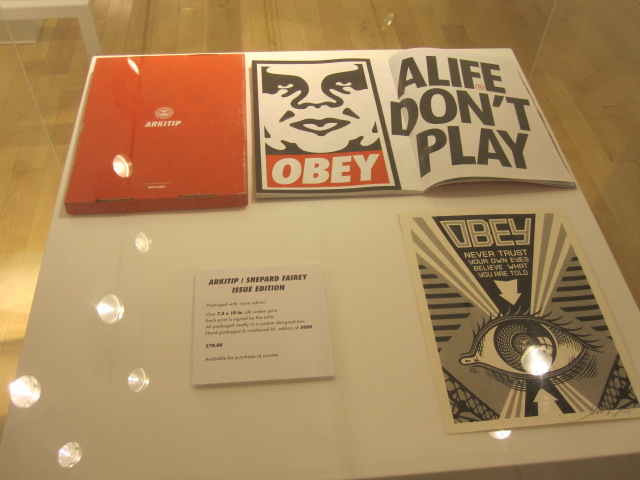 I was late for dinner and had to bail. Usually I forget where I parked. This time, I didn't have that problem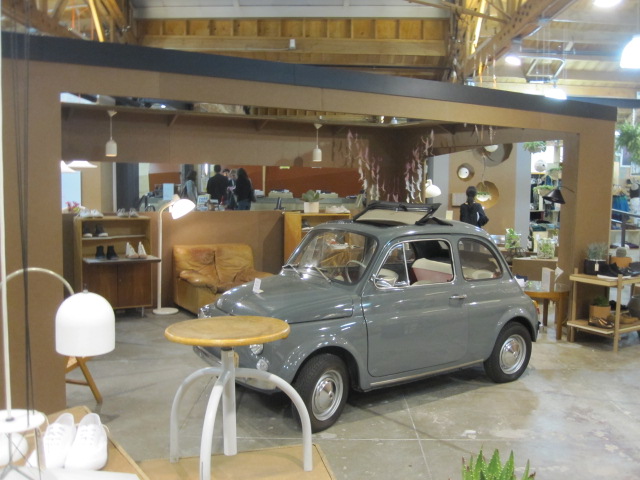 Mash-Up Archives:
June '09
May '09
April '09
March '09
January/February '09
---