Back to News
Surfaid International Founder Dr. Dave Jenkins Named
August 24, 2009
Surfaid International Founder Dr. Dave Jenkins Named "Agent of Change" Award Reciepent
Award will be Presented at the 2009 SURFER Poll and Video Awards Presented by American Suzuki and Ultimate Wave Tahiti; SurfAid International Named Beneficiary of VIP Table Sales Proceeds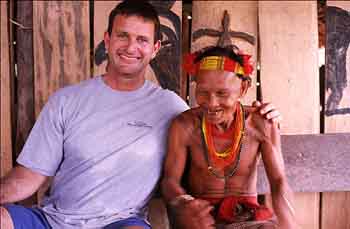 SURFER Magazine has named Dr. Dave Jenkins as the "Agent of Change" award recipient and SurfAid International, the organization he founded, as the beneficiary of proceeds from VIP table sales at this year's SURFER Poll and Video Awards presented by American Suzuki and Ultimate Wave Tahiti. The award will be presented on Sept. 15th at the annual event that unites the worlds of sports, music, entertainment and philanthropy to honor the best in surfing.

The Agent of Change award honors a surfer who is making a difference for the betterment of the surfing community. Last year, Dave Rastovich received the first award for his work with Surfers for Cetaceans.

"We launched the Agent of Change award last year to help recognize and honor surfers who are making a difference," said SURFER Editor In Chief, Joel Patterson. "Without a doubt, SurfAid International, led by Founder Dr. Dave Jenkins, is improving isolated areas that are particularly relevant to surfers. We are proud to honor Dr. Jenkins for his visionary leadership and give back to SurfAid International to help them continue improving the health and well being of both the people and the communities that are so important to the surfing community."

In 1999, physician and surfer Dr Dave Jenkins went on a surf charter to the Mentawai Islands with one goal in mind: to find perfect waves. The surf proved to be everything he had hoped for. What he also found though were the Mentawai people, mostly women and children, suffering and dying from the ravages of malaria and other preventable diseases. Dave questioned what he was doing with his own life by pursuing personal career goals, and he found that he was unable to just walk away. It was a defining life moment. He sought support from like-minded individuals and went on to establish SurfAid International, a non-profit humanitarian organization dedicated to the alleviation of human suffering through community-based health programs.

Today SurfAid has expanded to encompass disaster preparedness, water and sanitation, and health programs in the Mentawai and Nias islands, off Indonesia's Sumatran Coast. SurfAid's main goal is to empower the island communities so as to foster sustainable health and resilience. With the support of the global surfing community, and the people of the Mentawai and Nias islands, SurfAid has come to exemplify the healing power of cross-cultural partnerships. For more information, visit: surfaidinternational.org

SurfAid also has an international Schools Program, which aims to develop global citizens using the humanitarian challenges and achievements of SurfAid as an example for action: schools.surfaidinternational.org


"It's a great honor to receive this award on behalf of everyone who has helped SurfAid achieve so much in the last 10 years," SurfAid CEO and Founder Dr Dave Jenkins, said. "It's particularly cool to receive it from SURFER Magazine, whose heartfelt decision to cover our initial work sparked an immediate and lasting response from the surfing tribe and industry that embodies the core of who we are."

In addition to the award, the SurfAid International organization will receive proceeds from the sale of VIP tables at the event. SURFER is selling the tables to companies within the surf industry for $2,000 each for a table of 10 within the premiere seating area. So far, industry support has come from a plethora of sources including: Bubble Gum Surf Wax, Channel Islands, DC, Hurley, Rusty, Sanuk and Volcom, to name a few, and tables are still available.

The 37th annual SURFER Poll and Video Awards presented by American Suzuki and Ultimate Wave Tahiti will be held on Tues., Sept. 15, 2009 at The Grove of Anaheim. Attendance is by invitation only, but the event will be Web cast live at surferpoll.com

Special thanks to the sponsors of the 2009 SURFER Poll and Video Awards: American Suzuki, Ultimate Wave Tahiti, Red Bull, Sponsorme.com, Coors, New Era and FUEL TV. Additional thanks to the VIP table donors whose donations will benefit SurfAid International.
---