Back to News
The Bikini Top That Pops Tops
September 3, 2009
The Bikini Top That Pops Tops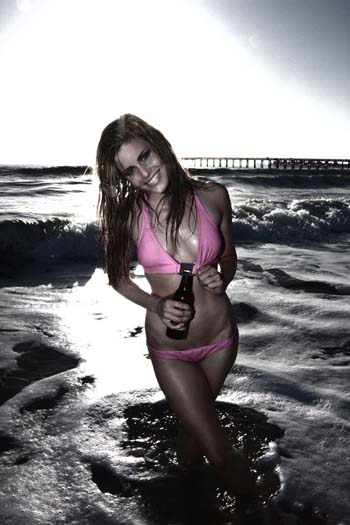 Bottle Betty, a brave new, bold and innovative brand steps into the swimwear arena with a big business idea combining style, sex, fun and utility.
The bright idea struck while Bottle Betty owners were having cocktails in their hometown of Valencia, a hot desert region just outside of Los Angeles county, an area no stranger to popping bottle tops from the dusty dunes to backyard pools and rivers.
Bottle Betty in its purest form is a swimsuit with a built-in bottle opener usually between the breasts cups or for those who prefer to go topless Bottle Betty has them covered with bottle openers installed on the hip with certain models.
"Our Bottle Betty product is meant to be fun from both ends. Men find the product sexy and inviting and women find the product useful, stylish and a great conversation starter. " – Michelle Sommers, co-owner of Bottle Betty
For the past few decades product innovation within the swimwear industry has generally been defined by designs or materials, however, real innovation has not been present for many years until now.
Jennifer Kinney, co-owner of Bottle Betty stated, "Our research shows the only thing new in decades within the swimwear industry has been from design or fabrics. In today's economy Bottle Betty gives the consumer a new spin on swimwear that will entice them to spend their precious dollar on a new suit. Bottle Betty offers the latest in design, style and prints, competitive price points and the convenience of a built-in bottle opener. We believe that women of all ages will get a kick out of surprising their friends with this one of a kind suit!"
Although Bottle Betty is new to the market, the team behind the innovation has been working on fine-tuning the products to battle against wear, tear, breakage and weathering for over a year. The final product resulting in a heat resistant, lead and nickel free bottle opener guaranteed against rust and ready for maximum top popping.
On top of looking to increase their brand distribution, Bottle Betty owns the exclusive rights to license the patented (patent pending) bikini with a built-in bottle opener.
Bottle Betty will be showcasing their new line of swimwear including Bikinis and one-piece suits all equipped with stylish, innovative bottle openers. The Brand launch will take place at the upcoming September 2009 ASR Tradeshow in San Diego at Booth #717.
---