BACK TO NEWS
EVENT: Stars Shine at Surfrider Foundation Celebrity Expression Session
Stars Shine at Surfrider Foundation Celebrity Expression Session
Celebrity Surfers Raise $5,000 for Beach and Coastal Protection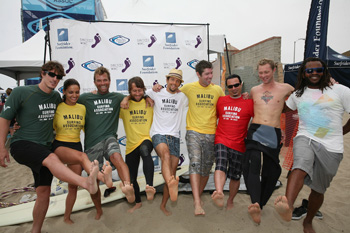 Despite marginal surfing conditions, celebrity surfers participating in the Surfrider Foundation's 4th Annual Celebrity Expression Session, sponsored by the Malibu Surfing Association and Barefoot Wine, still raised over $5,000 to help the Surfrider Foundation continue its efforts towards protecting our world's oceans, waves and beaches.

Thanks to the Malibu Surfing Association, an eclectic mix of celebrities from film, television and music were able to enjoy a rare treat - an empty First Point at Malibu's famed Surfrider Beach. Participating athletes included Jason Mraz, Sal Masekela, Chris Shiflett of the Foo Fighters, actors David Chokachi, Eric Balfour, and Leonor Varela, musician and composer Peter DiStefano from Porno For Pyros, Martyn LeNoble, and Jane's Addiction's bassist Eric Avery.

For each wave the celebrities caught, Barefoot Wine was to donate $50 dollars to the Surfrider Foundation. However in response to the surfing conditions, which dropped considerably during the heat, Barefoot Wine came back and raised the donation amount to $100 per wave.

Here's what the surfers had to say about the Celebrity Expression Session and the importance of keeping our oceans, waves and beaches clean and healthy:

"The Surfrider Foundation Celebrity Expression Session is a great way for celebrities who are also surfers and supporters of the Surfrider Foundation to directly give back," said actor and Surfrider Foundation Keeper of the Coast recipient David Chokachi. "The more waves we catch, the more money we raise for the Foundation. At the end of the day, it is really cool to be surrounded by people who care about the coast, and who support the cause."

"You don't have to live near the ocean for it to have an impact on you," said singer/songwriter Jason Mraz. "And, you don't have to live near the ocean for you to have an impact on it."

"Surfrider Foundation are the good guys in the fight, so I have their back," said Eric Avery, bassist for Jane's Addiction.
"Today was a great day for surfing," said Matt McClain, Surfrider Foundation's Director of Marketing and Communications. "Thanks to the celebrities from film, music and television, we raised over $5,000 for the continued protection and preservation of our coastlines."

The Surfrider Foundation would like to thank the Malibu Surfing Association, Barefoot Wine and Transworld SURF for helping make this year's Celebrity Expression Session possible.
---