Back to News
B$Z: DC Opens Concept Store In Hanai, Vietnam
September 16, 2009
DC Opens Concept Store In Hanai, Vietnam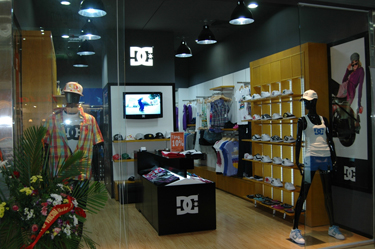 DC is proud to announce the opening of its third concept store in Asia Pacific. Located in Vietnam's capital, Hanoi, the store opening compliments the strengthening position of the DC brand in South East Asia. After successful store openings in Bali, Indonesia, followed by Manila, Philippines, the new store in Hanoi offers DC customers the full brand experience showcasing DC's range of Footwear, Apparel and Accessories for Men's, Women's and Youth.
The new DC concept store joins the three full department store shop-in-shops in Ho Chi Minh City and the one additional shop-in-shop in Hanoi. A fifth shop-in-shop is due to open this coming weekend (September 17th), which will also be Hanoi.
"We are excited to open our first DC store in Hanoi after a very successful performance of the four shop-in-shops in Ho Chi Minh City and Hanoi throughout the last eight months," said Mr. Hung Vu, representative of the DC Brand in Vietnam. The DC store joins an exciting and popular shopping destination in the Vincom City Towers retail development".
Consistent with DC's retail concept the store in Hanoi is part of a vibrant shopping center in a city so rich in culture and heritage.
"It is extremely exciting for us to be so well represented in this location which is definitely one of the brightest cities in the region," said Gary Parsons, Senior Vice President and General Manager of DC Asia Pacific. "It is pretty amazing that DC has been so readily embraced by the people of Vietnam and we are excited to watch our brand, still very new to Vietnam, grow in the coming seasons."
Since the opening of the first flagship store in New York's popular Soho shopping district in the spring of 2006, DC has opened flagship stores in Los Angeles, CA, Irvine, CA and most recently Las Vegas, NV. DC Asia Pacific now boasts stores in Bali, Indonesia, Manila, Philippines and Hanoi, Vietnam. DC Europe has stores in Hossegor, France, Avignon, France, Val d'Isère, France, Pamplona, Spain and DC has store in South Africa.
---