Back to News
MKTG: Ocean & Earth Announces First Golden Ticket Winner!
September 23, 2009
Ocean & Earth Announces first GOLDEN TICKET winner!
18 year old Long Beach resident Chris Fitzsimmons was the first of the lucky six grand prize winners to discover an Ocean and Earth grand prize golden ticket behind the traction pad he recently bought.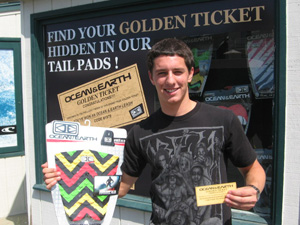 Tucked away amongst the other O&E grips stacked up at Surfside, CA's famous Katin Super Store Surf Shop Fitzsimmons was making a regular purchase of the new Anthony Walsh pro model traction pad when he noticed the golden ticket peeking out from behind the packaging. "I was so stoked", said Fitzsimmons. "At first I didn't know what it was, then when I read what I'd just won I freaked out!".
The Golden Ticket promotion which includes hundreds of winners including six grand prize winners who will receive $500 worth of Ocean and Earth product and more than 199 others who will win free leashes.

In the spirit of Charlie and the Chocolate factory, Ocean and Earth will be hiding Golden Tickets behind the trademark tailpads distributed throughout North America. O&E prides itself on strong relationships with dealers and customers and believes that this promotion provides a whimsical approach to marketing in these uncertain times.
"It's about having fun," Matt Patterson, Marketing Director stated. "Our sales Manager Mike Vavak is always dreaming up classic ideas like this, so we decided to put this one into action. We are all fans of the classic movie and we love the idea of stoking out our customers and consumers at the same time."
The promotion is open-ended and designed to inspire Ocean and Earth loyalists and new-comers to the brand alike. Ocean and Earth can be found at core surf retailers everywhere. Or, check www.oceanearth.com
---