Back to News
2010 Academy Snowboards Foundation Scholarship Now Open
September 25, 2009
2010 Academy Snowboards Foundation Scholarship Now Open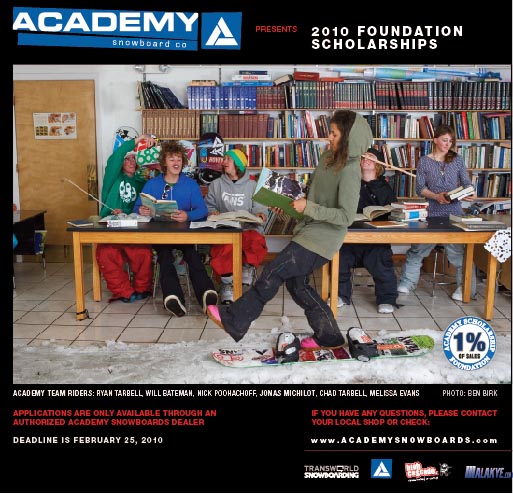 Four regional Scholarships to be given out by Academy Snowboard Company
The moto: "Helping our fellow shredders stay in school while keeping the shred dream alive"
Academy Snowboard Co. is proud to announce that we are offering (4) Regional Scholarships for 2010. It's tough to go to college while trying to keep the shred dream alive and having to work to pay for the textbooks, so Academy intends to help out. 1 % of ALL Academy Snowboard Co. Sales go back to funding the scholarship.
The winner of each Scholarship will receive the following:
1. $500 grant or more (1% of that region's sales)
2. (2) Academy Snowboard Co. Boards
3. $150 worth of softgoods, including t-shirts and sweatshirts
4. ½ price session at High Cascade Snowboard Camp
5. Invite to Academy Team Photo shoot (food and lodging provided for the week) and the chance to hang out and ride with Jonas Michilot, Chad and Ryan Tarbell, Erich Dummer, and past winner David Kunz.
6. Featured spot on the Academy Snowboard Co. Website
2. APPLICATION and CRITERIA INFORMATION
The 2010 Academy Snowboard Co. Foundation Scholarship Application is ONLY available through AUTHORIZED Academy Snowboard Co. Dealers so check the shop directory on the Academy website (http://www.academysnowboards.com) for a shop near you.
EXACT requirements and other information are listed on the scholarship application, which again is ONLY AVAILABLE at an Academy Snowboard Co. Dealer.
But, for a quick rundown, you need proof and validation of schooling, as well as references, riding footage and also a video essay, so you definitely have to put in a little work for the $. The application will elaborate on the criteria and answer ALL of your questions.
3. WHO CAN APPLY
Anyone can apply, including shop employees, park staff, liftees, etc., who are currently attending COLLEGE. This scholarship program is for SERIOUS applicants only, so "if you don't shred then don't bother applying as you have to send in riding footage as part of the criteria."
4. "REGIONAL" SCHOLARSHIP
Academy will be offering (4) total scholarships through (4) geographic REGIONS in the USA: (1) for the Northwest, (1) for the Midwest, (1) for the Southwest, and (1) for the East Coast. You will be competing against applicants in the specific REGION you ATTEND college. Also, each REGIONAL Scholarship may increase from the original $500 depending on the sales in that REGION because we will dedicate 1% of Academy sales in each area to that REGIONAL scholarship.
If you have any questions, please contact your LOCAL shop or Academy at [email protected]
APPLICATION DEADLINE IS APRIL 25, 2010

---