Back to News
Mauli Ola Foundation with Founder James Dunlop
October 1, 2009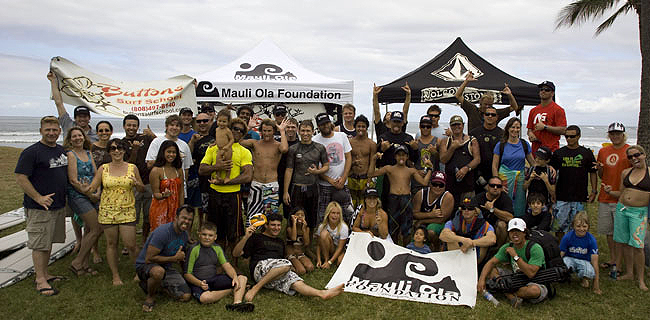 Mauli Ola Foundation with Founder James Dunlop
People with Cystic Fibrosis have an average life span of 38 years. Think about that for a minute. It's a genetic disorder that basically causes tremendous and eventually life threatening problems with the respiratory system and affects 1 in 4,000 children in the U.S. As of today there are treatments, but no cure.
James Dunlop, who has links to the genetic research and medical diagnostics industry, discovered a way to enrich the lives of people with Cystic fibrosis. He found, in an article published on CNN.com, that exposure to salt water and ocean air improved patients' ability to breath and cut down on the number of hospital visits patients have to endure. This discovery, coupled with being a life-long surfer, led to the creation of Mauli Ola. Mauli Ola is a non-profit organization that introduces kids with Cystic fibrosis to surfing through Surf Experience Days and more.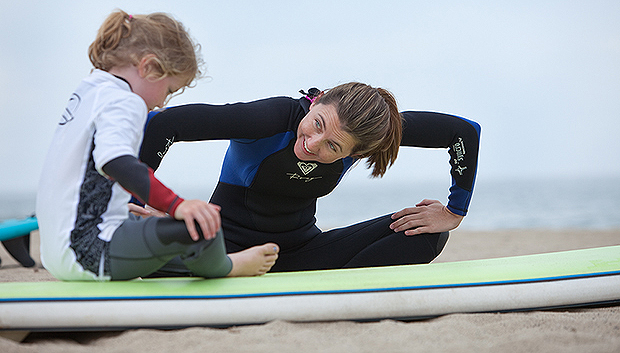 Briefly describe the average day of someone suffering from Cystic fibrosis (CF), as compared to someone who does not?
CF Patients have to take between 20-60 pills a day to treat the lungs, sinuses and digestive problems. Cystic Fibrosis related diabetes is also common, so there must be constant monitoring of blood sugars. There are also three to four breathing treatments that must be done every day, including wearing a vest that shakes the mucus up in hopes of breaking it down and allowing them to cough it up. Digestive issues are also a common problem, but the one constant is coughing up of the thick mucus. CF Patients often have to go into the hospital for weeks at a time to deal with different bacteria and lung infections. Living with CF is a struggle for the patient and their entire family. As spunky Carly Lindmeier, a 14 year old surfer with CF says, "CF Sucks, but it's not all bad. When I do my Therapy Vest I can sing like Ariel from The Little Mermaid."
What is the link between Mauli Ola and the science community?
Mauli Ola was established by my brother Charlie and I; we also started Ambry Genetics in 2000. Ambry has become the world's leader in Genetic Diagnostic testing. Cystic Fibrosis is the test that helped to launch the company and now we are considered the authority for genetic diagnosis of CF. We are lifelong surfers and have been working with CF for about 10 years, this was an opportunity to give back and combine both of our passions
How far back does ocean therapy treatment for CF go?
The North American Cystic Fibrosis Foundation meeting in 2004 first discussed the benefits of Hypertonic Saline. Then there were two studies published in the New England Journal of Medicine in 2006 about the Saline and CF connection, based on observations and studies by doctors at UNC – Chapel Hill and also the Royal Prince Alfred Hospital in Sydney, Australia. I also did a bit of research myself and found that some physicians in the late 19th Century – also in North Carolina – noticed that some patients with severe respiratory problems, which I suspect was CF, had improved breathing function after "Surf Bathing." Hypertonic Saline therapy has been around since 1831 treating Cholera, but only recently been used to treat Cystic Fibrosis. Surfing is suggested to be a form of Natural Hypertonic Saline therapy.



Describe the thought process and timeline between discovering the link between CF and ocean therapy, and creating Mauli Ola.
When my brother showed me the CNN article, the thought of getting the local CF patients surfing took about 10 seconds to formulate. We immediately called the CF Foundation and told them about the connection between CF and surfing, and to see if they wanted to get involved. A few weeks later we held our first CF Surf Experience Day (SED) in Newport Beach in June of 2007. We just finished our tenth event at Mission Beach, San Diego bringing our total number of CF Surf Participants to 116.
What type of difference does this program make in a person's life who has CF?
Going surfing helps break up the sticky mucus in the lungs and helps the patients get it out of their body, which is very important. It's similar to when you have a sinus cold and you go for a surf; the first duck-dive you take helps get all the guck cleaned out of your head. Moreover, it's not only the physical health aspects of getting the patients breathing in the saline and exercising, but the confidence they gain by doing something that many never thought possible. Also, it feels pretty cool when they get a surf lesson with a professional surfer. The whole thing is rewarding for everyone involved: patients, family, supporters and the instructors. The Surf Experience Days have greatly enriched my life, that's for sure.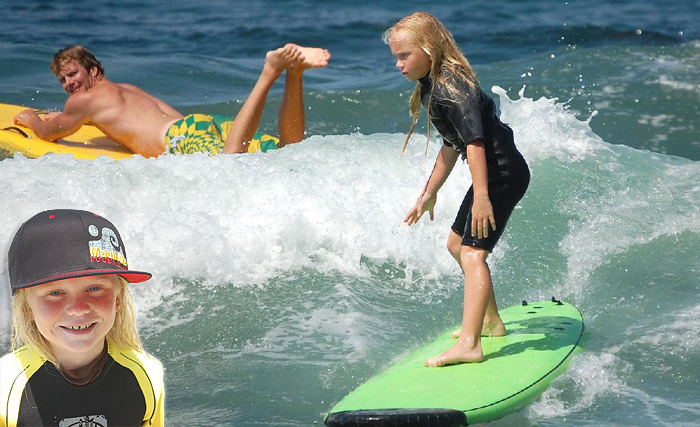 Is there one person in particular where a profound change in health / quality of life took place? Tell us about him/her.
We had a young girl in San Diego that had nasal polyps and was going to eventually need surgery to have them removed. She started surfing, and in a few months when it was time for the check-up the doctor was shocked to find out that her nasal polyps had been reduced and she didn't need to have the surgery anymore. It is believed that the ocean is what caused those polyps to dissipate – amazing.
I'd also like to tell you about another 8-year-old girl that participated in our Laguna Beach event. Her parents told me that before that day she was losing her will to live, and she was getting extremely tiresome of the 50-60 pills a day she was taking and all the other daily struggles a CF patient endures. However, after the Surf Day she was optimistic again, back on her daily regimen of pills, and looking forward to things like school and surfing. That is one of my favorite examples of the positive impact these Surf Experience Days will have on people - good stuff.
Outside of your Surf Experience Days, do children have access to the ocean, and surfing?
If they are not hooked up to intravenous Antibiotic treatments or in the hospital, then yes, they can get into the water. CF is a very expensive disease for the families, not just mentally and physically, but financially as well. We are trying to make it possible to give all of our Surf Participants wetsuits and surfboards to enable them to get in the water and surf when they can make it. West Wetsuits donated full suits for our first SED, and O'Neill recently made it possible for a bunch of our participants to get brand new full suits. Soft-top surfboards are the next step.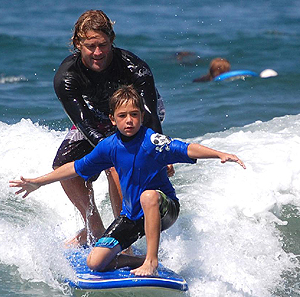 Are the kids able to continue surfing on their own without needing a Surf Experience day to make it happen? Or, are there safety risks which make it necessary for them to be in a supervised environment?
We hold our SED's to introduce surfing to these folks under a controlled and supervised environment. We encourage everyone to surf, but explain the risk factors involved. Each person knows their limitations and we expect them and their parents to use good judgment whether to paddle out or not – the same as anyone else learning to surf.
When and where was the first Mauli Ola event?
Newport Beach, Calif., June 2007. The event was made possible by Todd Elder over at Newport Surf Camp and Ambry Genetics. Jamie O'Brien, Brad Ettinger and Cordell Miller were the featured instructors that day.
Have the events grown in size over the past few years?
The actual size of the events has grown slightly, but our support has grown tremendously. Our first one had about 12 students and maybe 30 people on the beach supporting. Our last event saw close to 16 patients and 75 people at the beach.
Children's Hospital of Orange County was the first hospital Mauli Ola worked with. Have more hospitals joined in?
We have also held events for Stanford University Hospitals and Clinics, Children's Hospital of Los Angeles, Long Beach Memorial Medical Center, San Diego Children's Hospital, Tripler Medical Center, Kapiolani Medical Center and Numerous Kaiser Permanente locations. Next year we are doing a 22 stop National Tour and hitting the Pacific, Gulf and Atlantic Coasts.
What is the biggest challenge Mauli Ola faces in being able to sustain and grow in the future?
Financial support. I receive emails often from around the country asking if we can hold an SED in their area, the only thing holding us back are basic logistics. I recently received an email from a family in Oklahoma City that was asking if we could do one in Texas near Galveston, so we are. We received the SIMA Humanitarian Grant and that is going to be a great help, but we need additional support to pull the whole tour off.
Does Mauli Ola have any full-time employees?
We don't have any full-time employees, but maybe someday. So far everyone has been strictly volunteers. We are looking for a full-time Grant Writer though.
What would Mauli Ola look like in a perfect world?
Hopefully there will be a cure soon, but in the meantime, our perfect world would be us as a fine tuned vehicle introducing surfing to as many CF patients around the world as possible.
What does Mauli Ola need most right now?
A full time Grant Writer and Financial support.
How can people get involved?
People can come down to the events and show support, sign up for our newsletter, donate surf related stuff, or make a donation. Being aware and supporting us is being involved. Aloha, James.
Click the follow link to visit Mauli Ola's website: www.mauliola.org.
---