Back to News
B$Z: Atwater Wins SIMA's 2009
October 6, 2009
Atwater Wins SIMA's 2009 "Break-Through Brand of the Year" Award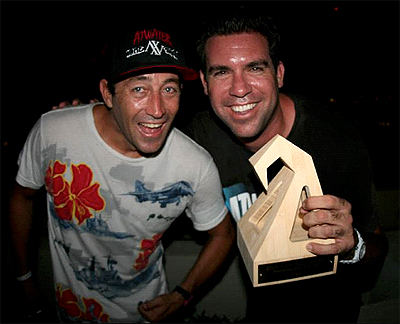 Atwater, a men's surf and skate inspired apparel brand, was named "Break-through Brand of the Year" last weekend at the Surf Industry Manufacturer's Association's (SIMA) annual Surf Summit conference, where key players from the surf industry gathered to address issues facing the industry and to recognize its most influential companies. Atwater, launched in 2005, by Dean Bradley and Scott Madison, has garnered an exponentially-growing amount of popularity within the action sports and fashion industries amongst buyers, retailers and consumers alike, and has also become a force for existing and well-established brands to reckon with.

"Despite the crazy journey we've been on to get here, it still feels surreal that we have our own company, with a limitless amount of creative freedom, and that we're actually succeeding – I think a lot of our friends expected us to be living on the streets by now," says Dean Bradley, president of Atwater. "We're super psyched about this award and that Atwater has been acknowledged by an organization such as SIMA, which is made up of so many people that I have the utmost respect for and have worked with and learned from throughout my career."

Scott Madison, vice president of Atwater, adds, "Dean and I have both worked in the surf industry for a long time and know how challenging it can be for a start-up brand to make it. Since the beginning, we've kept our focus on fit, quality and art and have managed to stay true to the legacy of our neighborhood at the same time breaking boundaries. Receiving this award is not only an honor, but has proved to us and the rest of the industry that our "dream brand" has become a recognized reality – that could possibly be the best feeling in the world, besides getting barreled."

In the coming year, expect to see even more mind-blowing detailing, color combinations and patterns coming to you straight from the creative genius behind Atwater, in addition to the brand's never-ending arsenal of insane graphics. Atwater is sold at Surfside Sports, Jack's, Infinity, The Closet, Becker, Tilly's, Zumiez, Sun Diego, Val Surf and Hanger 94, among other retailers. To view the current collection, please visit www.atwatercollection.com.
---