Back to News
Mt. High - $41 Million Invested In a Decade of Improvements
October 12, 2009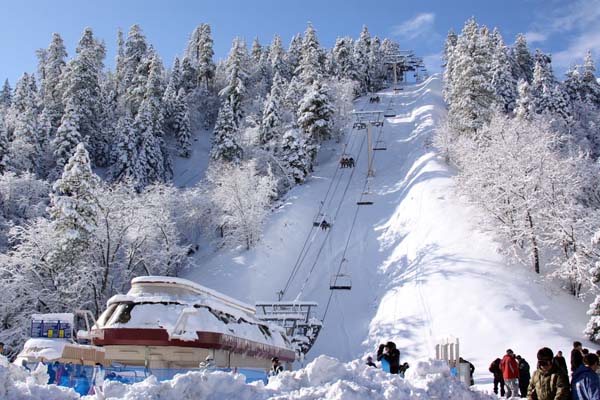 Mt. High - $41 Million Invested In a Decade of Improvements
As temperatures cool and Southern Californians trade their swim trunks for sweatshirts, resorts like Mountain High anxiously await opening day so they can unveil their litany of seasonal improvements. New terrain features, increased snowmaking and four new Prinoth Bison Park Cats top this season's list, but investing millions in infrastructure is nothing new to Mountain High. Over the past 10 years they have spent more than $41 Million on everything from new lifts to remodeled base lodges to even a new resort.
Since the 1970s Mountain High has consisted of two mountains, East and West, offering some of the longest runs and most exciting terrain in the region. But, in 2004 they added a third resort by purchasing the failing but culturally rich Ski Sunrise, and turning it into a haven for families and introductory skiers. Part of the $3 million investment included the development of the North Pole Tubing Park as well. With up to nine lanes, two moving carpet lifts, and custom tubes, it is now the largest tubing area of its kind in Southern California and a prime destination for winter enthusiasts. Now Mountain High is made up of three separate mountains with 16 lifts, 59 trails, and 290 skiable acres. It is still the region's closest resort, though, at just an hour and a half from downtown Los Angeles.
Probably the area's most expensive endeavor took place in 1999 when new owners replaced the Blue Ridge Triple with what is now known as the Blue Ridge Express. This lofty endeavor took a team of ten employees almost four months working sun up to sun down, seven days-a-week, to complete but, when finished, resulted in a new lift that reduced transit time from 13 minutes to 3. This new, detachable chair is also more reliable than its 1980 counterpart, more comfortable, and seats four.
The second major lift renovation was the moving of the Mountain High Express at East. Installed in 1989, it was the first high-speed quad in Southern California and placed close to the highway to be as strikingly visible as possible. This served the resort well through the 90s, but with the increase in snowboarding, guests found themselves having to remove their equipment and walk to the loading terminal which heavily favored one side of the resort over the other. So in 2001, at a cost of nearly $2 million, Mountain High moved the massive lift to the center of the East Resort where it could easily be accessed by all trails. During the move the machinery was completely rebuilt and the lift upgraded to the latest technology for the smoothest ride possible. Now, at just six minutes to the top, the Mountain High Express is the longest high-speed quad in the region and completely redefined the way the East Resort skis and snowboards.
But what are skis and snowboards without snow. Mountain High houses one of the largest snowmaking systems in the country, continually striving to increase its coverage and efficiency while reducing its overall fuel consumption. This is no small task, so for the better part of 10 years, Mountain High has been adding electric fan guns, installing new compressors, and retrofitting its exiting hydrants to perform at peak capacity. The current system is now 30% more efficient that it was a decade ago allowing Mountain High to make more snow than ever using fewer resources.
Says Ken Showalter, Assistant Mountain Manager, "Our system has been in place for a while, but compared to some of the newer systems I've seen, they can't touch the amount of snow we can make."
In addition to the new lifts and new snow, Mountain High has remodeled all three of its base lodges, adding new restaurants, new retail shops, and new rental facilities. They quadrupled the sized of their main deck and installed five moving carpets. They dramatically increased the size of their teaching terrain & learning centers and purchased the youngest fleet of snowcats in the region. Their park design is unparalleled, and the resort boasts signature features not found anywhere else in the world. They offer the most advanced ticketing system in the country providing unheard of levels of flexibility for its guests, and they are constantly pushing the envelopes of technology with their social media campaigns, text messaging services, and new iPhone application. In fact, it is hard to quantify all that Mountain High has done in recent years, but one thing is for sure..with more than $41 million invested, they sure to provide winter enthusiasts with a vacation they will never forget.
---