BACK TO NEWS
EVENT: Project BLUE Raises More Than $140,000 for the Surfrider Foundation
Project BLUE Raises More Than $140,000 for the Surfrider Foundation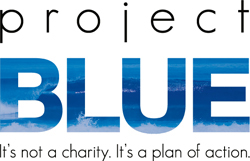 Project BLUE, the environmental initiative established to raise funds in support of the non-profit Surfrider Foundation, is excited to announce that $141,150.90 has been donated to Surfrider as a product of the campaign's efforts. A partnership between leading and innovative brands in the surf industry, the companies involved in the project BLUE lineup include Billabong, DAKINE, Electric, Famous Wax, Nixon, O'Neill and Reef.
project BLUE represents a first in the world of action sports and an intriguing notion for other multi-billion dollar industries. Each of the project BLUE partners has set aside their competitive differences to develop a co-branded, limited edition product line, where a part of the proceeds go to the Surfrider Foundation. While project BLUE is not the first brand to use conscious shopping as a way to support a non-profit organization, the fact that each of these brands competes in some way, either directly in terms of their own product lines, or indirectly through other areas of the industry, represents a novel concept for other industries to build upon.
"Without clean water and public beach access, the dream that keeps the surf industry alive disappears," commented Jim Moriarty, the Surfrider Foundation's chief executive officer. "The people at Surfrider are passionate about the preservation and enjoyment of the world's oceans, waves and beaches for the enjoyment of everyone. We're very thankful for the project BLUE partners, as well as the people that supported the program at retail, for helping to fund our programs."
With a diverse product line, the project BLUE initiative gives surfers and beach lovers an easy way to plug into Surfrider's mission almost any time they need to upgrade or replace their beach gear. Sold at leading retail stores nationwide and online through Swell.com, supporting Surfrider is as easy as waxing a board or buying a new t-shirt.
"Philanthropy is a mature subject and giving without receiving something tangible in return, especially in today's economy, is a hard idea for many people to grasp," remarked Vipe Desai, founder of project BLUE. "With project BLUE, we've made it incredibly easy to support the Surfrider Foundation. When you shop, the beach wins."
Launched in 2007, the brands working with project BLUE represent some of the biggest names in the global surf industry. While these brands compete, they also recognize how working together for a greater good benefits not only themselves, but also surfing as a whole.
"Becoming a founding partner in project BLUE was a natural addition to Billabong's existing passion to create eco-friendly alternatives for our team and surfers around the world. By being a part of project BLUE, we're building greater awareness for our Recycler series of boardshorts and helping Surfrider at the same time," commented Graham Stapelberg, Billabong's vice president of marketing.
An added value that project BLUE brings to its partners, as well as the surf industry as a whole, is greater awareness of the environmental issues affecting surfers and beach lovers. Through strategic marketing initiatives, project BLUE draws attention to the greater concerns affecting the world's beaches and oceans.
"O'Neill was founded with the goal of keeping surfers in the ocean longer. When Jack O'Neill first started the company, cold water was one of the biggest challenges facing surfers. Today, preserving the health of our oceans must be our priority! By being a part of project BLUE, we can educate consumers about preserving our playground and support the incredible efforts being put forth by the Surfrider Foundation," commented Steve Ward, O'Neill's vice president of marketing.
While the project BLUE product line is constantly evolving, it currently includes a range of polarized sunglasses, surf watches, footwear, t-shirts, boardshorts, surf traction accessories, wetsuits and beach specific backpacks. More information on the project BLUE initiative and an overview of the current line of products can be found online at www.betruetoblue.com.
---