Back to News
TECH: Mountain High Releases New Iphone Application November 15th, 2009
October 22, 2009
Mountain High Releases New Iphone Application November 15th, 2009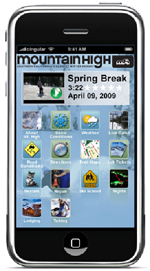 Smart phones are quickly becoming the primary method of personal communication, providing users with the traditional functions of a phone plus the advanced features of a hand-held computer. Through application programs, the cell phone has become an increasingly important tool not only for business practices but for downloading music, finding the cheapest gas, or locating the nearest waffle house. In 2008 over 139 million smart phones were sold, and analysts predict sales to exceed 192 million in 2009. That is an extraordinary leap. Apple reports there are now more than 75,000 applications available, and, on November 15th, Mountain High will release its own version for just $1.99 making them one of the first resorts in the country to do so.
This application is geared towards younger users with its videos, live cams, and links to social forums, but it is designed to improve anyone's on-mountain experience. The program provides current mountain information such as snow conditions and trail openings, plus it lists ticket prices and gives users the ability to purchase tickets right from their phones. To help plan your vacation, there is information on lodging, lessons, and upcoming weather. Plus, if you sign up for the Powder Alert, you can receive emails or text messages notifying you of new snow, ticket deals, and upcoming events. Beyond that, the app utilizes the features that make the iPhone revolutionary. Skiers and snowboarders can access GPS guided directions, utilize automatic dialing features, get Google maps, and more.
Says John McColly, Director of Marketing, "Skiers and snowboarders are savvy and like being on the cutting edge of things. With our new application, their phones become the ultimate tool for navigating the mountain, booking the best ticket price, or finding the perfect powder stash."
The application is just $1.99 and can be purchased through Mountain High's website at mthigh.com or Apple's App store beginning November 15th, 2009. The Southern California resort is one of just a handful to offer such an application, but, as smart phones continue to become the dominant medium for media and communications, others will follow. Built by PowderNation, smart phone applications are leading the winter sports industry into a new era by placing the mountain and everything around it into the palm of your hand.
---