Back to News
WFX - Product Line Management Software
November 1, 2009
WFX - Product Line Management Software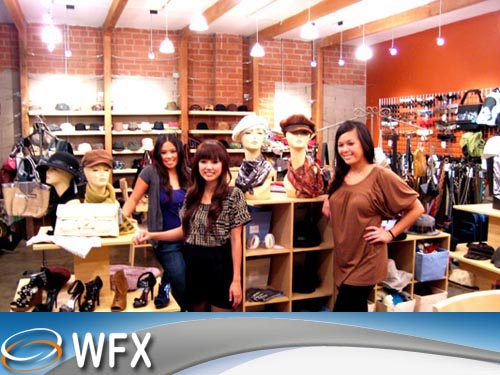 "Everyone knows the pressure and crazy pace of seasonal development in the fashion industry. Now multiply that times fifty and you have Putnam Sourcing Group," said John Putnam President of Putnam Sourcing Group, a fashion accessories company that provides private label design, development and production services for leading brands in action sports, lifestyle, and other categories.
Putnam Sourcing Group (PSG) started in 1996 and has grown and evolved over time, with one of its most significant changes coming in 2008 when it adopted a Product Lifecycle Management system called WFX. "WFX led to dramatic improvement in our development, " said Vi Nguyen PSG's Design Director (centered in picture). "With WFX we are faster, have better quality and better control of our costs. It has really helped manage our growth, collaboration among our LA, NY and China offices, and has improved our communication with customers and factories."
WFX offers a web-based Product Lifecycle Management (PLM) system to improve efficiency throughout the product development lifecycle – from design to protos to salesmen samples to PP samples – with useful tools that also have some application for production and QC control.
PLM is quite a buzzword these days. Jatin Paul, VP Business Development at WFX provides insight on PLM and WFX.
What exactly is "PLM"?
PLM is defined in many ways, but we simply refer to PLM as the process of managing the product development lifecycle in such a way to increase efficiency, reduce costs, improve quality, and increase speed to market. Aberdeen Research Group found that best-in-class fashion companies were 54% more likely than industry average companies to have an integrated PLM system in place. PLM offers features such as:
• Centralized, secure and easily accessible product data
• Integration of workflow processes with product information, such as line planning, costing, approvals, sample requests, etc.
• Tracking of timelines and tasks with comprehensive reporting and alerts
• Collaboration within the office and around the world with integration among suppliers and customers
How is WFX different from other PLM software providers?
One critical difference is that WFX is 100% web-based, or SaaS (software as a service), which means customers simply need internet access to use our service. With SaaS, there is no costly long-term investment in software, hardware, maintenance and IT consultants. This provides advantages such as lower cost, faster implementation, and the ability for WFX to release product updates to all customers with the touch of a button. There are few true SaaS providers in our space. SaaS is a huge growth area and presents a real challenge to traditional enterprise software companies.
Aside from SaaS and its apparent advantages, how do you rate your actual product?
WFX was designed specifically for fashion footwear, apparel and accessories companies and has more than 9000 users in North America, Europe and Asia. Apparel Magazine ranked WFX #1 in PLM User-Friendliness with additionally high ratings for Overall Satisfaction, Apparel Market Knowledge, ROI, and Customer Service. With SaaS and our user-friendly interface, WFX's online training implementation program enables customers to be fully "live" and running in 30 days. We listen to our customers and make frequent upgrades, such as introducing MAC browser compatibility earlier this year. But perhaps the best measure of our product and service is our 96% customer retention rate.
When is a company ready for PLM?
Fashion companies face increased pressure to develop more styles, often in smaller collections to reduce risk at retail, in a shorter window of time. Execution and cost control are critical in this competitive environment. We find so many fashion companies still using a disparate collection of email, spreadsheets and other systems to manage product development among multiple offices and teams. When they try to grow, their business gets more complex and costs tend to increase. Small, medium or large – these companies are perfect candidates for PLM.
Why did Putnam Sourcing Group select WFX?
(WFX deferred to PSG on this question). "Quite frankly, we got tired of managing our business by email and spreadsheets," said John Putnam. "Every time we added new customers, we had to add more people and costs kept rising. We were also expanding into women's fashion which required tighter margins and a much faster development cycle. We assessed a bunch of PLM solutions but could not justify their huge, long-term investment requirements for software and IT infrastructure, especially with the rate of change in technology. WFX's PLM solution provided the functionality and flexibility PSG needed, at the right price (and right time given the economic downturn), and it was relatively easy to implement and tailor to our business processes."
Diana Costello, VP and long-time employee, laughed as she recalled the early days at PSG when people would get on the office intercom system to announce "whoever has the folder for style number ABC please return it immediately to the file cabinet - I need it!" Those days are long gone as people now access the most current product data whether at home, in the office, the NY showroom, a hotel at MAGIC, or traveling through Asia.
Click here for more information on WFX
Click here for WFX PLM case study in Apparel Magazine
Click here to learn about Putnam Sourcing Group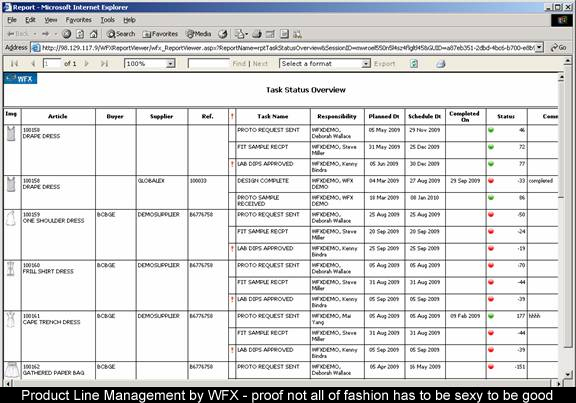 ---