Back to News
The Berrics with Steve Berra
November 12, 2009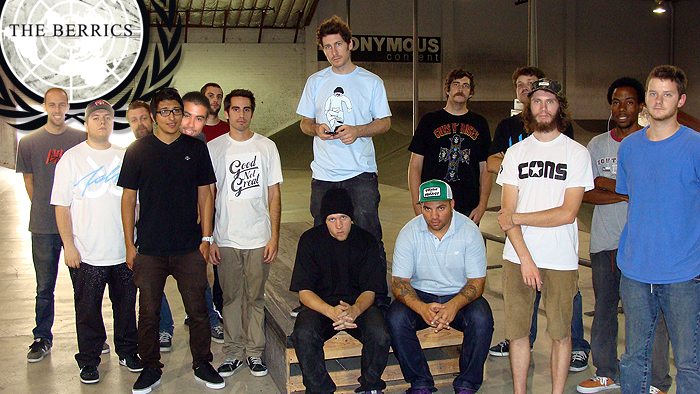 The Berrics with Pro Skater & Entrepreneur Steve Berra

The Berrics, simply put, is Steve Berra and Eric Koston's skatepark – hence the name. Berra and Koston brought The Berrics to life with a mutual goal in mind: promote professional skaters, bring up-and-coming skaters into the limelight, and help out the companies that made this industry what it is today. The Berrics, which originally started out as a legit, no-hassle skate spot for friends and fam', eventually morphed into a full-blown online juggernaut, stealing the eyes of skaters and fans of skateboarding across the globe.
With more than 6 million visitors and 20 million page views per month, The Berrics is running full steam and crankin' out some of the best skate footy in the industry – on the daily nonetheless. Whether it's at the park, the evolution of online content, or out in the streets, The Berrics is constantly pushing the progression of skateboarding, which ultimately benefits the industry as a whole. New and exciting endeavors are no stranger to The Berrics, so keep an eye on the horizon for great things to come.
Here's Steve Berra to break down his take of the tale.
Was The Berrics something you and Koston had been talking about for years, or was it a spur-of-the-moment idea that was put into action?
Actually, it was neither one. We had our place downtown for almost four years before the idea hatched. Although I used the internet for a lot of research, I never used it to look at or get information about skateboarding. It's just not how I grew up. I had such a traditional pattern to how skateboarding reached me: magazines and videos. But the landscape has changed on many, many levels because of technology, and it was something we looked at and thought there could be an opportunity. There has been a grand paradigm shift in media much like there has been in music. I don't even know if the shift is something I even like, but I do know that's just the way it is.

What put the wheels in motion?
I had just come off a year long journey of directing a film. It was an extremely tough experience; the toughest experience I've ever had professionally. When it was over, I started coming to the park again and was just completely in awe of everyone's skating. I remember sitting there thinking that if I get this much enjoyment out of this, what would a skater from Nebraska (where I'm from) get out of it. I was aware that I'm on the other side of the looking glass and that I have an opportunity to bring this to all those skaters who were like me, the ones who dreamed of California and hanging out with the pros and seeing what they were like. I wanted to make that happen. I wanted to fill that void.

What was the original intent in creating The Berrics' website?
It wasn't just one thing really. Bringing pros closer to the public was the impetus, it was what got us thinking, but after Eric and I put more and more thought into it we saw this opportunity to do something that had never been done. We wanted to promote pros. We wanted to bring new kids up. We wanted to help companies. We wanted people to be excited about all aspects of these parts of skateboarding because, like it or not, we're all in this together, for better or for worse. We wanted to use the names we built over the past almost two decades to accomplish these goals, no matter who we were sponsored by. Most of the people in the industry, pro or behind the scenes, are friends of ours and people we've inadvertently grown up with. We want to see these people do well; we really do. This was our contribution beyond jumping down stairs.
How has it evolved and changed since the original idea?
I think it got more popular than we thought it would in a shorter amount of time than we thought it would. Other than that, it really hasn't changed that much idea-wise. I mean, we've added more sections and will continue to do that, but they're only added if at the end of the day the answer to the question, "does this help someone?" is a yes. That's the bottom line. Does this reflect this person or company in a good light? Does this promote something, for lack of a better word, positive? That's what everyone here thinks with.



Are the skate parts featured on The Berrics selected through people who submitted footage through the site, friends of friends, skate companies looking to promote their company and/or team riders, or a combination of any one of these?
Well, it's kind of everything. We've had various contests like Bang Yoself, where I saw Corey Kennedy and Josiah Gatlyn skate for the first time. This contest put both of them on the proverbial map. It was the push they both needed to take their relationships with their sponsors to another level. I'm proud of that fact and I think both of those guys are what skateboarding is and will be in the future. We're doing this YOUnited Nations contest which, so far, has been extremely successful. I hope to find some new guys in that but also bring some shine to other skaters as well, skaters who may not be as good as a Corey Kennedy or Josiah Gatlyn, but have as much passion for skateboarding as anyone ever has. The contest isn't just for guys who are future professionals; it's for everyone. As far as the other sections, like stuff in the Berrics, everything is filmed by our filmers, Chase Gabor, Shane Auckland and Daniel Duarte. How guys get a Battle Commander, Bangin or a Recruits part is basically up to them. If they want to put the time into coming here and filming some stuff, then we oblige them with putting it up. Well, that's mostly true. Not everyone can come; there are still some qualifying factors.

Can anyone skate The Berrics? What gets you in the door?

Not everyone can skate it, we just don't have the insurance to do that. Also, you have to be sponsored or professional and you've got to have some kind of ties to the people here. As loose as some of those ties may be, there has to be some slight degree of connection. So if you make it that far, the way we do it now is you gotta call because there's always so much going on there. People are filming and we don't like when random people drop by with eight of their homies because it halts progress of the site. That's the good and the bad side of growth.
Not long ago The Berrics' website was a small piece on the map. However, now the site gets almost 6 million visits a month with more than 20 million page views. What do you attribute to the rapid growing numbers?
Battle of the Berrics was big for us, there's no doubt about it, but I think what continues to make our site grow is that we really do this for the betterment of skateboarders and skateboarding. We have a good goal. We support everyone we can through various efforts in one way or another, from the unsponsored am to the biggest pro, and we make great content that's like no one else's.

People who make up TheBerrics.com community are given a voice through pro skaters reading and answering text messages from community members, and so on. Has that acknowledgement of the audience been a key to growth?
Absolutely, we want skaters from all over to be involved as much as they can and as much as technology will allow. Like I said earlier, I'm a fan, not a jaded skater who can't possibly like anything, but a fan, a true fan like I was when I was 13, so I just try to come up with content that would make the biggest fans happy. There is an unfortunate malady in the skateboarding industry that blinds it from realizing who the consumer is. The consumer is not the jaded skateboarder who hates everything and everyone and tries his hardest to get everyone else to feel the same way he does. This person is a slight, slight minority, but wreaks the most havoc for brands and skaters because these brands and skaters tend to think it's a majority opinion when it's not. The majority of the skaters out there are excited about skateboarding and professional skateboarders. They don't hate everything and everyone. I know because I get thousands and thousands of emails and I read every single one and I know what they're like and I know what they're saying, probably more than anyone in skateboarding, just because I've taken the time out to really listen. I think as a result of this, we've seen fantastic growth. I also try not to use the word kid because they are skaters, just like I am, and I think sometimes people use the word kid as a derogatory term. I remember being 13 and not appreciating being called a kid, despite being one.

In a perfect world, where do you see The Berrics (the facility) and TheBerrics.com (the website) headed?
That, my friend, is top secret.
The Berrics, as a name is not limited to skateboarding. Will TheBerrics.com include other aspects of the culture that surrounds skateboarding?
We will definitely be adding more content that isn't just skateboarding, like what we have with Wednesdays with Reda, Butteryass Mondays and the visits to Deathwish, etc. As soon as we get some more money to pay more filmers, we will put some of the ideas I've been sitting on into motion so that we can show people a better understanding of how the entire skateboarding industry works. But in addition to those things, we will definitely expand into other fields of interest such as films and music, but nothing will overshadow skateboarding or be out of left field. There will always be some reason as to why we are doing what we are doing, and that reason will be that it has ties to skateboarding.

Will The Berrics (website and / or park) include other sports?
The Berrics will always be skateboarding. I don't know anything about motocross, or surfing, or bmx, or snowboarding, and no offense, I don't really want to. I'm not interested in those things. I like the guys who do it and have nothing but praise for all of them, but I'm not interested in doing it enough to ever include those things in The Berrics. Well, we might actually have a BMX night sometime soon cuz those guys are pretty gnarly and I heard a lot of BMXers watch The Berrics. I like BMX guys.

As of now, at what point does this become true: "No. We're not going to cover that on TheBerrics.com."

The X-Games. The Maloof Cup. The Dew Tour.
How many people are working on a daily basis behind the scenes to make TheBerrics.com happen?
Right now we have 10 people. This isn't including our incredible reps out in the field, and Reda and Donovan.

Who does what?
Salman Agah is responsible for ad sales and business development; he's been a huge asset for many, many reasons. He understands skateboarding. He understands business. He has an immense amount of respect, and I trust him to talk to brands about getting involved in The Berrics because he just knows skateboarding. I mean, tell me one company in skateboarding that has a Skater of The Year working for them in this capacity.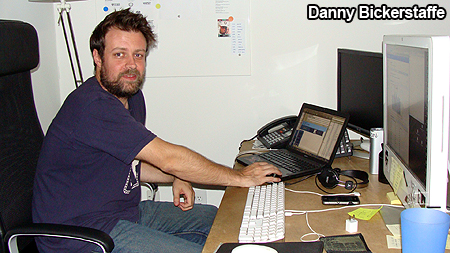 Danny Bickerstaffe is our head programmer. He built the site, has worked as many hours on The Berrics as I have – if not more and has never once complained – and this site would not be what it is without him.
Zach Driscoll started out as an intern and now is responsible for all the Wednesdays with Reda you see, all the Butteryass Mondays and whatever else I throw at him.
Chase Gabor is our head filmer/editor. We picked him up out of Chicago on a referral from a former employee. He's only 21 and he's just the most incredible work machine I've ever seen.
Shane Auckland helps Chase film and edit. He's from Seattle. I got him after I watched Corey Kennedy's Bang Yoself which Shane had filmed.
Daniel Duarte was just brought on to start helping with some of our more lifestyle driven content that we are going to be doing. He's a great friend of Billy Marks.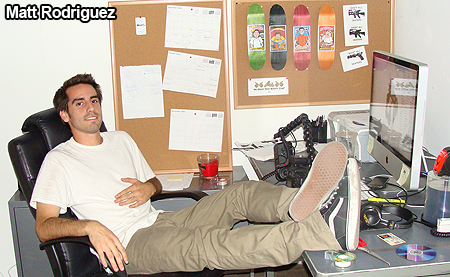 Matt Rodriguez is the graphic designer who does all the art for our tee shirts. Basically anything you see aesthetically, it's Matt. He used to work at Vans but got laid off. They lost out BIG time.
CJ Kester is working on production of shirts as well as assisting Matt in graphic design. He also worked at Vans.
Greg Custer is our warehouse manager/buyer. He came from Active.
Ryan Ward is our other programmer. He came from Adio. He and Danny Bickerstaffe are working on some really incredible things that are launching this month, next month and the month after.
Kevin Fernley communicates to everyone what needs to be done and stays on top of everything that needs to be done at the park, at our new warehouse and with all the employees. He's an all-in-one maestro.
Basically, this site could not exist without the incredibly hard work that these people put into it. They do the work of 50 men and I have not one complaint about what they do, or who they are as employees or people. They are the most incredible team of employees in skateboarding. It's a true team effort here and I couldn't be any prouder about it.
In January of 2008, The Berrics advertised employment opportunities on Malakye.com. Was anyone hired as a result?
Yeah man! Danny Bickerstaffe was hired on that one, and we got Matt Rodriguez with our other post. Truly, truly, truly unbelievable finds. All through Malakye!
When The Berrics looks to hire new employees, what advice can you give to help 'em through the door?
For instance, with Matt Rodriguez, he sent us his resume in a total Berrics style mock-up. He didn't straight up rip off what we have on The Berrics, but he created an even better aesthetic that was Berrics-esque and attached his resume to it. We got hundreds and hundreds of resumes but this one stood out. He took that extra effort and it's what got him the job. It wasn't until we started working with him so much that we discovered what a quality human being he is. That was the bonus.
As far as anyone else, the bottom line is, they've got to understand skateboarding. They've got to know that it's tough work at The Berrics and I watch over it all very closely. They've got to know that they are going to work a lot and sometimes that work is not the work they are going to want to do, but if I understand what they want to do or what they are aspiring to do, they will get to that position. I want an employee that strives for big things and has big dreams. I want them to achieve those things and I want to help them achieve those things, but those things come through hard work. I don't want a guy who is happy with working in the warehouse. I want a guy who is willing to work in the warehouse so that he can move up to a graphic designer, or a programmer, or an ad-sales guy, or even run the place because he'll do a great job, but at the same time work hard to get out of it. We have those people now and are looking for more of them. This absolutely could not have happened without Malakye. There would be no Berrics if there was no Malakye, and that's a cold, hard fact and I thank you so much, you have treated us incredibly well.

Visit The Berrics: http://www.theberrics.com.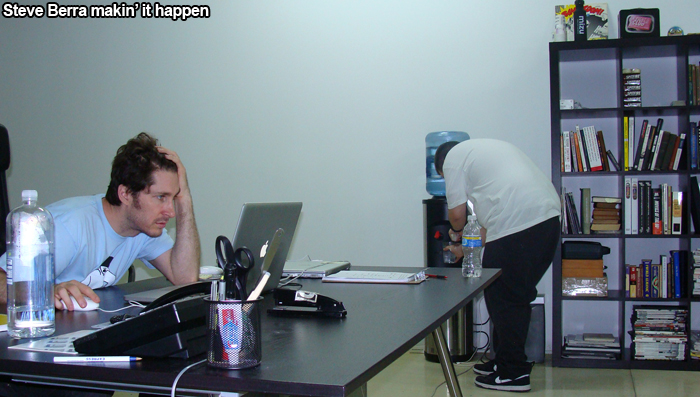 ---