Back to News
DSGN: "Design For Good" :: Get Creative for African Orphans
November 2, 2009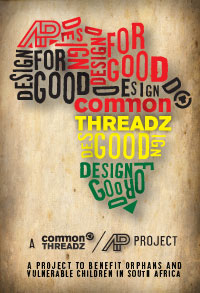 "Design For Good" :: Get Creative for African Orphans
Commonthreadz.org, a 501(c)(3) nonprofit, has partnered with ActionProfiles.com to create the Design For Good campaign to benefit orphans and vulnerable children in South Africa. Action Profiles will be hosting a design contest with its action sports community to create a new shirt design for Common Threadz's line of stylish, eco-friendly apparel. The theme of the contest is "hope". Common Threadz will sell the winning designs, with 100% of funds raised going to the orphans; no funds will be diverted for administration.
"Common Threadz is one of those rare non-profits that is extremely effective in their mission while staying relevant to youth culture," explains AP Co-Owner Jesse DenHerder. "Action sports athletes are creative by nature and ActionProfiles is a perfect venue to harness it." Zac Folk, founder of CommonThreadz added, "It's great to be working with ActionProfiles on this project and to witness how the nonprofit and private sector can work together in a win-win fashion. We're excited to see the designs and hope to make this an annual contest." AP has also put together an elite team of judges who will be announcing the winning design including:
Monica Staniec - Board member of WIAS (Women in Action Sports) and VP of Marketing at iMa, a marketing and PR agency that targets the actions sports, art, music and fashion markets. Monica is also an active Snowboarder and enjoys surfing.
Luiz Calado - Photographer, writer and award winning editor, Luiz's work has been published in many US and Brazilian publications including Thrasher, Tribo, SKT, Veja, and Yeah! Magazine. With degrees in Communications and Photojournalism, Luiz blends insight and ingenuity in his reporting, while remaining true to his skateboarding roots.
Wendy Burkman - Co-Founder/producer of the Wanda Show and media personality for ActionProfiles.com. Wendy is also a talented singer/songwriter and model.
The Design For Good T-shirt design competition kicks off on Nov. 1st. Submissions are welcome from November through December 23, 2009 and we encourage artists from all over the world to submit their entries. The winner will receive national exposure as an artist/humanitarian, and a generous prize package from our sponsors, including watches, headphones, apparel and much more. Presentations to the winner and commercialization of the T-shirt designs will take place in January. For more info go to: www.actionprofiles.com/designforgood or www.commonthreadz.org

---