Back to News
MIKE'S MASH-UP: October Archives
October 30, 2009


Michael Akira West is the Owner and Creative Director of 686 Technical Apparel. The following are some of his experiences inside and out of the industry across the globe.



"FREE 4 ALL…Fridays" – So NiceOctober 30, 2009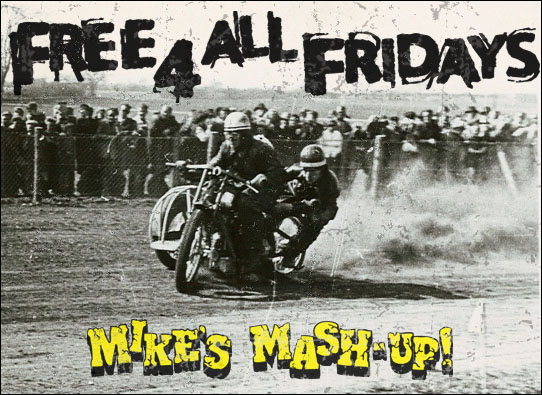 There's something about modern architecture that spawns so much energy and excitement to me. The relationship can be compared to looking at a beautiful woman. Clean lines, curves in the right areas, with a touch of class that emphasizes the outfit she's wearing or the accessories she's using. Just like the people I admire, I'm not into the bland, cold and strict nature of architecture. I like soft, simple, warm, well-thought out, well planned, well engineered designs with a twist at the end. Case in point, the Paraty house in Brazil.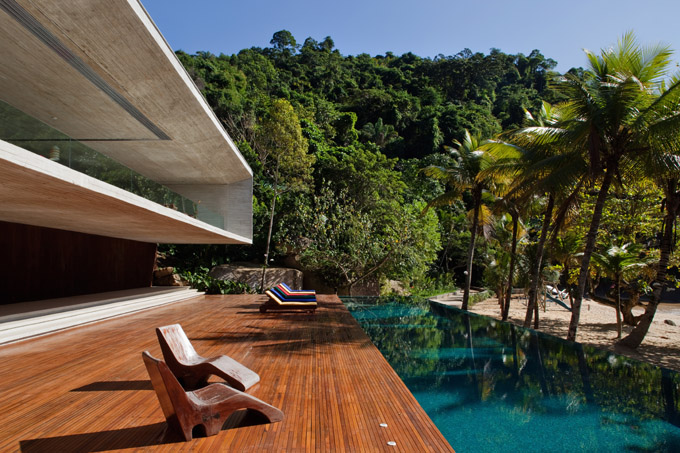 Designed by famed Brazilian architect
Marcio Kogan
, the residence was inspired from the contrasting Sao Paulo and NYC's chaotic ugliness which bring deep peace in the middle. Just like anything
we
create, it takes a lot of proper planning to pull things off efficiently and effectively. Can you imagine how much engineering and steel was done to make this span happen? You gotta love the colorful touch of those "accessories."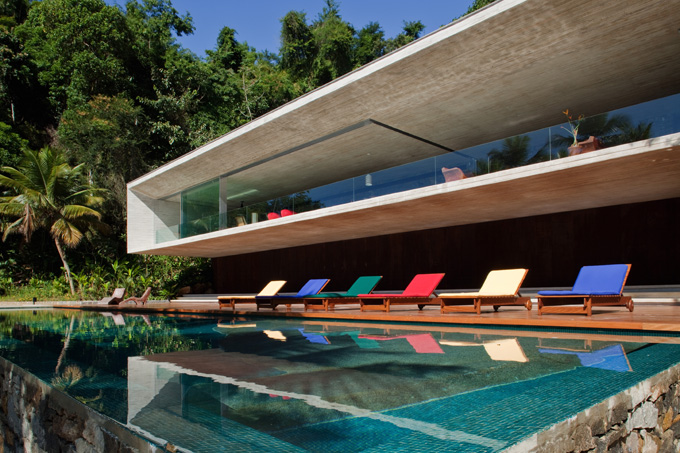 The devils always in the details. I can't get enough of the tonal textured horizontally formed cement planks.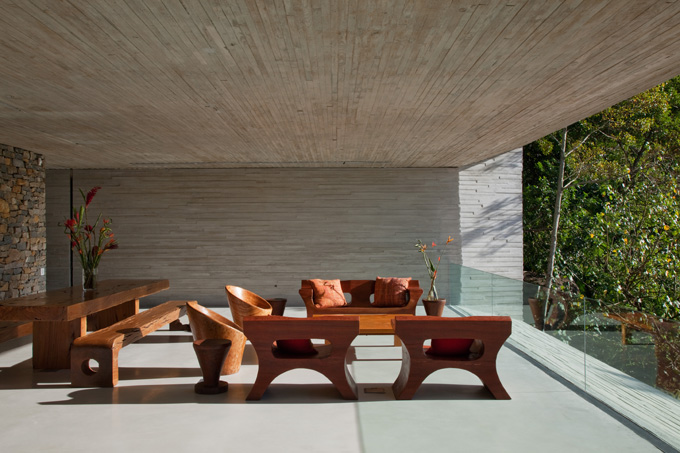 The Inside-Outside oasis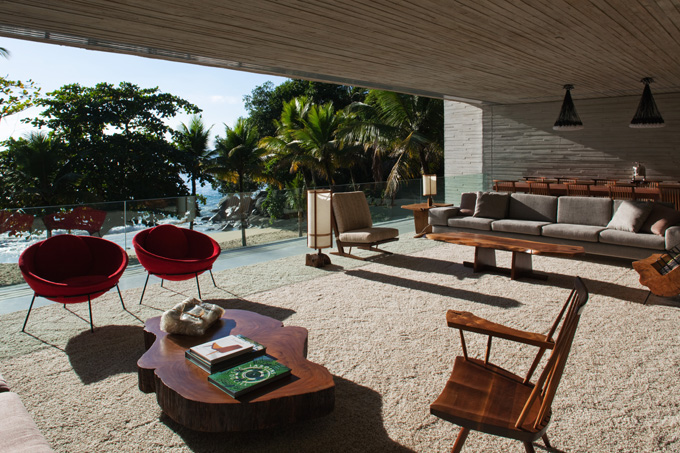 Location, Location, Location - Lighting, lighting, lighting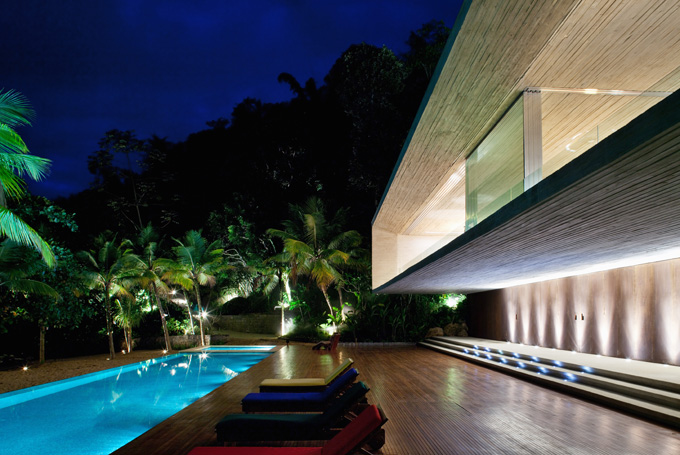 Spindig 09
October 29, 2009
As you already know, I'm a big fan of people doing their own thing. Good friend, Eric is an example of what I'm talking about. Eric's history spans quite a bit; starting from being a professional jet skier, to performing at shows at Universal Studios, to "modeling" at who knows where. However about 10 years ago, E had an idea to produce graphical images for his friends in the moto industry. This later spawned to his own gig, Spin imaging, which is a full blown print shop ranging from large format to sublimated products and more particularly, vehicle wrapping. I'm not just referring to murdered out flat black whips. I'm referring to out-of-this world space age shuttles for Virgin Galactic. After all these years, E wanted to put his first event together to give big ups to the peeps that have supported him. His compound is in the heart of LBC. Party people represent.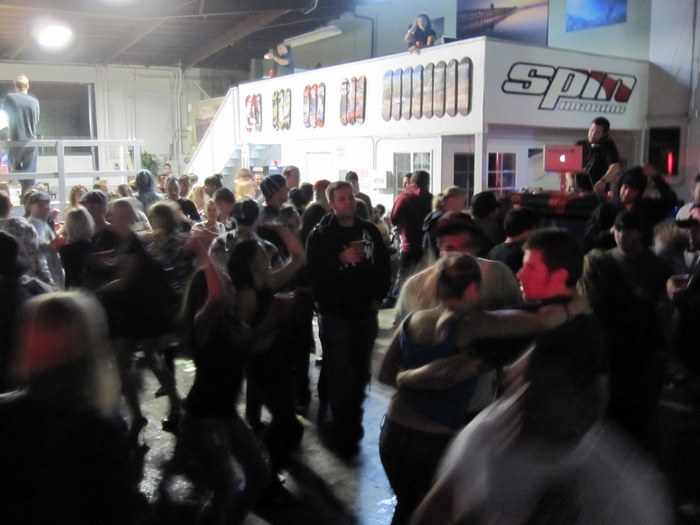 Scion Racing brought the entire fleet down as well as the pop out XB DJ booth.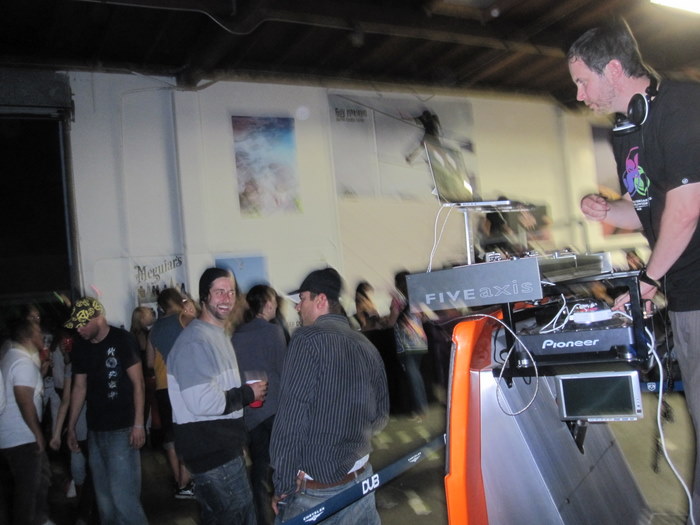 If any of his customers can do a frontside smith, E will comp the job!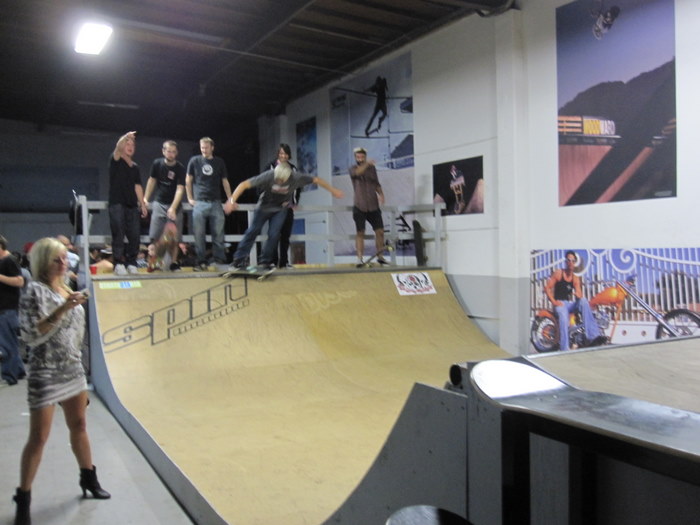 Local industry heads came out to show support. The Graphite, 118 and Podium family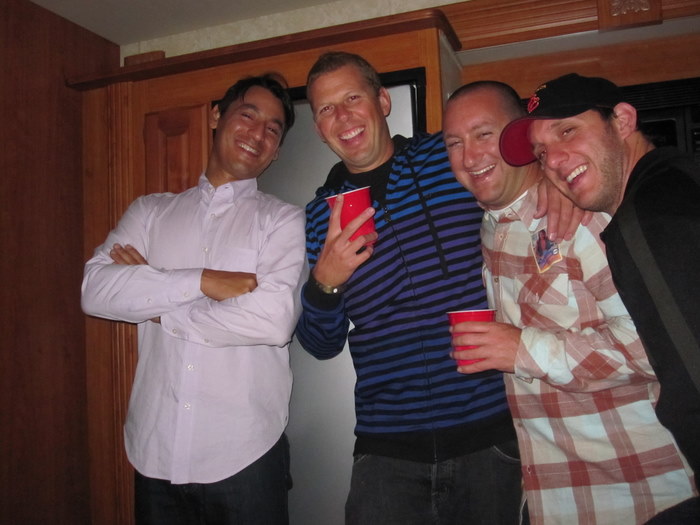 Ricky, I told you that last drink had something in it.


You know when you throw your first gig, your friends will be there to make sure all the spiders come out of the closet. I really have no comment on E's past "modeling" gigs, except it paid the bills.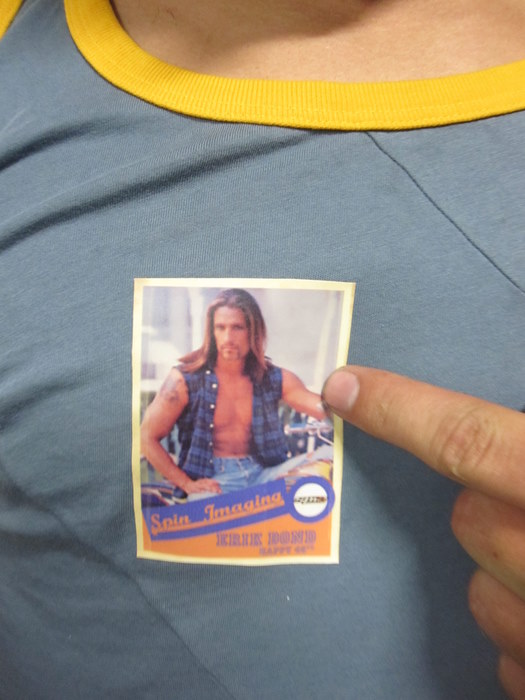 If you know E, he hates attention being pointed to him. Interesting enough, it was his b-day the next day. So like good buddies, we get him a custom EB Bugatti inspired cake.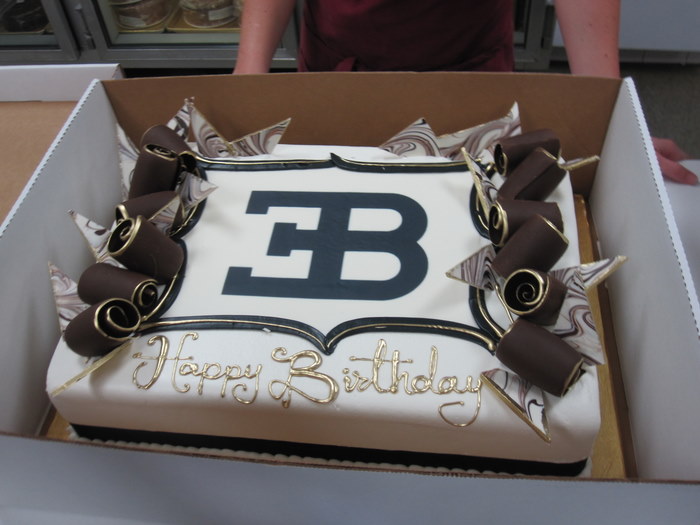 We stop the music, bring the life size Fabio-like modeling shot and make him blow out the candles.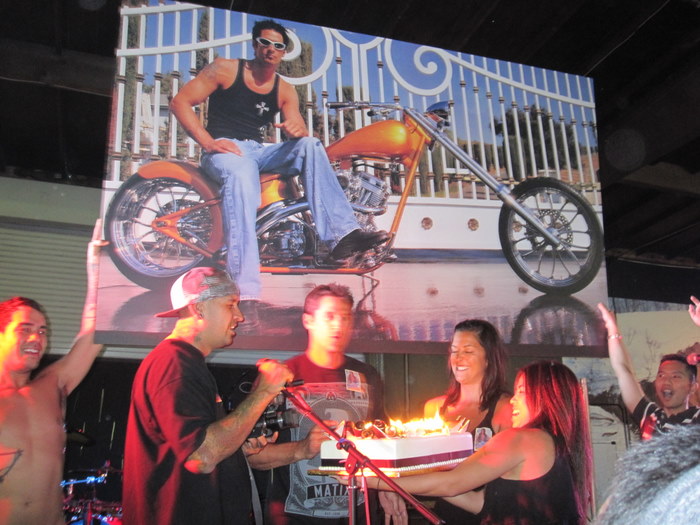 Then we proceed to show him how good it tastes.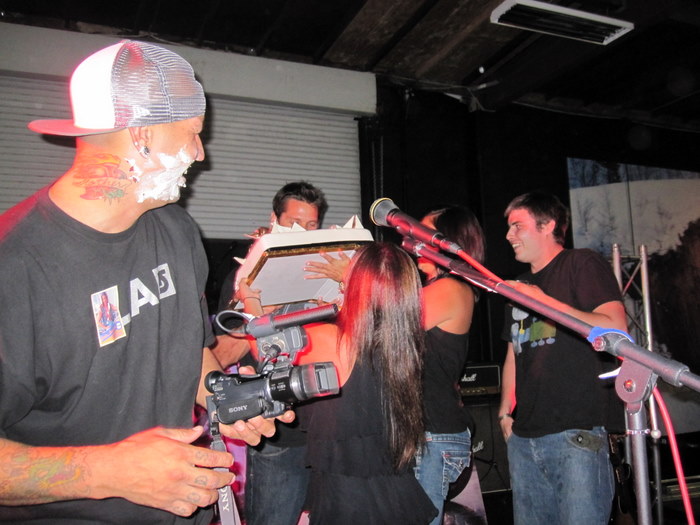 How's the beer taste with the cake?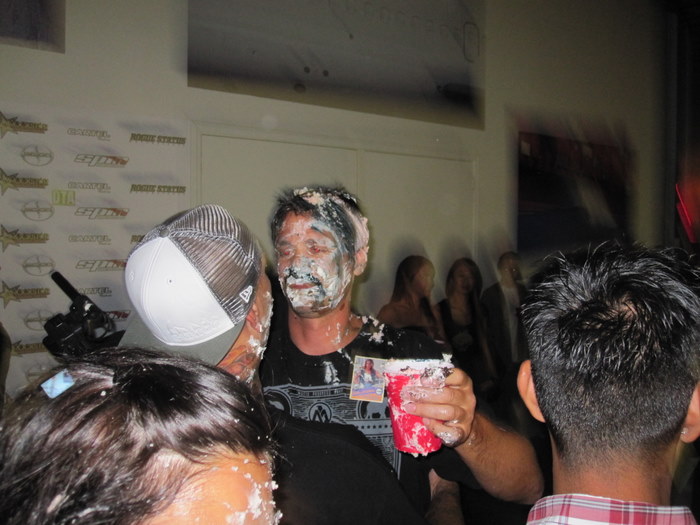 Good thing we don't need plates and only forks now.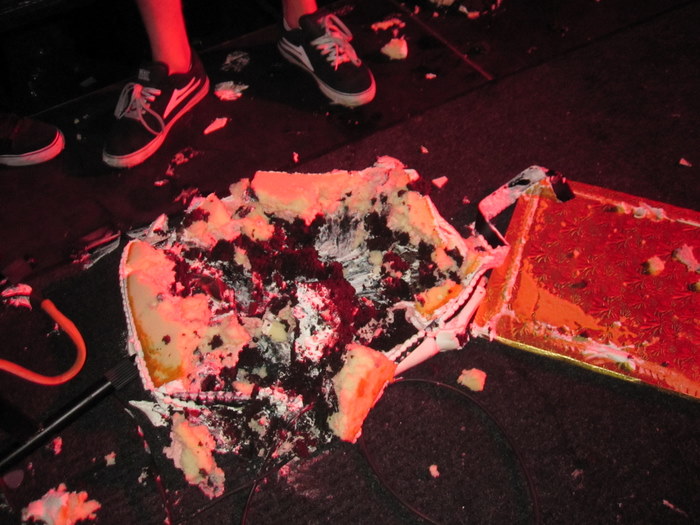 We're going Downtown (artwalk)
October 28, 2009
Los Angeles is full of all things creative. In fact, my first office/loft was at the Brewery. The Brewery is a one of the nation's largest art colonies, which in 1902 originally was an Edison power plant that later turned into the Pabst Brewery Company. Twice a year, artists open their lofts at the Brewery artwalk. However, it seems that Angelinos can't get enough of the culture, so about 4 years ago, downtown LA unofficially started the "downtown artwalk," which occurs once a month. Spring street has never looked so alive at night!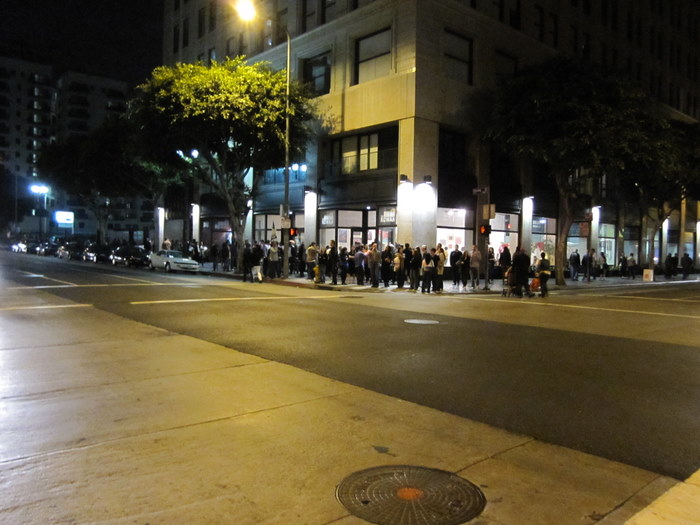 There's a big difference between from Brewery, Culver City and Bergamot stations artwalks. Downtown has a mixed group of people showing whatever, whenever. I guess Halloween came early.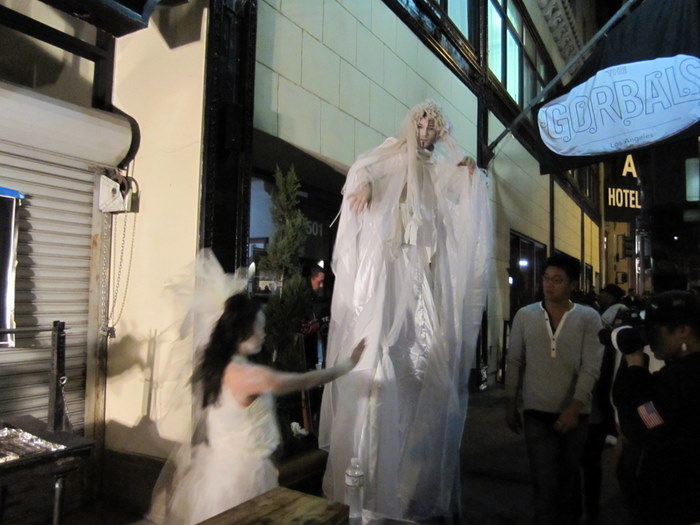 The cool thing about this monthly gig is that it's at night and on the streets of LA. It's basically a house party full of good stuff. Dublab had a screen printing thing going on.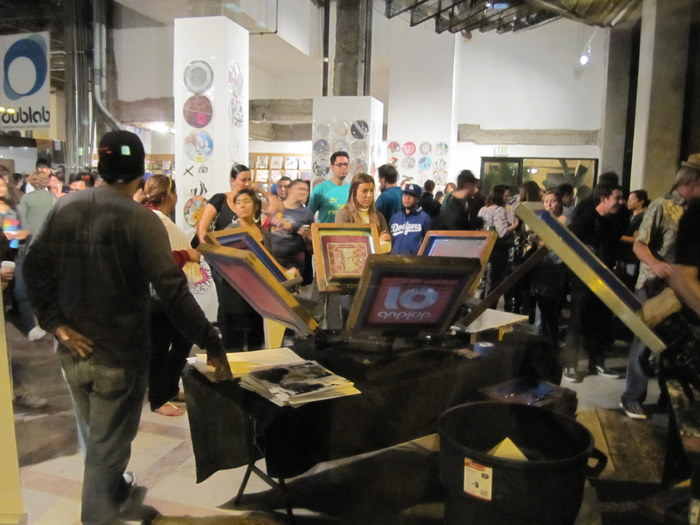 Album covers the DIY way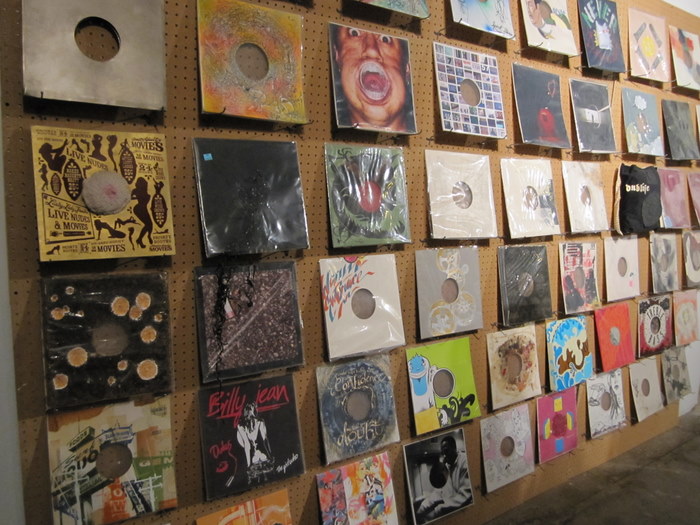 I guess they don't make Hasselblad's like they use to.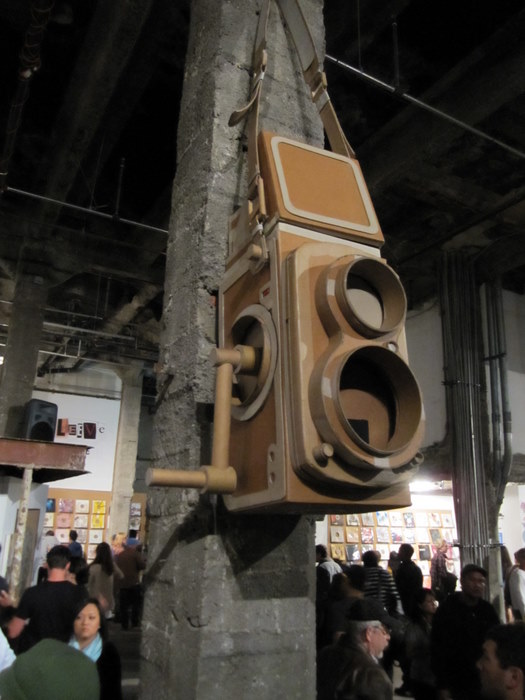 In the heart of the walk, is Mike and Tac's joint, Blends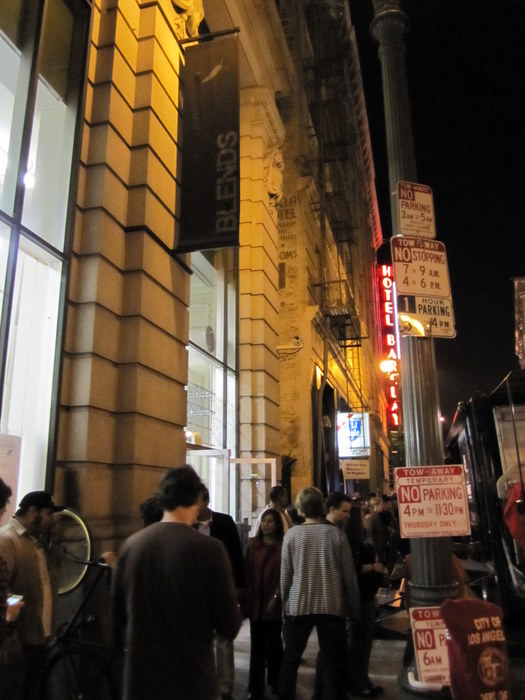 Open format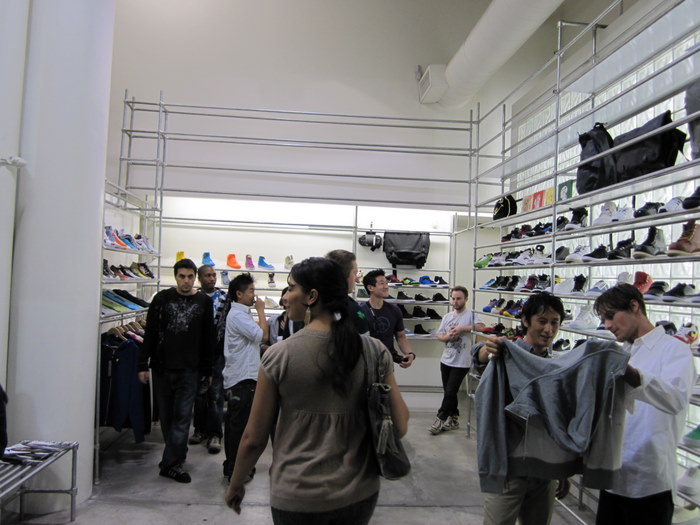 The wall


Nike was on hand promoting Loopwheeler's infamous hoodie.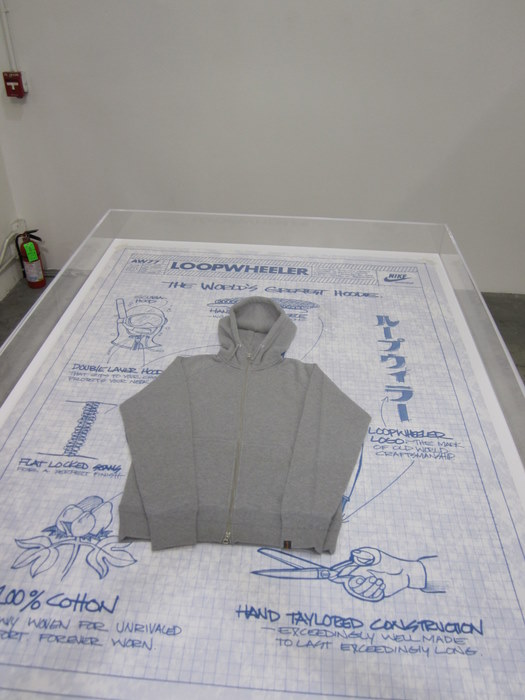 They do a great job making something simple very exciting.


It also helps when you bring a truck that customizes your very own AW77.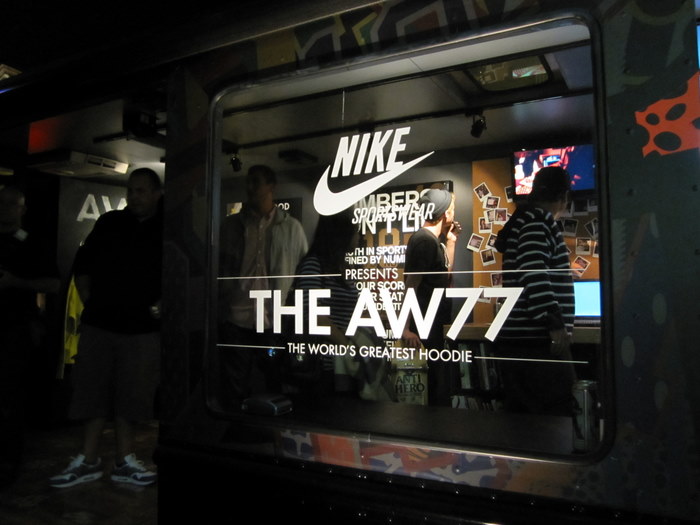 The steps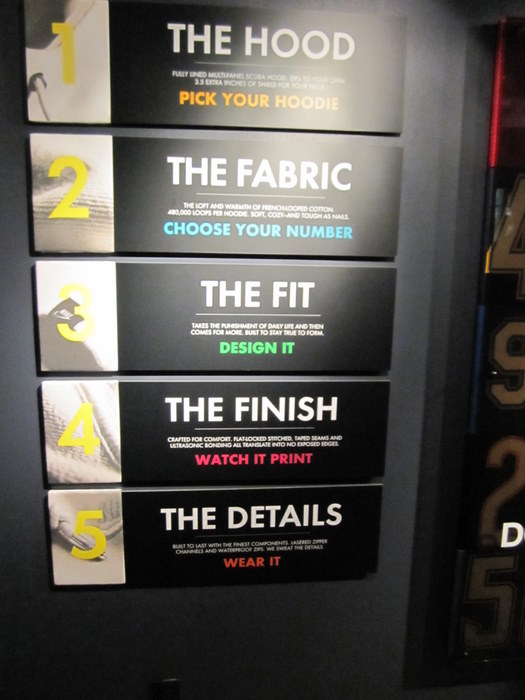 Create +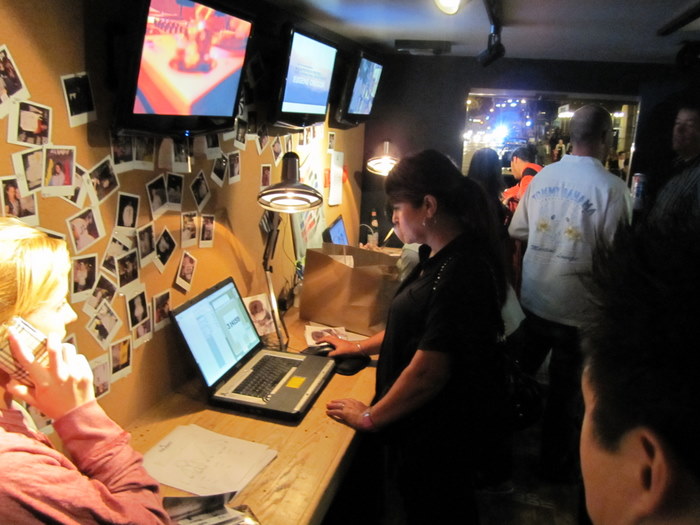 + Customize = Good times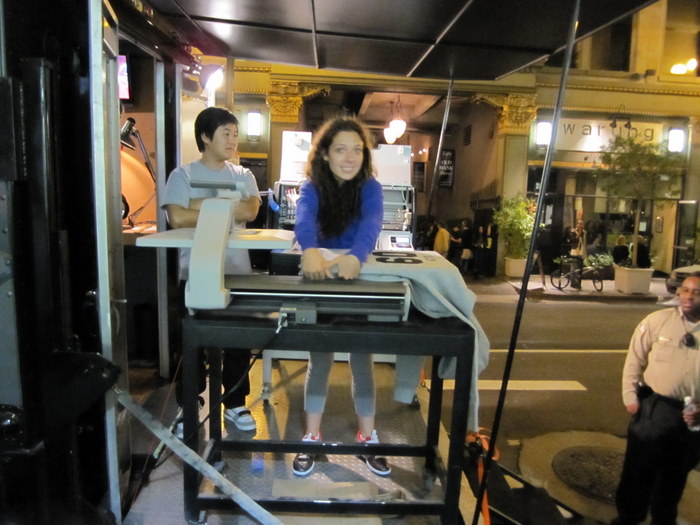 Ride Downtown!
October 27, 2009
My boyz do these rides all over LA, every week. Each time they hit me up, I'm always out of town somewhere or another. This time, I'm around, so we're starting in Downtown, heading to Pasadena, then Eagle Rock and back. Sounds easy enough, huh? Maybe I should do some stretching (or kicking) before we head out.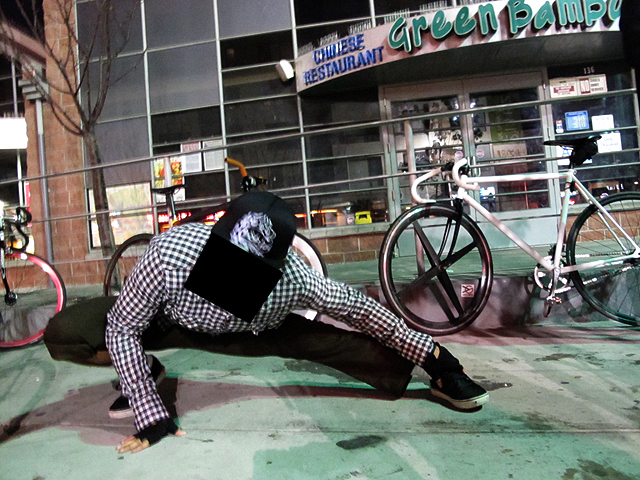 On your mark, get set………


When you ride through LA, it's a totally different experience than driving. Try it some time.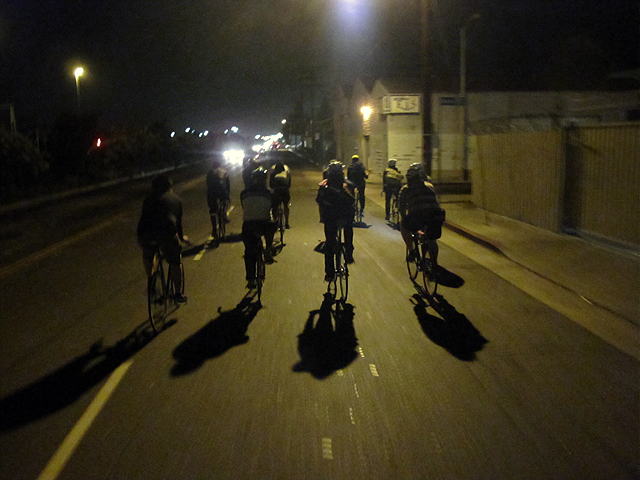 The only break of the night...For some reason, I feel a little dizzy.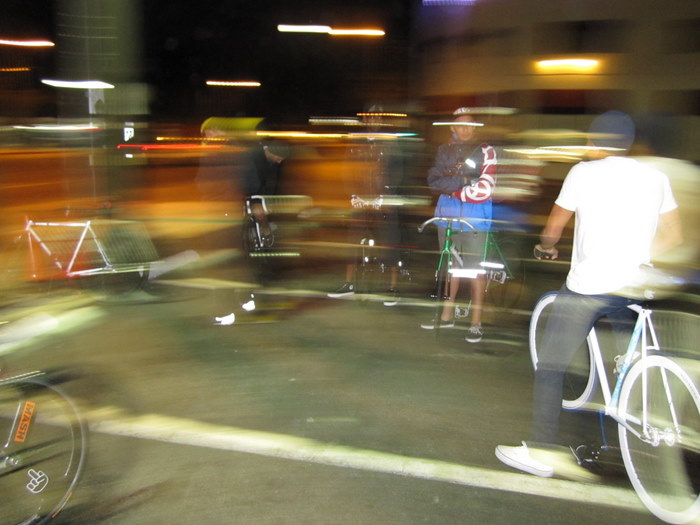 When I ride, I don't like to carry much. No need for cash when you have Amex.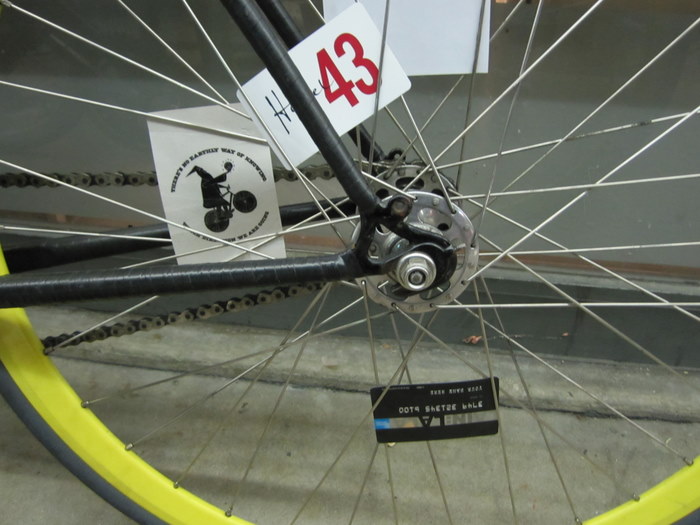 My best friend, Mike, designs military packs. Here's his new joint for the Fixed Heads. Auto lock custom strap-patent pending.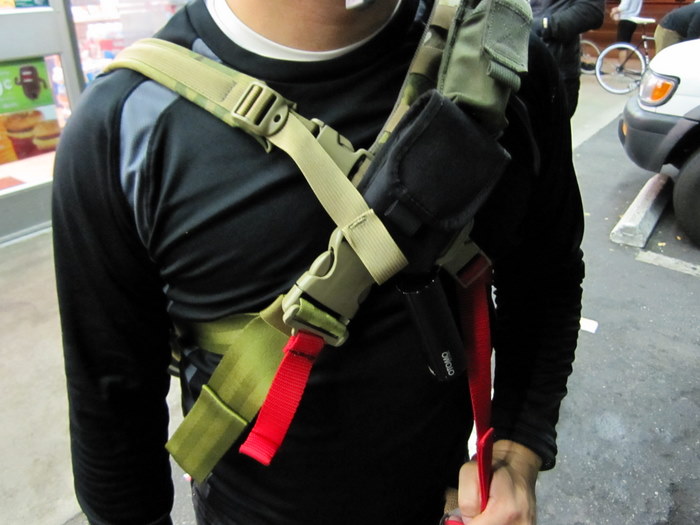 View from the back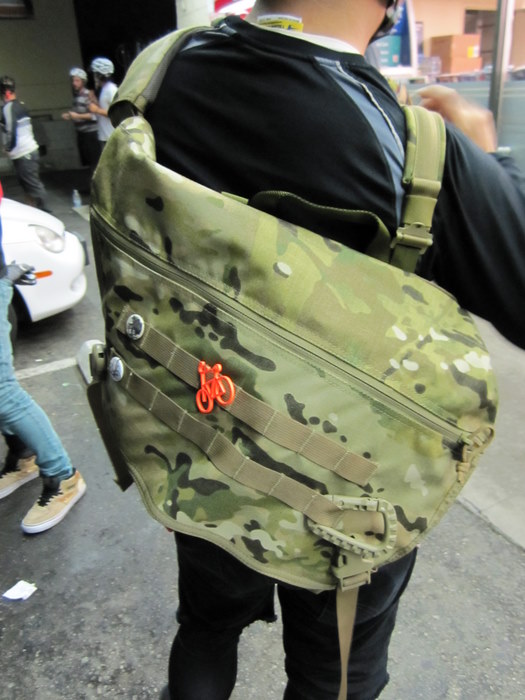 It was over before we knew it. What you looking at?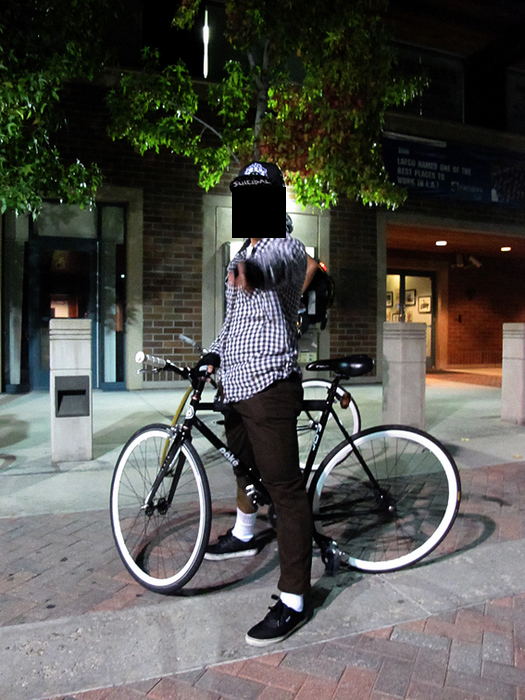 Group shot, what!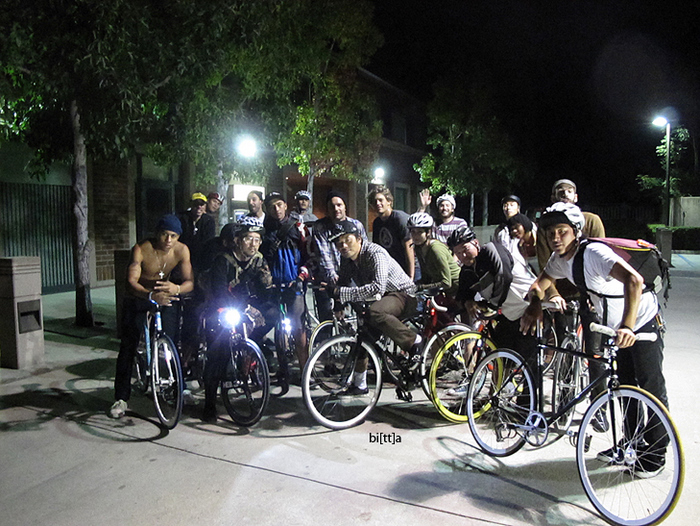 This is what it always looks like after the ride-food, beers and bikes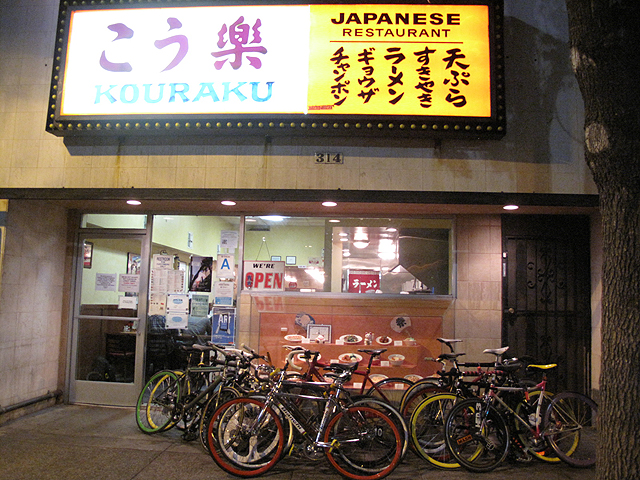 Winter 09/10 Collection - Women's Smarty Line
October 26, 2009
Women play a huge role in the industry as well as what we do here. When we first started, dudes at the office outnumbered the ladies big time. Today, we're close to 40% women to men. At the office, gender is not an issue vs. doing your shit well. Our women's collection is inspired, designed and tested by girls who know what's up. The Smarty collection is one example.



The Women's Smarty Rogue jacket features a poly jacquard vertical stripe with lurex hits and a 15,000mm/10,000gm waterproof and breathable rating. What I like about this piece is the curved front storm flap and subtle trim hits just in the right places.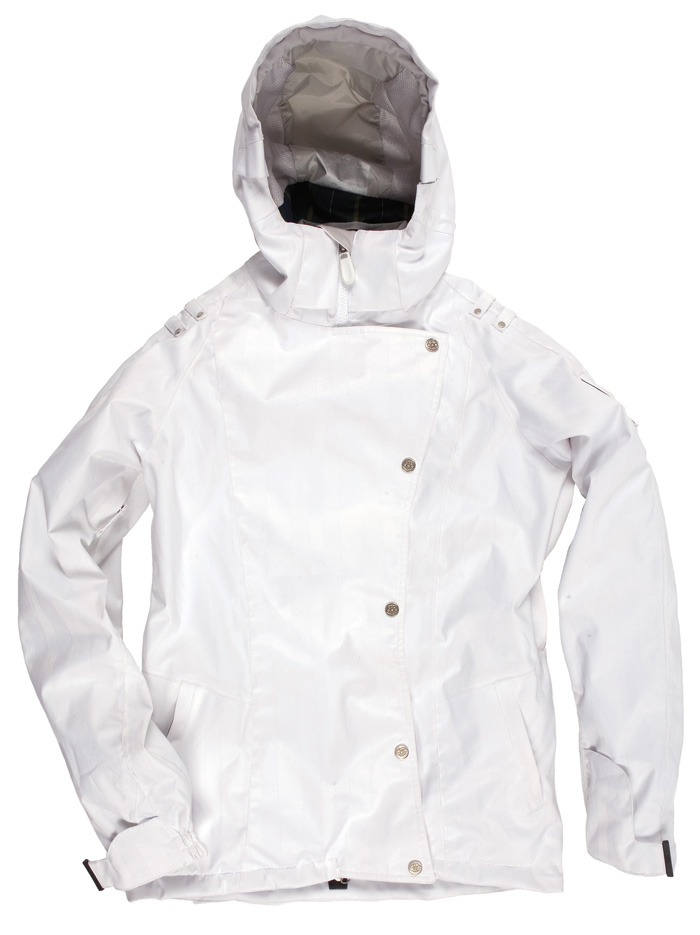 Next is the Women's Smarty Nouveau Jacket, shown here in Turq. Besides being the most popular piece in this line, we added a soft poly custom plaid weave with all the bells and whistles like chest/pit vents, goggle and mobile pockets and several other hidden surprises throughout.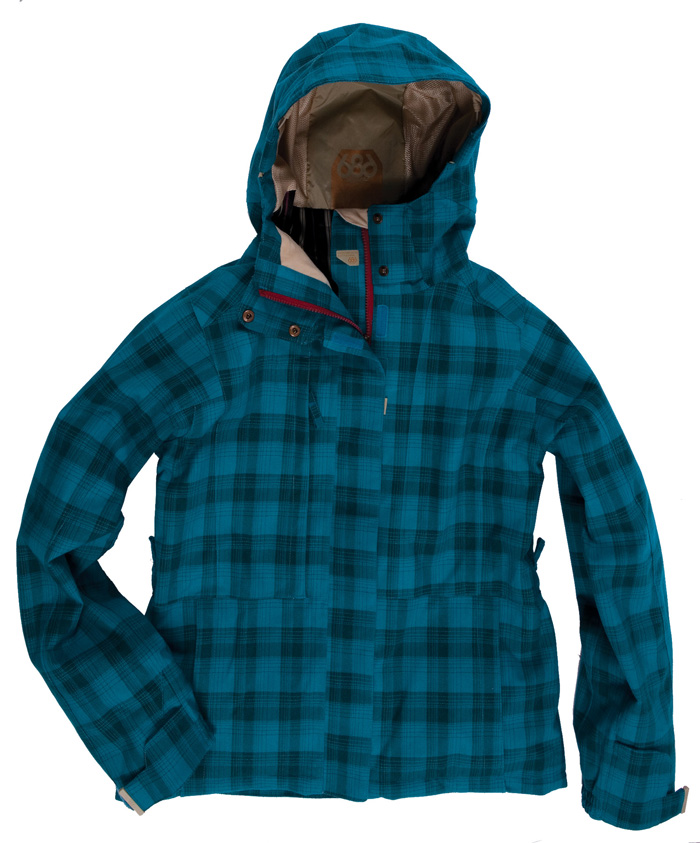 Can't forget about the main feature of Smarty- the fully detachable fleece liner- use it for layering on frigid days or chill'n inside doing whatever.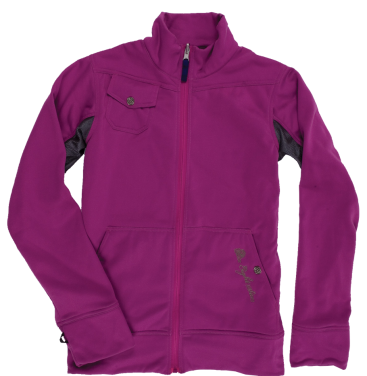 Match this with the infamous Smarty Lowrise Pant in White Plaid.


The Smarty Muse Jacket shows up a classy approach.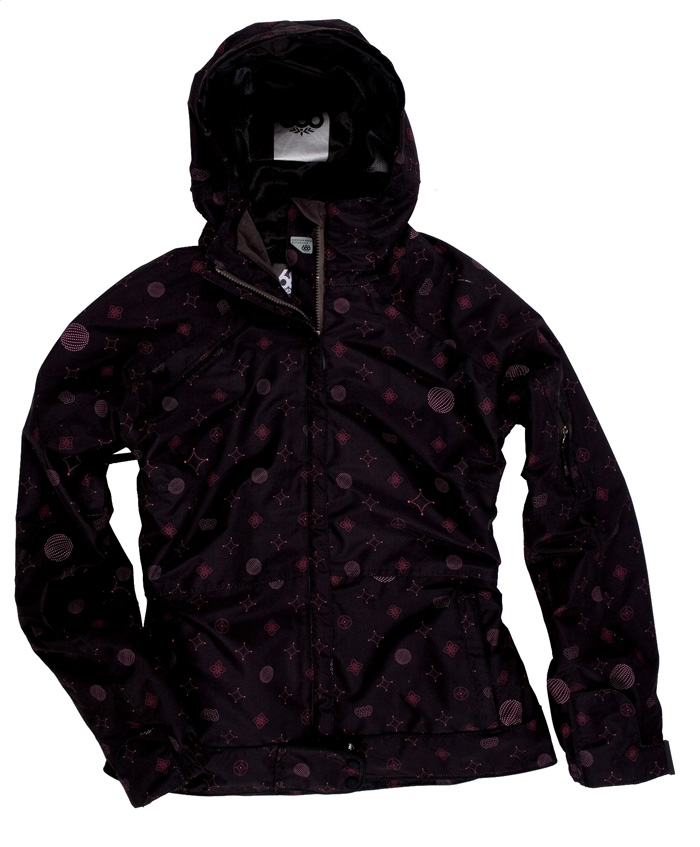 The reason why we're here today - The Original Smarty Cargo Pant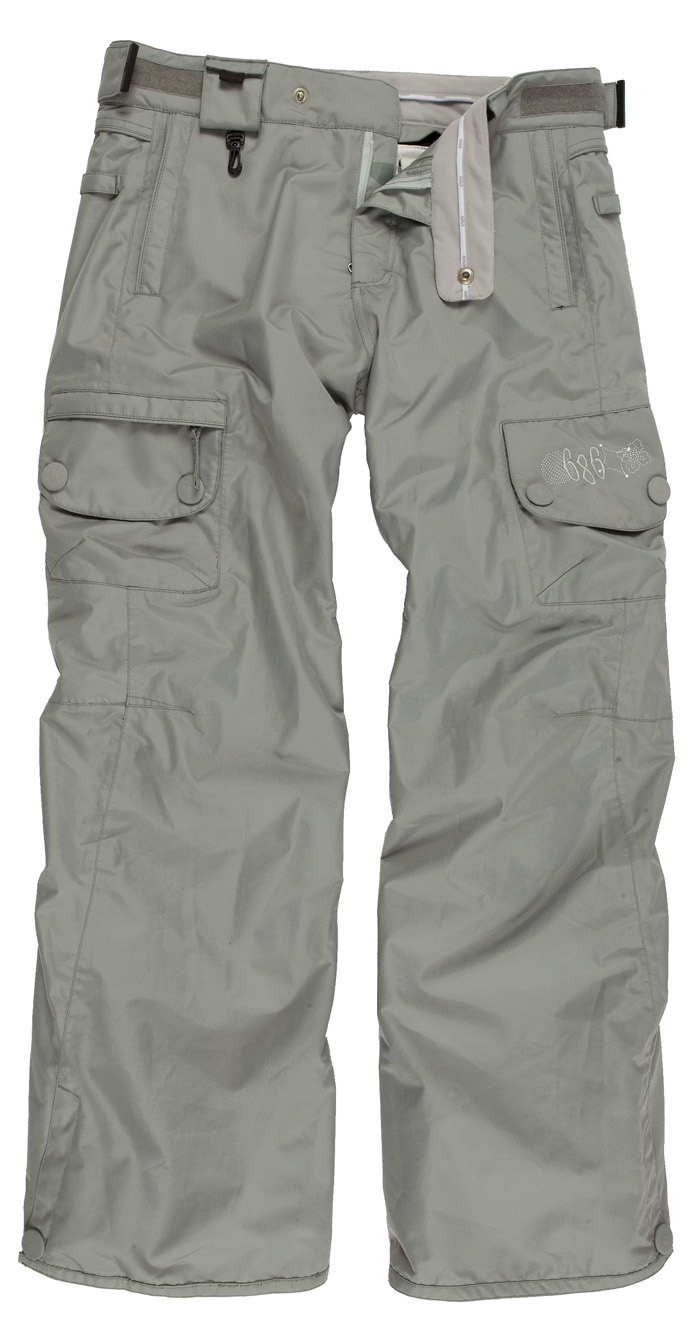 FREE 4 ALL FRIDAYS…DID YOU KNOW?
October 23, 2009

Yeah, I knew all of this...J/K



The Intersection
October 22, 2009
My first office in LA was smack dab in the apparel district of downtown LA. Back then there was no hip underground scene, American Apparel, or even alleys good enough to drive down. There was however the garment district and Cal Mart. Today it's changed and houses some major showrooms. 9th and LA street is called "The Intersection," or where the Copper Building, Gerry Building, New Mart and Cal Mart (or CMC) intersect. Call it what you will, as I call it where it all began for me.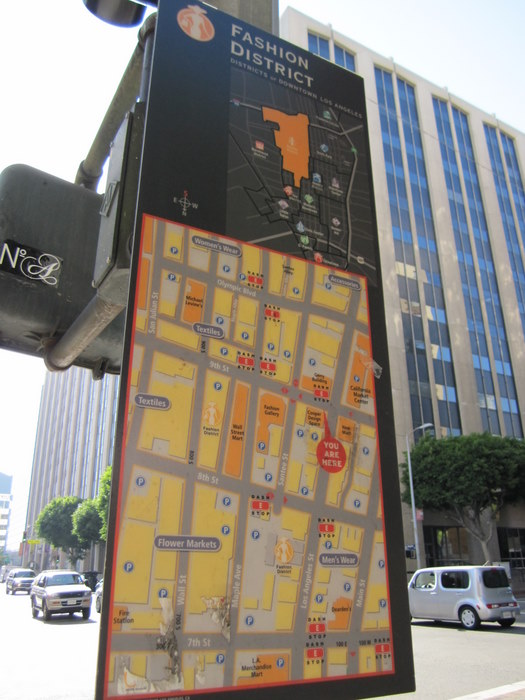 In real life- The Gerry building (The smallest showroom center) on the right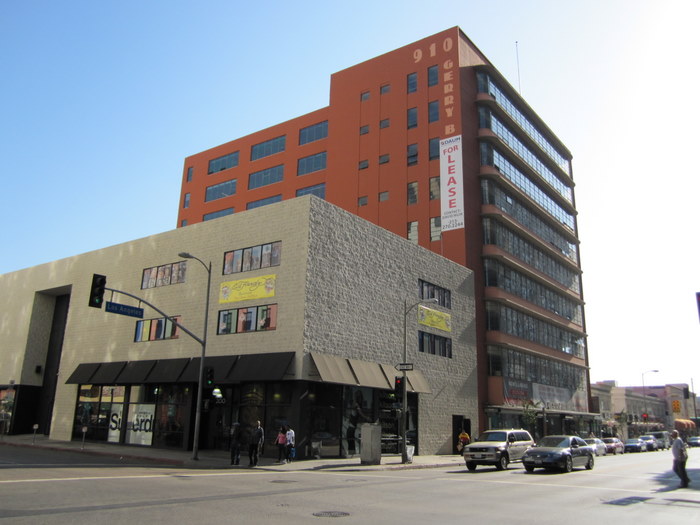 CMC (The daddy of them all) across the street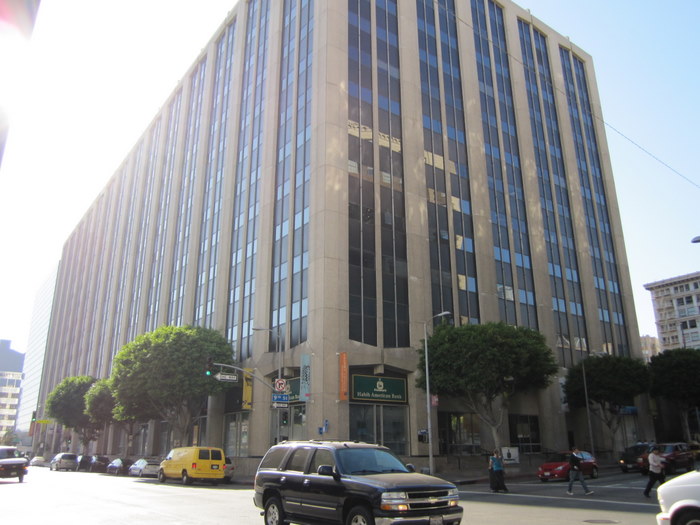 New Mart (The waiting list only showroom) across the way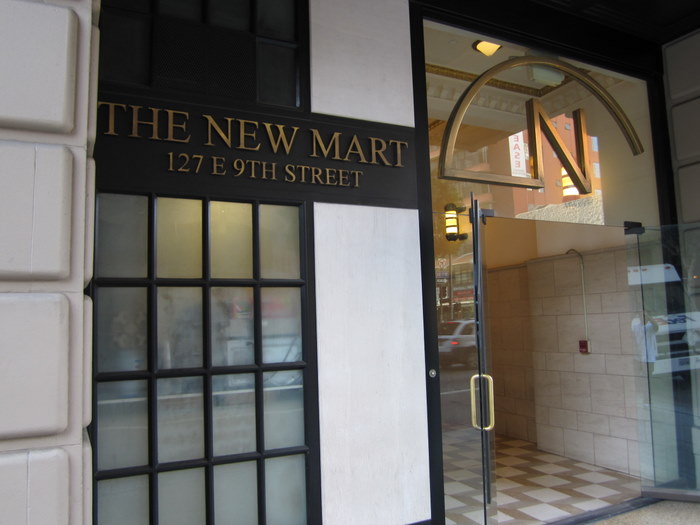 And where I have a meeting today, the Cooper building (my style). This place will be a zoo once market week hits.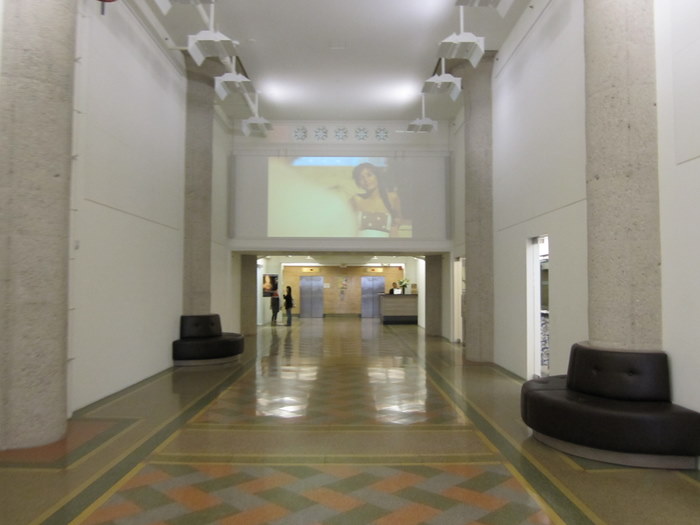 My boyz at The Library.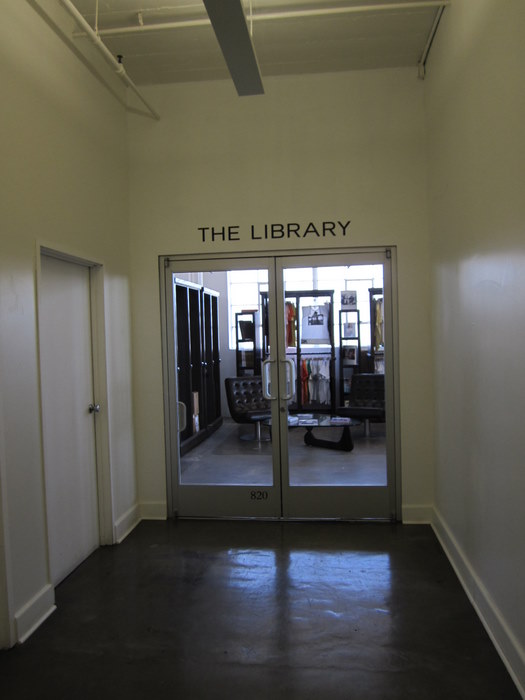 I said what up to Kenny at Goorin. I've known K before he got in the biz. He's an all-around homie that's down for the cause. He's the main man for anything Goorin (as well as Nooka) on the Left Coast. Howz it man?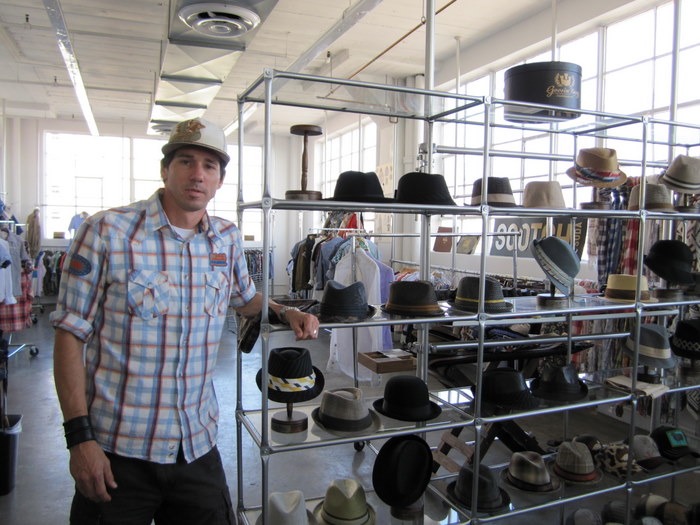 Since I'm a hat guy, you know I gotta get my fedora on.


The Minna Collection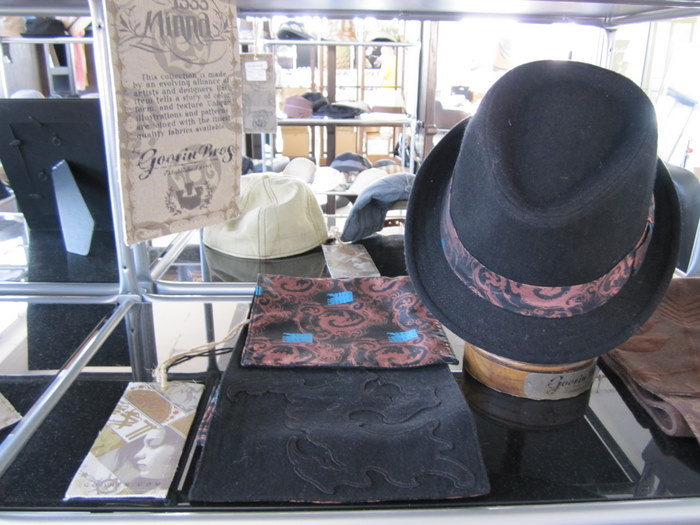 Winter Luxe Time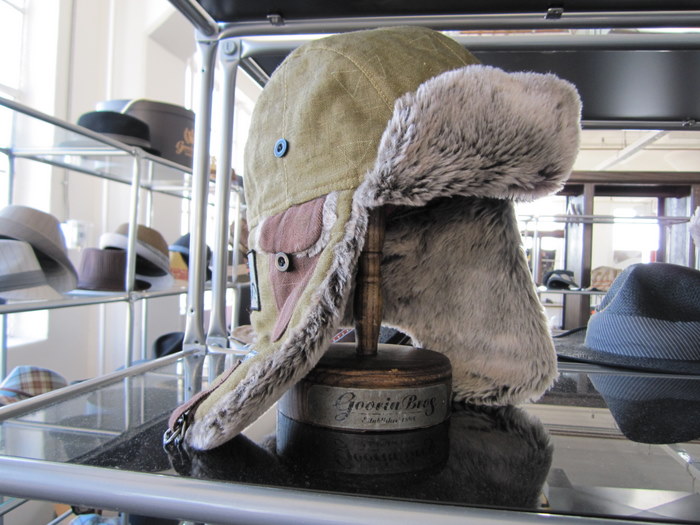 I was at the Library to meet Jeremy. JD and I go way back as well. He opened the showroom a while ago and has too much shit on his plate. Besides running Dutch company Scotch and Soda on the west, he's also the lead for New Balance and PF's special projects. Surprise surprise, Mike and Tac (Blends) were back in town to check out the new collection and possibly to talk about…. Just some heads up, Mike and Tac were chosen to do Comme de Garcons very first pop up shop in the states. It was off the chain, literally, as it was nothing like you've ever seen before. If you didn't know, now you know.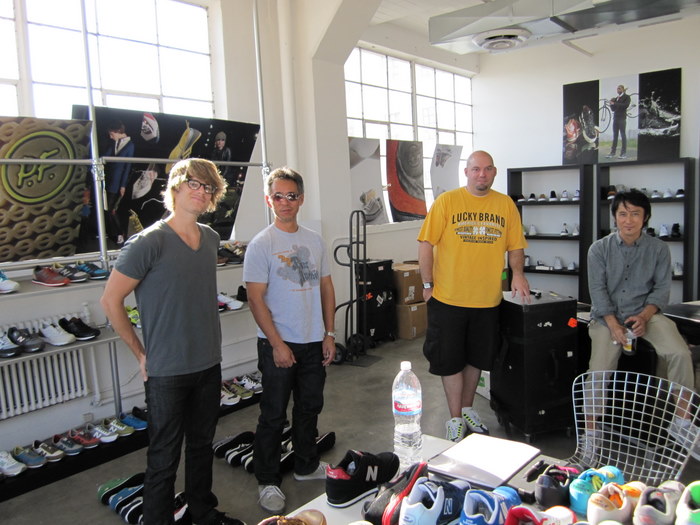 This is what my shoe wall at home looks like (sike)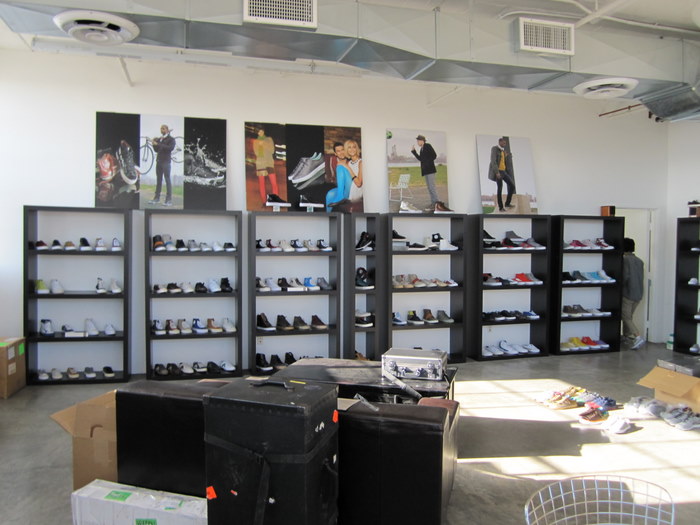 Knotts Scary Farm-what?!
October 21, 2009
One of the perks of doing your own thing is that when you wanna take some time off, you can. I'm not talking about myself, I'm talking about the crew at 686. A few times a year, I like to take everyone out to do random things. It's not so much a company trip, but more like a reason to have some stupid fun. In the past we've done some incredible things such as shredding and sledding in South Lake Tahoe, getting in trouble in Puerto Vallarta, Mexico, booze cruises on the sea and even surfing in Hawaii. Since we don't have much time now, we're gonna keep it local and check out Knott's Scary Farm! Not recommended for Children under what?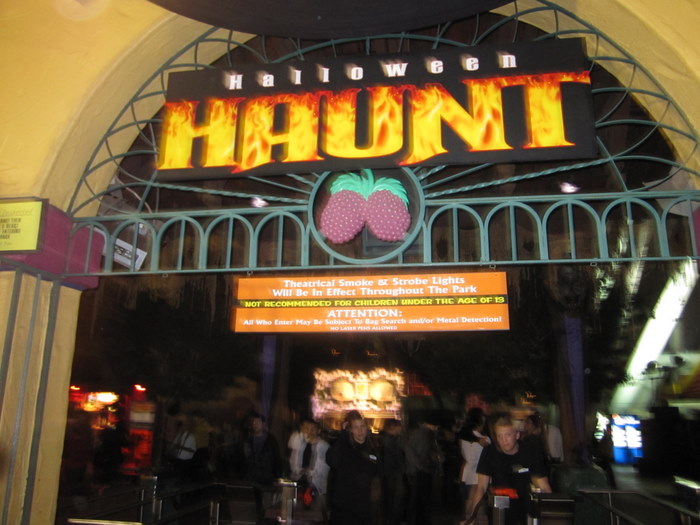 Gary, is this that new dance move you've been telling me about?


Who's got the golden ticket? Oh, I guess Gary, Ali and Lisa do.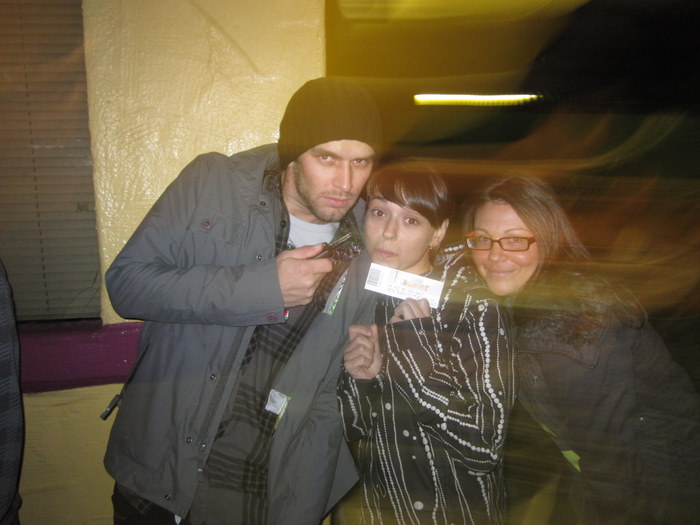 If y'all never been to Knott's Scary Farm, it's pretty interesting. I haven't been for a loooong time, but it's about the same. Lots of young'z, people screaming all over the place, monsters scaring grown ass macho dudes (who later ends up punching the monster), spendy junk food, games and you guessed it...LINES!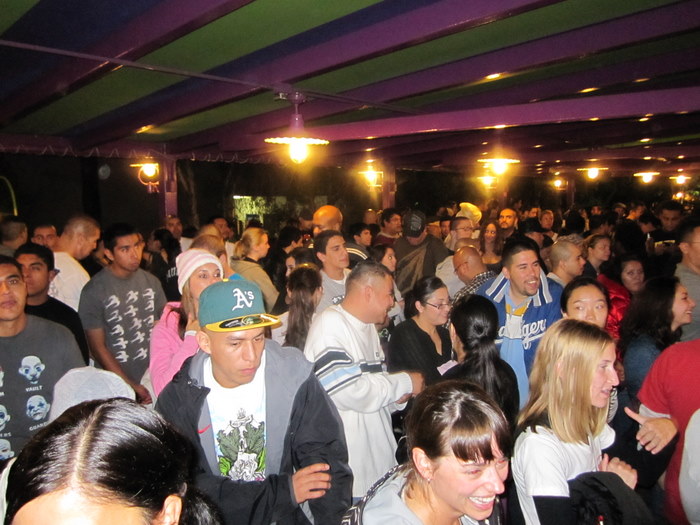 One of those games that looks easy, but really isn't. "Honey, I'll win you that stuffed animal (that costs about $2 to make and you'll never use again) after I try and find an ATM to get another $100 in cash."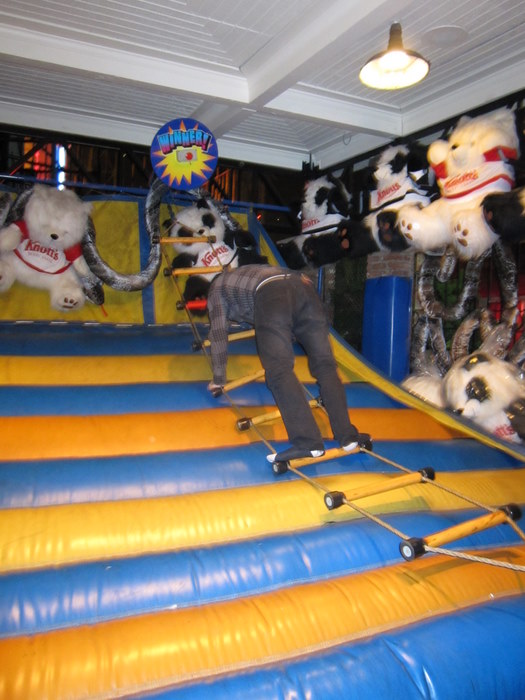 The Mazes are what you go to at Scary Farm. Let's go check out the Doll Factory. Kinda looks like the mannequins we have at the office, but not really…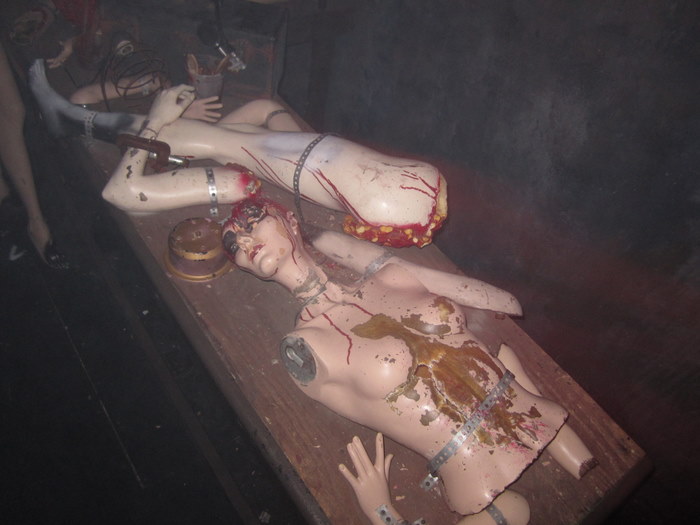 The good thing about being in the back of the posse is that you can scare the shit out of everyone else.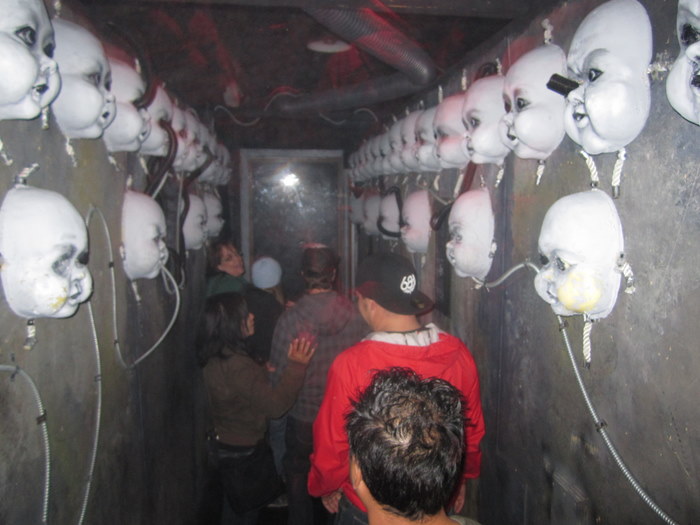 RIP my man that wears DVS shoes.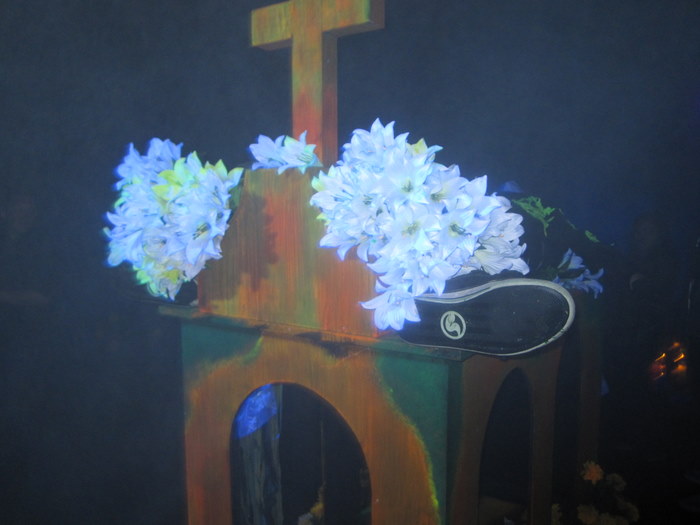 Enough of this stuff, let's go to the Revolution! Buckle up Micah and V.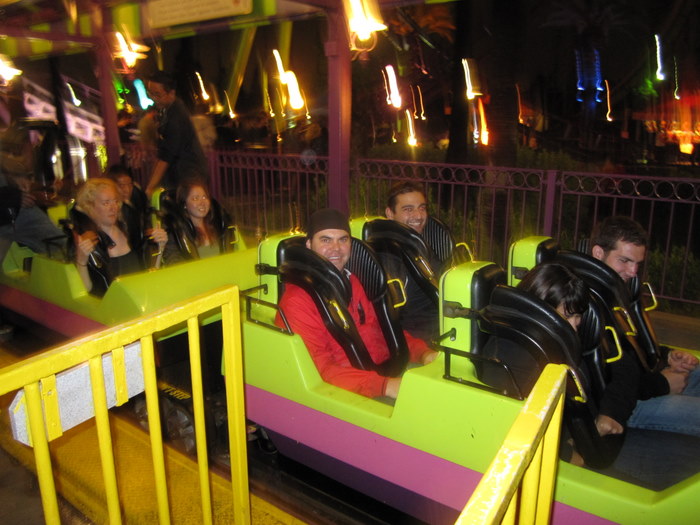 After getting pushed, pulled, screamed at and just about everything else at an amusement park, I'm done. One more cheesy picture and we're outta here! (what's that on my face?)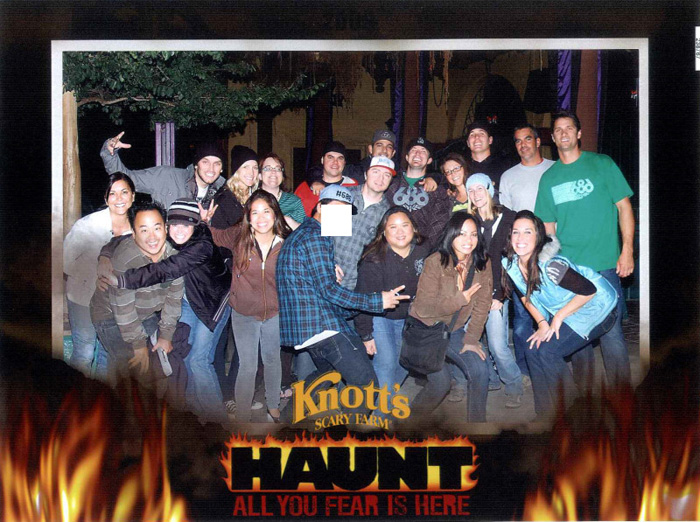 Photo shoots!
October 20, 2009
The winter industry is a little turned around. What I mean is that we gotta plan so far ahead of time, it's pretty silly. We already shipped out Winter 09/10 stuff, the hills are just about to open, but we're also finishing up the Winter 10/11 catalog as I type (not to mention we're already ¾ finished with Winter 11/12 designs!). LV and Pat came by to shoot some photos for the catalog yesterday. Can't show you too much shit here, so you're gonna have to deal with some screen shots.
LV's signature set up (ice not included)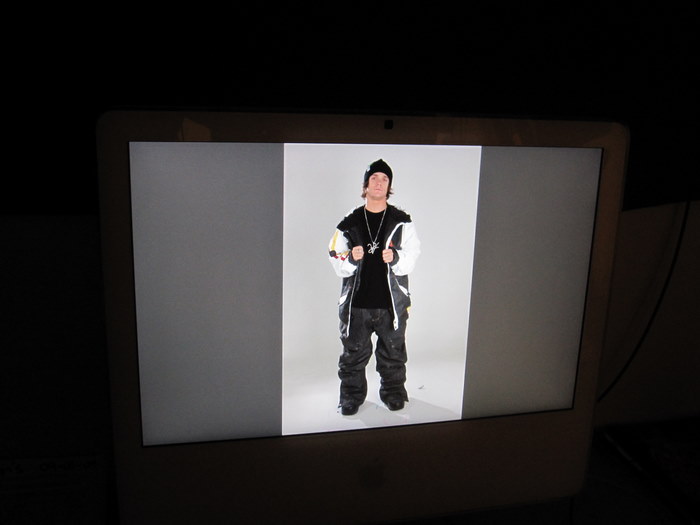 Louie's sis, Lindsey, always got his back (as well as laughing at it…)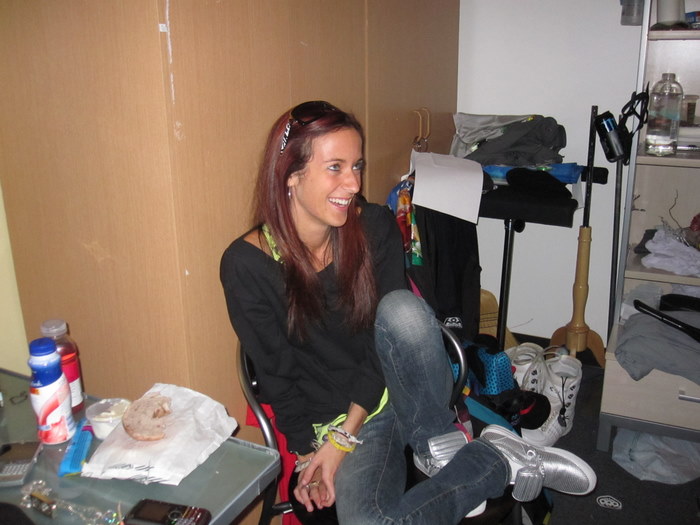 Speaking of laughing - E! Entertainment TV was here filming the shoot
"That Morning Show" With Louie Vito from 686 Apparel on Vimeo.
Pat rolled down from Washington to take a few shots. If you've ever done a photoshoot, it all comes down to lighting and styling. Ali here, shows what's up to Pat (which I have no idea what he's doing). Ali why the looooong face? I guess it's the 12 hours of styling that gets to you…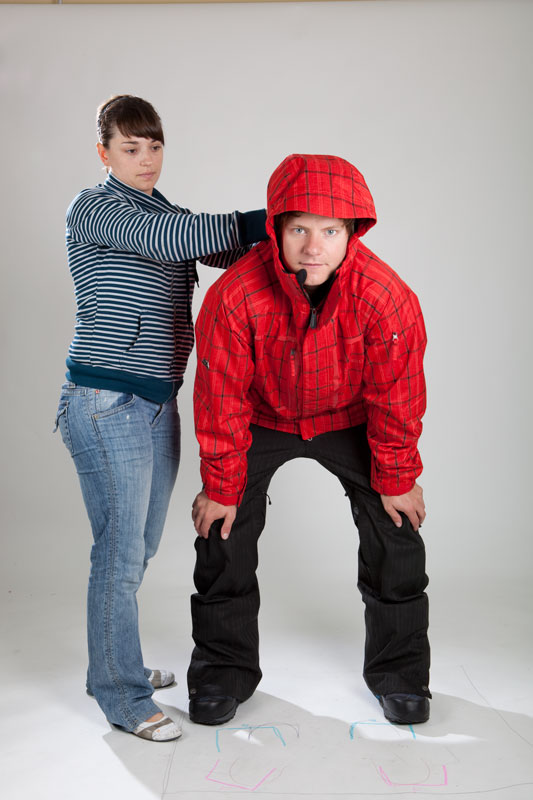 The thing about Pat (besides tearing shit up in the backcountry), is that he's a bundle of all the good things in life. Super positive and super cool with super style and super persona. While hang'n out, he personally signed a grip of posters for some 686 stockists. Each one had a little story made just for that shop. Here's a little Canadian love.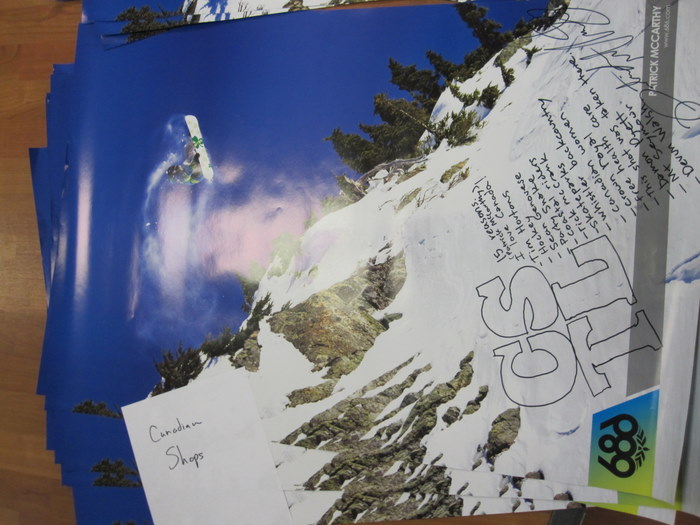 Pat's 15 reasons why Canada kicks arrrrse.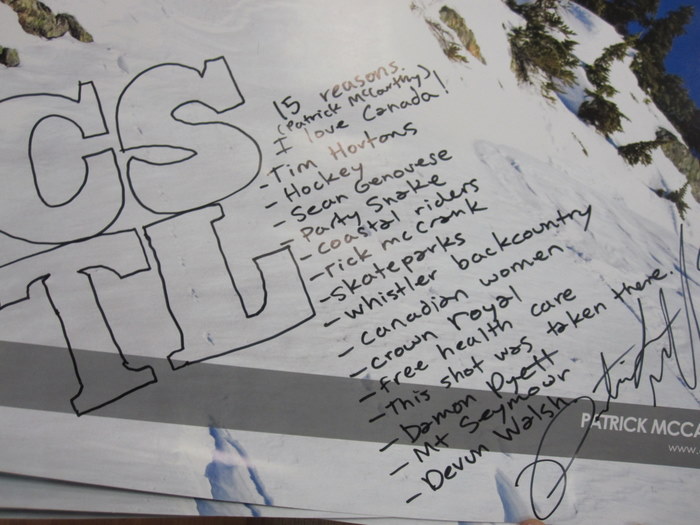 Winter 2009/2010 Collection-PLEXUS MEN'S LINE
October 19, 2009
It's October and Mammoth Mountain just opened! Since winter's here, I'm gonna start mashing some of the new collection. First up is a preview of the 686 Plexus line. PLEXUS offers a glimpse into the future of technical shell outerwear. The focus is based upon lightweight and minimalist design needs. 686®, BOA® and RECCO® technologies have exclusively partnered to develop entirely new innovations in the world of 3-ply technical shell apparel.



The Pinnacle Jacket epitomizes the Plexus motto of lightweight shells, offering imported Japanese fabrics with 3-ply 20,000mm/15,000gm waterproof and breathable technologies, BOA winding system in the hood to eliminate toggles and cords, Recco avalanche transceiver, welded seaming, engineered and articulated fitted silhouette with subtle minimal contrast hits throughout.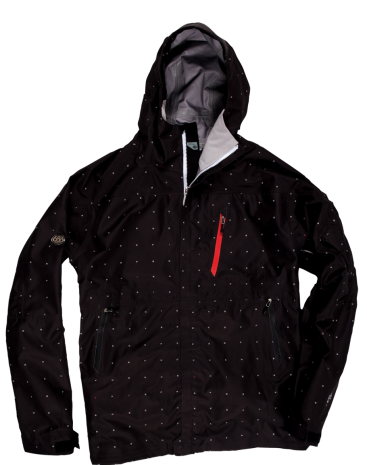 Match the Red Pinnacle Pant with this jacket and you're set. I'm down with simple things without compromising quality workmanship and premium materials and trims. The Pinnacle set up is what I rock in the backcountry or on heli trips.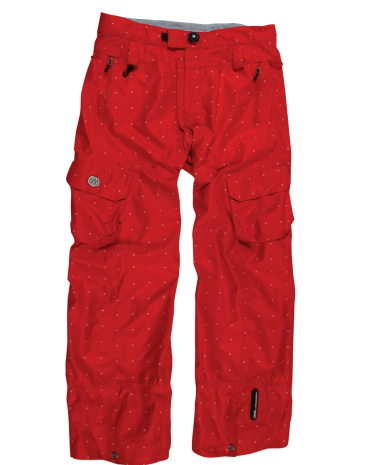 Here's some more Plexus pieces- The Gamma Jacket in Gunmetal Pin.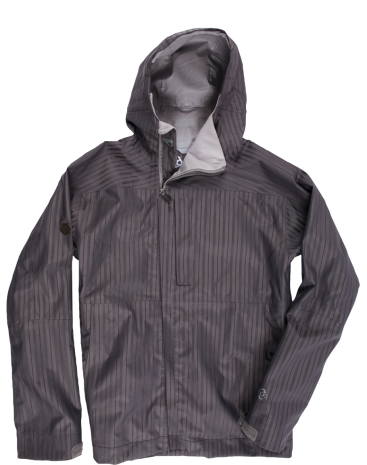 Gamma Pant in Black Pin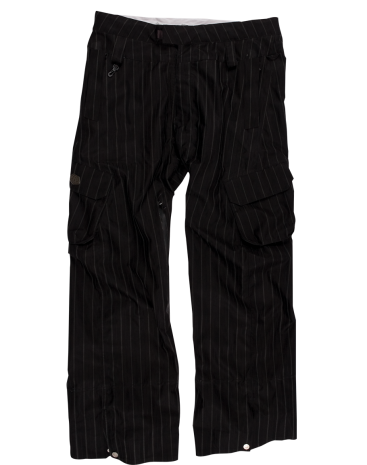 Softshells are basically technical hoody's you can wear on and off the hill. The Zenith Softshell is great for everything you need during foul weather on the hill to chill times at the bars.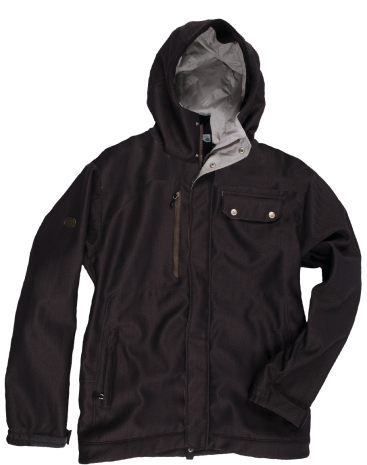 For y'all that wanna brighten things up, the Axis Softshell does it well.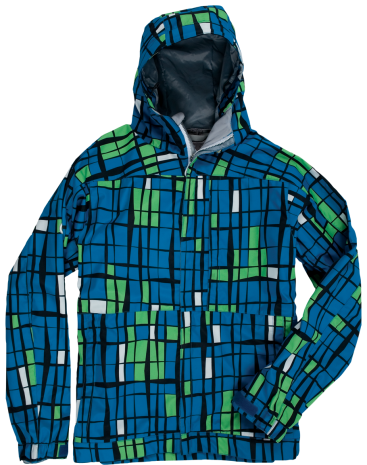 Park rats, what! The go-to softshell for the 686 Faction. As my man Slim would say, "I'm so fly…"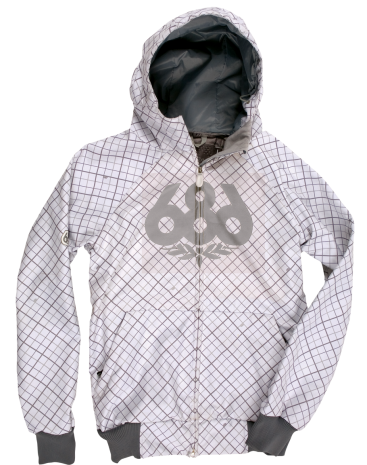 "FREE 4 ALL-Fridays…"- CRAZY LEGS
October 16, 2009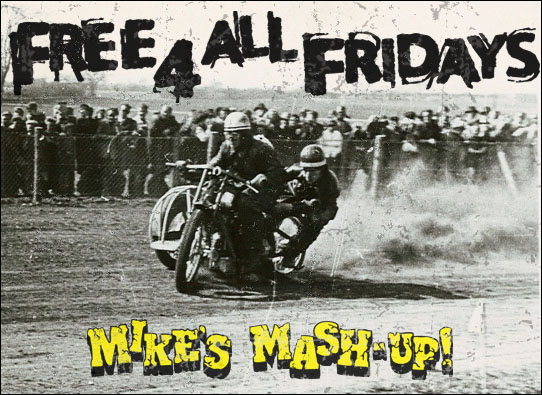 As you know, Friday's Mash- Ups are completely random. This one brings it back to my old popp'n days. Just like skateboarding, shit's changed a lot since I could do anything like this.


Interbikeeeeeeeeee
October 14, 2009
Last week, BD and I took a short day trip to Vegas to check out the annual Interbike show - you know the place where it all goes down for mfgs, retailers and bike enthusiasts alike. Since I like to geek out on all type of products (and I need to upgrade my Pake), why not check out what's coming up next season?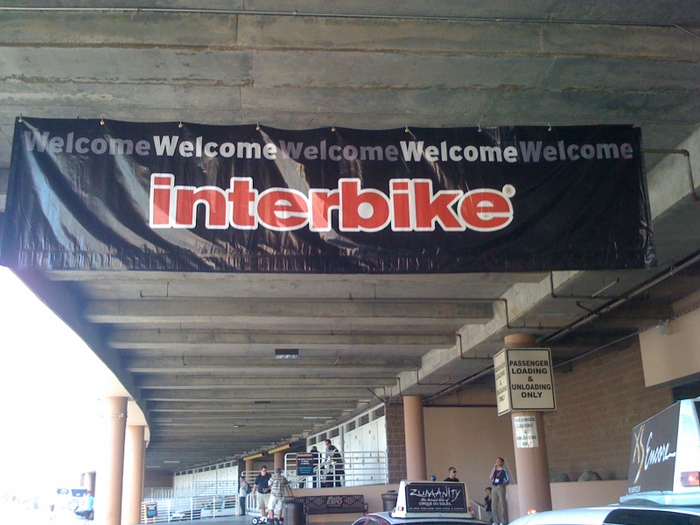 Just like any show, they categorize sections. At ASR, surf typically has the largest footprint, with skate (footwear, hardgoods) and swim following. At SIA, the ski and shred areas are definitely defined. At Interbike, it's similar. Road takes the cake with softgoods and hardgoods evenly split. DH (downhill) shows their muscle as with cruisers and of course fixed, track and BMX are few and far in between. I know my kind, when the music gets louder, high fives start slapping and the drinks start pouring. Hmm, what did I see here? Hello Cinelli!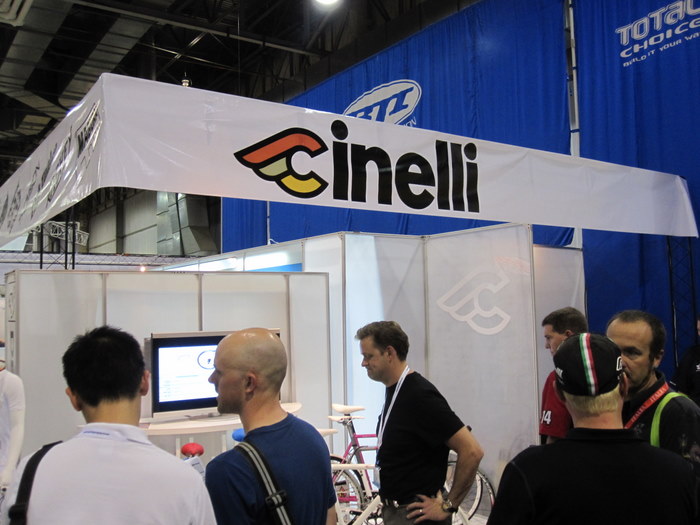 It's weird at Interbike, everyone is cool with you taking pictures! At my shows, if someone pops out a camera at our booth, we have about 5 big dudes ready to pounce on them. I don't see any big dudes around, so what the hell. Hello my new bike #1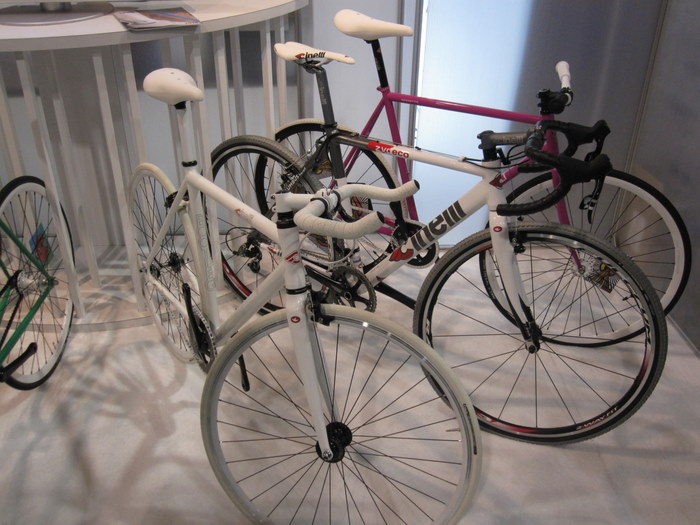 San Marco has been around a grip longer than I have-I think I'll take the Kelly to match my…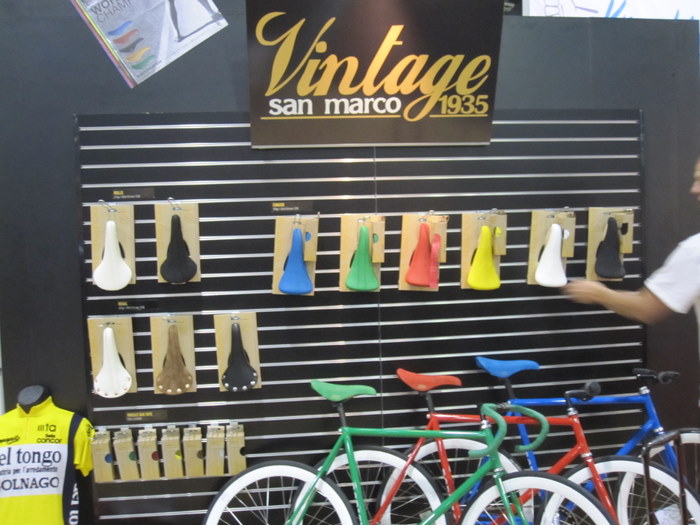 …New bike #2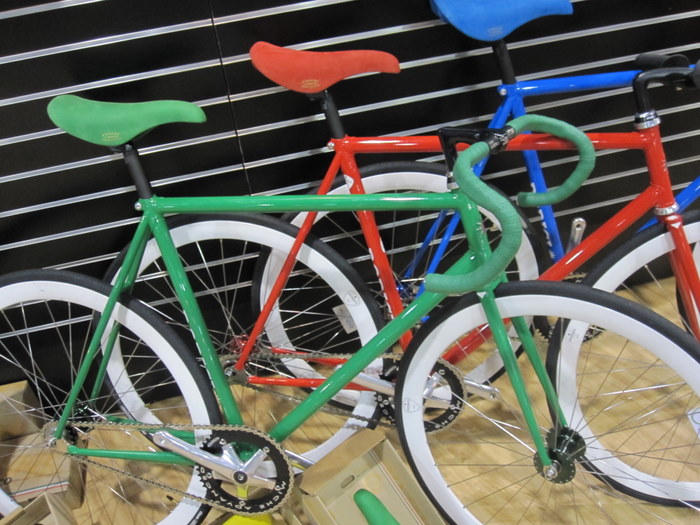 Across the way, we ran into the Leaders camp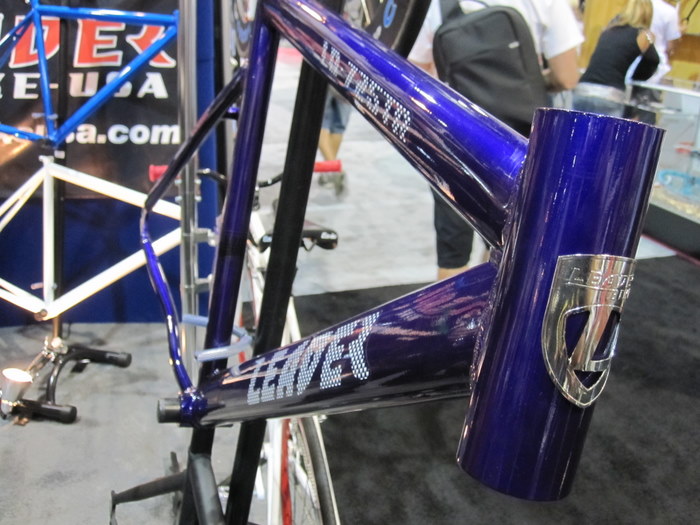 You can't deny what Fuji's done. Something about the shape, color, and meanness of a track bike. Damn, I think I'm gonna hump this thing.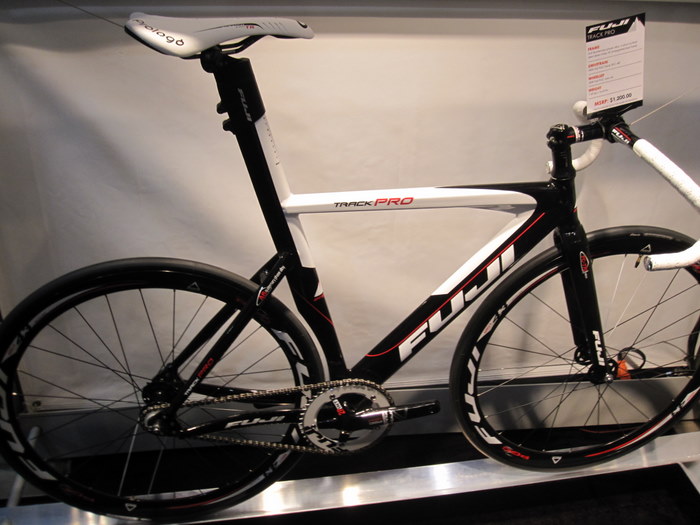 Oh snap, Greg Lemond, beat me to it.


And in the right corner, its…Bianchi!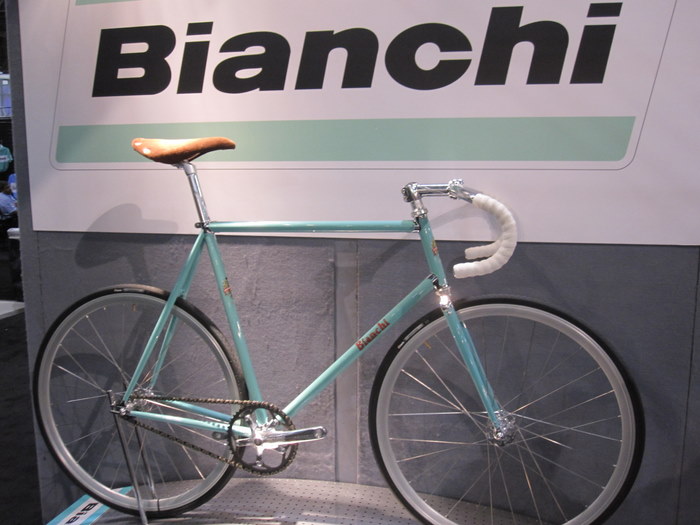 Can you say Super…


A lot of snow heads are into DH and mountain biking. Maybe it's just me but I never really got into this. Although this does look pretty fun.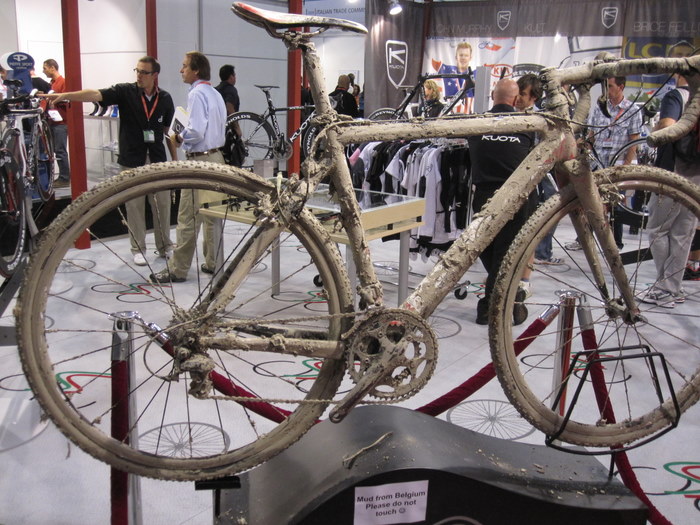 One of the most important set ups is your lock. Remember Kryptonite? They are still around and going strong, as well as HEAVY. This thing weighed about 30 lbs! Ain't no one gonna get my bike.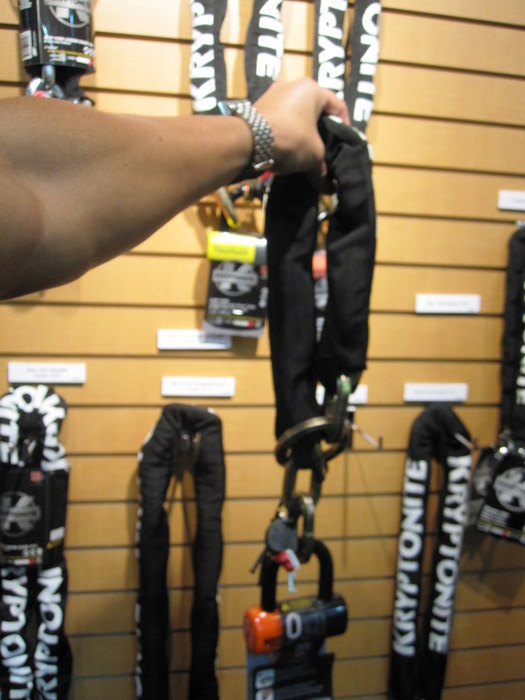 It's almost time to head back to LA. Since we're so fit, maybe we should just ride home? I think if I wear this helmet, I'll get back before sunset, what do you think?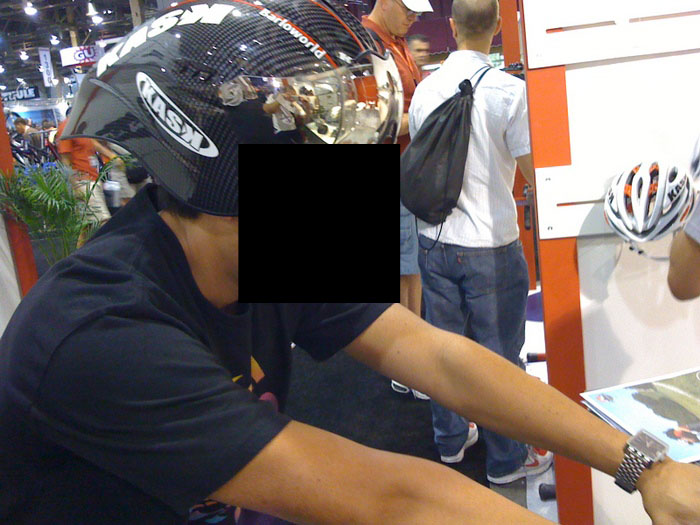 On second thought, my back kinda hurts. Damn, I'm outta cash and don't have $ for the cab. Cha-ching! Thanks BD, you just saved us. Peace out.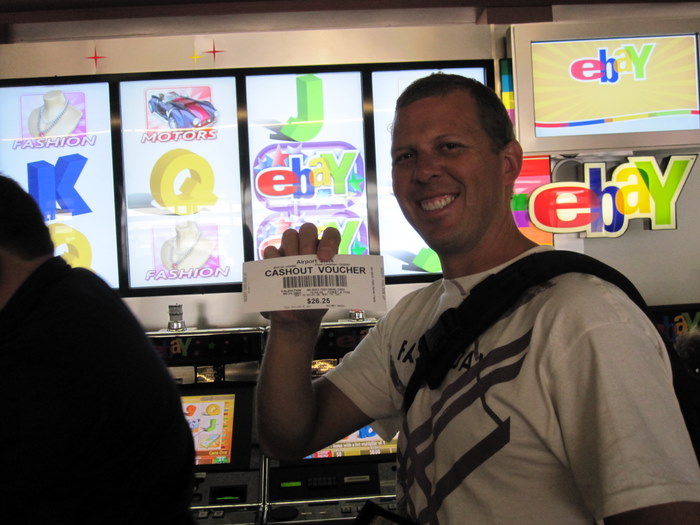 Hello Singapore
October 14, 2009
I've never flown Singapore Airlines, nor ever stopped in Singapore. (S.A. has one of the strictest stewardess - next time, take a look at the crew and you'll see…) I guess there's a first time for everything. I'm only here for a few, so unfortunately, I'm not gonna be able to hit up key stockists this time around. What I did have time for is EATS. Tian Tian hawker stalls in da house.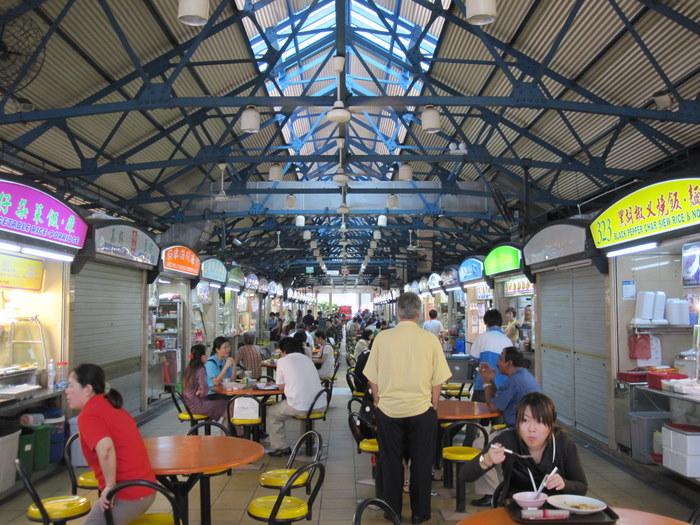 Yeah, I know I know, I'm one of those guys looking for the Hainan Chicken rice. Bam, here it is!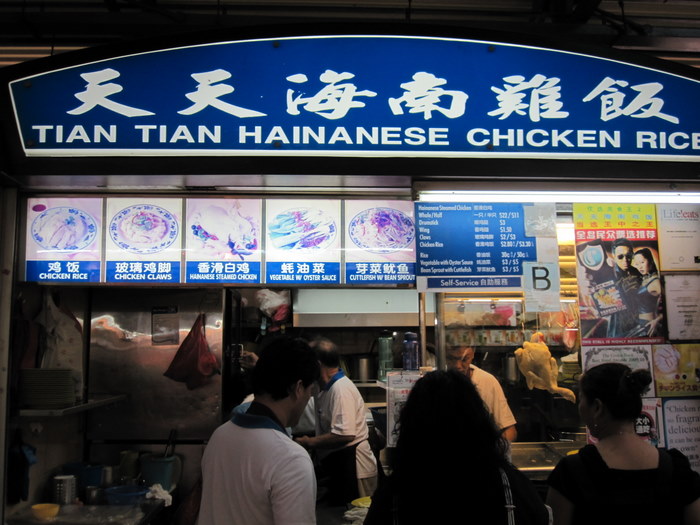 Look closer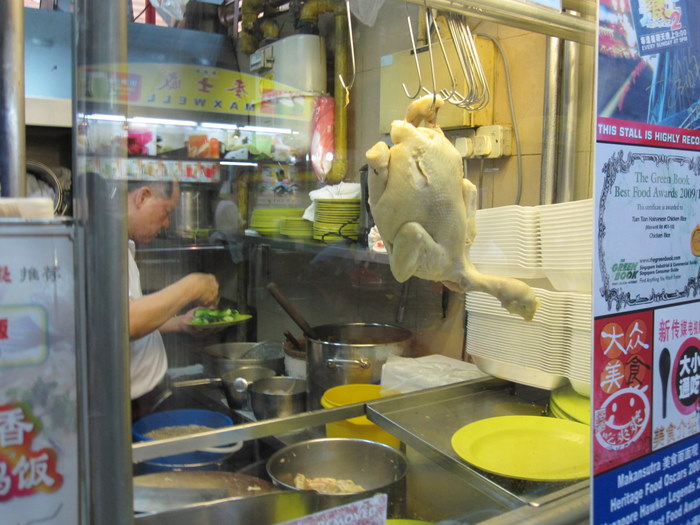 My man, Anthony Bourdain even agrees.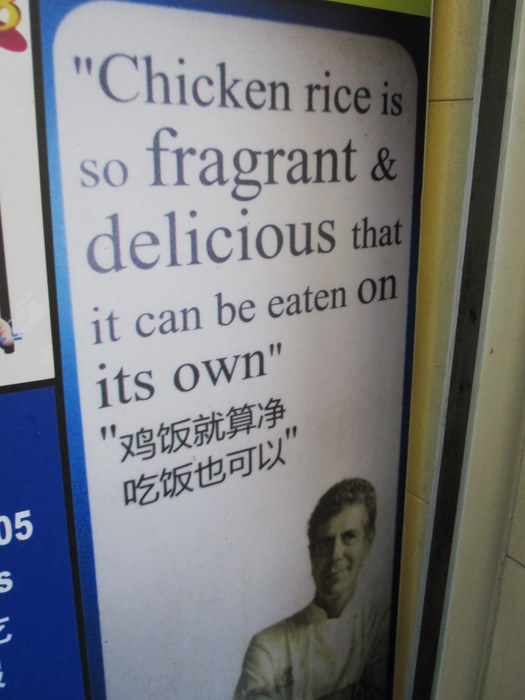 Took a quick train ride to…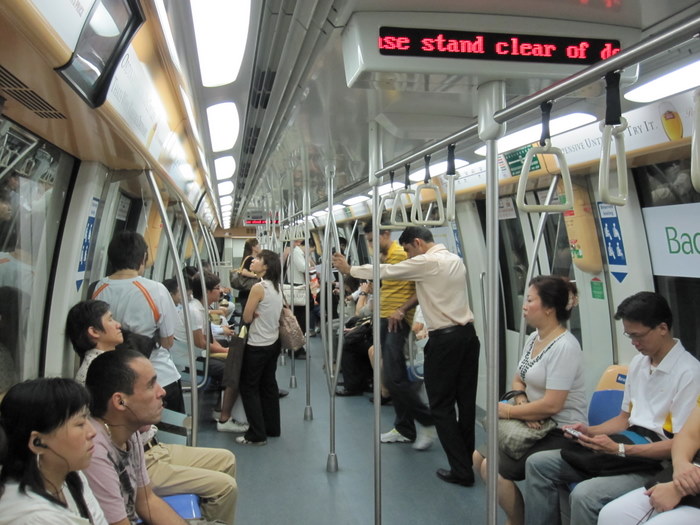 …Little India…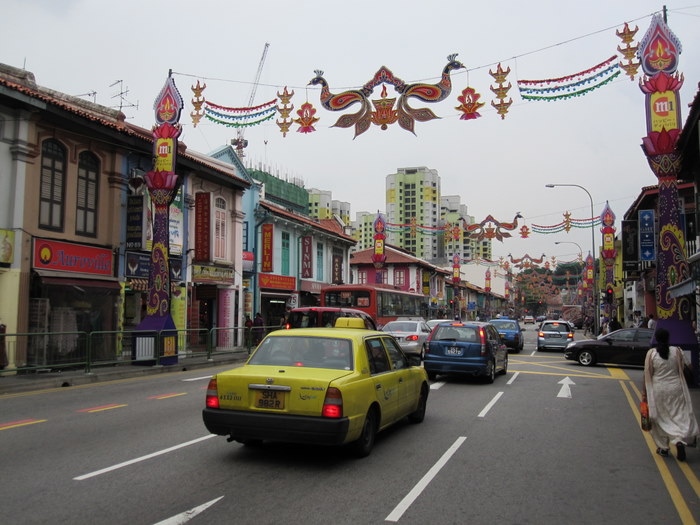 …to find some…


…silk! You'll have to wait and see what I do with it!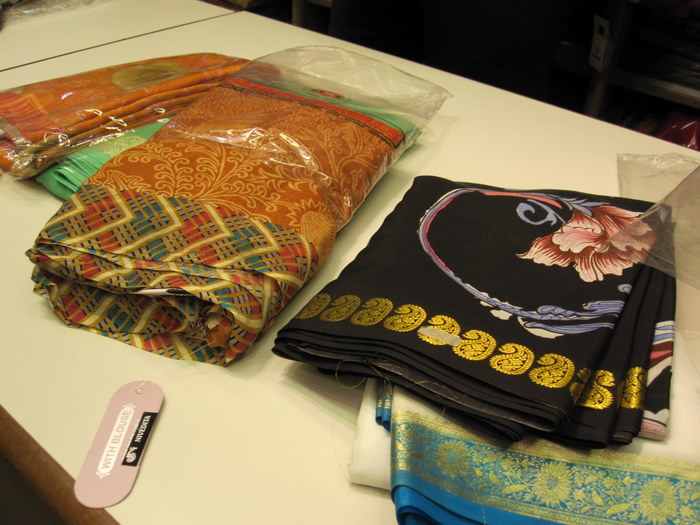 With every metropolitan city, you have the old and the new. Here's a little new for you.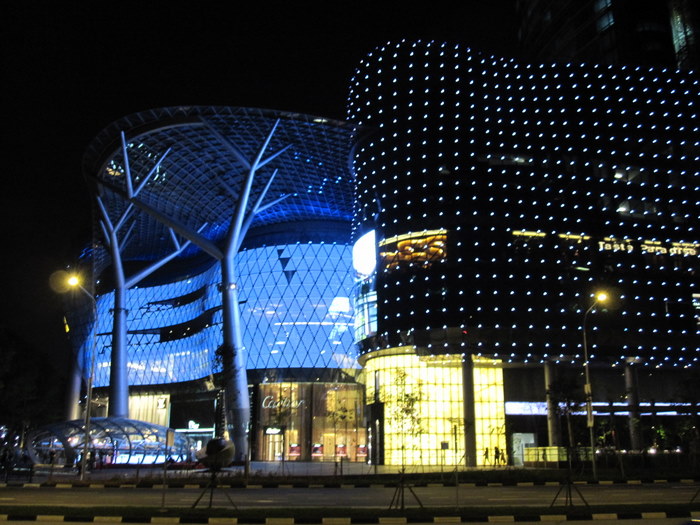 I'm a big fan of all things architecture-most particularly textured materials like glass and wood. Check out D Squared's place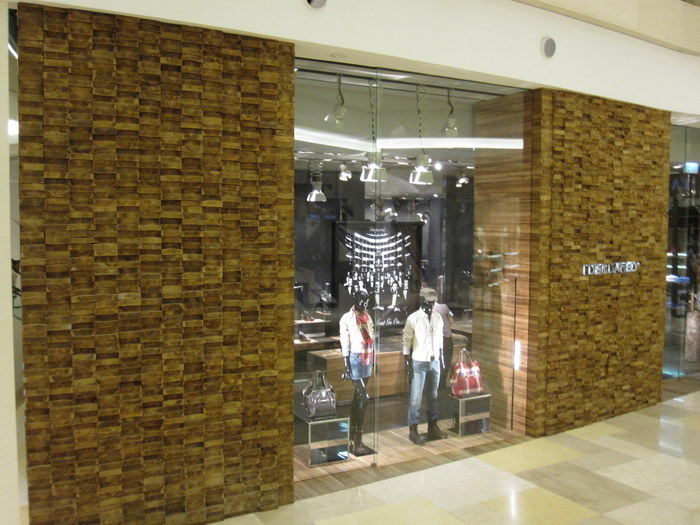 Look closer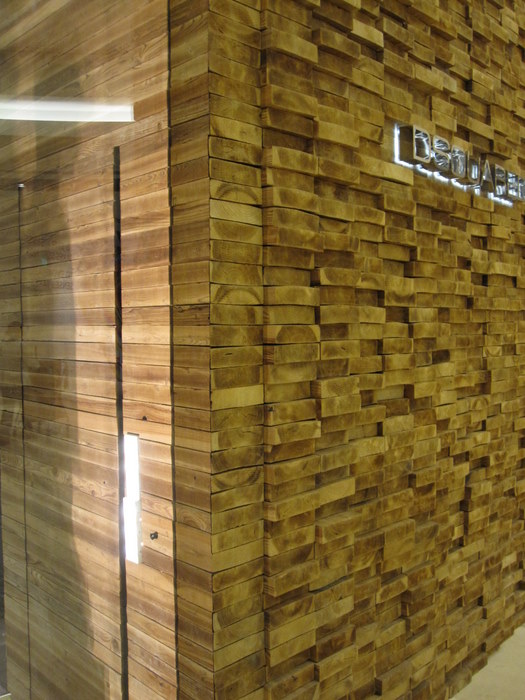 Next time you travel, try and check out the signage out there. I'm always amused of what I see. Have you ever smelled durians? They taste much better than they smell.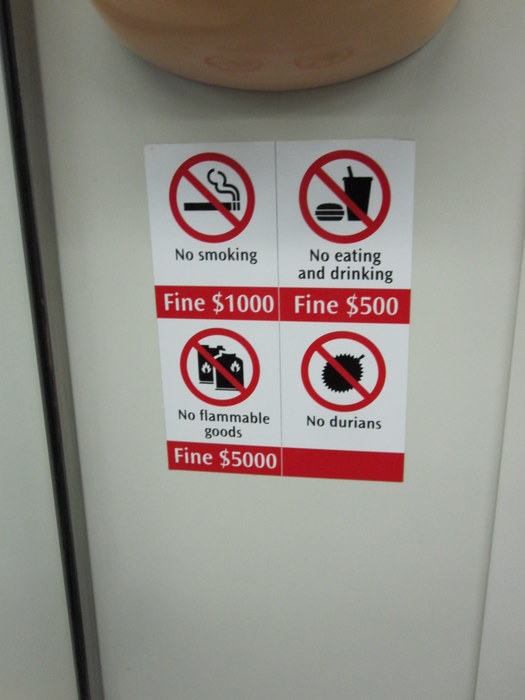 Awesome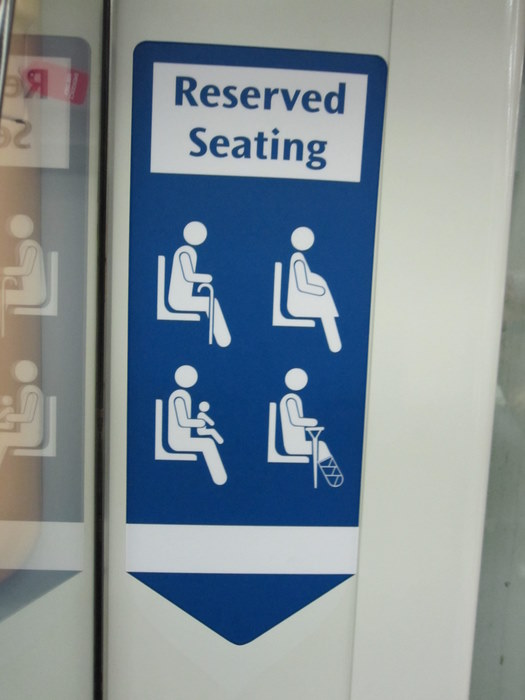 A "happy" journey starts like this…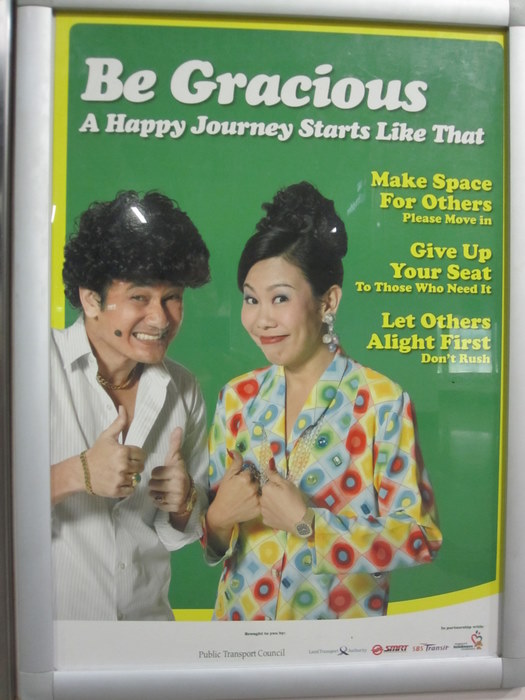 Don't play, play?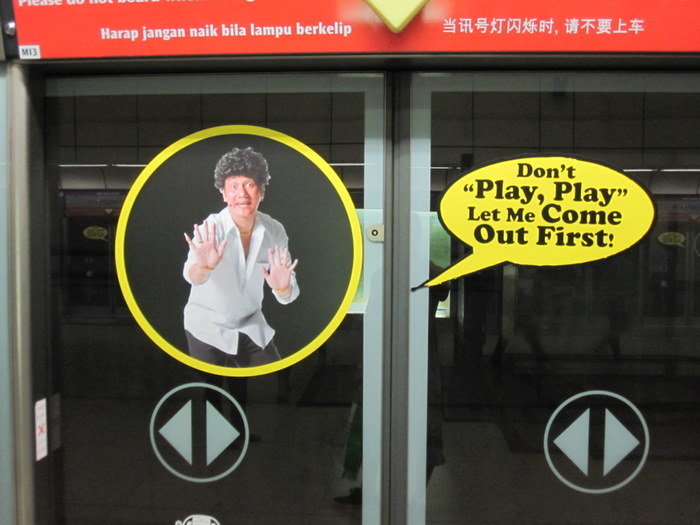 I think I saw this movie a long time ago


No, I didn't see this movie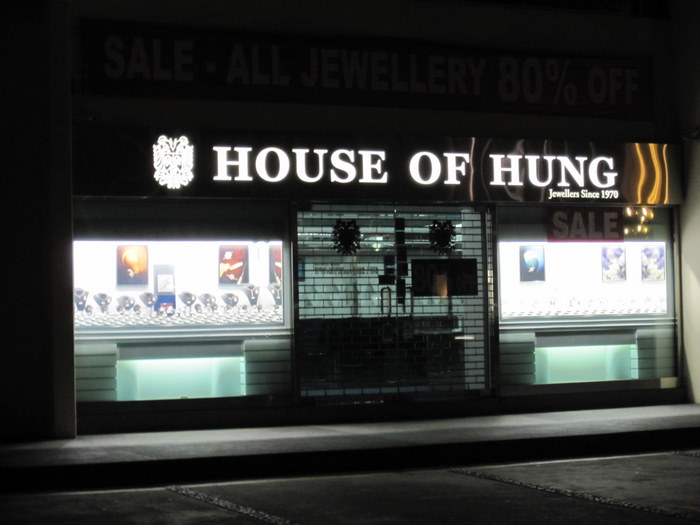 If Americans had this on the back of cigarettes like the Singaporeans, I wonder how many young'nz would be starting.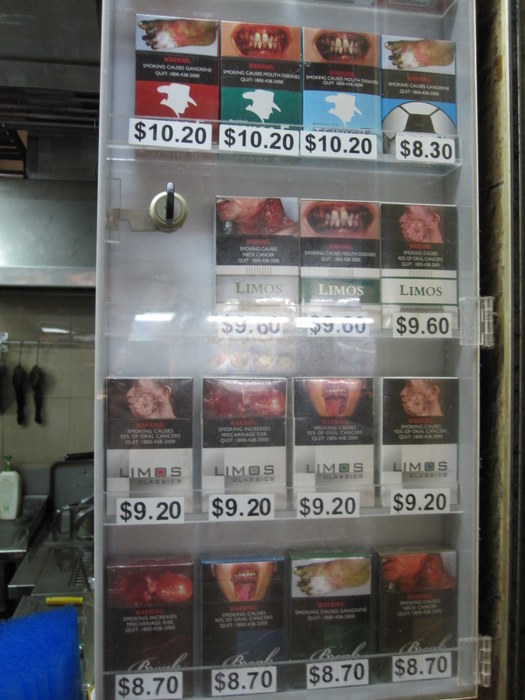 The last Singaporean supper- Sin Huat!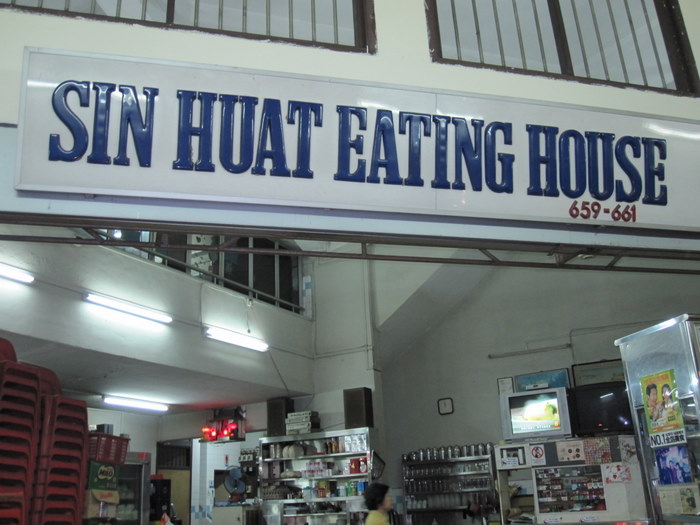 Famous for the crab beehoon! Service sucks big time, but the food makes up for everything and then some.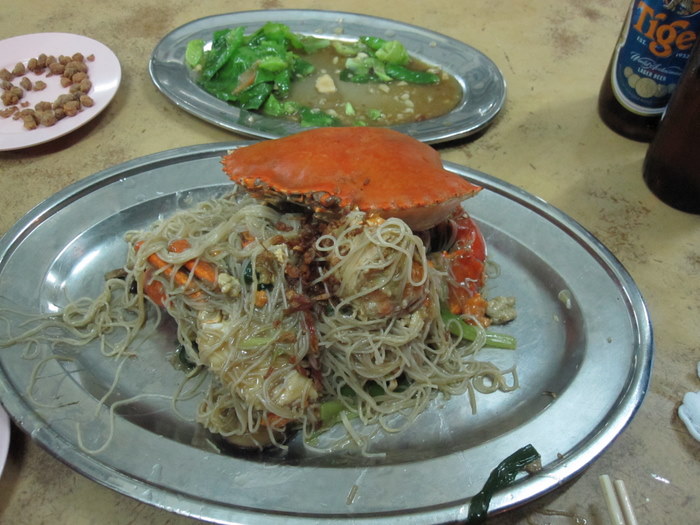 Essence-Big ups Singapore!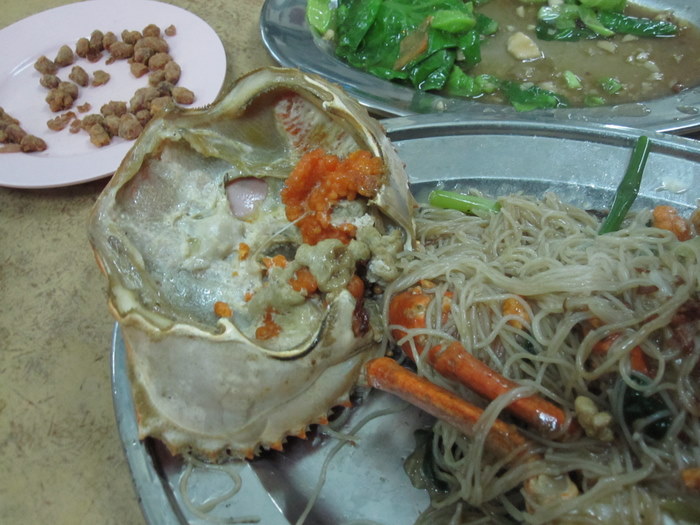 A little place called BALI-Part 2
October 13, 2009
The good thing about Kuta is that everything's a short stumble away. Street vendors trying to hustle you food for the day.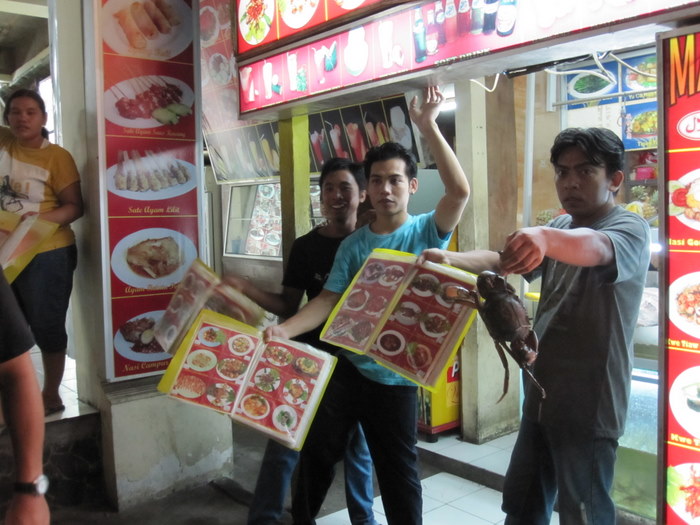 Mickey D's Bali style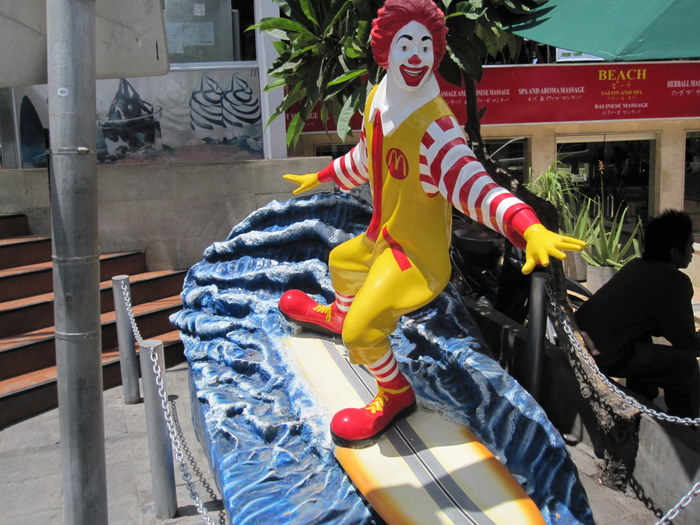 Feeder fish massage therapy, anyone?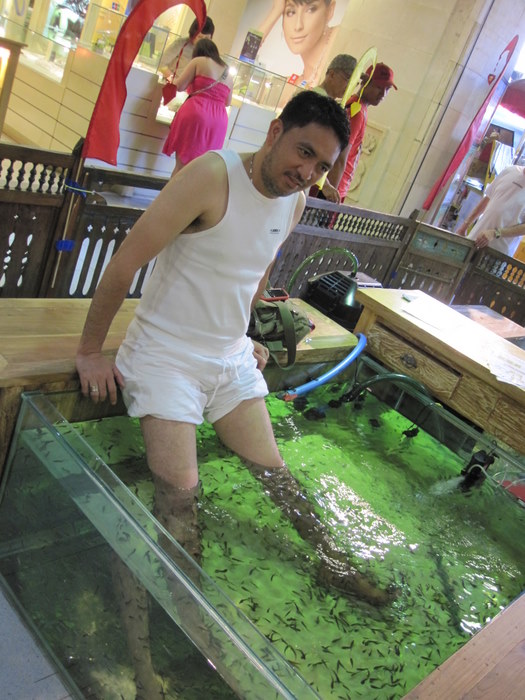 Lately, I've been feeling a little weak in the arms when I paddle out. Wow, just what I needed.


Damn, it's spendy to get in shape.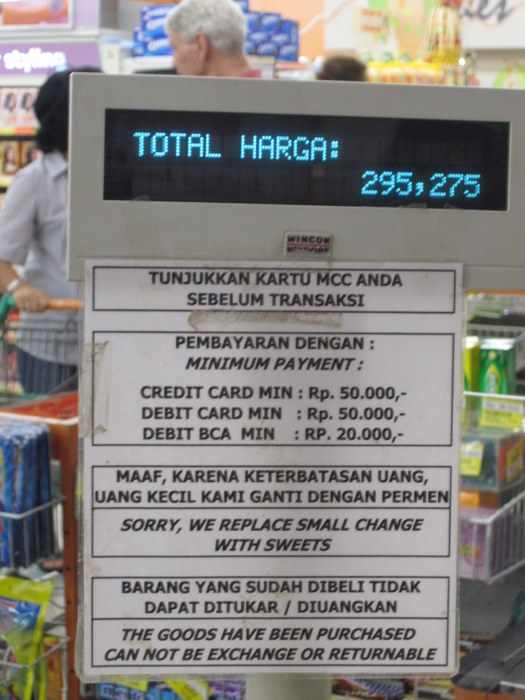 The thing about Bali is once you get here, you can live for months with the change in your pocket. You need a shirt, well go down Popies II. (Where the hell did that sticker come from?)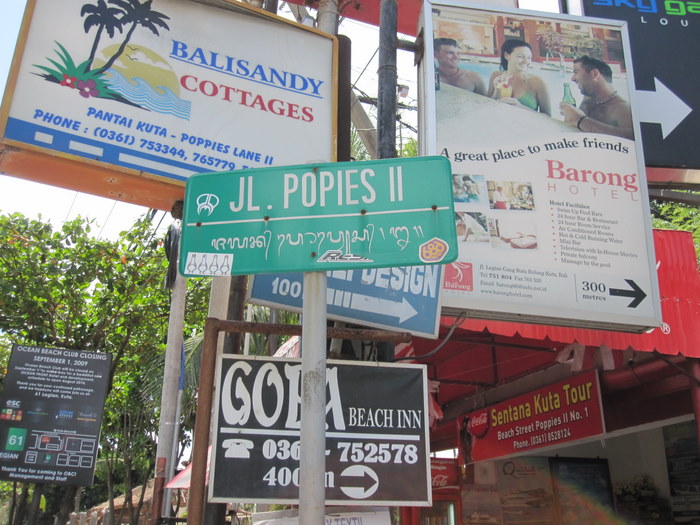 At Popies II, you'll get anything and everything.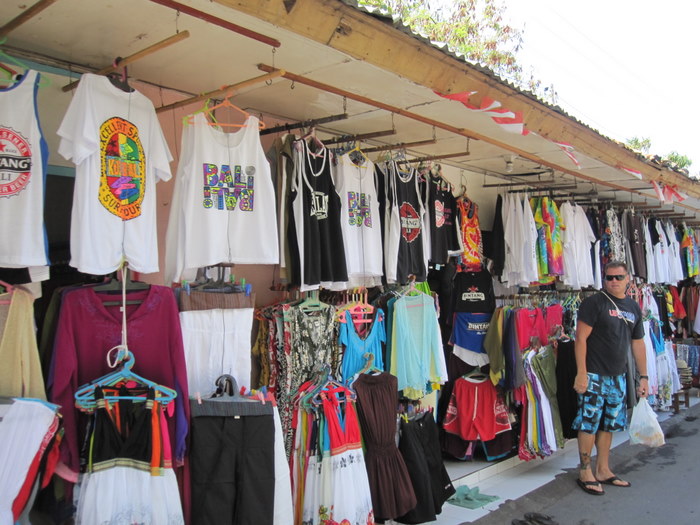 It will keep you clean for the night, but I can't guarantee it's the real thing.


A few years ago, there were several bombings in established stores and night clubs. The place on the right with the green awning was one of them, today you can't even notice.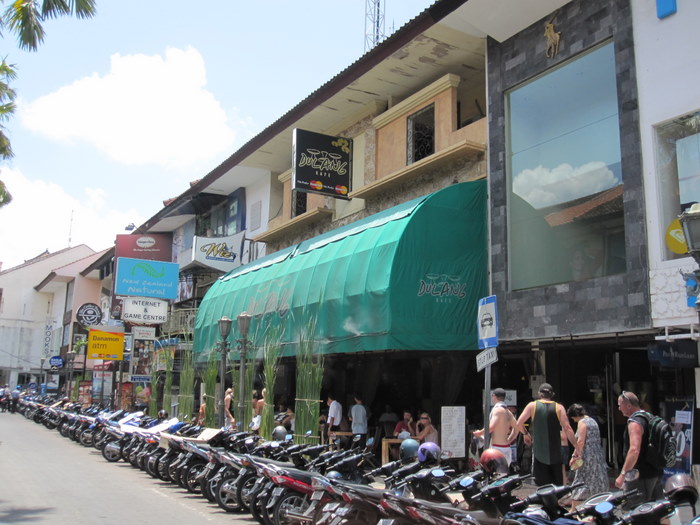 On club row, over 100 innocent people were killed when a bomber went into the club. Today, there's a temple on site to remember the fallen.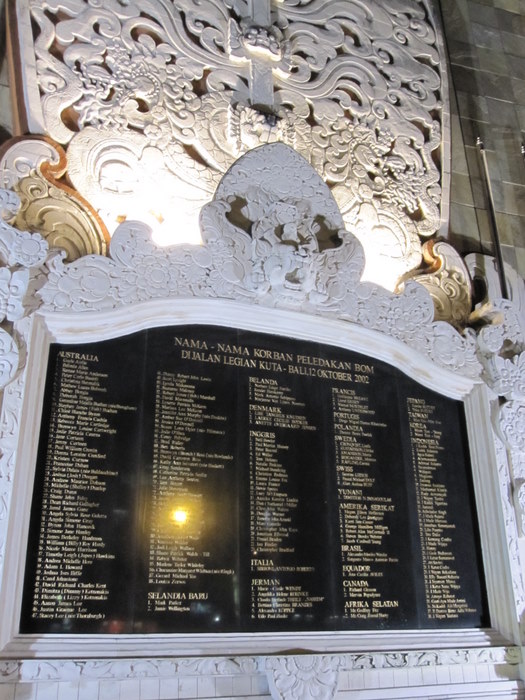 7 Americans lost their lives, RIP.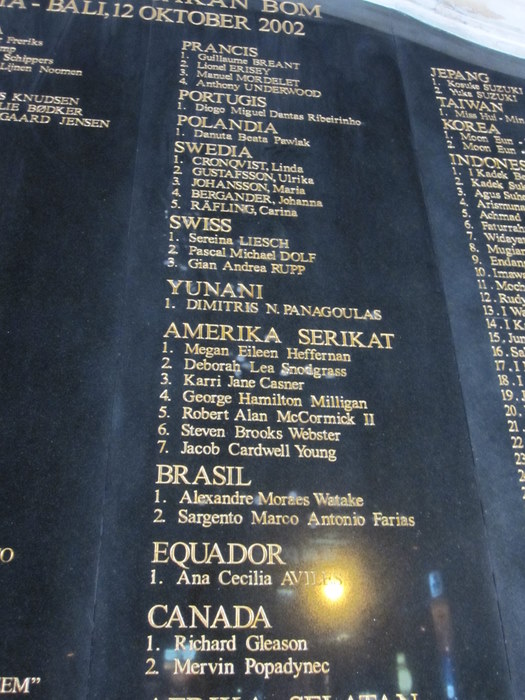 A lot of countries like Bali depend on tourism to bring in the necessary means of living. Next time you travel, do the research ahead of time. Travel smart but don't get discouraged from things you only hear about. I heart Bali and hopefully you do too.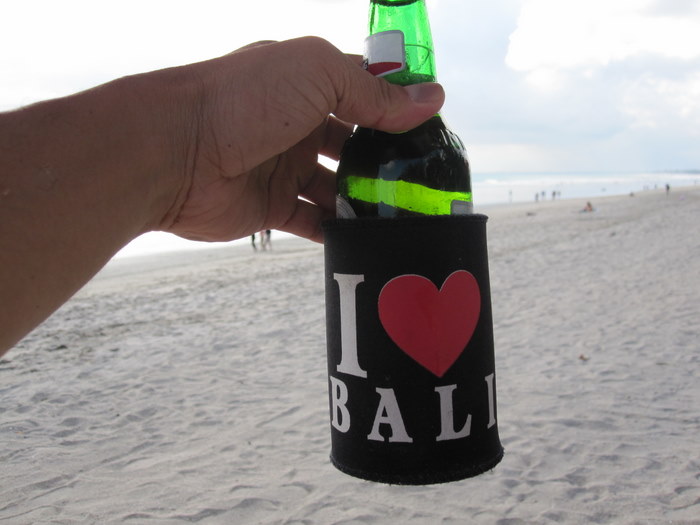 A little place called BALI...Part 1
October 12, 2009

There are places I have to go to and there are places I WANT to go. Once a year, on my way back from the factories in Asia, I try and stop by the place I want to go to, which is BALI. It takes way too long from LA, but from HKG, it's only a few hours. No Visa, no worries.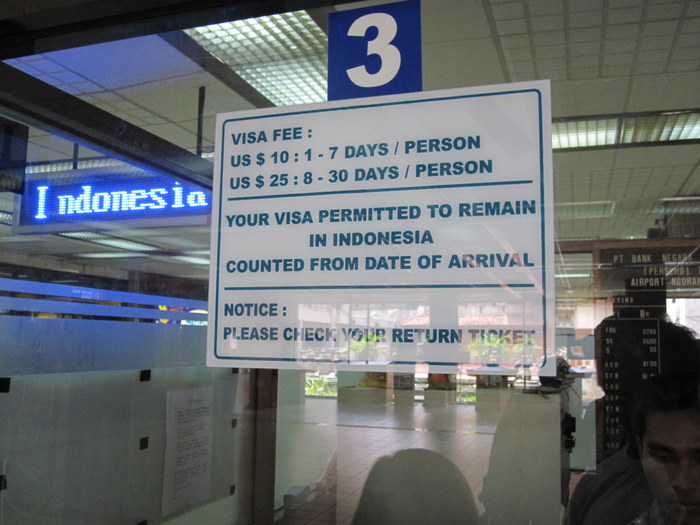 Before the first time I went to Bali, everyone was telling me to WATCH OUT! Kidnapping, robbery, bombings - don't go! I can't lie, I was a little concerned, but it all went away when I got to learn a little about Balinese culture. One thing you won't see is a road this clear (traffic's a bitch)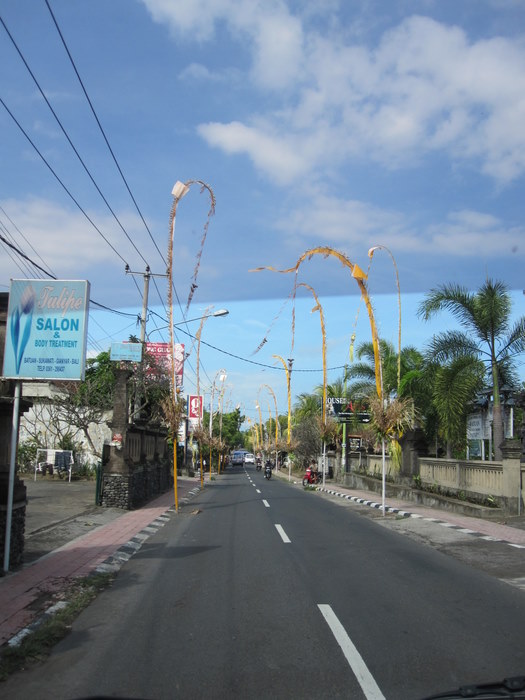 One of the things you have to do is go to a local grocery store/street vendor and get you some exotic fruits! It tastes much better than it looks, Rambutan anyone?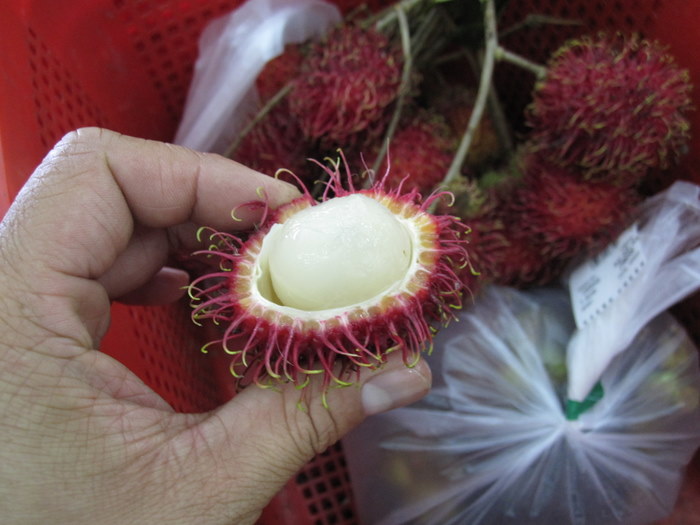 Looks similar, but not really, Mangosteen surprise.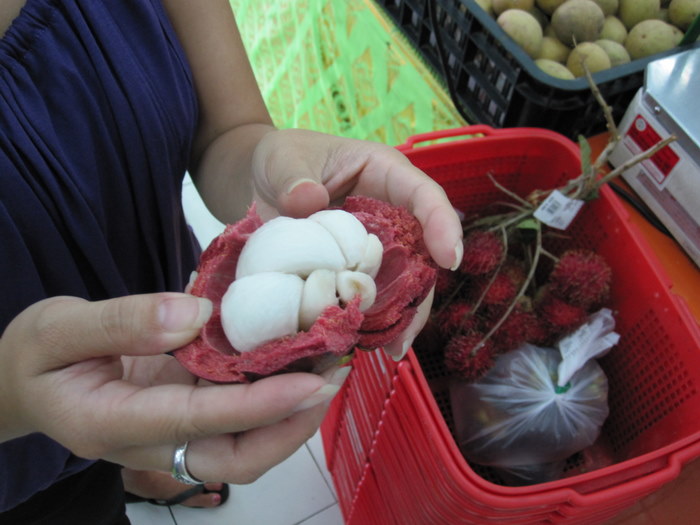 Balinese people are so down, thanks y'all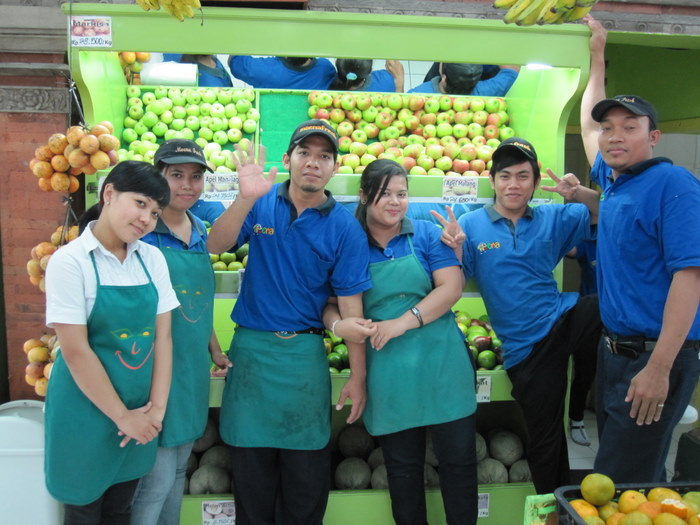 Since I'm only around the island for a few days, I HAVE to get to the water. I'm staying in Kuta (think a less ritzy version of Waikiki, but raw as hell) as it's a great central location. Another must have is sunset beers on the beach. Grab a chair, Bintang and chill.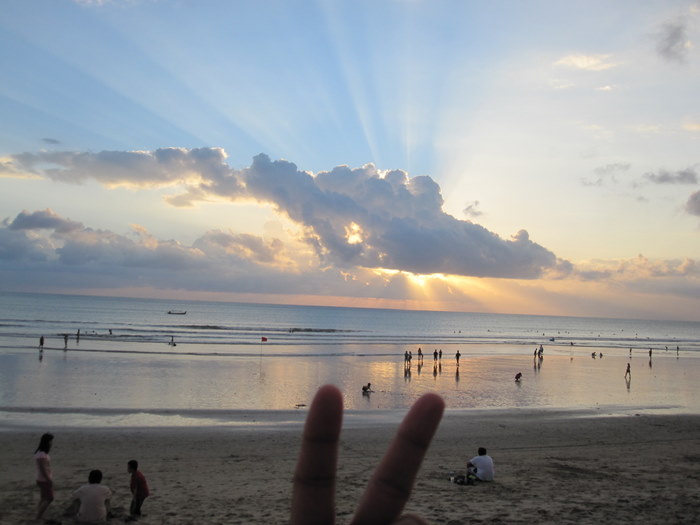 Since the last time I was here and got wrecked at Padang Padang (watch the low tide and wear booties), I decided to take a detour and check out Dreamlands. It's just about everything the name suggests, beach breaks, sandy beach coves and more Bintang. View from the top looking down.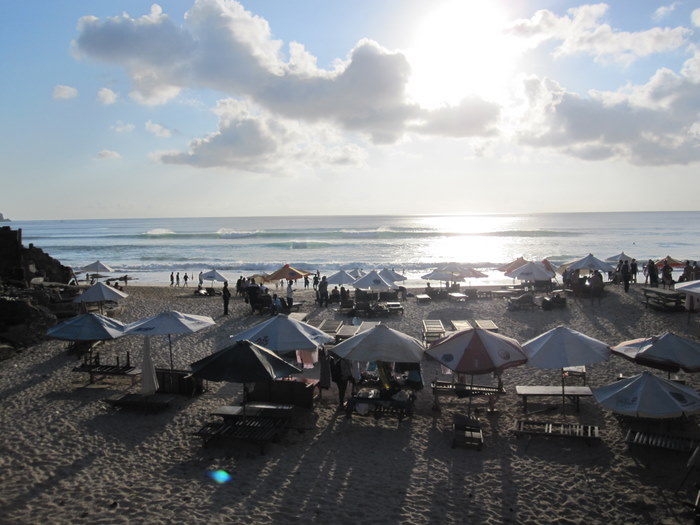 In Bali, you rarely see Americans (unless they are here for the surf), but more so Aussies, Kiwi's and even Chinese heads. The mainland Chinese do it a little different. How about some Roxy spandex shorts for dudes.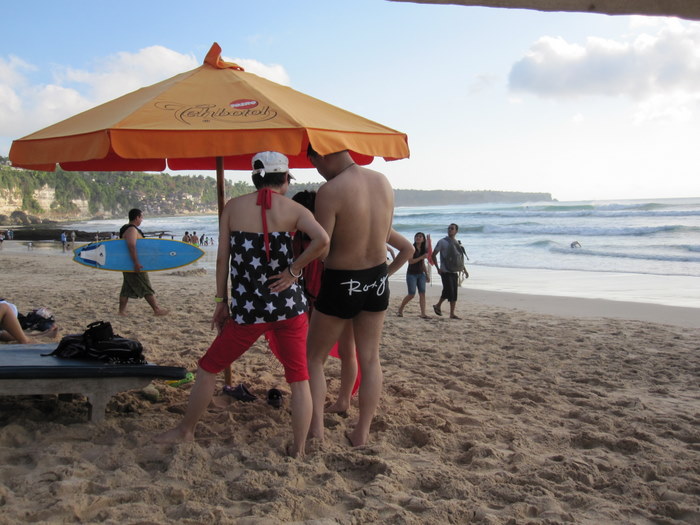 I'm a little more into something like this.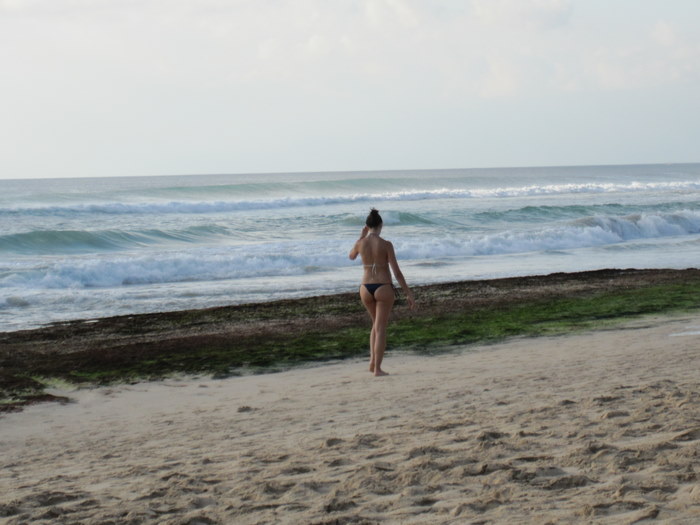 When you head to Dreamlands, you have to check out the temples at Uluwatu. What's that in the background?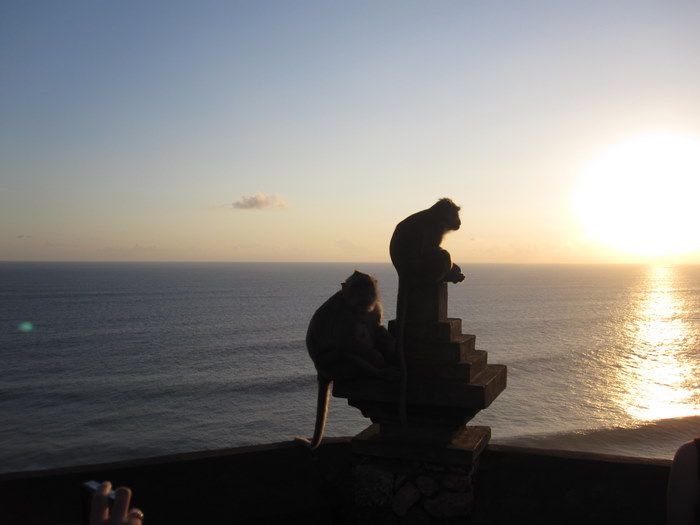 Word to the wise, watch the F out for the monkeys! They may be cute and all, but they'll take whatever you have before you know it.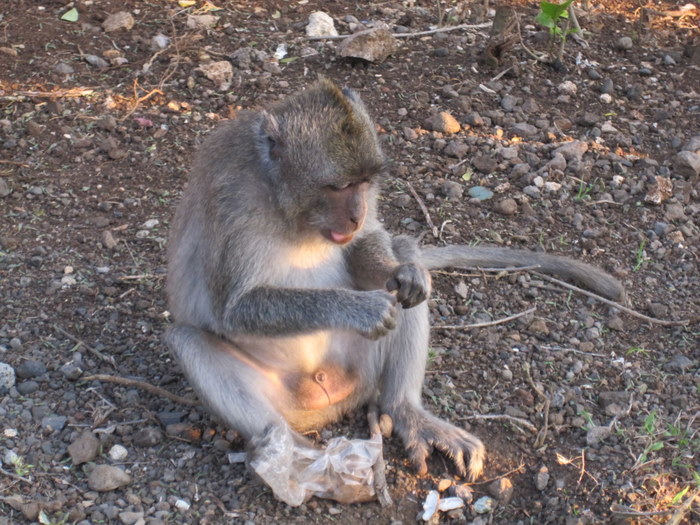 The Kecak is about to begin.


Here we go!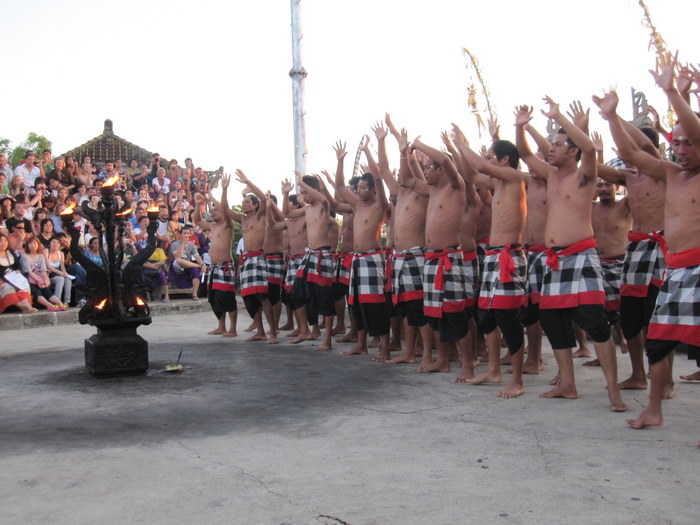 uh, uh, uh.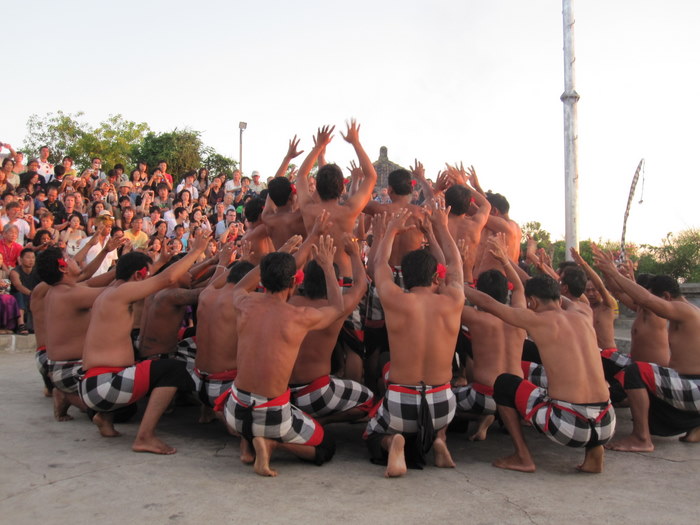 Hmm, who you looking at?


Fire, fire…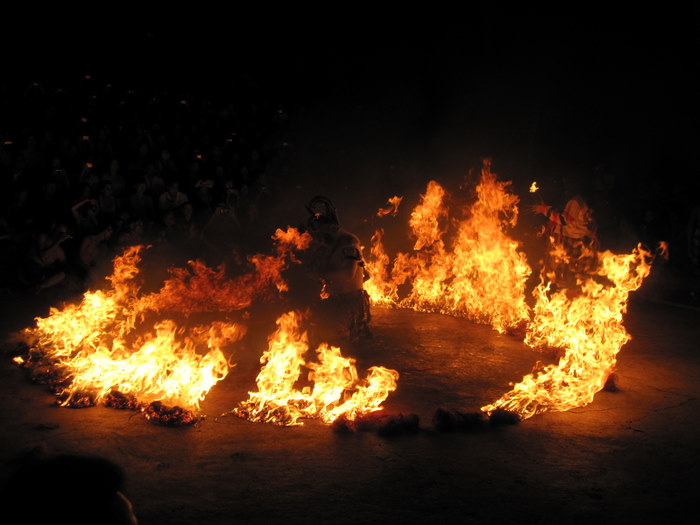 "FREE 4 ALL…Fridays"
October 9, 2009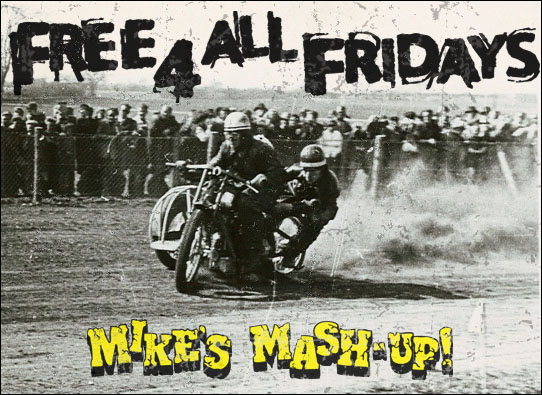 I'm sure you've heard it before, life is short. So what does this mean to you? Do you realize what you should have done when it's too late? Well, most of us do exactly this. Creative visionary, Stefan Sagmeister, has taken a different approach. Check it.

Can't stop, won't stop
October 7, 2009
Since I drive from LA to Orange County everyday for work, anytime I have to head North, it's gotta be planned ahead of time (or I'll sit in traffic all day!) After shuffling meetings around for way too long, I finally made the move to see some peeps. First stop was about an hour and a half North of LA, where I remember going to (of all things) a strawberry festival a while back. Any guesses?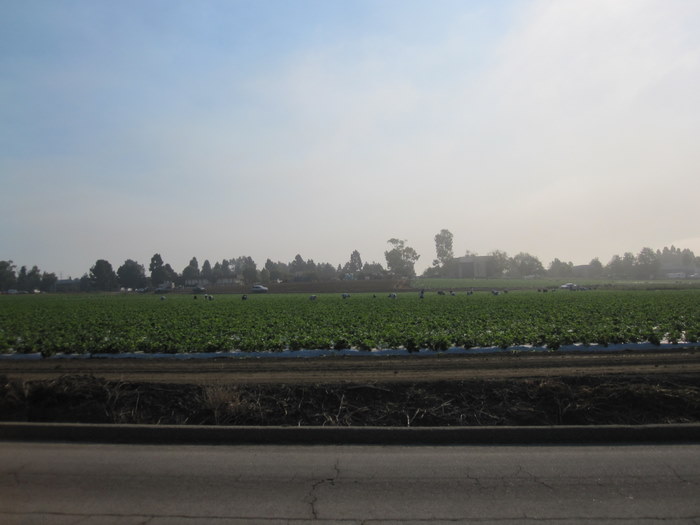 Well, they are actually known for other things than that, but Ventura is a pretty cool spot for just about everything else you have in LA, except probably a lot more put together; from incredible surf spots to great places to eat. The other thing is that it's home to NEFF - the headwear accessory company run by Shaun Neff. If you know what Shaun's done with the company over the past few years, two words probably best describe it- "Crazy Fun." Looking from the outside, you'd never think that Shaun brews it up here.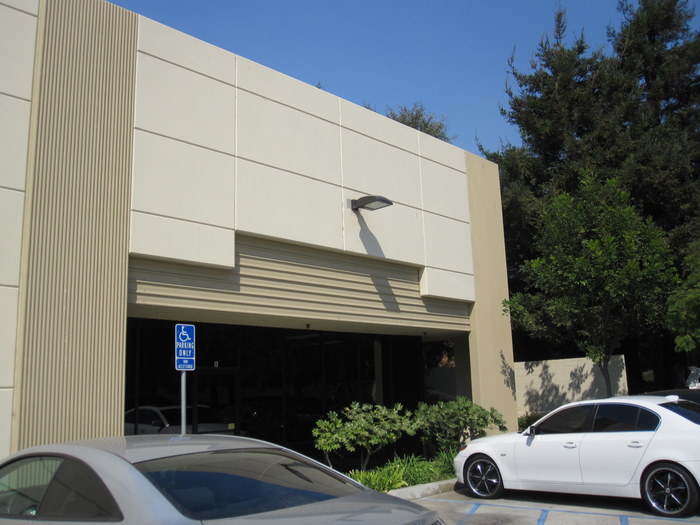 Welcome, come inside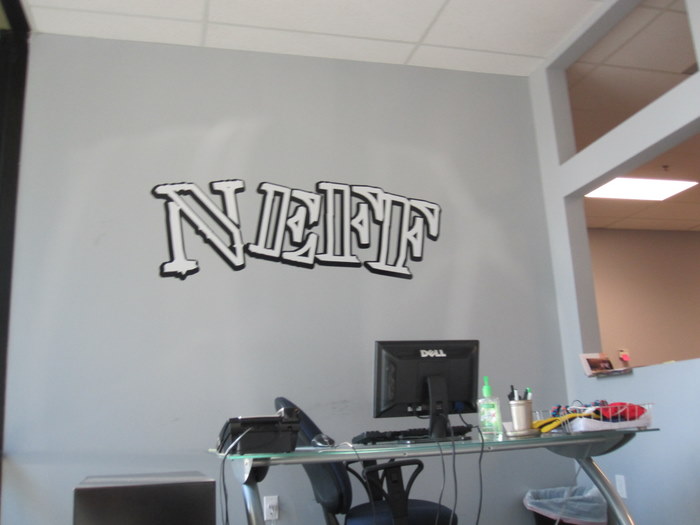 The Neff design heads, what's happening!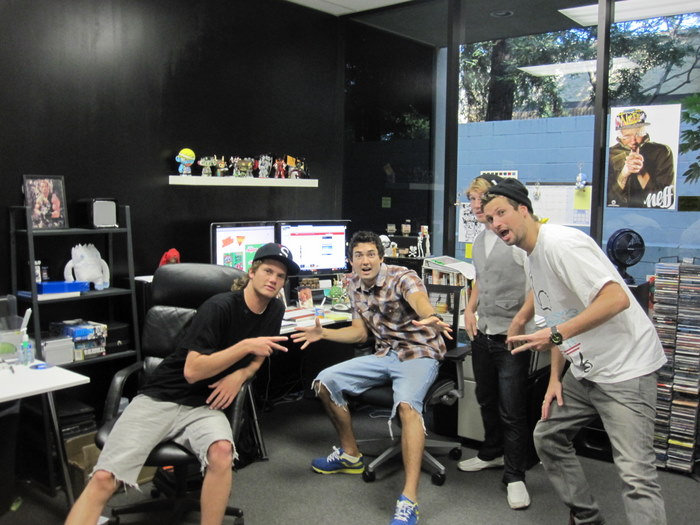 I've known Shaun around for a minute but never really rapped out until this past year. Shaun's gone through some "interesting" times these past few years. Just a short while back it was just him and a few buddies running the show - front to back, side to side, and whatevers in between. Last week, this warehouse was filled to the brim. Can't have $ sitting on the shelves. Get it out!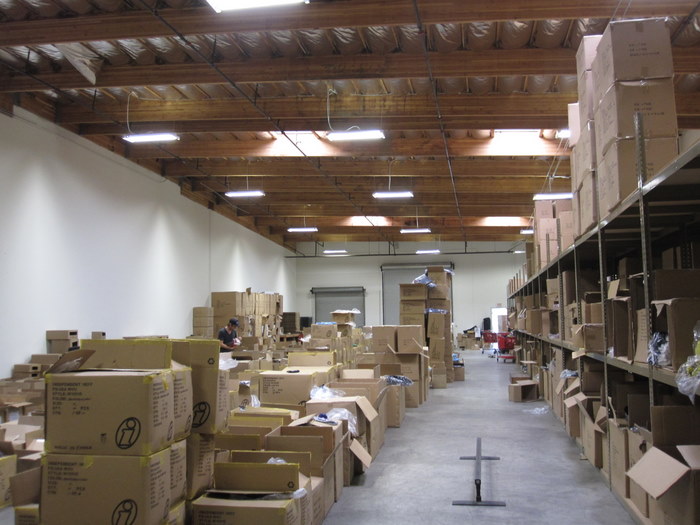 If you've ever run your own gig, it's tough as shit (especially if you're a hands on person that has crazy ideas like Shaun does-I know it firsthand even after all these years!) Today, he's really done well for his brand, doing what few have ever done. He's still independent (but has a great group of people helping him out), he's partnered up with Pony to do a special capsule line of shoes (nice ads Shaun…), he's opened other categories like apparel and accessories and ventured into the skate world with an insane team, all the while doing it on his terms. By terms, I mean that in a good way as his are far from being a self promoter. Shaun's a down-to-earth homie that learned the DIY way, supports the industry (as well as his family), is a great listener and even better visionary. He brings "FUN" into a world of can not's and will not's. Ignore what you may have heard about them, take them for real and support the independents and their true passion to do things a little different. Next time, you're coming my way to have lunch! Peace out Shaun and Papa Neff.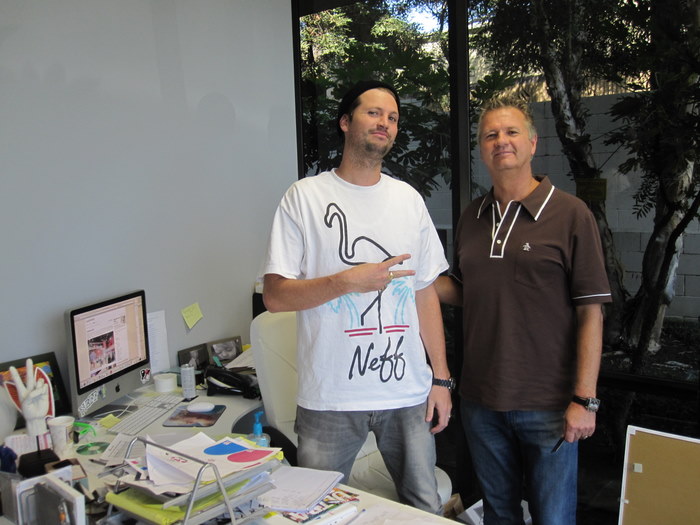 Short pit stop on my way back to LA, I said wus up to my buddy, Tom at USC. What up Tom.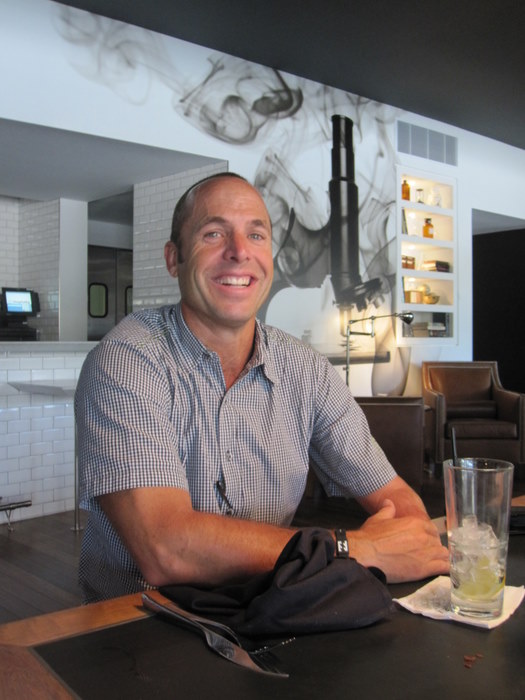 From my past mash ups, y'all know that I occasionally go back to school and rap out with the kids. Recently it seems like I'm an adjunct professor-nah just play'n, but I really do like interacting with students who are interested in doing their own thing. Going to one of the best schools in the nation, you typically get introduced to careers outside the world of what I do. So when I get a chance to say what's up, I try and take it. This semester Tom's got a much smaller class than the past. However the students are still sharp as hell.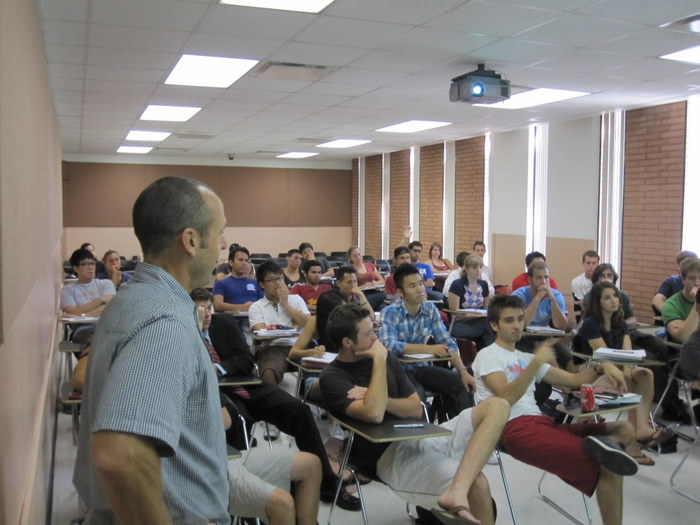 Thanks for the time T-now I'm gonna go to the Nine-0 and get stupid!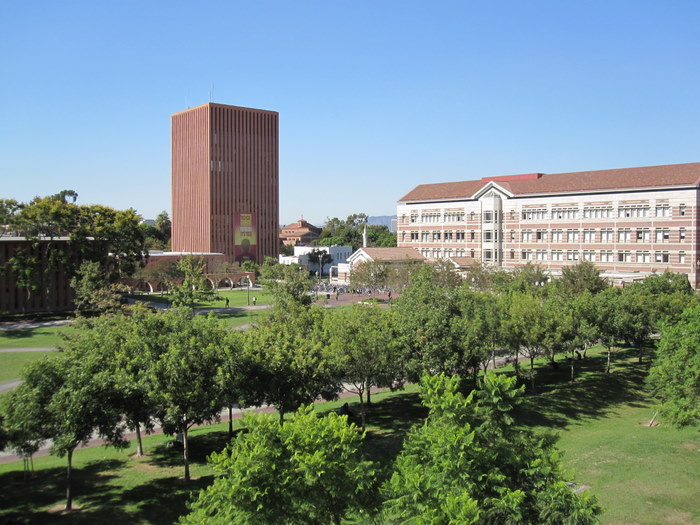 Mail Order-what!
October 6, 2009
Man, I don't know what it is, but after all these years, I still get stoked when I receive something in the mail. I think it goes back to my childhood skate days when I used to mail order stuff when I wasn't supposed to. "Send $1 for stickers and zine"- I'm in! Today, I'm still a customer and try to support independent brick and mortar stockists as well as mail order. However, it's also nice when heads around send some goods down just cuz. Here's some notable mentions…thanks!
The KR3W/SUPRA families box of goodies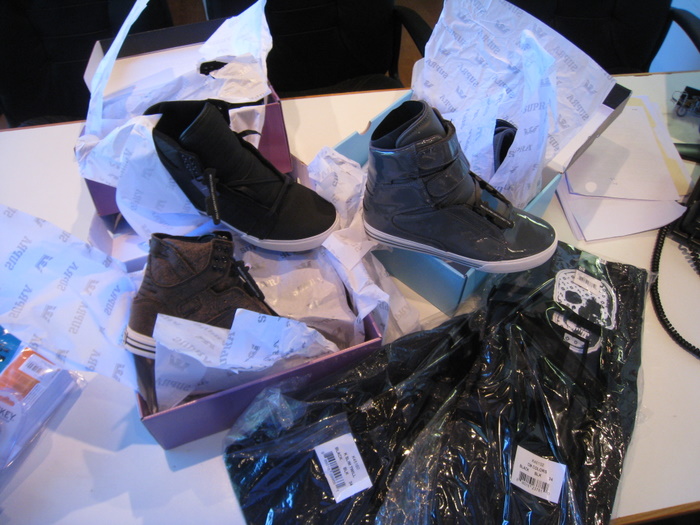 What up patent TK?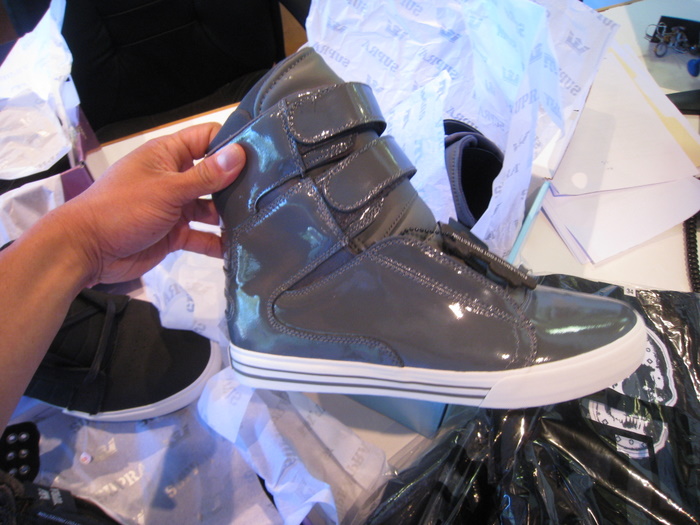 Gotta keep healthy and up - Function makes it happen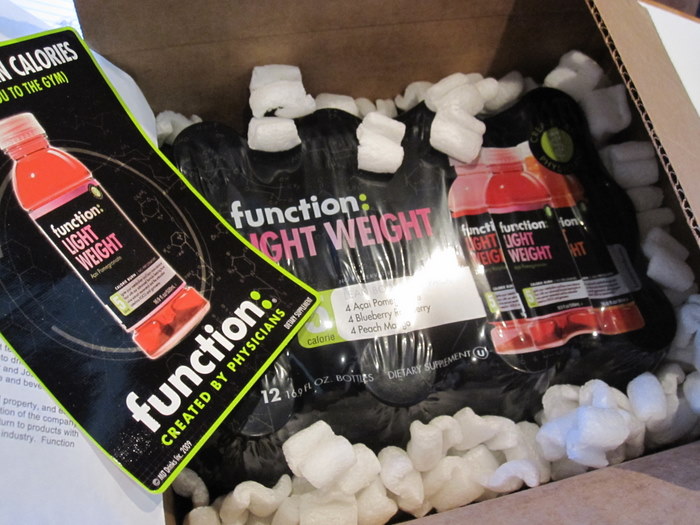 This is the Sound of Progress in a box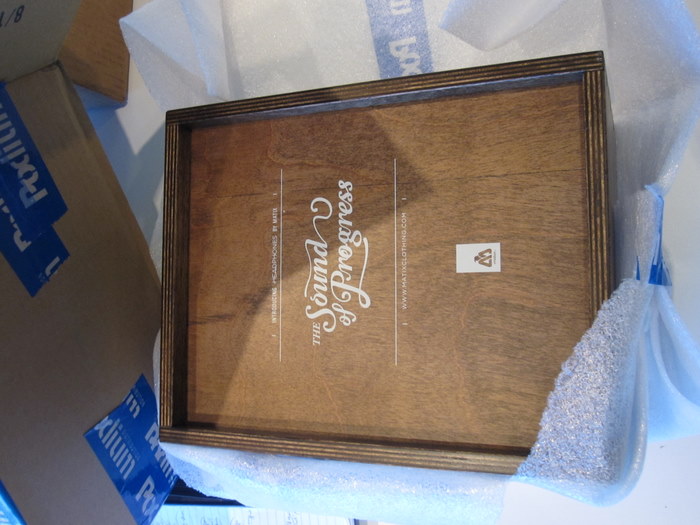 Open Sesame…Introducing the New Matix Headphone collection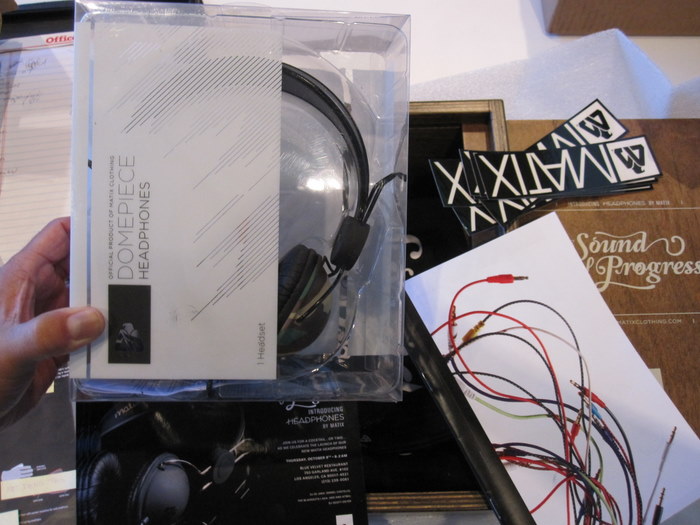 Domepiece for yo Headpiece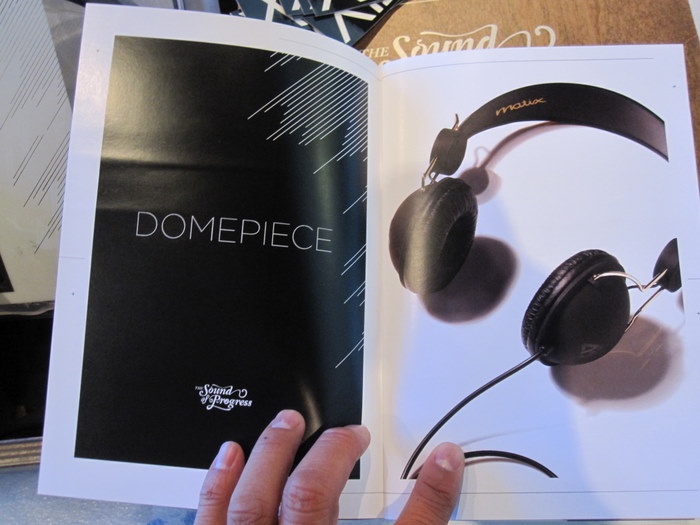 Come one, come all (well only if you're invited- OK, you're invited!) to the official launch this Thursday at Blue Velvet.





ACE Retrospective-Part 2
October 5, 2009
Here's a few more pieces of our original Artist Collaboration Effort series back in the day. I'm sure you've seen the SCION logo, well, Scott Herskovitz made the logo. He also part of our original 686 ACE collaborative. Check out the wall.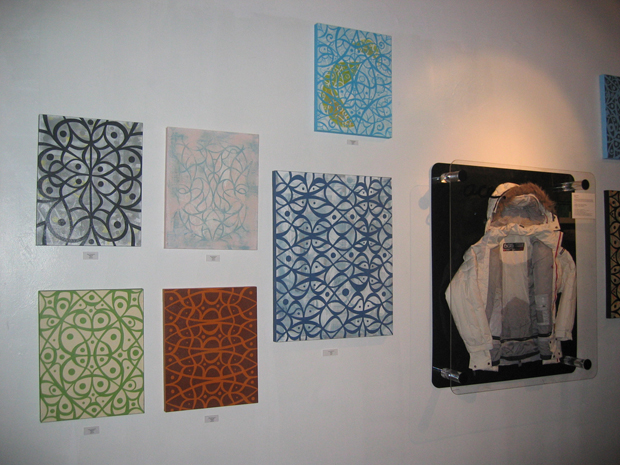 Look closer for his work.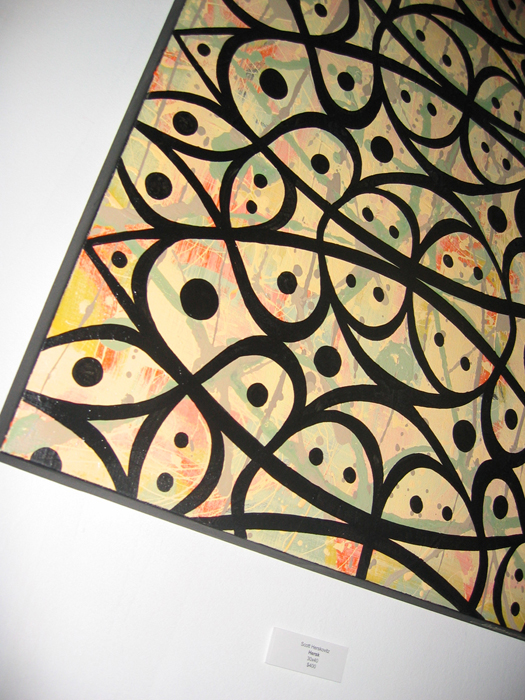 686 faction supporter and friend, James Dalek Marshall's own interpretation.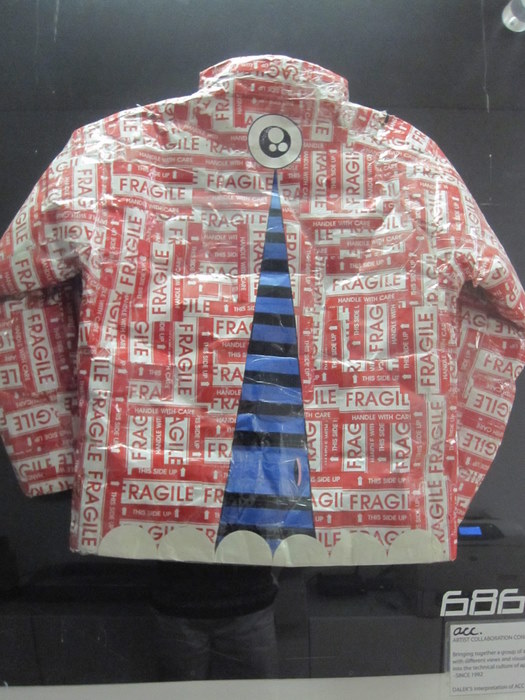 Growing up skateboarding in Hermosa and Venice Beach in the 80's to the early 90's, I've been able to meet a lot of talented heads. One particular person that's probably considered the father of skateboard art is Marc Mckee. From Vallely, Lee, Gonz, Natas, 101, Blind, Alva, Liberty, H-Street, Hosoi, World and every other prolific pro and/or company in the skate industry, Mark's single handedly help shape the graphical images that we all know of today. (He's actually a die-hard knuckle dragger who spends his free time in Mammoth) Here's Mark's piece on our jacket; inspired from the old World days. (wonder what it says…)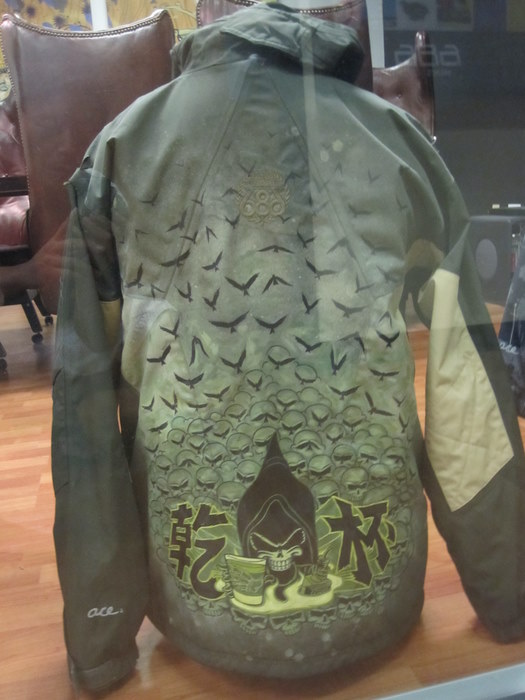 Something To Die for - Deph
Andy's (Girl, Crailtap, Lakai, Spike Jonze camp) brought a little something different.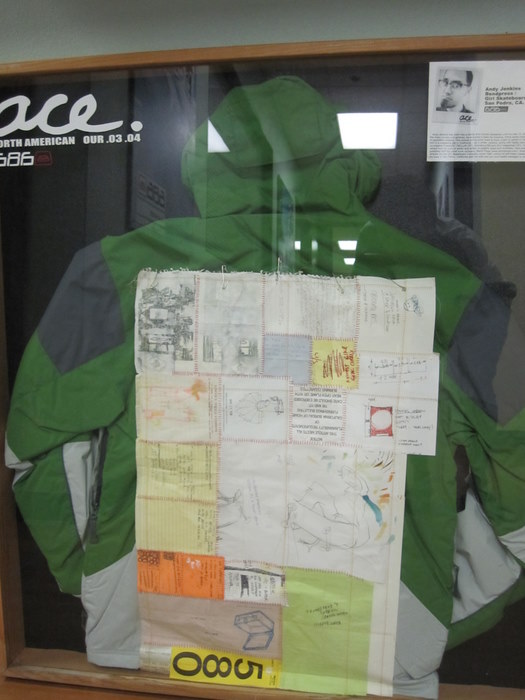 "FREE 4 ALL…Fridays"
October 2, 2009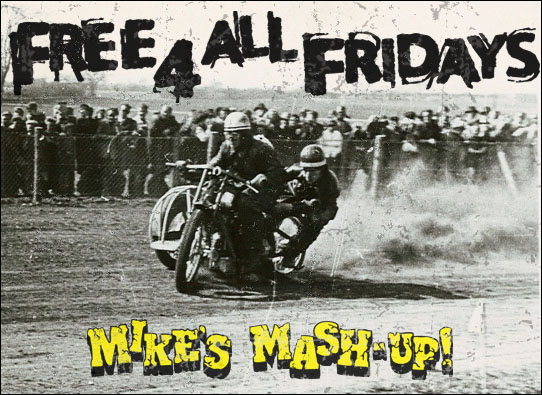 Maybe you've seen this before, but it's still hella funny. Come to EL-A, this is how we do it here.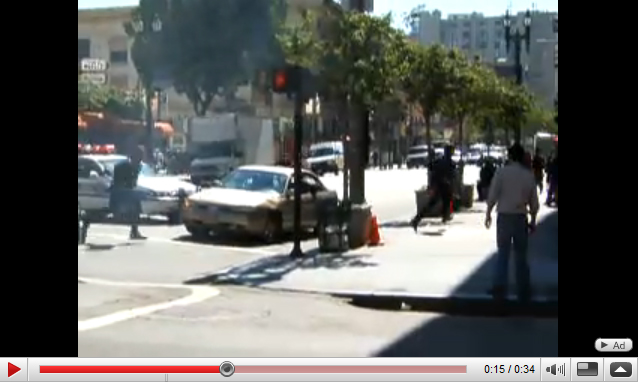 ACE retrospective-part 1
October 1, 2009
In 2000, I started a sub line within 686, called ACE or Artist Collaboration Effort (which later morphed into ACC or Artist Collaboration Conspiracy...thanks American Council of Exercise!). The goal was to work with like-minded creative's and bring them into the technical world of apparel. Doesn't sound that different today, but close to 10 years ago, it was. More particularly it was the first of its kind in the outerwear industry. Living in LA and being blessed to travel the globe, I've met a lot of different people that have different views and interests, all of which I wanted to showcase in our collection. This mash up will be one of many retrospective hits of ACE/ACC. Enjoy.
Here's one of the traveling shows we produced for ACE back in 2002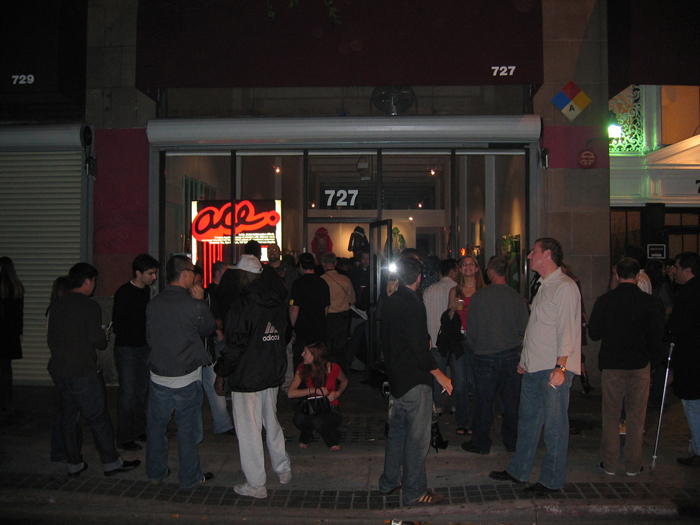 Good times inside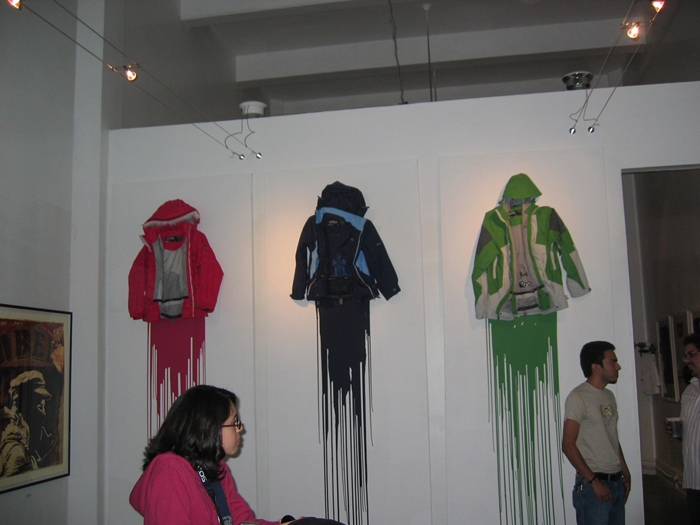 We matched up each city with their own T design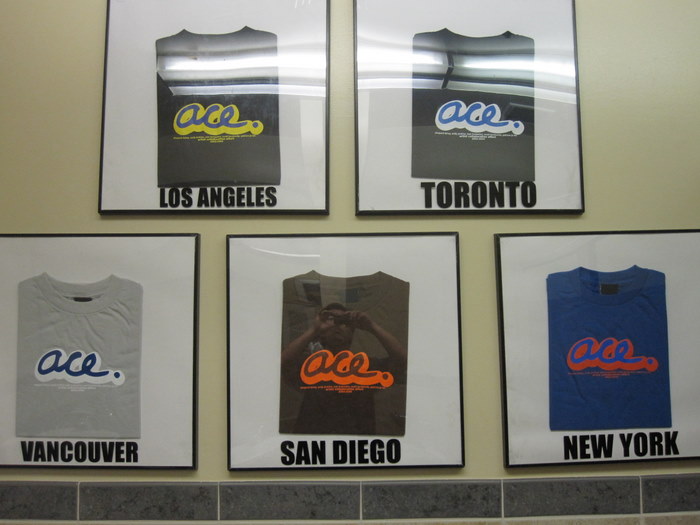 Fellow 686 Faction member and friend, Shepard contributed his work into the jacket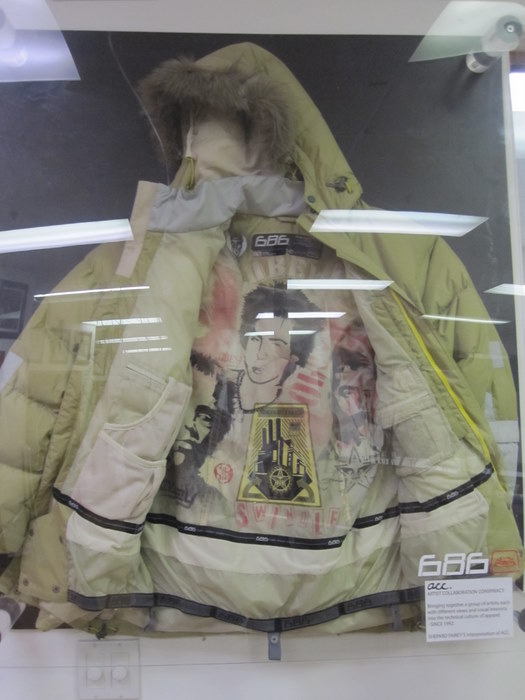 As well as his pieces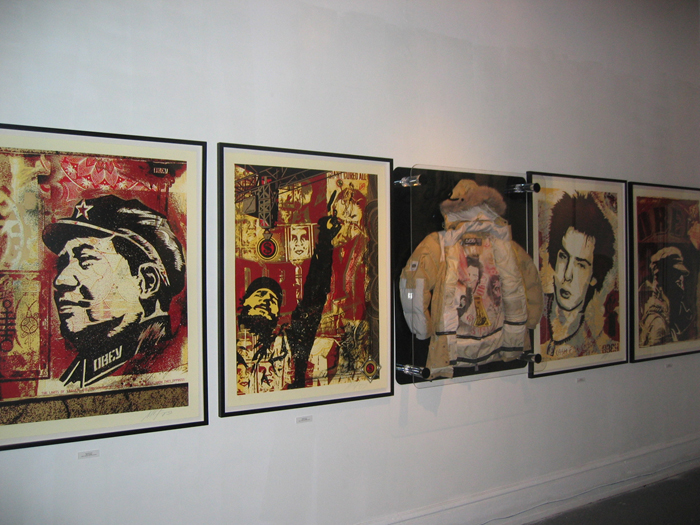 Which we also used print media to spread the word (no blogs yet)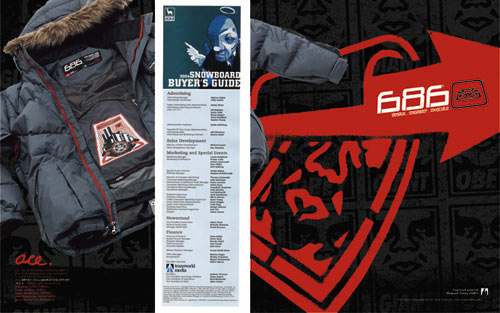 Another 686 Faction member and mutual friend, Wes Humpston was also involved in 2002. It started with the custom piece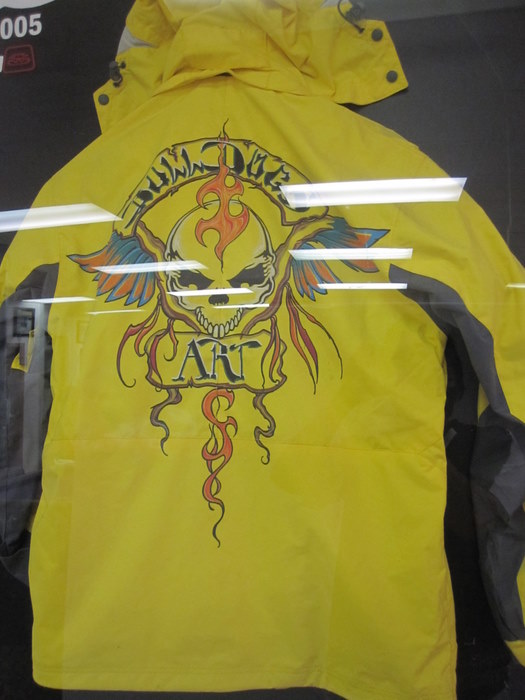 Which then blended with his core pieces at the show


We also made some limited lining frames, each hand numbered. Stay tuned for more later.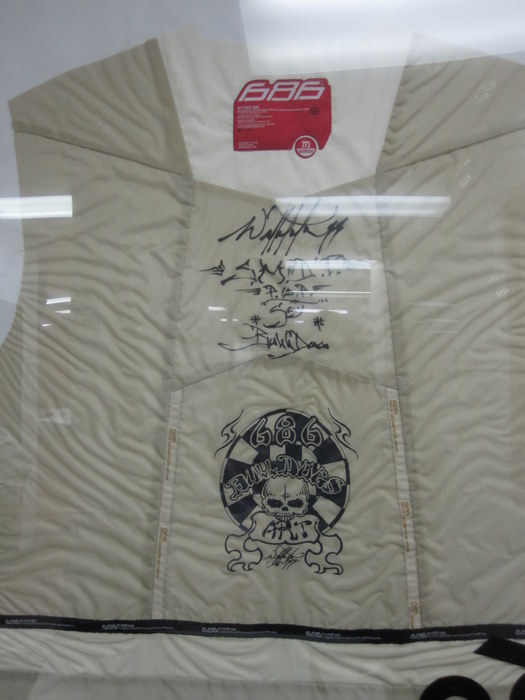 Mash-Up Archives:

September '09
August '09
July '09
June '09
May '09
April '09
March '09
January/February '09
---