Back to News
MIKE'S MASH-UP: September Archives
September 30, 2009


Michael Akira West is the Owner and Creative Director of 686 Technical Apparel. The following are some of his experiences inside and out of the industry across the globe.

Nisei WeekSeptember 30, 2009
Since I was a little kid, my parents use to take me to the annual Nisei festival that celebrates the immigration of second generation Japanese Americans (hence Nisei). Growing up in LA all my life, it's hard to believe I'm actually Nisei. With a last name like "West" people often get confused of my background. I'm probably not the best example of a true Nisei, although I'm very proud of my historical roots, not learning the language at an early age is something I regret. Nonetheless, Nisei week is a good ole time to hang out, get some good eats and check out the tuner cars in the heart of J-town on 1st street, this tower's been here forever.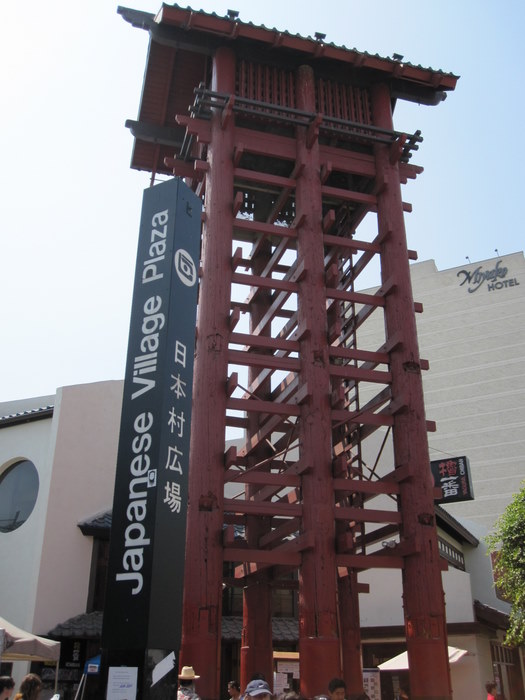 Yes. I'm still in LA.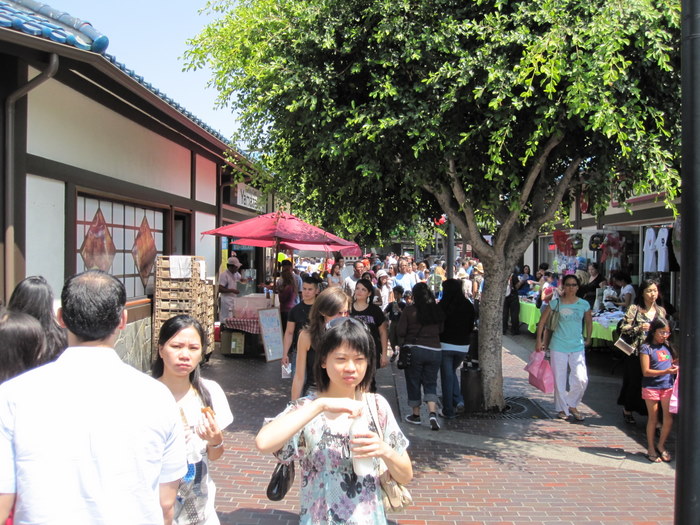 I've always been enchanted with the history of the Samurai (and of course love the design and texture of the armor)


It takes skilled craftsmanship to produce this the correct way.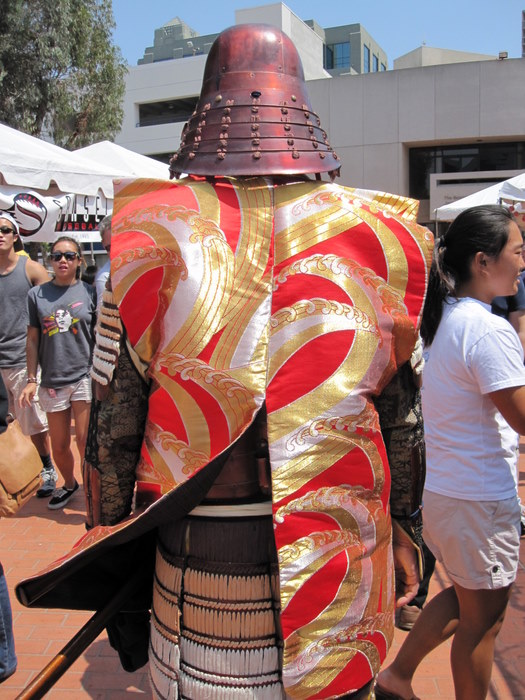 Interesting huh.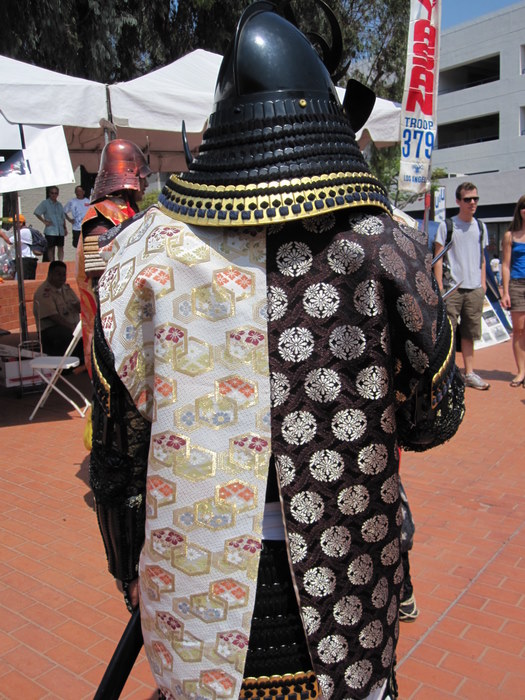 Did I mention that one of the best things coming to the festival is the FOOD!? Call it what you will, Japadogs, Godzillas, etc.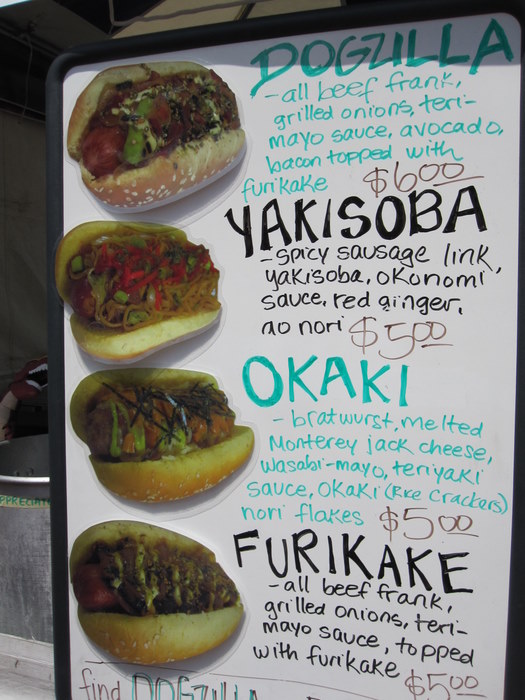 I'll get the Yakisoba-dog


Can't forget the azuki shaved ice with condensed milk and lychee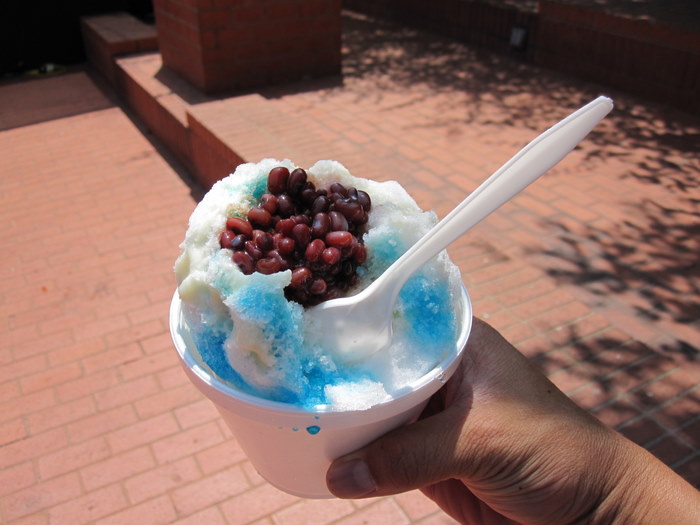 I'm still hungry


Okonomiyaki anyone?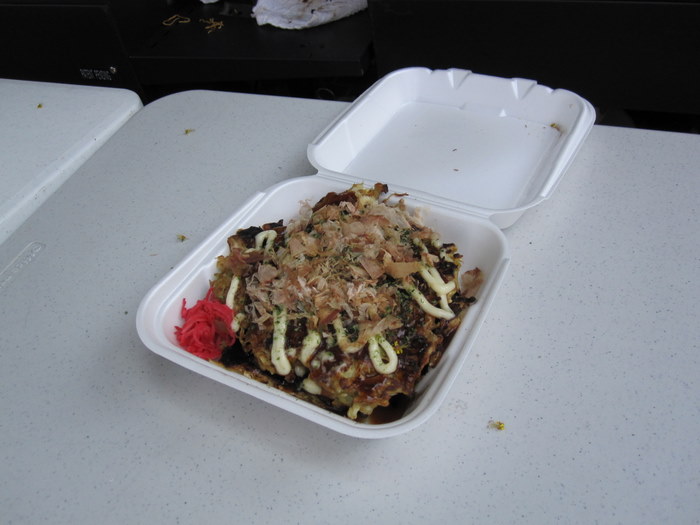 Tastes better than it looks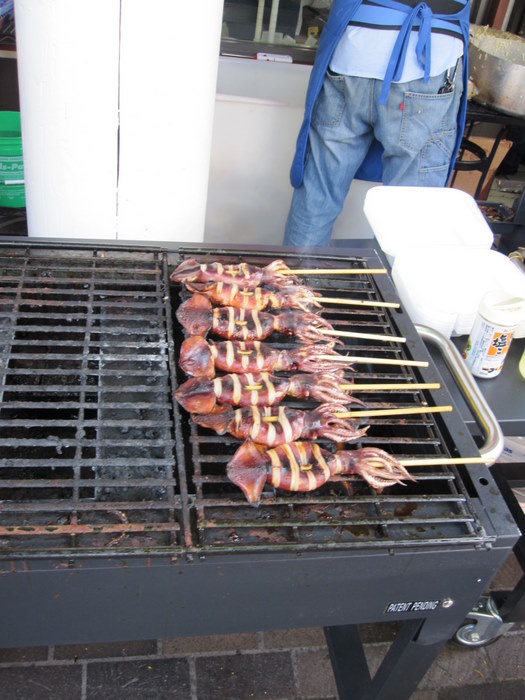 GO FORTH!
September 29, 2009
Season Two of the Levi's x 686 Winter Collection is just about to begin. Recently, the denim kingpin has made some internal changes in SF. Changes for the good but interestingly enough, a lot of familiar faces from the action sport industry have made the move to the city by the bay. In doing so, they invited us to their newly furnished LA showroom on Sunset. Calling it a showroom is hardly the correct term, as it's more like a posh home in the hills of Hollywood. Can't tell you exactly where it's at...all I can say is that it's smack dab next to one of LA's fancy eateries in the heart of La-La-Land. Looks real mellow from the outside.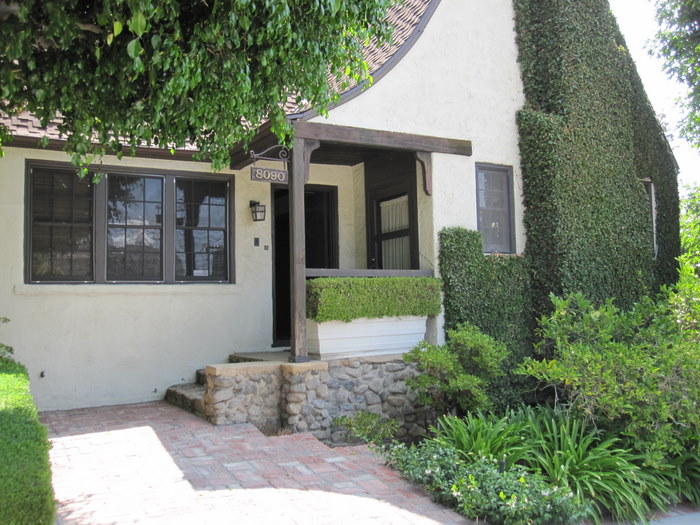 Inside, it's a little different.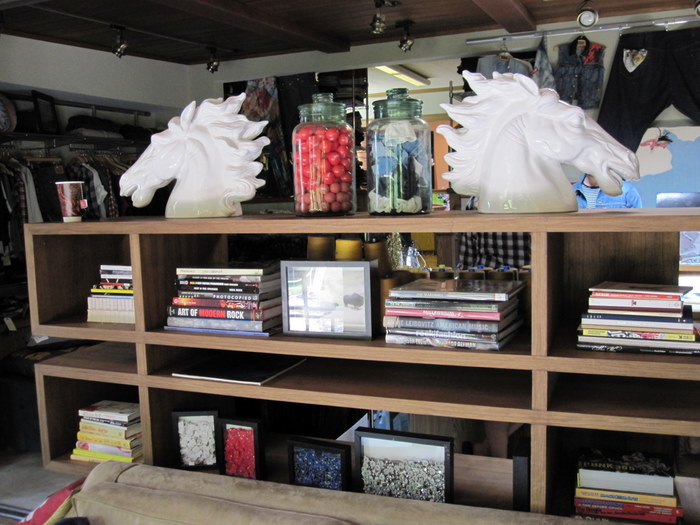 Modern appliances mixed with...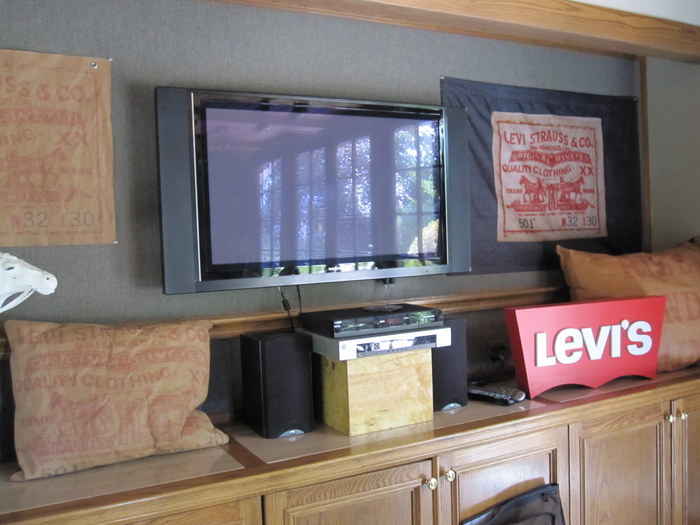 Old world charm.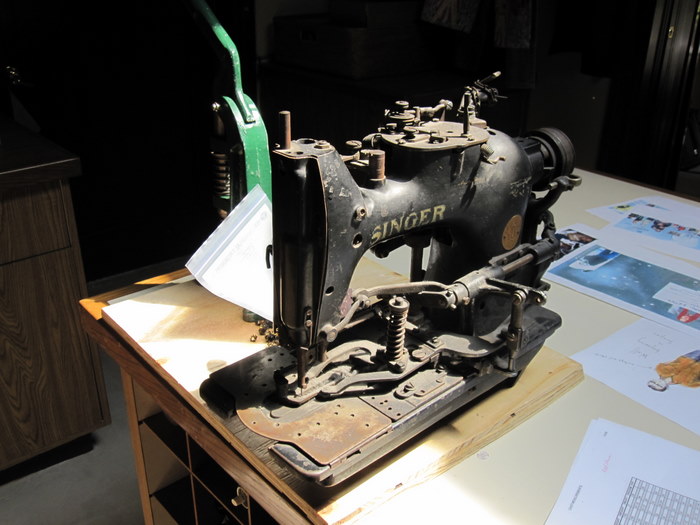 Damn, dem some big jeans.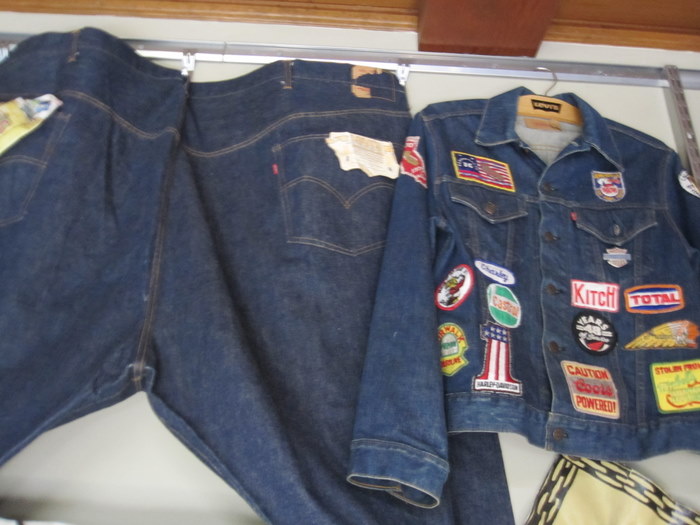 Did you know that Levi's made the track suits for the 1984 Olympics in LA?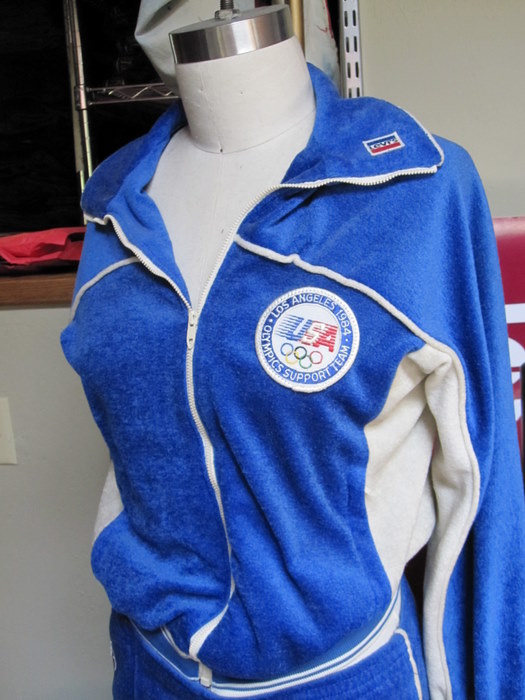 If you didn't know, now you know.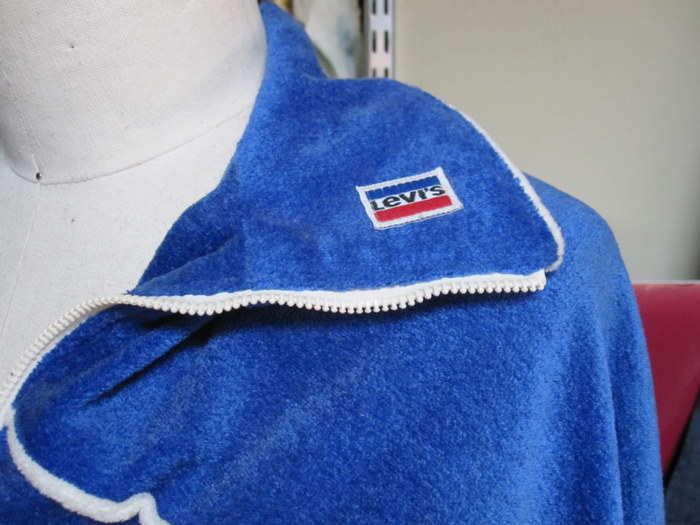 This location was set up for Levi's LA PR matters as well as entertainment hook ups. I think I'll take the one on the far left corner.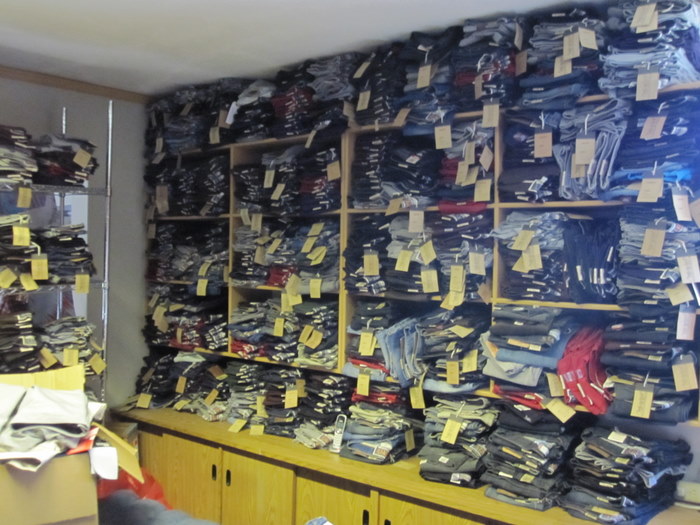 Sherri is the head of West Coast PR-Welcome to her house.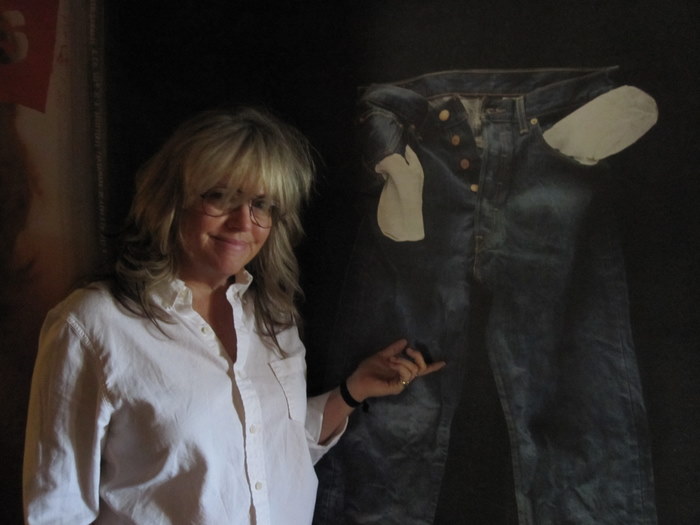 Of the few changes to Levi's I mentioned, meet Josh. He just came from the Quik camp to do his magic in SF.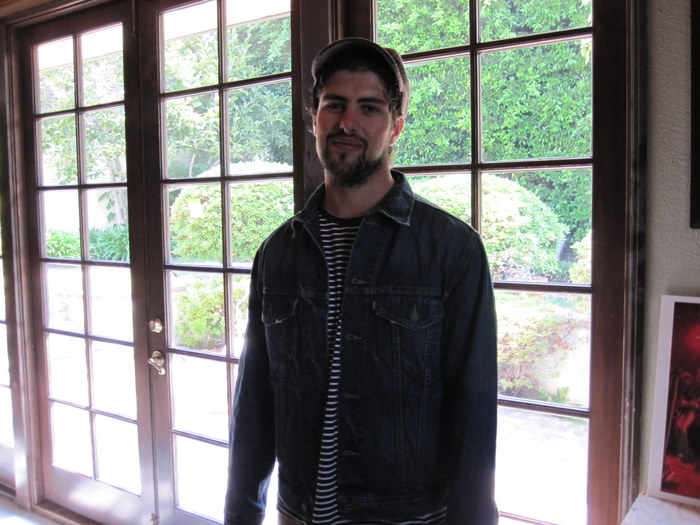 He was showing me the new GO FORTH campaign. Get used to seeing their newly updated logo...the Batwing's in full effect.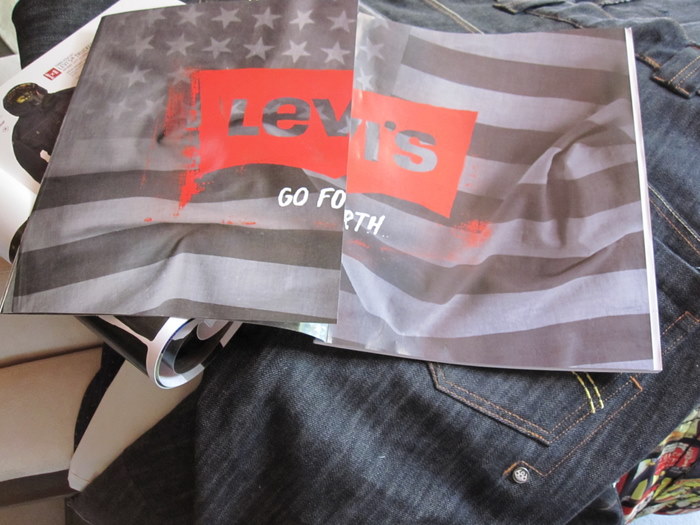 GO FORTH!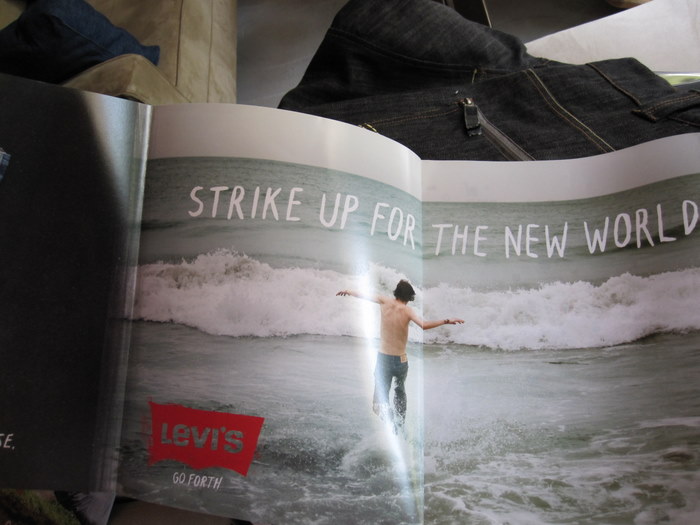 686 TIMES LINE THROWBACK
September 28, 2009
In preparation for the special projects we have coming up, I'd like to continue to look back on a few we've done in the past. Another example is a jacket we did with Vestal Watches about 4 years ago. Since Vestal's known for their dedication to the rock music scene, I brought this inspiration into our line, but flipped it out and made a white crackle design vs just doing a Black jacket.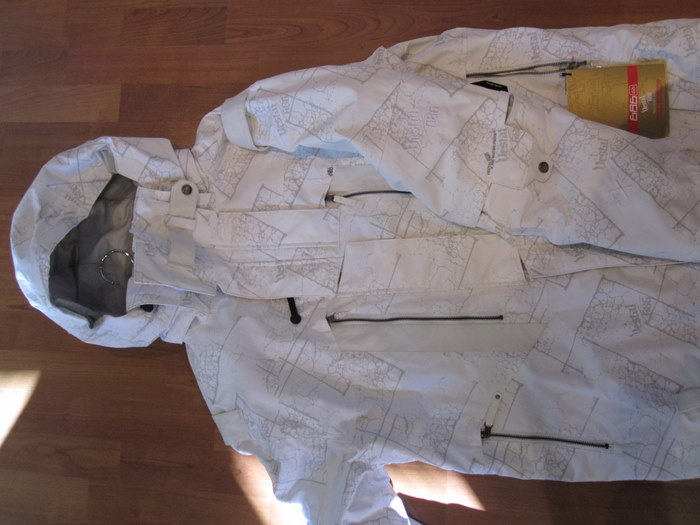 Our products have all the technical features to keep you warm and dry, but we also added tons of trims such as metal waterproof zippers (spendy!) as well as a dual zipper front (one that acts as a flap and the other that's the full opening)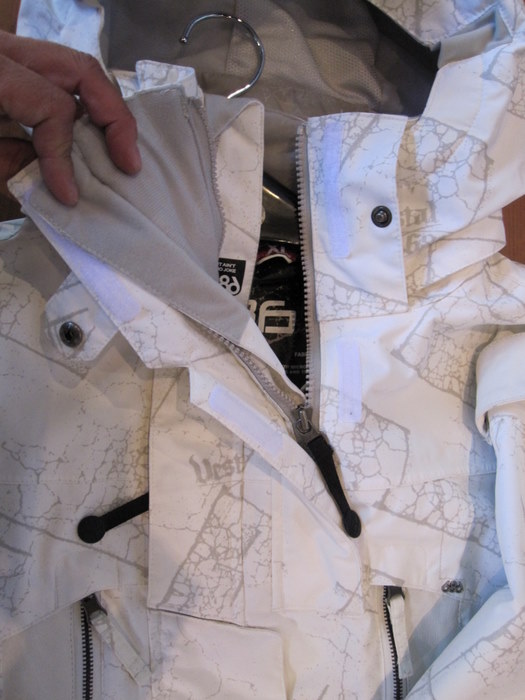 The devil's in the details...how about some tonal waterproof leather straps?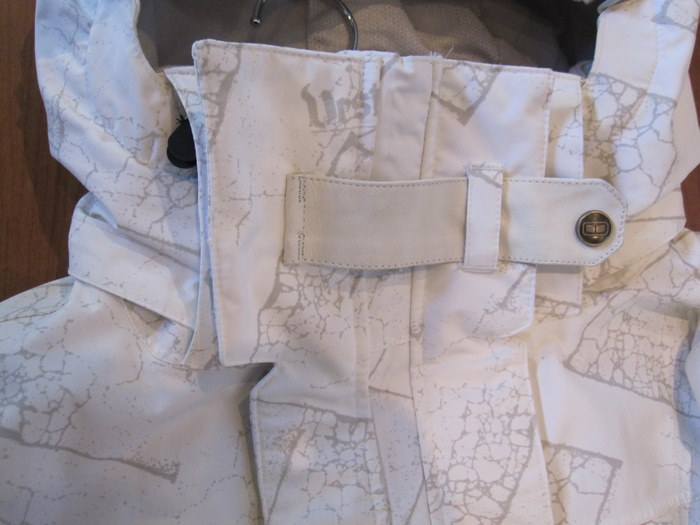 Since we're known for doing things a little differently, the true flip involves something much more than visual. Vestal is timepieces and 686 is technical apparel, together I brought a little something, something.
Step 1-check the custom pocket.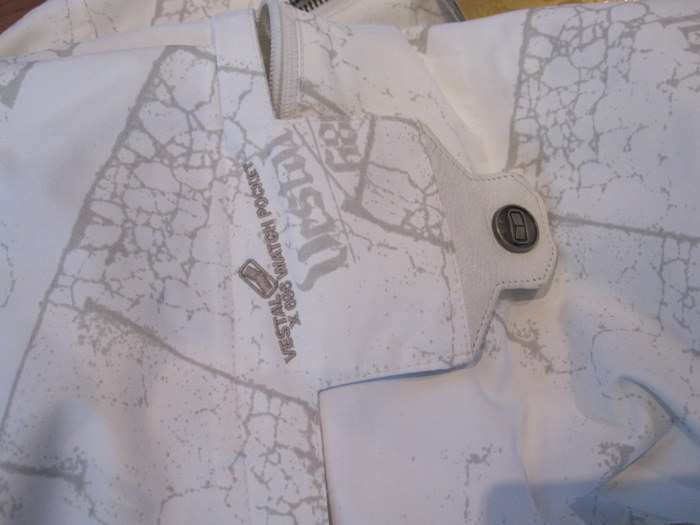 Step 2- Open the pocket and what do you see.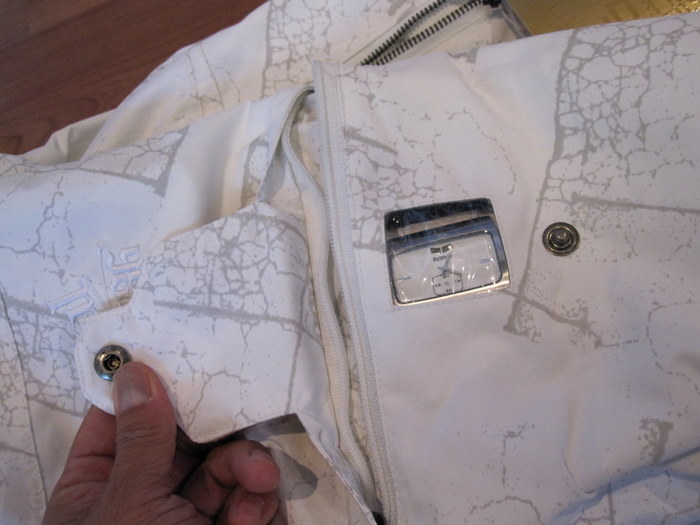 Step 3-A fully functional Vestal x 686 timepiece that matches perfectly to the jacket. It's made to stay inside or come out when not in use. (the only downside was that people somehow managed to gank these from the jacket, even though we locked the hell out of it)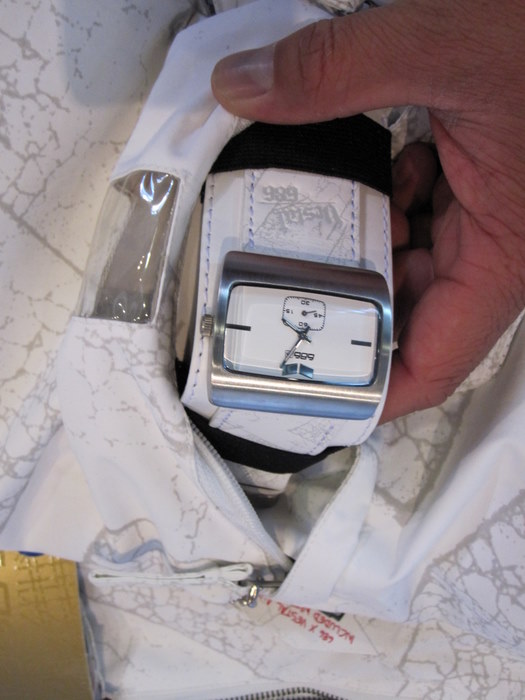 FREE 4 ALL…Fridays
September 25, 2009
I'm the type of person that likes to be told a story first, then be sold to. Once you're able to create the emotional connection (whatever it may be), you have a customer for life. One example is this little company called NIKE.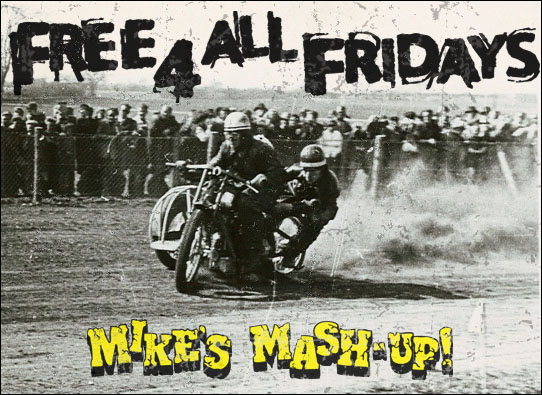 We are SC
September 24, 2009
In LA, you have Rodeo for all the ritzy boutiques, Fairfax for the Street heads, Melrose for the good and the bad, 3rd Street for tourist mania and Robertson for a little bit of everything. Over the years, Robertson has done well and it;s progressed into something a little more up market. Eric from WESC invited us to check out the Fall collection at their store on, you guessed it, Robertson.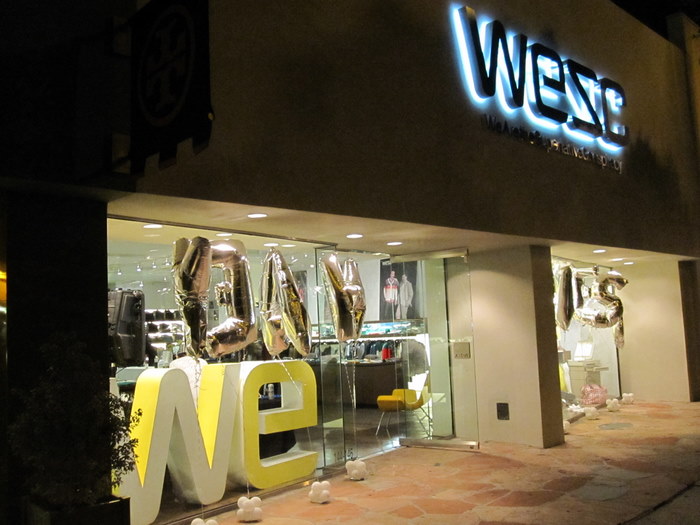 Nice and clean, the way I like it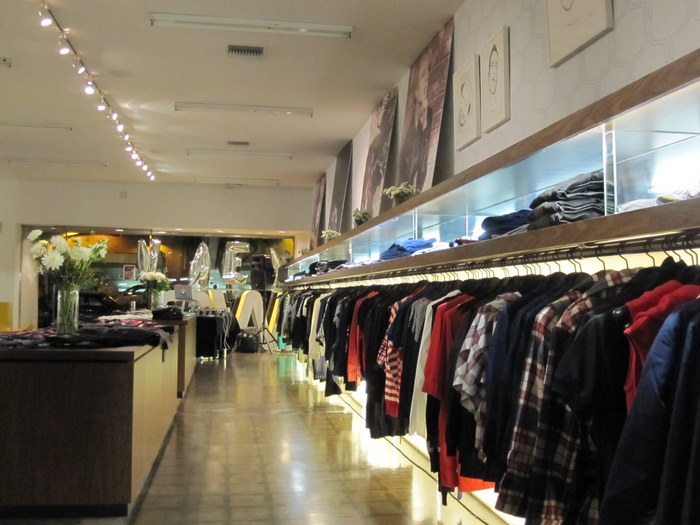 Some looks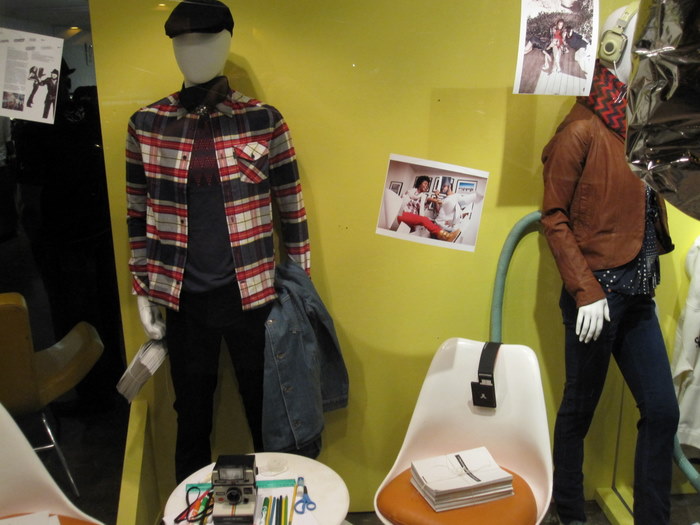 The cool thing about the crew at WESC is that they bring stories to life. One example is the catalog which features various activists.


Fellow 686 supporter, WESC activist and Canadian personality shred master, Hardingham.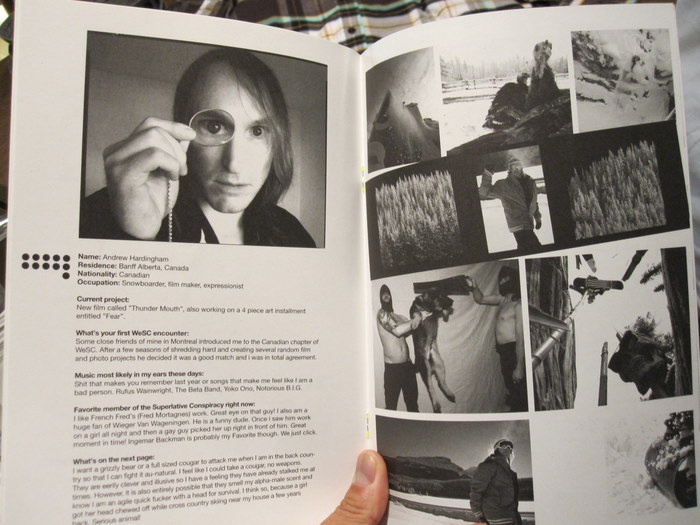 These guys were one of the first to get into the headphone game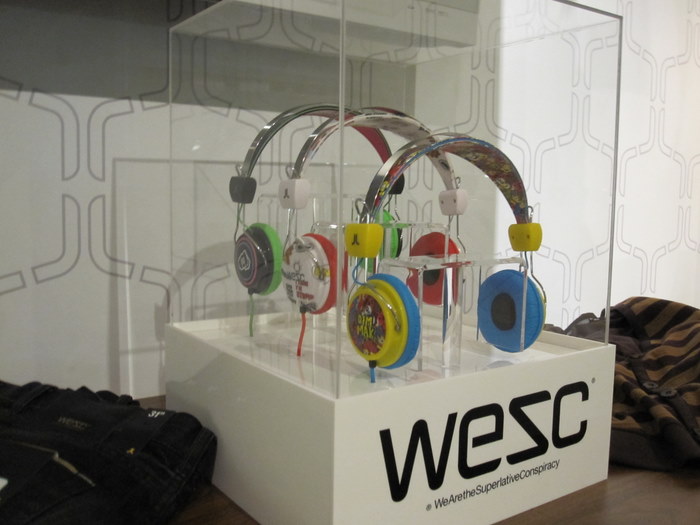 Enough of the plugs-I'm hungry. Wow, just what I wanted…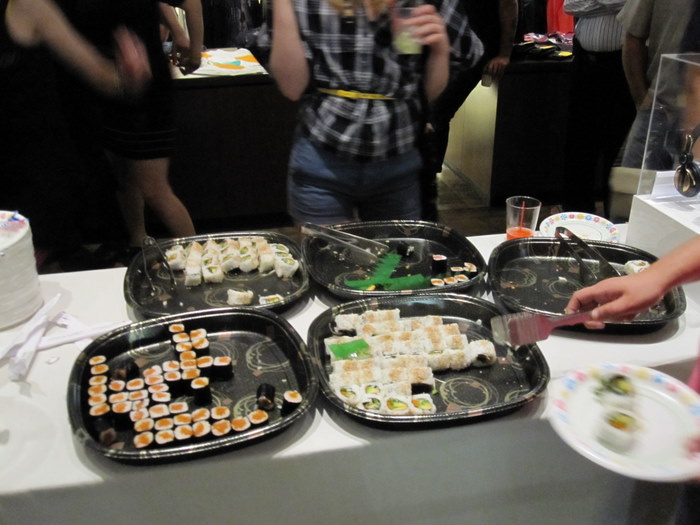 Let's see what's going on in the back.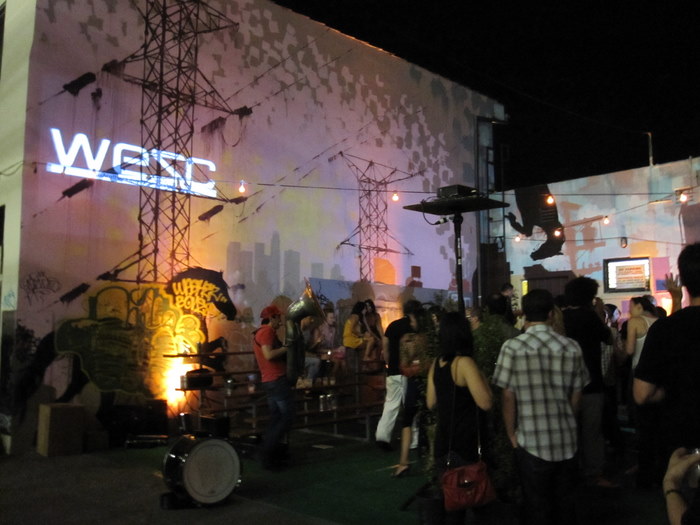 The marching band was in the house.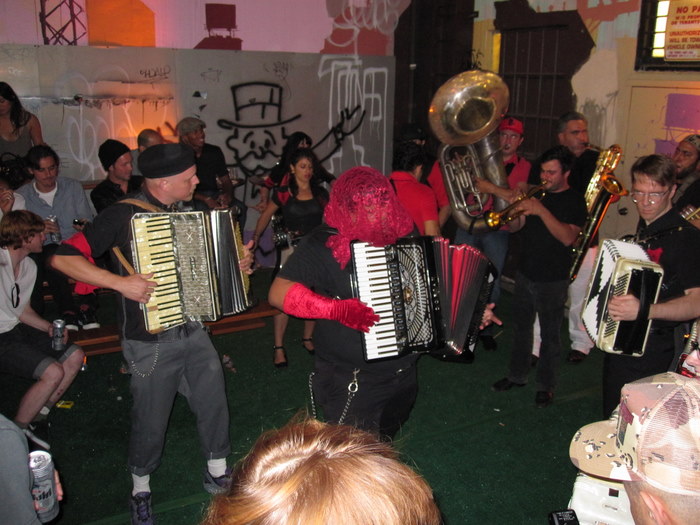 So I was Eric (WESC) and Tracy (BRICKFISH)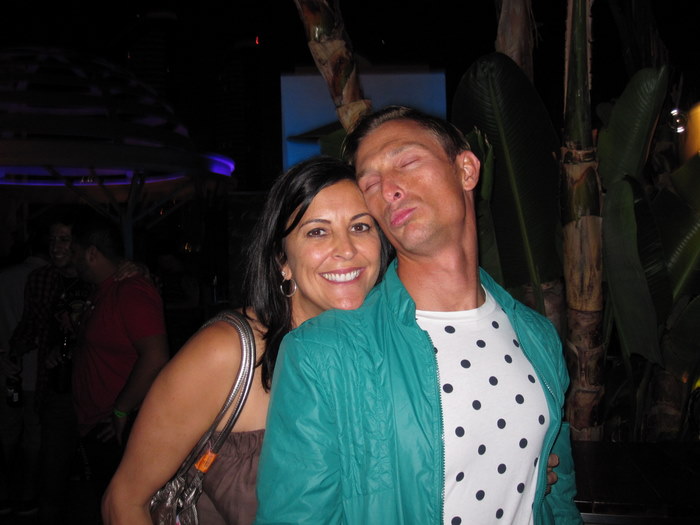 OPENING NIGHT
September 23, 2009

So I went to the Opening Night of Prancing with the Gnars (or something like that…) I don't think I've been to a place with security as tight as this. If it wasn't for all the shimmer and lights, you would have thought TSA was at the front door. The invite read something like "Coat and Tie," "No jeans, sneakers" "Be ontime, or else" "No cell phones or cameras," etc. Since I'm such a good citizen, I followed all the rules (well, maybe I misread the camera thing and it accidently got in). Nonetheless, it was an "experience." Check the overall layout.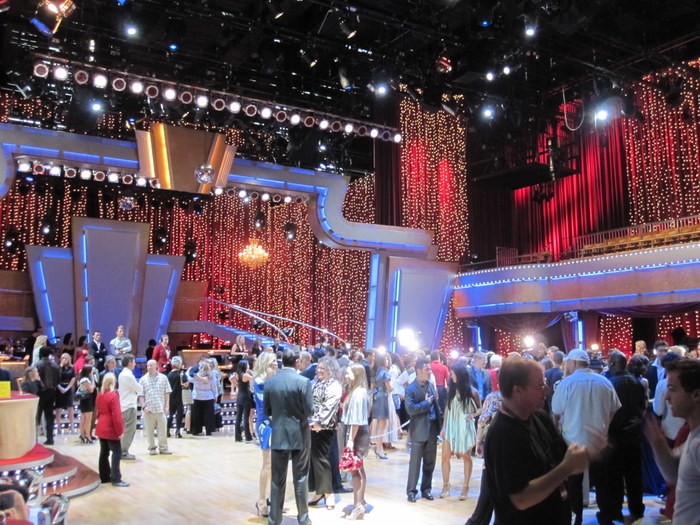 Where's my seat? Oh, let me escort you Mr. West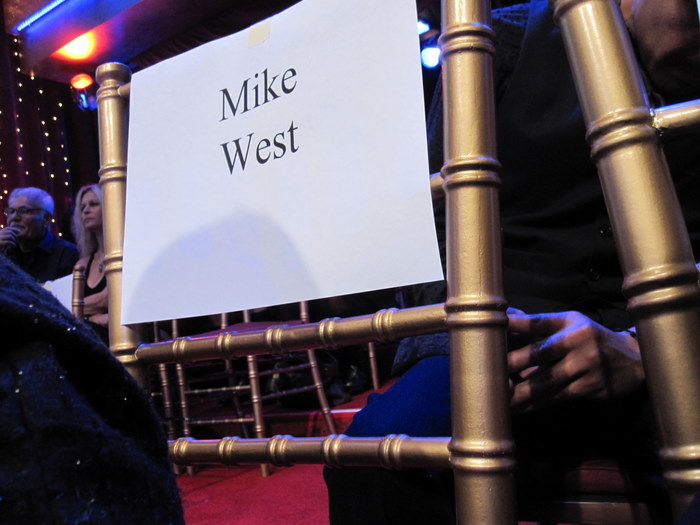 Hey there "Tony," it's nice to see you here. How was the drive from Encinitas?
Since you managed to get through LA traffic, you need to relax and loosen up things. How about a dance?!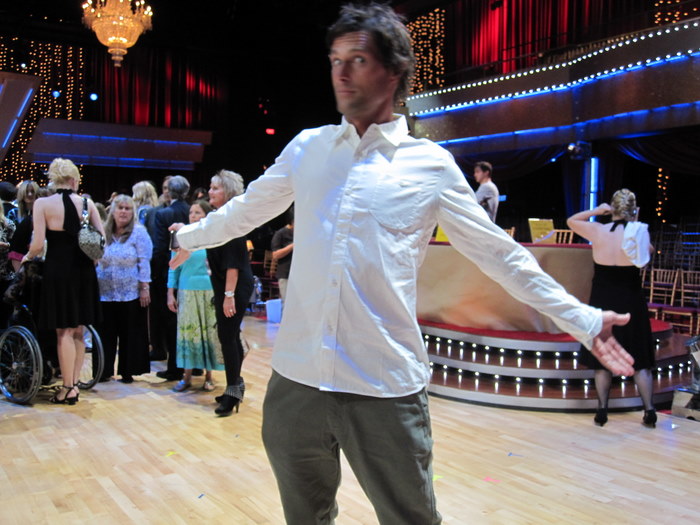 How about you, Saydah? Show me what you got…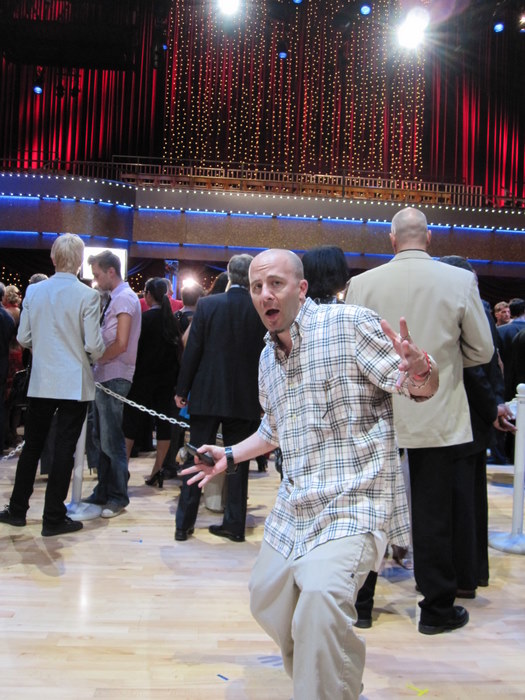 Damn son, you guys got some moves! Maybe I gotta take some lessons. Perfect, just want I needed.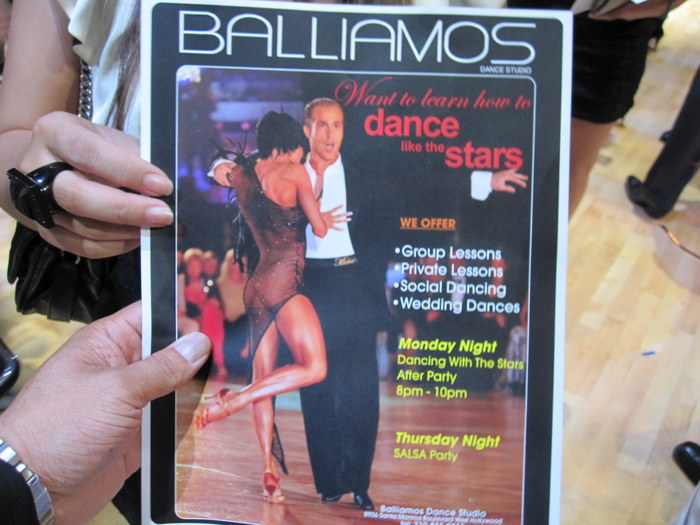 Ok, for real now. I'll break it down like this.
YES, when you go a live taping of a show, its different than watching it on tv. YES, this is the 2nd highest rated show in all of America with close to 30 million viewers and one of the world's most viewed shows of all time. NO, I didn't take any picts during the performances because they would have dragged me through the streets of Hollywood in a pink outfit. YES, the Vito family is incredible. YES, I was laughing my ass off with Richards and Saydah, but cheering even louder. YES, I was absolutely blown away how crazy good this was and YES, Louie killed this shit like no other. Hey Louie, let's pop collars together, can we?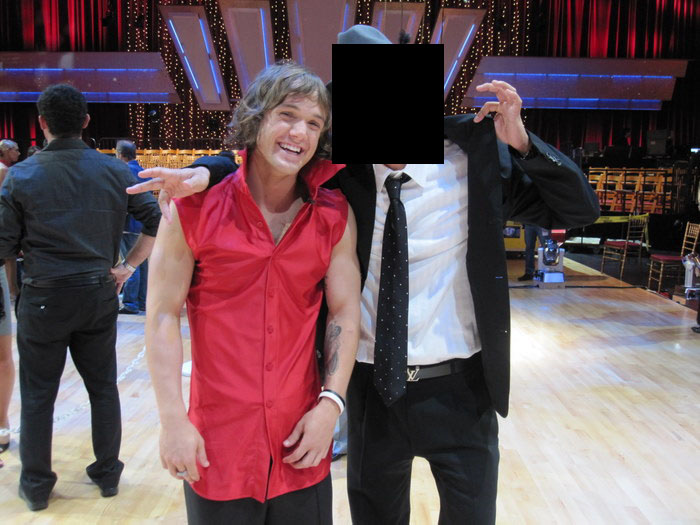 Chelsie and Louie sitting in a tree…(Todcast got it all-stay tuned)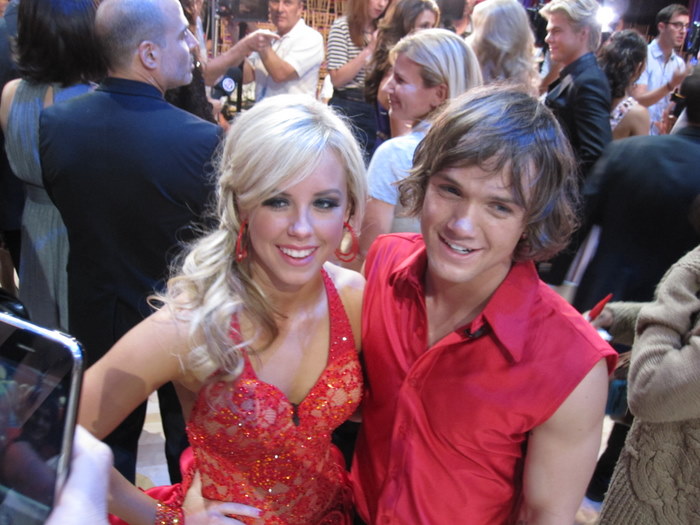 The great thing about LV is that he's 100% real. No doubt, he's a genuine kid with heart, soul and swagger in his own way. He works damn hard, doesn't front, open minded but strictly determined. The funny thing is when you look around at the "competition," they don't come close in this manner. "Back streets back again!"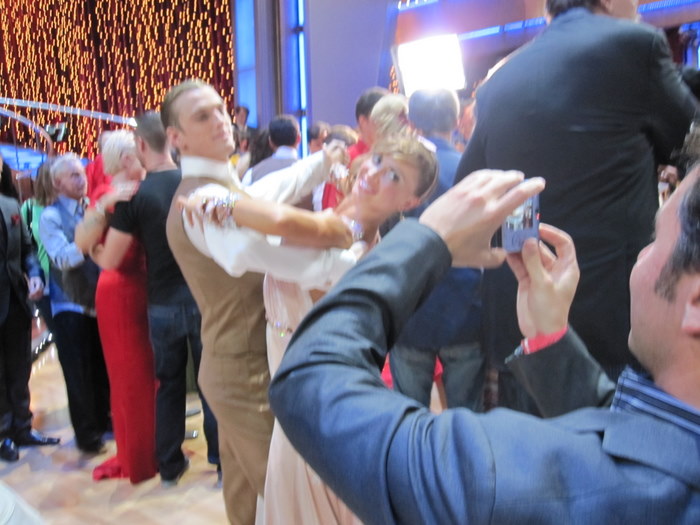 Well, what do you know, I ran into Edyta…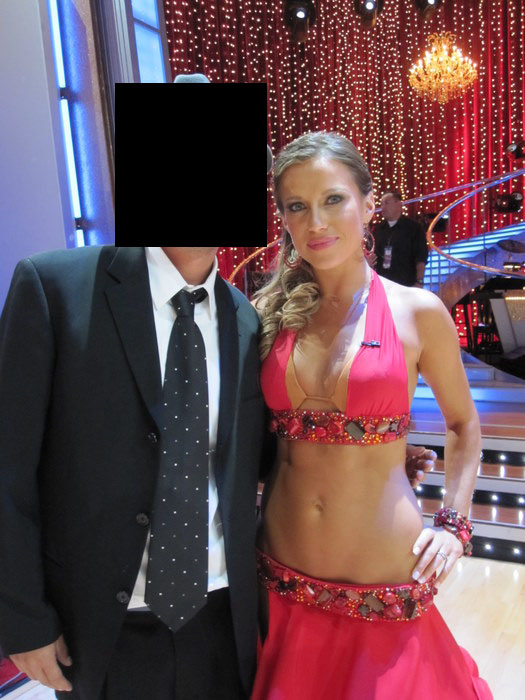 After the show, we headed back to LV's trailer (Hey Bob, howz it)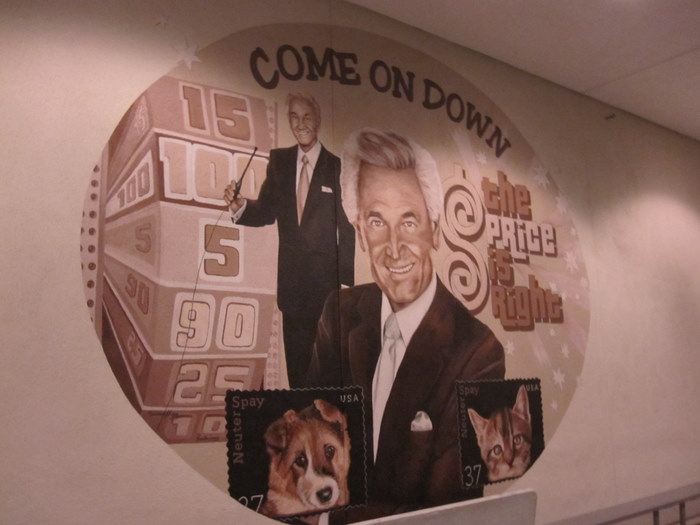 Between the laminates with such a handsome mug and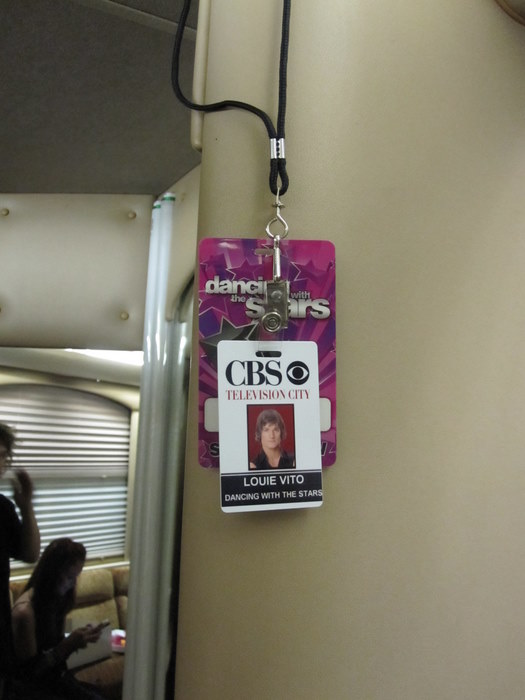 The flowers from Kathy Ireland,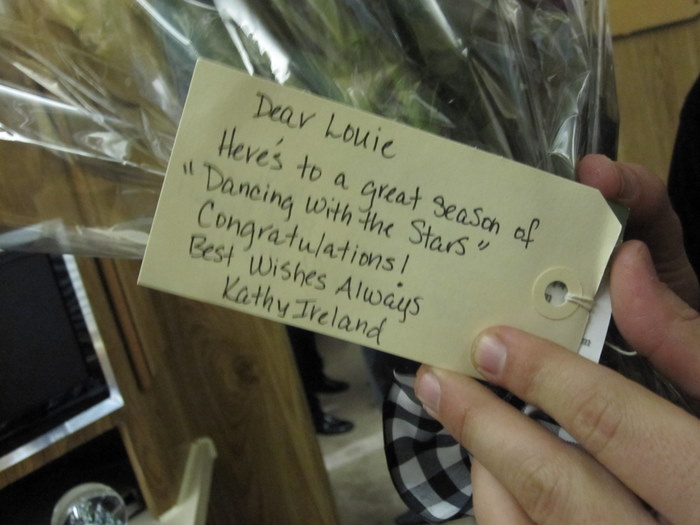 LV decided to bail the skin tight outfits for something a little more comfy, BTW, I'm liking the ice.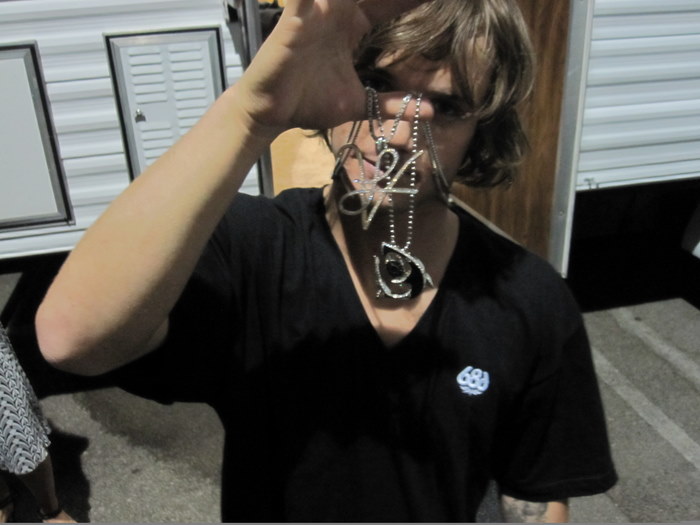 I guess this is the start of "Fans Gone Wild" with Paparazzi on every corner...





The Last Ride
September 22, 2009
Jupiter (Undefeated) and NSW have been organizing rides every Wednesday nights at the Montalban throughout the summer. This past week was the last ride so we rallied the crew and made things happen.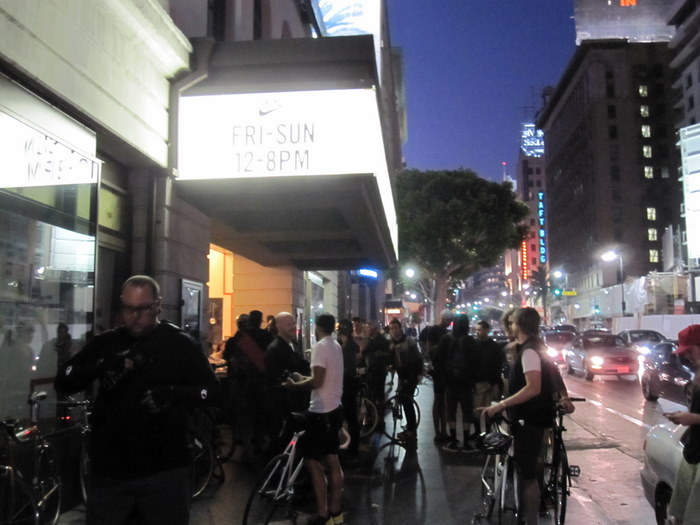 The Podium posse was in affect (I'm sure the swoosh loved it when they rolled up to the Montalban)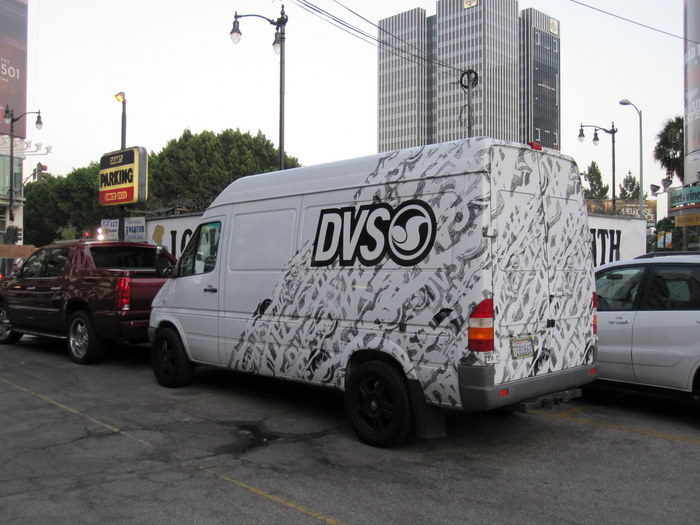 Rico's make you go faster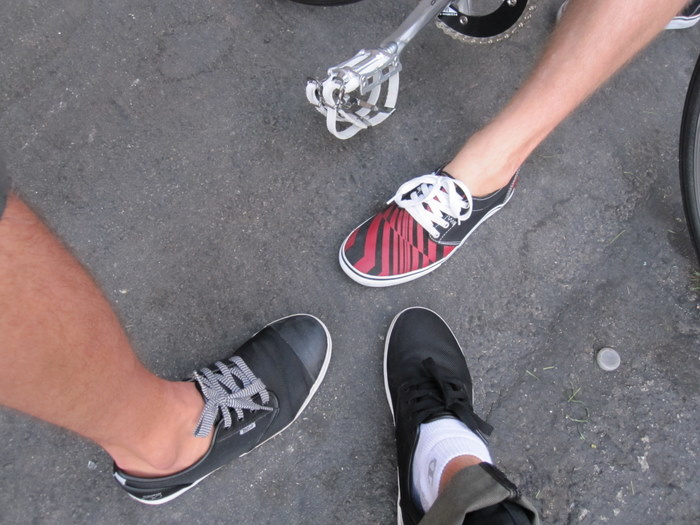 When Nike took over the Montalban last year, they did it right. The mere size of Shepard's piece on Lance, is pretty damn impressive.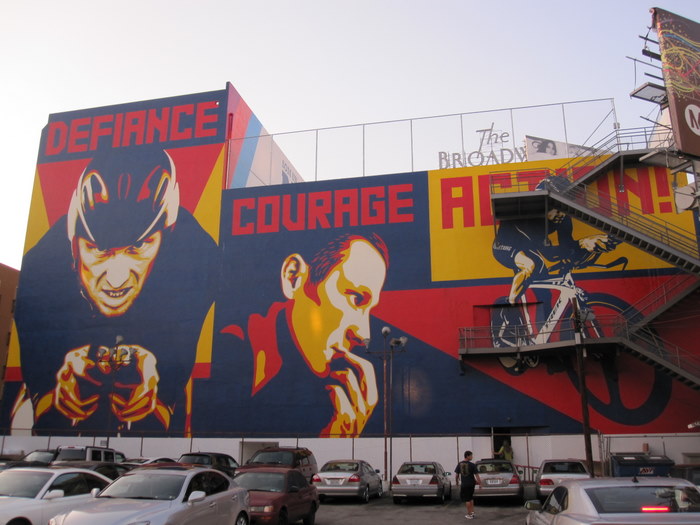 When we take rides, we're jamm'n hella fast through the streets of LA and Hollywood. Red lights, car pulls, pot holes and all - taking picts through the 25-plus mile route is not an option. It's done before you know it and it all ends up looking like this.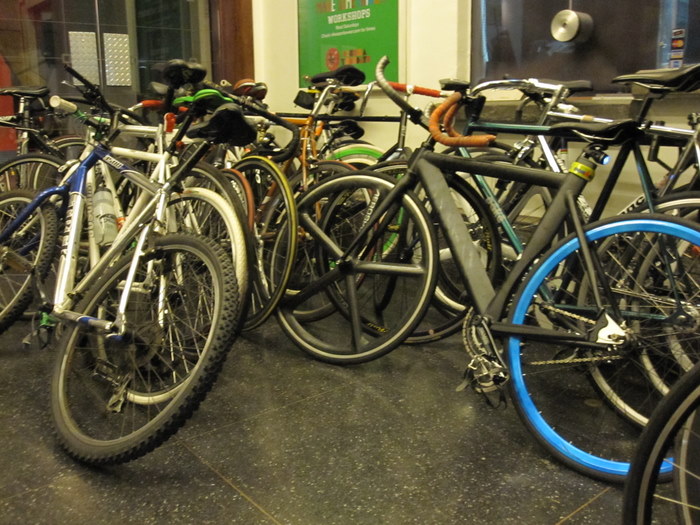 Its nice when the folks at NSW have some cold ones to give away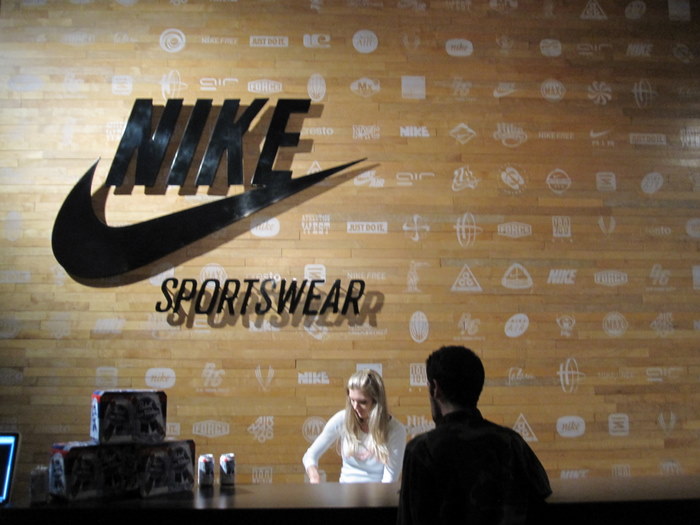 The taco truck doesn't hurt either. 1 pollo and 2 carne asadas por favor.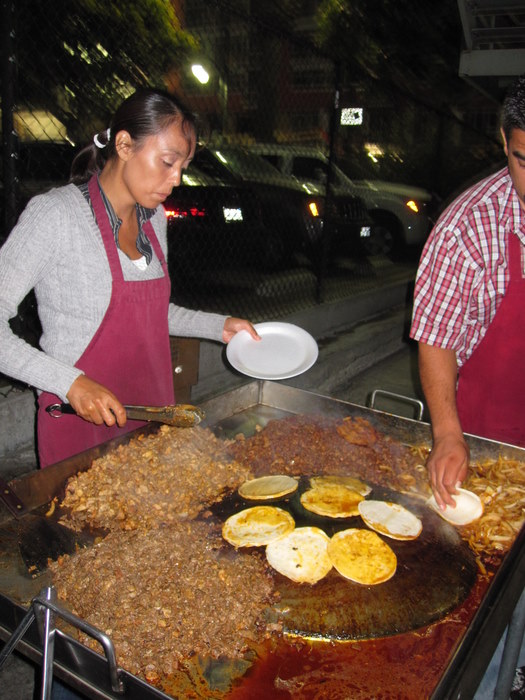 Jup designed this Trek bike for Lance, tonight they raffled it off.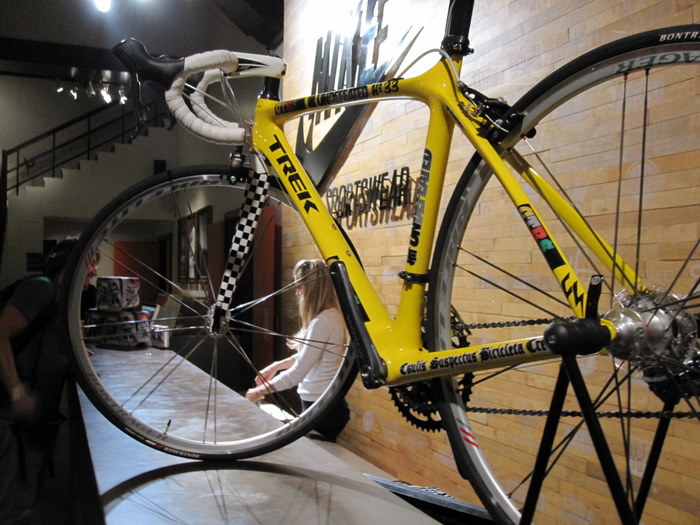 Thanks for the rides, Jup!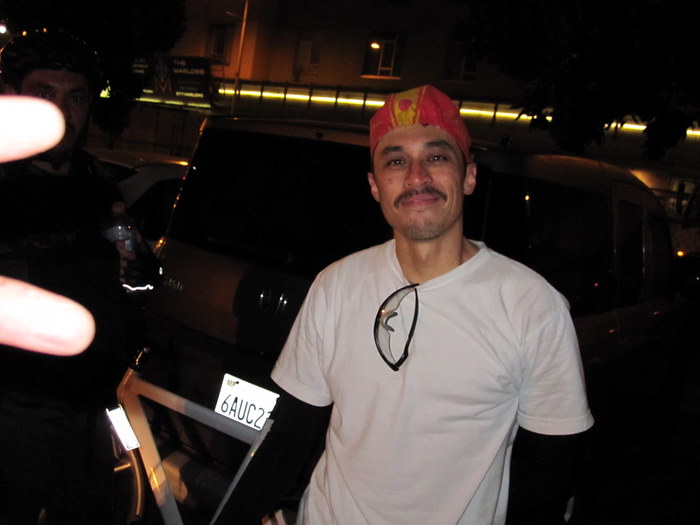 Some looks from the theater


Tech pack to NSW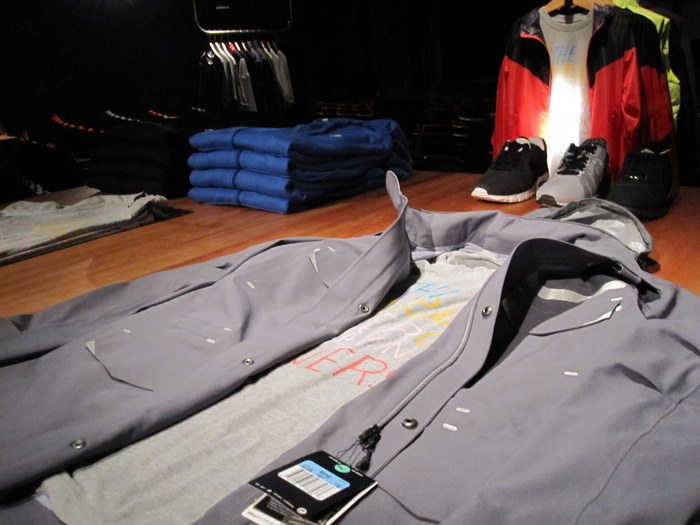 Hey, who's that on the screen?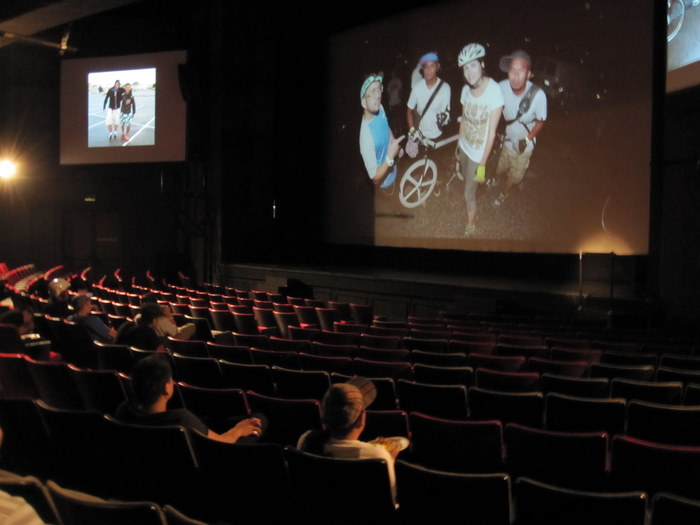 I think the audience was stoked.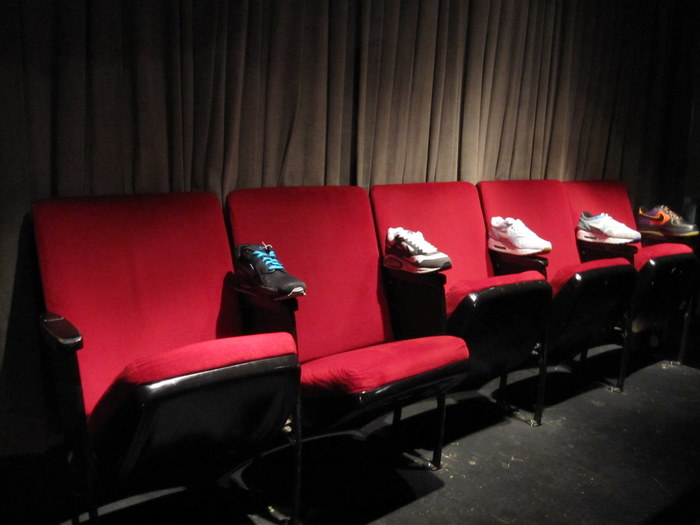 VOTE!
September 21, 2009
In all my lifetime, I didn't think I would ever do this, but I'm actually going to be voting on a TV show. My boy Louie's debuting on, "Dancing with the Stars," on ABC, which premieres tonight, Monday, the 21st at 8pm. I'm heading to the live show to give support (as well as get my laugh on…) Yeah, I know there's been mixed opinions on why he's doing this and what "affect" it has on the industry. (Not to mention he's all hip hop, only wears XXL and can't dance to save his life) But at the end, LV's gonna make the best of it, while we get to laugh our asses off (in a good way!). If you wanna laugh with me, vote for Louie too.
What's so funny LV?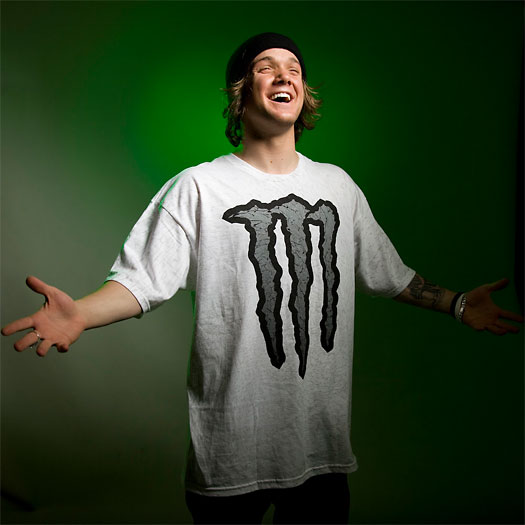 Oh yeah man, so hot right now.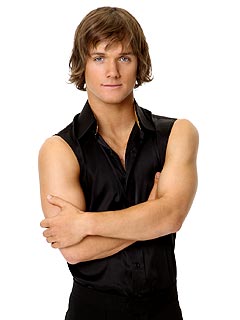 "Free 4 All Fridays"
September 18, 2009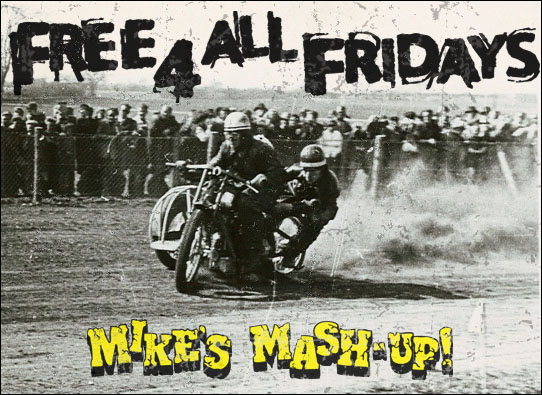 What more could you ask for? Bombing from the bed, I'm in!
Tempt1 EyeWriter: SE2 EP3.... Freeway Bombing from Evan Roth on Vimeo.
DIEGO SAN, PART 2
September 17, 2009
ASR changed things up, adding the speaker series out in the halls to create a more intimate feel. What was that you said Toby?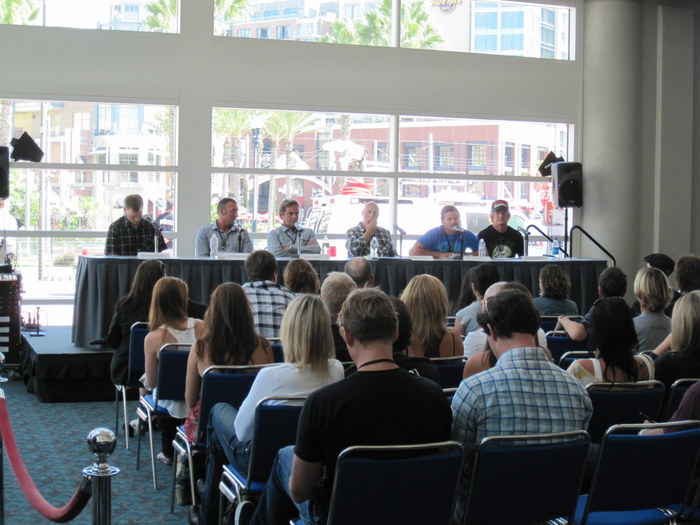 If you know ASR, most of the biz gets done in the halls or at night. I ran into longtime 686 supporter John and his team from Sierra at Tahoe. Talk about going back, I've known John since before I started the company, while working at Bear Mtn, where he was the GM. Now he's the main man at Sierra, a great shredder and one cool cat.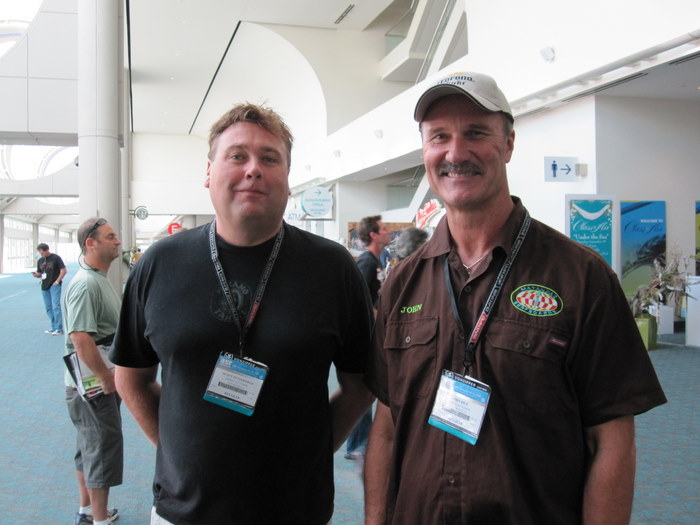 If y'all been around the block, you must have run into a dude named "Sweaty." Words cannot describe Scott (aka Sweaty), however I'll try-blah, blah, blah, blah. Nah, really, he's one hard working dude and knows his shit, representing the Goods empire, Holden, VZ and C3. Damn, did you lose weight?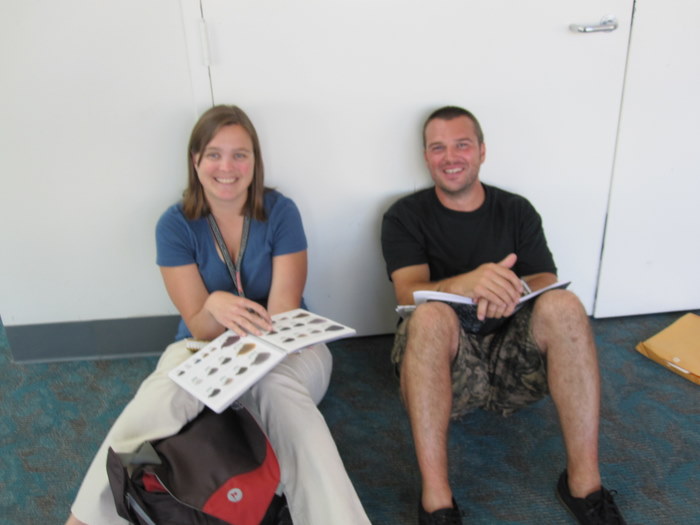 Heads were rolling around everywhere. The TWbiz crew of Josh, Mike and Kailee had lots on their plate.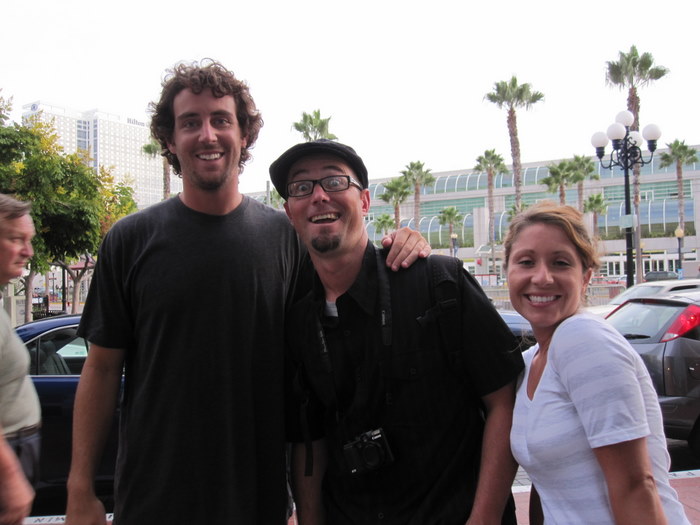 Talking about lots on the plate. Per and Frank have some of that, and then some more. I've already introduced Per on my past mash ups. I've known Frank for a while when he ran Dwindle, Cubic and World. For over two decades, from freestyler to businessman, Frank is legit and knows his shit. Today, he's the CEO of Black Box with Jamie. Can't tell you what we spoke about, let's just say that there will be much more interesting things to come.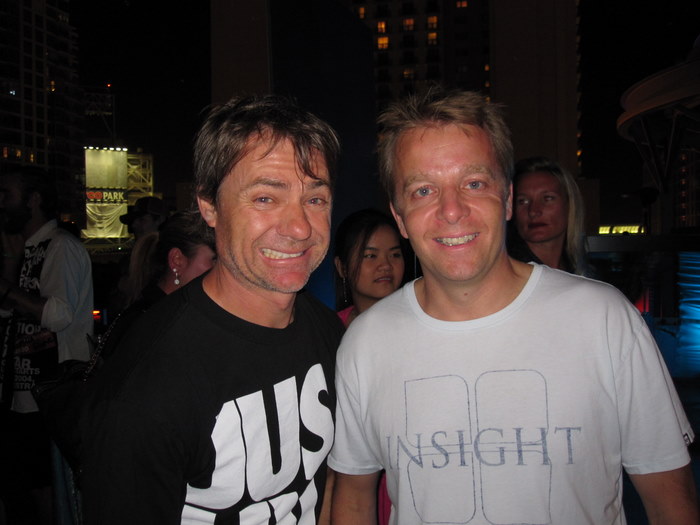 Chad, Josh, Bill and Karl were hosting Malakye's Office Booyz Skate contest for all the desk jockeys. As much as my mind still thinks I can skate, my body wasn't in sync, so I did some judging instead.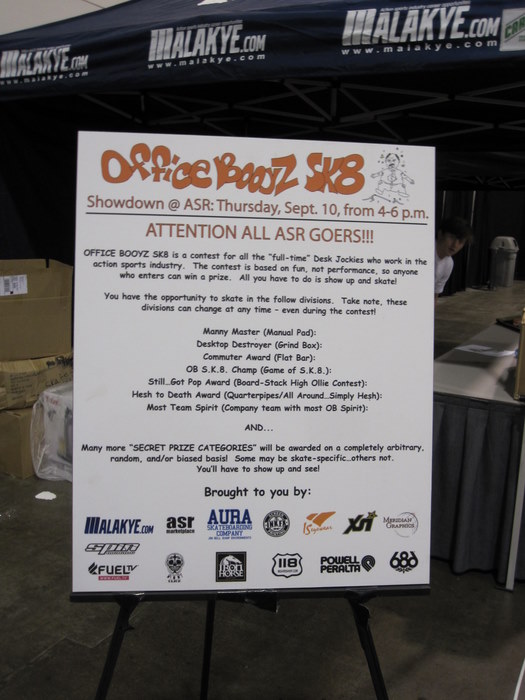 Nice shirt Chad…I want one!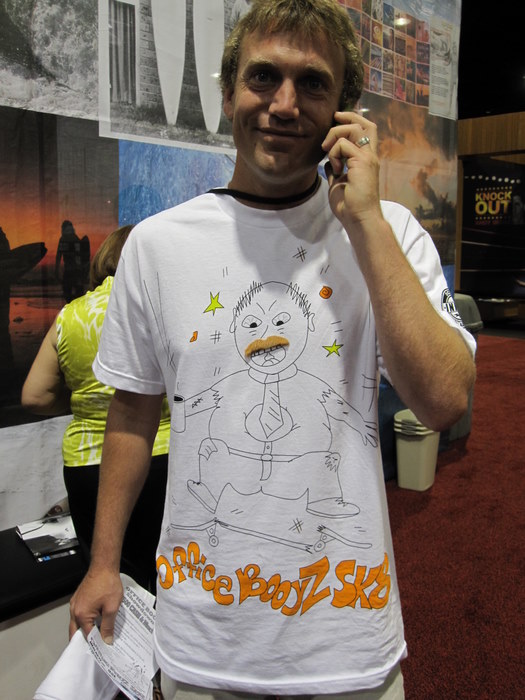 Big ups to Josh for taking the lead. People were stoked (BTW, you should have seen his board after this pict!)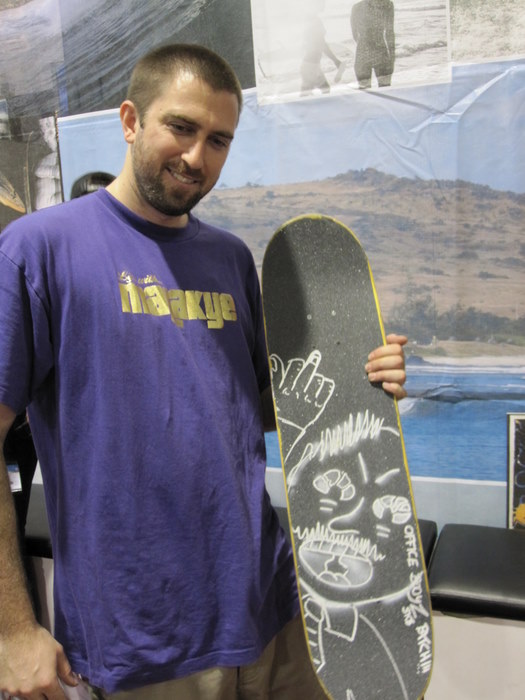 An OB event isn't an OB event without MC maestro Seamus. Damn you have the craziest ideas, let's do something, aight?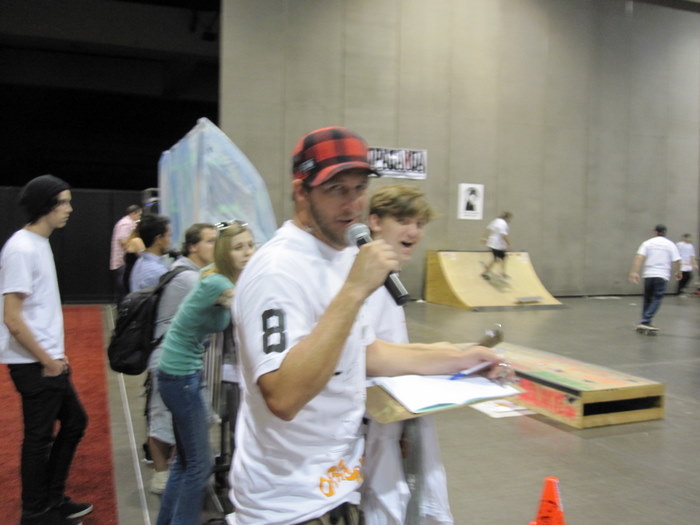 The Super G for ole timers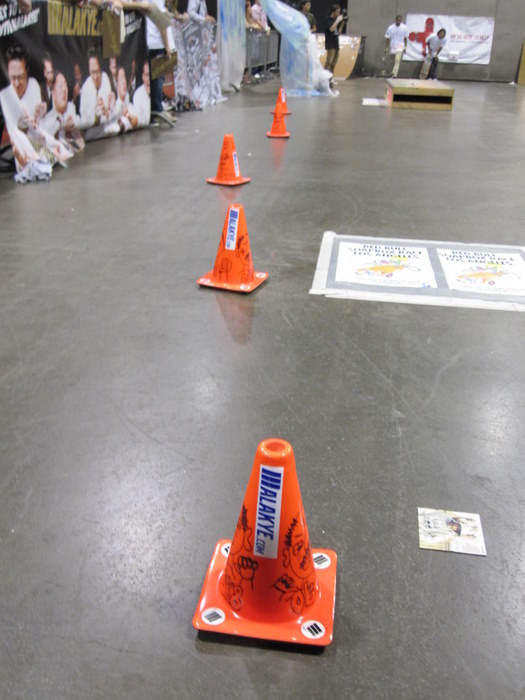 T-Dub Skate honcho, Stone making things happen.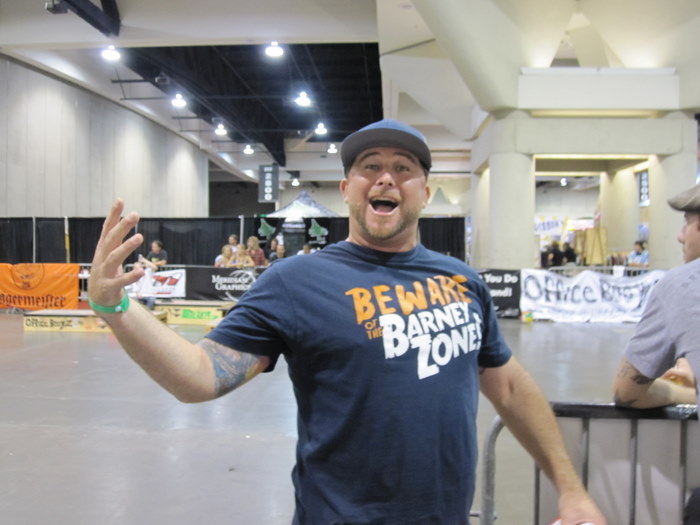 Yo Aaron (Agenda main man), how did you get in here? I thought that ASR had a bounty on your head? I guess it's all good?!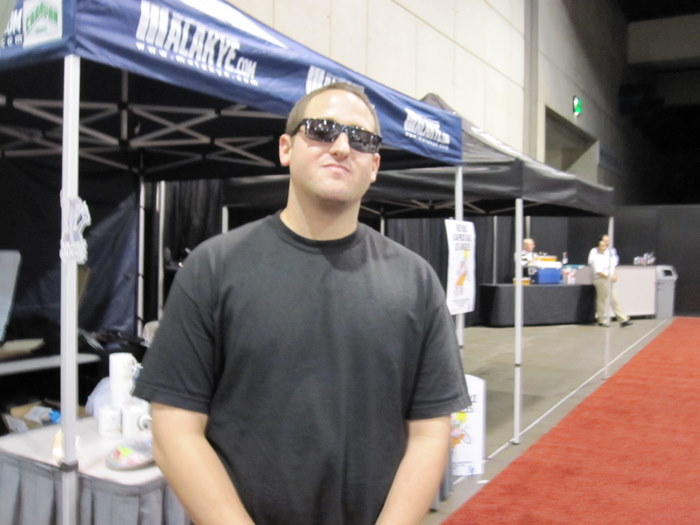 Aaron and I were rapping out about how well his show went in HB last month and what we plan to do to get more involved. Wanna see something funny on Aaron's phone? Jason, Aaron and Tal, they look like one big happy family….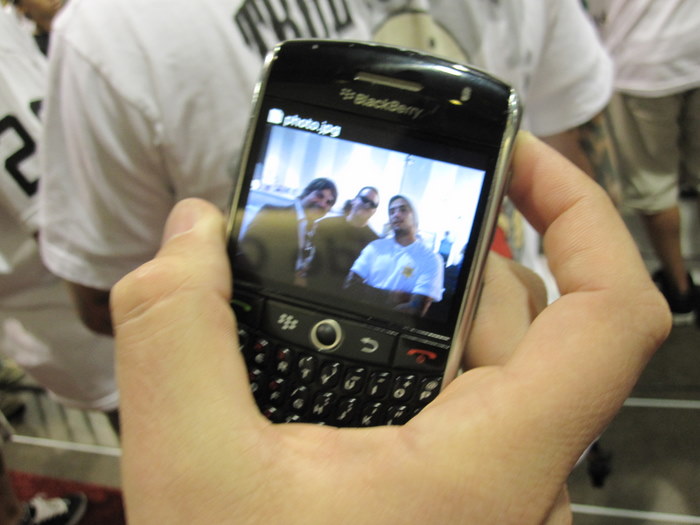 It was getting late and when you start running into heads like this, damn, Chief (Burton SVP Marketing), how'z life outside the "village"? What time is your curfew?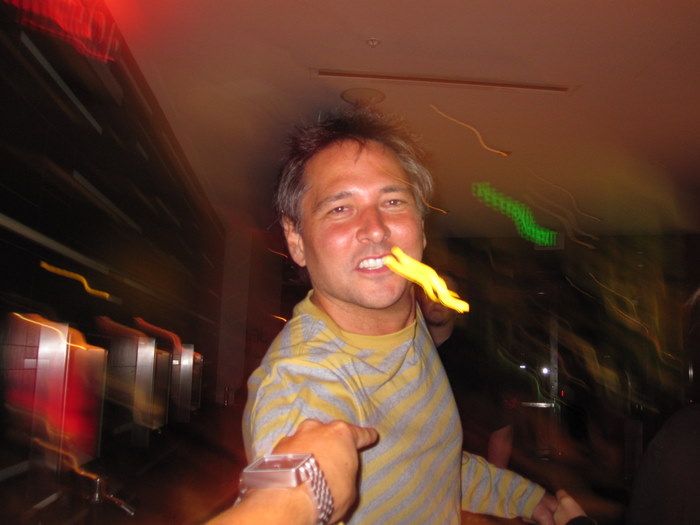 And this, it's time to leave and go home. (love the shirt fellas)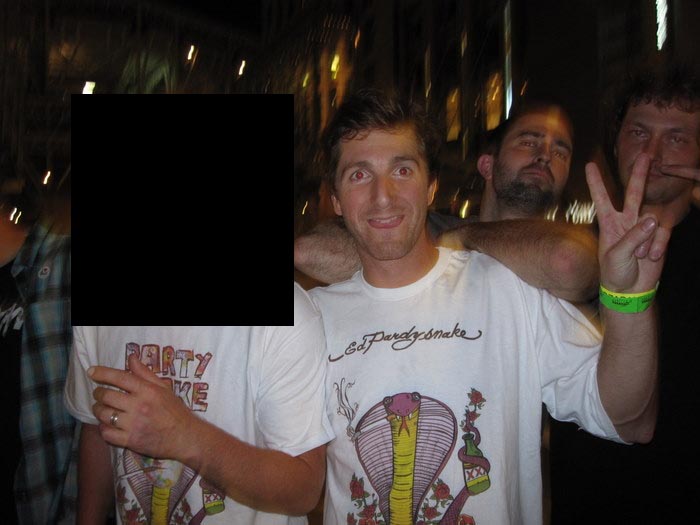 DIEGO SAN, PART 1
September 16, 2009

Like I mentioned in yesterday's mash-up, September kicks off the ASR tradeshow in Diego San (well, you know what I mean). A lot of heads have been spreading hate with ASR. From the later dates to a lack of love for skate to the politics with Agenda, I try to stay away from that stuff. In fact, growing up as a kid, ASR was a big influence on me. Back when it was in Long Beach, I remember trying to sneak in the show to check out all the new stuff, mingle with pros, etc. Airwalk, Jimmy'Z, Powell Peralta, Santa Cruz were the heavy hitters back in the day. A lot has changed in the past 20 plus years since I first attended. However it's still a great reason to get people out and start buying again. Welcome.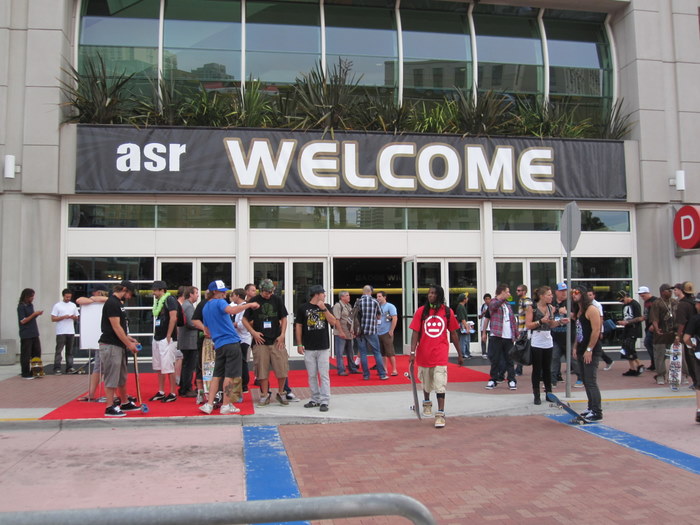 One big change to this years line up was CLASS. Class is the brainchild of Jason, who also runs Derelicte showroom in LA. The show is traditionally held in Santa Monica for more of an "upscale" contemporary crowd. To change things up, the two shows got in bed together.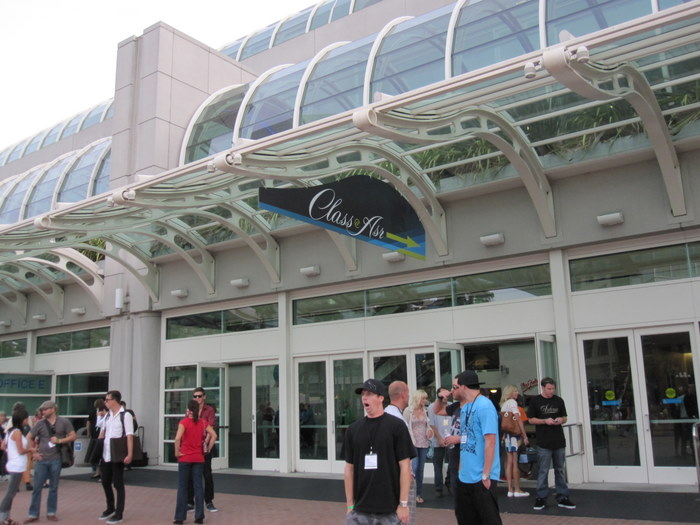 The man, the myth, the legend - Shubin got all dressed up to host the Class show. Braden from New Era showing me his new duds courtesy of WESC.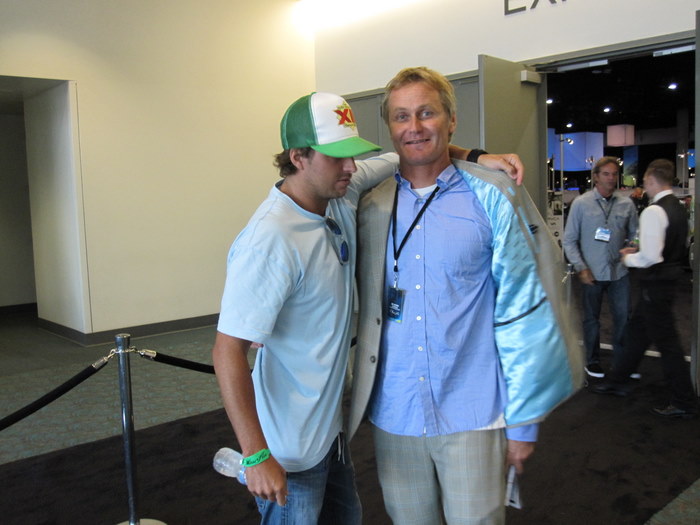 The biggest difference was the layout, mood lighting, open martini bar and of course, exhibitors. 686 was actually going to show, but we decided to opt for a static display out front (as well as hit the road as stockists are all about seeing you in person, regardless)




Looks familiar, huh.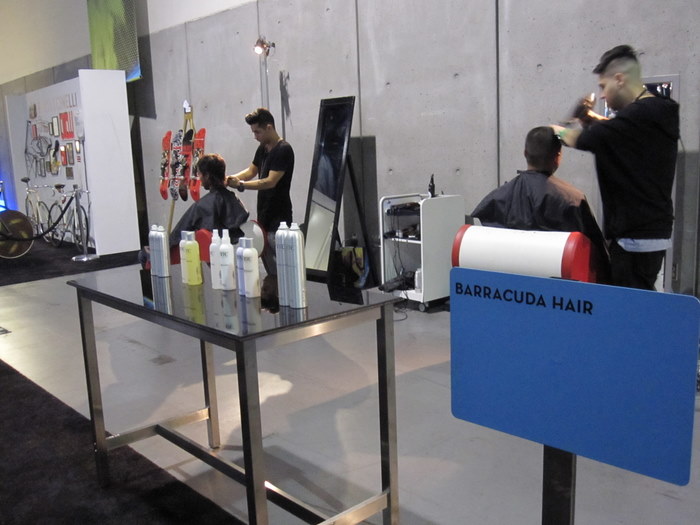 I ran into David from FYI Japan. When I started my gig and decided to sell to the land of the Rising Sun, it was between David and my current homies in Japan. Good to see that both companies are still relevant and strong close to 18 years later! (FYI-Rule #1: Relationships, Relationships, Relationships)


RVCA x CINELLI installation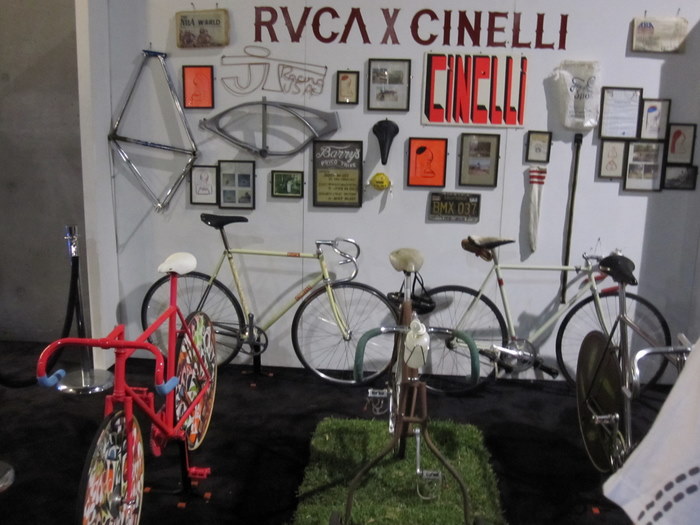 Look closer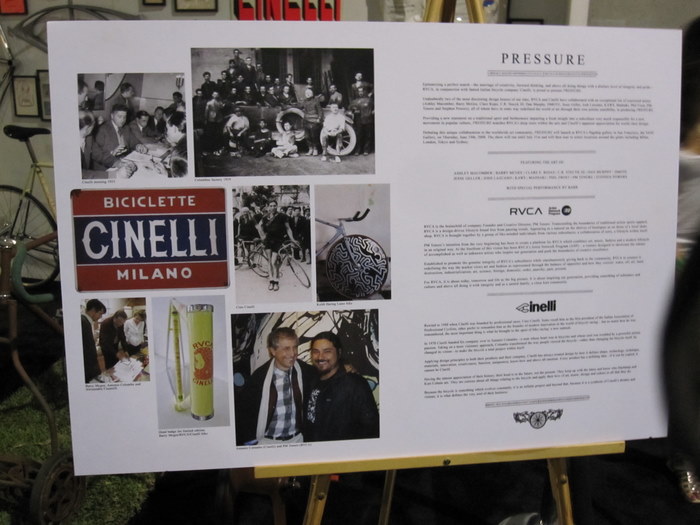 How's it going BD? Brian and the rest of the Podium crew are on the same program as us. Create efficiencies where they are needed. High fives are mandatory, but so is making sure time and $ is spent the best way possible.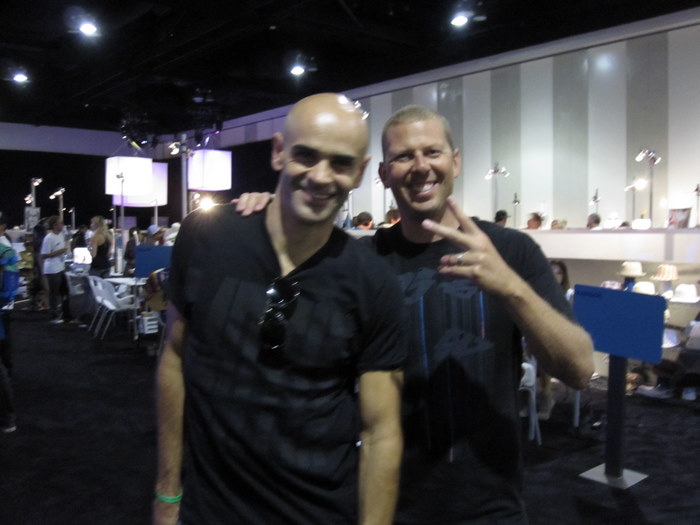 Of all the years that ASR's been around, this is a first. Complimentary Martinis, courtesy of CLASS.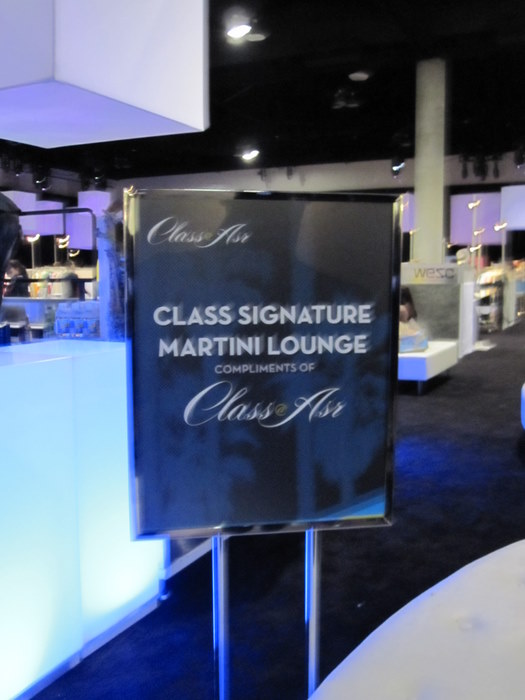 I think everyone appreciated the sincerity of great brands, cool ambiance and of course, free booze (including Ali, Gary and Manson)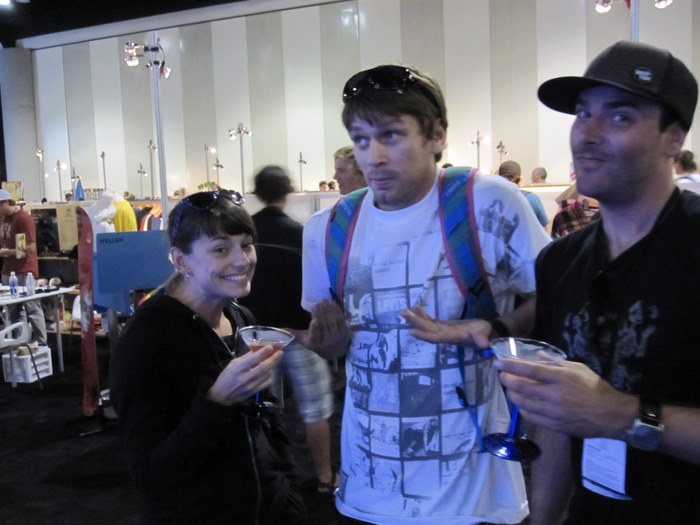 Check out good friend, Rob, giving me his profile look. Rob was on hand to showcase his SLVDR line. Check it out, shit's on point.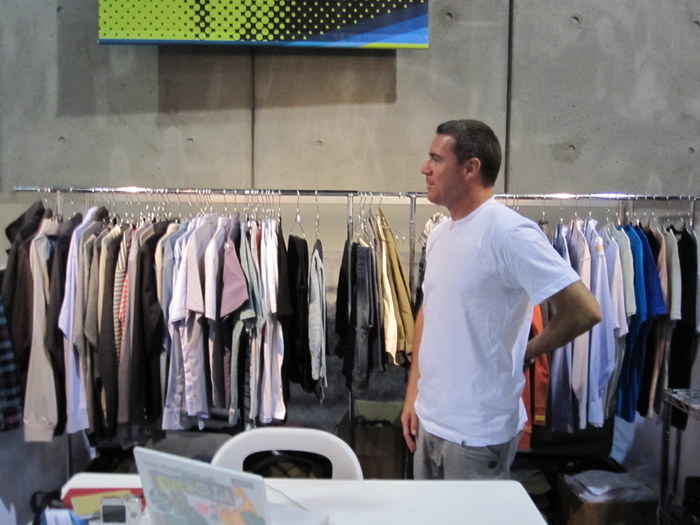 I headed over the ASR side to see whats crack'n. Looking at the map, you can quickly see how tight this show was.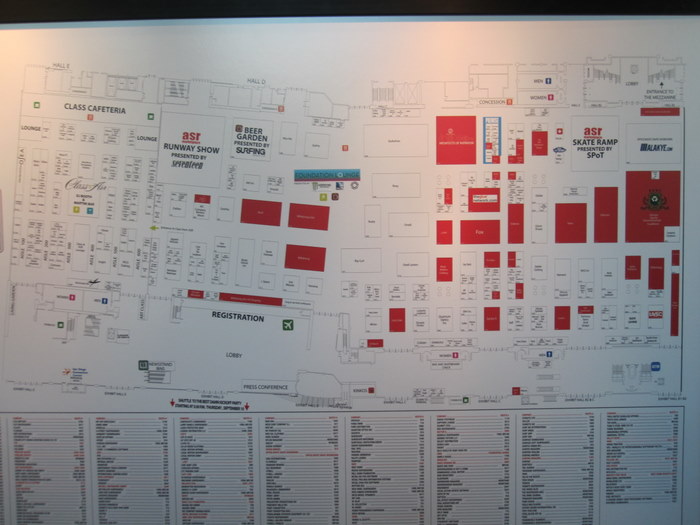 Like I mentioned earlier, we opted for a simple merchandising stand. Welcome to our Spring 10 "Organized Disorganization" Collection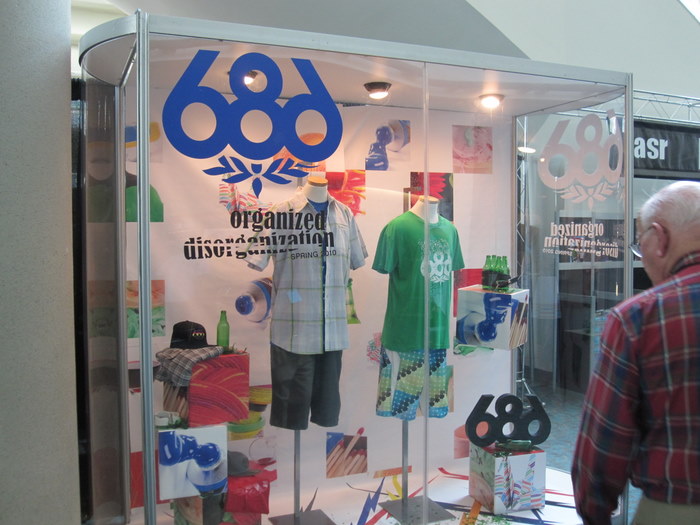 Ahhh, September
September 15, 2009
In the Winter game, September is the time when things start changing. Manufacturers are shipping out products, retailers are starting to change the floor plan, kids start fiending for the latest goods. On the industry side of things, the ASR tradeshow kicks off and movies premiere. Over the week, I headed to Transworld to check two flicks- TW's Get Real and People's Nice Try. Low and behold, after 30 plus years, TransWorld moves into some new digs. Check out the entrance from the front (excuse the crappy pict, as my iphone had to take charge tonight)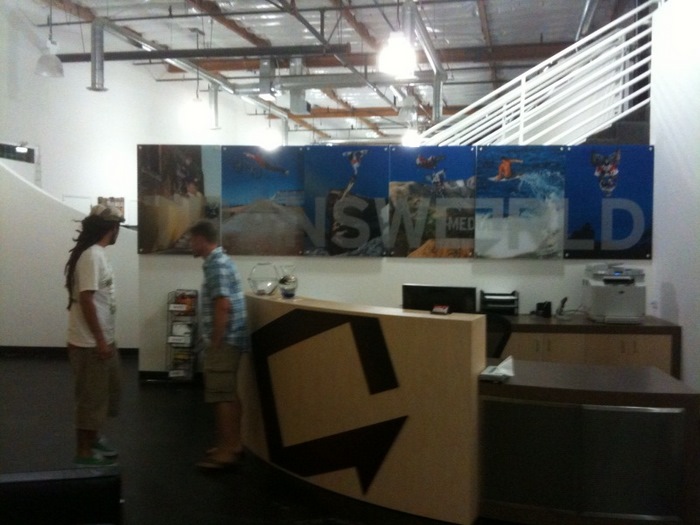 If you've ever been to the old digs, this is a HUGE step up. You actually have a place to eat lunch here.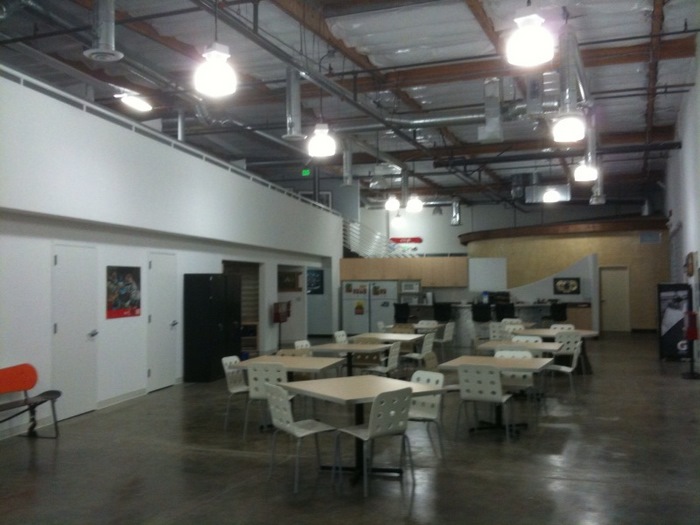 TW Business publisher and all around swell dude, Rob, personally showed me around the place. Hey there Rob.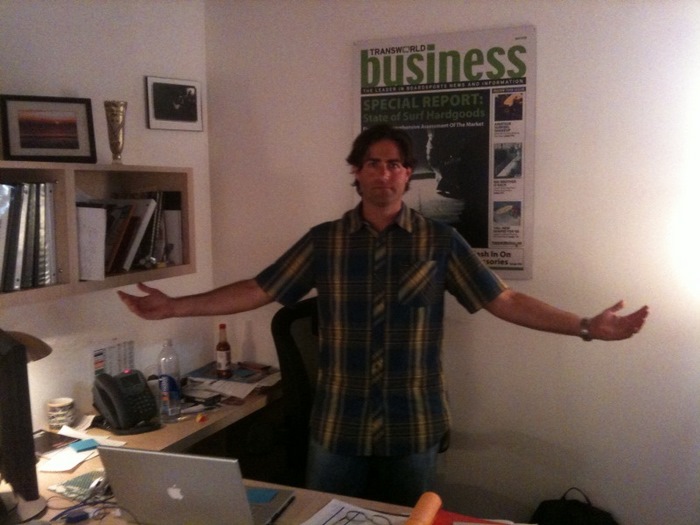 Wow, what do you have there? Looks like the new NB686 joints that just came out. Man, where do you get that? I wanna score some.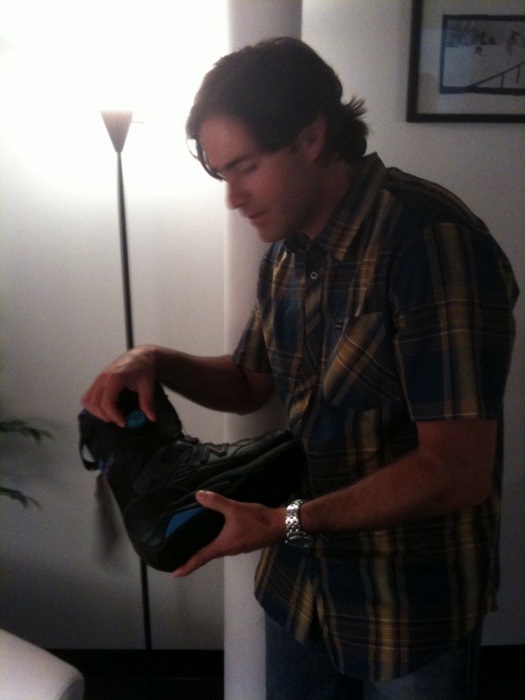 I guess this is where biz really takes place




Go Skate now!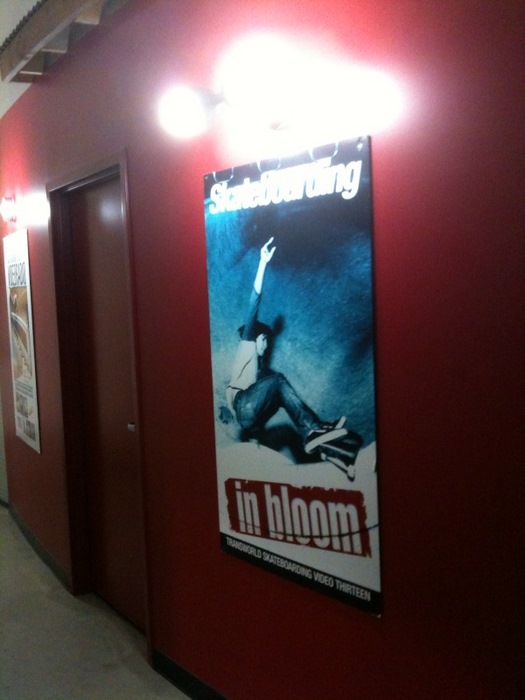 Upstairs in the skate area, they have a rotating photo wall. I'm sure you can imagine all the stock they have over the nearly 3 decades of Skate.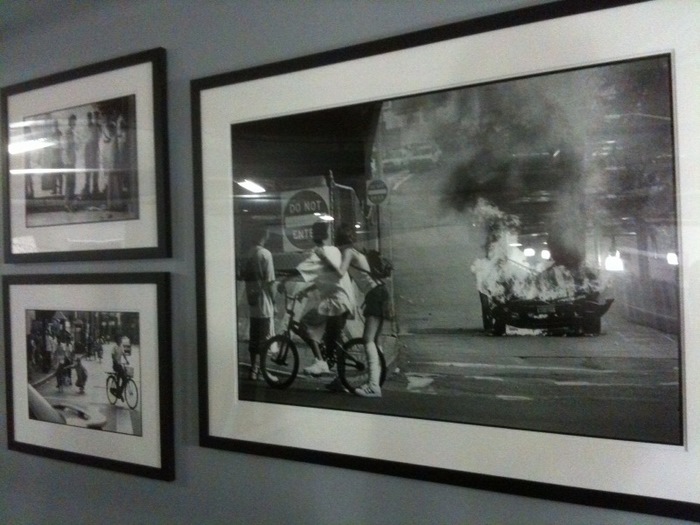 Remember this pict of Omar when he nearly sliced his head off at the Vans demo at Paramount Studios? Looks kinda like Frankenstein with the stitches.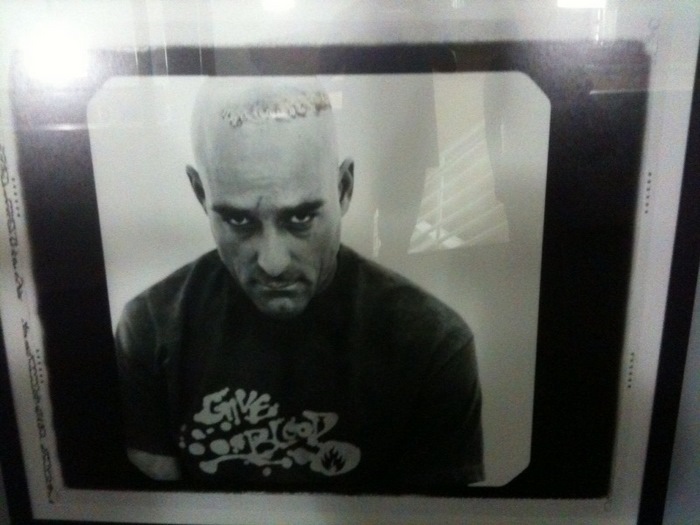 686 global faction rider, Pat, rolled down with the whole fam to check out the film. We all know Pat kills it big mountain-back country style, but he's even more of an incredible positive dude. He has this Northwest, good-ole boy, I'm super appreciative of everything, living life attitude. If you don't know him, introduce yourself and say whats up. Hey, whats up P.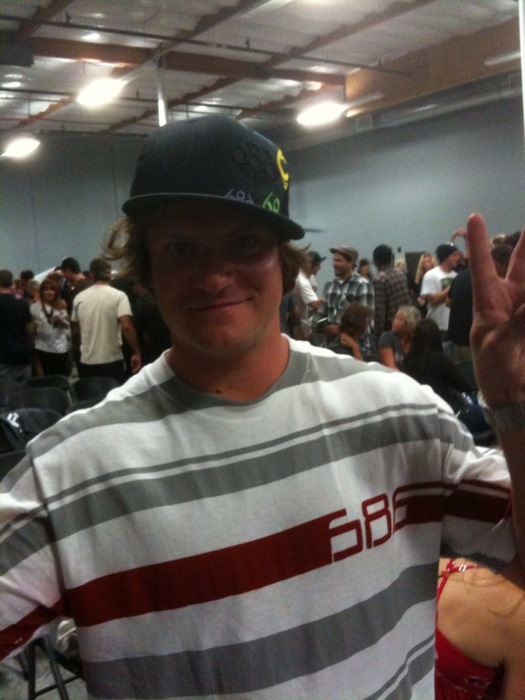 The LV WAY
September 14, 2009
After the Mtn. High gig, I met up with Louie (LV) for dinner at Katana on Sunset. As you already know, LV's enlisted with the uber popular ABC show, Dancing with the Stars. I'm sure everyone has an opinion on this (as well as myself). If you know LV, you know his personality is larger than life and he's probably laughing at this entire thing just as much as we all are. Don't get me wrong, he's practicing his ass off, 6 days a week for some fox trot, cha cha cha whatever thing-a-ma-jig. But his take is to just have fun and show everyone else that it's ok to do things a little differently. I pulled up this post on my iphone-hey check it LV.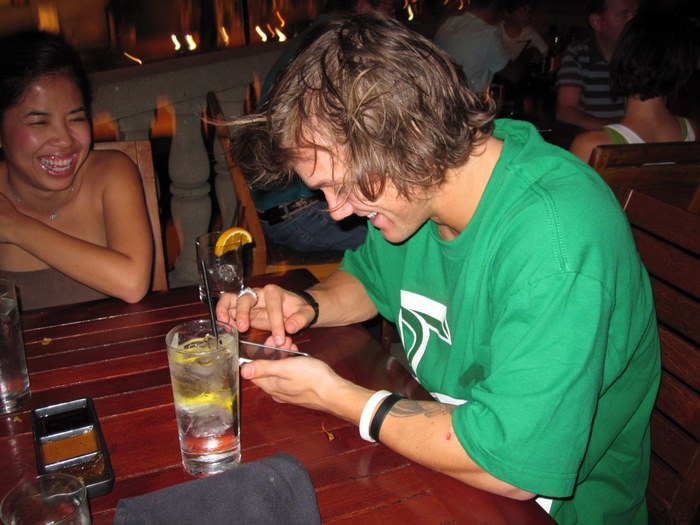 Yeah, that's you on some sort of tmz-ish site with your partner, Chelsie.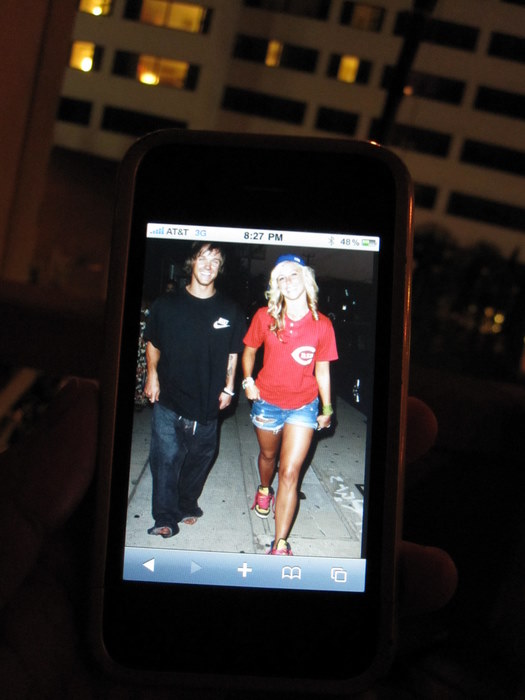 Hey LV, I got a question for you, I wanna impress my girl with a fresh move. Can you show me a little something, something?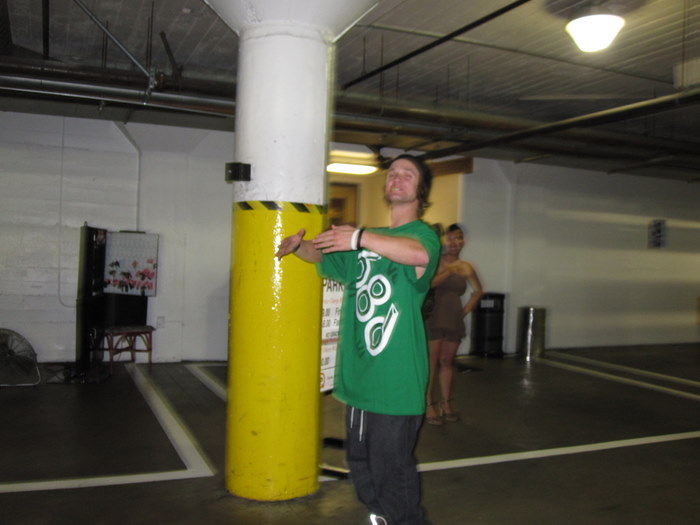 Funny shit, huh? It's only the beginning in this town, son, Just make sure you're healthy for the Olympics and don't ever ask me to make your outerwear sparkle, aight?





The High Mountain
September 9, 2009
In Southern Cal, when you don't want to sit in the car for an extra hour to go to Big Bear, you head to Mtn. High. From downtown LA to the hill, you'll get there in about an hour and a half (that is if you leave super early). In LA standards that's typically the same time it takes to get to work. Although I'm more of a Mammoth head if I decide to go "local," Chuck and John have done an incredible job making Mtn. High a destination for all the park jibbers. They were throwing an event at Vans in Block of Orange to kick off the season.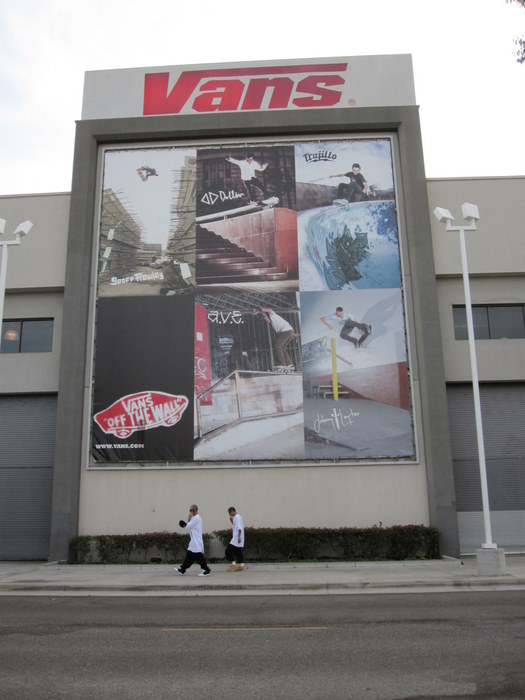 Marco, Cronk and of course Louie was there to support the launch.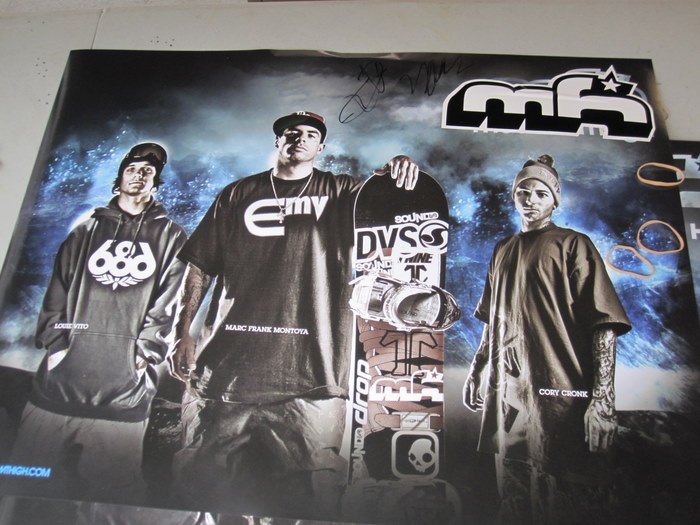 What up fellas (even Derek flew in from SLC to check out the gig)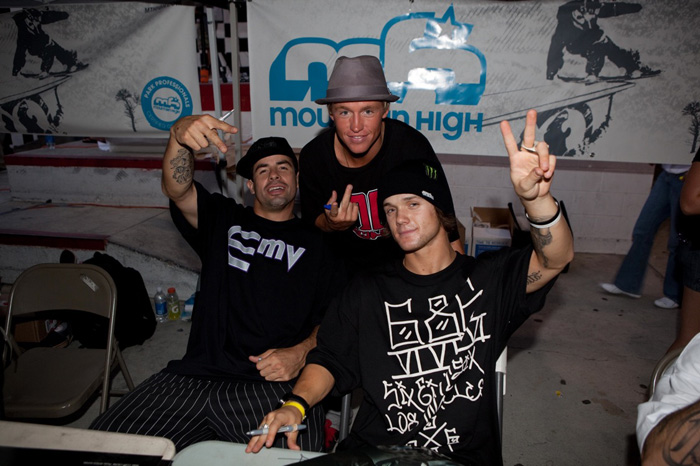 Cole, Trent, Estone and the entire FODT crew came out to premier there Hard to Earn film. Estone and I go way back before he was a 686 rider with Blotto and Harper. Besides running Tech Nine with Cole and company, he's also a talented mofo when it comes to taking photogs, congrats son.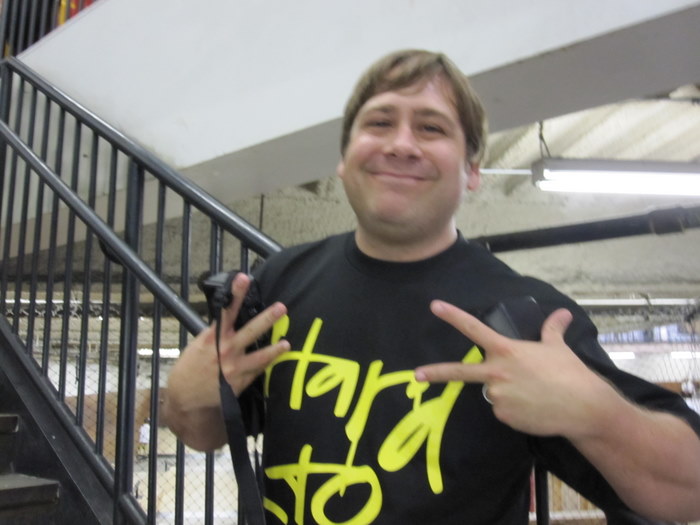 I think kids today don't realize that shit like this was very tough to come by when I was skating. Damn, looks fun.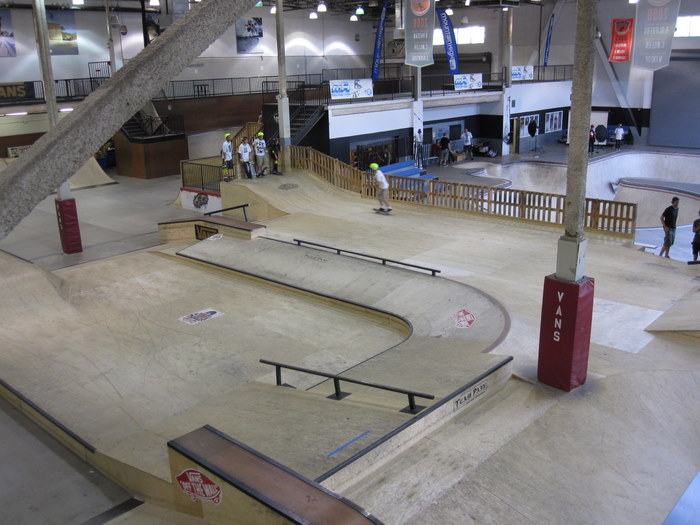 Nam and crew brought flavor to the gig. Drink that drink - it's hot in heeeerrre.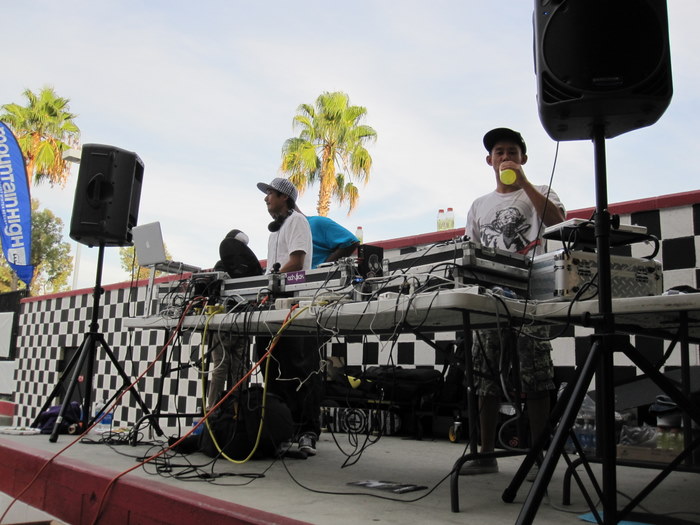 686 and O-matic doin it family style.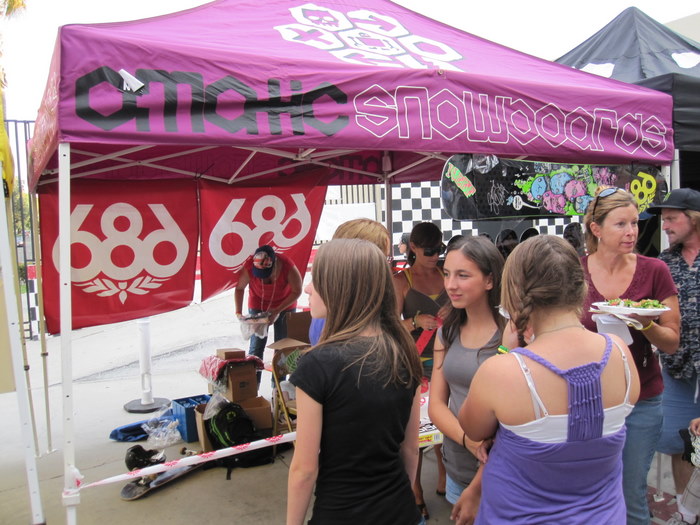 Every kid was stoked when they got the goods, from stickers to outfits, I think we gave away the farm.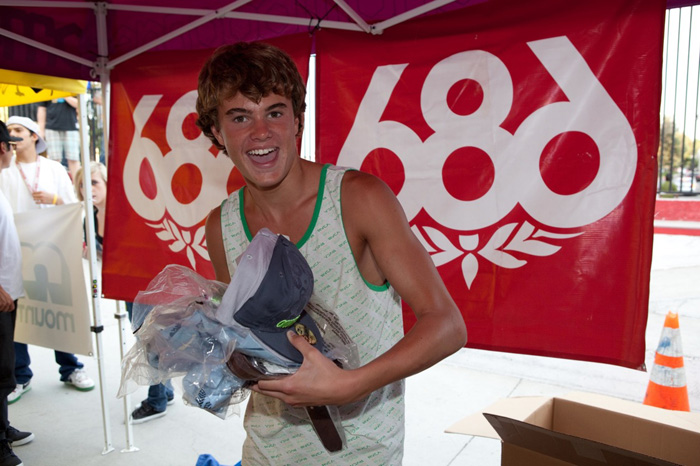 This lucky girl got Louie's complete set up probably worth a few G's, literally. Big ups to Kristin, Gary, Tanya and the rest of the posse for making things happen.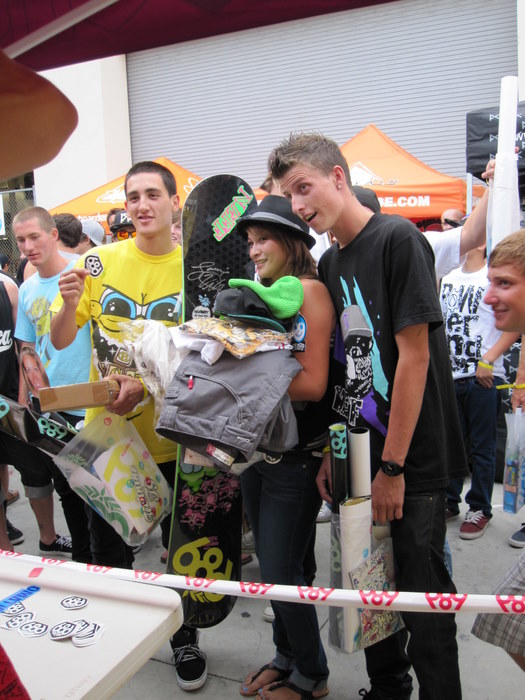 Wanna see a product toss gone bad?
Step 1-Gather a bunch of kids in 100 degree weather and then toss a $40 backpack in the air.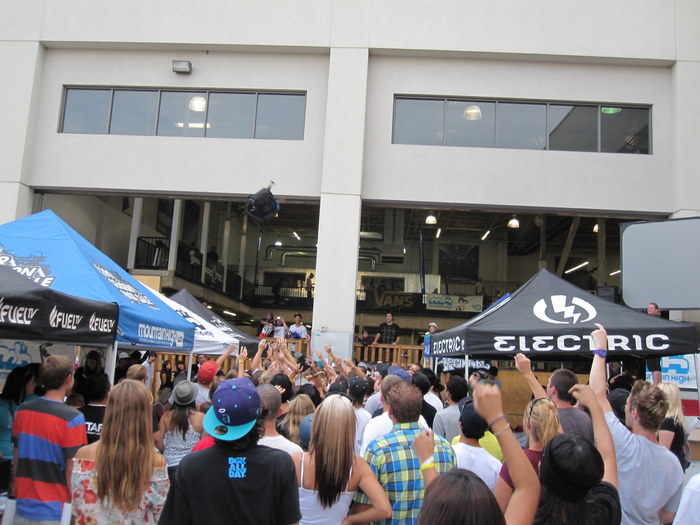 Step 2-Trouble ensues when this cool dude and an older not so cool grown-ass adult (Wearing crocs with socks on and a t-shirt that says American Misfit Bad Ass) is arguing over who got the pack first.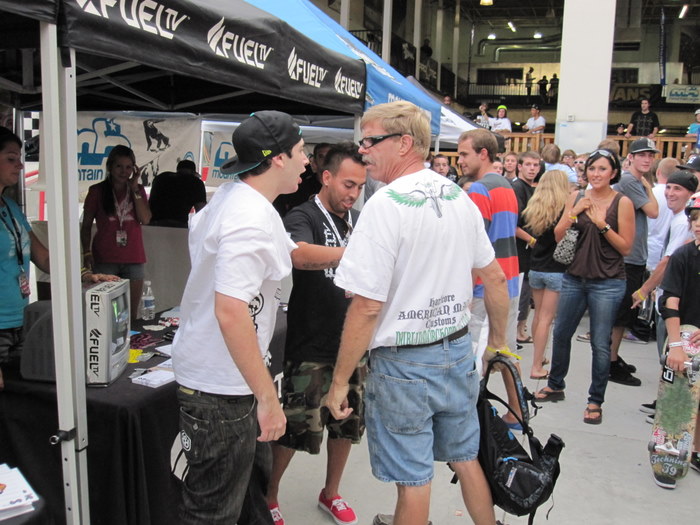 Step 3-After the grown ass adult yells, pushes, punches and nearly clocks the kid out, he walks away with the pack victorious. Wow, aren't you proud of yourself, Mr.


BACK TO THE PROJECTS
September 11, 2009
Magic and Pool have gone through their share of changes-some say not as consistent as they should have been. On the other hand, Project's taken a path of higher learning. From the early days in Manhattan to the well-produced, well-represented halls at the Sands, Project's done a great job. (Well, maybe they could have picked a different color carpet)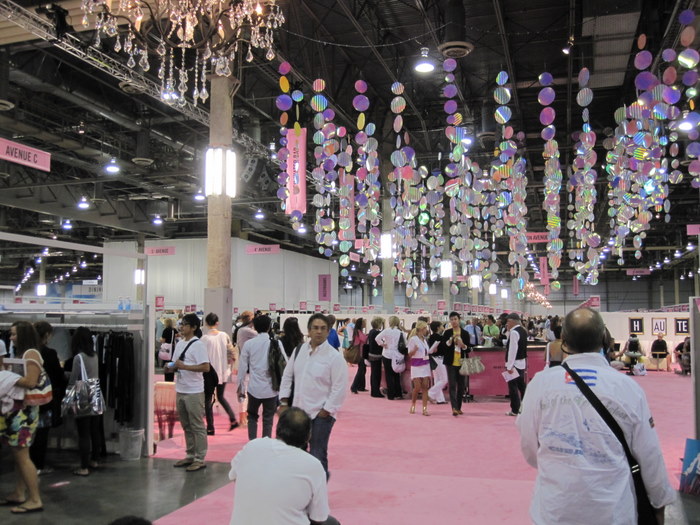 Although it's parent is Magic, I hope they'll continue to keep the identity separate. The aisles were hella packed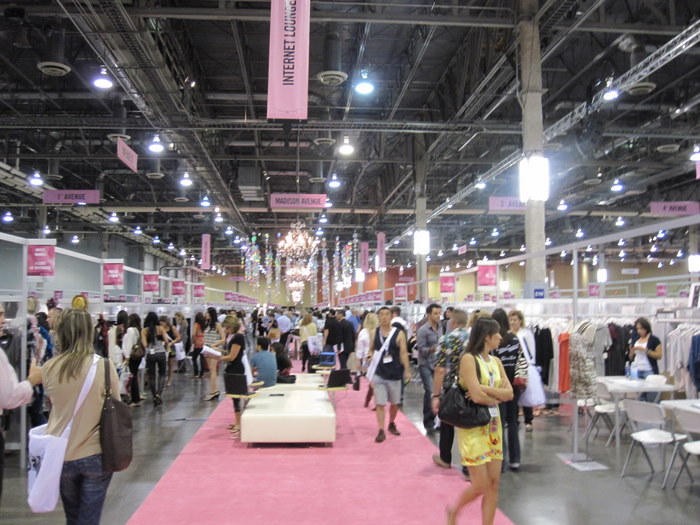 If you've been to Bread and Butter Barcelona or Berlin, the format's pretty much the same; open booths, electronic music blasting, and a bunch of heads trying to decide how to spend their $.You know your're not at your typical show when they actually bring sand to the beach.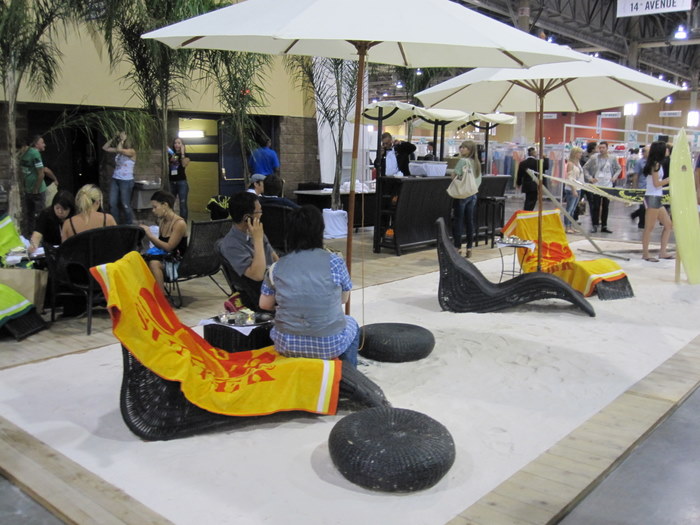 Or have a working Salon in the building,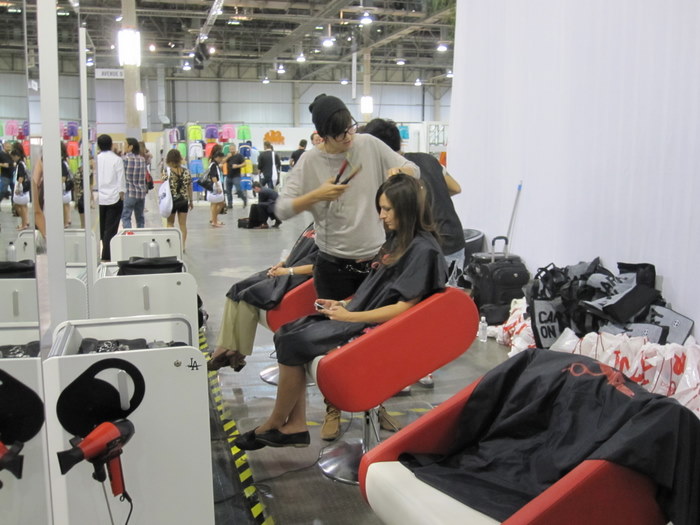 Or a have masseuses on call




Or have a pool table and bar set on every aisle.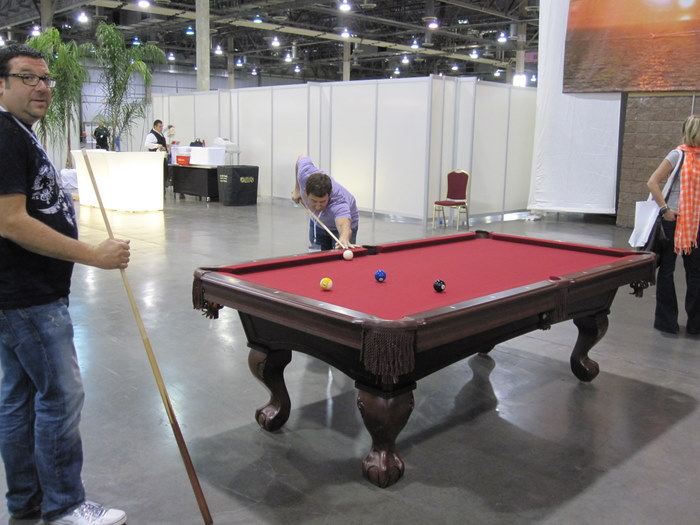 Certain shows could learn a thing or two when they actually provide an atmosphere that's consistent with their customers. Everywhere I turned, there was a lounge area with laptops for free online mashing.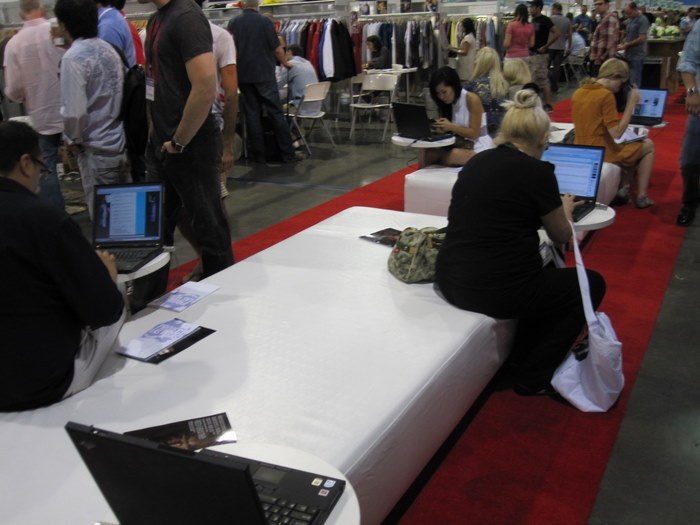 One other reason I came to Project-to talk New Balance about some more interesting things to come.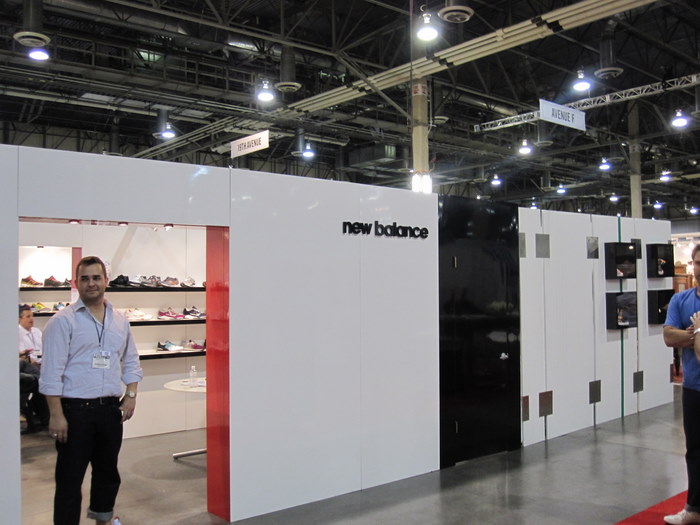 Hey what's that in the PF booth? Looks familiar…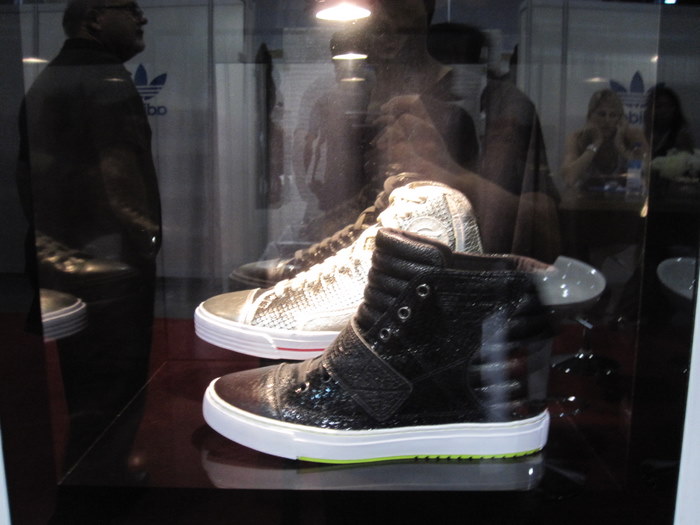 How's it Brad and company at Coal - things look great as always.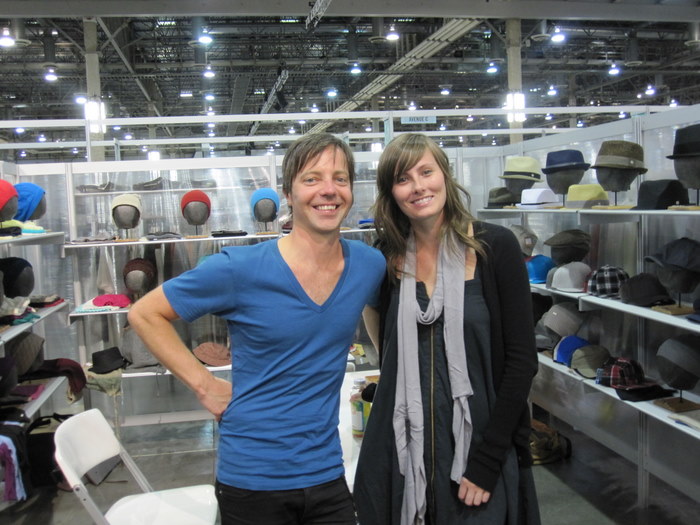 Ran into David from BPM/Vapors/Hypecircle Sshhhhh, don't tell anyone, he's also the new VP of Marketing at Diesel. If you know David, you know you're gonna see some interesting things coming from the Italian giant real soon.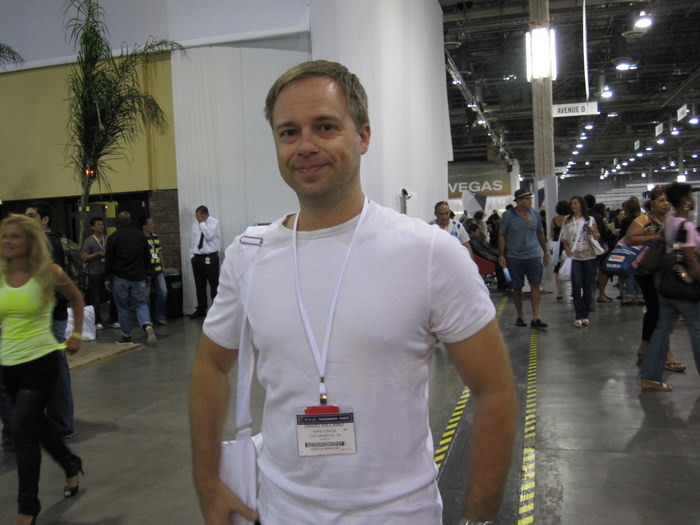 What do you think, the baby pink or the baby blue? Uh, I'll pass this time.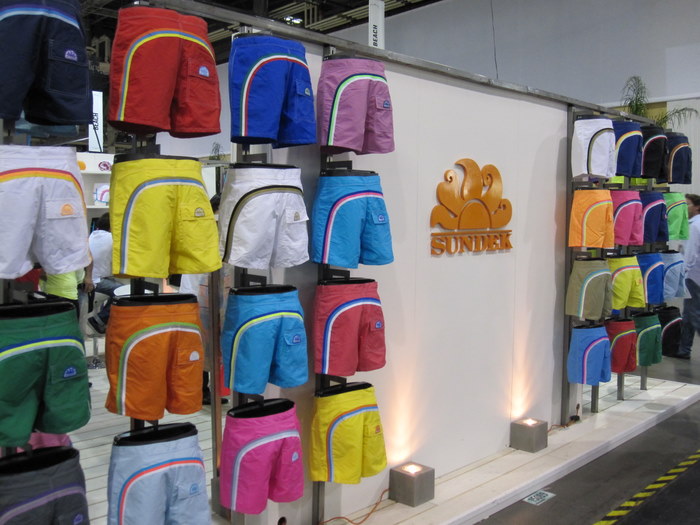 KR always making their stuff look good.




Just outside Project, NYC based Capsule moved their footprint from the Hard Rock to the Venetian.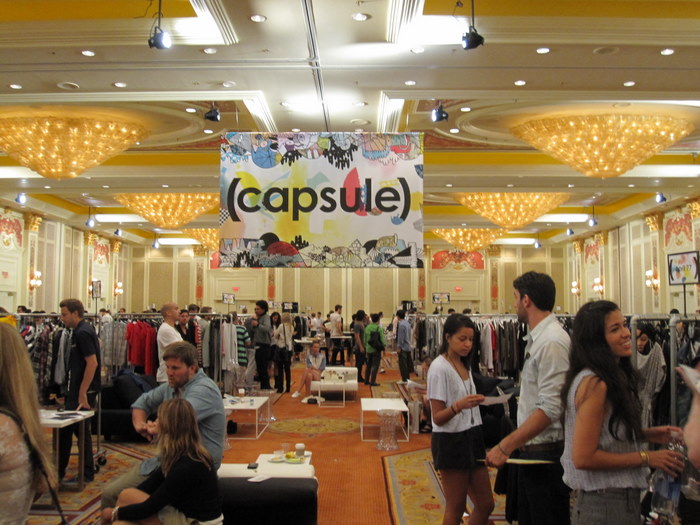 Formerly a menswear show, Capsule has taken a few steps forward to create dope ambiance with a fine group of exhibitors. From Maiden Noir to Public School to Opening Ceremony and to even Krew/Supra NS, they've done an incredible job. Until next season, peace out.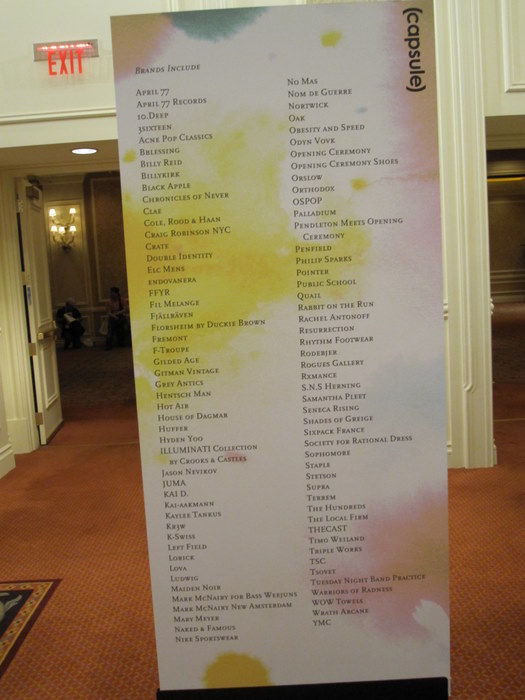 IT'S VEGAS TIME!
September 8, 2009

Just when you thought the last tradeshow was over, another one comes and hits you over the head. That was the case when Magic/Project/Capsule rolled around this past week. BTW, I'd like to clear a few things before this mash up.

#1-This is no way an official report of the shows in Vegas, it's only a snippet of my brief experience there (In actuality, you'll have a much better experience if you went there yourself, considering I popped in and popped out)
#2-Taking pictures at tradeshows sucks (especially when you're the person getting shot at)
#3-Yes, the quality of pictures on my camera sucks (However the Canon Blk on Blk looks dope and fits in my pocket like nothing )

Ok, back to our regular program. I think y'all know that when I head to places, I'm not there that long. I'm that guy that says what's up and then peaces out before anyone notices. Things were off to a great start when I got upgraded to a 2,000 sq ft. penthouse at the Pallazzo for no damn reason. Yes, that's a grand piano in my room.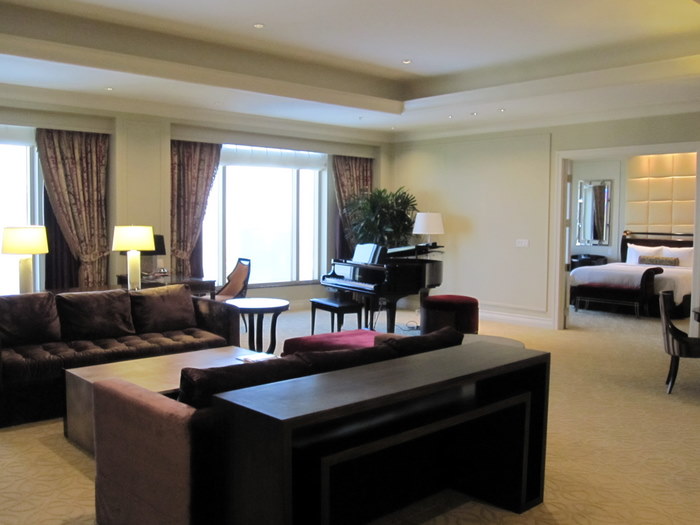 The shitty thing is that I'm gonna sleep solo in this bed tonight.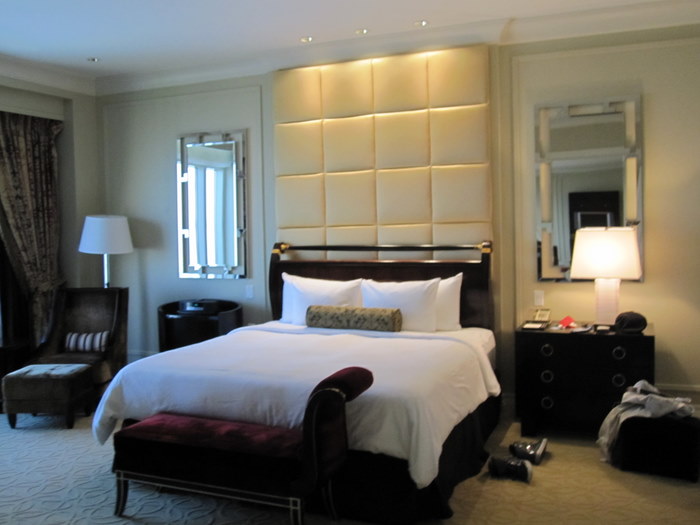 Aight, since I was only here for a little while, I better get crack'n. Gone are the days of excess everything at the South hall. This time around, it's down to the basics. Overall, a better and tighter show. First stop, the daddy of em all - MAGIC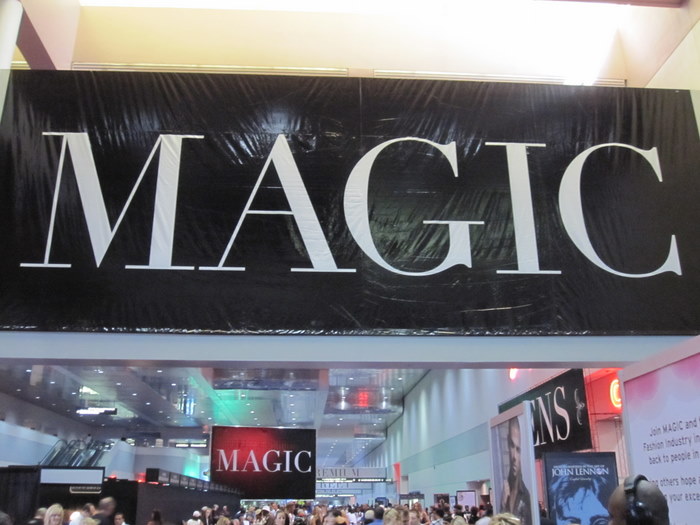 Headed towards Slate to see some heads. It seemed a little busier than last year, possible good signs to come?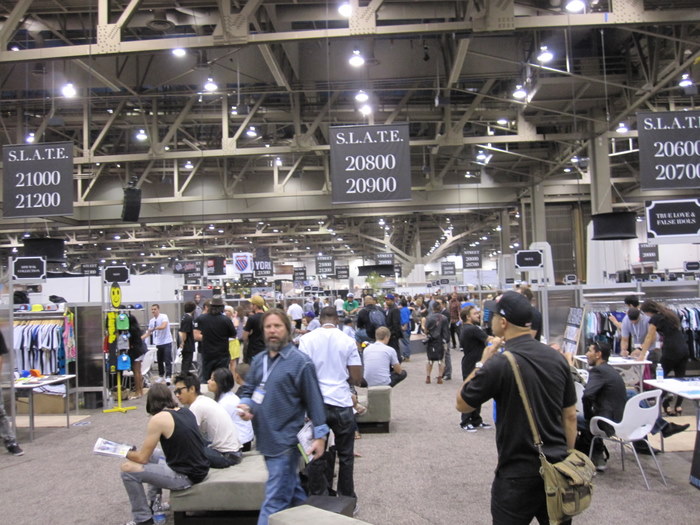 The Frank family brining NY to LV. I think I'm about due for one.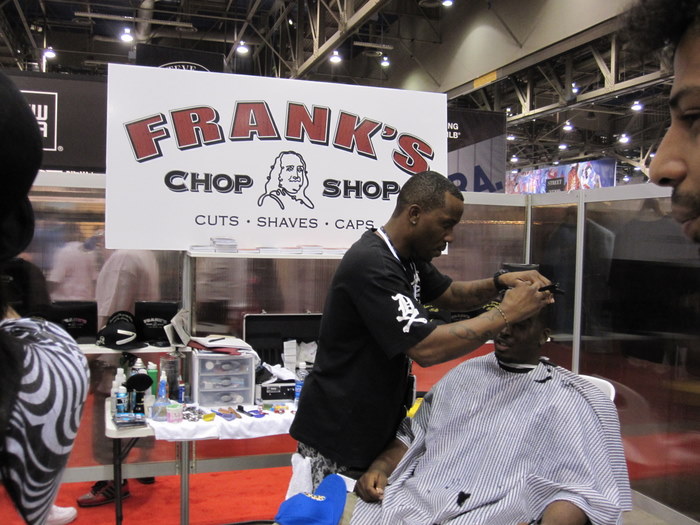 Slate brought the Mtn Dew Green Label Series to the show. The last post at Barracuda showed Claw Money with New Era. This one courtesy of Adidas.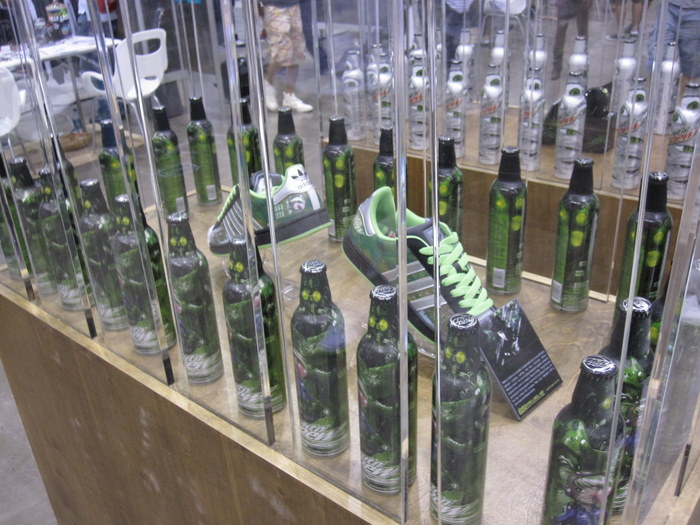 They made the exhibition interactive from the artist to the product to the user.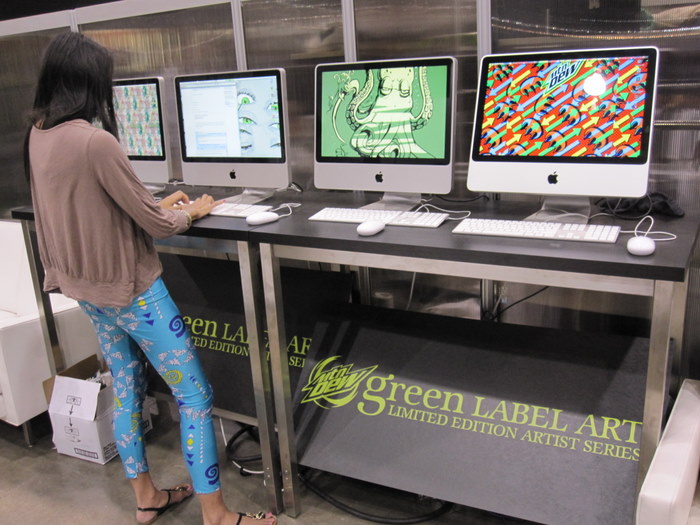 Trouble what?!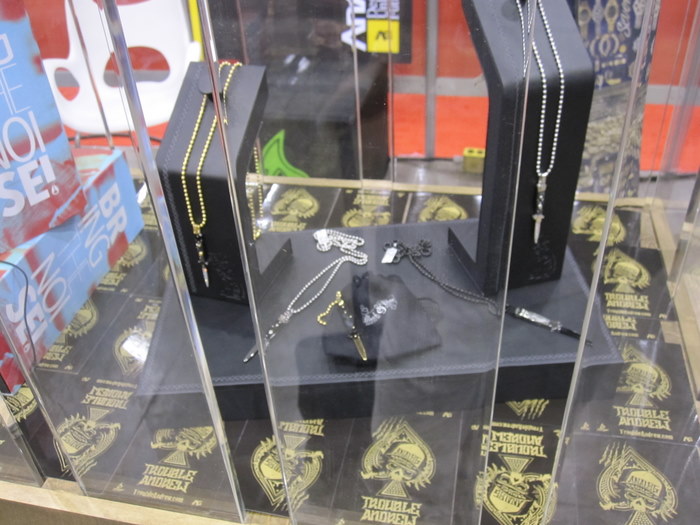 I actually might wear one of these-Chucks or Clarks?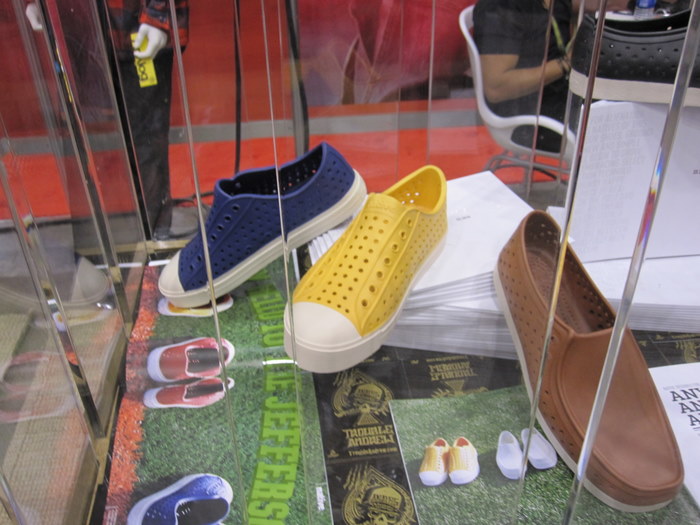 Levi's - one of the reasons I'm at the show-I'll spare you the details of the meeting-but it was a good one.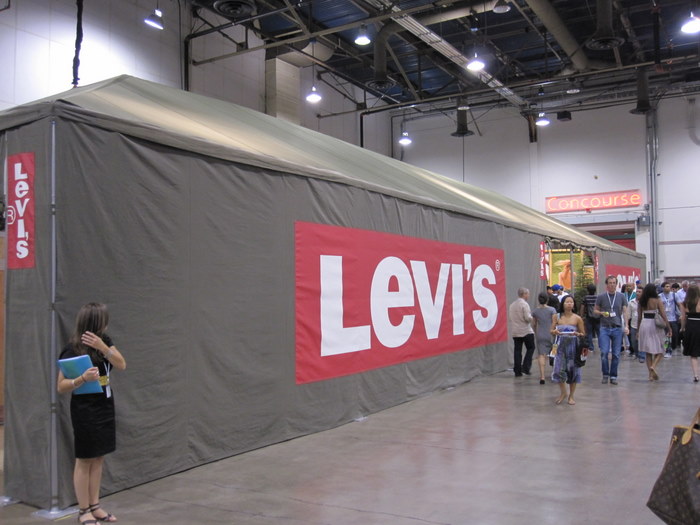 While leaving Levis, I ran into CCS head, Evan. For some reason I see Evan all over the place. From the NY to the rest of the world, he gets around (in a good way).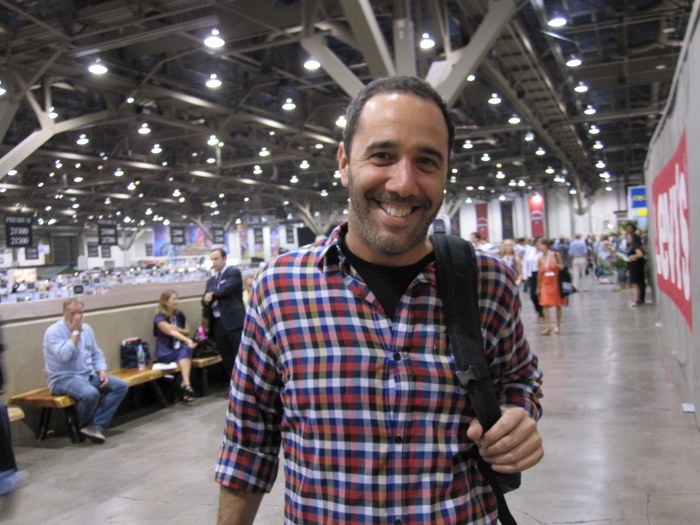 One of the hardest working ladies in the biz-Jen from K-Swiss doing her thang at Magic and Project. Stay tuned for their proper skate launch with Lutzka.




Big ups for Braden at New Era for hosting me.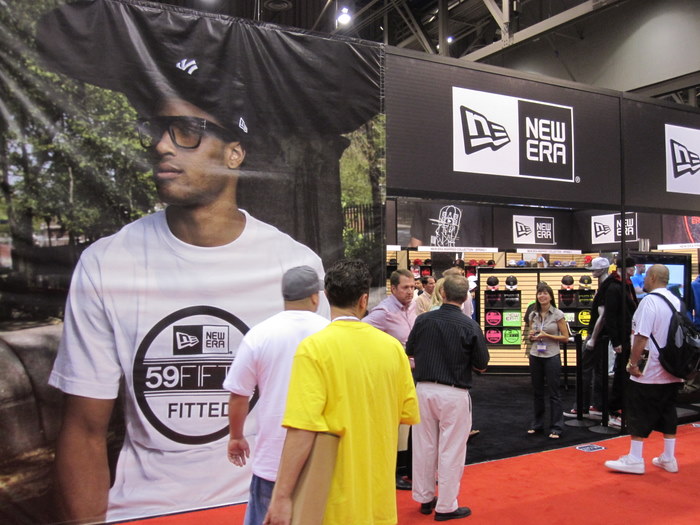 Yeah, I'll buy that one…. In4mants - James, Todd, Rhandy and posse hold'n it down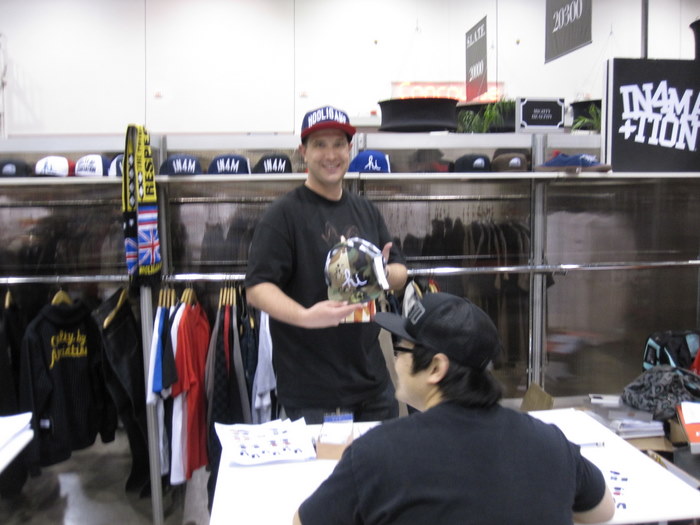 Talk about hustling! Danny, Dingo, Tal and JC bringing Portland and Mammoth to Vegas.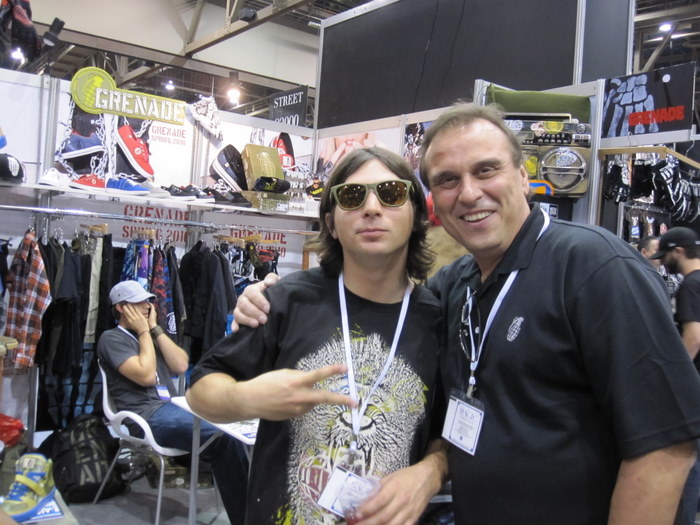 HayFam designer/producer/stylist/dj/host JP and friend saying whats up.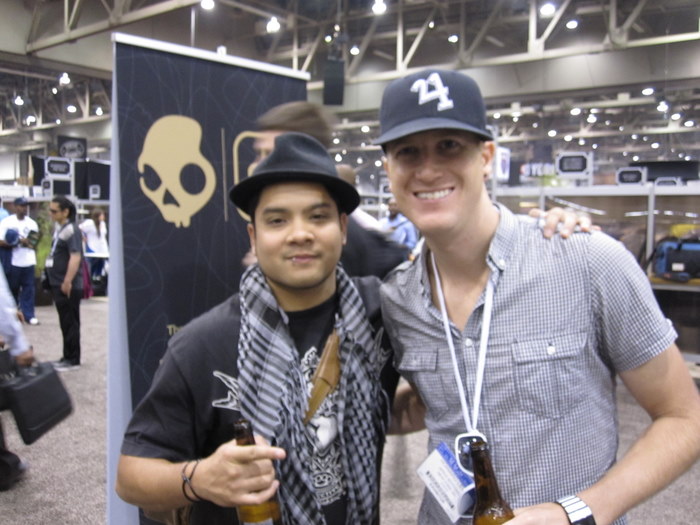 Other shout outs to Obey, Crooks, Neff, Elm, Dim Mak and Undefeated (sorry, no pictures to show you this time)

If you've been to Magic, they have a lot of other things going on except Fashion and Street. Young Men's, Suits, Juniors, Sourcing and WWD are also in affect. Within WWD, ISAM was hosting their swim area. I ran into good friend, Eden and Holly (Sunsets and B Swim) A long time ago, far away in a distant planet, Eden and I were partners in a venture called Eden Basics. It was one of the first premiere women specific outerwear brands. Well ahead of our time, we brought some neat things out. Today, she's the marketing mastermind at Sunsets. Bikinis-fittings-flash and glamour on the beach, I think that fits well in my book.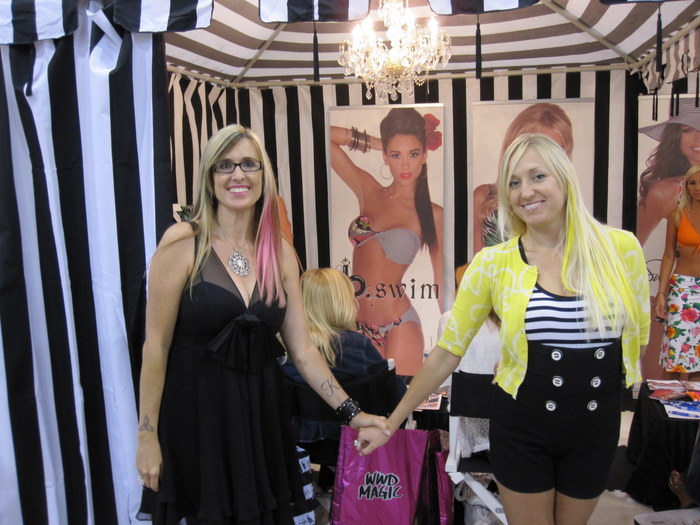 Down the hall, was Pool. Remember back in the day, when Pool was the place for up in coming brands, when it showed at the Alexis Park? From upstarts like Trovata to Green Apple Tree, it was a great scene. Today, it's part of Magic and hosts a different group of folks.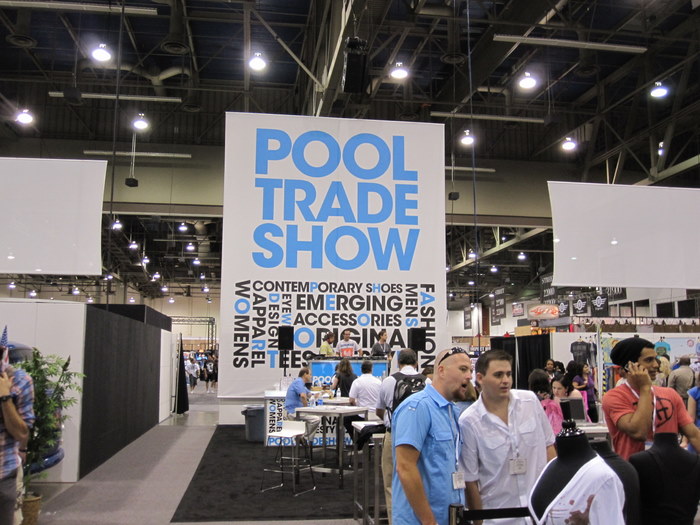 Part T shirt brands…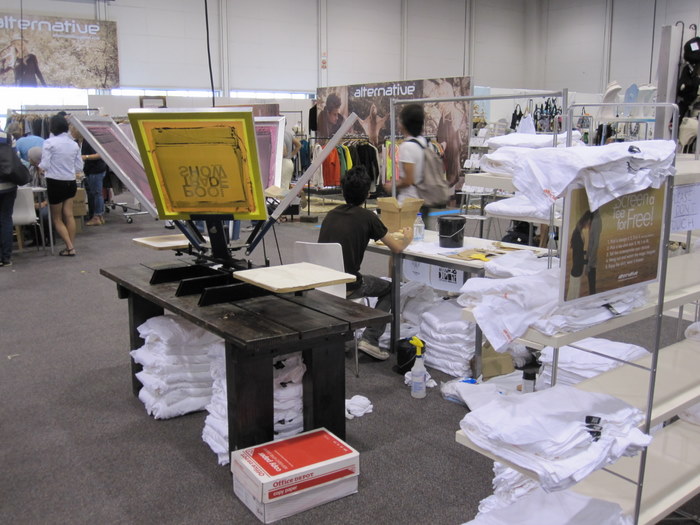 And part, wtf?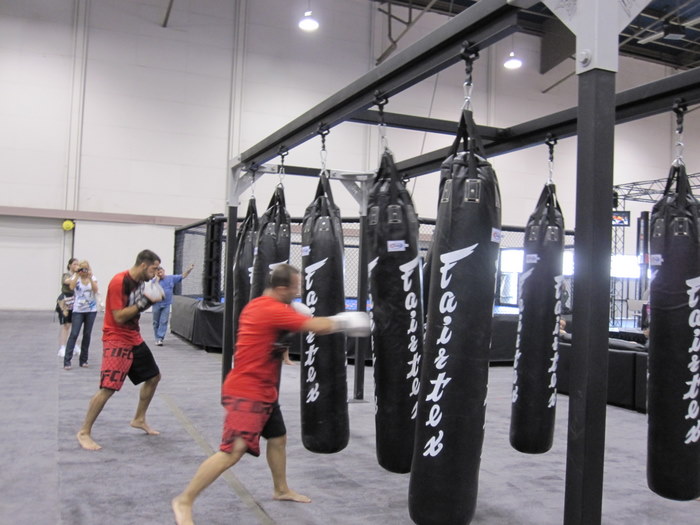 A big part coming to Vegas is going out. The good friends at Podium hosted a soft launch for their Matix headphone collection at Bellagio. The boys from Snowboard Mag (Jeff, Lucky and Basher) also rolled out. Nice hair cut BD!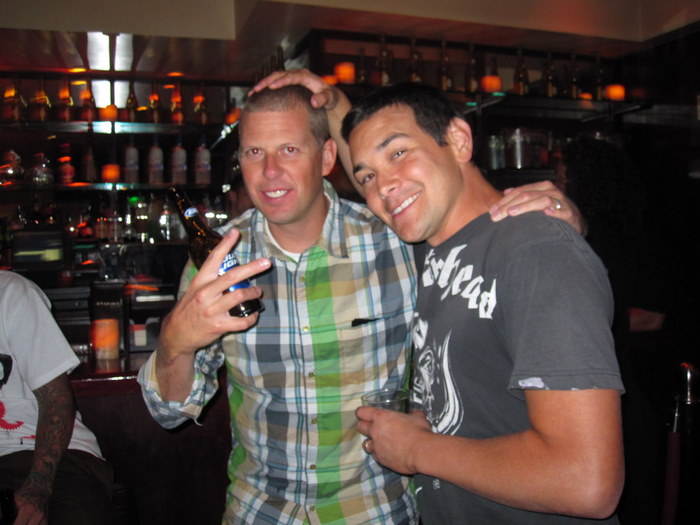 This is Progress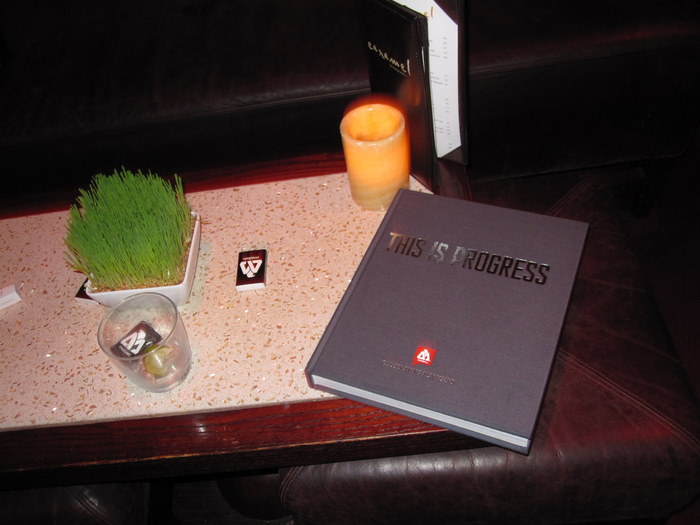 And so is this.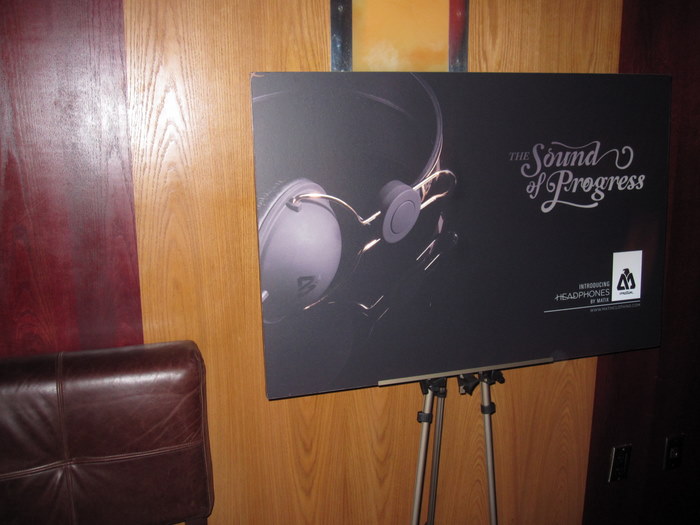 No matter what show it is, what time of the year, or what time it actually is, it seems like everyone ends up at the Hard Rock. Of all the heads I ran into, I was stoked to see Eugene in town. Stussy was having a gig downstairs, but for some unknown reason I didn't make it. I think someone put something in my drink, yeah that's it…or I got caught up at the tables in front of someone distracting me.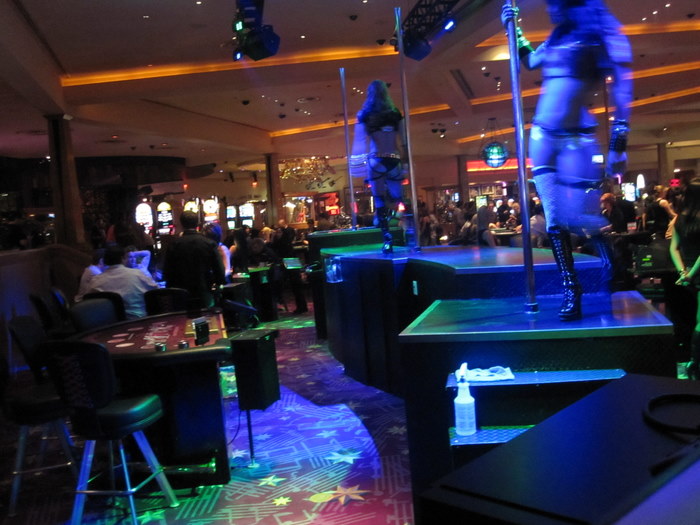 "Free 4 All Fridays" - And here we go!
September 4, 2009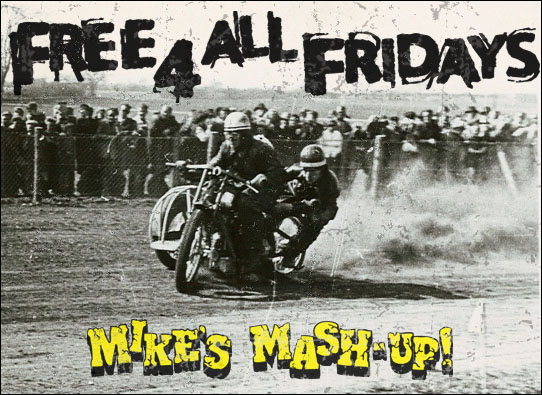 Click the picture below to play the video.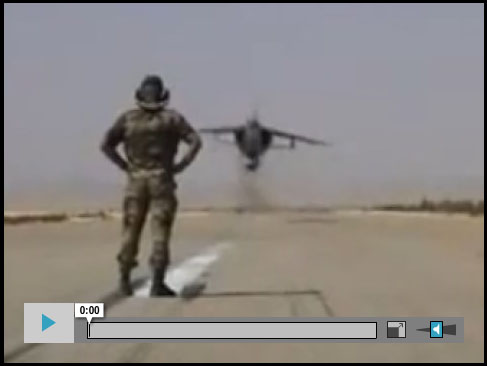 TIMESLINE THROWBACK's-Part 3
September 3, 2009
The last two throwbacks of our Times line featured some interesting projects we've done with New Era and Dakine. This post features something even more unusual. You see, I'm kinda into a lot of different things. One being the funky world of Japanese animation or Anime. Besides the usual suspects, I thought Hello Kitty always showed a mix of "cuteness" (damn, did I just say that word?!) as well as rawness in its' own right. So, you guessed it, I connected with Sanrio and we launched a small capsule collection of 686 x Hello Kitty products.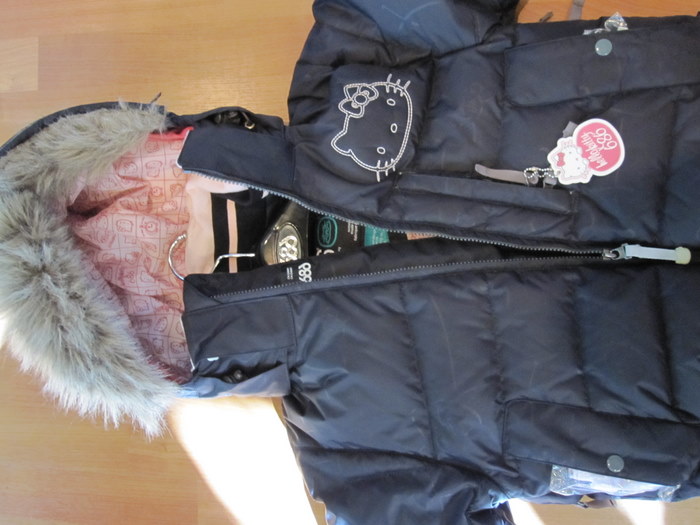 FYI, to date, Sanrio was probably the most strict when it came to the legal parameters of what you could and could not do with HK, the name and even the body parts. Even this hangtag was a stretch; if you have the piece, you probably can see some "hidden" things we snuck in.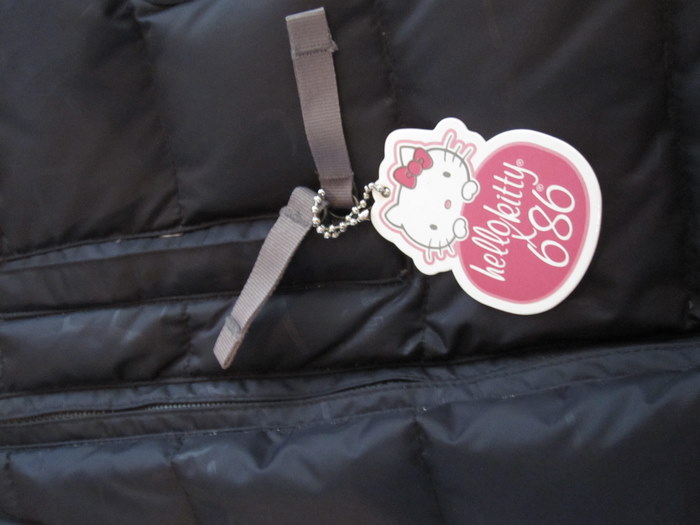 My goal for this is to not make it your typical "cutesy" shit you could find at a Hello Kitty store in the mall. I wanted to flip it a tad and create something a little off. A quilted appliqué in the back starts it off.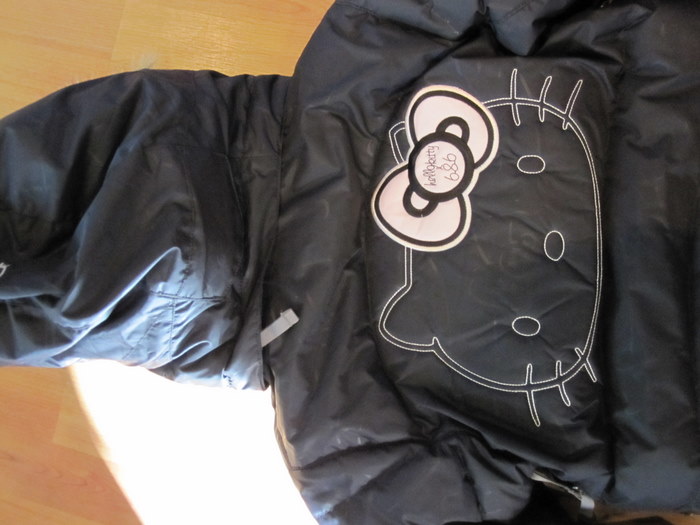 Inside, we went off in the details. We flipped the graphics of HK and added a graph print featuring various faces of HK with 686 shout-outs.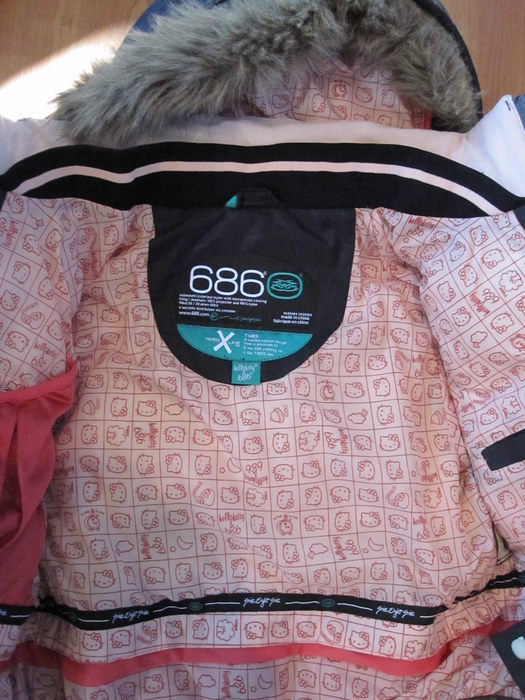 The details were crazy; from the silicon snaps to gripper elastics taping, to, well, you get what I mean.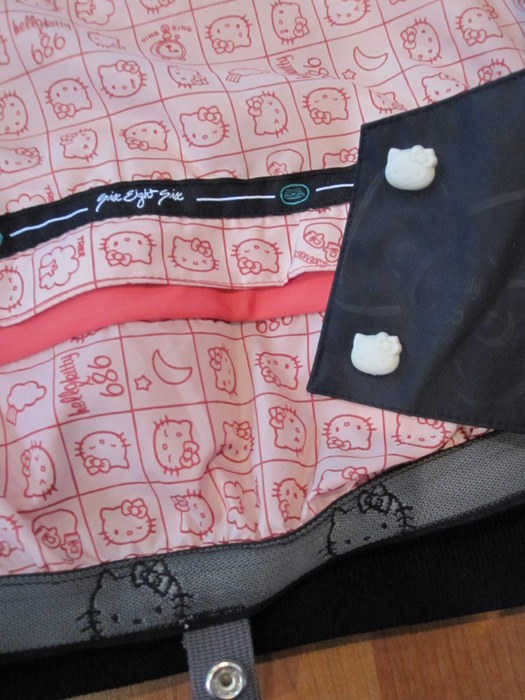 The collection was tight and very limited (not to mention a little spendy), but we still get hit up by collectors all over the globe for this project we did 5 years ago. A few little extra details like a coin purse was added to finish it off.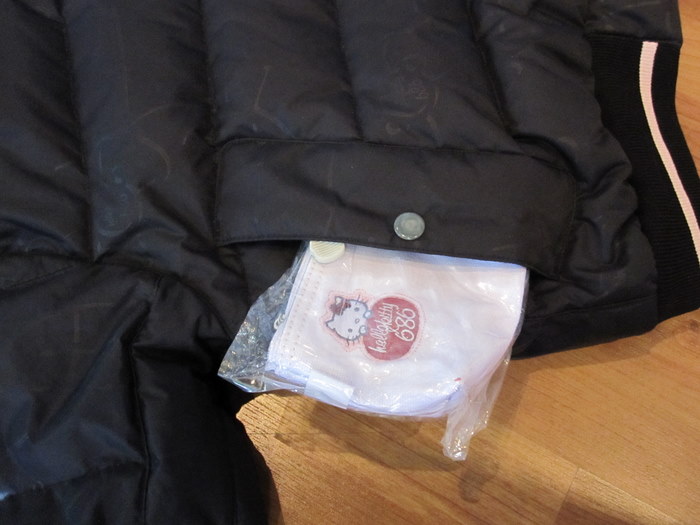 SPIT studio
September 2, 2009
Last night, Liz and Mark had their Group Y function close to my pad. On my way back from the office, I headed over to see what's crack'n. Come to find out, it was at friend Bo Bridges SPIT studio. (Crazy enough, our web design firm Nikkelkrome, is also at Spit) They've been open for a while and I can't believe it's the first time I've been inside. From the outside, a non descript store front. Step inside, it's very different.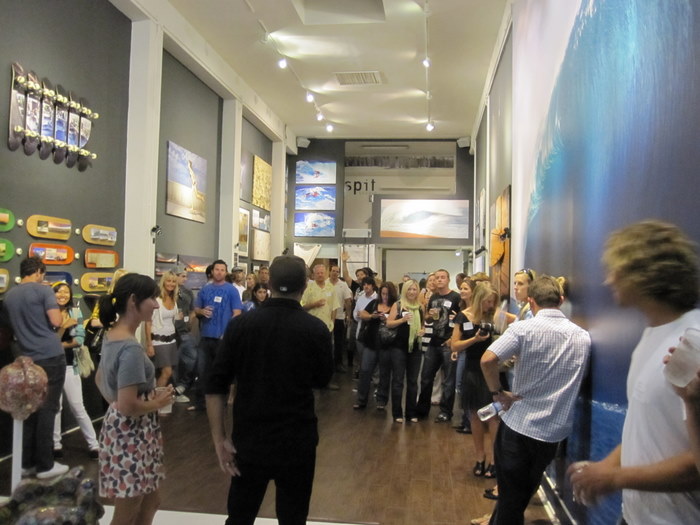 A view from the top, looking down, you can see the long, narrow, yet high ceiling, and well lit studio.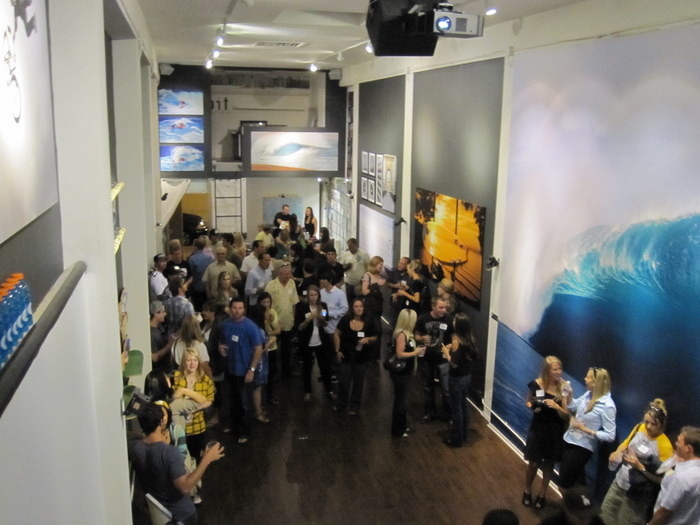 I think this wave is actually close to the real size. I can only imagine.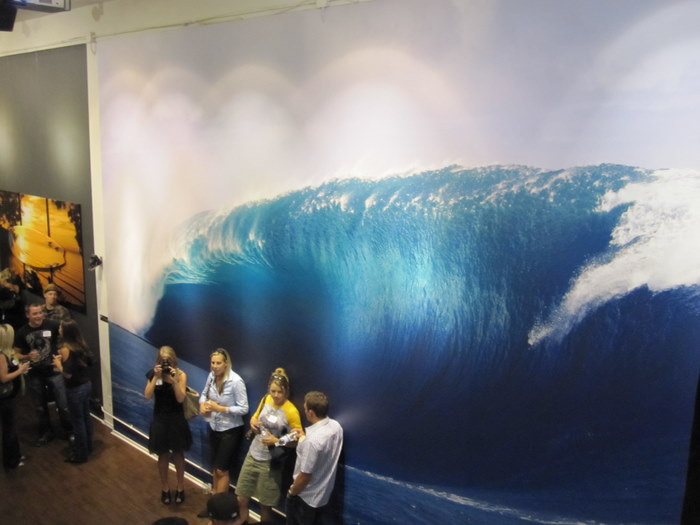 Bo has some neat pieces on the wall. Each panel shows a certain story to his work. Story 1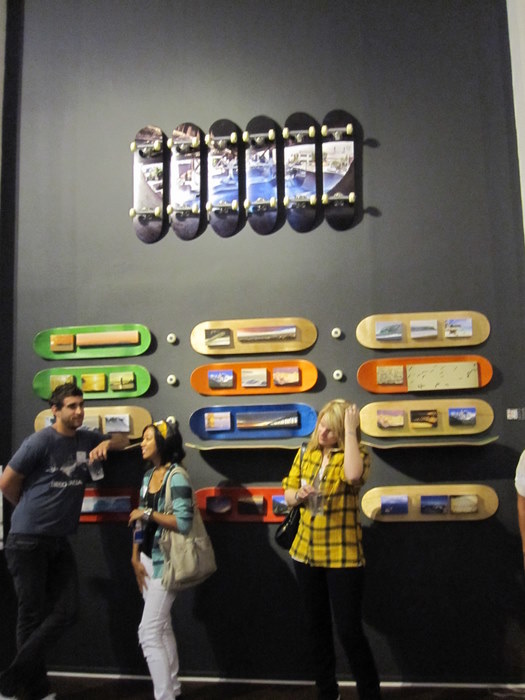 Story 2 (drink that drink Stouffer)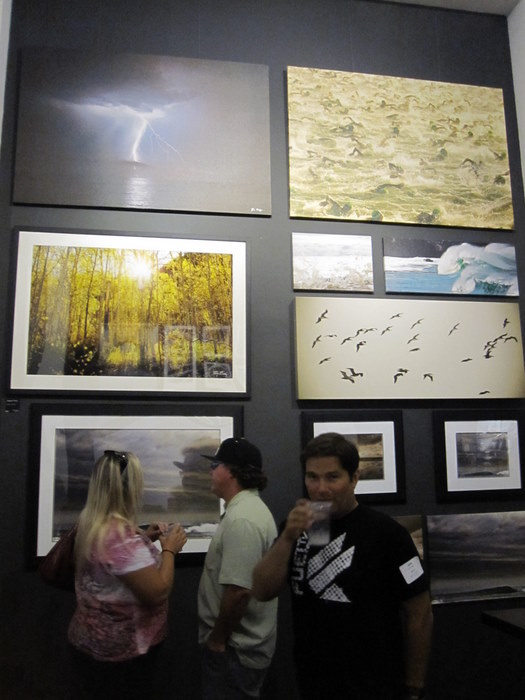 Story…, well you get the idea. Check out the collage.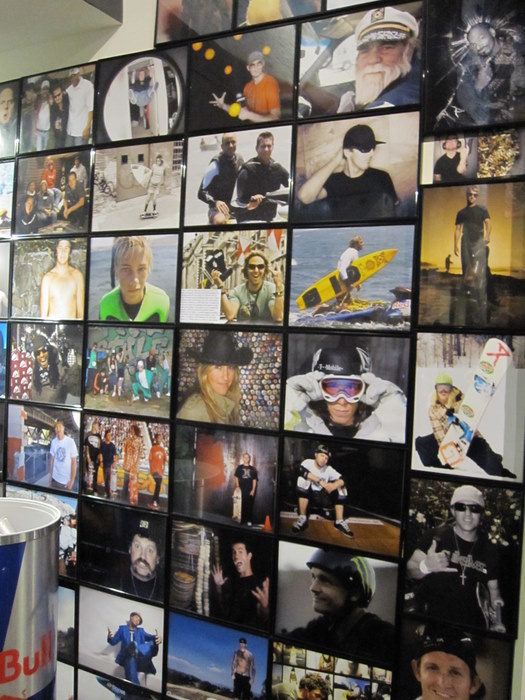 Look closer and I think I see Bo. From various athletes in the action sport world to famous musicians to destinations only few have traveled, Bo's done quite a bit.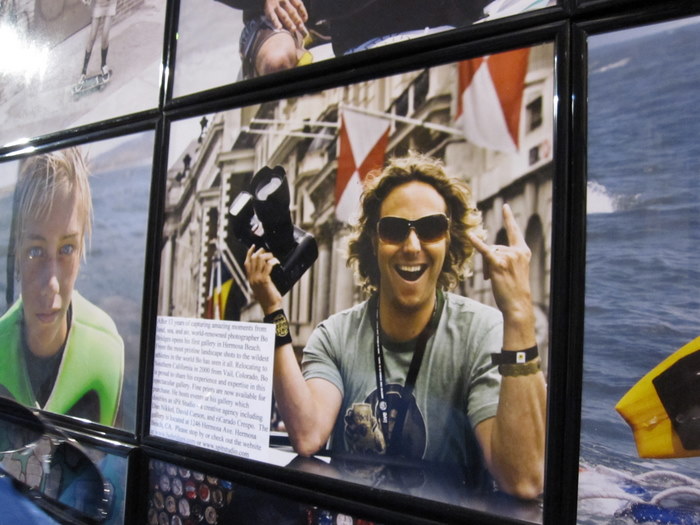 What's happening Bo? Big ups to your joint.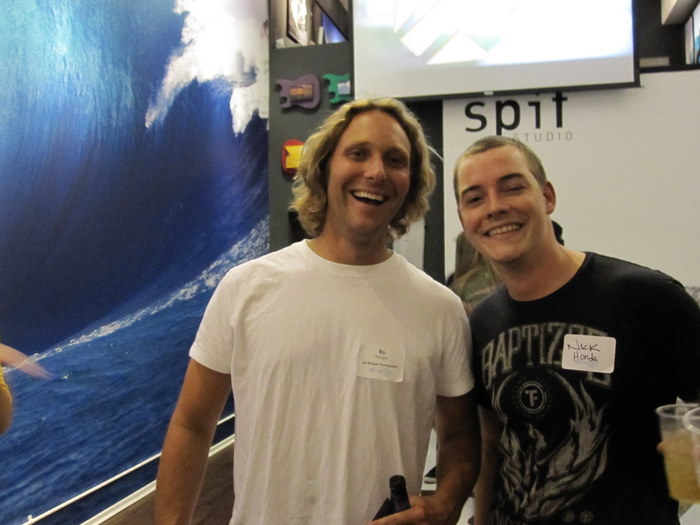 Thanks Mark and Liz for showing the Southbay some love. Peace out.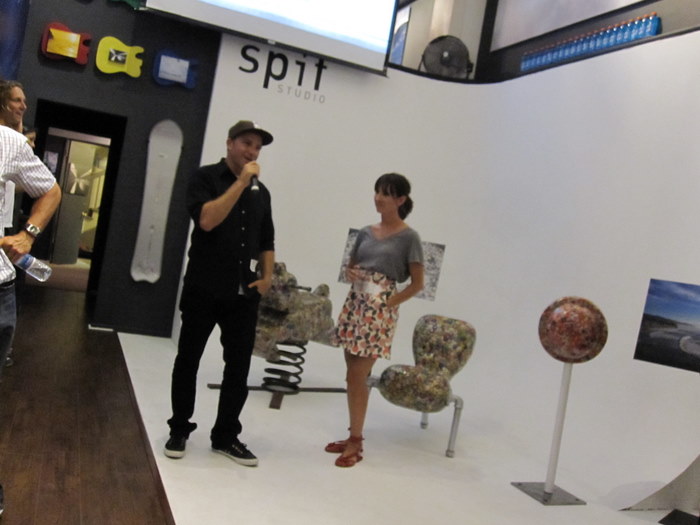 The Weekend
September 1, 2009
Over the weekend I stopped by Amanda and Shepard's gallery, Subliminal Projects in Echo Park. They've been there for a minute, but it's actually the first time I was able to stop by and say hello.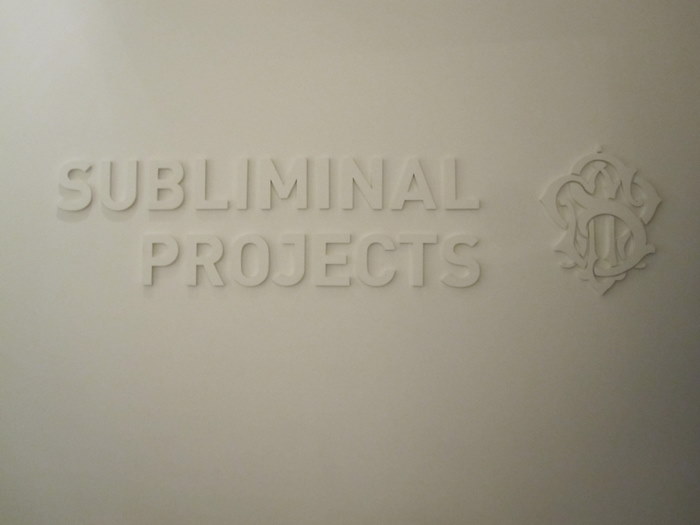 Fellow 686 faction member, Andy Jenkins and friend Chris Pastras were presenting Weekend Pacifists.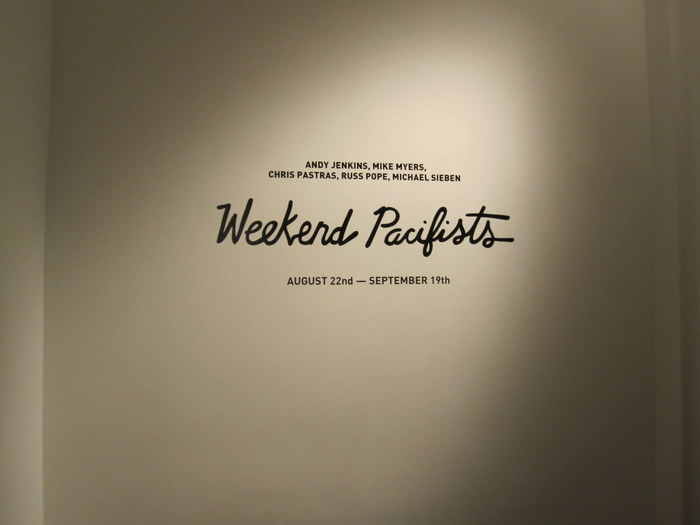 They have a pretty neat set up in a newly renovated art deco style building. Downstairs is Subliminal, while upstairs is Studio Number One. The galleries are well lit and have a nice flow.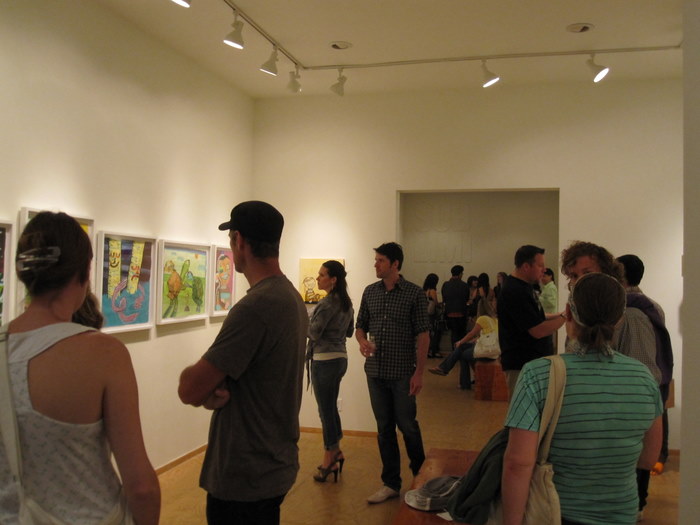 Check some of the pieces on display and for sale.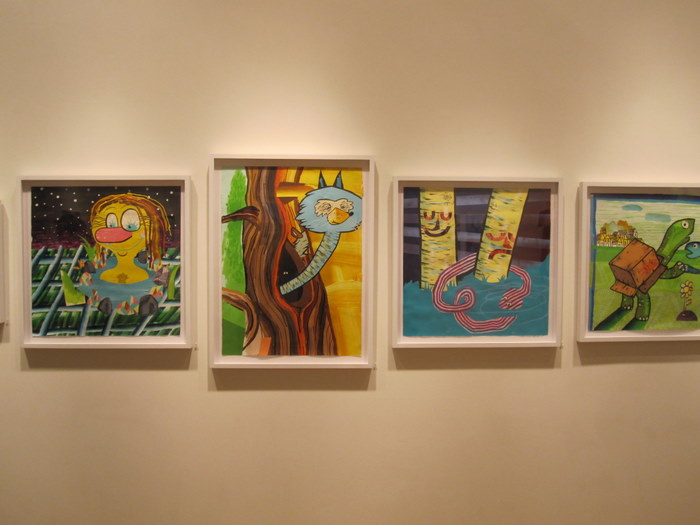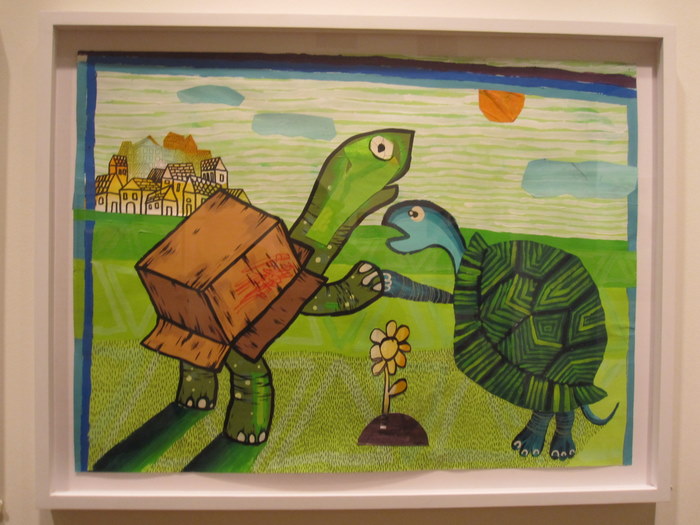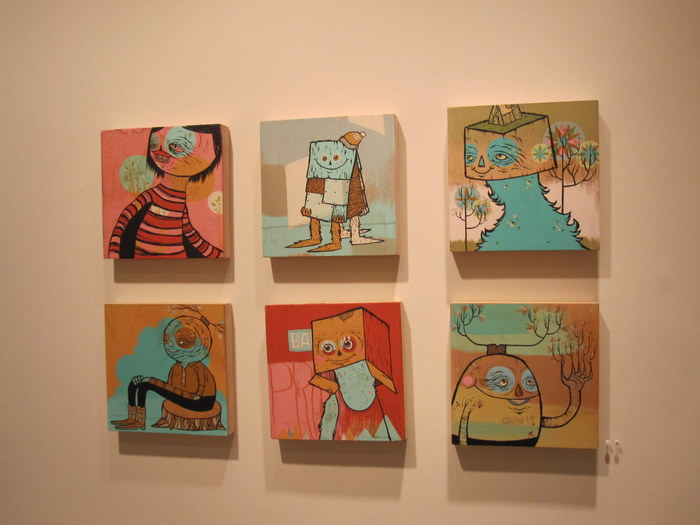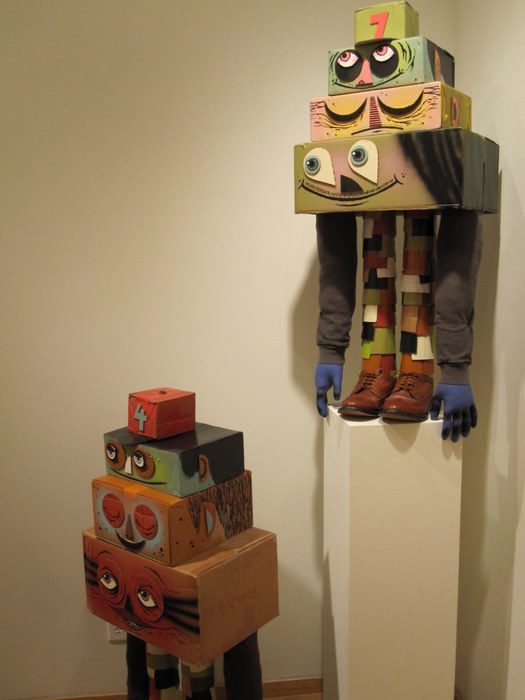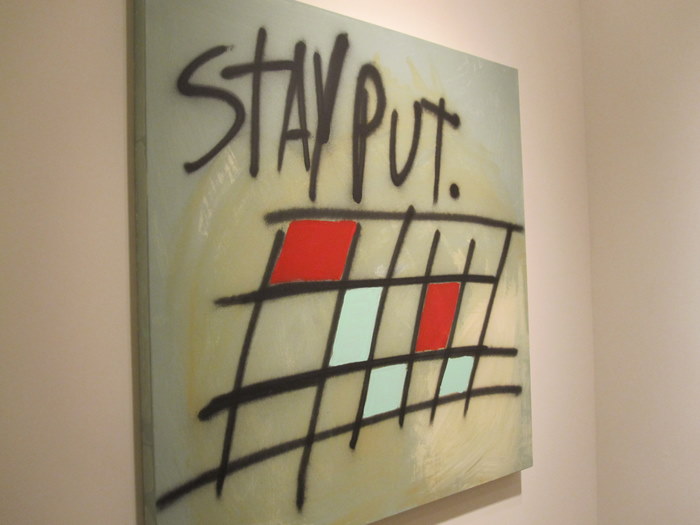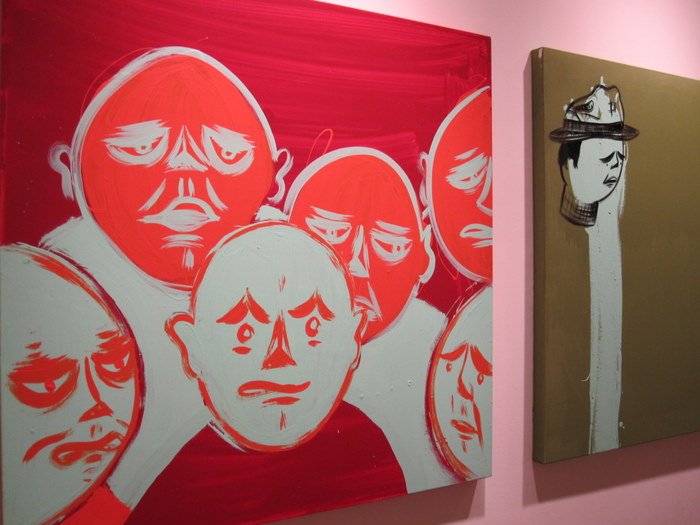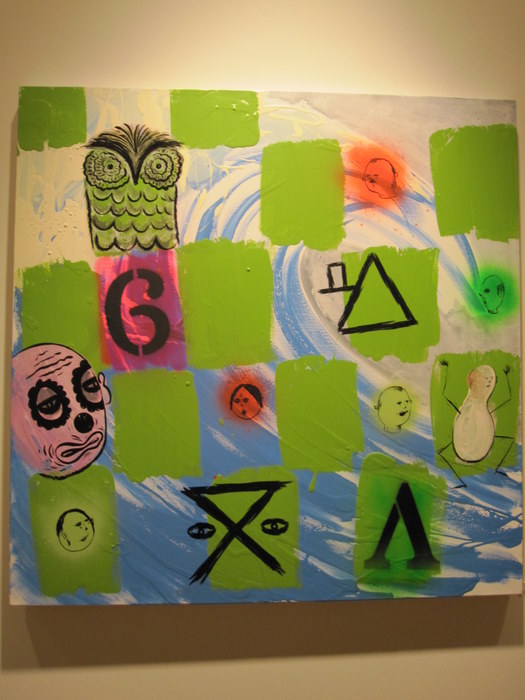 We worked with Andy during our first ACC project about 8 years ago with Shepard. Andy's one busy guy. Besides managing all the creative for Girl, Chocolate, Crailtap, and his own personal projects; he's also involved in various things involving another talented head, Spike Jonze. I haven't really seen him for a bit, but everytime we meet up, we talk about the best breakfast spot in Pedro, The Omelet and Waffle Shop. Next ones on me, Andy!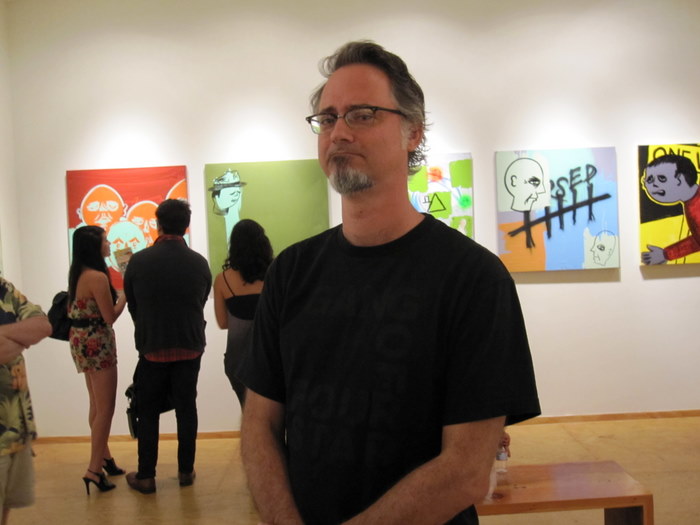 Check the pieces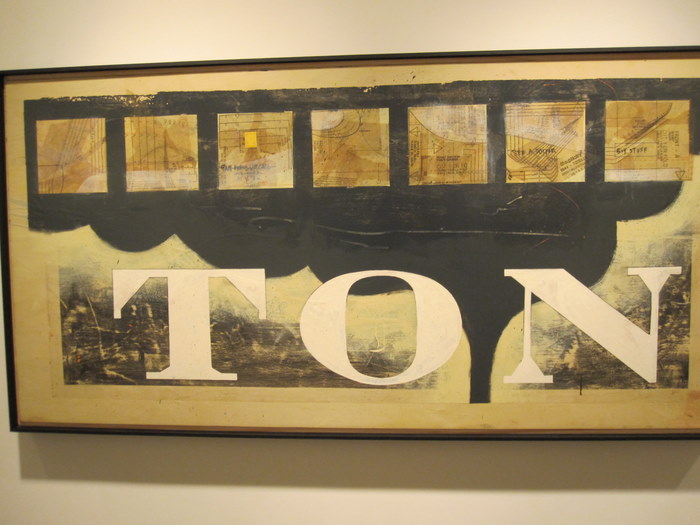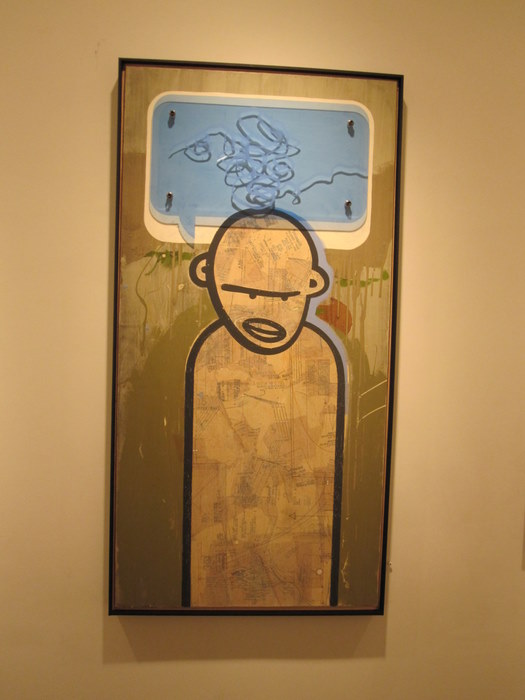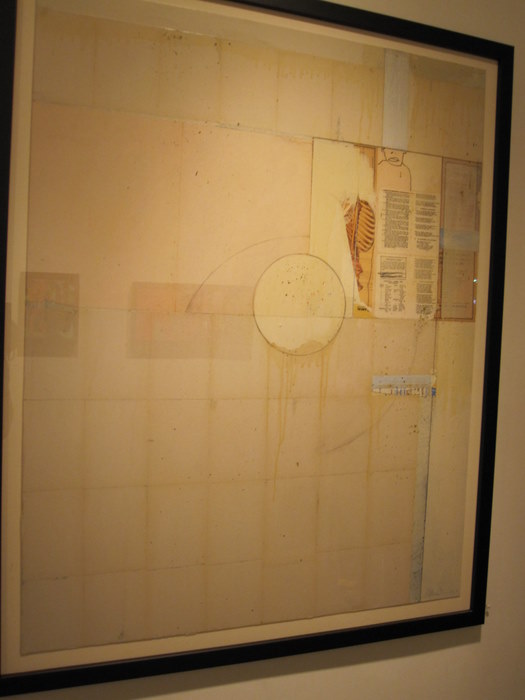 I had to bail and Dune was running late, so here's a piece for the show. Very much his style, huh?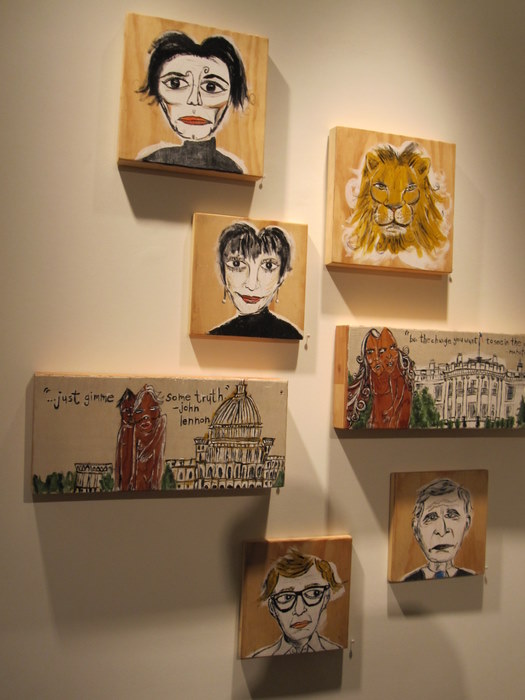 Thanks for the show Shepard and Amanda, always hustling and spreading the message - much respect. Now go take a vacation!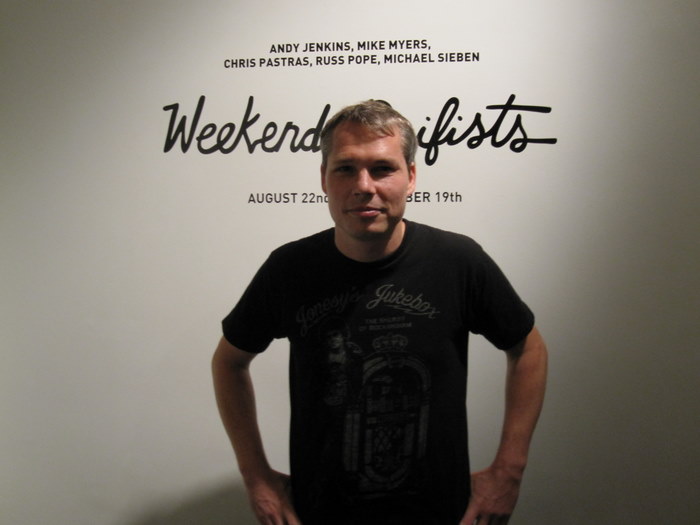 Mash-Up Archives:
August '09
July '09
June '09
May '09
April '09
March '09
January/February '09
---