Back to News
TECH: Jetpilot Releases A Gamechanger
November 16, 2009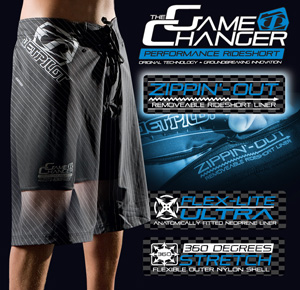 Jetpilot Releases A Gamechanger
November 16th of 2009, Jetpilot is releasing one of the most inventive boardshorts to ever hit the Action Sports market. The product is appropriately called "The GameChanger". The concept behind this boardshort is so unique and innovative, that Jetpilot has placed it into the company's new category that they call "Rideshorts".
The GameChanger is a Rideshort with an ultra-lite sublimated 360º Stretch nylon outer but the true key innovation to this product lies within its completely removable 1.5mm Flex-Lite neoprene fitted wetsuit liner. The inner wetsuit liner can easily zip in or out along a recessed zipper line at the bottom section of the waistband. The result is a completely new concept in performance boardshort technology. So new, so inventive, so innovative that it is called "The GameChanger Rideshort".
Chief designer on The GameChanger project, Brian Jellig says: "The GameChanger is something that was designed to satisfy the needs and desires of our broad group of athletes as well as our consumer following. The result is something entirely new and fresh. The bottom line is that the GameChanger is much more than just a very stretchy boardshort. This is a full blown invention, plain and simple."
This new GameChanger Rideshort has multiple advantages over conventional boardshorts. When the inner Flex-Lite liner is installed, it provides added warmth, complete rash protection and comfort. It also can be paired up with a wetsuit top for a modern day version of the "Spring Suit". Or, by simply zipping out the wetsuit liner, The GameChanger can then be utilized as a technical performance boardshort during a session or just hanging out at the beach, poolside or on a boat… on a big azz boat.
---