BACK TO NEWS
B$Z: Mountain Khakis® Announces New Recycled-T Program
Mountain Khakis® Announces New Eco-Friendly Us-Made, Recycled-T Program by Dirtball Fashion®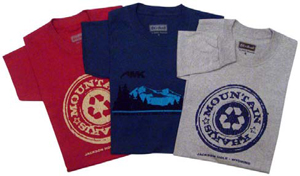 Mountain Khakis®, a premier outdoor-lifestyle apparel brand "Built for the Mountain Life", proudly announces their new eco-friendly, US-Made, Recycled T-shirt accessory line designed and manufactured by Dirtball Fashion®.
Consider it a compliment to be called a 'Dirtball' if you're donning one of MK's new T-shirts designed and manufactured by NC-based Dirtball Fashion®. Walk proudly among your peers, knowing that the threads on your upper body are Recycled and 100% American Made. Did someone call you an eco-apparel geek? You have arrived.
Get this - MK Dirtball® US-Made, Recycled T's are made with fabric consisting of 65% recycled cotton fiber and 35% recycled post-consumer polyester. Woven into each MK Dirtball® T-shirt are 2½ 16-oz water bottles!
MK's Dirtball® T collection includes both short- and long-sleeve varieties, in colors that accessorize with nature's palette and graphics that reflect the outdoor enthusiast's plight of 'I'd rather be out there than in here'.
According to Dirtball Fashion® Founder, Joe Fox, "Dirtball® is dedicated to providing the highest-quality, locally-produced product line, whilst keeping our carbon footprint at an industry low. By employing only U.S. workers and sourcing 100% American-made materials, we can combine quality and performance and still offer value pricing."
From the fast lanes of Charlotte, NC come race car driver and Dirtball® visionary, Joe Fox. With an education in History and Poly Sci (and a concentration on the Cold War and Int'l Relations) he is definitely a guy with whom you'd like to have a few beers. Like so many entrepreneurs, Joe's background is as diverse as, well, the apparel he offers at Dirtball®. From T's to shorts to jackets to skateboard decks (okay, that's not apparel), Dirtball Fashion® aligns their brand in similar regard to the Mountain Khakis® ethos - stay core to your mission, stay authentic to your customer, stay true to your product's highest-quality, and never stray for your company's integrity. All that, and did we mention that Dirtball® T's looks damn-good with Mountain Khakis®?
"Anyone can put together a cookie-cutter branded T", says Mountain Khakis® Co-Founder & Global Brand Manager Noah Robertson. "But that is not what Dirtball® is about, and that is why we sought to partner with them. The story has meaning, and their A-Z manufacturing process combines the best practices of Q/C with a genuine low-impact environmental position. And who wouldn't want to work with a guy that was once a race car driver!"
"Dirtball® is an eco-champion in the active sports category," said Fox. "We proudly outfit skaters, boarders, surfers, mtb'ers and the like. But woven into our DNA, as well as our goods, is our commitment to environmental, social and economic responsibility. That is a message that resonates with Outdoor Industry brands and consumers, and we want to tap into that world. Our relationship with Mountain Khakis® is our first step toward that commitment, and we are thrilled to partner with them."
MK Dirtball® T's will be available to purchase just in time for the Holidays - online at www.mountainkhakis.com and at select retailers nationwide.
---