Back to News
Rick Shimpeno: Program Manager/Head Coach at Woodward at Copper
November 18, 2009
Rick Shimpeno: Program Manager/Head Coach at Woodward at Copper Mountain, Colorado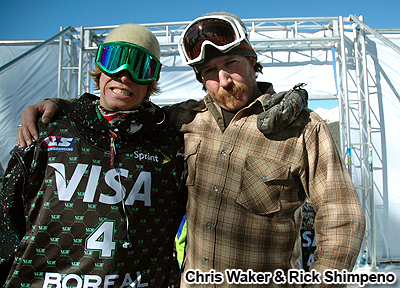 Whether it's snowboarding, coaching on and off the hill, skate jams in the Woodward bowls, building ramps, or in The Barn helping beginning to advanced riders tighten up their skills, Rick Shimpeno, the Program Manager/Head Coach at Woodward at Copper Mountain, Colo., is out training the next up-and-coming prodigies and having a blast doing so.
Though it may all sound like fun and games, Rick's been a professional coach for more than 13 years, and he means business – in a good way. Rick's all about pushing his groms and advanced riders to the limits in a fun, fast-paced environment. The success of his disciples and coaching ability shows through the talent setting foot out of Woodward's doors, and to back that up even further, Rick was awarded the Domestic Snowboarding Coach of the Year Award by the United States Ski and Snowboard Association (USSA) in 2005. Read on and let Rick give you a lesson or two on becoming a coach, and his ride along the way.

Where did you grow up snowboarding? What got you into it?
The first times were at golf courses and sledding hills in western Pennsylvania. I then moved on to Mt. Pleasant in Cambridge Springs, Pa. Mt. Pleasant had two T-Bars and a Pomalift (all surface lifts). Peek'n Peak resort was the next step. Clymer, New York, is about 40 minutes away from where I grew up, and I was a snowboard instructor there in 1993 and 1994. I got into snowboarding because I was into skateboarding; I saw the ads for Transworld Snowboarding in the back of Transworld Skateboarding. I still have the first two issues of TWS 'The First Time'!
Did you ever enter contests or think of going pro before you started coaching?
I moved to Colorado in 1995 and thought I was pretty good. I was a bigger fish in the small pond of Peek'n Peak resort. I did a few contests and probably had some potential. I really needed someone to help me and tell me how to do the contest thing. There is a difference between being a good snowboarder and a good competitor. I was just like so many young riders are, you need some help to make it. It's a complicated world.
Now a professional snowboard coach for more than 13 years, what got you into this line of work, besides the obvious - boarding every day?
I had some drive to do more than ride on the weekends; that's for sure. Most of my high school friends said that they were going to move to the mountains (most didn't). It's a scary step. Along with the drive, I had some friends and key experiences that 'set me up'. I had a successful trip to Colorado right after I graduated college, met some people, and scoped the place out. Adam Longnecker was one of those friends that I met and rode with. He was working with the Aspen Valley Snowboard Team at the time and I saw firsthand how rad it was working with those kids. It's VERY challenging sometimes, but VERY rad.
Is there a difference between a coach and an instructor? If so, explain.
In the early days the answer was yes. The lines between those two professions are blurring a bit now. Instructors used to teach people how to ride (Beginners/bunny hill). Coaches were responsible for the next steps, which were park and pipe riding, competitions, being on a team, etc. Coaches had the riders on a more regular basis, more training, some dry land (off snow) training, and more time in vans with the kids. I think there are a lot of Instructors that also work for teams or programs now. Some ski schools have teams. I still feel like there is a difference in those roles. You can do both, but they are slightly different.
In 2005 you were awarded the Domestic Snowboarding Coach of the Year Award by the United States Ski and Snowboard Association (USSA). What put you on their radar; what was your response; was there a ceremony?
I worked with the USSA quite a bit doing camps and helping out at contests. I'm pretty close with their coaches Bud Keene, Mike Jankowski, Rick Bower and Peter Foley. Many of my kids (AVSC, KMS, and SMS) were named to the USSA's rookie teams and gold teams over the years. This put me on their radar. It's still like a big funky family. You see these people every weekend. They are either crashing on your couch or your crashing on theirs!
Ah yes, there was a ceremony. We went to Park City and there was a large gathering (the fall summit). Stratton Mountain School also got program of the year that year. Mike Mallon and I went out to Park City for the gig. I was previously assured there was no microphone time, then the announcer guy steps back and motions me toward the mic, and I went up to receive my award; I pulled it off OK. I was feeling a bit frazzled, and then they call my name to come pick up the SMS award. I look at Mike Mallon (SMS Program director) and he just smiles and waves! Good Times.
How did this help your career? Did this award open any doors for you?
The award was great. It was a great honor to be recognized by my peers in my profession. What was more valuable was the relationships forged along the way. It was such a great learning experience working with Bud and Mike at various camps and contests over the years. I got to watch those guys work with some of the best snowboarders on the planet. I was there helping, driving, and throwing in my two cents. It was awesome. I was riding some of the best halfpipes and skating some of the best parks with a really great crew of young riders.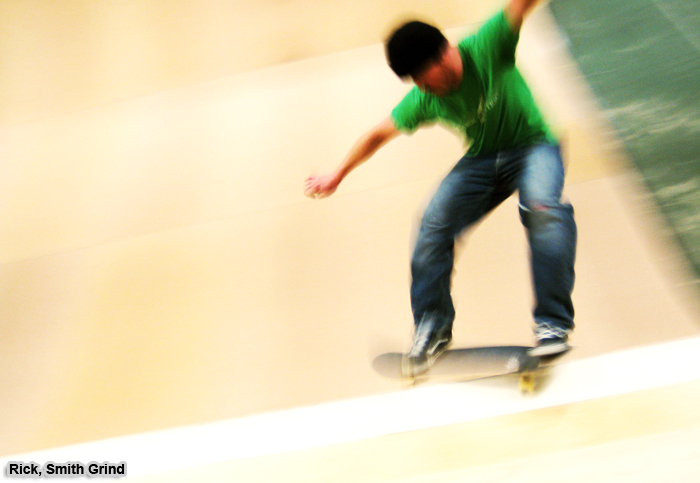 Again, the award is great. The relationships and the work helped open doors. It looks pretty good on a resume, but I'm not sure people know what it means. When they see 5, 10, 15 years of experience and some heavy references, they get it.
How does your current career at Woodward as Assistant Program Manager differ from previous coaching jobs?
I used to have a set crew that I worked with, my team. I trained and traveled with these kids all season. From early season dry land to spring skate sessions. Now I work and share with pretty much anybody. I could be talking about hand plants on snowboards one session and a Lincoln loop on the trampoline the next. It's fast paced and fun. I like the energy that comes out. Some of these kids are not part of programs, don't have sponsors and their parents don't necessarily get why they are into skiing and snowboarding. It's fun to be the guy who says "go faster" and "spin harder." Working at Woodward at Copper is good training for coaches (ski and snowboard). You get to practice your craft all day!
What all does your role entail? In other words, how are your responsibilities divided up?
We're still working on that one. I think that means we're on to something good. I'm titled Program Manager. We put a slash in there and it's now Program Manager/Head Coach. I need to have contact with the skiers and snowboarders. That's really where my strengths lie. I fire up the skill saw from time to time and work on some maintenance things in the Barn. I do some ramp building and shelf building. I really clean quite a bit as well; that comes from Woodward East. It takes the whole staff to keep the facilities clean and operating. I help with the interviewing and hiring. It's fun to have my hands in so many aspects of the business; I get to skate a bit as well! I coached the groms skate class this fall as well.
When it comes to work on and off the hill, what's the average in-the-office to out-on-the-mountain ratio?
This will be my first winter season with Woodward at Copper. I know that this summer (for summer camps) I was on snow every day the campers' were. I mostly dealt with issues: injuries, lost equipment, working with the park crew, et cetera, but I was up there. I think I'll be on the hill most days this season. I have been doing some of the private coaching with pros in the barn. I'm hoping this continues on snow. If not I'll have to hijack a group of young rippers and hit the Park and Pipe!
What responsibilities come with the job that most people don't know about?
The big one is dealing with injuries. I have been in most of the clinics and hospitals near ski resorts in North America. It's not the most fun part of the job, but it is part of the job. We usually roll with some form of waiver or permission-to-treat form so I can go to the hospital with the kids. I need to communicate with worried moms and dads and take care of the situation. It can get heavy. I can usually swindle a free cup of coffee from the nurses break room!
What requirements and/or medical certificates are needed to become a snowboard coach?
There is some of this coming down the line these days. USASA and USSA have coaches' information and classes. This is a really good place to start, but as I mentioned earlier the best way to get good at and be a qualified coach is to spend time on the hill coaching. We had quite a few applicants with PSIA and AASI certification. This is another route you can go. First aid, CPR, and first responder classes always look good on a resume.
What advice can you give to someone looking to become a program manager at Woodward or other mountains across the U.S.?
Again, get involved any way you can. You may have to start at the bottom and work your way up. I was an unpaid assistant coach for the Aspen Valley Snowboard Team in 1995. I got a season pass and a heck of an education. You need to get your foot in the door and be persistent. I tell a lot of kids every year that you CAN make it in a ski town if you are not afraid to work. Work construction in the summers and save your money. It doesn't happen overnight, but it's worth the time you put in. If you love the mountains you'll figure out a way to stay here.
FAVE FIVE:
1. Ride Les Menuirs, France, or Zermatt, Switzerland?
Zermatt is a rad mountain and town. I had some good times there. The schnitzel and beers on the way down the mountain are worth the trip.
2. Coach or be coached?
This is a funny one. I am what we coaches call "uncoachable." I have a pretty good idea what I need to do on my board and I can explain it to other people, but I can't make the connection for myself. I'm stubborn. I'll go with coach.
3. Backwoods or park?
I'm going with backwoods or all-mountain, which I believe is what you are getting at. I love finding little bumps, jumps, and log slides out on the mountain. You can get pretty good on a snowboard riding in the park all the time; you can get really good on a snowboard riding the whole mountain.
4. Better odds: triple backflip off the big kicker into the foam pit, or full-speed sprint across and over the foam pit?
I'm a gambler…I'll go with the triple. YOU DECIDE HERE!
5. More rewarding: watching your groms bust their first 360, or witnessing your graduated prodigies make a career out of snowboarding?
Oh man, this is a tough one. "I thought this was a puff piece!" (quote from Life Aquatic with Steve Zissou). I'm gonna go with the groms. I love the energy from some of those first steps. They can't hide how stoked they are. I really feel like some of those early accomplishments are as rad as the x-games or a 1080. All that stuff when you start out is really hard and really new! Remember your first time strapping in? How 'bout your first jump? I hope they never forget some of that stuff.
---