Back to News
SNOW: Burton Unveils 2010 Olympic US Snowboard Team Uniform
December 7, 2009
Burton Unveils 2010 Olympic US Snowboard Team Uniform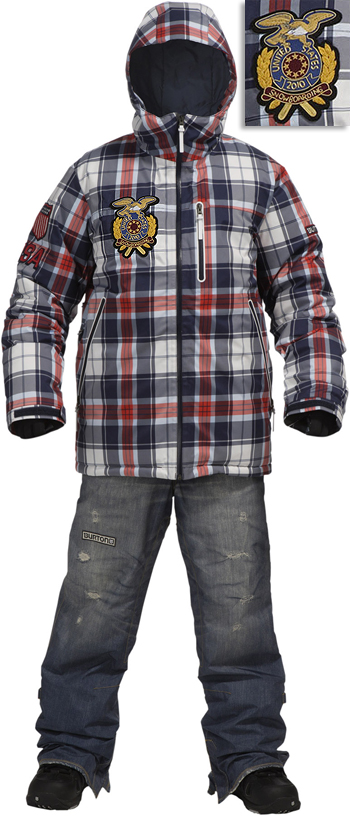 After much anticipation, Burton unveils today the US Snowboard Team Uniforms for the upcoming 2010 Winter Olympics. This February, as the US Snowboard Team steps onto the World's stage in Vancouver, they will look and feel unmatched with designs that speak to both individuality and heritage, key hallmarks of the Burton brand and the snowboard culture. Building on their long-standing relationship with Gore, Burton has enhanced their own unique designs with the Gore-Tex® brand.
The Olympic uniforms feature a fresh and progressive style while also managing to pay tribute to more classic Americana fashion staples. The pants seamlessly integrate the look of real, worn, vintage denim, and the jackets feature preppy plaids adorned with leather patches and chenille crests with both pieces incorporating the performance benefits of Gore-Tex fabric. All product development at Burton is rider driven and this Olympic outerwear is no exception. Burton held a roundtable discussion with top pro-snowboarders and Olympic hopefuls Elena Hight, Mason Aguirre, Danny Davis, Kevin Pearce, Jack Mitrani, Luke Mitrani, Steve Fisher, Scotty Lago, and Louie Vito to review design concepts for the outerwear before arriving at the final creation.
"Since its inception, Burton has been a rider driven company," said Jake Burton, Founder and Chairman of Burton Snowboards. "For the creation of the US Snowboard Team uniform, we listened carefully to the riders' needs and used their input to ensure that the final fit, fabrics and overall design would maximize their performances and take these riders to the podium. It was also absolutely critical to ensure these Olympic uniforms were worthy of bearing the Burton name."
The partnership with the Gore-Tex brand, the official fabric of the 2010 U.S. Snowboarding Team's Olympic outerwear, further enhances the technical designs, enabling riders to compete in a variety of cold weather conditions. Gore-Tex fabrics combat the snow, ice, water and wind, while maintaining breathability, keeping riders drier and more comfortable.
"The Olympic team is made up of the best riders in the world and they demand the best in functionality and performance," says Brad Hill, NA Snowsports Marketing Leader." As the leader in technical fabrics, our number one priority at Gore is to make sure our products are best in class. By blending Burton's unique style with the unbeatable comfort and protection found in Gore-Tex fabric we're confident the uniforms will enable riders to stay focused on the challenges of the event itself, and not on the distractions bad weather can bring."
---