Back to News
Mike's Mashup - November Archives
November 30, 2009


Michael Akira West is the Owner and Creative Director of 686 Technical Apparel. The following are some of his experiences inside and out of the industry across the globe.

SALE!!!
November 30, 2009
Our 1st annual Warehouse sale will be this Friday, December 4th from 10am-6pm and Saturday, December 5th from 9am-4pm. We'll be pushing past seasons goods as well as samples up to 80% off retail prices. Hell, you'll probably find one-off's of some crazy idea's I had!
Special guests, Paul Frank and Modern Amusement will be in the house. We'll also have free food, drinks, giveaways and guest DJ's stopping by.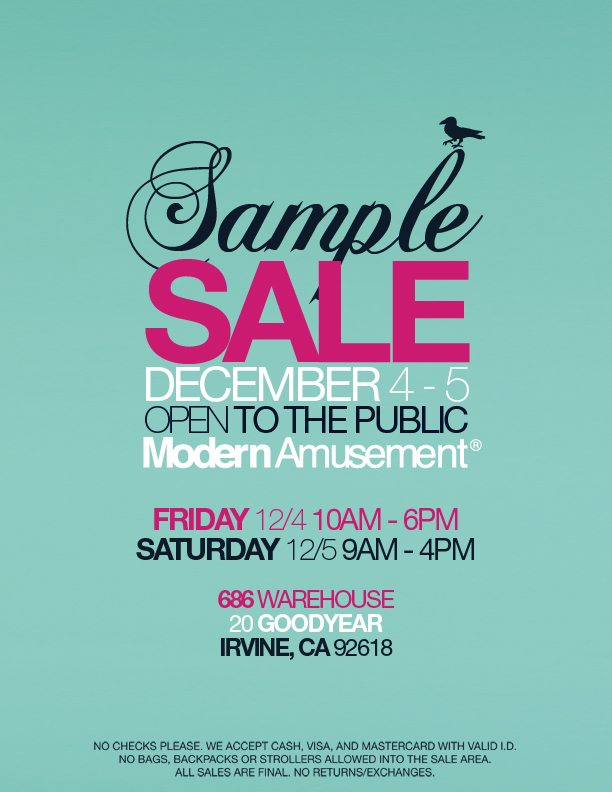 HOWEVER, since y'all have the inside track of what's going on, I'm gonna let you in on the VIP day for friends and family of the industry. Thursday, December 3rd from 12pm-6pm. You MUST print this flyer and bring with you to enter. We expect a large turnout so please arrive early.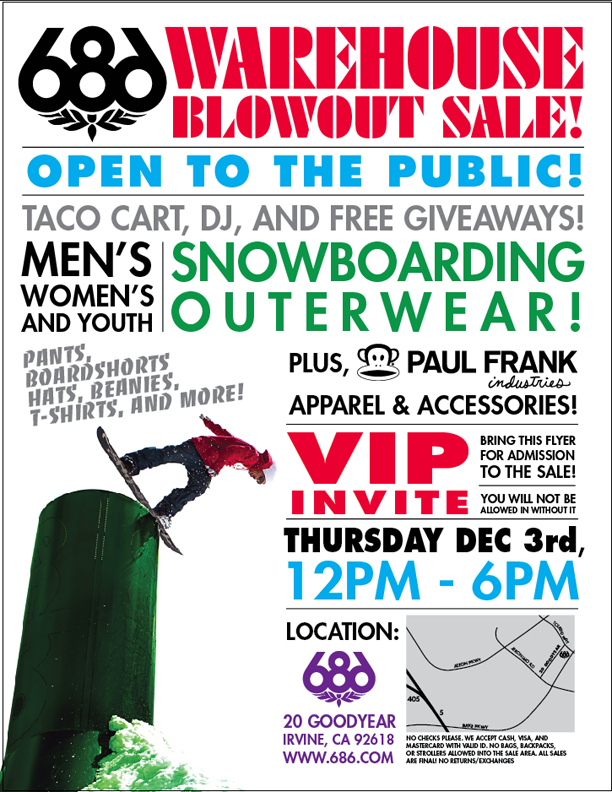 Just a reminder, the sale is for past season's products and samples. Please support your local stockist for the most current line-up.
See you there!


THANKFUL!
November 26, 2009
It's a little weird when we have to have a national holiday to remind us to be THANKFUL. I know Thanksgiving has a more historical meaning than this, but to most of us, it's a reminder. Let's try something and showcase our "THANKFULNESS" in a manner that will really affect someone else. Holding a door open for a stranger, giving that dollar to someone that looks like they may need it vs. asking for it, possibly being a little more patient for that slow car in the fast lane (sorry!), or maybe just smiling a little more. A man once told me in Indonesia that he was most thankful for providing food for his family. Whatever it is, it's great to be thankful all the time.

Happy Thanksgiving!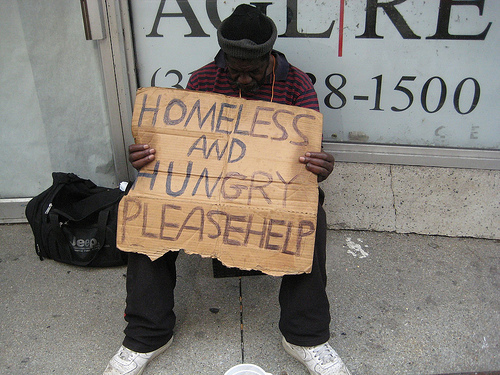 FASHION WEEK LA?
November 25, 2009
Twice a year, LA hosts what they call FashionWeek. First off, y'all know I rep LA 4 life. Second, LA houses some of the best designers around the globe. However (you knew there was going to be one of those…) LA can't seem to get it right in bringing the cache in fashion shows. We have no Bryant park, rather we have Smashbox studios. For the past decade, I've been checking out what GENART is all about. They do some pretty cool things in the not-for-profit sector allowing designers to showcase what they got. Last week, I headed to the Peterson Auto museum for the annual show. I'm not one of those front seat snobs. I just like to chill and observe. Kinda like these heads.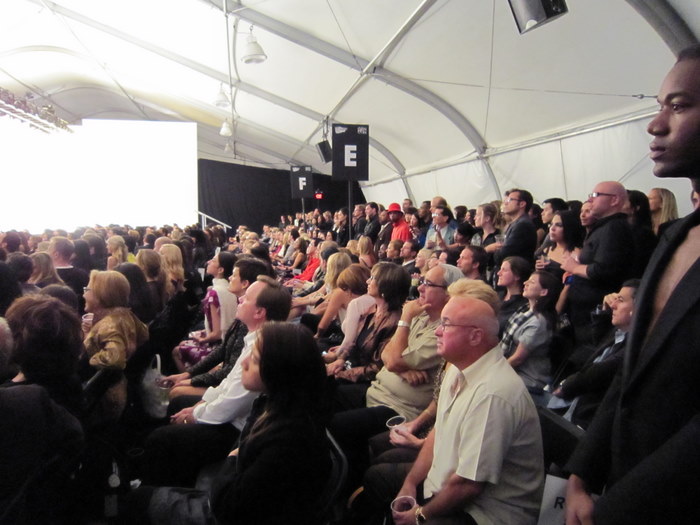 Here we go…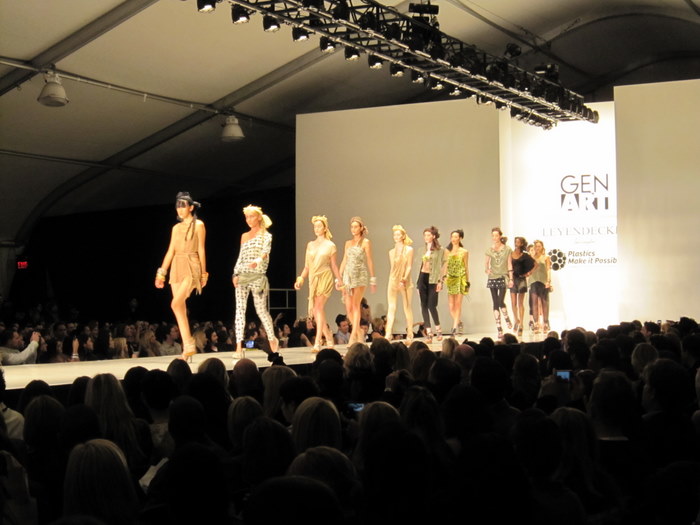 Gen Art likes to mix things up. Typically they only have one men's designer and the rest female. This one designer (whom I forget the name) did things a little differently. Check the line up.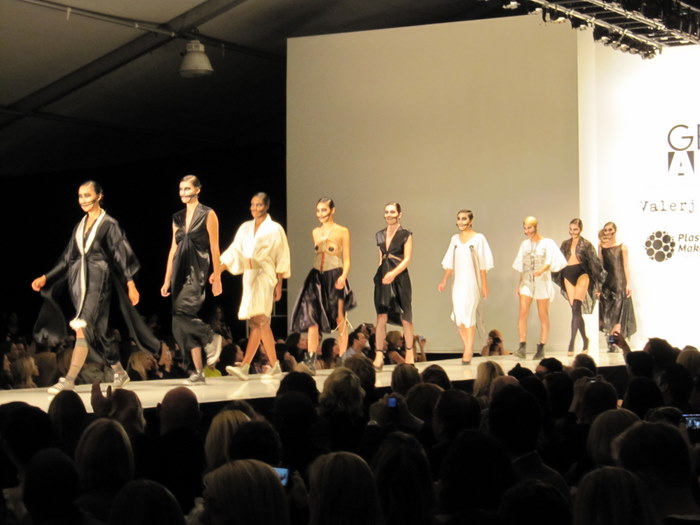 If you look closer, you can tell she has a certain "something" going on.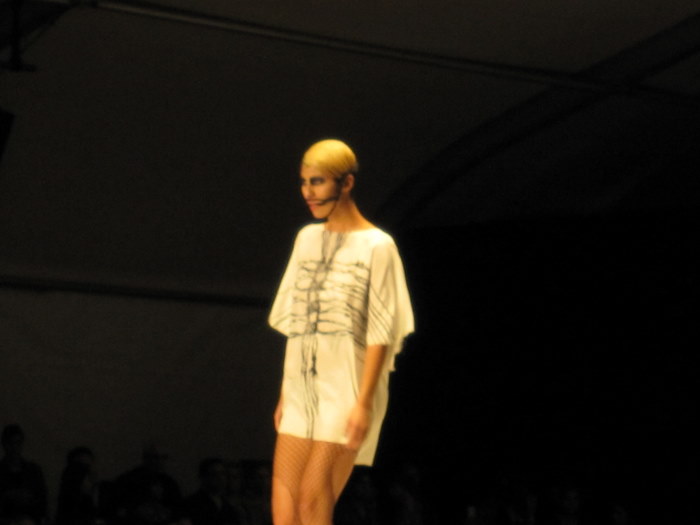 Plastics were the presenting sponsor and I must say that you can do lots of interesting things with it.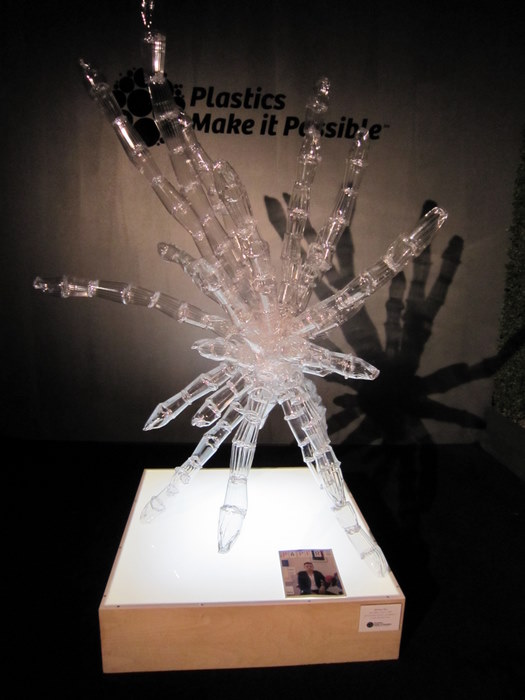 This is how my girl's closet looks at home. We have live model's standing there showcasing what it would look like.


I think I like this one.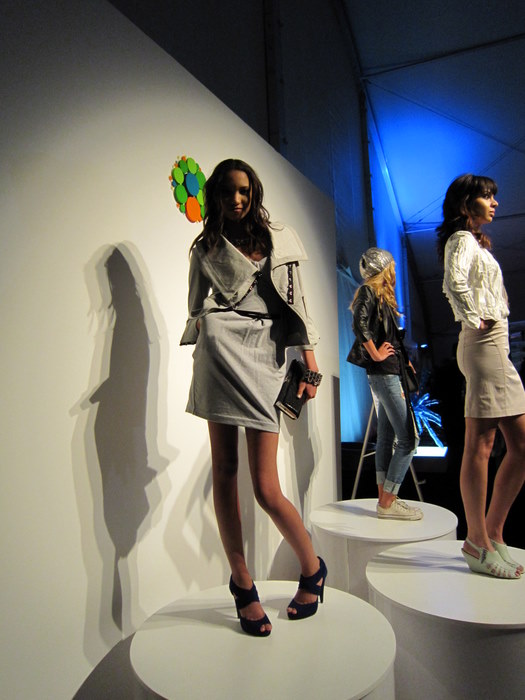 When you head to shows like this, you'll see all types of life, mostly peeps that want to be seen and heard. However it was cool to see some familiar faces. Fashionista Attorney to the Industry, G-dub (Is that a popped collar or are you just happy to see me?) and Senior Editorial Honcho, Alice, from Cal Apparel News.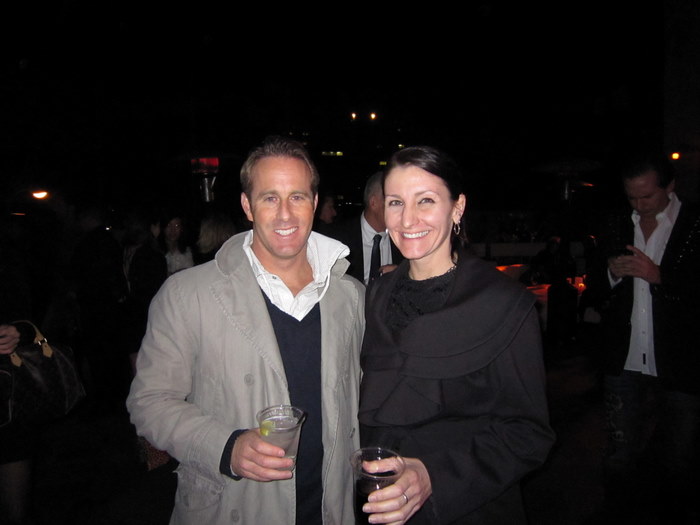 I think it's getting past my bedtime. On my way out of the Peterson Auto Museum, something caught my eye. Oh hell yes.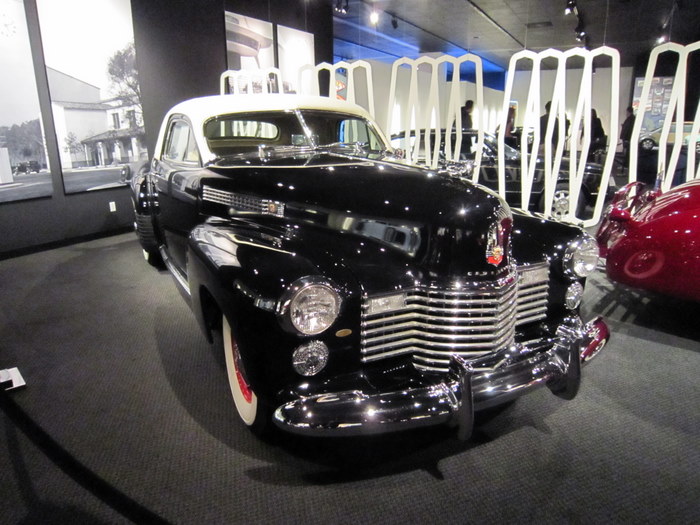 Not my thing, but pretty neat.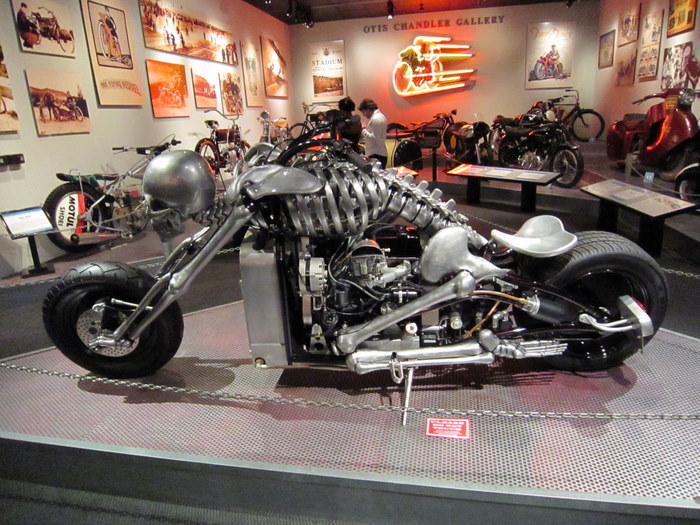 Looks mean!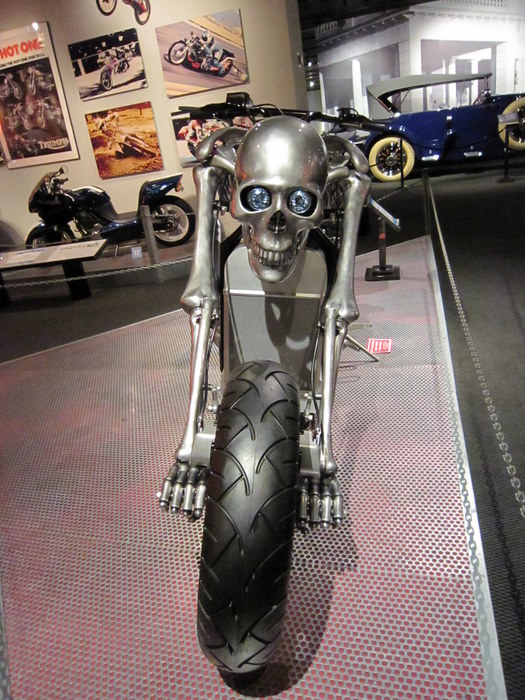 Next time you're in the area, please stop by LACMA and check out Chris Burden's Urban Light project.


An LA standard.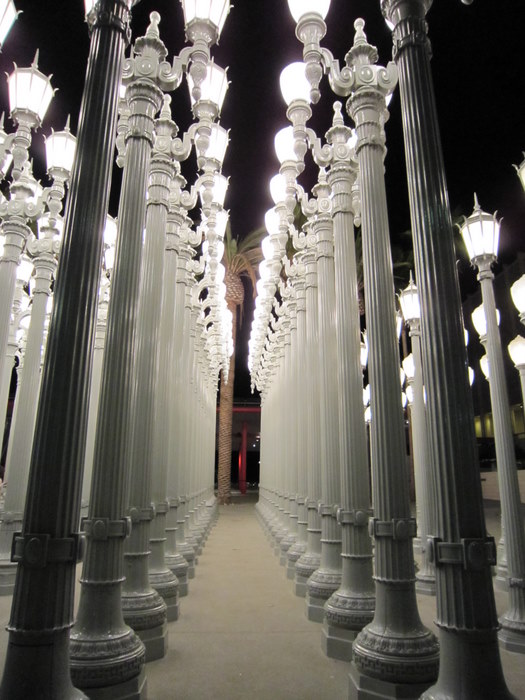 "The 60's"
November 24, 2009
My office holds a lot of memories. At the heart of it all is my organized disorganized printed media bookcase.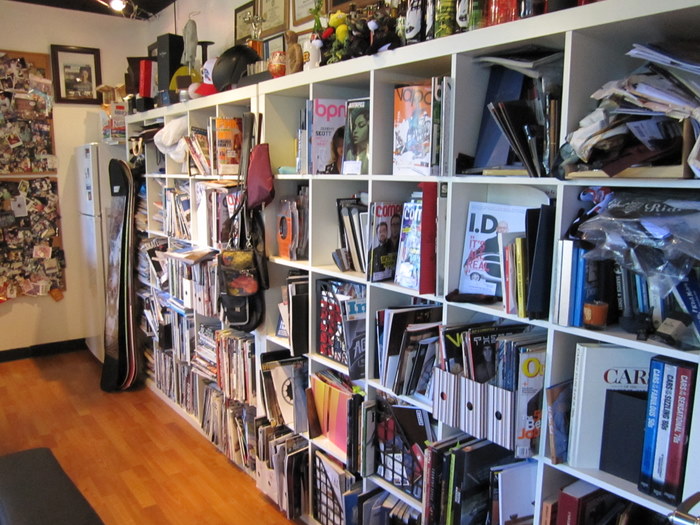 I've never considered myself a materialistic person, and the older I get; the intangibles of "experiences" and "living" life are more important and more apparent. However, when it comes to certain objects, I can't deny the fascination I've had with classic cars.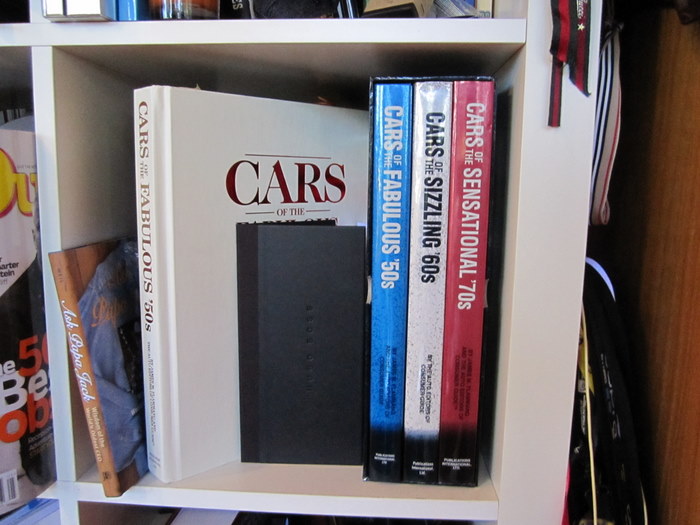 There's something in the meaning of skilled workmanship back in the days where American Pride was 100% American from top to bottom. The bulk of what I refer to as classic cars are from the 50's to the 70's. My favorite, "the 60's."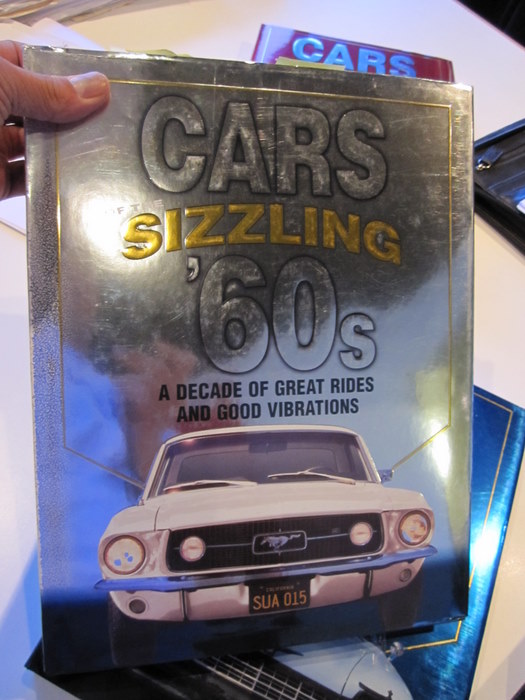 Note: Before you send me hate mail, these are my personal favs and have no relevance to who or what, just to myself. Now, back to our regular programming.
If I could narrow down my top three brands back then, it would be Lincoln, Olds and Caddy's. I'll give you a few reasons why.
The history of Cadillac is well over 100 years old. It marked America's finest auto-making and precision engineering which clearly defined the word luxury. Remember the famous Coupe DeVille which ran close to 45 years long??!!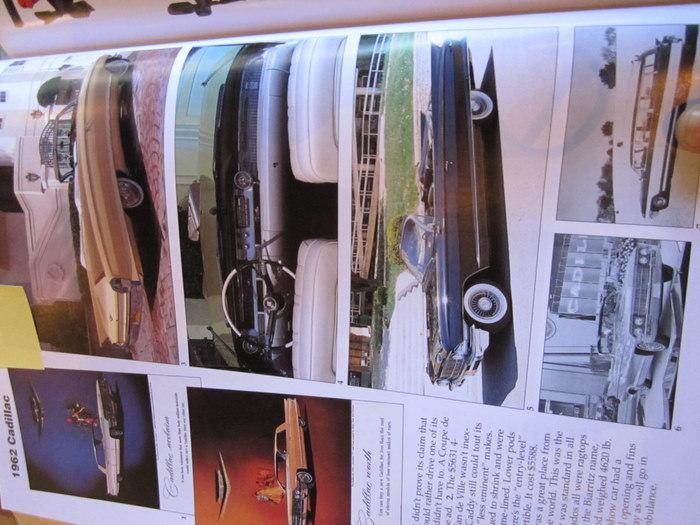 Ragtops, Convertibles, call them what you will, but Cadillac did it right.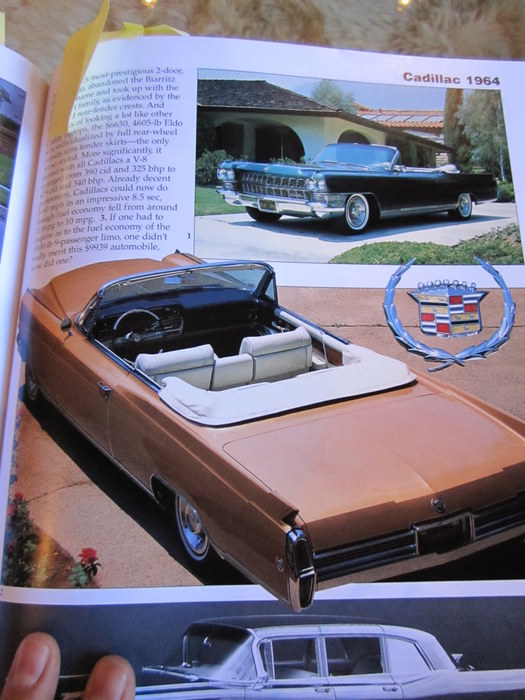 Remember the Public Enemy song, "You're gonna get yours" when Chuck D said, "It's the reason all people say, My 98-O blows em' away…" Well, here's another reason why I agree. The Night Eight Olds was one of the first classics I had (until I hawked it to help pay for production back in the 90's). Shit was tight for a 64, it had auto everything and looked almost like this.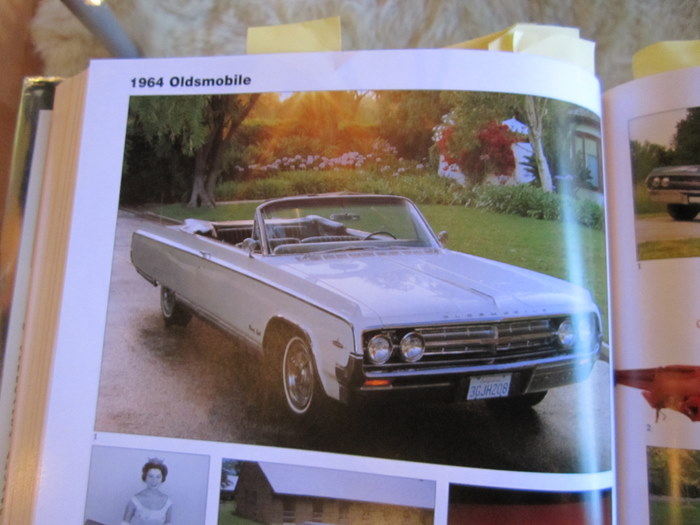 I saved the best for last. Although I'm not so into today's Lincoln line-up, back in the 60's was and will always be where it's at for me. The 1961 to 1964 Lincoln Continental line really had it all. Clean long lines, metal mesh grates, suicide doors, white walls, and a powerhouse engine. This black convertible is a timeless beauty that someday I might be able to drive.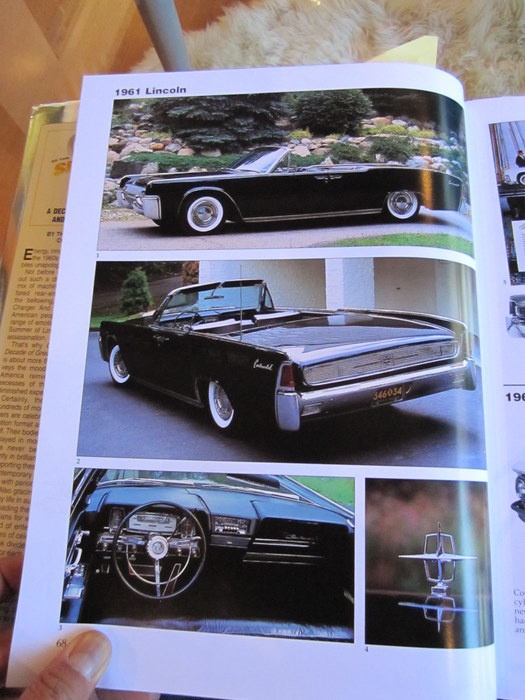 Here's some more looks. 1964 was a good year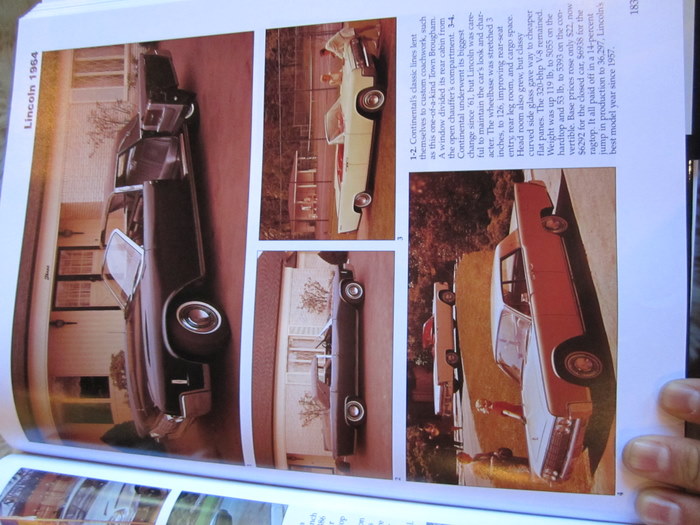 So was 1963. Too bad JFK learned the hard way on November 22, 1963.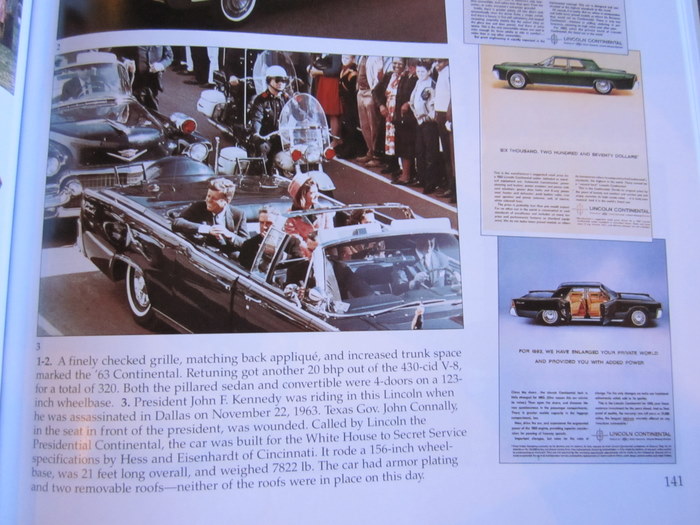 BIKE lunch meeting!
November 23, 2009
Once a month, we get together and have office lunch meetings. It usually involves pizza, fish tacos or some kind of sandwiches. This time around, I wanted to get heads out of the office and get the hell outside. So, we're doing a BIKE lunch meeting. (BTW, we have all types of people at the office, but in order to work at Westlife, you have to snowboard and ride a bike) Everyone get their bikes now! Fixed, Road, Track, BMX, Cruiser, Mountain; whatever as long as it rolls down the street. Say cheese…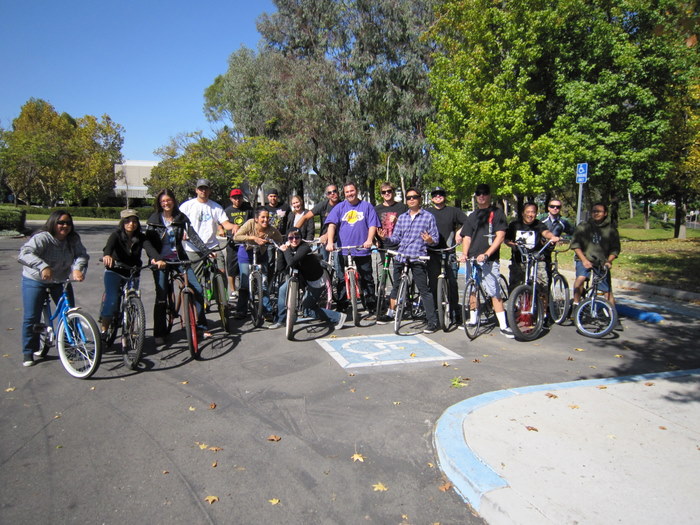 Back when we were in LA, you had to watch your back for just about everything. Since the move to Irvine, the streets are mellow and wide open. Riding in the middle of streets, no problem.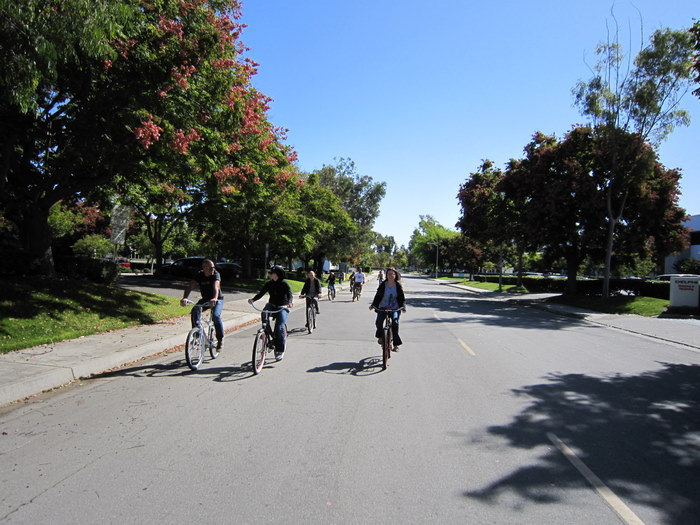 Parking's not a problem either.


When we have our meetings, all the dept managers say what's up. Julie (Director of Production), really gets into all types of random shit. I think she's calling someone out here.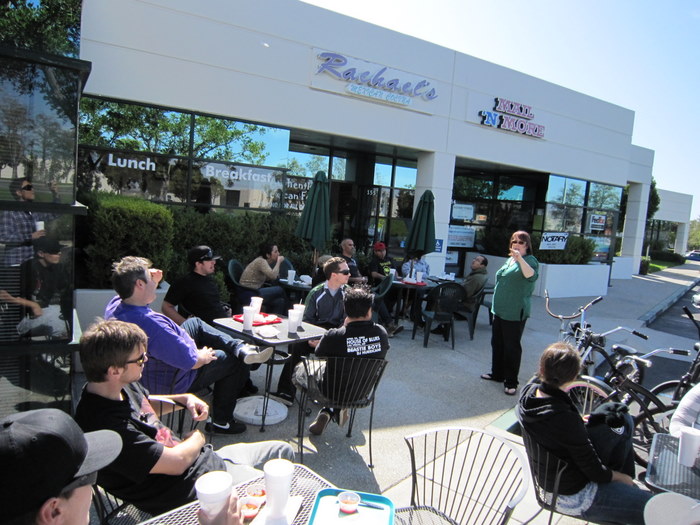 Speaking about calling shit out. Whenever Julie gets stressed, she has her own 5-hour energy at her side.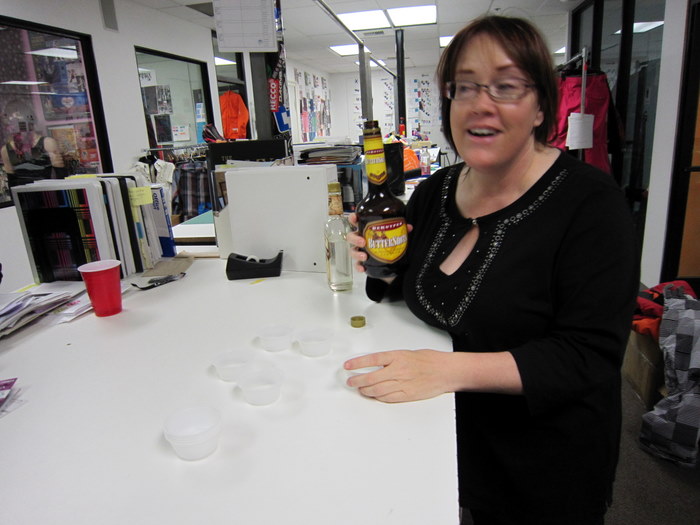 Give me that thing! Now get back to work.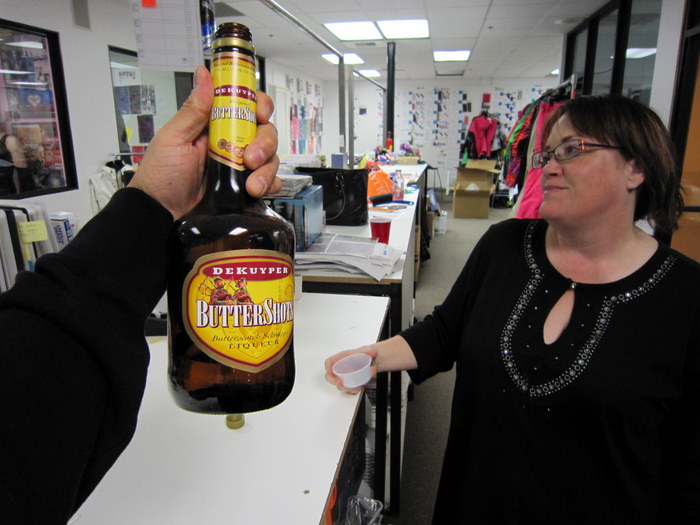 FREE 4 ALL…Fridays…WTF?
November 20, 2009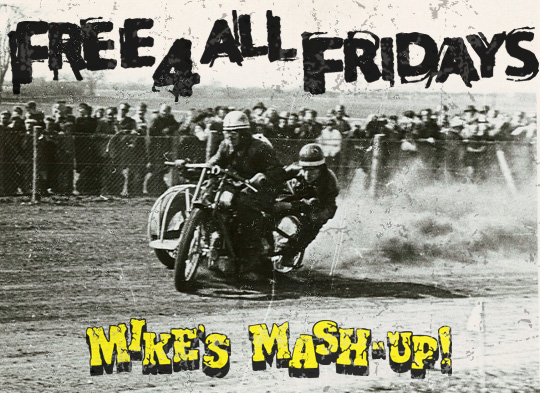 I must apologize before this post as it really has this has nothing to do with anything I'm into. It's just randomness that makes you go WTF?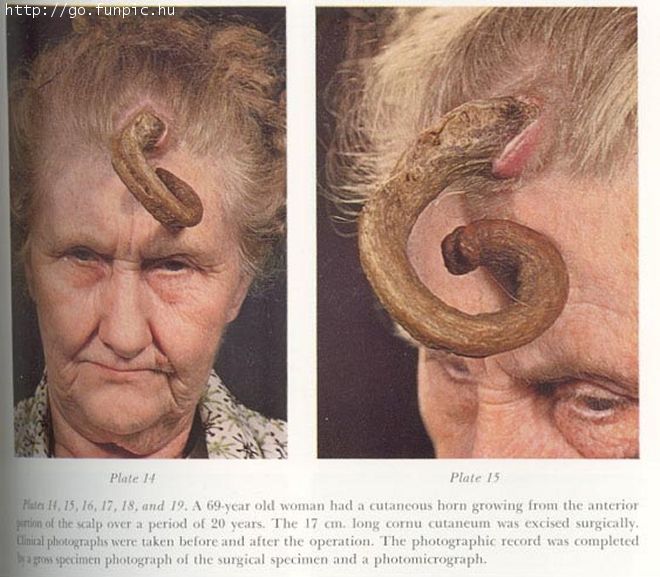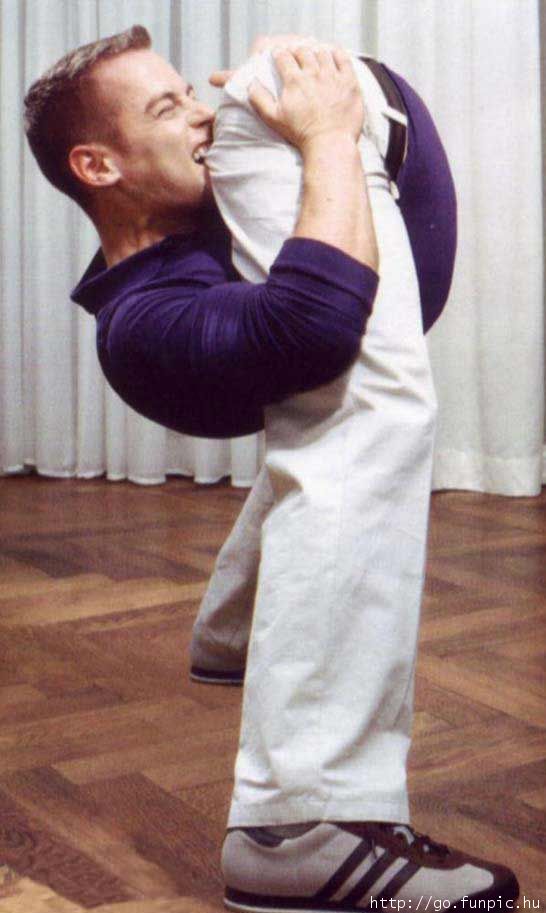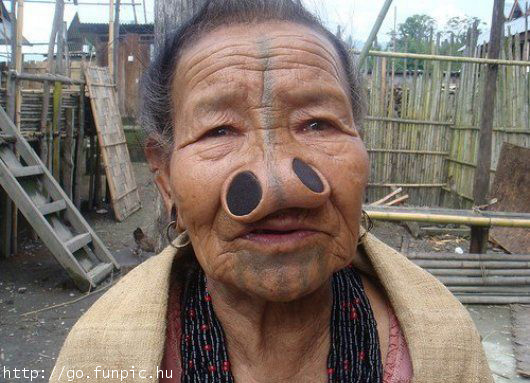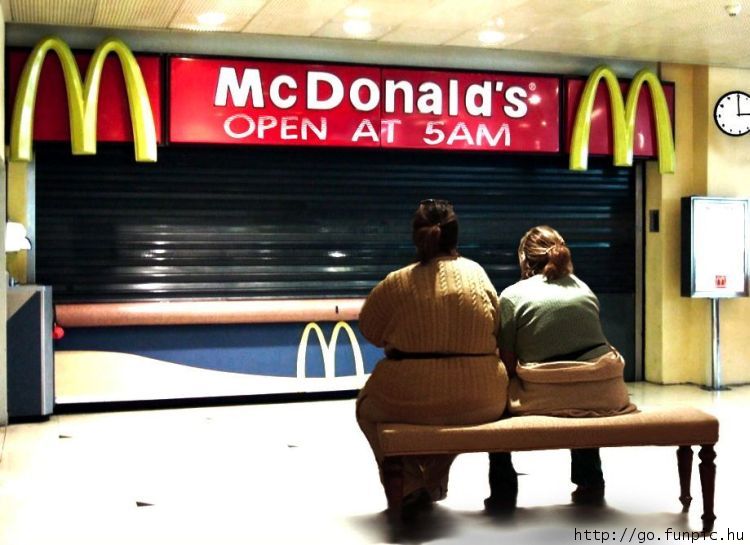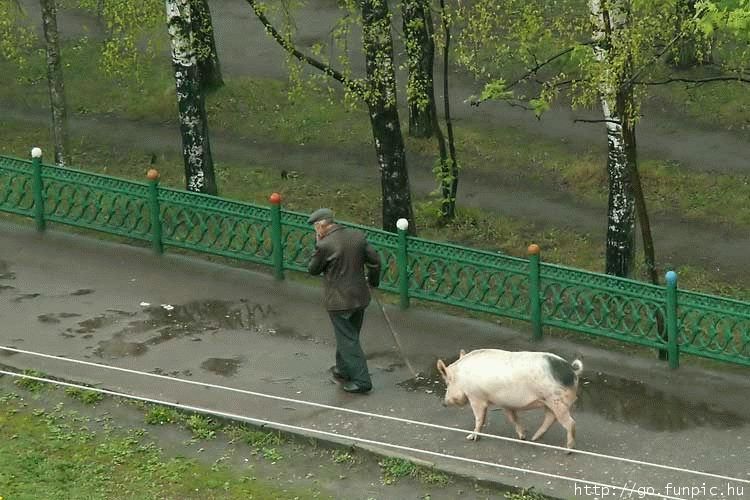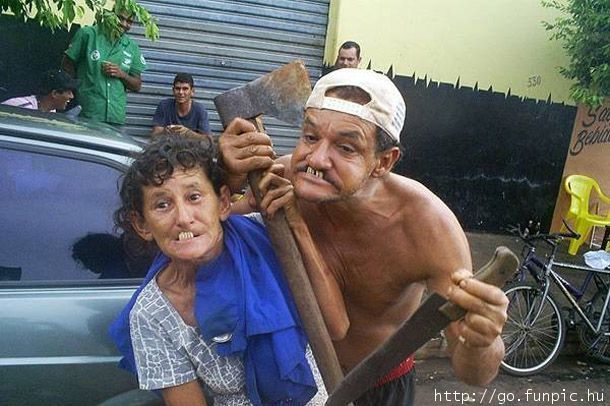 The #
November 19, 2009
I can't think of a day when I haven't been asked what the hell does "686" mean?! Not until recently did I give some sort of an explanation to the REAL meaning of the #'s. Per the history on our site, it has something to do with mathematics and the date, June1986. Well, that's not exactly the full story and I'm gonna have to tell you the rest another time. But for now, I want to show you some creative heads (of all places, from Russia!) that showed their own interpretation of what 686 means to them. Big ups to our Russian 686 family as they took some time to come up with some interesting ideas. If you have a crazy idea, email me at [email protected]
Grass is always greener, where?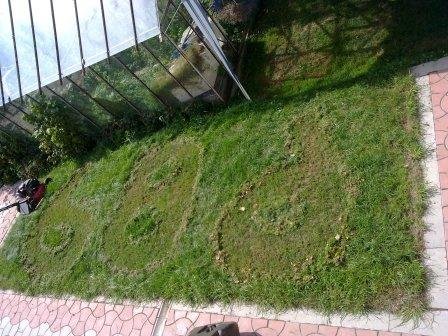 Hot damn!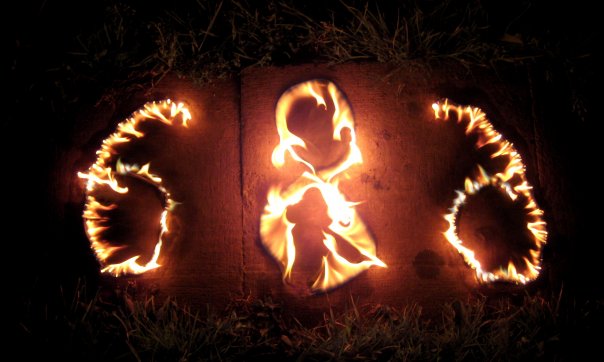 Breakfast is the most important meal of the day.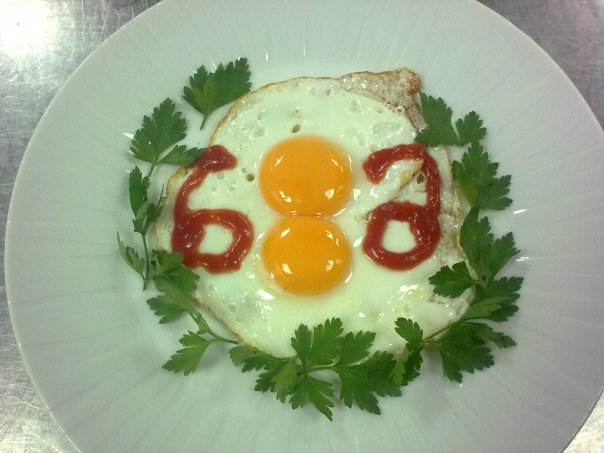 I wonder how many cars got dinged for this.


People do the most interesting things.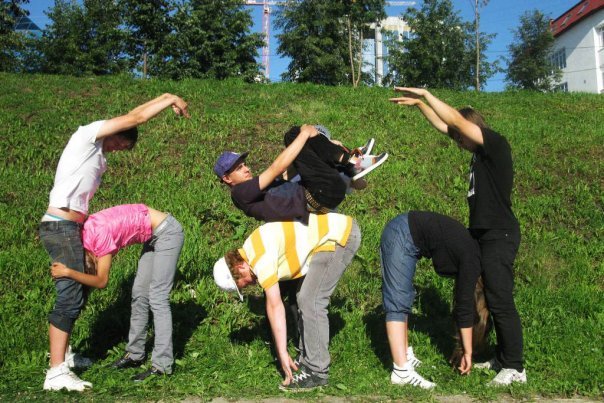 Lights, Slow shutter, action!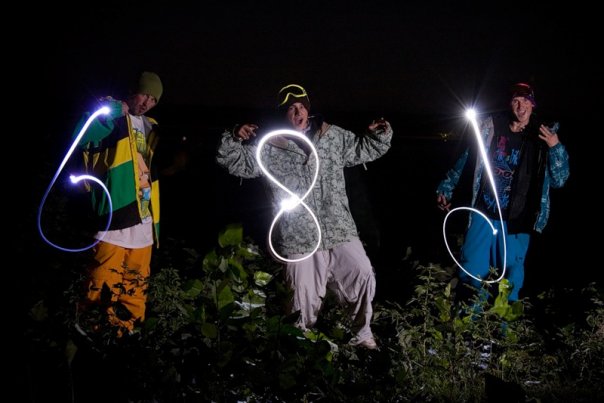 If you do something like this in LA, you might get shot.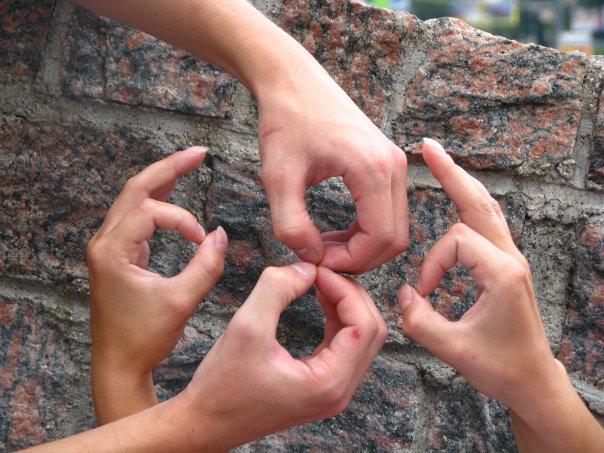 And one of my favorites...printed media 4 ever.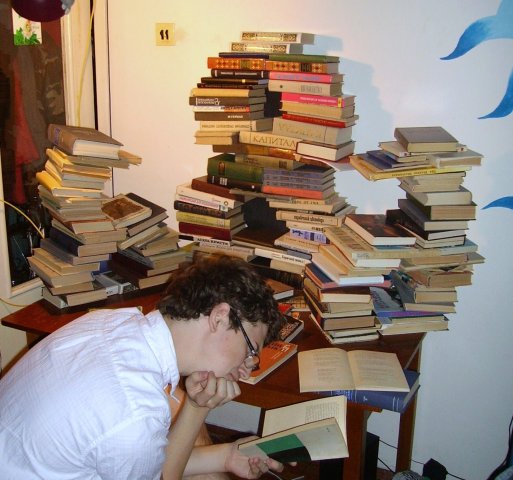 MADE IN THE USA-damnit!
November 18, 2009
The next morning I had to cram a bunch of things into the schedule. First stop was the premiere street/sneaker website, KARMALOOP, which is located in the heart of Beantown across from a very famous park.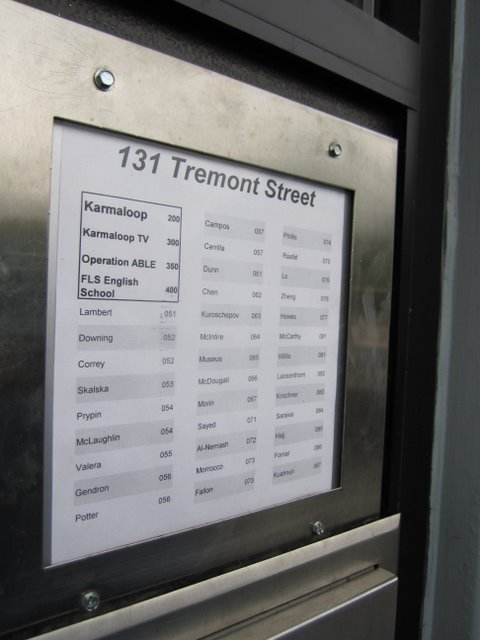 We've been working with the Loop for a few seasons, however this is the first time they have asked me to come in and do this. They run a very successful web show called Karmaloop TV- Catch them at all the best gigs around the world - from Slate @ Magic to interviewing all the founders and artists of your favorite brands. If you know me, I'm typically lowkey and prefer being behind the lens versus in front of it. This time, I have no choice. (except blacking out my face here). If you want to see the real thing, click here.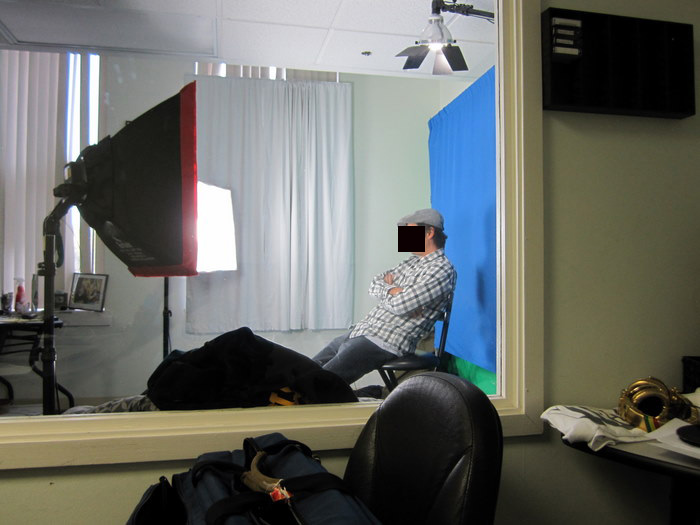 Thanks to the Karmaloop production crew.


Jason (686 New England rep) lives in Maine. But like any good rep, he drives way too much. This is what it looks like when he sleeps only a few hours.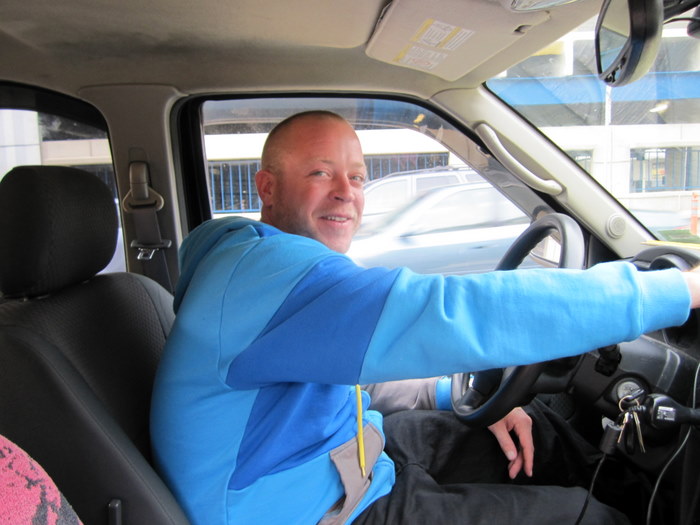 This is what his car looks like when he doesn't clean the hair from his dogs.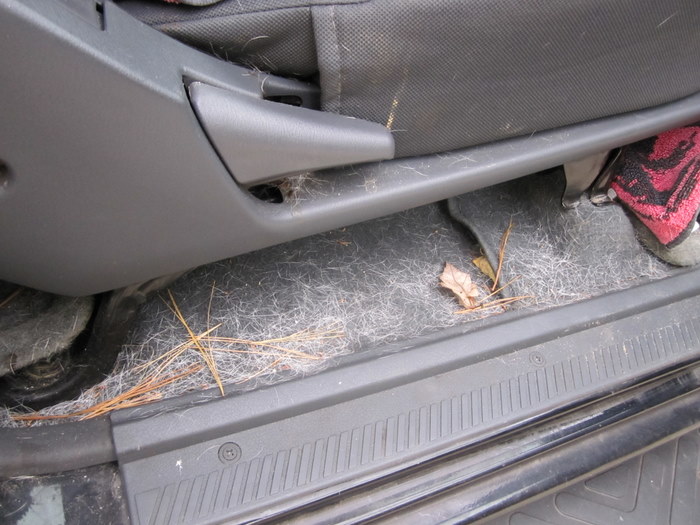 For the last part of the day, I was excited to head to New Balance's Lawrence factory. Check out Lawrence's industrial powerhouse.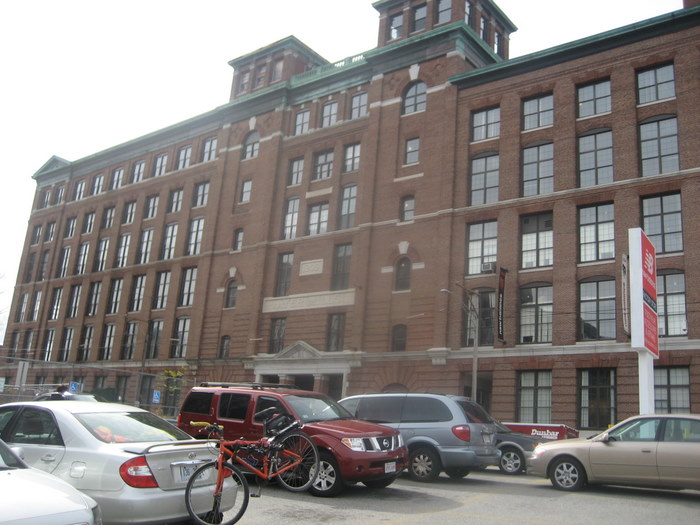 In today's world, making anything in the States is a rare thing. Making footwear in the USA is non-existent. The exception is New Balance, where they take deep pride in US hand-crafted manufacturing. For over 30 years, Jim Davis (owner of NB) has firmly believed that the best quality workmanship, fit and function all originates in the states. I think it clearly tells it here.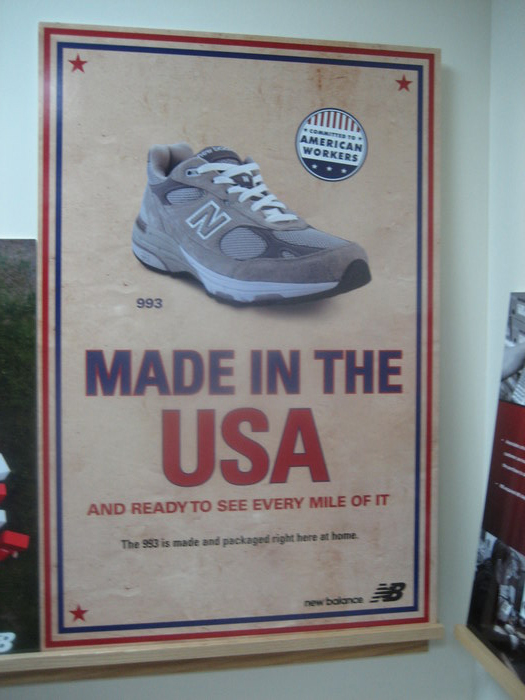 And here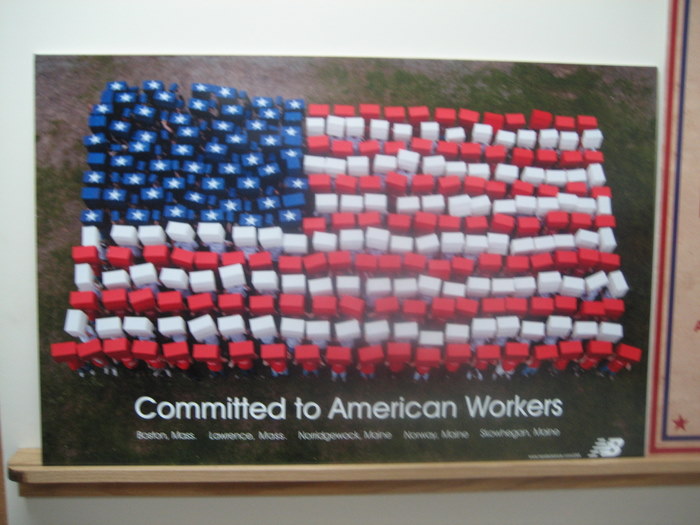 We had our own private tour of the manufacturing area. This nice lady is one of the supervisors of the plant (here for 20+ yrs) who gave us a full-fledged tour.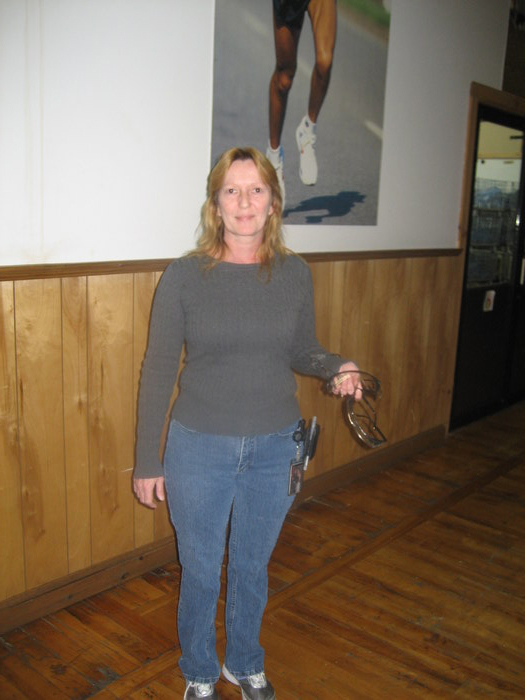 I've been to a lot of factories overseas in the 20 years of doing what I do. What I saw was something I've never, and I mean NEVER seen before. What it all came down to is the PROCESS of how they do things. It's all about Efficiency and Safety with a CAPITAL "E" and "S." I'm actually sworn to secrecy as they had me sign my life away. All I can give you is one shot of the general area (and unfortunately none of the rad things I witnessed)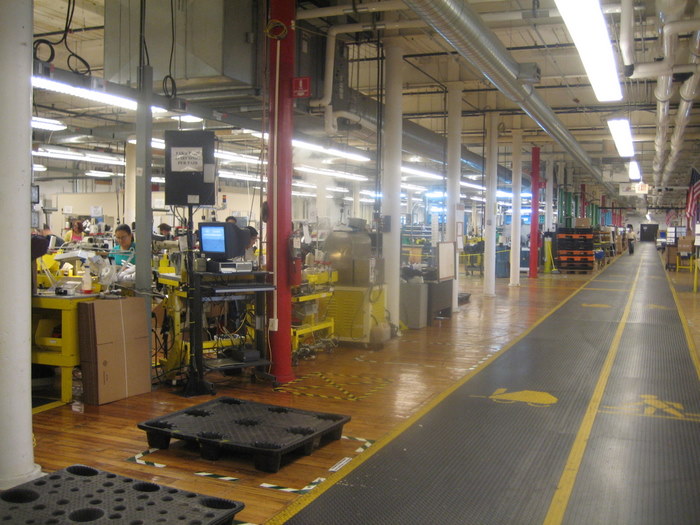 Well, maybe just one more little thing. NB is into IDEAS.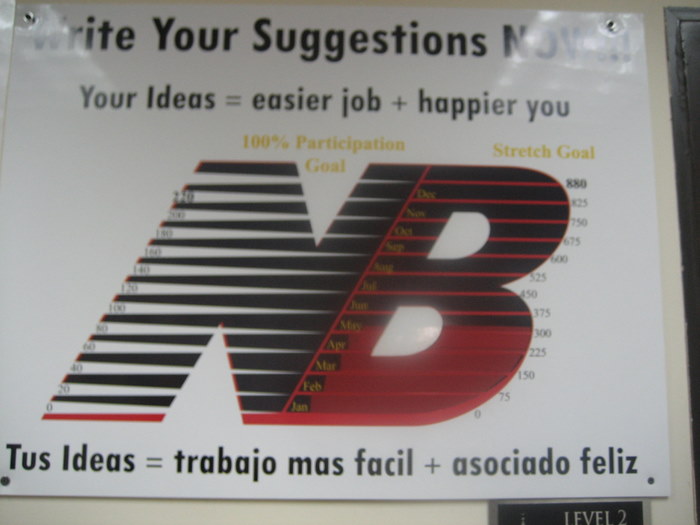 They are into it so much that they award employees for coming up with better alternatives of doing things. The more stars the better.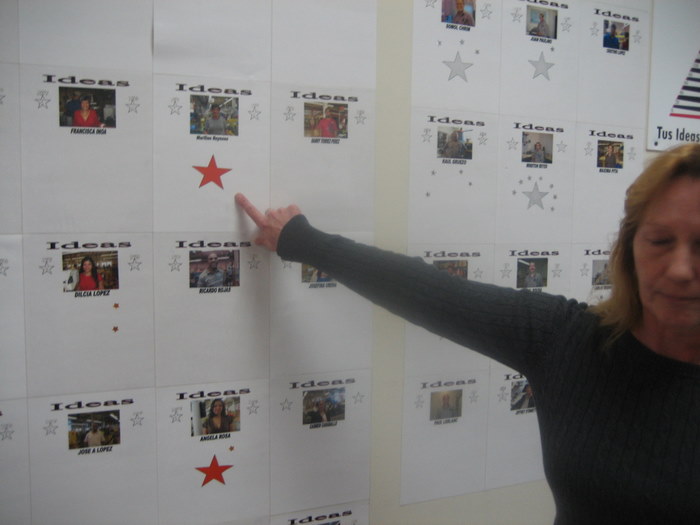 One cool thing working with a company that firmly believes in function, fit and performance is that we have full access to their Testing and Research Labs for the NB686 boots. Again, sorry no pictures in here. You're gonna have to believe me when I tell you that the snow industry has never been able to do some of things we did.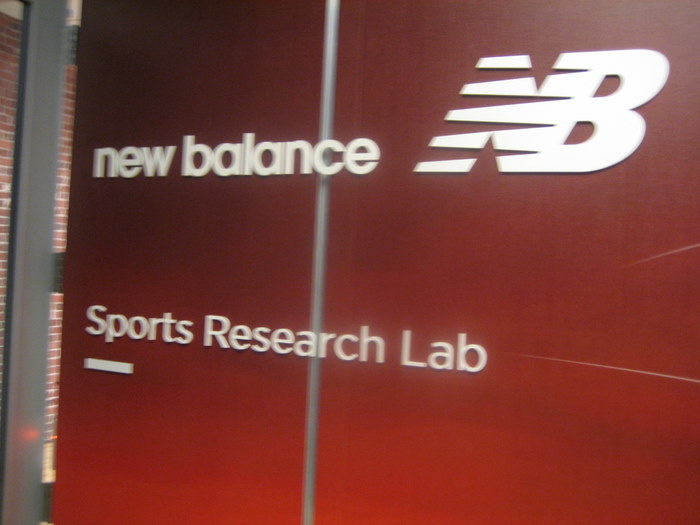 Boston Bound-again
November 17, 2009
After a good ole time in Denver, I jetted to Boston for a few things. We had our East Coast launch of the NB686 Collection at Concepts. Concepts is run by a dude named Tarek (with Frank the Butcher). He also owns The Tannery and a few other key places in the city. If you've never been to Concepts, it is a must see for the select sneaker connossieur.
Just before the show starts-check it from the outside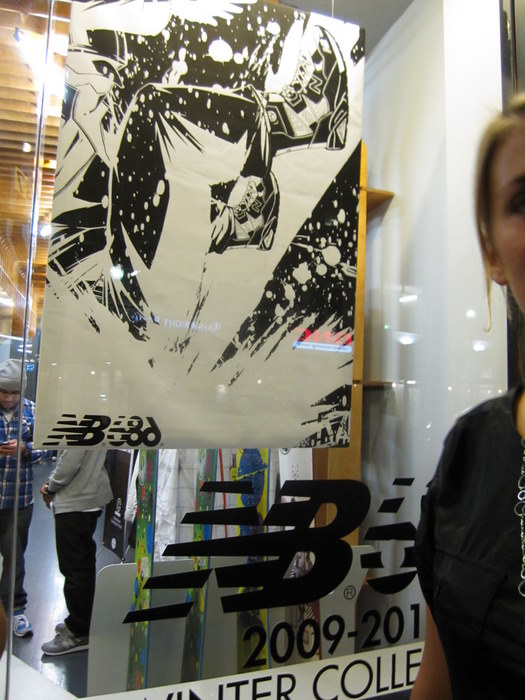 To the inside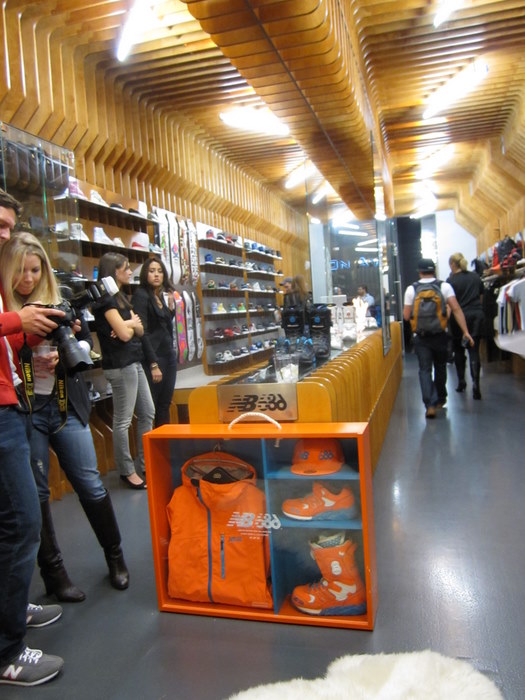 To the jacket side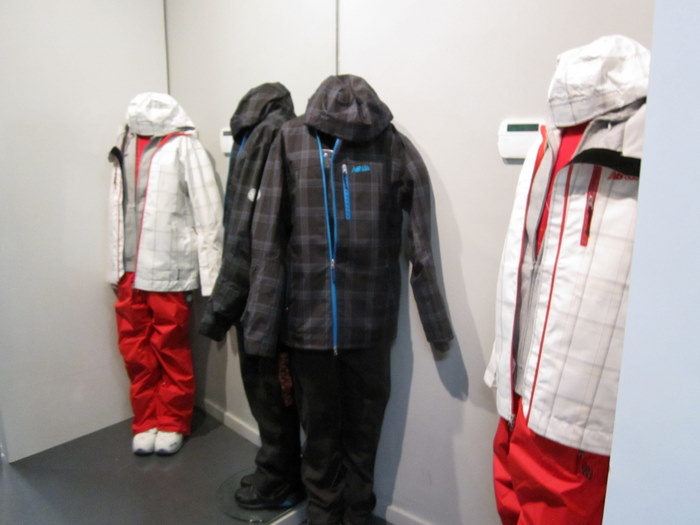 To the DJ side


To the NB686 sneaker side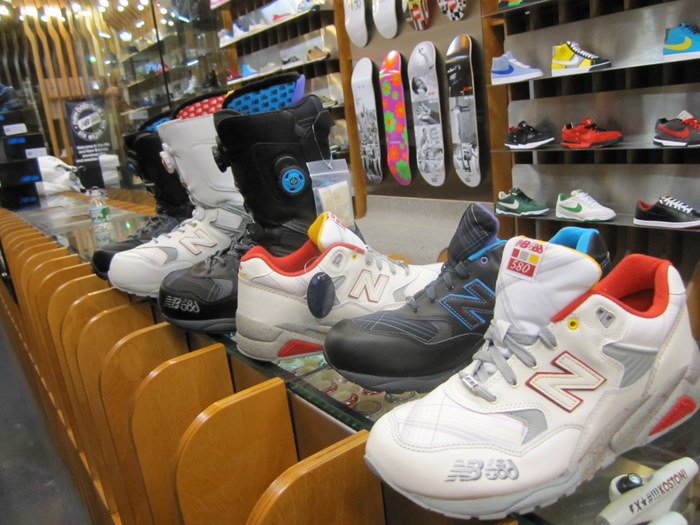 To my new 996 side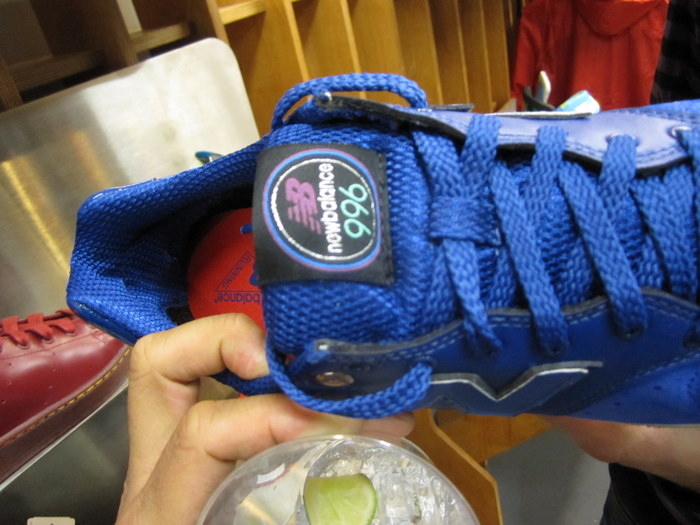 To the basement side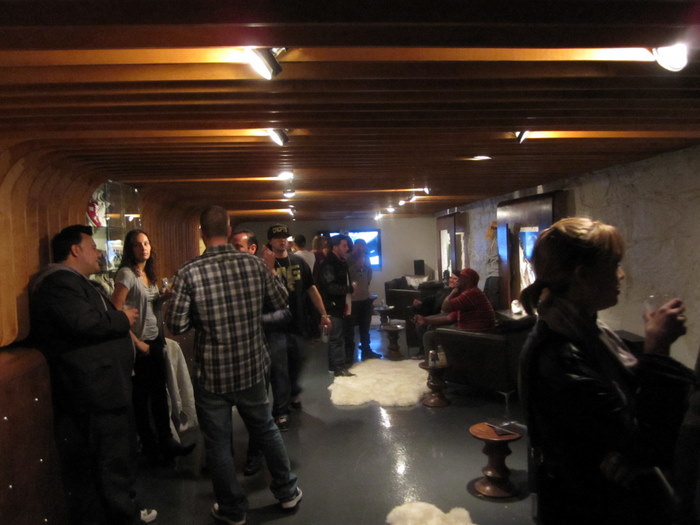 To hanging with our New England rep, Jason and Concepts very own, Sponji. What the hell is that black box side.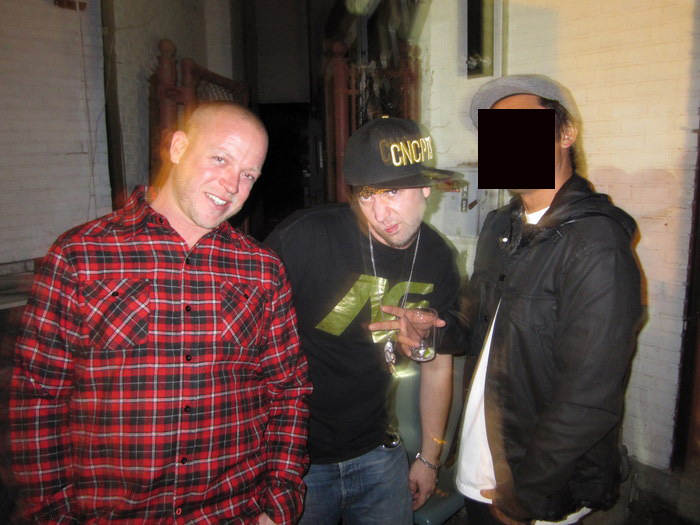 Lauren, Taylor, Jennifer, Kristin and the entire NB and 686 posse put things together pretty well. Big ups!


D is for DENVER
November 16, 2009

The past week, I took a short trip to Denver and Boston for some meetings. The good thing is that Denver's only a two hour flight from LA, then I can take a red eye to the East and in a blink of an eye (or two), I'm there and back for dinner (well kinda). I'm on the board of directors for SIA (Snow Sports Industries America) and we have one last meeting before our big tradeshow in January. This trip to Denver was to finalize a few things as well as meet the people running the city (Pictures of me rubbing elbows with the Mayor or Governor somehow got lost…) For all the snow heads, SIA in Denver is set to go off (I think this is what the blurry picture says).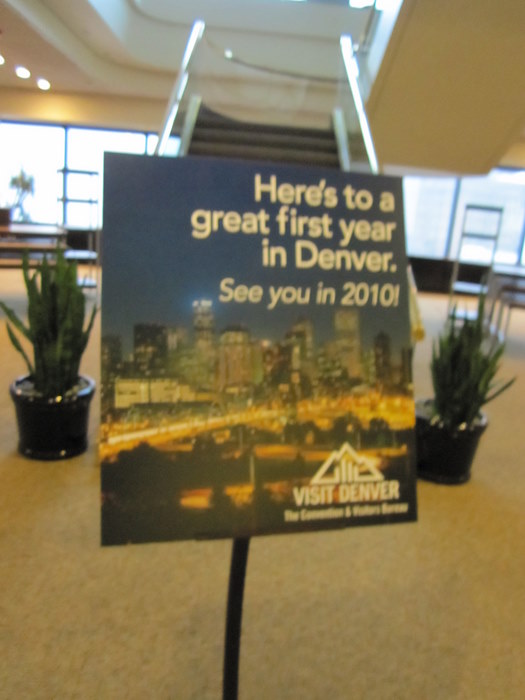 Downtown Denver has come a long way from back in the day. Next time you're in town, walk around the city and you'll see.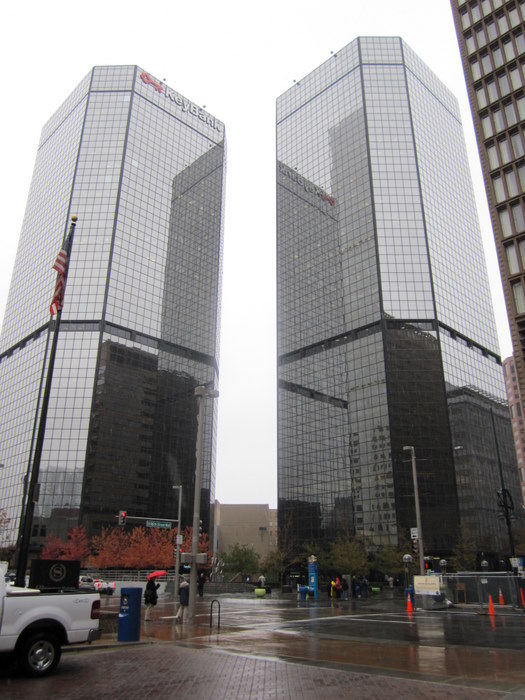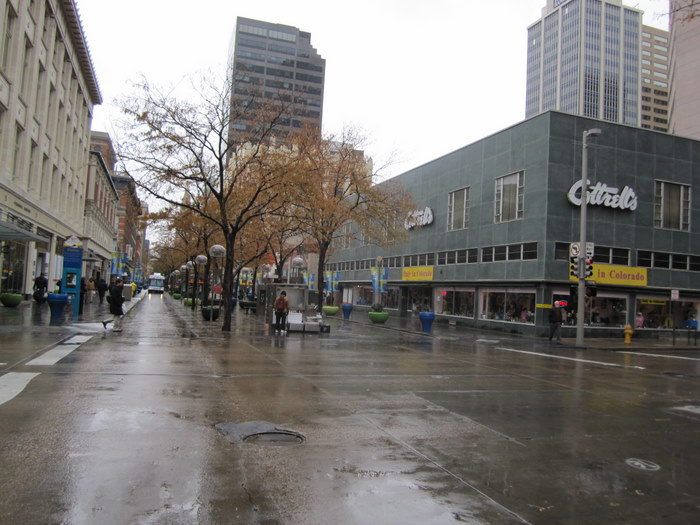 Leaves are a-turning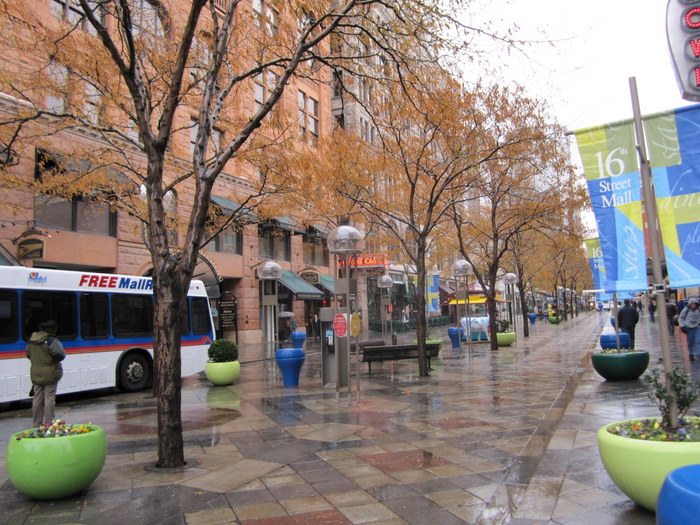 I had breakfast with Steve from Pabst. I've known Steve for a minute way back when he was at Airwalk (yeah that shoe company that started it all). From there he had a long run with Red Bull handling Marketing in the West. Today he's in charge of anything marketing related for the Pabst umbrella company (PBR, Schiltz, Primo, Lone star, Colt 45 and the list goes on…) Besides talking about what's happening in the beverage world, we rapped about the simple things in life like shredding with the boys to spending time with the fam. Good to hear that working in the liquid nation can keep you still in gear.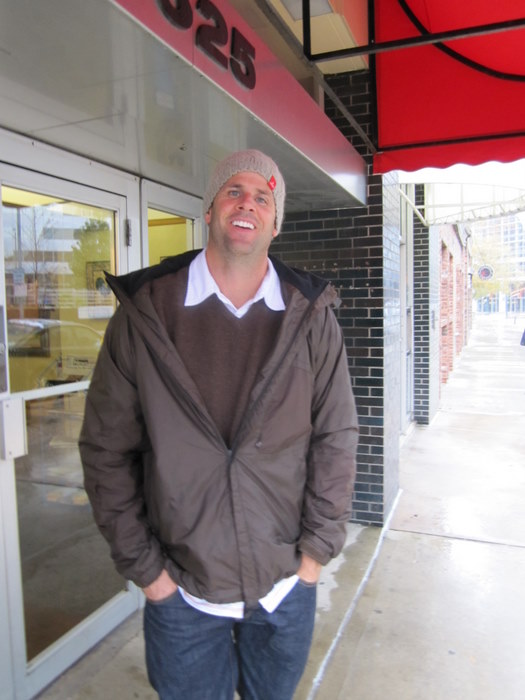 BTW, thanks for sponsoring all our gigs.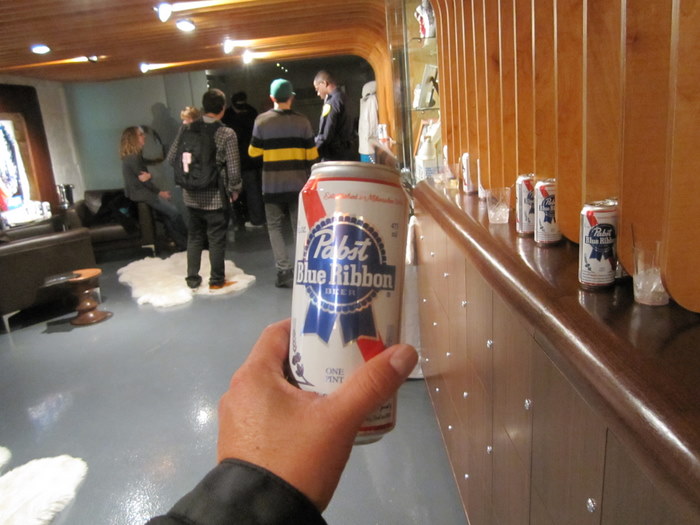 Later in the day, I met up with our 686 extended family member, Dave. Senor Dave has been our rep for Utah and the Rockies for a long time. He's also one of the best all around guys I'm proud to know. He's about to open his showroom for the year and he invited me to check out what it will eventually look like. Hi Dave.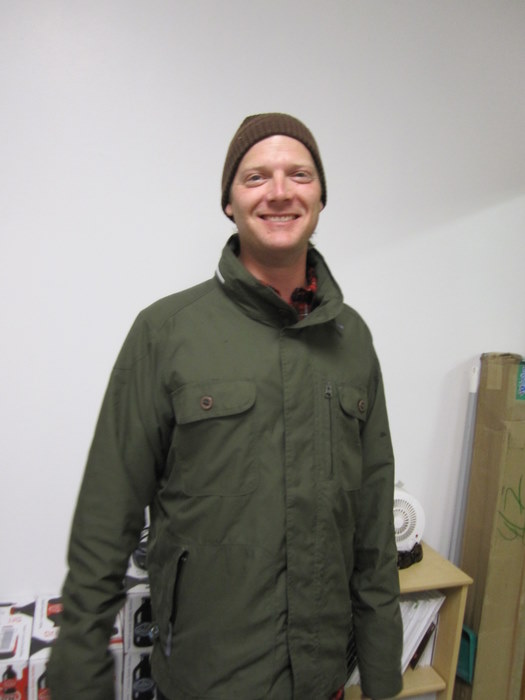 With a little imagination, I can picture how things will turn out. Although Dave insists that this entire area will look like nothing I've seen. Ok, let's do it.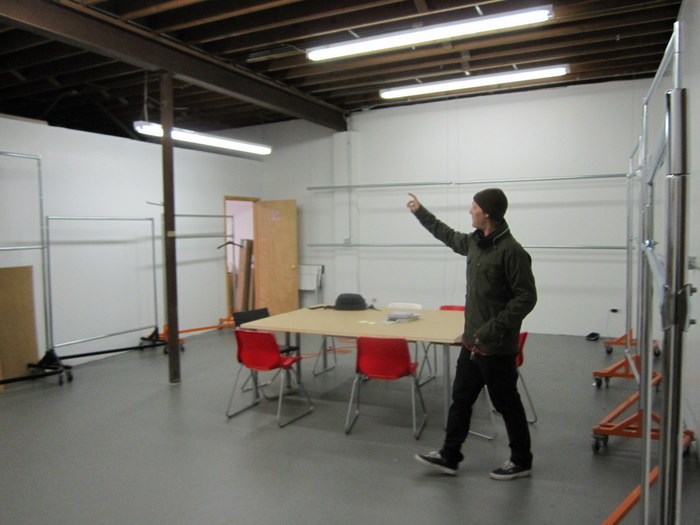 Speaking about doing it - I had one last establishment to check out in Denver. I think it's "my duty" to make sure the visitors of the show will enjoy the types of entertainment the city has to offer. I wonder where I am.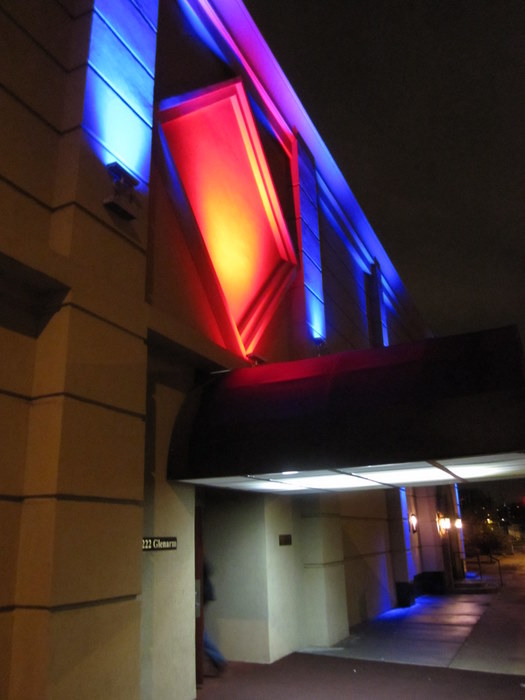 Hey Jared (Vans), aren't you supposed to be cutting down?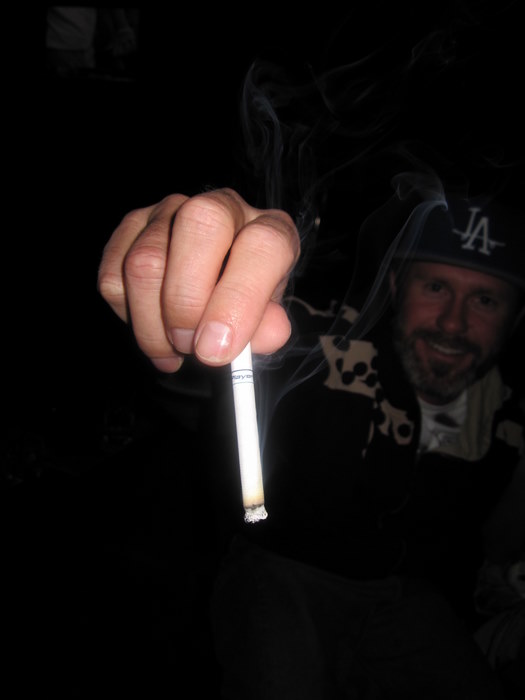 Don't you love it when it's mandatory that certain "employees" must make sure their hands are clean?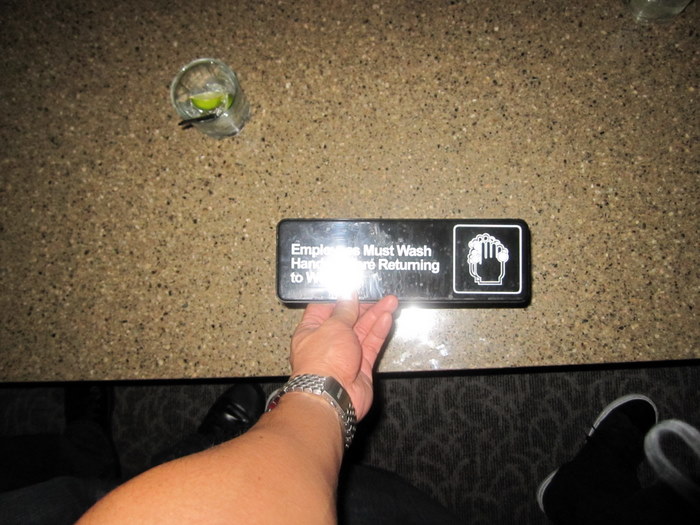 "FREE 4 ALL…Fridays" – BRAND WHORES
November 13, 2009
Take it for what you will, but society today has molded us into living extensions of what we want; more than what we need. American culture has defined true consumerism in interesting ways. More than ever, the youth of today understand the power of branding. They not only demand it, they live it. I want a Coke, not Cola. Can I get some Kleenex or is that really called tissue? It may not be as obvious as this, but believe you me, we all have something like this under our skin.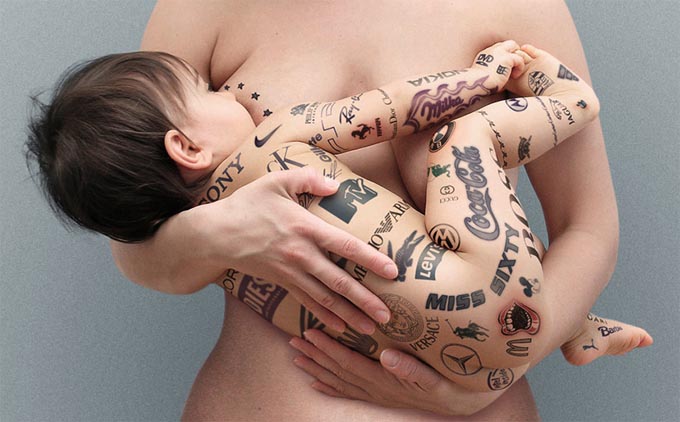 Maybe because I've been in the game for a long time, details of what people wear, buy and sell are all interesting to me. When I was growing up, my inexperience and lack of a certain level of confidence led me to try and find things to better define who I was. I think it's a natural part of growing up and coming to age. However; it's more disturbing to me when I see grown ass adults doing it (ie: EH). Today, my personal style is about what makes me happy and less what brand defines me. If you look at my closet, you'll probably find more blank T's with no logos or labels than anything else. In my opinion, I would hope that the person brings the style, not the clothing. Crazy enough, running my brand, we try and tell a story more for a purpose, rather than for something that defines you.
Here's some satirical examples of Brand Whores by the Cool Hunter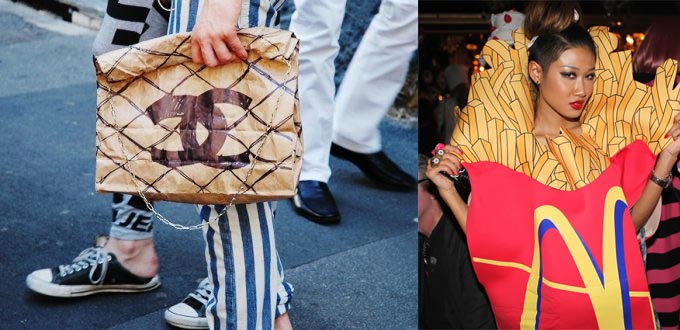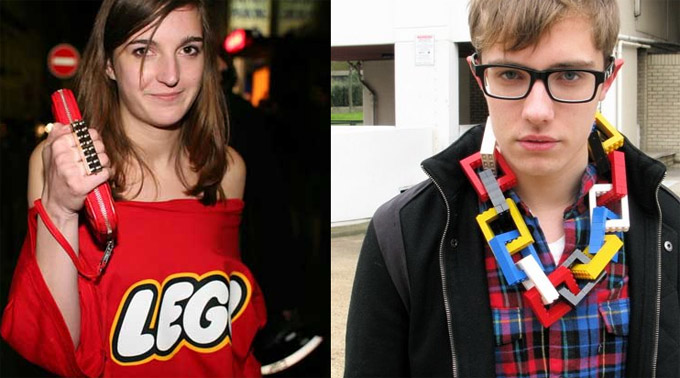 Just cuz
November 12, 2009
Last week I received a few surprises at my door step. I typically don't like to mash things that peeps send me, but when it comes to brands/heads that I support, it's all good.
When I was growing up, it took a lot to buy a lift ticket. Although prices were a hell of a lot less, I came to the realization that riding at the hill cost much more than skating down the street. So I decided to actually work at the mountain doing whatever, whenever just to get a pass. Today, we've been blessed by resorts across the globe that "get us in," just cuz. Two resorts (besides Bear) that will always have a big part of me growing up is Mountain High in Wrightwood and Sierra-at-Tahoe in Southlake. Big ups to Chuck/John at MH and J. Rice at [email protected] for always showing love.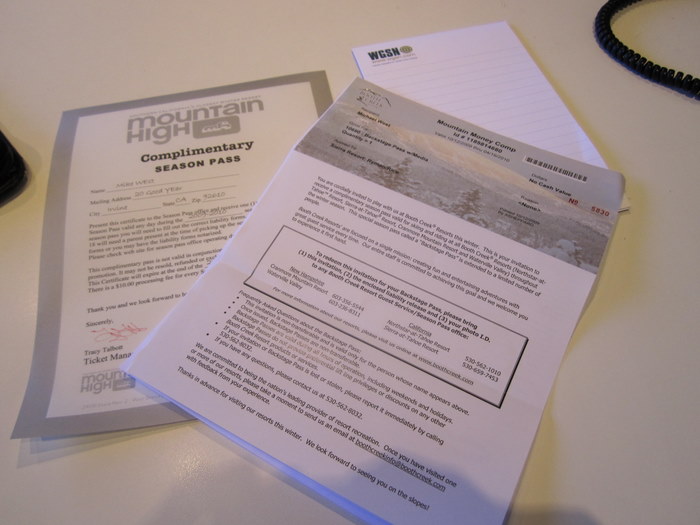 When people ask me what city would I live in besides LA, two places always come to mind - Seattle and Vancouver. Why? A few things: Seasons, City + Mountains, Great food joints, Good vibes and Cool people. The good folks at Endeavor and Airhole in Van, are just that - cool heads that do their thing while having a fun time at it. One more reason to get on the hill now!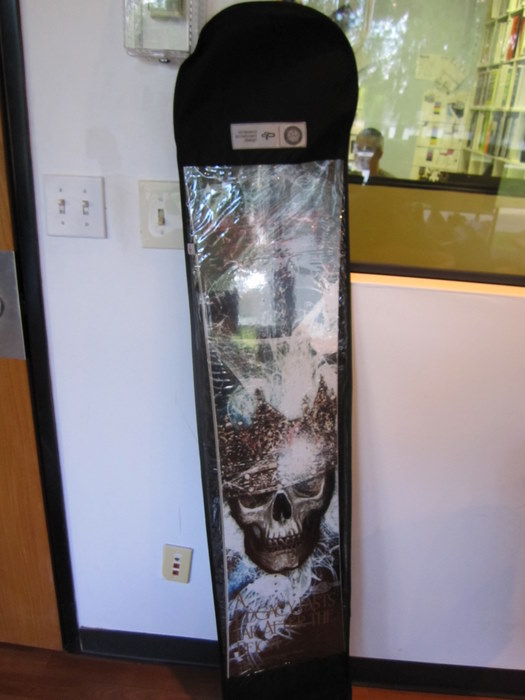 Max, Serfas and Dow run-it. Support the ones that support you.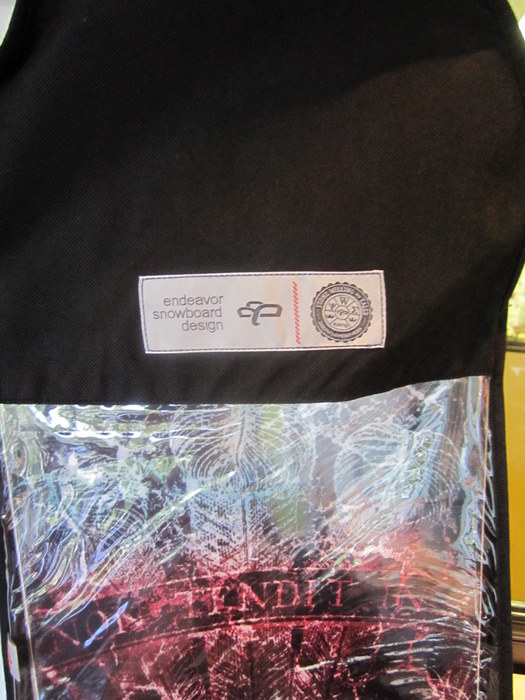 Speaking about having fun. Airhole does it well - ninja style.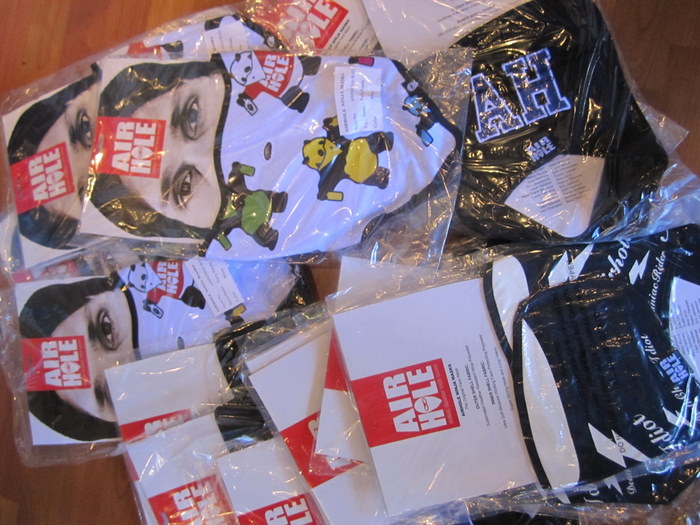 The Super Nova Collection!
November 11, 2009
Of the many things I do here, what I really enjoy is the special projects. We just launched the New Balance x 686 Winter collection at select stockists around the globe. To celebrate the launch, we're doing an East and West coast event, as well as introducing a special box set called the Super Nova collection.
The inspiration is a mix of "out of this world" thinking into 3-Ply laminated lightweight shell technology. We used the color palette of Neon Gas Orange with the contrasting hues of Turquoise star specs to make a statement. The collection consists of the 580 NB686 boot, a 580 trail sneaker, a 3-Ply laser welded seam sealed jacket, and the world's first seamless 3-Ply New Era hat (check out the sonic welded logos and faux button holes) All this was hard cased in a matching color wooden and acrylic box. It was probably our most labor intensive and expensive project to date. Nonetheless it came our insane. Check it.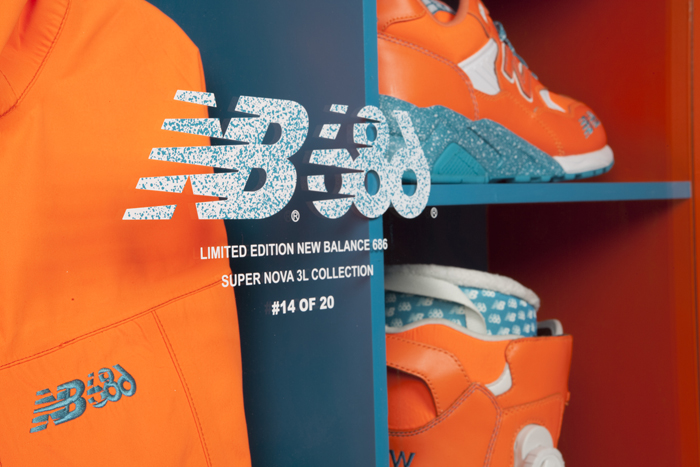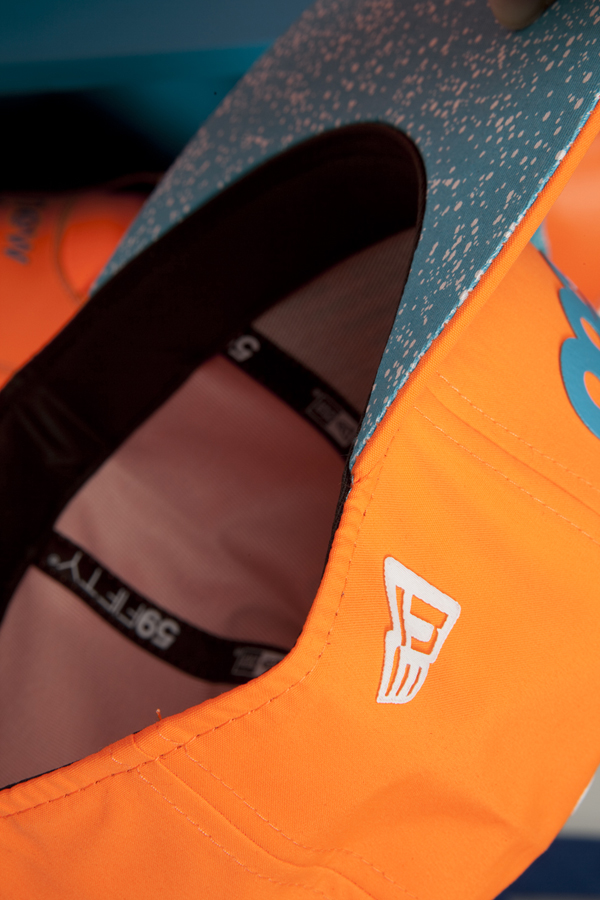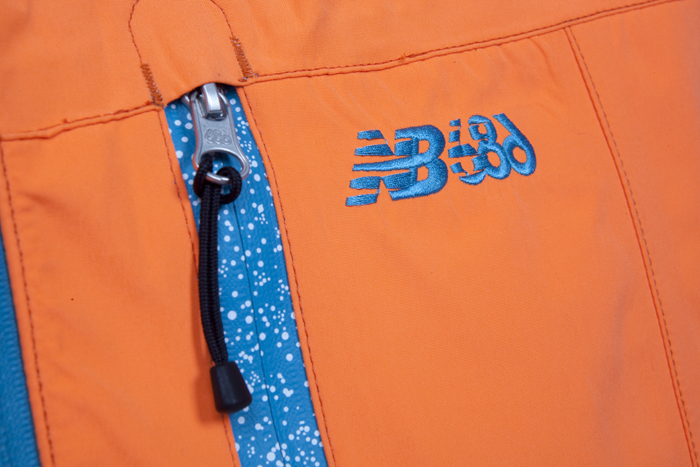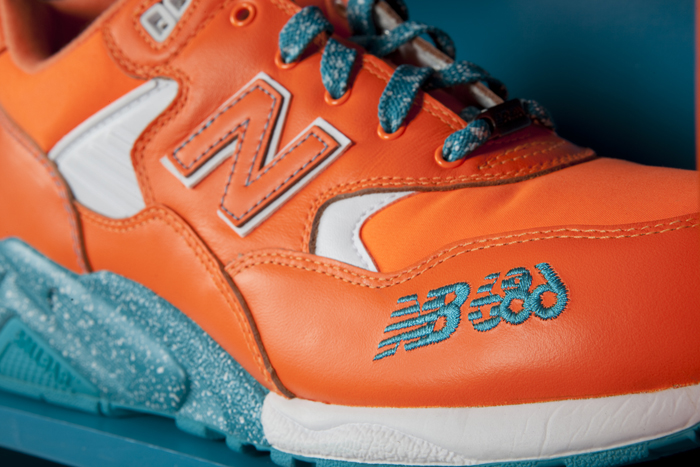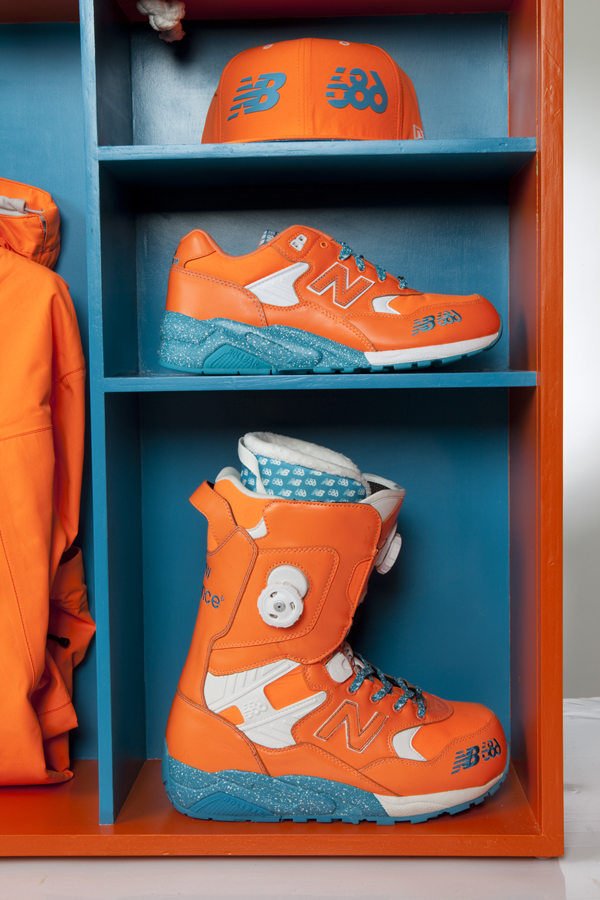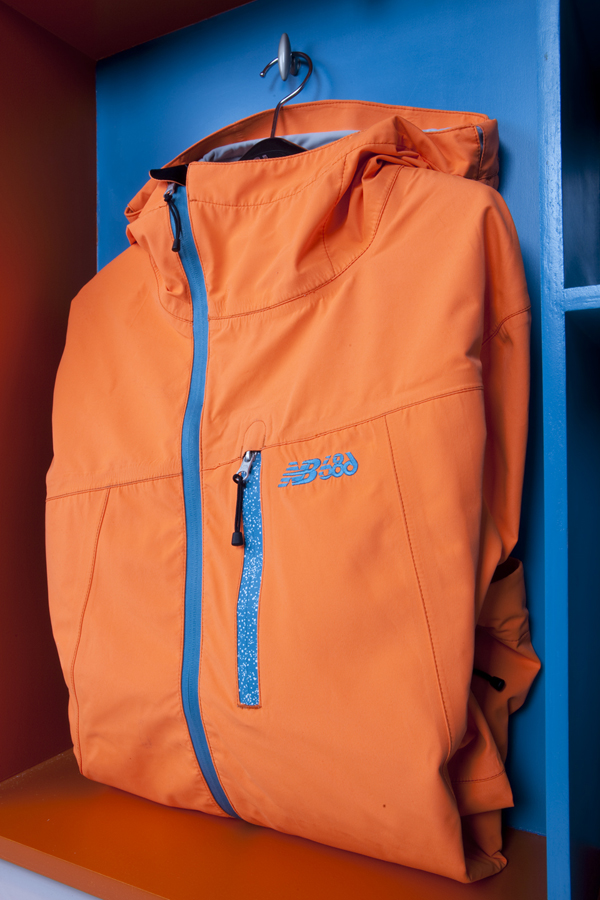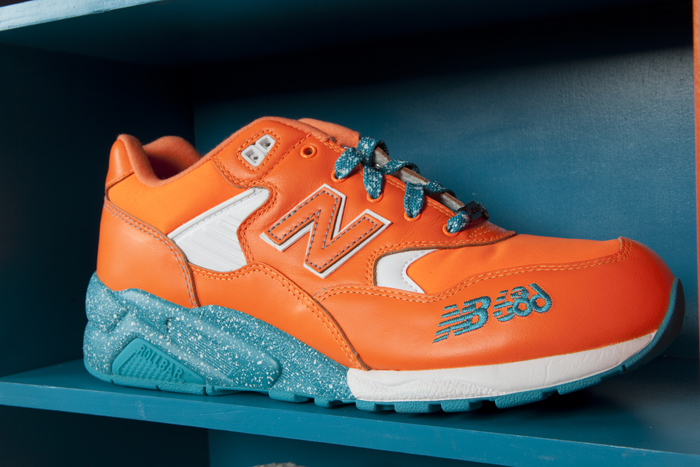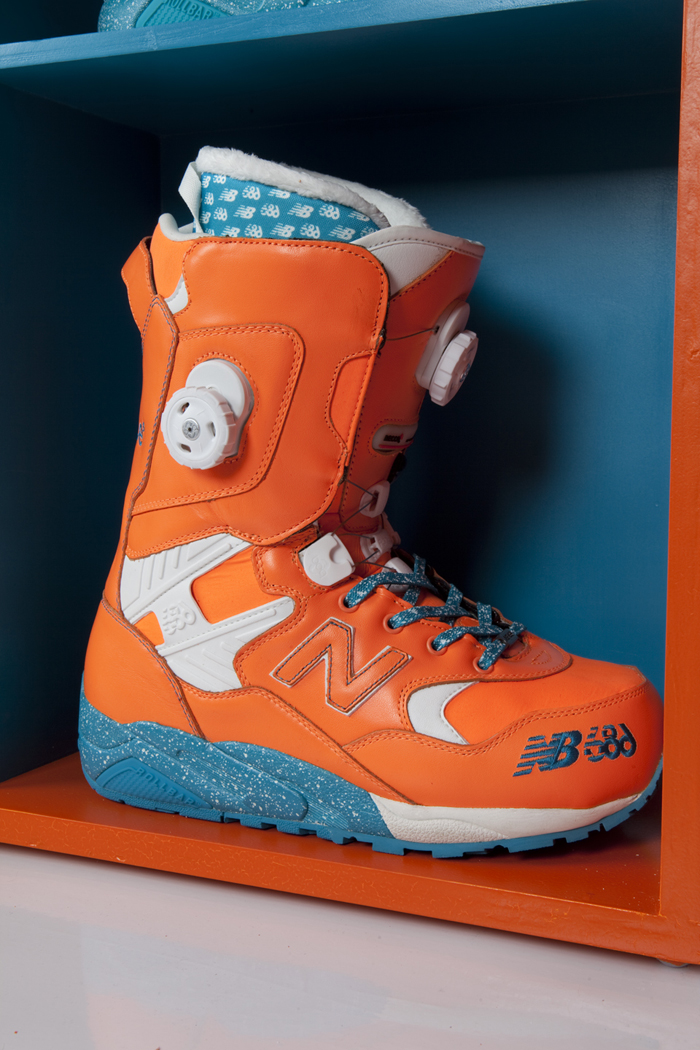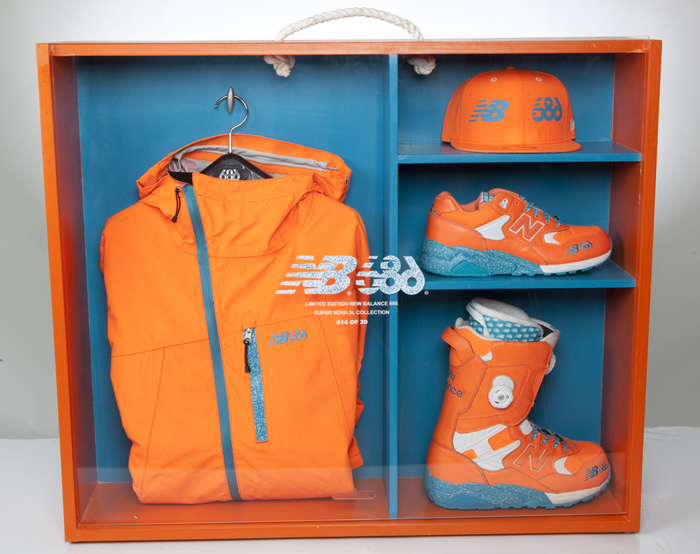 Last week we did the East coast launch at CONCEPTS in Cambridge, MA (big ups to Frank the Butcher, Tarek, Sponji and the rest of the family). This Thursday the 12th, we bring it to back to my LA hood at BLENDS If you're around, come say what's up.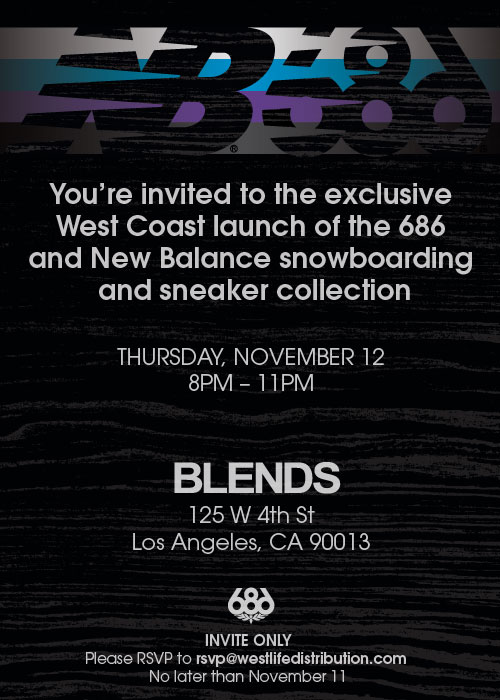 For a great cause!
November 10, 2009

Heads up! This Sunday, our friends at Podium (DVS, Matix, Lakai) will be hosting a special bike ride event in the Southbay. The benefit is for DVS founding father, Winston Dunlap, with all proceeds going to the Alzheimer's Association. Podium, along with Huf, Cadence, Incase and 686 will be there in full effect!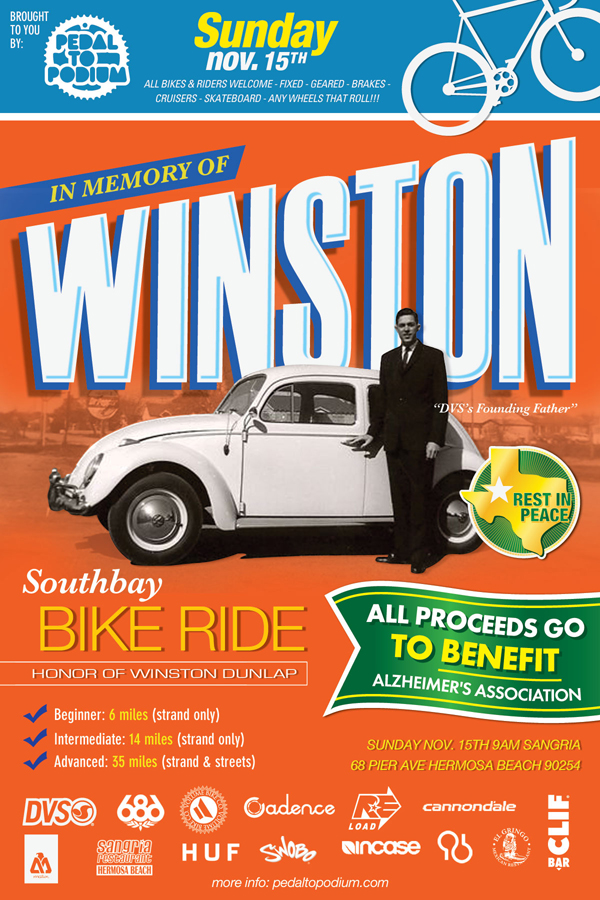 Sunday, November 15 at 9am at Sangria in Hermosa Beach. Come one, come all - Fixed, Road, Cruisers, Big wheels, whatever.




Fall 2009 Preview
November 9, 2009

In addition to our heavy Winter line, we produce a capsule collection of Fall products. Here's a few around the way.

The After Ride Series starts off with the Hybrid Insulated Jacket.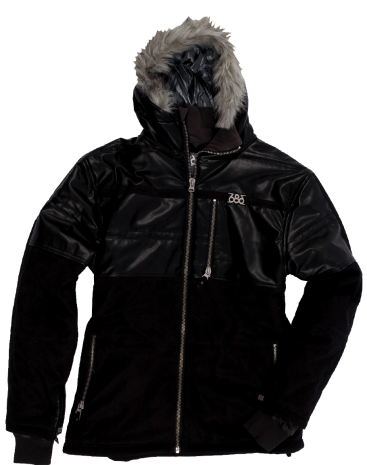 Add some color with the Forecast bubble jacket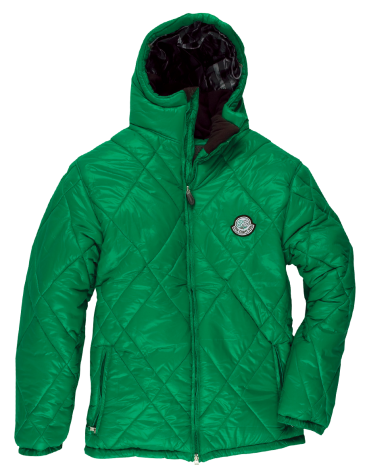 Layering is key when it comes to riding. The Solstice sweater makes it happen.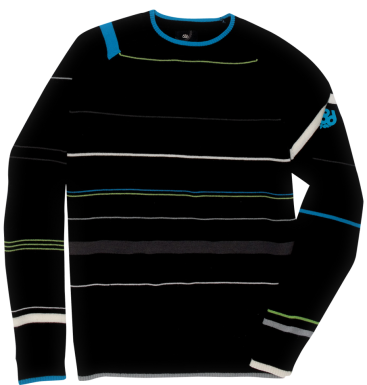 Our glove collection runs deep. Check out the Silence leather glove.
If you were to ask someone two products we're known for - The Smarty would be one and the Toolbelt would be the other. Over the 14 years this belt has been out, we've probably received hundreds of letters telling crazy stories of how this belt saved their lives. Here's the original in Black.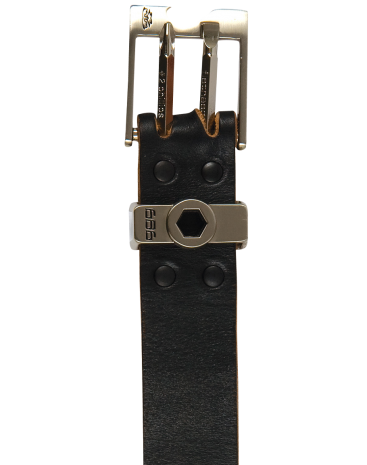 If you didn't know how it works-now you know.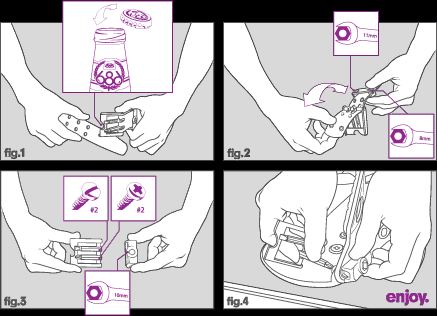 Things to keep your noggin warm. The Weave knit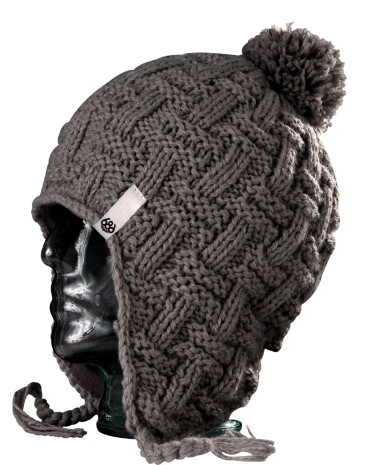 And the Linear knit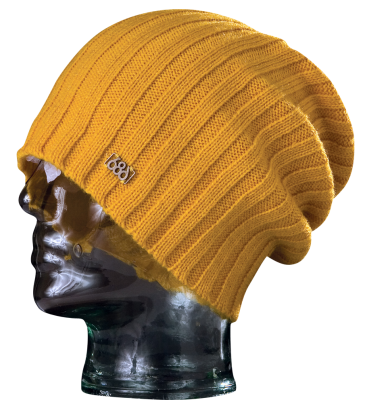 The New Era Block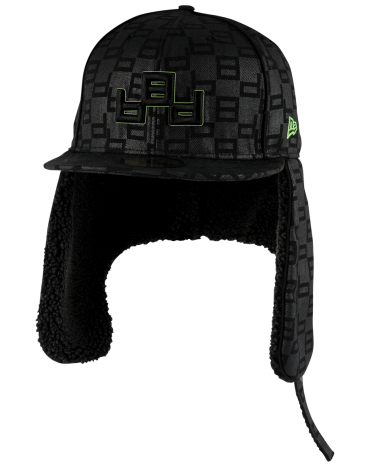 Represent-The Rejoice Short Sleeve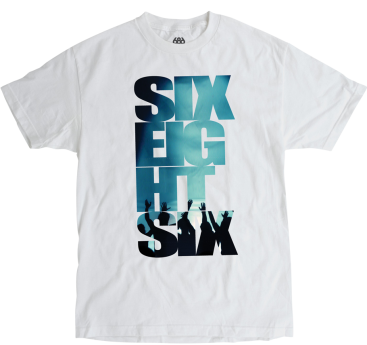 The Roman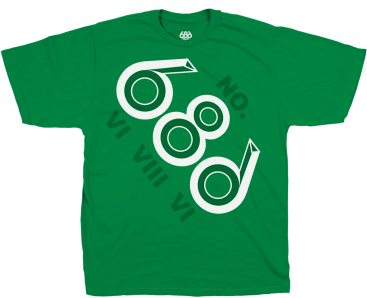 The Heli - I took this pict on the Interior BC trip we did last season.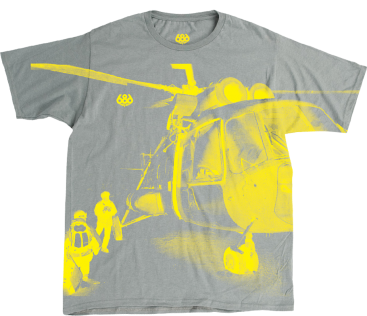 "FREE 4 ALL…Fridays"
Nov. 6, 2009


I'm no boss!




Me 2
November 5, 2009
There's only a few great bands in my mind that can cross the cultural-political-sexual borders in the world we live in. Although very mainstream, U2 is that band that's just about done it all, and definitely won't quit until they do it all. They played one night at the Rose Bowl in Pasadena and I must say, I've never seen crowds like this before. I guess this is how you do it in LA - parking on the golf course always works (especially when you have 100k people coming into one area)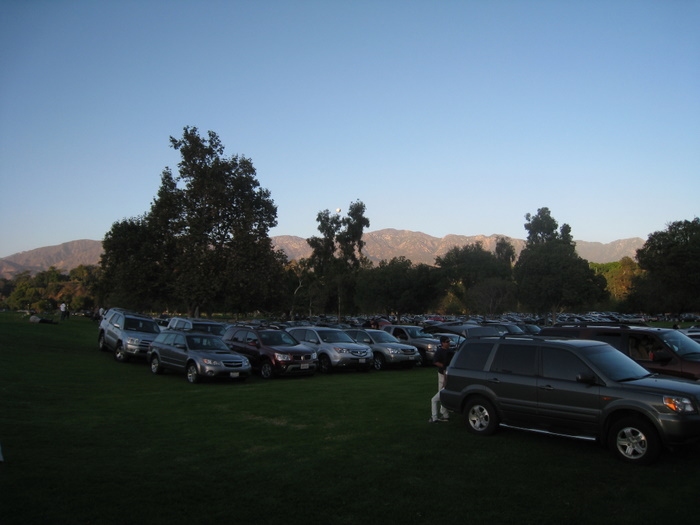 So does homemade Sangria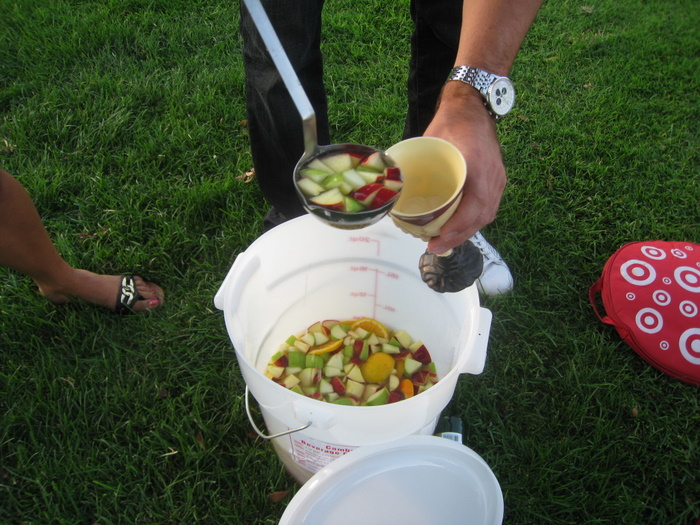 The world famous Rose Bowl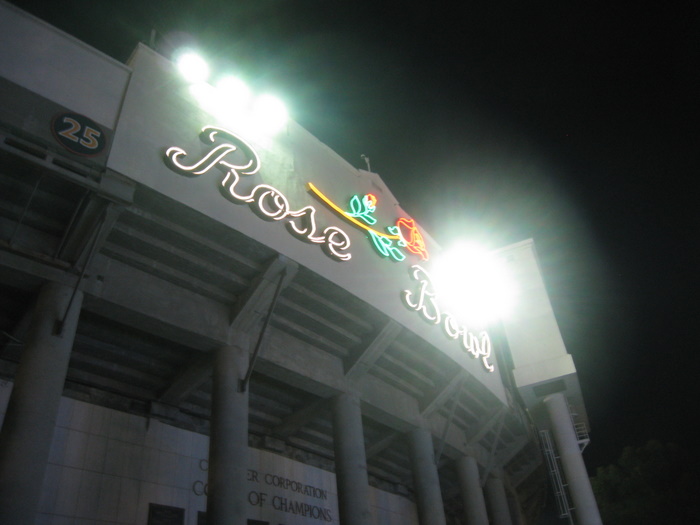 I heard it took about an hour to actually get into the stadium from the entrance. I guess I was one of the lucky ones looking inside out.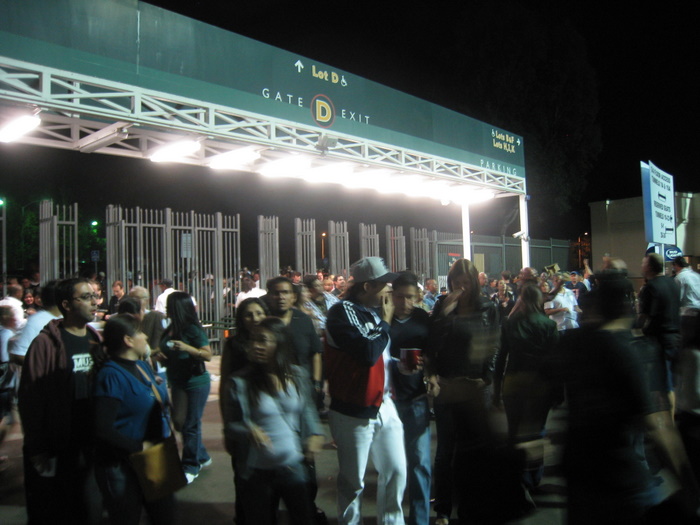 Have you seen those Blackberry commercials? I suppose Blackberry does love U2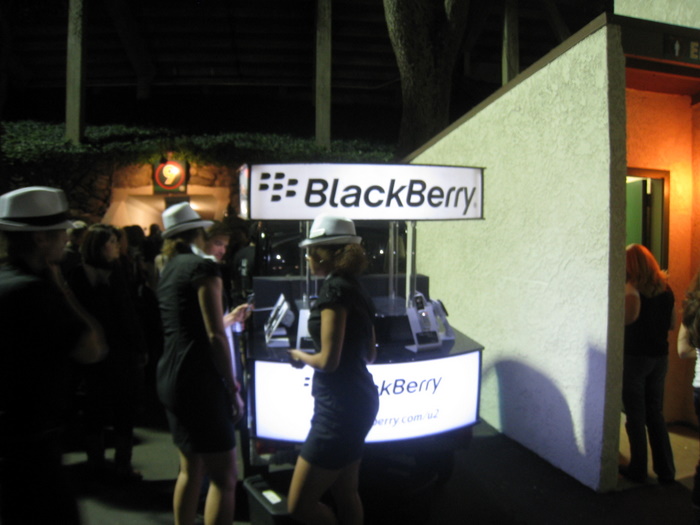 Besides my iphone, I love the Tour.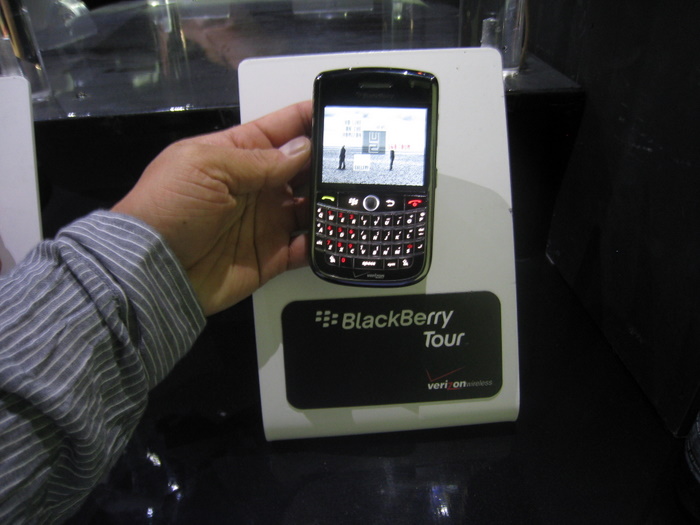 The 360 stage looking forward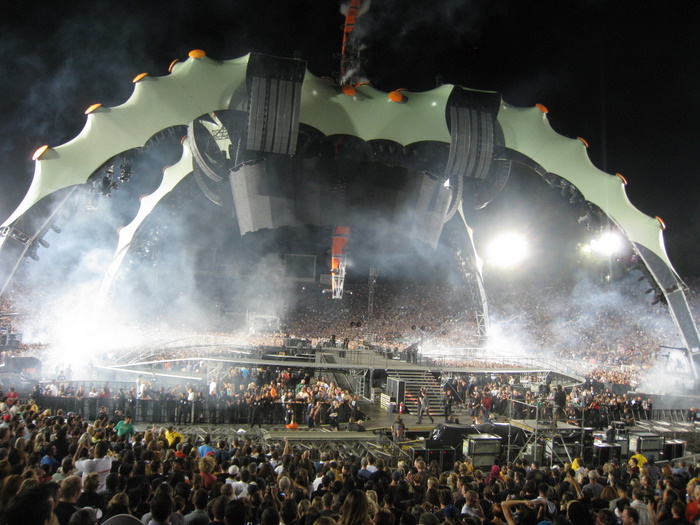 The crowds looking back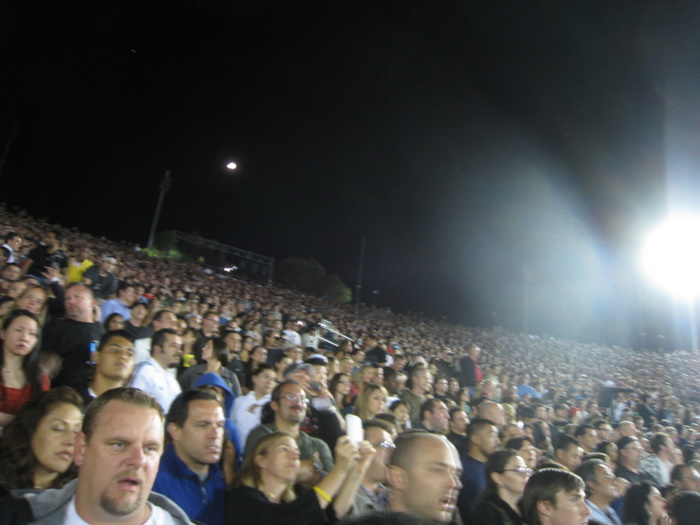 What did you say Bono? Oh, ok - thanks for the good times. See you in Africa next week.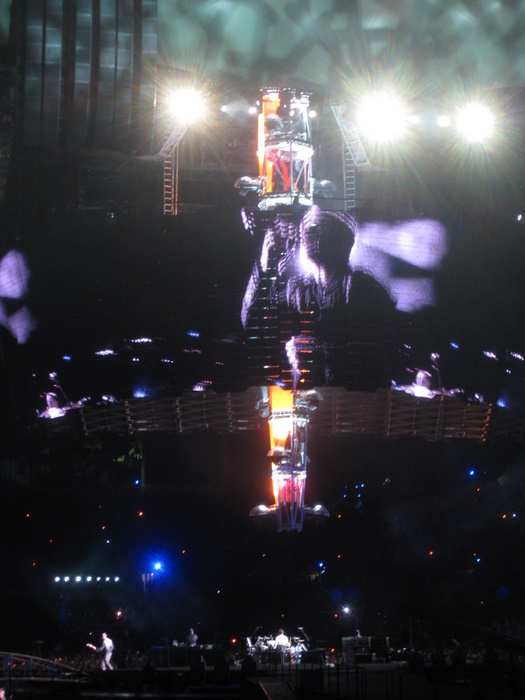 Hello Mr. Frank
November 4, 2009
I cruised down the way to have lunch with John and Ann (Paul Frank). If you don't know, they changed their biz model to a licensing structure (from 100 employees to about a dozen), which had some people talking for a while. In the long run, it's probably best for them. Nonetheless, I haven't been to their new offices until now.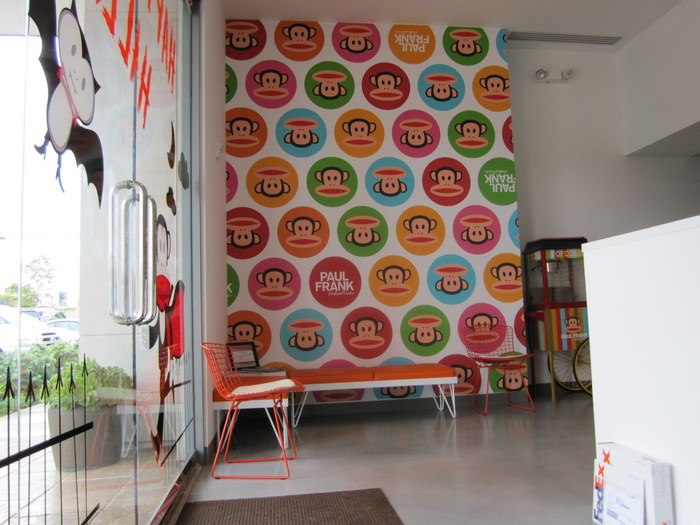 Open format with lots of playful things.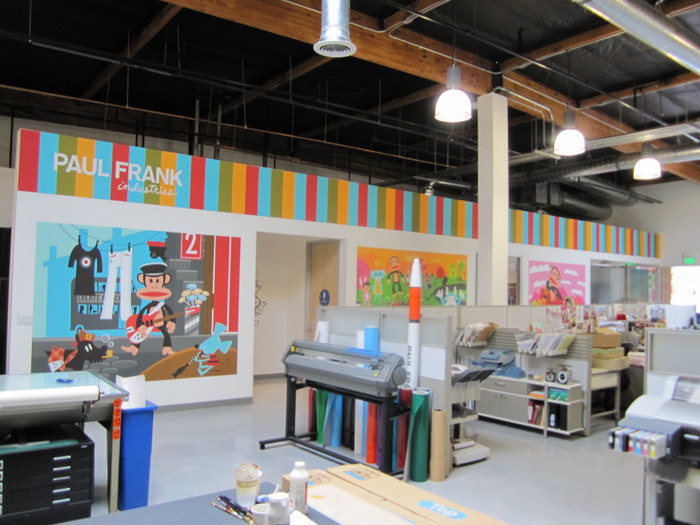 I have that issue!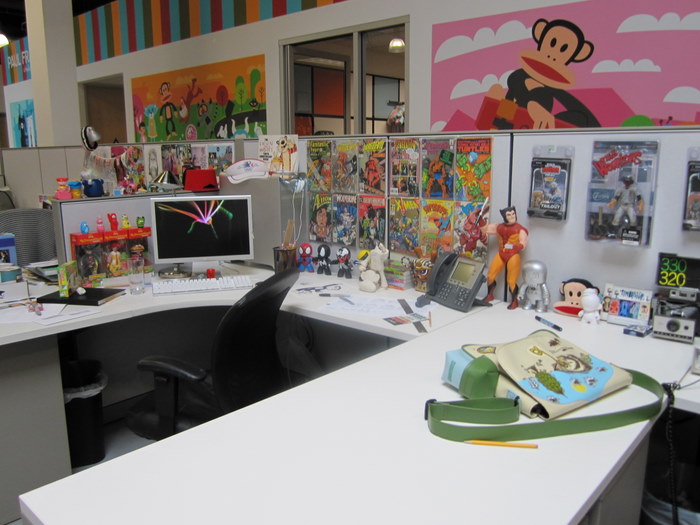 Sorry to barge in on your design board meetings-as you were, peace.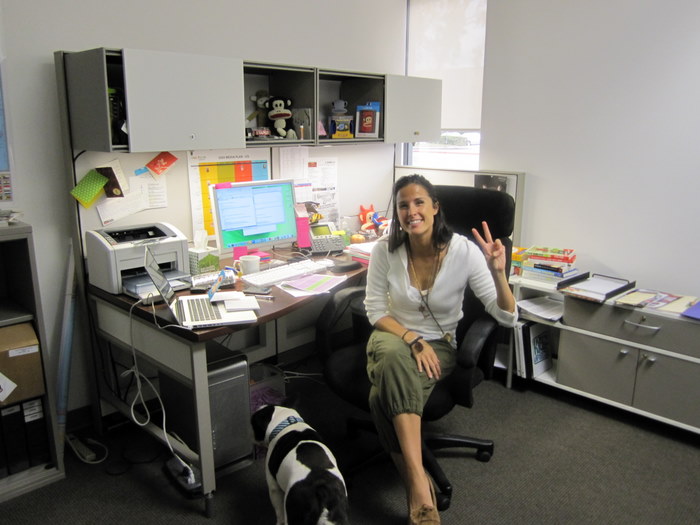 Nirve was one of their first collabs. To this day, it's still one of the top producing products.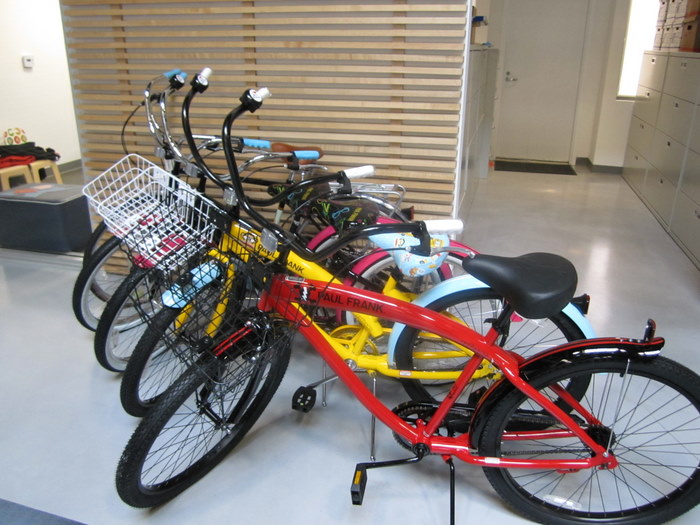 PF's a little different from my style, but its safe to say they got the toddlers and youth market locked down.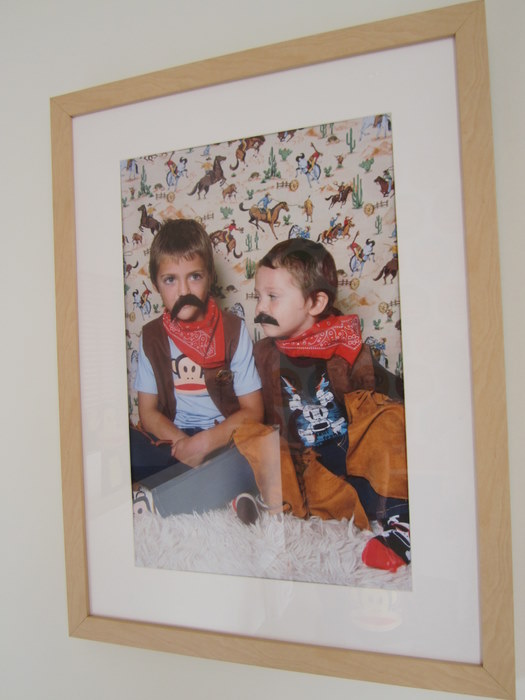 Speaking of locking things down. I think these two have an issue with Julius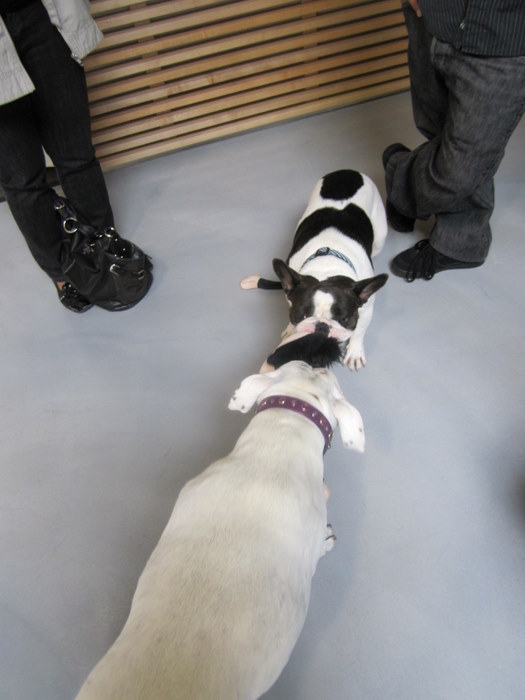 Julius lost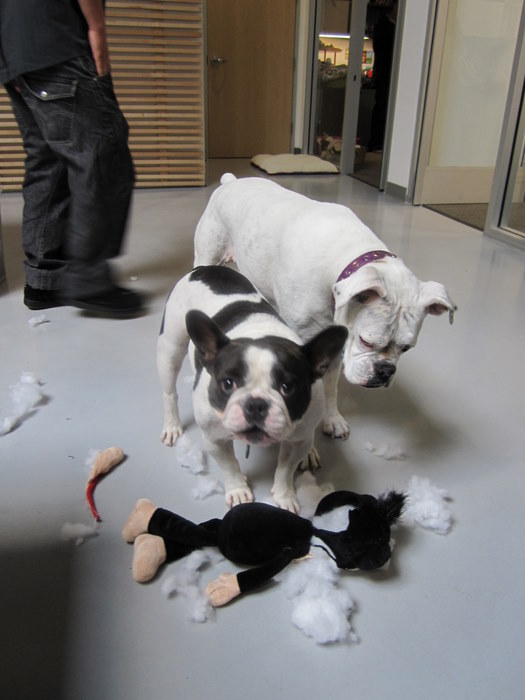 A fight, a fight, with a…
November 3, 2009
I'm pretty particular with what I like in product design (simple and clean) However, when it comes to being entertained, I'm all over the place. If it involves a friend of mine, it really doesn't matter what or where, as long as I'm there to show support. Case in point this past weekend, my buddy, Andy (MTV Nitro Circus, Ogio) was doing this charity fight with Jason Ellis (ex-pro skater, radio host, all-around talker and MMA fighter) at the Hard Rock in Vegas. I did one of those 12 hours gigs from LA and said what up. Check Andy before the fight.


The place was kind of like a circus of people, literally. I'm not one to judge, but you could pretty much define the heads up in there. I'll give you a hint, on one side of the room (flat brim black hats, big black skate shoes, tube socks, tats, etc). The others, just a bunch of crazy fans there to have a good ole time.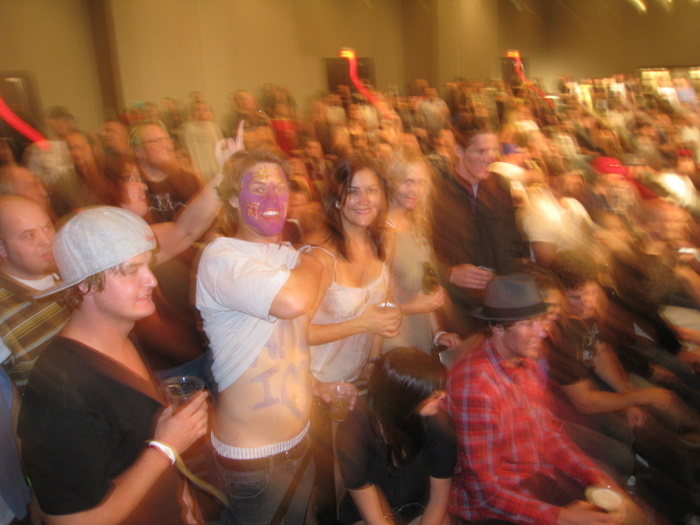 How are things masked man? I mean Renee Renee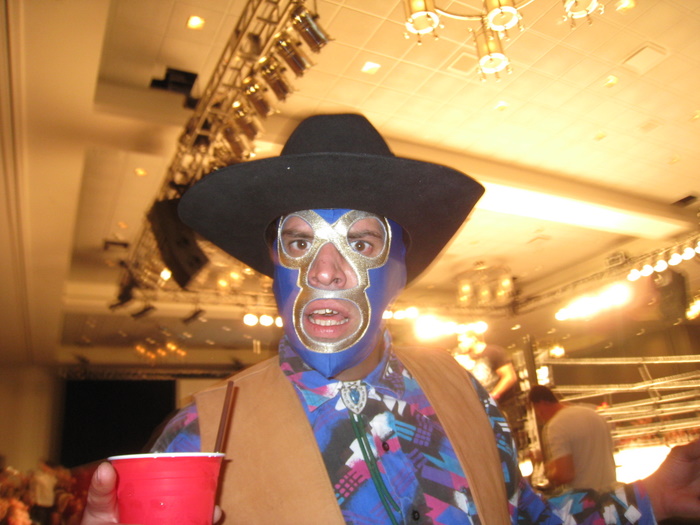 More craziness - Shubin and Cody doing things I have no idea on.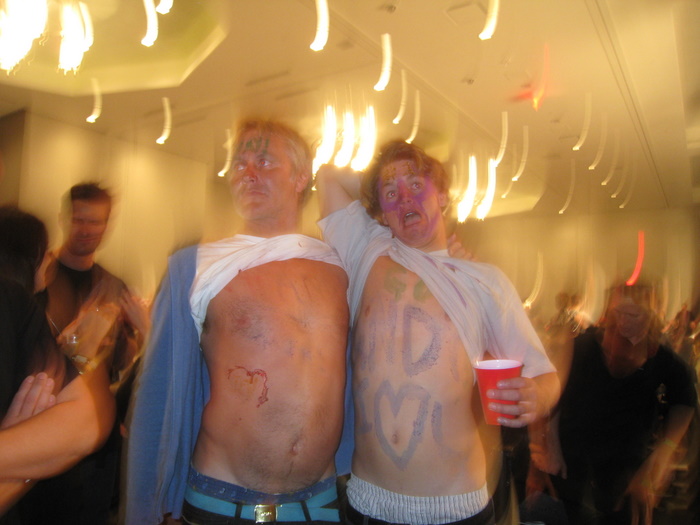 Malcom (Ethika / FMF) and his lady were also there to give support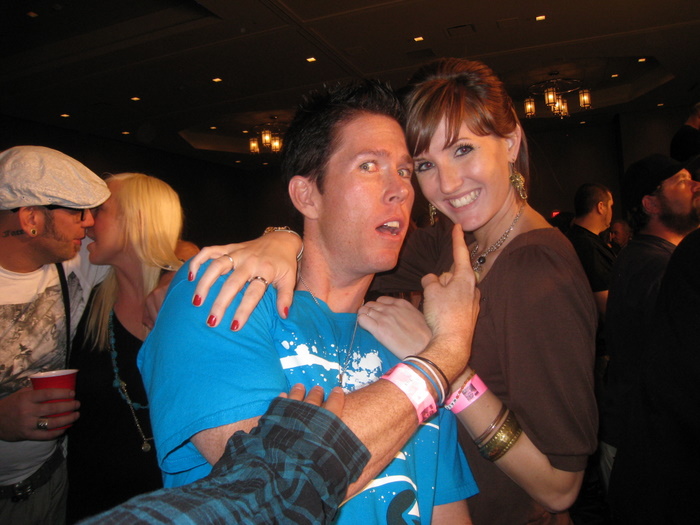 After seven other fights that involved some weird things such as blind boxing, girl-on-girl, girl-on-boy action, the main event is about to start. In this corner, the one and only Mr. Bell!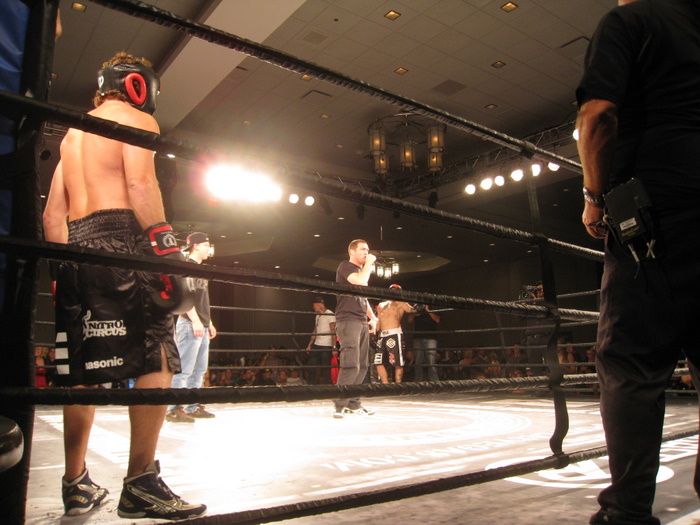 Ding, ding - let's do this.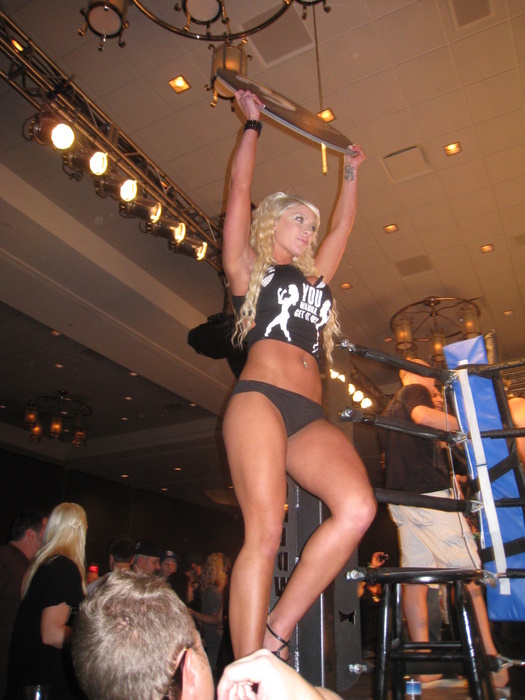 As my man Ice Cube would say - Right, left, right, left, you're toothless! Now they say goddamn they ruthless.
Three rounds later and two hella tired fighters, the judges give it to Ellis (hmm, I guess it helps when Ellis actually puts on the event himself) Damn, you look tired, what a workout son.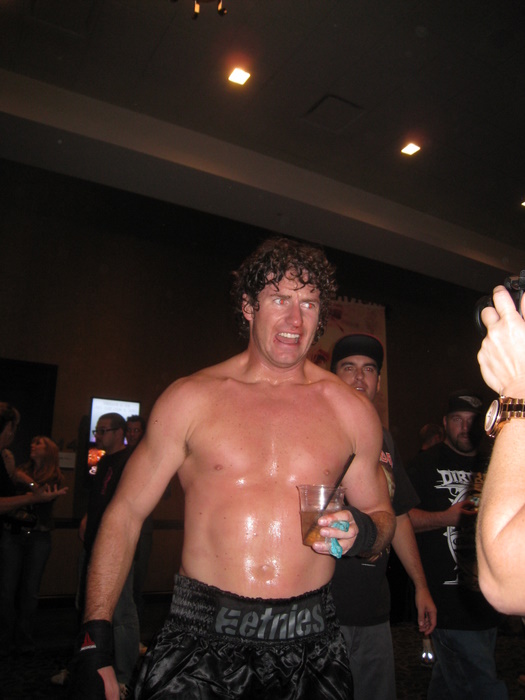 Either way, we're proud of Bell to take one for the team. (Note, Andy has a broken hand, torn PCL before the fight and still made shit happen) Congrats man.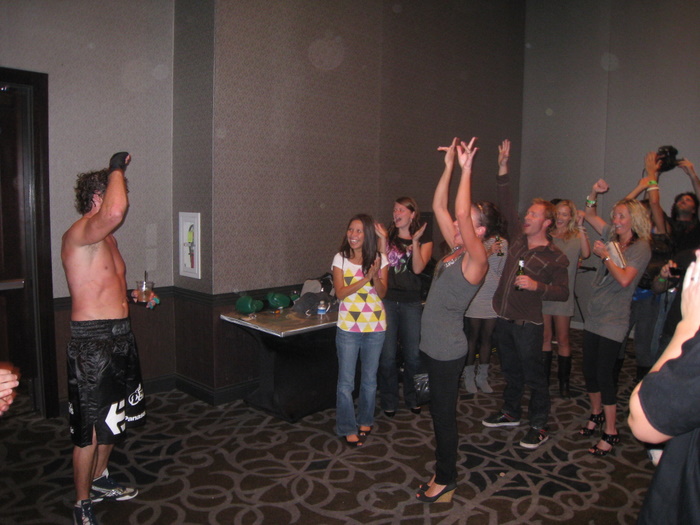 Winter 09/10 Collection - Men's ACC line
November 2, 2009
The 686 Men's ACC (Artist Collaboration Conspiracy) line is dropping at a stockist near you. Technical specs include our trademarked INFIDRY™ 10,000mm/8,000gm2 waterproof and breathable ratings with taped seams and all the other bells and whistles you've come to expect from 686. The line's a little more geared to the colorful park heads vs. Plexus (lightweight-minimalistic-premium shell tech) and Smarty (high end-convertible liners).


The ACC Granite Jacket in colorblock Green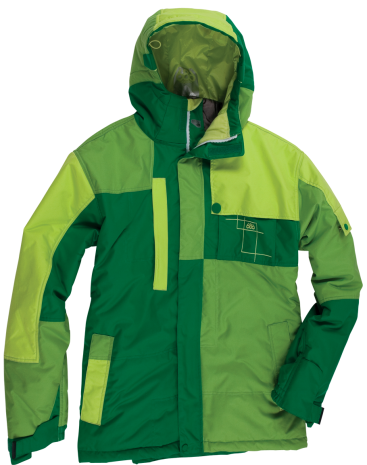 For the past 9 years, we've collaborated with world reknowned artists such as James Dalek Marshall, Shepard Fairey, Jim Houser, KozynDan, Wes Humpston, and Andy Jenkins in our ACC collection. This season I brought it back one last time and invited two design firms - Graphite and the Machine. Here's Graphite's "Endangered Species" theme in the interior lining of the Granite Jacket.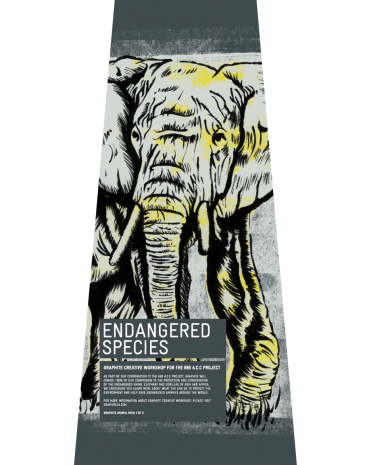 My personal favorite-The Syndicate Jacket in a grey tweed herringbone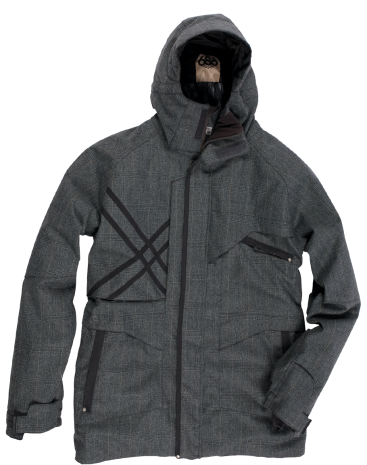 Rapture Jacket in Black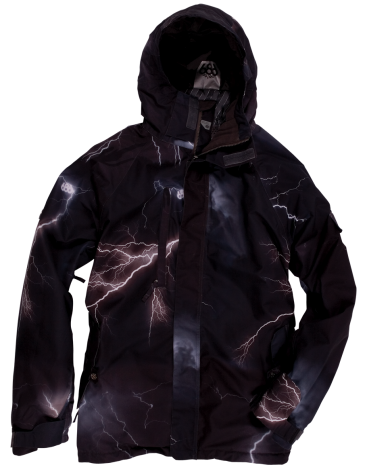 Pixel Jacket in Cyan

The Machine's "Kiltron" story inside the Pixel Jacket.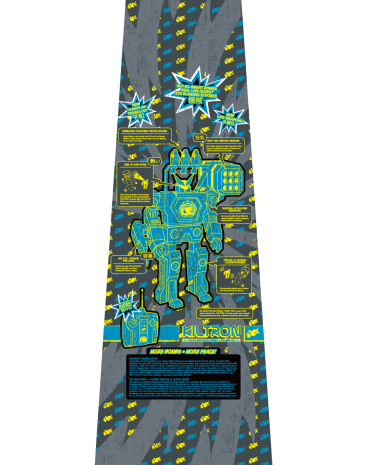 Spiro Jacket in Storm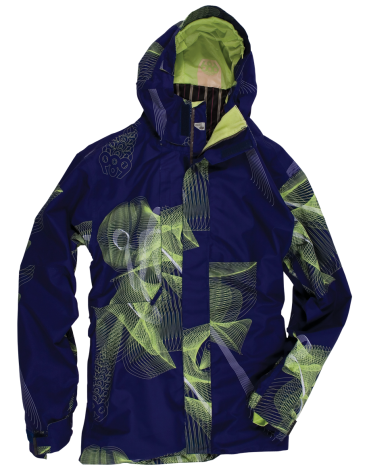 How about some bottoms to get your kit on? The Syndicate Pant in Black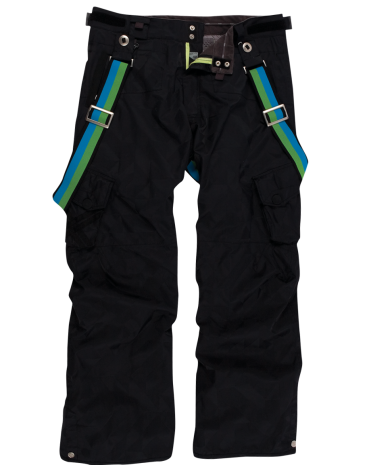 Mash-Up Archives:

October '09
September '09
August '09
July '09
June '09
May '09
April '09
March '09
January/February '09
---