Back to News
WAKE: Liquid Force International Signs Rocco van Straten
January 6, 2010
Liquid Force International signs Dutch EU Junior Men's Champion Rocco van Straten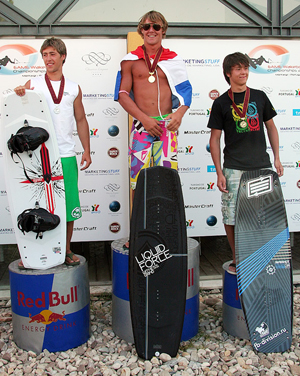 Liquid Force, the world's leading kite and wakeboard manufacturer, announced today that they have added Dutch wakeboarder Rocco van Straten to their international team roster.
"After balancing out what my head and my heart we're saying, LF is my kind of family!" said Rocco. "When I am happy, my riding is at its best."
The 18 year-old wakeboarder/snowboarder is known for his unique style, with a talent for anything that involves technical spins to severe shred on a snowboard. His happy-go-lucky outlook, combined with skills on both states of water, be it liquid or frozen, give him a unique inspirational source for continued success in both wake and snow sports.
Rocco has what it takes, be it behind a boat or at the cable park. He has proven himself year after year, not only with a creative style that makes everything seem effortless, but with an amazing dedication backed by his family; he'll show the European wake world what can come of this.
He claimed two back to back 1st place finishes this past year. In an unprecedented throw down, he knocked the giants from their thrones at the European Championships for both cable AND boat in 2009, something no other rider has managed to date.
Rocco has been with Liquid Force wake since he started riding. After his first contest in 2006, it was already apparent that this kid was going to be a heavy hitter in the European wake scene. Little did we all know that he would grow into one of the rising stars on the European roster!
Rocco is also sponsored by O'Neill, Flow Snowboards, and Dakine.
---