Back to News
Chad Foreman - General Manager at Black Box Distribution
January 15, 2010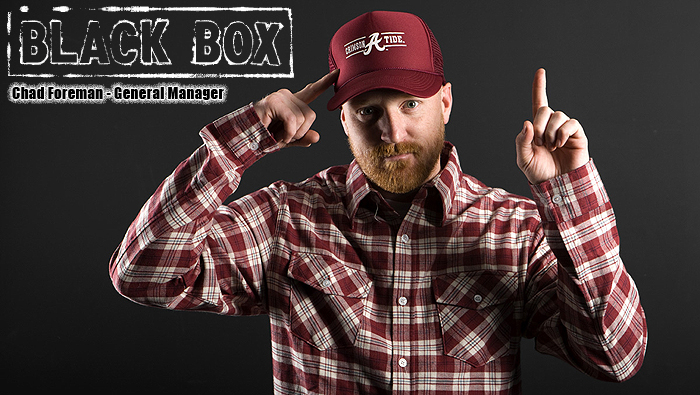 Life has a funny way of laying the groundwork for where you'll end up down the line. Take Black Box General Manager Chad Foreman for example. Rocking a neon green Metallica hat he won from the fair, 14-year-old Foreman strolled into his local skate shop in Alabama to buy his first deck, a Zorlac Mega Metallica. As he was looking for the deck to match the hat, he met Jamie Thomas (who worked at the shop) and they've been friends ever since.
Fast forward to 1999, Jamie approached Chad while visiting Birmingham, Ala., and told him of his idea to start a skate distribution and that he wanted him to move to California and help out. A decade later, Black Box Distribution is running strong with the Zero, Mystery, Fallen, Slave and Insight brands under its belt. Read on for more on Chad's story and how his love for the industry and skateboarding led him to where he's at today.
At 24 you moved from Dothan, Ala., to San Diego, Calif., to help your close friend Jamie Thomas start Black Box Distribution. How did this all transpire? Who approached whom?
Jamie approached me in the winter of 1999 while visiting Alabama. I was living in Birmingham at the time, working at a hospital and riding for Faith Skate Supply. He told me he had an idea to start a distribution company, and he needed some help to get everything together and wanted me to move to California and help out. At first I wasn't sure about the whole idea. I had been to California several times and liked it, but my entire family and all of my friends – except Jamie – were really close to me in Alabama. I thought about it for about a month, and in May of 2000 I sold everything I owned, hopped in my car and drove to California for good.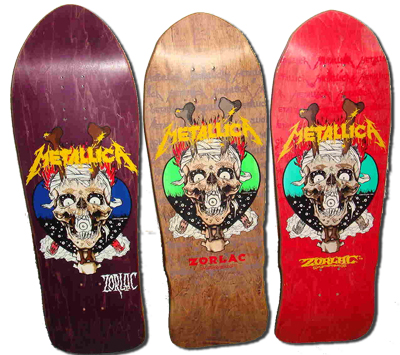 How far do you guys go back? How did you and Jamie first meet?
We go back real far. I met Jamie when I was 14 years old, so a little over 20 years. I had pretty much just started skating and Jamie worked at the only shop in town. I went in to buy my first board (Zorlac Mega Metallica), and I of course had on a neon green Metallica hat that I won at the fair, haha. I was the no-clue redneck kid for sure. We've been friends ever since.
When did the idea for Black Box get put on the table, and how long did it take to put into action?
The original idea was brought up to me that winter of 1999. By November of 2000 we had our first building and was up and running in Vista (California).
How has your role evolved since the beginning stages of the company?
In the beginning, neither of us had any idea what my role would be. We had open talks about everything and decided that I'd just dive in and work my hardest and see where it led. At the very start, I tried to do everything I possibly could to help in every department. I shot all of the photos for the catalogs, managed the warehouse and the team, put desks together, built walls for new offices, drove the van on tour, cleaned the building at night after hours, anything I could really. As things progressed, so did my duties and responsibilities, and since we had no GM, I organically landed in the position.
How are things similar or different with Black Box from when you started and now?
The main things that have changed are the number of employees, day-to-day problem solving and responsibilities. Other than that it feels the same as far as the company vibe.
What experience(s) prior to Black Box laid the groundwork to help you succeed in your current position?
I'd say the most relevant experiences would be the management roles I had at a restaurant and the hospital job that carried over the most, those mixed with my involvement in the skateboarding community in the south. I rode for a few small companies and managed one of the teams for a few years, so that helped a bit. My most important groundwork would be my Mom and Dad's constant leadership, support and motivation to succeed.
As general manager, what does the majority of your responsibility entail – the big picture?
It entails pretty much everything at this point. I'm involved in the "bigger picture" decisions for sure, but the majority of my day-to-day work comes from day-to-day issues and problems. These days, I try to work with every manager in order to make sure every department is safe and sound. I still try to wear as many hats as possible, but delegate to the other managers in order to free up my time for future growth. I also do the majority of hiring and firing, so that's always fun.
How do you see your role evolving at Black Box? What tricks do you have up your sleeve?
My goals for this year and next would be to move into a VP of Operations role, while keeping as much of my GM duties as possible. The only trick I even know is to work as hard as I possibly can to achieve this.
What do you like most about your job?
There's so much to like and be thankful for that it'd be a long list. One of the main ones is being able to work in an industry that you love with people that you love. I wouldn't trade that for the world.

After tearing three ligaments in your knee and three ankle surgeries later, you're still skating! Is there anything that will keep you off the board?
Well, all of the above keeps me off my board quite a bit. I still skate when I can and love it more than anything, but these days, by the time I get warmed up, I'm getting pulled into a different direction. I do plan on skating as much as possible in 2010, so we'll see.
Word has it you're a talented photographer. Is this more of a freelance gig, or is photography more a hobby?
It's always been just a freelance gig, but after I injured my knee I found myself taking more and more photos. Since then, photography has taken over the majority of my creative side and I shoot a ton. I've been lucky enough to have some shows in galleries across the U.S. that turned out pretty good. I'd like to do more of that in the future as time permits for sure. It's definitely more than a hobby though.
Riders under the Black Box umbrella are stealing contest wins left and right. Besides obvious talent, what can you attribute to the recent contest success, and what contests are next on the plate?
I wouldn't say they stole them, I'd say they worked really hard for them. One of the things that has helped them succeed is our skatepark attached to the building. All of the riders have keys and can come and go as they please. With new contests popping up quite often, who knows what's next, but the main contests are on the schedule for sure. Hopefully this year will be as good as last. It's a huge morale booster when you hear of a rider winning a big contest. It get's the whole building excited.
Will more of the team get involved in mainstream contests like the X-Games, Dew Tour, et cetera?
I'd say yes. If our riders are invited, we'll try and get them there for sure. The contests are getting a lot better too, so this helps riders want to be there.
Tell us a little about this year's Crossroads at ASR. What can we expect from the relocated venue, and what will be similar or different about this year's show?
I'm really excited about our new relationship with ASR. It's going to allow us to hopefully bring the best of both worlds within a few blocks of each other, and on the same days. It also allows us to grow our Crossroads show and have it off of our own property, which is a huge bonus. As far as what will be different, not very much. All of the rules will be the same, prices for space the same, free food, etc. We're just going to be in a more convenient location. The vibe will also stay the same because it's going to be run by skateboarders. Even the security will be skateboarders, and the majority of them are from Black Box so no hassling at all unless it's warranted. We'll also be building a new skate area for the best trick contest down there, so I'm looking forward to that.
How are things going with Insight since the acquisition?
So far so good. A lot of people had some hesitations when the news dropped, myself included, but it's been as seamless as possible. It's exciting to have a new brand outside of our normal to get to learn from and help build. Having women's clothing for a change also makes me more popular with my wife!
What new or up-and-coming projects are in the works for the brands under Black Box?
We do have some tricks up our sleeves for this year, but everyone will have to wait and see. Nothing is concrete enough for me to talk about, but it's exciting for sure.
Fave 5:
1. Keep it mellow on the cruiser board, or keep it real on the shred stick?
Keep it real!
2. Alabama Football: Northview or Dothan High – big rivalry?
Dothan High for sure, and Crimson Tide is a must for college football.
3. More knar: Leap of Faith, or leaping from car to car on a moving freight train?
Since I'm more capable of jumping from train to train, I'll go with that. Even at my highest peak, Leap of Faith was out of reach by a mile.
4. Lifestyle/landscape, or skate/action photography?
I like shooting everything, but I'm drawn to Landscapes and stuff I can shoot alone while camping. I do enjoy shooting skating, but on my own time with no pressure.
5. Home sweet home: California or Alabama?
Alabama for sure, or Northern California. When I visit Alabama I get bored very quickly, but I miss four seasons. I love Northern California a lot, like above San Francisco where it's deserted beaches and forests.
You can check out Chad Foreman's photography here:
www.foremanphotos.com
---