Back to News
dizm S.K.A.T.E. Featuring Greg Lutzka Hits the iTunes App Store
January 19, 2010
dizm S.K.A.T.E. Featuring Greg Lutzka Hits the iTunes App Store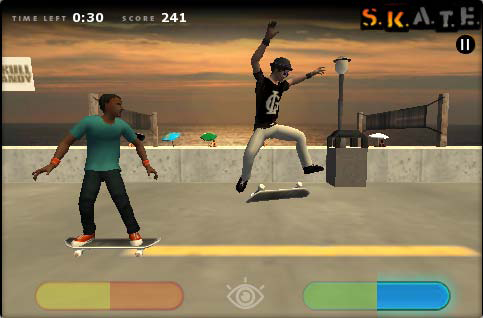 New iPhone App Lets You Challenge Lutzka as You Skate To Music Provided by Skullcandy
dizm Entertainment announced today that their S.K.A.T.E game is now available in Apple's iTunes App Store. S.K.A.T.E. is dizm's debut application for the iPhone, the first to incorporate Greg Lutzka and also features a customizable soundtrack by some of Skullcandy's roster of artists.
The dizm S.K.A.T.E. App lets users compete against a virtual Greg Lutzka in a head-to-head game of S.K.A.T.E as a Skullcandy powered soundtrack runs in the background.
Before pushing off, players have the option of selecting from numerous skaters to act as their character, selecting a skill level to compete at and the location where they'll be challenging Lutzka.
During dizm S.K.A.T.E., players need to watch carefully as Lutzka links together a series of tricks and then repeat them using their own character. S.K.A.T.E. features a variety of tricks, ranging from ollies to more technical moves such as frontside bigspins and nollie heelflips.
"dizm S.K.A.T.E. is a fun app that is technical enough to appeal to skaters, but easy enough so non-skaters can enjoy it too," commented Lutzka. "I was excited when dizm approached me to be a part of their S.K.A.T.E App. These guys have been involved in the skateboarding industry for a while through other projects, so I knew whatever they were going to come up with would be legit."
Through dizm's partnership with Skullcandy, players are able select tracks by Del the Funky Homosapien, Ivy League and Soapbox Paradox to serve as the soundtrack as they battle against Lutzka.

The dizm S.K.A.T.E. App is available for $0.99 from the App Store on iPhone and the iPod touch second generation. The S.K.A.T.E app can be found by searching for dizm SKATE in the App Store or via this URL.
A YouTube trailer featuring Lutzka and a demo of the S.K.A.T.E. App can be found online here.
Footage of Lutzka skating during an event to promote the release of dizm S.K.A.T.E at the Venice Beach Skatepark is located online here.

About dizm Entertainment
dizm Entertainment is committed to providing high quality action sports gaming experiences on the iPhone and iPod touch platforms.
Updates on new titles from dizm can be found online at www.dizmenterprises.com or by following them on Twitter @DizmEnterprises.

---