Back to News
Active Young Professionals Event to Benefit Life Rolls On Foundation
January 19, 2010
Active Young Professionals Event to Benefit Life Rolls On Foundation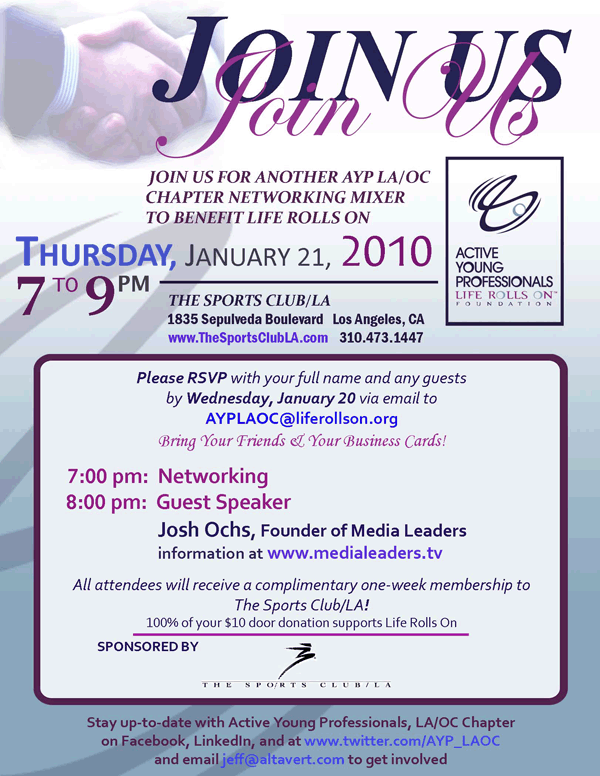 WHAT IS LIFE ROLLS ON FOUNDATION
Founded in 1999, Life Rolls On Foundation is dedicated to improving the quality of life for young people affected by spinal cord injury (SCI) and uses action sports as a platform to inspire others about the infinite possibilities that exist despite paralysis. Through quality of life programs and SCI education and awareness campaigns, LRO proudly impacts the lives of more than 100,000 people each year.
WHAT IS AYP
Active Young Professionals (AYP) is dedicated to supporting the mission of Life Rolls On Foundation which improves the quality of life for young people affected by spinal cord injury. AYP empowers young business leaders with the opportunity to enhance their professional development while serving their community through fundraising, volunteerism and community outreach activities.
WHY AYP IS IMPORTANT
Currently, there are more than 1 million Americans living with spinal cord injury and every 49 minutes, another spinal cord injury occurs in the United States. As more than half of these injuries occur between the ages of 16 and 30, and the average age of injury is 39.5-years-old, educating young professionals is of critical importance to not only prevent future injuries, but also to serve as a resource and support for those with SCI.
BENEFITS FOR MEMBERS
Beyond the inherit values of doing good for others and learning the skills of being a community leader, all active chapter members benefit from the opportunity to network with other active professionals in many varying industries as well as participate in workshops for professional and personal growth. As well, those applying for graduate school will receive community service hours and letters of recommendation from Life Rolls On Foundation.
WHO ARE AYP'S
AYP's are a mix of today's and tomorrow's industry leaders that come from some of the top industries including Sports & Entertainment, Law, Public Relations, Fashion, etc. that are based within the Los Angeles and Orange County communities. AYP's are Men/Women who typically range between the ages of early 20's to late 30's. AYP's are educated, hip, tech-savvy, athletic, fashion-savvy, and very influential.

---