Back to News
Drop MFG To Launch Goggle Line at SIA Snow Show
January 20, 2010
Drop MFG To Launch Goggle Line at SIA Snow Show
Founded in 1998, DROP MFG® was the first company to focus 100% of its attention on designing gloves specifically for snowboarding. Setting new standards in functional style each season, over the years DROP has firmly established itself as one of the snowboard industry's leading manufacturers of gloves and accessories for men, women and kids.

Today, building on its legacy of cutting-edge innovation and quality craftsmanship, DROP is proud to announce the launch of its highly-anticipated goggle line for the 2010/2011 season. DROP's new goggle line will make its official debut at next week's SIA Tradeshow in Denver (booth #2411).

Keeping trends, style, function and price in mind, DROP's introductory line features six high-performance goggles offered in a variety of prints and colorways. Models include the ESPI, Laax and Helio for men, SPR MDL and Rocker for women, and Ripper for kids. Additionally, two special-edition "DROP Pure Inspiration" (DPI) series goggles will be offered from artists Andy Jenkins and Bigfoot.

Influenced by action sports, art, music and contemporary street culture, DROP's new goggle line not only looks amazing, but also performs second-to-none. Exclusive technologies include Supreme Fit fleece-covered memory face foam for a custom fit; Supreme Air Valance lower forward air vents to prevent moisture build-up; Supreme Air Flow for fog-free riding; Supreme Spherical optically correct and distortion free lenses; and hinged outriggers for helmet compatibility. Plus, goggle straps feature sublimated graphics that are crisp and vibrant.

"Whether you're negotiating burly AK lines, the greens in Vermont, or you just want to look good, our new goggle line has you covered," says DROP's Dan Stanilonis. "Our goggles are an excellent complement to our gloves, and we couldn't be more amped on how they turned out!"

Slated to hit retailers August 2010, DROP goggles range in price from (USD) $35 to $130, depending on model. Additionally, DROP's goggle program is backed by acclaimed snowboarders TJ Schneider and Forest Bailey, with more team rider additions anticipated.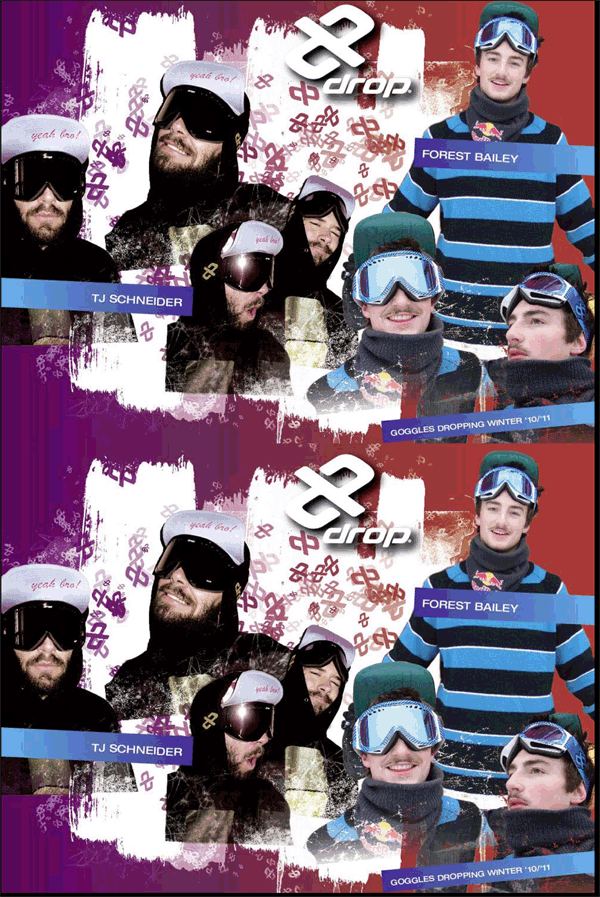 ---