BACK TO NEWS
EVENT: IPATH and Nibwaakaawin Bring the "A Path to Wisdom" Art Show to ASR
IPATH and Nibwaakaawin Bring the "A Path to Wisdom" Art Show to ASR
At February's ASR show, IPATH and the Nibwaakaawin Native-American non-profit foundation will be hosting "A Path to Wisdom," an art auction and party held to benefit All Nations Skate Jam. Taking place on Wednesday February 3 in room MR 23A from 4 pm to –6 pm, "A Path to Wisdom" will feature skateboard art by some of Indian Country's best artists and skaters, as well as skate legends and pros from around the world.
Nibwaakaawin, which is the Ojibway tribe's word for wisdom, is a 501(c)(3) skate-centered Native-American non-profit foundation dedicated to empowering Native youths' creativity, pride, cultural identity and healthy physical activity through skateboarding. Proceeds from the event will go to support the All Nations Skate Jam, the world's largest inter-tribal skate competition for Native youth, held each year in Albuquerque, NM.
The All Nations Skate Jam is an offshoot of the All Nations Skate Project, a unique skateboard-centered outreach program that aims to provide safe and healthy recreational activities and lifestyle choices to at Native youth who are at high risk for a variety of negative health and societal elements, ranging from childhood obesity to drug abuse, and suicide. The All Nations Skate Project aims to direct the popularity of skateboarding among Native youth towards essential life-long skills and positive physical and mental heath benefits.
Artists who will be providing deck art for the auction include:
• Bill Danforth
• Bret Banta
• Chris Pappan
• Craig Metzger
• Craig Stecyk
• Don Pendleton
• Dustinn Craig
• Fred Hosman
• Jeff Ho
• Jeff Wood
• Jim Murphy
• Jimbo Phillips
• Larry Bertlemann
• Leah Peters
• Louie Gong
• MoFo
• Natas Kaupas
• Steve Caballero
• Steve Olson
• Todd Harder
• Walt Pourier
• John Pearson
• Chris Mearkle
• Tim Klemonsky
• Wes Humpston
"A Path to Wisdom" wouldn't be possible without the support from other All Nations Skate Project sponsors, including Wounded Knee, Nakota Designs, Chapman Skateboards and Native Skates.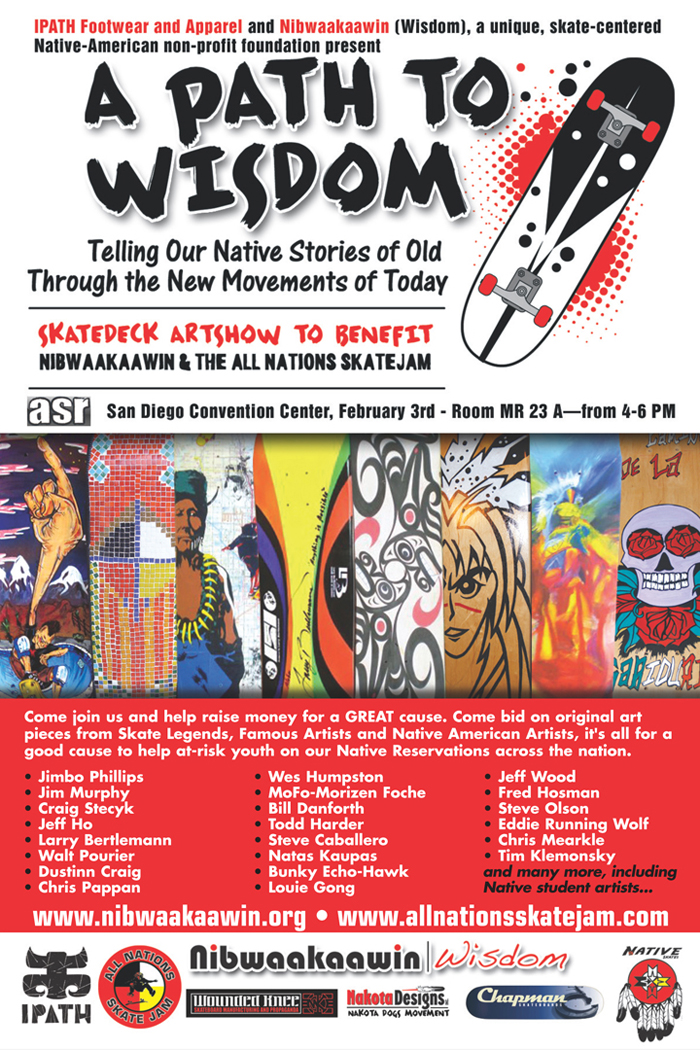 ---