BACK TO NEWS
Industrial Profile
2/15/2010
Jenny Wigham – Technical Designer at Marker LTD
Jenny Wigham – Technical Designer at Marker LTD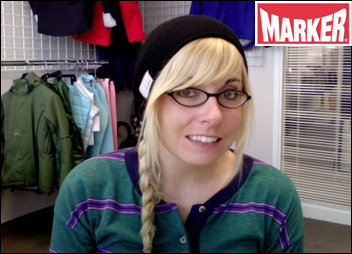 When out boarding on the mountain, one cannot help but take for granted the outerwear that keeps the winter elements off their back. There's a lot more that goes into one piece of outerwear than you think. What starts out as an idea, graduates into market research, trend and color analysis, countless sketches, fit sessions, product tests and reviews, and about 20 to 30 pages of fine detailed outlines for each garment which tell the factory how to make it right.
Jenny Wigham, the technical designer at Marker LTD, has always been fascinated with style and design. This combined with the fact that she started skiing when she was 3 years old and dropped the skies for snowboarding when she was 12, makes for a win-win situation with her peers at Marker. Read on to learn how Jenny's ship set sail and to find out what it takes to make it as a technical designer in the industry.
What got you into snowboarding out in Utah?
My mom always teases that the reason she had kids was for someone to ski with. She had me on a pair of skis by the time I was 3 years old. By age 12, the snowboard scene was getting mainstream and my older brother started riding. Since I had to do everything he was doing, I strapped into a snowboard and haven't been on skis since. I can't imagine living in Utah and not taking advantage of the amazing snow!
What sparked your interest in product development and design?
I have always been fascinated with style. Utah didn't offer a whole lot of diversity among my peers growing up; everyone pretty much dressed like everyone else. I wanted to look different, and enjoyed using my creativity to express myself through my style. When I realized I wasn't really into the big college campus scene, a friend suggested I look into FIDM. Originally I was going to major in Fashion Design, but my career counselor pointed me toward Product Development. The thing that interested me the most was the variety of classes and potential career paths I could take.
Did working at Zumiez in Salt Lake City play any role in your career path?
Oh man, that was a fun job! I got to hang out with awesome people, talk skateboarding/snowboarding all day, scope out all the new apparel and get stoked for my next session. Working in retail did help me realize that I wanted to MAKE clothes, not SELL them. I also came to the conclusion that I wanted a job that would be cool with me taking the occasional powder day off.
Before headin' out west to join FIDM's product development program in Los Angeles, did you have a clear goal of what you wanted to be after graduation – career wise?
I was convinced that I was going to be a California girl. I knew I wanted to work in the board sport industry, so I figured after graduation I would get a job at one of the many companies based in Orange County. Turns out I like living in the mountains and just vacationing to the beach. Lucky for me, many companies are based in my hometown as well, but it was harder than I expected to break into the industry. It took a few years and many attempts to get in.
How did you land the technical designer position at Marker?
Funny you should ask! I had come to a breaking point with my lack of a career. I had been graduated for almost 2 years and was having a hard time getting my foot in the door with any company. I pulled every string I could find to try to land a job, but to no avail. I had learned about this nifty little site called Malakye.com at school, and had signed up for weekly emails and job postings. One fine night, I found a job posting from Marker that pretty much read like my resume. I applied, had a phone interview the next day, a face-to face interview 3 days later, and was offered the position the next day. It was almost too good to be true.
As a technical designer, what puts the "technical" aspect into the design?
The most "technical" part of my job is creating technical packets. It is a step-by-step, extremely detailed instruction manual for our factories on how we want the garment built. I basically take the concept of each style and break it down, piece by piece. It includes the fabrics, colors, trims, zippers and construction detail. I have to list EVERYTHING that goes into the construction of each garment.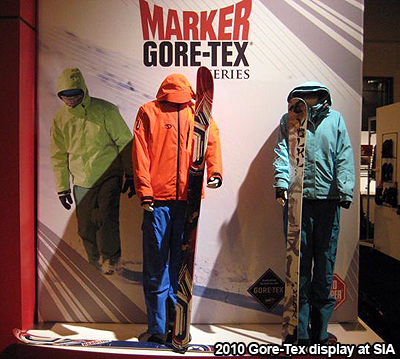 What are the fundamental stages, or steps, necessary to take a project from ideation to completion?
It all starts with an idea. We do market/trend/color research and have team meetings to develop the sketches, fabrics, colors and trims. We send all our info out to our factories and they make a prototype. Through fit sessions, product tests and reviews, we make modifications and improvements until we get it right. It usually takes 2-3 samples before it's golden.
What's the most labor intensive stage of a project, or simply the hardest part/aspect of a project?
Definitely the technical packets. By the end of it, each style has 20-30 pages per packet. Plus, they have to be SUPER detailed. I have daily communication with my factories to ensure they understand everything. If I don't tell them EXACTLY what we want, they usually take the liberty of doing what is easiest for them. I am consistently updating and improving the tech packs until we give the OK for bulk production.
Marker has a somewhat conservative approach toward design. Do you ever get the itch to just throw ideas out of left field and do something different? Or, have you already?!
HAHA! I have had a few ideas dismissed because they wouldn't fly in the ski market. But I think Marker likes that I bring something different to the table. What is cool about coming on to the Marker team when I did is that they are in a transitional period. They have recognized that the ski market is evolving and they don't want to be left behind. I was brought on (despite being a snowboarder) to bring some youth back into the company and a different perspective on style. Our 2010 collection doesn't look like anything Marker has ever done and I am proud of that. We have had great responses from our sales reps and retailers, I'm excited for the line to hit the stores and see what the masses think.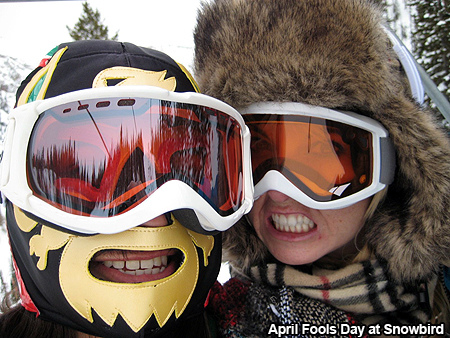 What's an average day on the job like?
One cool thing about my job is I usually do something different every day. Typically, I spend the first bit of the morning answering e-mails from vendors, suppliers and factories. Then I'll work on whatever project I have for that day. I work a lot in Excel, Illustrator and Photoshop programs. We have team meetings, fit sessions and product reviews. I do a lot of work online as well for our catalogues, workbooks and website.
Besides cranking out 250 styles each season with your team, what's your favorite part of the job?
I like the out of office perks: ski days, company parties, fancy dinners with clients and trade shows to name a few. I just got back from SIA in Denver, which was a blast! I get to go to Asia this summer on the company dime. Not too bad for a 9-5er.
What's the most important piece of advice you can give to someone looking to get into technical design?
Become very familiar with Illustrator, Excel and Photoshop. School was expensive and time consuming, but I wouldn't be where I am today without the skills I have learned. And learning Chinese wouldn't hurt either!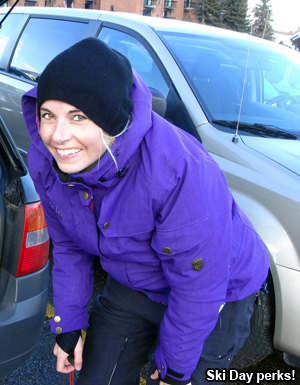 FAVE 5:
1. Park City or Snowbird?
Depends on the day. Powder day = Snowbird. No Fresh Snow = Trying not to kill myself in the park at Park City. But I prefer Brighton for the best of both worlds!
2. Powder turns or Jib Bashing?
Powder! Preferably in the trees.
3. Sunsets: California or Utah?
I can't discriminate. I love 'em ALL! But Salt Lake City does have the mountain and the water sunsets, with the Great Salt Lake to the west.
4. Design: Keep it classy or wild and sassy?
The snowboarder in me says wild and sassy! I get a lot of inspiration from the Japanese snowboarding scene. They do so much funky stuff; it just looks fun. But working for Marker, I do need to throw a little bit of class in there for the older generation.
5. Apparel or Outerwear design?
I love it all! I am always looking at what other people are wearing or what is in the stores. I catch myself dissecting pieces and figuring out how I would change or improve it. I would like the opportunity one day to design lifestyle apparel. I feel like you can get away with more fashion accents over function in apparel.
---