Back to News
B$Z: Former Rayskin Craftsman Ric Allison Launches 'Maker Boards'
March 23, 2010
Former Rayskin Craftsman Ric Allison Launches 'Maker Boards'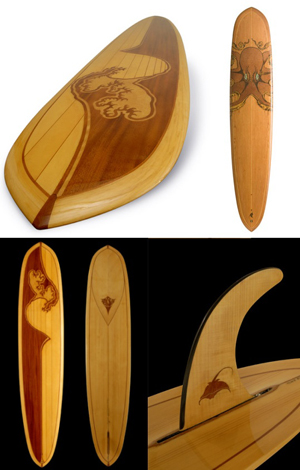 Legendary craftsman, Ric Allison recently parted ways with Rayskin to launch his own company, Maker Boards. Specializing in hollow-core wooden boards, Maker has slated to develop a new line of high performance surfboards, skateboards, snowboards, as well as guitars.
According to Allison, who co-owned Rayskin with Charles Barrett and Steve Olitsky, the decision to branch off on his own came at a heavy price. "I gave four years and invested $250,000 into Rayskin," says Allison. "Our team butted heads on everything from design to distribution, and we couldn't seem to agree on anything. I wanted to start again, but this time with a stronger focus on market testing and collaboration with major players."
The Pennsylvania-based furniture maker first teamed up with Graphic Designer, Charles Barrett in 2006 shortly after Clark Foam closed its doors. Seizing the opportunity to enter the market, the amateur surfers began crafting surfboards from spruce and mahogany. Considered the ultimate in green construction, their works of art were detailed with white birch, fiddleback and maple and cost between $8,000 and $20,000 a pop.
Without a business plan, Rayskin was barely staying afloat with minimal sales. In 2009, they brought in Steve Olitsky who invested an additional $125,000 to acquire one-third of the company. Their goal was to develop enough product to showcase at the Sacred Craft Surf Expo in October 2009.
"I was working 20 hour days," recalls Allison, who built four surfboards and 45 skatedecks for the event. "We made some great contacts at the show and I really thought things were going to turn around, but once a team disagrees on the vision, there really is no future."
Olitsky however, believes the future for Rayskin is promising. "We may merge with a larger (non-disclosed) company," he says.
Aiming to bring new vitality to the industry, Allison had issues about designing boards with skulls and crossbones for youth, and pushed for custom works of art targeting the 40-65 year old audience. In December 2009, he headed to California to discuss potential collaborations with industry leaders like Bob Carlson of Arbor Snowboards, Bing Copeland of Bing Surfboards, and Gene Cooper of Cooperfish. On the flight back from LA, Allison says he received a text message from a neighbor informing him that his studio had been robbed.
The alleged break-in cost Allison $150,000 worth of equipment, a collection of boards, and his computer containing design files. The December first incident has led to an ongoing legal battle which has yet to be resolved.
"No one is talking," says Allison, "and I'm tired of fighting for things that are long gone. The best remedy is to just start over with a new team of in-house artists and designers."
Now working out of his home, Allison is in the process of collaborating with legendary surfers like Mickey Munoz, Terry Martin and John Cherry. Under the Maker name, the craftsman plans to create a 50-board legacy series to showcase with Dick Metz of the Surfing Heritage Foundation. He adds, "My reputation is more important than money. My goal is to get back out there and create the finest hand-made boards the industry has to offer."
For more information, visit www.makerboards.com
---