Back to News
WAKE: Liquid Force Strengthens Partnership with TSR
April 12, 2010
Liquid Force Strengthens Partnership with TSR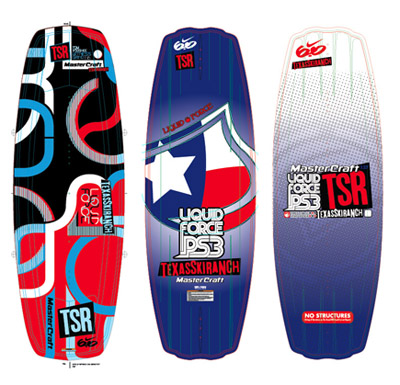 The ribbon cutting ceremony of Liquid Force's custom in-store build out at Texas Ski Ranch is just one example of how these two behemoths have continued to grow together over the years. Liquid Force has been a strategic partner of TSR since the beginning, and the two have only grown closer throughout the past few years.
Liquid Force is the exclusive wakeboard, wakeskate, binding, and helmet of Texas Ski Ranch Cable Park. For 2010, Liquid Force has created three new collaborative Witness Grind wakeboards and two helmet designs, all exclusive to TSR. These custom products will all be featured in the TSR demo room and the white LF/TSR helmets are available at the pro-shop in LF's new build out.
Liquid Force VP of Sales and Marketing Don Wallace stated ""From day one of our partnership with TSR, we've been having a great time together. Whether we're doing a "design a rail" contest, building special TSR exclusive products, or working on new events like our "Free For All", the focus continues to be about finding more ways to have fun. It's hard to find a place in the world that offers more affordable good times on the water than TSR and that's why we're happy to be partnered up with their crew!"
Cable champion and Liquid Force team rider Tom Fooshee calls TSR home, and had this to say about the partnership "TSR and Liquid Force is an ultimate combination! Everything that the two have teamed up on has been done top notch! These guys will continue to bring the most innovative products to the most elite park in the world. They both get bigger and better every year, and I am so stoked to be a part of it!"
Cablestock is coming to TSR May 7-9, featuring many of the world's best riders and a special performance by Mickey Avalon…You don't want to miss this! For more info, head on over to www.texasskiranch.com/cablestock
---