Back to News
Mike Waldert: Operations Manager, Rome Snowboards SDS
April 15, 2010
Mike spent 8 years in retail before joining Rome SDS. At this time, Mike realized it was time for change, so he packed up and left his home in Rochester, New York, and moved to the East Coast snowsports mecca, Vermont, with no job lined up to pursue a career in the industry. What started out as helping out packing boxes one day a week eventually led Mike to getting hired at Rome. He joined a crew of people that were wearing many, and he jumped in head first to take on his share of responsibilities. As Rome grew, Mike gained experience in many facets of the business and is now handling the operations and logistics side of things. Here's Mike to fill in the blanks and share his story.
Did you pick your own destiny or did destiny pick you?
I generally believe people are a product of their environment. I think this can manifest itself in two ways though: There are some influences you aspire "to," and there are some things that you react "away" from.
My parents ran a family business in Rochester, New York. Like a lot of things in Rochester, the business was closely tied to the performance of Kodak, so for most of my life while Kodak's footprint in Rochester was getting smaller, the city was adapting, and this made the business environment challenging. So my parents definitely worked hard running their business (they'd work in the evening, most Saturday mornings, etc.).
At the same time though, we would go to the ski hill as a family on the weekend. In the late eighties I was the average skate kid following the whole Bones Brigade thing. People like Pete Curran started showing up at Hunt Hollow (our local hill) with boards, and it was not even a question in my mind that I needed to be riding.
I really respect some of the decisions my parents made raising me (who knows if I "got it" back then or not). They never bought a skateboard for me; they never bought a snowboard for me. All of that was paid for by busing tables, mowing lawns, etc. They would make sure I had clothes and shoes, but if I wanted that cool Powell shirt, then I would have to figure out a way to get the money. Safe to say, I bought a lot of shirts off the sale rack at Samurai Skates.
So this foundation helped turn me into someone who is willing to do what it takes to get what I want. I know what makes me happy and I know what I need to get by, and I'm going to take the steps to make it a reality.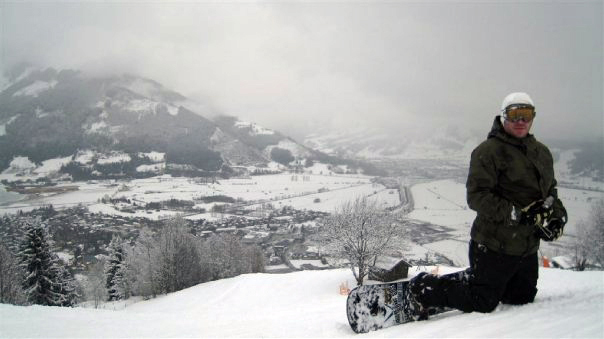 When your sixth year at Snow Country Ski Shop came around, what were you thinking in regard to your future there? Did you have a plan for the future of your working career at the time?
Yeah, so after two years at University of Vermont stuff wasn't coming together the way it should, and I ended up back in Rochester going to school part-time there, and Snow Country was really the main option for snowboard hardgoods at the time. I knew I wanted to be riding and a lot was happening in terms of product evolution at that point, so getting a job in the shop was a means to an end (cheap pass, cheap product, etc.).
I'm biased, but that was a great education being at Snow Country. The people there were huge influences, and I'm afraid to start mentioning names for fear of forgetting someone. There were definitely a ton of smart people there, and they would force you to be better. Some of the things I learned there were inventory management, merchandise plans, accounting, project management, event management, shipping, IT stuff, setting up warehouses, and so on. A bigger store/chain like that definitely has a lot of moving pieces.
It was also a very self-correcting environment. If you had an idea, you had to sell it and build a consensus internally, which would earn you the responsibility to see it through. For example, I'm really proud of some of the web stuff we were doing 10 years ago. Meanwhile, someone else could just be there and sell a board or a pair of skis here or there and punch out at the end of the day and be happy, if that's what one wanted.
That said, I knew I didn't want to retire from Snow Country at 60, and once I had my degree I started looking for the next step. I enjoyed the people I worked with and really enjoyed the culture, so I knew I wanted to stay in some form of this industry. I think it was Peter Leffler who first suggested that my skills didn't really match being a Rep or out on the road, and maybe it would make more sense to be in-house.
So I started putting in for jobs based on my experience, but probably still with a sales/marketing tilt. If there's one lesson from my story, it's that there are other ways to work in this industry besides doing events or being a rep or a team manager. Those are definitely some of the highest profile jobs, but they aren't the only jobs.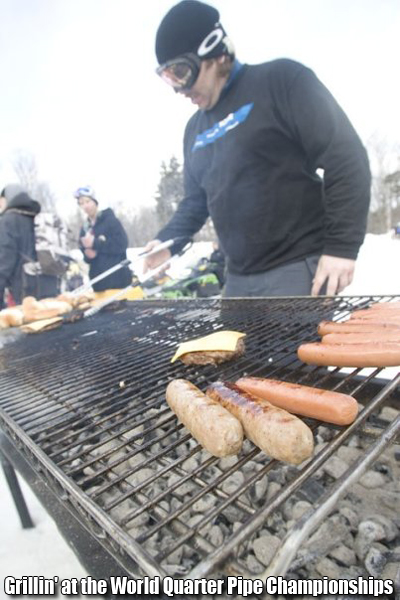 In 2003, you moved to Vermont with no job awaiting your arrival. How did you pull this off? Why the risk?
So with the boom/bust way that our economy is, most of the jobs that I was being considered for pre-September 11th kind of dried up for a period. In 2002, I had to re-think my strategy a little bit. I basically decided that it would be better to stick myself in the middle of the action if I was really committed to staying in the "industry."
I had gone to UVM. A bunch of companies were up here (a lot fewer now). It was a drivable distance from Rochester if something went pear-shaped. It just seemed fairly obvious that I should be back in the general Burlington area.
[One sec, there's a freight train going by my office. Okay, back to it.]
So I lived back with my parents for a bit, saved a couple grand, then tripped on a really cheap apartment just north of Stowe. I made the decision to move in April, as I didn't want to get a seasonal job. It was also the end of the season at Snow Country, so it made a smooth transition out.
You eventually landed a position at a bike shop in Stowe, Vt. What was your plan at this point?
I joke that if I had wanted to be a snowboard bum, that would have been the job: busy in the summer, hours in the winter that allowed me to get to the mountain before work, enough to get by, etc. It was definitely good livin'. I probably still haven't snowboarded as much as I did that year.
With coming out of a bigger shop like Snow Country, I had been fortunate to meet a bunch of people based out of Burlington. This was pre-Facebook or LinkedIn so I just mined my contacts the old fashion way (going to lunch, stop by hellos, go to events, etc.).
Like anybody on the East Coast, I had known Sully from his O-Sin days, and I had ridden with Josh some at that point. After my first visit, I realized Rome could use any set of hands they could get packing boxes. So, I decided to start coming down on Friday afternoons (my day off from the shop) with a twelve pack of Genesee cans and would help them ship product. That earned me a little bit of a nickname around here.
It did work out for you, and a year later you landed at Rome SDS. Was your first day on the job a good one?
I don't remember much about the first day specifically. One of my responsibilities at that stage was credit, and I definitely remember calling shops looking to collect overdue invoices that first week in June. I don't know if that ever gets easy, but I do remember those first calls being a challenge.
I remember a shop asking something about their rep and it was the first time I had heard his name so I responded, "no; he doesn't work here." Paul came running over pretty quick!


What's living in Waterbury, Vt., like?
So I've been at Rome going on six years and have lived in Waterbury a tad longer. Before I lived here I probably romanticized it a bit. Now that I live here I love it. It's close enough to Burlington if you want to see a music act (Higher Ground gets great shows), but it's close enough to the mountain that going for an hour before work is totally possible (the lifts start turning at 8 a.m.).
Vermont really has it going on if you are into snowboarding. Though we miss Fall Down, the premiere events are always pretty good times, and the fall is pretty much one event after another. Same with late winter/early spring. It seems to go from one contest or parking lot BBQ to the next.
Early on in my time at Rome there was a big crew living in Burlington. The last few years it seems more are living in Waterbury and Stowe, so I end up hanging out a lot with George, Ian, Ron and Cavan at the Reservoir, the dam, or Waterbury Things here in town. I hate to admit this, but when the snow's flying it's a little strange to see me anywhere but Waterbury or Stowe. Priorities, you know?
In the summer, we have a great crew in Stowe that plays pick-up soccer two nights a week. The swimming holes are epic as well.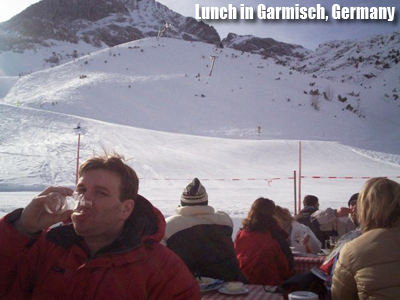 Five and a half years later, you're at Rome as its Operations Manager. What does it take to succeed at Rome?
I think you need to be very self motivated and understand that the work you put out is a representation of yourself and the brand.
We are independent. There are 20 of us in this building; up the road there are a couple hundred. You must take responsibility for your area. It's up to you to make success for yourself, and the company in turn.
I talk a lot about the morality of hard work. I have a responsibility to my subordinates, co-workers and clients (distributors, reps/agents, shops, riders, etc.), as well as Josh and Paul, who have faith in me to succeed.
It's also a little bit of a self-conscious tick. I know that anything can influence people's decision to consider a Rome product. So in a way you are being judged every time a picture of a rider is selected for a magazine, any time a potential customer watches a YouTube video, and especially when a shop kid suggests a Rome board to a local rider.
As a group, the 20 of us are all in it together. When we have our anniversary party or our company ride day, you can see the general camaraderie in the building. Military analogies usually lack scale, but there is definitely a 'Band of Brothers' aspect to it.
Once you've worked here for a bit you can really plant your flag in something you were responsible for and be proud of it. As an example, I really respect Anna who works in sales for the hard work she puts in to make our Shop Employee Program as much of a success as it is. Another example is Shawn who drives a lot of the look of our softgoods.
There is just a ton of things happening in this building that people can contribute to the success of – the "syndicate" concept at its essence.
How about a look at one crazy day-in-the-life of Mike Waldert on the job?
I usually come into between 30-70 emails from Asia and Europe every morning. I spend most of my morning catching up on these and working with our European office and vendors. I joke that the clock is ticking with EU guys as they generally go home at reasonable hours, so I try to prioritize anything there. I will then work more on domestic stuff mid-day.
Any bigger projects I will do late in the day and in the evening. Things tend to be a little less hectic at that point, so it allows me to focus a little better. Before I leave I like to check if anything new has come in from the Down Under or Asia. I generally am the last person out of the building 3 or 4 nights a week.
The types of projects I work on depend a lot on where we are in the development cycle. I spend a lot of February, March, April, & May doing a lot of reviewing, planning and negotiating. June through January is dominated by executing (hopefully) successfully on the plan. There's the weekly and monthly stuff as well (i.e. budgeting, in-bound freight reports, out-bound shipping reports, etc.).
I'm also responsible for the IT stuff here, so that can throw little distractions in every now and then to make things interesting.
Are you having more fun now than when you first joined Rome?
I love my job. It still is by any means necessary. Every day is a challenge and I win a lot more days than I lose.
I'm surrounded by smart, hard-working people who care a ton about snowboarding and putting out good product to do it with. I've shredded the woods with Joe who's in charge of all the financial stuff; I've ridden in the Alps with the guys who build our boards; and even our quality control guy in China hits the snow dome.
I don't think it's more or less fun than before, but there's no question it continues to evolve.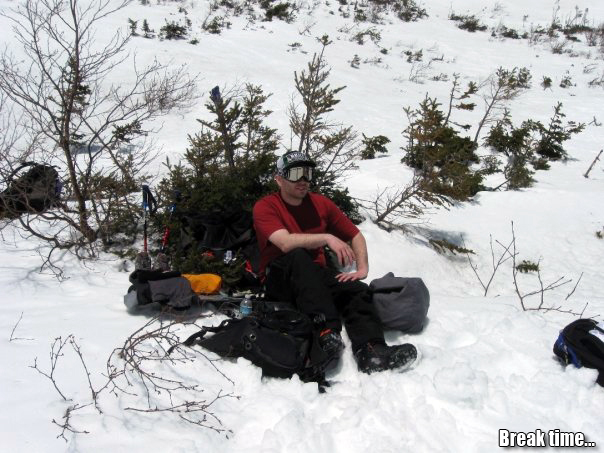 What's the biggest change?
When I started there were seven of us in one room; you were involved in everything by default. Now there's more focus on a specific area and the ability to push and deliver at a higher level of complexity and success. Some of that's experience, but some of it's the difference in the number of bodies around here.
After leaving Snow Country, you could've taken a job outside the industry in the Fall of 2002 making twice as much money as you did your first year at Rome in 2004. Looking back, was this the right choice career-wise? At what point can money buy happiness?!
So I had already decided to move to Vermont and was just working through my last year at Snow Country. I helped a customer at the shop and he's really psyched on some of the things I did. He gives me his card says: "Call my secretary. I want to talk to you about giving you a job." He pretty much lets me pick what I want to do in their family business and tacks a number on it.
What was weird though is he didn't want to let me think about it; had to tell him yes or no right there. So I told him "no" and called him back the next day and confirmed my decision. What I had learned in the meantime was that their family's business practices were a little questionable.
I don't want to get all Zen on you, as I am definitely a consumer. I have an iPhone; I have a Wii; and I buy stuff I want to wear (people might not get my slippers in the office, but that's their problem). I think anybody into "action sports" has to have a little bit of consumer in them.
I am very proud of what we've done over the last years here at Rome and I'm looking forward to taking it to eleven. It has not been easy to achieve and there's blood on the table, but it has given me a comfortable life.
I know what I want, I have what I want, and that's what's important in life.
If you could have anything for lunch this week, what would it be?
I would get in trouble for not shouting out to Burrito Mountain, but Park Row is here year round and usually worth getting up from your desk for.
Fave Five:
1. Football or Soccer?
I love my Buffalo Bills, but I follow European Soccer pretty heavily. When I'm in Europe, I'll start talking about Football and people who are just meeting me will assume I'm referring to the American variety.
2. SIA or ISPO?
In my role, definitely ISPO. More distributors, more vendors, etc. One of my favorite parts of my job is interacting with people in different parts of the world. Also, who can argue with riding the Alps on days off?!
3. Denver or Las Vegas?
So we're post-Denver now and it seems to have been a success. Vegas is infamous and will never be forgotten. I should admit though, I have little desire to vacate in Vegas, so that made SIA a reason to go there in the first place, and I don't know if I'll ever go back.
4. Powder before work or work before powder?
Unfortunately, last week it was work before powder. Kind of depends on the time of year, December and January: work definitely wins. February and March are different, so in my role one can often get away with making a few more turns if it's good on a particular day.
5. Who would win in an arm wrestling match: Maravetz or Reid?
Push.
---