BACK TO NEWS
B$Z: Newport Beach Lifestyle Brand Burgeons in Down Economy
Newport Beach Lifestyle Brand Burgeons in Down Economy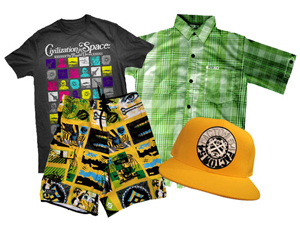 Southern California lifestyle label Factor54 (F54) announced today a license agreement with apparel manufacturer Advance Sports Inc. Advanced Sports will design, produce, sell and distribute F54 products globally under a multi-year contract.
F54, while deferring its design, production and sales role, is reserving sole equity interest in the business and will continue operation of its offices in Orange County, Calif., in a creative and marketing capacity, ensuring the brand's integrity as it expands its product collections and distribution domestically and internationally.
"Our deal with Advanced Sports affords us world-class manufacturing and distribution competency along with resources that will better enable F54 to grow," says Todd Miller, F54 president and CEO. "We're excited to be able to concentrate our efforts on building our brand appropriately, while broadening our apparel offering and exploring cool new product assortments in complementary other categories. We get to do what we do better, smarter, and scaled-up to meet growing consumer demand with quality and unerring service."
F54 produces a select array of men's and women's graphic t-shirts, and men's pants, button-downs, walk shorts, swim wear, head wear and athletic socks. The company expanded its line in fall 2010 to include a broader assortment of its action sports-inspired staples, with additional development in the way of men's and women's wovens, outerwear and accessories.
"It's encouraging in this challenged economy to find a true core brand that is growing and thriving at retail, and we're really excited about this opportunity," says Brian Jellig, Advance Sports brand director. "The demand for F54 is proven in top specialty accounts, and we are looking to help the brand add more depth and technical styles to collections, capitalizing on that demand.
"The new fall/holiday line we developed with Todd and his team is in the market with the new rep force, and feedback has been overwhelmingly positive. The general sentiment from shops seems to be,'Finally, we've been waiting to see this happen!' Shops are looking for a new, fresh approach from a brand that is only specialty store-based, and that's exactly what F54 is doing."
---