Back to News
B$Z: TRANSWORLD SNOWBOARDING Takes Home Two Awards for Excellence in Magazine Editorial and Design
May 6, 2010
TRANSWORLD SNOWBOARDING Takes Home Two Awards for Excellence in Magazine Editorial and Design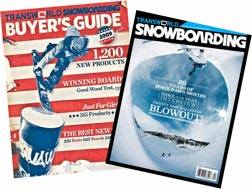 TransWorld SNOWboarding once again has proved its value not only within the action sports world, but also throughout all publishing outlets by receiving two prestigious awards for its outstanding excellence in editorial and design.

During the annual Eddie and Ozzie Awards, FOLIO Magazine, the leading publication for magazine professionals, recognizes a wide variety of publications, including b-to-b, consumer, association, and custom. This past year, with over 2,000 entries, TransWorld SNOWboarding's December 2008 Issue was chosen in the category of "Consumer Sports Full Issue" and received a Silver Eddie Award for its overall editorial excellence. In addition, the TransWorld SNOWboarding 2009 Buyer's Guide was picked for the Bronze Ozzie Award in the "Best Supplemental Annual or One-Shot" category, recognizing the magazine's outstanding overall design. These awards are chosen by the FOLIO Magazine staff, acknowledging the best of the best within the magazine world's vast array of editorial and creative teams.

"Snowboarding looks easy until you try to drop in on one of those Superpipes, the same might be said about making snowboarding magazines," said TransWorld SNOWboarding's Editor-in-Chief, Annie Fast. "We work hard to make it look easy, so we're especially honored by the recognition of the greater magazine world with a silver and bronze—it's like winning our own magazine Olympics!"

TransWorld's parent company, Bonnier Corporation, coupled with TransWorld SNOWboarding's two awards, also took home gold, silver, and bronze awards for Field & Stream, Outdoor Life, Parenting, Working Mother, and Saveur.
---