Back to News
SURF: 2010 U.S. Open of Surfing Delivers Nine Action-packed Days
June 7, 2010
2010 U.S. Open of Surfing Delivers Nine Action-packed Days of World-class Surfing, Skateboarding, BMX, Fashion, Art and Music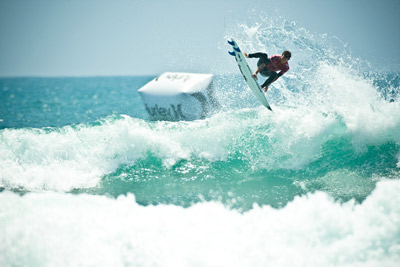 Building upon last year's historic festival, the U.S. Open of Surfing is ramping up to a new level in 2010, infusing a youthful attitude, elite athletes, fashion and music—all against the backdrop of 50-plus years of competitive surfing at the famed Huntington Beach Pier. The U.S. Open of Surfing presented by Hurley, Nike 6.0 and Converse hosts 500 world-class athletes and draws more than 500,000 spectators over nine days—July 31 to August 8. The event is owned and produced by IMG, a global leader in sports and entertainment. All of the action is accessible live on www.usopenofsurfing.com.
Anchored by the world's largest professional surfing competition, the U.S. Open features North America's only combined ASP Men's Prime and Women's Six-Star competitions and is a pivotal point on the ASP World Tour. Previous elite competitors include three-time U.S. Open champion Rob Machado, reigning U.S. Open champion Brett Simpson, nine-time world champion Kelly Slater and three-time world and former U.S. Open champion Andy Irons along with many of the sport's top rated men and women.
Long considered America's "consumer showcase" for the sport of surfing, the U.S. Open also features the U.S. Open Men's and Women's Junior Pro presented by PacSun, Life Rolls on Expression Session and Pacifico Nose Riding Invitational. The second annual WPS All Stars event lets the public chose 10 top pro surfers from around the world to compete in the U.S. Open and features athlete "meet and greets", in-water expression sessions and more.
Converse and Nike 6.0 will bring top action sports athletes to Huntington by hosting elite BMX and Skateboarding competitions south of the famed pier. The Nike 6.0 HB BMX Pro is a uniquely-formatted "park event," featuring 25 invited riders. Not to be outdone, the Converse Coastal Carnage returns with a Super Mini-Park event for skateboarding featuring one of the most creative wooden bowls ever designed as well as an impressive roster of 35 all-star skateboarders.
Hurley's wildly successful Walk the Walk National Championship, a high school fashion competition that's best described as "Friday Night Football" meets "the Runway," hits the U.S. Open stage on Friday, August 6. While four schools (Huntington Beach, Lincoln-San Diego, Toms River East-NJ and Pearl City-HI) survived a grueling three months of online video challenges, two wildcards (Corona Del Mar and Kellam-Virginia Beach) were recently selected from 26 schools vying against each other for the final spots. The six finalists will create their own five-minute fashion show and compete on the runway to win the grand prize of $25,000.
Headlined by the one-of-a-kind, 20,000 square foot Action Sports' retail and brand experience, U.S. Open spectators will enjoy an interactive festival featuring more than 100 exhibits, autograph signings, DJs, guest emcees and prize giveaways. Top national acts will perform live on the concert stage Monday through Saturday, August 2-8.
The U.S. Open of Surfing is also proudly sponsored by Casio G'Zone, G-Shock, Casio Exilim, Pacifico, Paul Mitchell Salon Haircare, Red Bull, Skullcandy, Verizon Wireless and Transworld Media.
Open to the public free-of-charge, the U.S. Open of Surfing begins on Saturday, July 31 and runs through Sunday, August 8. Live webcast and consumer information is available at www.usopenofsurfing.com.
---