Back to News
SURF: Voting Underway for 2010 U.S. Open of Surfing WPS All-star Event
June 8, 2010
Voting Underway for 2010 U.S. Open of Surfing WPS All-star Event
Fans get to decide who performs in surfing's "home run derby" at Huntington Beach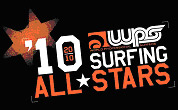 The world's largest action sports festival wouldn't be complete without an all-star event. And at this year's U.S. Open of Surfing, held July 31-August 8 at the Huntington Beach Pier, we'll see the return of the World Professional Surfers (WPS) All Stars. More information is available at www.usopenofsurfing.com.
Last year, fans voted online for their favorites and were then able to watch eight icons — including Kelly Slater, Andy Irons, Mick Fanning, CJ Hobgood and Rob Machado — perform live in both the main event and in two specialty expression sessions. Not only did it help amplify Huntington's stadium atmosphere to unprecedented levels, but it honored those surfers who continue to move the sport forward.
"The U.S. Open of Surfing is just as much about the athlete as it is about the fan," says Hurley VP of Sports Marketing Pat O'Connell. "And when we're able to recognize greatness and elevate the experience both in the water and on the beach, everyone wins."
Starting today, June 7, fans can go to the U.S. Open website (www.usopenofsurfing.com) and pick their 10 favorite surfers from a list of 60 candidates. Each surfer will receive one point per vote. At the end of the two-week period, on June 21, the 10 highest-voted surfers will be announced and then invited to participate in the second annual WPS All Star Event.
Last year, WPS All Stars were honored on stage, participated in autograph signings and amazed the crowd with two "PWC-assisted" expression sessions. There's no doubt there will be all of that and more with this year's WPS All Star honorees.
"The 2009 WPS All Stars was a great event," said reigning World Champ and 2009 WPS All Star Mick Fanning. "It gave the public a choice on who they wanted to see which really was a first for surfing. It was such an exciting event with the world's best going for huge moves in big surf. I know the guys will have some exciting things planned this year and can't wait to see who will make the cut."
Voting is open now. Go to www.usopenofsurfing.com now to pick your favorites.
---