BACK TO NEWS
EVENT: Randy Lewis to Enter Surfers' Hall of Fame
Randy Lewis, Local Legend & Member of the Famous "Hole in the Wall Gang", to Enter Surfers' Hall of Fame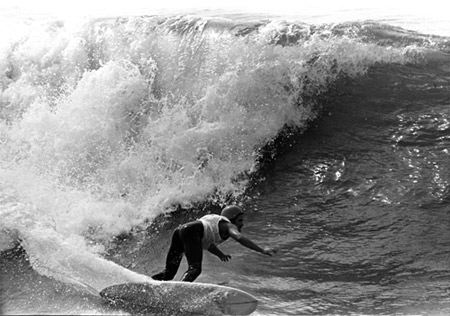 Randy Lewis, one of Huntington Beach's best surfers and a noted surfboard shaper, will be inducted into the 2010 Surfers' Hall of Fame. A lifelong Huntington Beach resident, Randy will be inducted along with Ian Cairns and Stephanie Gilmore on Friday, August 6 at 10:00 a.m. in front of Huntington Surf & Sport (corner of PCH and Main). More information is available at http://hsssurf.com/shof.
Lewis began surfing in 1961 and was considered a childhood phenomenon along the lines of one of his prodigies, Bud Llamas. He started competing in the boys 14 and under division of local events and went on to place third in the 1967 U.S. Championships Junior Men's. Consistency was Randy's hallmark when competing, performing well and usually placing among the top three. He won the West Coast Championships in 1976 and 1977 and the San Onofre Surf Club titles in 1978 and 1979.
>From WSA events to the annual Huntington Beach contest, Randy competed all the way up through the Super Grand Masters (really old guys) and was often the point leader in his divisions. He finally retired from competitive surfing in 2006 when he won his last event, the City of Huntington Beach Championships.
"Randy was a pure surfer with a great nose riding style," said John "Frog" Van Oeffelen, also a charter member of the Hole in the Wall Gang. "His balance was amazing; a goofy-footer nose-riding the south side (of the Huntington Beach Pier). He was (is) a truly nice person and mentored many a young surfers along the way, including Huntington Beach's own Bud Llamas."
In the mid-60's, legendary shaper Gordie Duane took Randy under his wing and taught him his board shaping secrets. Soon thereafter, Randy was shaping and riding for the famous "Hole in the Wall Gang", an assemblage of seasoned Huntington Beach surfers who weren't part of the regular contest circuit, but were great competitors in their own right.
>From 1977 to 1987, Randy operated his own surf shop, the Randy Lewis Surf Center, on 5th Street. Over the years he has worked for almost every HB surf store and currently shapes at Chuck Dent. Among the big name surfers who rode Lewis boards—Llamas, Michael Ho, John Bruiser and Joey Hawkins.
"Randy Lewis is one of the greatest shapers to come out of Huntington Beach," said Surfers' Hall of Fame founder Aaron Pai. "When I was a kid growing up, we all looked up to Randy as a surfer and a shaper (still do!). He surfed the Huntington Pier with style and grace and was one of the hottest surfers out in the water.
"Anyone who grew up surfing in Huntington Beach in the 60's, 70's and 80's knows the name 'Randy Lewis'! This guy is right up there with all 'the best' surfers and shapers in town. We are honored and excited to be able to induct Randy Lewis in the Surfers' Hall of Fame this August!"
Notable: Randy is somewhat famous in the world of skateboarding for his one cover shot on SkateBoarder magazine in 1964 (Vol. 1 #2). For a time, Randy tried his hand a motorcycle speedway racing in the early 1970's in Costa Mesa, Irwindale and Bakersfield at the urging of friends. After racing alongside the likes of future world speedway champion Bruce Penhall, Randy quickly returned to the water where he was more comfortable. His parents, Mary Jane and Forest (a retired city police officer) still live in Huntington Beach.
The 2010 Surfers' Hall of Fame induction ceremony pays tribute to those individuals who have made an indelible mark on the sport, industry and culture of surfing. Annually, tens of thousands of visitors to Huntington Beach's downtown area literally walk in the footsteps of surfing superstars and legends from several eras including Laird Hamilton, Mike Doyle, Jack O'Neill, Robert August, Greg Noll, Jericho Poppler, Kelly Slater, Lisa Andersen, Martin Potter, Al Merrick, Shaun Tomson and Rob Machado who are already immortalized in cement.
The Surfers' Hall of Fame induction ceremony is open to the public, free-of-charge. Further information is available at http://hsssurf.com/shof/.
---