Back to News
B$Z: Back on Tour! Spy Joins the Zumiez Couch Tour Summer 2010
June 9, 2010
Back on Tour! Spy Joins the Zumiez Couch Tour Summer 2010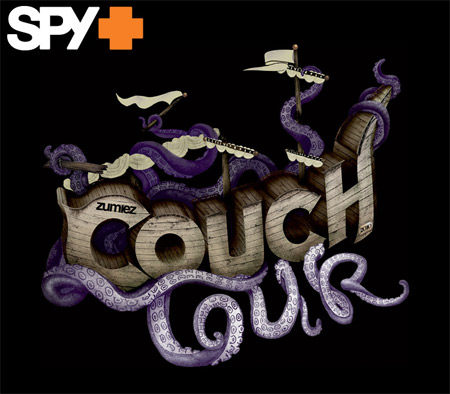 Fashionably late to the party, SPY has returned to the Zumiez Couch Tour for Summer 2010. As a previous Couch Tour sponsor, SPY left its mark on the tour in the past and is very proud to be back for more. Fond memories (both vivid and fuzzy) of all the good times are bound to be outdone during this year's Zumiez Couch Tour and SPY will be right there to rub salt in the wound and bring the passion to masses.
As presenting sponsor of the Zumiez Couch Tour webcast, SPY's very own Kevin Casillo will be manning the mic as guest MC for all 12 stops. Look for Kevin to be mopping up the crowds with his smooth 'Jersey charm' and spreading lots of SPY sunglass love with Zumiez Text to Win contest.
"SPY is so proud to once again be a part of the Zumiez Couch Tour!" says Matt Harkins, SPY Brand Manager. "We love what Zumiez brings to retail and to the community; it's an honor to be back on the Couch."
Please tune into the live webcasts hosted by SPY at www.zumiezcouchtour.com At each stop, SPY will award three lucky winners with a fresh new pair of shades! Don't forget to download the Zumiez Couch Tour app from iTunes so you can keep up with all the action anywhere you roam.
Get on the Couch and Live Thru Our Lens with SPY & Zumiez at the 2010 Couch Tour!

---