Back to News
ART: Skeleton Sea Exhibition Makes Big Impression in San Sebastian Munich
June 22, 2010
Skeleton Sea Exhibition Makes Big Impression in San Sebastian Munich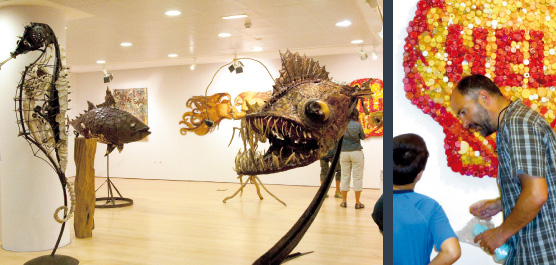 The first Skeleton Sea exhibition in Spain got underway to widespread critical acclaim at the 8th AMSTEL SURFILMFESTIBAL 2010. The Aquarium in the Basque town of Donostia (aka San Sebastian) welcomed 20 unique artworks created by the Skeleton Sea Artist Group. More than 3,500 visitors came through the doors to view the different art pieces and installations during SURFILMFESTIBAL 2010, with the exhibition also gaining enormous media attention. A number of Spanish TV channels and newspapers picked up the Skeleton Sea story, helping to spread the message of "keeping the oceans clean!" to an even wider audience.
The Aquarium of Donostia will continue to host the most complete Skeleton Sea art exhibition to date until 15th September. A few days later, the exhibition will move to the Maritime Museum of Bilbao, where it will be open to visitors from 18th September-31st October.
Besides these two long-term exhibitions in Spain, Skeleton Sea will also proudly exhibit selected art pieces during The Roxy Jam, scheduled to take place in Biarritz, France from 10th-14th July 2010.
The event - entitled 'Roxy Second Wave' - has adopted 'recycling' as this year's theme, and is perfectly aligned with the Skeleton Sea message.
For more information about the Skeleton Sea Artist Group, news updates and for a preview of selected works of art: www.skeletonsea.com
---